by Tom Gaylord
Writing as B.B. Pelletier
This report covers:
Bias
The deal
Krytox
Diana peep sight
Cheap peep
Same idea — more elegant
The best
Ebay
BIG teaching point
On with the Diana peep
So, what?
My 27
RWS Superpoints
Air Arms Falcons
Discussion
Summary
Sad news
Today's report isn't quite what the title says. I am going to tune my Hy Score 807/Diana 27 for you, because, after the success I had with Michael's rifle, I felt it was time to strike while the iron is hot. But reader comments entered the picture as I was extolling the virtues of Tune in a Tube. One reader said he had his best luck with a lubrication product called Krytox, and then several more readers piled on, saying similar things. So, the subtitle of this report could be "The Great Krytox Experiment, or Krytox versus Tune in a Tube." Because that's what I plan to do — tune my Diana 27/Hy Score 807 with Krytox to compare it to a Tune in a Tube tune.
Bias
I'll say this up front — I am biased towards TIAT. I will do my very best with Krytox to get the smoothest tune I can possibly get, but if it isn't as smooth as a TIAT tune, I plan to shout that from the rooftops! You see, people have been recommending Krytox to me for a long time.
The deal
And, here is the deal. I don't care about velocity. I have plenty of airguns with more velocity than a Diana 27 could ever have. I care about smoothness. Smoothiosity is what I am after — smoothishousness! You can keep your velocity (and your "Ho there!"). I want an air rifle that's as smooth as Michael's. If I get it with Krytox — so be it. I will become a Krytox cheerleader. I just have to find my white Go Go boots with the tassels and dust off my pom-poms.
Krytox
Krytox is a performance lubricant that is essentially a grease. It was invented by DuPont and is a registered trademark of The Chemours Company, a 2015 spin-off from DuPont. It is not a single product but a range of similar products that are fluorocarbon ether polymers of polyhexafluoropropylene oxide. Yes — I got that off Wiki and no — it doesn't mean anything to me. If you wake up a chemist rapidly, they won't know what it means, either — or should I say ether? For us who are the Great Unwashed, it's Teflon grease. And it is frightfully expensive! A 14-gram tube (about a half-ounce) that is half the size of a travel tube of toothpaste costs $22, plus shipping.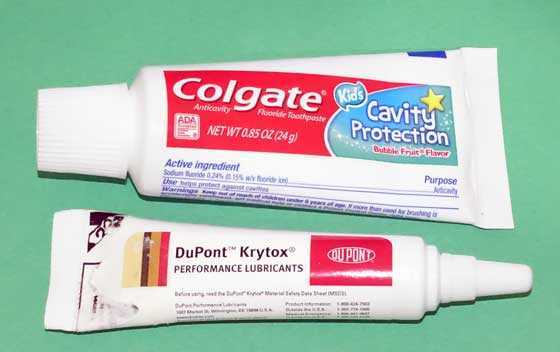 There it is — $22 of Krytox grease. I hope it's worth it!
Diana peep sight
More on the tune in a bit. Now let's look at something I just received for the Diana 27 — a Diana peep sight! When I was finishing Michael's rifle, the subject of peep sights arose and reader Kevin mentioned the Diana peep sight. There are actually several different Diana peeps, so let me explain.
Cheap peep
The Diana 72 youth target rifle is actually a Diana model 6 target pistol that has been transformed into a small target rifle. Well, Diana modified the pistol's rear sight to accept a peep over the conventional open notch and the cheap peep was born!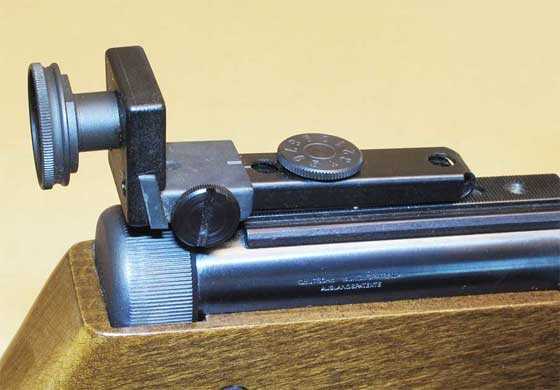 That's a target pistol rear sight that has had a peep slipped over the rear notch — a cheap peep!
Same idea — more elegant
Diana didn't stop there. They also created a more elegant rear sight that is both an open notch and a peep in the same way as the 72 rear sight. Only this one predates the 72 by many years and is more elegant. I have one on my Diana model 50 underlever, but until reader Mike Driskill told me, I was unaware that the peep came off to reveal a regular open notch sight.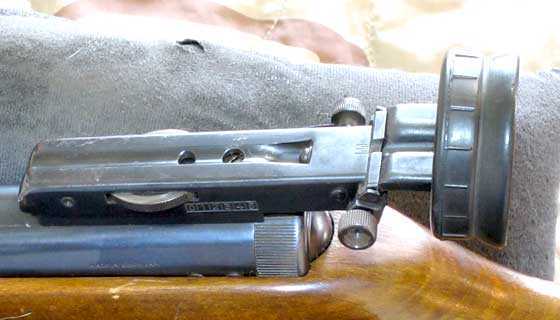 The rear sight on my Diana model 50 underlever is a peep. It's more elegant than the model 72 peep. Look at that horizontal wheel in the front of the mount. I'll say more about that in a bit.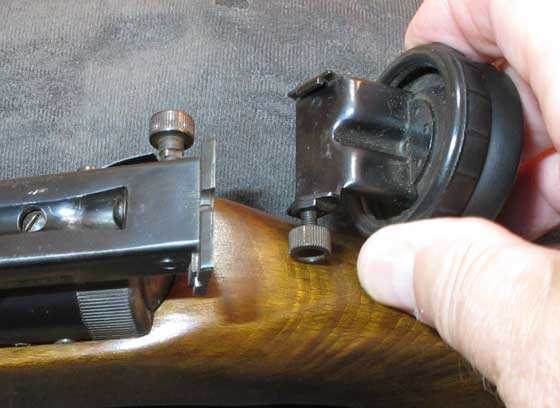 Mike Driskill told me how to remove the peep to reveal a sporting rear sight.
The best
Diana didn't stop there. They competed with FWB, Walther and Anschutz in the 1960s for supremacy in target air rifles. Their models 60, 65 and 66 breakbarrels were recoilless target rifles that all had the Giss system built in, and their model 75 was a sidelever that was the absolute high watermark for the company. On each of these sat a dedicated target aperture rear sight that does not convert to an open sight. This is the Diana peep sight we have been talking about.
Ebay
It's also the Diana peep sight that is so hard to find! I can find 10 FWB peeps for every one Diana peep that comes along. So, when someone (Kevin?) mentioned that someone on Ebay was selling several, I went there immediately and bought one. The seller is in Bulgaria, which probably puts off a lot of folks, but I have had no problems dealing with overseas sellers. Sometimes their shipping costs are high, but this chap was shipping for free! All he wanted was $89 for a sight that would retail for $100+ at any airgun show. So I bought it and now it's here. By the way, this guy spent 13.20 Euro to get my sight to me, so free shipping was a real plus for me.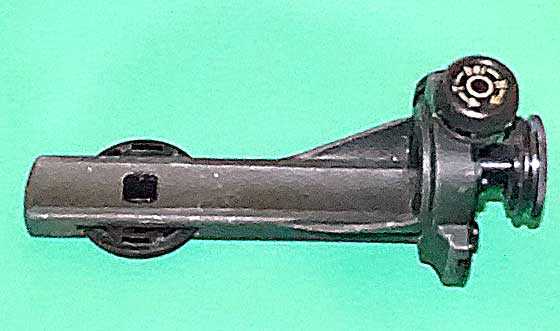 This is my new/old formal Diana peep sight — no conversion to a sporting sight for this one! See the horizontal wheel at the front of the base? Now I will explain.
The horizontal wheel at the front of the base of both this peep and the one on the Diana 50 controls a "foot" that locates and locks the sight to the rifle. The wheel turns and the foot goes up and down. When it goes down, tiny ridges in it interface with the ridges that are on many vintage Diana air rifles. They are on a plate that American airgunners have for years called a scope base. It's not a scope base; it's really there to accept these peep sights and lock them in position.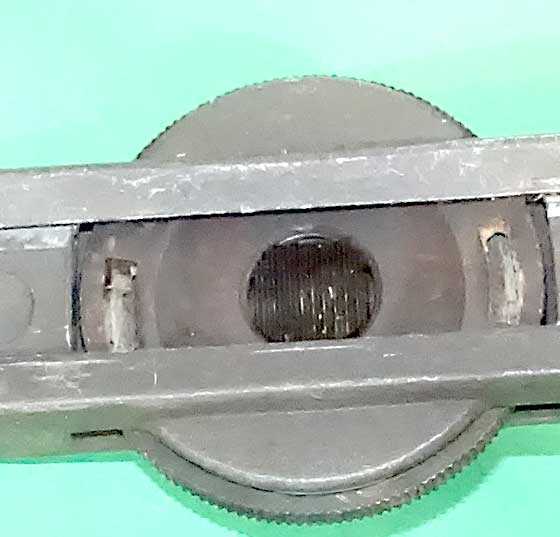 The underside of the peep sight base shows the "foot" that presses down to lock with the ridges on top of the plate on the rifle that American airgunners call the scope base. The horizontal wheel make the foot go up and down.
The underside of these peep sights have jaws that are dovetailed to fit over the base on the rifle. When the foot presses down it lifts the sight up until the sight's jaws press against the underside of the base, locking it in place.

Those small ridges on the rifle base interface with the ridges on the bottom of the sight's mounting foot. Not all Diana air rifles have a base like this.
BIG teaching point
In fact — here is a BIG teaching point. The reason Diana never understood our complaints about barrel droop when their rifles are scoped is because they couldn't envision scoping their rifles. They made them to accept rear peep sights that have oodles more vertical adjustment than any scope. They understand barrel droop today, but they didn't when those vintage air rifles were being built.
On with the Diana peep
The Diana peep sight is just as serious and formal as the sights of any of its competitors. It has click detent adjustments, scales that show where the adjustment is set and it accepts standard peepholes and all the accessories that go with them.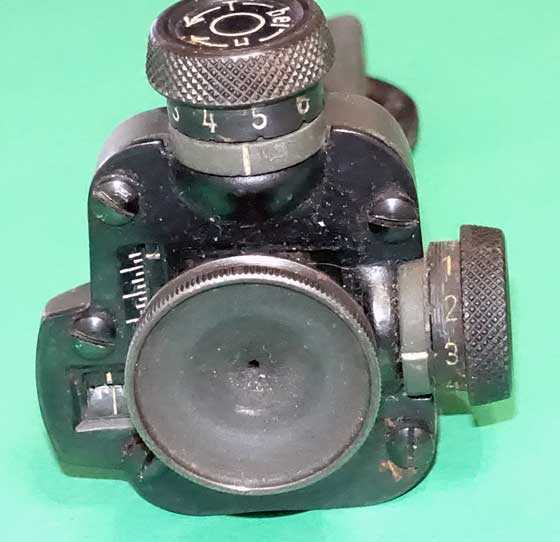 You'll find everything on a Diana peep that's found on all the best peeps. The special thing is that this sight fits on many of their sporting rifles, too!
So, what?
Why am I showing you this peep sight? A couple reasons. First, I talk about it a lot and I wanted to show you the details. And I wanted you to see how it interfaces with Diana sporting rifles. Do I have plans to mount it on my 27 for an accuracy test? Who knows? I sure don't. But after the tune I'm about to do I might want to see what the accuracy envelope is. I remember that Michael's rifle is an extremely accurate 27, so maybe mine will be too?
You will also remember that I have three vintage Diana rifles coming from reader Carel in the Netherlands. Maybe I will try it on one of them? It doesn't matter. When something this rare comes along I will scoop it up if I can and worry about where to put it later.
My 27
I'm going to be tearing into my Diana 27 for this article. Step one will be to test it for velocity as it now stands. I also want to show you the breech seal, because I plan to upgrade it in the tune. Let's look at velocity first. I will look at the test I did back in 2017 and meld it with the test I did on Michael's rifle.
RWS Superpoints
RWS Superpoints have been the pellet of choice for my Diana 27 for 2 decades. In 2017 ten of them averaged 468 f.p.s. with a 16 f.p.s. spread from 458 to 474 f.p.s. Today 10 Superpopints average 463 f.p.s. with a 39 f.p.s. spread — 443 to 482 f.p.s. I think the problem is the breech seal.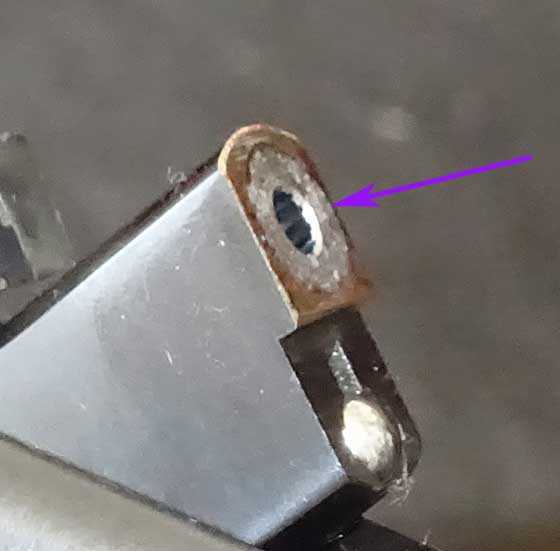 The leather breech seal (arrow) has become very flat over the years. I will replace it.
Air Arms Falcons
I also tried Air Arms Falcons because they were the most accurate in Michael's rifle. I've never tried them in my own rifle. Falcons averaged 452 f.p.s. with a 53 f.p.s. spread from 422 to 475 f.p.s. Yes, I think the breech seal is definitely the culprit.
Discussion
I will strip the rifle next, showing you what has been inside for over 20 years. Then I will clean it and lubricate it with Krytex. I have read that tuners advise using very little of this grease so I will be very careful.
Following that I will assemble the rifle and shoot it for both the feel and for velocity. If it is at least as calm as it is now I will also shoot it for accuracy, but if I lose smoothness, the test is over. I will then strip the gun and lube with TIAT.
I'm not putting in a new piston seal or mainspring because the ones in my 27 are doing just fine. I'll show them to you.
Remember — I'm after a dead-smooth air rifle. I thought I had that until I tested Michael's rifle. Now I know what I'm looking for.
If I have to tune the rifle a second time I will retest for velocity, because we do want to know. But it's the feel of the shot that I'm going for.
Summary
I will show you what I'm doing every step of the way, like I did with Michael's rifle. And I won't run these segments concurrently because not everybody is interested as I am.
Sad news
Now I have some sad news about Cecil Bays of Hatsan. I received the following email from Blaine Manifold, the CEO of Hatsan USA.
Dear Hatsan Family,
Two years ago, we were fortunate to have Cecil (Bays) accept a position with HatsanUSA and he soon moved his family from Havasu City, AZ to Northwest Arkansas.  During this time, you all have worked with and have had a chance to get to know Cecil.  Cecil is the guy that would drop everything to help someone in need.  He is also the guy, that would never ask for help if he was in need.
On Sunday morning, March 10, 2019, Cecil's wife Jennifer and son Ryan were traveling back to visit family in Havasu City.  Jennifer and Ryan were involved in a car accident on Interstate 40 as they crossed over into AZ from NM.  The Ford Expedition rolled several times. Jennifer was airlifted to a hospital in Flagstaff and is currently still in ICU.  She suffered a severely dislocated elbow (2 surgeries so far), severely broken ribs (which will require surgery), a punctured lung, and a severely dislocated toe which required surgery.  The good news is, doctors feel that she will recover physically.  Unfortunately, Ryan passed away at the scene.  In addition to the physical challenges, the emotional suffering from experiencing the loss of a child is unimaginable – and will never be fully overcome.    
Cecil immediately flew to Flagstaff to be at Jennifer's side early Monday morning.  They have no family or contact in Flagstaff and he is staying in a hotel and renting a car.   The arrangements for Ryan's funeral are on hold for now until Jennifer is capable to provide input. 
I humbly ask for your help to ease the burden for Cecil's family during this time.  Firstly, prayers and thoughts are most important.  Secondly, the unexpected financial burden on the family is overwhelming and, understandably, not planned for.  If you can and feel compelled to help Cecil financially in this very difficult time, please use one of the below options to contribute:
Option #1 – Non-Tax Deductible – This is the quickest way to deposit into Cecil's account (No Fee or Processing Charge)
Make Checks Payable to Cecil Bays
Send Check To:
HatsanUSA, Inc.
C/O Cecil Bays Fund
P.O. Box 576
Bentonville, AR 72712
Option #2 – Qualified Tax-Deductible Account (No Fee or Processing Charge)
Make Checks Payable to Ryan Harvey Funeral Fund
 Send Check To: 
HatsanUSA, Inc.
C/O Ryan Harvey Funeral Fund
P.O. Box 576
Bentonville, AR 72712