Ruger 10/22 Air Rifle: Part 4
by Tom Gaylord
Writing as B.B. Pelletier
This report covers:
The test
Sight-in
H&N Baracuda Green
Sights are challenging
Crosman Premier Lights
Sig Match Ballistic Alloy
JSB Exact RS
RWS SuperMag
RWS R10 Match Pistol
Qiang Yuan Training
H&N Match Green
Discussion
Summary
Today we start our look at the accuracy of the new Ruger 10/22 Air Rifle from Umarex. This was an interesting test, to say the least!
The test
I'm only concerned with one thing today — the potential accuracy of as many pellets as possible. So, I shot 5-shot groups from 10 meters using the open sights on the rifle. I shot with the rifle rested directly on the sandbag and I cocked the bolt for every shot to make the trigger as light as possible. Let's get started.
Sight-in
The rifle was shooting high and left when I started sighting in. I could lower the rear sight okay but there is no easy way to adjust it right and left. So all my groups are to the left of the bull today. After sight-in the sights were never touched again.
H&N Baracuda Green
The first pellet I shot for a group was the H&N Baracuda Green dome. Five of them went into 0.52-inches at 10 meters. That's not terrible, but it's also not great.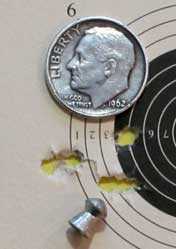 The 10/22 put 5 H&N Baracuda Green domes in 0.52-inches at 10 meters.
Sights are challenging
The open sights on the 10/22 are challenging for me. The front is a bead and the rear notch has to be so low that the entire rear sight frame looks like a huge notch to me. So there are some aiming errors in today's test. Fortunately, Umarex sent me a red dot to test the rifle with and I will get to it next time. But what that tells me is that any pellets that group well today are REALLY accurate in this rifle!
Crosman Premier Lights
Next up were some Crosman Premier Lights. These 7.9-grain domes did a little better than the Baracuda Greens. Five of them went into a group that measures 0.489-inches between centers. Maybe I was just learning how the sights work, but this is a better group.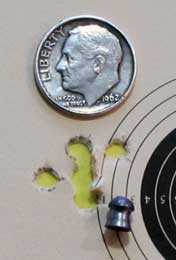 Five Crosman Premier Lights went into 0.489-inches at 10 meters. I see some potential here.
Sig Match Ballistic Alloy
The third pellet I tried was the Sig Match Ballistic Alloy target pellet. You know that I like to test these as often as possible. This time it paid off with a 5-shot group that measures 0.346-inches between centers. It's the smallest group of the test!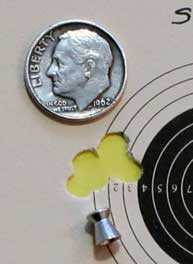 Five Sig Match Ballistic Alloy pellets went into 0.346-inches at 10 meters.
Undoubtedly I am getting better with my sighting, but that's not the principal reason why this group of Sig pellets is tight. Look at what happened next.
JSB Exact RS
The next pellet to be tested was the JSB Exact RS dome. Five of them went into 0.878-inches at 10 meters. After shooting that tight group with Sig Match Ballistic Alloy pellets, I think I can rule out this pellet for the Ruger.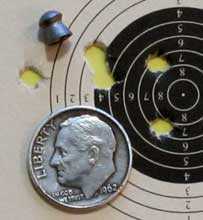 Five JSB Exact RS pellets went into this open 0.878-inch group at 10 meters. Not a pellet to trust in this rifle.
RWS SuperMag
The fifth pellet I tested was the heavy RWS SuperMag. It's a 9.3-grain wadcutter that can be quite accurate in some airguns. In the 10/22 it was a teaser. Five pellets went into 0.734-inches at 10 meters. That's not good, but 4 of the pellets are in just 0.41 inches. I think that's good enough to try the pellet at a farther distance.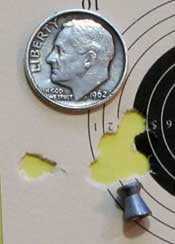 The 10/22 put five RWS SuperMags into 0.734-inches at 10 meters, with 4 of them in just 0.41-inches.
RWS R10 Match Pistol
The sixth pellet I tried was the RWS R10 Match Pistol target pellet. The Ruger put 5 of them in 0.532-inches at 10 meters. There is a smaller cluster of three pellets but I'm not sure that it constitutes enough credibility to give them another test.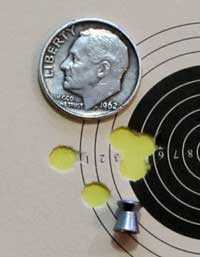 Five RWS Match Pistol pellets went into a 0.532-inch group at 10 meters.
Qiang Yuan Training
The seventh pellet I tested was the Chinese Qiang Yuan Training pellet. This one sometimes gives surprisingly good results. This time 5 pellets went into what looks like 3 holes whose centers are 0.472-inches apart. Not bad, but there are several pellets that did better, so I won't pursue this one any further.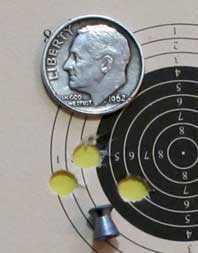 Five Qiang Yuan Training pellets went into a 0.472-inch group at 10 meters.
H&N Match Green
The last pellet I tested was the H&N Match Green that I have begun testing. I know from their performance in other tests that these are not the same as the Sig Match Ballistic Alloy pellets, though many people think they are. Five of them went into 0.954-inches at 10 meters. That is the largest group of this test. The Sig pellet gave the smallest group — more proof these two aren't the same.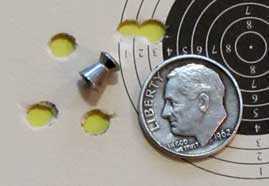 Five H&N Match Green pellets went into a 0.954-inch group at 10 meters — the largest group of the test.
Discussion
I now have a couple pellets that are worth testing in the Ruger at 25 yards, once the dot sight is on and sighted-in. And I also know that the rear sight on the rifle leaves me wanting something. That would be adjustability. I would at least plan on getting a peep for this rifle if I were you, but a dot sight is probably much better.
The trigger pull isn't light when the bolt is cocked, but it is crisp. That's the way to shoot this rifle if you're going for accuracy.
Summary
The Ruger 10/22 is testing well so far. I see no reason why that won't continue at 25 yards. If you are considering this rifle I hope I've given you what you need to decide.
Tom Gaylord is known as The Godfather of Airguns™ and has been an airgunner for over a half-century, but it was the 
Beeman
 company in the 1970s that awoke a serious interest in airguns. Until then, all he knew were the inexpensive American airguns. Through the pages of the Beeman catalog, he learned about adult airguns for the first time. In 1994, Tom started
The Airgun Letter
 with his wife, Edith. This monthly newsletter was designed to bring serious reports about airguns to the American public. The newsletter and
Airgun Revue
, a sister magazine about collectible airguns, was published from 1994 until 2002, when Tom started
Airgun Illustrated
-- the first American newsstand magazine about airguns. Tom worked for three years as technical director at
AirForce Airguns
, the makers of the 
Talon, Condor, and Escape
 precharged air rifles. Today, he writes about airguns and firearms for various publications and websites. He also makes videos, and you'll find short clips embedded in some of his artices on Pyramyd Air's website. Tom is a consultant to Pyramyd Air and writes under the name of B.B. Pelletier.