by B.B. Pelletier
Part 1
Part 2
Part 3
Part 4
Part 5
Part 6
Before we begin today's report, I want to reflect on a truth that helps explain why we're sometimes dissatisfied with things when we get them. I was at the range last week testing some airguns, and I was using my Celestron 70C spotting scope, like I always do. This scope is good at 50 yards, but becomes marginal at 100 because it cannot resolve the smaller bullet holes. I don't mean pellet holes, I mean .22-caliber bullet holes in the black bullseye at 100 yards.
A friend brought his Burris spotting scope to the range for me to compare, and the difference between the two was night and day. His scope was sharp enough to see small spiders walking on the target paper at 100 yards!
That same day, I shot a couple rifles my other friends had brought to the range. One of them was a fantastically accurate custom 6mm/.22 that can shoot a half-inch, 5-shot group at 100 yards. But it's scoped with a BSA 4-24X scope that isn't available at Pyramyd Air for good reason. It's so dark and muddy that I couldn't see the bullet holes as I shot this very accurate rifle. And I was shooting at a bright orange dot on white paper! I couldn't see bullet holes on that! The scope was set at 16X because anything above that caused the image to go white from flare, and we were shooting in total shadow under a covered roof!
Another friend had a Lyman Super Targetspot scope that was 10X, and I could easily see all the holes his .220 Swift was making at 100 yards on the same kind of targets. So with six fewer magnifications, I was able to see the holes because of the superior optics. The Lyman scope is no longer made and a good used one will fetch about $800, while you can probably buy the BSA for under $200 all day long.
Back to the spotting scopes
My Celestron spotting scope has 30X, 60X and 90X power available. Where do I have it set? Between 30X and 60X, which is about 45X. Because anything greater than that muddies up the image too much — even at 50 yards. My friend's Burris spotting scope only goes up to 45X maximum, yet it's many times clearer than my Celestron. And I found on this day that only 10X was actually required to see .22-caliber holes at 100 yards on a light target. A black bull is probably harder to see with just ten power, but with 45 power it is easy!
So, I went home and researched that Burris spotting scope. It sells for about $175 at Midway, where the Celestron C70 Matsukov I have sells for about $80. But what good is it if it doesn't do its primary job?
That got me thinking about shooters who purchase air rifles on the basis of velocity, alone, without appreciating all the other variables that come in the package. Things like smoothness, a good trigger and, most importantly, accuracy are pushed aside for velocity and low price.
I rant on about these things because they are also among my personal flaws. I've always tried to buy the cheapest of everything, and often the "mostest powerfulest," too. So, I'm constantly drawn back to them whenever I find that I have made another dumb blunder.
On to today's report
This was a day of great learning. When I summarize this series of tests, today will mark a big turning point, I believe. I learned a lot of things — all of which I will now show you.
Beeman Devastators
As always the first pellet tested was the lightweight Beeman Devastator. I've been amazed at the performance of this pellet from the start of this test, and last time I predicted that it would shoot even smaller groups this time.
Sorry, but that didn't happen. The first four shots seemed to confirm the need to "season" the bore before shooting each new pellet. I'm showing that target here so you can see what I saw.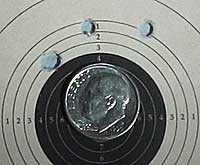 This sight-in target for Beeman Devastators fooled me. Shot one was the upper right. Shots two and three were in the same hole on the left and shot four was between that group and the first shot. At the time, I felt this was demonstrating the need to "season" the bore before shooting a group with this pellet.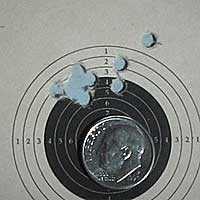 This group of Devastators seemed to suggest that the barrel wasn't fully seasoned yet. Group measures 0.956 inches between centers.
Shot one was the on at the high right, then the tight group of shots at the left were the next seven shots. Just when I was about to proclaim a universal law of bore seasoning had been discovered, shots nine and ten fell between the first shot and the group at the left.
Now, I was in a quandary. If the last two shots had strayed from the group in the same direction as the first shot, what was it telling me? Maybe the bore didn't need seasoning. Maybe the Devastator just doesn't like this velocity. Only another group would tell me for sure.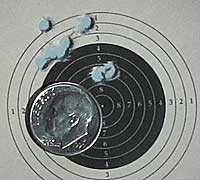 This second target of 10 Beeman Devastators shows that the barrel didn't need to be seasoned. It simply isn't responding well to this velocity. Group measures 0.724 inches between centers.
I believe that this particular velocity is one the Devastator pellet doesn't like. As you know, I haven't touched the Harmonic Optimized Tuning System (HOTS) on the barrel of my Whiscombe during this test. And I won't. I don't really care how accurate the gun is with a certain pellet. I was trying to see if there is a linear relationship between velocity and accuracy, and these two groups suggest that there isn't. You'll have to read the rest of this report to fully understand what I mean.
Crosman Premier lites
Next, I shot 10 Crosman Premier lites at 25 yards. This time, the target was very good, but the point of impact moved about a half-inch higher than last time. I was prepared to shoot four shots to season the bore, but the pellets kept going through the same hole, more or less, so I just completed the group without any seasoning.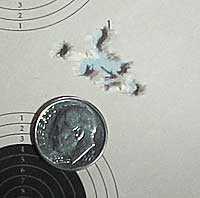 This is a nice group of 10 Crosman Premier 7.9-grain pellets at 25 yards. It measures 0.747 inches and is actually slightly larger than the smallest group of Devastators. It's almost identical to the last group shot during the previous test, so no big change in group size with this pellet.
The change of impact point was another big lesson this time. I'd seen it earlier, but not as dramatically as this time. The overall size of the group remained the same as before. That's another indication that this is a barrel vibration issue and not one that's driven by a change in velocity.
Beeman Kodiaks
The next pellets I tested were the Beeman Kodiaks, which have performed so well to this point. This time, the point of impact shifted up about three-quarters of an inch, but the group remained very tight. This time, 10 shots went into a group measuring 0.472 inches at 25 yards, which I believe is currently the best group of this entire test. Last time, they gave us a group measuring 0.628 inches.

Kodiaks continue to be the best pellet of the test. This group of 10 measures 0.472 inches between centers.
Eun Jin
And, now, it's time to report the performance of the super-heavyweight 16.1-grain Eun Jin pellet. Last time, they made the worst showing and that continued into this test, as well. What was different was the fact that the point of impact dropped more than two inches with what was just a slight reduction in velocity.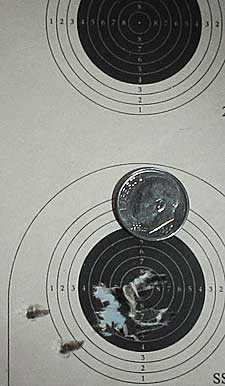 I was aiming at the center of the bull above, where they impacted! This was a dramatic change of impact point from the last test. Group size for these 10 Eun Jin pellets was 1.27 inches between centers. That's a little larger than last time, but the change of impact was far more noticeable.
What have we learned?
Well, nothing has been linear in this series of tests — the way I expected. But what the vibrations are doing seems pretty obvious. So, the next test is both needed, as well as anticipated.