by B.B. Pelletier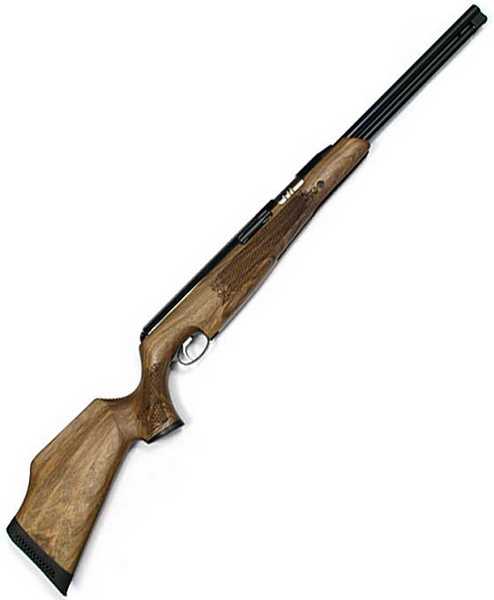 Air Arms TX200 Mark III air rifle is impressive in its optional walnut stock.
Today, we begin our look at the accuracy of the legendary TX200 Mark III. Since the rifle has no sights, I mounted a Hawke 4.5-14×42 Sidewinder Tactical scope in two-piece UTG Accushot 30mm medium rings. These rings are tall for a medium-height ring, but the TX200 cheekpiece is so high that many higher rings will be just right and fit the shooter perfectly. I know they come very close to a perfect fit for me, and the 42mm objective bell still clears the spring tube by a lot.
I'm showing a photo of the rifle with the scope mounted because you'll see that the end of the scope hangs over the back of the loading port. In a TX200, that isn't a problem unless you have summer sausages for fingers, because the loading port is very large — but on other underlevers and some sidelevers it may be. The Hawke is not a long scope, so this clearance is something a new TX owner needs to consider.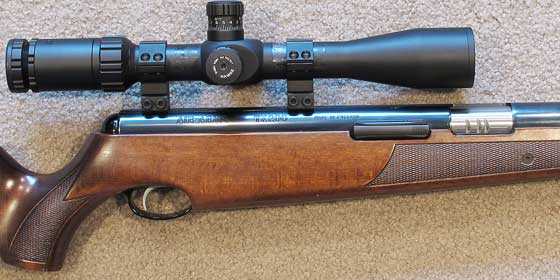 The Hawke scope hangs over the loading port just a little, but was not in the way during loading. See how much clearance the 42mm objective tube has above the spring tube?
What pellets to shoot?
This question is the one every shooter asks whenever they get a new gun — air or firearm. I have a lot of history with this rifle, but in the time since I last shot it many good pellets have come to the forefront. The JSB Exact RS is just one example. I know that Crosman Premier 7.9-grain domed pellets are averaging 958 f.p.s. in my rifle, and that means the lighter 7.3-grain JSB Exact RS will probably top 1,000 f.p.s. Six months ago, that might have turned me off; but after the exciting 11-part "Pellet velocity versus accuracy test" proved that harmonics and not velocity is what causes inaccuracy, I see no reason not to try a faster pellet.
I sighted in with Beeman Kodiaks, just because I used to shoot them in my other TX for field target, and they always worked well. But in reviewing my past reports, I see that this will be the first time I've shot 10-shot groups for a report. What a difference that makes!
Naturally, group one was with the Kodiaks. I had hoped to shoot around my aim point, but as you'll see, that didn't happen. The group may be a trifle larger than it should be, because for the last four shots I was guessing where to put the crosshairs.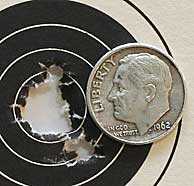 Ten Beeman Kodiaks went into this group that measures 0.584 inches between centers at 25 yards.
Notice how round the group is? Actually only the first shot went low and right — the rest made that small hole you see. And that was exactly where the aim point was, so after six pellets there was nothing to guide on. Nine of the ten pellets went into a group measuring 0.302 inches!
Next, I tried 10.34-grain JSB Exact Heavies. Often, I get the best results with this pellet in an accurate .177 rifle. Ten shots in the TX made a group that measures 0.523 inches. Let's see what that looks like.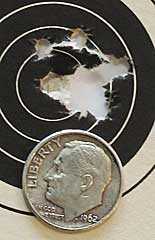 Ten JSB Exact Heavies made this group that measures 0.523 inches between centers at 25 yards. It looks more open than the Kodiak group, but it doesn't have the one straggler the Kodiak group does.
Next, I tried the light JSB Exact RS pellet. The point of impact shifted up about an inch, and the group opened to 0.687 inches. It's still fairly round, but more open than the first two by a lot. The RS probably isn't the pellet for this TX.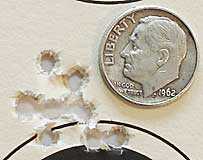 Ten JSB RS pellets went into 0.687 inches between centers at 25 yards. The shots are less-tightly grouped than those made by the first two pellets.
Then, I tried 10 Crosman Premier lites, just to see what they would do. They made a pleasing group that measures 0.559 inches between centers.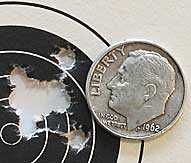 Ten 7.9-grain Crosman Premier pellets made this 0.559-inch group at 25 yards.
By this time, I was remembering everything I liked about a TX200. For one thing, it's not at all sensitive to the hold. In fact, this is one of the very few spring-piston air rifles that can be shot while rested directly on a sandbag. To demonstrate that, I shot 10 more Premier lites with the rifle rested on the bag. I had run out of targets on this sheet, so I used a single pellet hole for my aim point. Ten shots went into a group measuring 0.414 inches between centers — the smallest group of the entire session!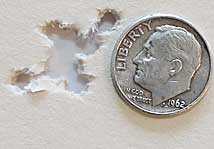 Ten 7.9-grain Crosman Premier pellets made this 0.414-inch group at 25 yards when the rifle was rested directly on a sandbag. The hole at the 7 o'clock position and outside the group was the aim point and is not a part of this group.
The bottom line
I hope this test demonstrates the accuracy potential of the TX200. Also, I hope you appreciate how important it is that the rifle isn't sensitive to hold. It will make a better shooter of almost anyone! Of course, I used the very best scope I have for this test; but besides that, nothing special was done. I didn't even use a scope level.
Have you noticed how similar in size all the groups seem to be? The rifle seems to like a lot of different pellets. That's another plus, and a good reason why this rifle is worth the price.
I love this rifle because it doesn't fight me. I can relax almost as though I was shooting an accurate PCP. And I've adjusted the trigger to such a fine point that it doesn't disturb the finest aim when it's pulled. No wonder I compare other spring rifles to this one!
We now have a baseline for the TX200; so when the Benjamin MAV 77 becomes available, we can compare it.