by Tom Gaylord, The Godfather of Airguns™
Writing as B.B. Pelletier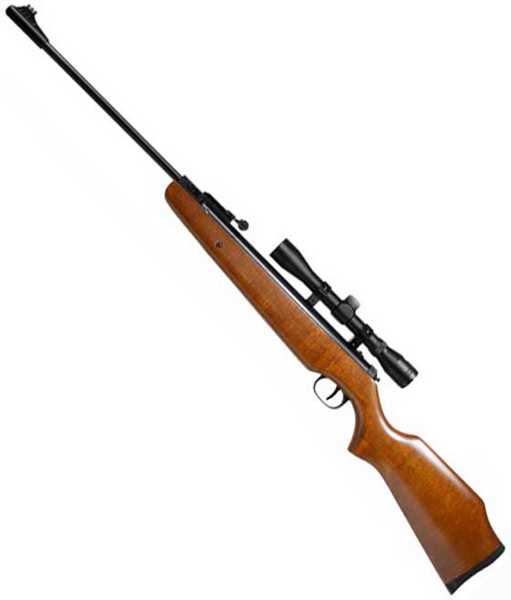 Ruger Air Hawk combo is very popular.
This report covers:
• Doing something different
• Tightened the barrel joint
• Sight-in and the first group with Hobby pellets
• Air Arms Falcon pellets
• RWS Superdome pellets
• H&N Baracuda Match pellets
• JSB Exact Express pellets
• Crosman Premier 7.9-grain pellets
• Alternate hold
• Conclusions
I started this test in July but have laid off for several weeks. Thanks for bearing with me. Today, we'll look at the accuracy of the Ruger Airhawk combo at 10 meters.
I'm looking at this combo because a number of readers say they really like the rifle. Of course, it's been compared to an RWS Diana 34, but I wouldn't go that far. Yes, there are similarities between the two rifles, but they're not identical. And each has its own unique firing characteristics — and we'll all learn a lot about those as I fire the rifle for accuracy using the open sights.
If this rifle proves to be accurate, it'll be a best buy, given the price of just $130. I know my test rifle is shooting slower than the advertised velocity, but I plan on testing the velocity, again, after the accuracy test, so don't give up just yet.
Doing something different
I'm changing the way I test air rifles in an attempt to make some progress faster than in the past. I'll shoot just 5 shots at 10 meters off a rest with each pellet and then look at the group. If the group shows promise, I will come back to the pellet. If not, I'll move on. That way, I'll be able to test more pellets in the same time.
I'll also test at least 2 different variations of the artillery hold — the 2 that have proven the most successful over the years. If one seems better than the other, I'll continue to use that hold for all the other tests.
Tightened the barrel joint
I noticed last time that the barrel joint wasn't tight. This barrel has a bolt that can be tightened, so I removed the action from the stock and tightened the barrel pivot bolt. When I was doing that, I noticed that all of them were loose. The inletting of the action in the stock was very tight — fully the equal of anything made in Europe. That gives me hope this rifle will be accurate.
Sight-in and the first group with Hobby pellets
I sighted-in the gun and shot the first group with RWS Hobby pellets. Sight-in amounted to just one shot that told me the rifle was on target from the factory.
I'm showing the sight-in shot along with the first group for two reasons. First, it shows how low the first shot was, yet I knew I'd be okay because I was shooting from just 12 feet. I knew the group would hit the paper higher. Second, it shows how much the shots climbed on target when I shot from 10 meters. This lesson demonstrates that you cannot sight-in a gun for anything under 10 yards and expect it to be on at any other distance. Even 10 meters is too close to sight-in a rifle if you expect to ever hit things at 15 yards and beyond. The sights are too close to the target, and the angular separation from the bore is too great when you're this close.
I held the rifle on the flat of my off hand with the triggerguard touching the heel of that hand. The group of 5 Hobbys measures 0.678 inches between centers. This is too large for a 10-meter group, so Hobbys are out of consideration.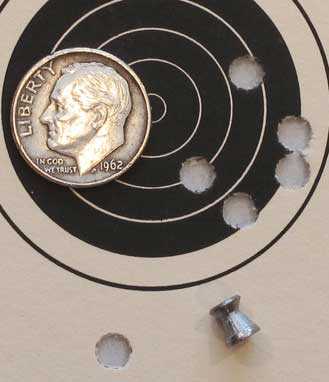 The sight-in shot hit below the bull, telling me the rifle was sighted-in. Five RWS Hobbys made a 0.678-inch group at 10 meters. Not good enough!
After this group, I adjusted the rear sight 7 clicks to the left but didn't touch the elevation. The sight remained in that setting for the rest of this test.
Air Arms Falcon pellets
Next, I tried Air Arms Falcon pellets. Falcons hit the target well-centered but much lower than the Hobbys. Five pellets went into a group that measures 0.493 inches between centers. While that isn't as good as I'd like to see at 10 meters, it does show some promise. I'll probably shoot Falcons from 25 yards, as well.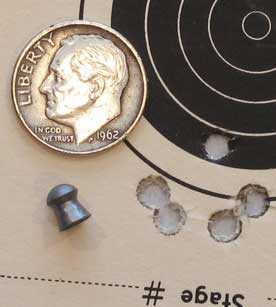 Five Air Arms Falcon pellets went into 0.493 inches at 10 meters. This is interesting.
RWS Superdome pellets
Next, I tried RWS Superdomes. They gave me a puzzling result. Four of the 5 pellets went into 0.506 inches, but the final shot opened the group to 0.906 inches. That might have been an aiming error; but at 10 meters, I usually don't make mistakes that large. I might try these again, but not if I find 2 other pellets that are better.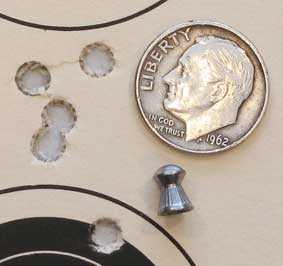 Five RWS Superdome pellets went into 0.906 inches, but 4 of them are in 0.506 inches. Interesting, but not good enough.
H&N Baracuda Match pellets
Next, I shot 5 H&N Baracuda Match pellets. Sometimes these pellets that seem too heavy for a gun will surprise you with their accuracy, although I have to say that happens more with heavy .22-caliber pellets than with .177s. It certainly didn't happen this time. Five Baracuda Match went into 1.372 inches. Although 3 pellets are close, I don't think this pellet is right for this rifle.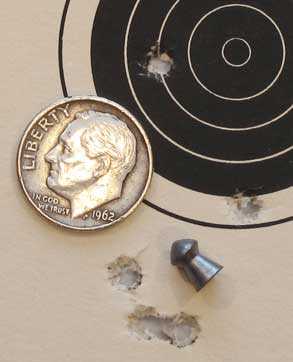 Five Baracuda Match pellets in 1.372 inches at 10 meters. Not the pellet for this rifle.
JSB Exact Express pellets
Five JSB Exact Express pellets were next. I have to confess that, while I like JSB pellets a lot, I've never had any luck with the Express pellet in either caliber. Today was no different. Five went into a 1.466-inch group that proved to be the largest of the test. Definitely out of the running for this rifle!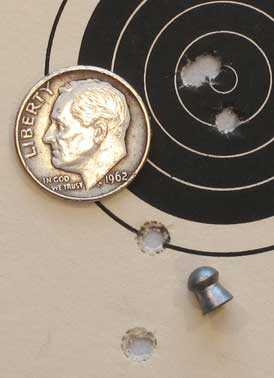 JSB Exact Express pellets made the largerst group of the test — 5 in 1.466 inches at 10 meters.
Crosman Premier 7.9-grain pellets
I felt I had to try the 7.9-grain Crosman Premier pellet that's often the best in some rifles. And I got an interesting result. The first pellet hit the target high and near the center of the bull. Then the next 4 dropped over one inch and grouped in 0.411 inches.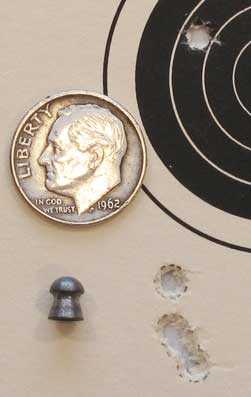 As a 5-shot group, Premier lites were not impressive, but only the first shot is apart from the group. Four went into 0.411 inches at 10 meters. This is a pellet worth testing further.
This group is small enough to interest me, so I shot a second group of 10 pellets. They landed in 0.746 inches, which is okay, but not the best. However, if you look at the group, you can see that 6 of the 10 pellets went into a much tighter group that's a single hole measuring 0.357 inches between centers. I know that aiming errors can put me off by as much as these 4 outlying pellets at 10 meters, so this group gives me confidence that the Airhawk can really shoot.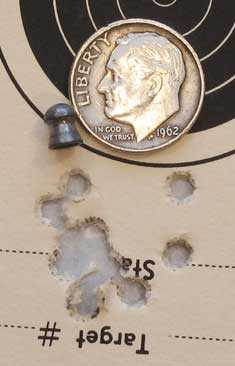 Ten Premier lites went into 0.746 inches at 10 meters, but 6 of them went into just 0.357 inches. That looks promising!
Alternate hold
I then tried the same Premier lite pellets with my off hand slid forward so I could feel the beginning of the cocking slot against my palm. Now that I know this is a good pellet, I can try different things like this. Five pellets went into 0.852 inches, which isn't good — but look where 3 of them went! That hole is a group measuring 0.069 inches! I don't think that was due to the different hold, but I do think it tells me this rifle can really shoot and that the Premier lite pellet is right for this gun.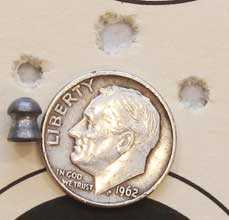 Using an alternate artillery hold, 5 Premier lites went into 0.852 inches. While that isn't so good, 3 of those pellets went into 0.069 inches. I think the rifle can shoot, and this pellet is the right one — but the first hold is best.
Conclusions
Edith spotted the fact that I may have skewed the test results by not seasoning the barrel for each pellet. I guess that's the down side of shooting so many 5-shot groups. It does bring up a good point. I think that when I move back to 25 yards, I'll season the barrel with 20 shots per pellet before shooting the first 10-shot group.
She also suggested that I do a seasoned barrel vs. unseasoned barrel accuracy test. There are enough of you who believe in the seasoning process, so that makes such a test worth the effort.
But, based on the rather wide spread on these groups at 10 meters, I have decided to not do the 25-yard test and end this report here. I have enough holes in my walls and woodwork already.