by Tom Gaylord
Writing as B.B. Pelletier
Part 1
Part 2
Part 3
Part 4
Part 5
Part 6
This report covers:
Back to the Hatsan 85 MOBU Sniper
A test of the new trigger adjustments
Many different holds
Try something different
Evaluation so far
Back to the Hatsan 85 MOBU Sniper
Today we return to the Hatsan 85 Mossy Oak Break Up rifle, to see whether Bulldawg76's trigger adjustment screws have any impact on accuracy. I don't think they will, but I do think they will make it easier to shoot the rifle at targets. That will be a help by itself.
I am shooting off a rest at 25 yards. Naturally the artillery hold is being used. I'm resting the rifle on my off hand, back by the triggerguard
A test of the new trigger adjustments
I began where we left off in Part 5. The rifle is sighted-in and I selected the H&N Baracuda Match with 4.52mm head as the pellet to try. Boy — was I shocked when the first shot was a 10! For a few shots everything looked good, but then on shot number 6 the group opened up. By the time 10 shots had been fired the group measured 1.551-inches between centers. That's very similar to the 1.422-inches I got with the same pellet before the trigger was adjusted.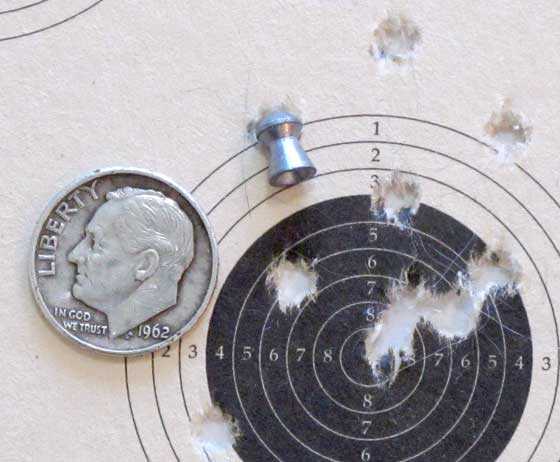 The first 25-yard group of 10 H&N Baracuda Match pellets with 4.52mm heads measures 1.551-inches between centers. Sorry about resting the head of the pellet in one of the holes. I didn't see it when I set up the photo.
Many different holds
I fiddled around with different holds, trying to improve things, but I always came back to holding the rifle balanced on my off hand touching the triggerguard. The rifle is very muzzle-heavy when held that way, but it seems to do best when I'm behind the trigger.
After shooting a bunch more shots with other holds, I returned to the first hold and tried another 10 shots. This time the group opened up to 2.237-inches and I knew the day was over for me and this rifle. I had lost my ability to concentrate. Or had I?

The second 25-yard group of 10 H&N Baracuda Match pellets with 4.52mm heads measures 2.237-inches between centers, and is obviously due to shooter error. I'm getting tired from concentrating too long.
Try something different
I thought I would try some pellets I had not tried before and see whether one of them might do a little better. Certainly as tired as I was, if one did do well, that meant it had a lot of promise.
The first pellet was a bust when it missed the target altogether. On to pellet number 2 — a BSA Wolverine. The Wolverine is an 8.44 grain dome that sometimes does surprisingly well in powerful air rifles. When the first shot went to the left of the target I thought it was going to be a bust. But when shot number 2 went to the same place I perked up. To make a long story short, 10 Wolverines landed in 1.172-inches at 25 yards. That's the best group this rifle has shot to date for me. And I could tell I was tired from shooting and concentrating on the hold. I think the Wolverine might do even better.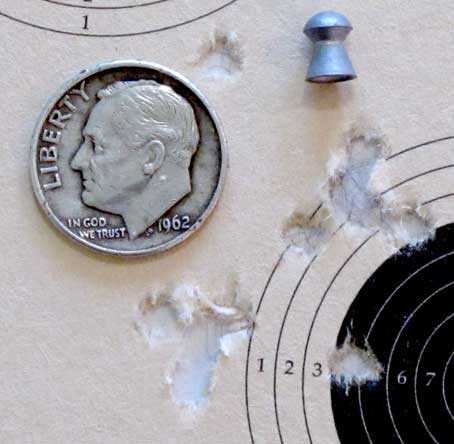 This group of BSA Wolverine pellets measures 1.172-inches between centers. It is the smallest group I have shot at 25 yards with this rifle to date. I know this isn't the best 25-yard group I ever shot, but it does show a lot of promise for the Hatsan 85.
There will be at least one more part to this report. I'm curious to see what the Wolverine pellet can do when I'm fresh and on my game.
Evaluation so far
The Hatsan 85 MOBU Sniper rifle is turning out to be a niice poweful breakbarrel spring-piston rifle that doesn't go too far with the power. In other words — it's a gun you might like. The scope that comes with the combo doesn't work well with it, and I substituted a UTG 4-16X50 scope in its place in Part 5. That scope is mounted in a set of 2-piece BKL rings that are holding the scope rigid.
I felt the trigger was too heavy after adjustment, so reader Bulldawg76 sent me a set of screws that are longer and give a broader range of trigger adjustment. That setup, which was installed and tested in Part 6, is working fine and does help me shoot the rifle.
Bottom line is this may be a spring rifle to consider. It's less expensive and more powerful than the RWS 34, and even though the accuracy is not comparable, it still seems good. Next time will tell for sure!