by Tom Gaylord
Writing as B.B. Pelletier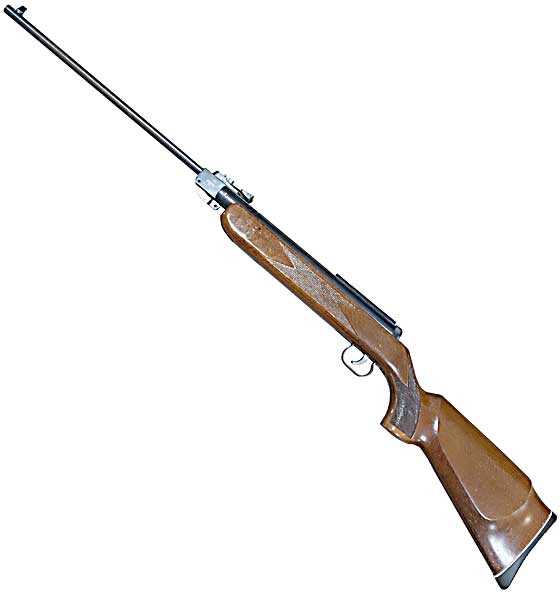 BSF S70 rifle is the father of several famous Weirauch models.
This report covers:
The test
Shoots low
Hobbys
Premier lites
The sights and my new eye
RWS Superdomes
JSB Exact RS
Conclusion
In Part 2 we learned that this BSF S70 breakbarrel springer is more powerful than German law allows, despite the presence of the Freimark. Today we discover if it is accurate.
The test
I shot the rifle off a rest at 10 meters. I used the artillery hold. And I used the sights that came with the rifle, because that was part of why I conducted this test. My other BSF S70 is more powerful and has an aftermarket peep sight. And I had to bend its barrel down to get it on target, because somebody in the past had fired the rifle with the barrel open.
Shoots low
So, imagine my surprise to discover that this apparently stock S70 shoots very low. With the rear sight adjusted as high as it will go, the rifle still hits 2 inches below the aim point at 10 meters. Some of that is due to the fact that I am shooting with a 6 o'clock hold that's inappropriate for the bead front sight that's on the rifle. That bead is supposed to be held in the center of the target, but it disappears when I do that. However, I'm still hitting 2 inches below the bead. So I aimed at one bull on the 10-meter air rifle target and my pellets landed in the center of the bull below. Maybe I need to bend the barrel of this rifle up?
Hobbys
First to be tested were 7-grain RWS Hobby pellets. I only looked at the first shot to confirm I was on target and then fired the other 9 rounds without looking through the spotting scope again. When I finished shooting I looked and saw a vertical group that measures 1.043-inches between centers. I don't think Hobbys are the right pellet for this rifle.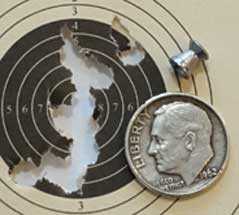 Ten RWS Hobby pellets made this 1.043-inch group at 10 meters.
Premier lites
Next up were Crosman Premier lite pellets. These grouped much better with a spread between the centers of just 0.67-inches. Given that I'm shooting with open sights, I think that's not too bad.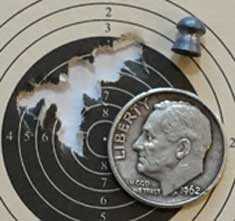 Ten Premier lites went into 0.67-inches at 10 meters.
The sights and my new eye
I was very pleased that the sights were clear and sharp throughout this test. My cataract-free right eye could see the sight picture very clearly, and there were no called pulls (shots that went wide because of something you know you did). I might not be using the sights as intended, but I am using them consistently.
RWS Superdomes
The next pellet I tried was the RWS Superdome that was the heaviest pellet I tested in Part 2. I thought they might surprise me and they did — sort of. Ten Superdomes went into a 1.287-inch group that was the largest of the test. But 8 of those pellets landed in a very round 0.673-inch group in the center of the bull. Looking at it I have to wonder what's going on.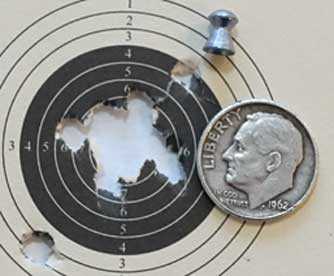 Ten RWS Superdomes landed in 1.287-inches at 10 meters, with 8 of them clustered in a nice 0.673-inches in the center of the bull.
JSB Exact RS
The last pellet I tested was the JSB Exact RS. I felt they might do well, and they did. Ten of them made a group measuring 0.603-inches between centers at 10 meters. That's the best group of the test.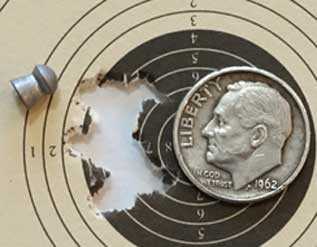 Ten JSB Exact RS pellets went into 0.603-inches at 10 meters — the best group of this test.
Conclusion
This report has resolved a semi-mystery and raised another ione. We now know the BSF S70 is more powerful than 7.5 joules, and we know that with tuning it can reach 12 foot-pounds. But it shoots low — at least this one does. The other one shot high, but that was caused by mechanical damage — or was it? Was that perhaps the result of an attempt to correct the problem we are seeing today? Who can say?
The BSF S70 is certainly a classic air rifle, and it is the father of a number of popular air rifles made by Weihrauch. In its day the rifle was considered one of the most powerful, but time has turned it into a tame air rifle. A fellow could do worse than to own one of these old-timers.