Air Arms Galahad: Part 6
by Tom Gaylord
Writing as B.B. Pelletier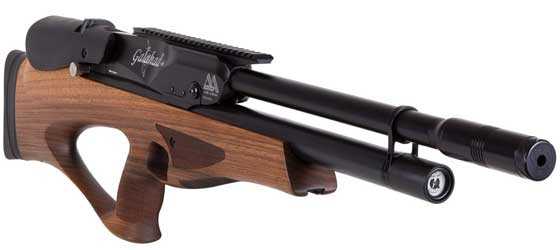 Air Arms Galahad PCP in walnut is a striking looking air rifle!
UTG 8-32 SWAT Mil Dot
Part 1
Part 2
Part 3
Part 4
Part 5
This report covers:
JSB Exact Jumbo
JSB Exact Jumbo Heavy
H&N Baracuda Match with 5.53mm heads
Crosman Premiers
UTG 8-32 SWAT scope
Summary
This final report has taken two months to complete. I went to the range one time and shot the rifle at 50 yards, but the wind was blowing on that day and the groups were not good. I felt that was due entirely to the wind, so I needed to try it another day. It took me most of the time to get that second day — a combination of other business and a lot of windy Texas days!
Today I am reporting on the .22 caliber Galahad-rifle from Air Arms at 50 yards. Naturally I shot off a rest. The rifle was shot on power setting 4 (there are 5 settings) and I refilled after every second 10-shot group. Let's get right to it.
JSB Exact Heavy
The first pellet I tried was the 15.89-grain JSB Exact Jumbo dome. They landed high and to the left of the aim point, but I wasn't worried about that. Ten of them went into 0.92-inches at 50 yards, which isn't too bad!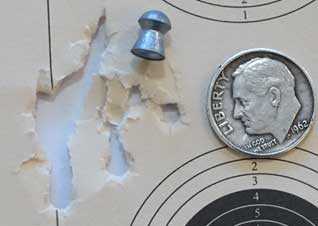 The Galahad put 10 JSB Exact Jumbo (15.89-grain) domes into 0.92-inches at 50 yards.
JSB Exact Jumbo Heavy
I didn't think the 15.89-grain pellet was the best for the Galahad, so next up was the 18.13-grain JSB Exact Jumbo Heavy. This was the pellet I had the most hope for. The first 10 grouped in 0.741-inches, which is pretty spectacular. So I shot a second group at the end of the test, just to check.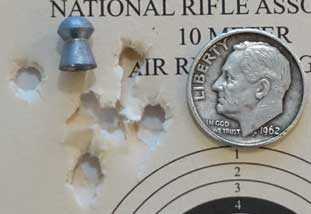 The Galahad put 10 JSB Exact Jumbo Heavy (18.1-grain) domes into 0.741-inches at 50 yards. That is a group!
I adjusted the scope a little for this second group, although it still isn't centered or quite low enough. This time 10 pellets went into 1.239-inches — BUT — one shot was a called pull! I saw the sight move to the left just as the rifle fired. The other 9 pellets are in 0.926-inches.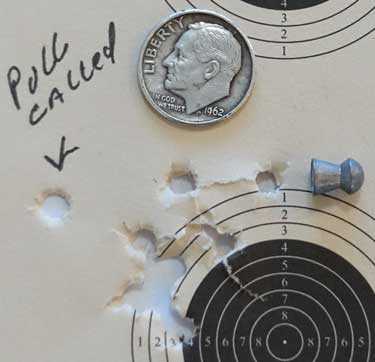 On the second attempt the Galahad put 10 JSB Exact Jumbo Heavy (18.1-grain) domes into 1.239-inches at 50 yards, but one shot was a called pull. The other 9 are in 0.926-inches.
H&N Baracuda Match with 5.53mm heads
The third pellet I tried in the Galahad was the H&N Baracuda Match with 5.53mm heads. This pellet did not do as well at 25 yards, and I wanted to test it at 50 to see if the relationship held. It did. Ten shots at 50 yards went into 1.608-inches, with 9 in 1.35-inches. That's not good, in light of what both the JSBs did.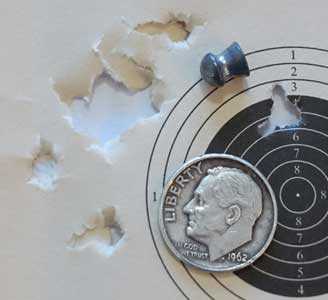 Ten H&N Baracuda Match domes made a 1.608-inch group at 50 yards. Given what the two JSB pellets did, this one isn't for the Galahad.
Crosman Premier
The final pellet I tested was the .22-caliber Crosman Premier. Ten went into 1.46-inches. This is another pellet that isn't well-suited to the Galahad.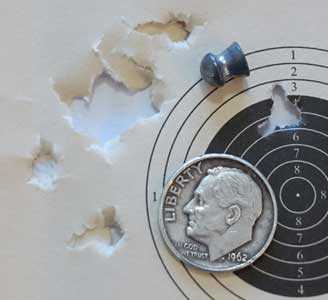 Ten Crosman Premiers made a 1.46-inch group at 50 yards.
UTG 8-32 SWAT scope
Remember that I linked to the UTG 8-32 SWAT scope that I mounted on this rifle. This rifle was also a test of that scope, and several readers asked to see what the rifle looked like with that large scope mounted. So I took a picture for you.

I don't think the UTG scope looks too large on the Galahad.
This UTG scope is very clear, as all UTG premium scopes are, these days. It is exceptionally bright on 32 power and it is a scope I can always recommend. It is large, but look at it on the rifle to see how it compares.
Summary
The Air Arms Galahad that I tested is remarkable in several ways. First, the bullpup design shortens it without loosing precious barrel length. Next, it cocks via a paddle on the left side of the gun. Several readers like that placement, though I didn't find it any easier than a conventional bolt.
The uniformity of velocity at all power levels is perhaps the best feature the Galahad offers. It is very consistent, plus it gives you lots of shots at the higher-power settings. You can thank a regulator for that. Remember, though, that the full fill on this rifle is to 250 bar (3,626 psi).
Finally, I think the accuracy speaks for itself. While other premium PCPs are capable of these results, only the top airguns can do it. I think the Galahad is a rifle you should consider when you move up to a top-class PCP.
Tom Gaylord is known as The Godfather of Airguns™ and has been an airgunner for over a half-century, but it was the 
Beeman
 company in the 1970s that awoke a serious interest in airguns. Until then, all he knew were the inexpensive American airguns. Through the pages of the Beeman catalog, he learned about adult airguns for the first time. In 1994, Tom started
The Airgun Letter
 with his wife, Edith. This monthly newsletter was designed to bring serious reports about airguns to the American public. The newsletter and
Airgun Revue
, a sister magazine about collectible airguns, was published from 1994 until 2002, when Tom started
Airgun Illustrated
-- the first American newsstand magazine about airguns. Tom worked for three years as technical director at
AirForce Airguns
, the makers of the 
Talon, Condor, and Escape
 precharged air rifles. Today, he writes about airguns and firearms for various publications and websites. He also makes videos, and you'll find short clips embedded in some of his artices on Pyramyd Air's website. Tom is a consultant to Pyramyd Air and writes under the name of B.B. Pelletier.