FWB 124 air rifle: Part 4
by Tom Gaylord
Writing as B.B. Pelletier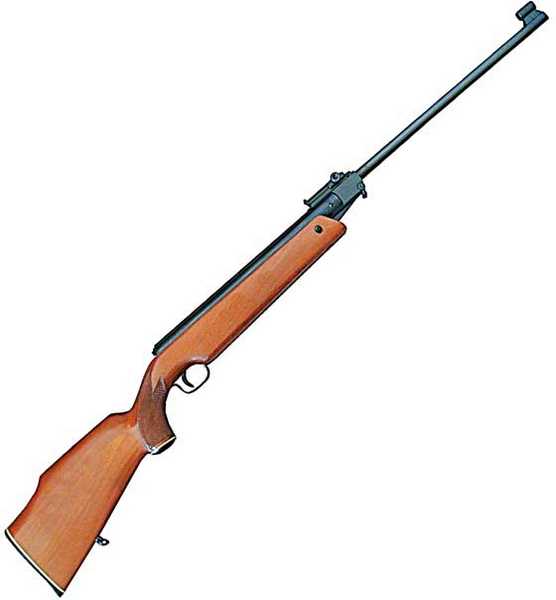 This FWB 124 Deluxe is not the exact gun I'm writing about, but it is the same model.
This report covers:
Sight-in
The test
Crosman Premier lites
RWS Hobbys
Trigger
JSB Exact RS
Air Arms Falcons
What's next?
Today I back up to 25 yards and shoot the FWB 1`24 for accuracy again. I will still be using the open sights.
Sight-in
The nice thing about open sights is they are usually in the right general place. Except for guns like the BSA Meteor Mark 1 I recently tested, most guns with open sights will be on paper at 25 yards. Since this 124 was coming off a 10-meter session, I knew it had to be close.
The first shot hit high but in line with the center of the bull, so I slid the elevation slider back. Shot two landed very low, so I advanced the slider halfway and shot three was in the bull. After that I didn't touch the sights again.
The test
Each pellet was shot 10 times off a sandbag rest at 25 yards using the artillery hold. My off hand was back by the triggerguard.
Crosman Premier lites
I started the test with Crosman Premier 7.9-grain pellets. At 10 meters they gave me the smallest group of the test — 0.447-inches for 10 shots. At 25 yards 10 Premier lites went into 1.181-inches. That was larger than expected. I had hoped to put them into 0.9 inches or less.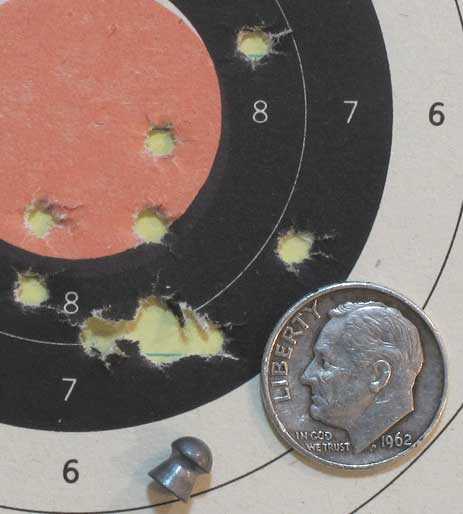 The Crosman Premier 7.9-grain pellets made a 1.181-inch group at 25 yards when shot off a rest.
RWS Hobbys
Next I tried the RWS Hobby pellet that I usually don't shoot at 25 yards. Sometimes, though, they can surprise me and this was one of those times. Ten Hobbys went into 1.454-inches at 25 yards, but 9 of them are in 0.878-inches. That's about what I had expected from the 10 Premier lites.
At 10 meters Hobbys had grouped in 0.609-inches, so I guess I should have expected something like this. In fact, it the first test I even threw one Hobby outside the main group, just like this time.
I have to admit this group looks like only 8 shots. I assure you there are at least 9 pellets in this group. I may have miscounted as I shot and left out one pellet, but not two.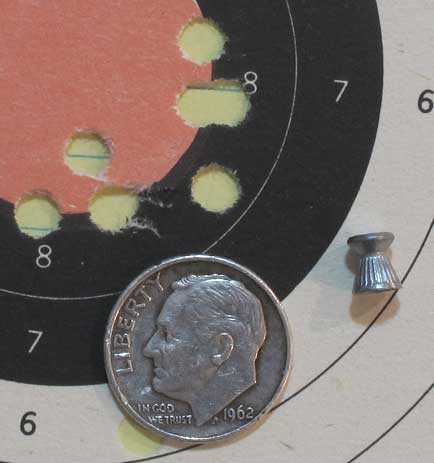 Ten (or maybe only 9) RWS Hobby pellets went into 1.454-inches at 25 yards. Throw out the one stray shot and the group measures 0.878-inches between centers. The dime is sitting on one of the holes!
Trigger
The FWB trigger is adjusted to a single stage, and while I don't normally like triggers set that way, if they are, this is the way to do it. It feels just like stage 2 of a well-adjusted trigger.
JSB Exact RS
The next pellet I tested was a JSB Exact RS. The FWB liked this one. Ten pellets went into 0.889-inches at 25 yards. This was the kind of group I had been expecting from this rifle.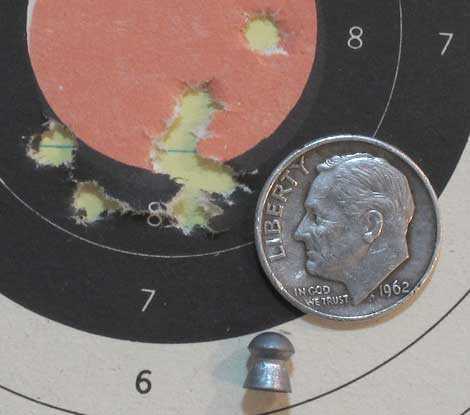 Now, this is a group! Ten JSB Exact RS pellets went into 0.889-inches at 25 yards with open sights!
Now, I had found a pellet the FWB 124 liked. This was what I was hoping to find. I wanted to try one more pellet that hopefully would also do well.
Air Arms Falcons
Finally I tried the Falcon pellets from Air Arms. Ten went into 0.874-inches at 25 yards. Actually the group is so close to the RS group above that it's too close to call. I'll call it a tie. This is how I envisioned the FWB 124 shooting with open sights.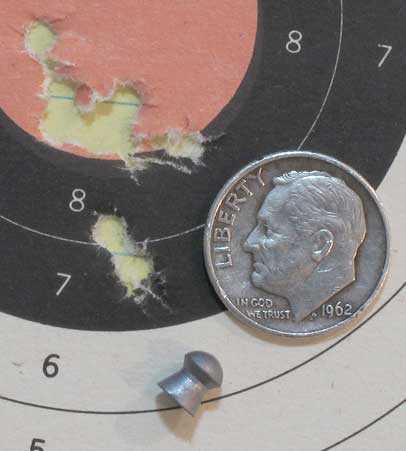 Ten Air Arms Falcon pellets went into 0.874-inches at 25 yards. Fantastic!
What's next?
Now we have a good baseline on this rifle. I think the next step is to mount a scope and see where that takes us. I will guess that a scope will shave a little size off some of the best 25-yard groups, but I doubt it will be as much as a quarter-inch. We shall see!
Just so it's clear, I'm leaving this rifle alone. No tearing into it to see if I can make it better. It's doing so well now that I would be afraid of messing it up!
Tom Gaylord is known as The Godfather of Airguns™ and has been an airgunner for over a half-century, but it was the 
Beeman
 company in the 1970s that awoke a serious interest in airguns. Until then, all he knew were the inexpensive American airguns. Through the pages of the Beeman catalog, he learned about adult airguns for the first time. In 1994, Tom started
The Airgun Letter
 with his wife, Edith. This monthly newsletter was designed to bring serious reports about airguns to the American public. The newsletter and
Airgun Revue
, a sister magazine about collectible airguns, was published from 1994 until 2002, when Tom started
Airgun Illustrated
-- the first American newsstand magazine about airguns. Tom worked for three years as technical director at
AirForce Airguns
, the makers of the 
Talon, Condor, and Escape
 precharged air rifles. Today, he writes about airguns and firearms for various publications and websites. He also makes videos, and you'll find short clips embedded in some of his artices on Pyramyd Air's website. Tom is a consultant to Pyramyd Air and writes under the name of B.B. Pelletier.