by Tom Gaylord
Writing as B.B. Pelletier
This is Part 12 of the Hiveseeker guest blog on the Crosman 2400KT. Today is subtitled Modding the Crosman 2400 family — Primer 1
If you'd like to write a guest post for this blog, please email me. Now, over to you, Hiveseeker.
Crosman 2400KT CO2 Air Rifle – Part 12
Modding the Crosman 2400 family — Primer 1
By Hiveseeker
Part 1
Part 2
Part 3
Part 4
Part 5
Part 6
Part 7
Part 8
Part 9
Part 10
Part 11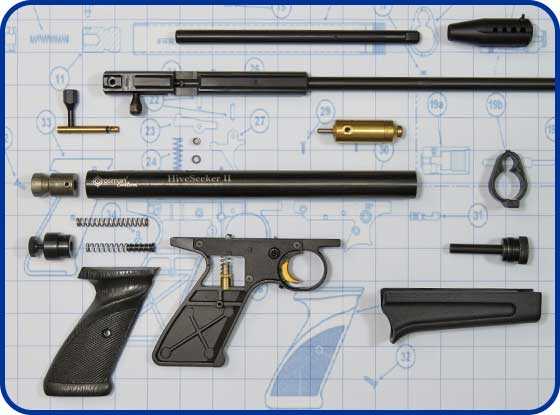 The 2400KT CO2 Air Rifle that I modded for this report is only available directly from the Crosman Custom Shop. It is shown here disassembled with a mix of stock and modded parts. For scale, the background grid on all photos is one inch square.
WARNING: These modifications can change the operation of a gun in ways it was not designed for. Non-factory or modified parts can fail, especially if subjected to higher pressures than originally intended. Pyramyd AIR advises against making such modifications or conversions. This report is for information, only.
This report covers:
It's a mod, mod, mod, mod world
Definitions
The guns
The parts
The tools
Disassembly
You'll need a chronograph!
Modding: The need for speed . . .
. . . And the price of power
It's a mod, mod, mod, mod world
I need to start this blog by stating that many of my fellow readers know a lot more about this topic than I do. When I started this blog series — way back in 2014! — it was in response to B.B.'s Crosman 2240 conversion to air. I was searching for the gun he created, but without the need for modding. The 2400KT CO2 Air Rifle from the Crosman Custom Shop came pretty close.
Throughout these blogs, I've rather stubbornly adhered to reporting stock data. However, it is impossible to research any of the Crosman CO2 guns without coming across an overabundance of information about modding them. Reader Halfstep put it succinctly, "As extensively as you've covered the stock guns, you'd almost have to write about mods!" Well, that's where we are today!
I'm approaching these final three blogs on the Crosman 2400KT as a new modder taking his first steps into that arena. I'll tell you about the mods I tried and the results I got. But my larger goal is to create a primer on this topic that collects the basic information I gathered from a wide range of sources, that any modder should know.
Definitions
For those new to this topic, "stock" means not modified; i.e. straight off the shelf from store stock with no changes. "Modded" or "modified" means changed to customize or improve performance in some way. A "mod" is one of these changes or alterations that you can make. "CCS" or "CS" refers to the Crosman Custom Shop which sells the 2400KT and 2300KT.
The guns
The Crosman 2240 is by far the most popular CO2 gun to mod. The 2400KT and 2300KT are also quite popular, and I've seen it stated that a majority of these Custom Shop guns are purchased specifically with the intention of modding. Despite being out of production, the 2250 "Ratcatcher" also remains a modding favorite, particularly in the UK. The Sheridan 2260MB is basically a Crosman CO2 pistol in rifle's clothing and also regularly targeted for modification. The Crosman Crosman 2300S and 2300T are in the same family, but these higher end pistols already include upgrades and as a result are not so frequently modded. Although we will be looking specifically at the Crosman 2400KT CO2 Air Rifle, most of the mods described here can be performed on any of these Crosman guns.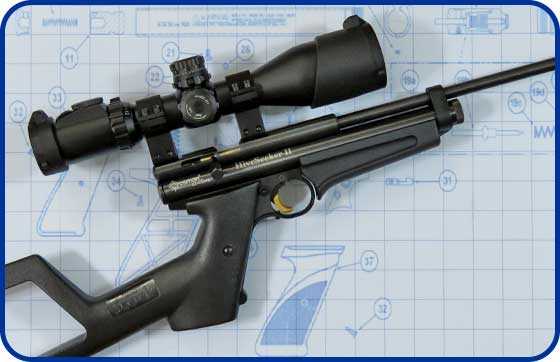 The HiveSeeker II was ordered with a 14.6-inch Lothar Walther .22 barrel, gold trigger shoe, gold muzzle brake, and black shoulder stock and cost $128 plus shipping. The scope is a Leapers UTG 3-12X44 AO SWAT Compact.
The parts
For the different parts we'll be discussing, you may wish to refer to the Crosman 2240 exploded parts diagram. There are Crosman parts lists and owner's manuals available for all their guns, but this particular diagram was the one I found most useful. Next most helpful to me was the 2300S Exploded Parts Diagram. Note: This is a PDF that must be downloaded from Crosman's website. Some parts have names commonly used by modders that don't match the Crosman names, and in those cases I've stuck to the common name but also included the Crosman name parenthetically.
[Editor's note: Crosman diagram and parts list are reprinted with permission from Crosman Corporation. The type is too small to read and cannot be enlarged with clarity. I recommend you get this information directly from the Crosman website.]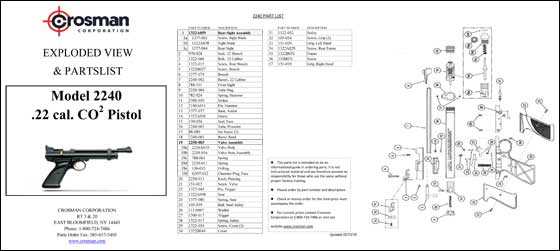 Crosman provides great product support with easy access to parts diagrams and owner's manuals.
Word is that you need to have purchased a Custom Shop gun before you can order parts directly from Crosman, although policy seems to vary a bit depending on who picks up the phone. I've also been told that you can only order enough parts for the Custom guns you've purchased — in other words, if you've bought two Custom guns you can't order five barrels. Screws and other small parts like seals seem to be a no-limit exception. Most Crosman parts are also readily available on eBay, but generally cost twice as much as they do directly from Crosman. I've provided a Crosman 2XXX Parts List of the most commonly used parts compiled from all the relevant Crosman parts diagrams. On this list you can really see how many parts this family of guns shares, as well as where they differ.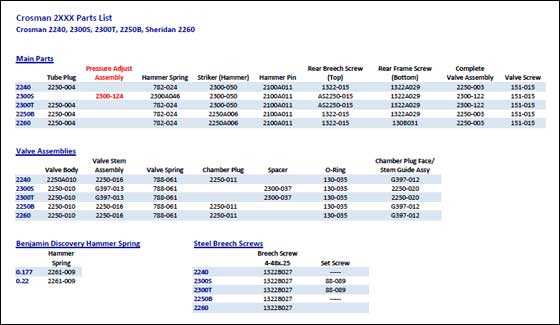 The Crosman CO2 gun parts list shows which parts the 2240 family of guns shares, as well as where they differ.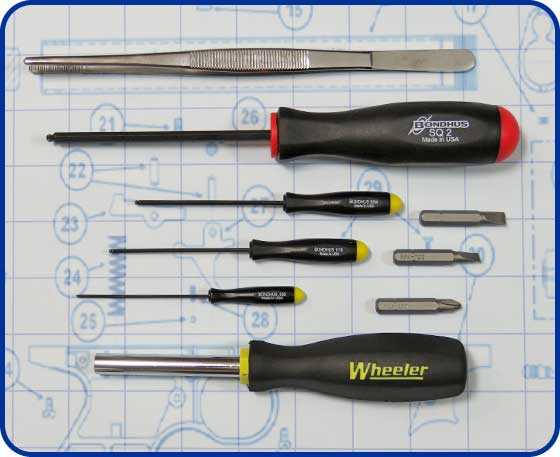 Top to bottom are jumbo tweezers, Bondhus #2 square bit driver (red trim), three Bondhus hex drivers (yellow trim), and a Weaver style gunsmith driver with three bits. These tools will handle most modding tasks.
The tools
I'm always amazed at the pile of tools that accumulate on my workbench by the time I finish a project! You'll want a screwdriver set like the ATK Weaver tool kit that provides an assortment of Phillips, slotted, and other bits. You'll need several hex wrenches including 0.050 inch (for the breech screw), 1/16 inch (trigger cover screws), and 5/64 inch (barrel, muzzle brake, and other set screws). The red trimmed driver in the photo is a specialty Bondhus brand #2 square bit for the front frame and rear frame screws; these screws incorporate a slotted head too but I like the square driver because it is slip-proof. My crafts-making wife gave me a pair of jumbo tweezers that have proved to be extremely helpful for handling and positioning small parts. If you'll be disassembling valves, you'll also need vise grips and pliers.
Pro tip: The breech, front frame, and rear frame screws must all be tightened or loosened at an angle. I found the Bondhus brand of ball head drivers to be ideal for this task. The handle on the 0.050 inch Bondhus hex wrench is small and was hard to generate torque with, but they also manufacture balldriver L-wrenches that provide more leverage if needed.
Disassembly
B.B. provides outstanding step-by-step photos and instructions for disassembling the Crosman 2240 in his blog Crosman 2240 conversion to air. The 2400KT and other guns we've mentioned here are similar, except for having a steel breech with a breech screw that is located farther back under the bolt. In order to unscrew it, you must first remove the tube plug from the main tube. This allows the hammer and bolt to be retracted far enough to access this screw. The hex screwhead is still only partially exposed, which is why I find the Bondhus balldriver hex wrench that I mentioned earlier so convenient. Note that as you unscrew it, the breech screw rises to hit the bottom of the bolt and you must lift the steel breech assembly slightly off the main tube as you continue unscrewing to fully remove it. Similarly, the breech will not sit flush on the main tube when you reassemble this part, but will settle into place as the breech screw is tightened. Be very careful not to strip the head of the breech screw! Third party hardened breech screws are available to reduce the chances of this happening if you do a lot of modding.
Pro tip: Disassemble your gun on a towel so you don't lose parts, especially the tiny safety detent ball which is notorious for disappearing.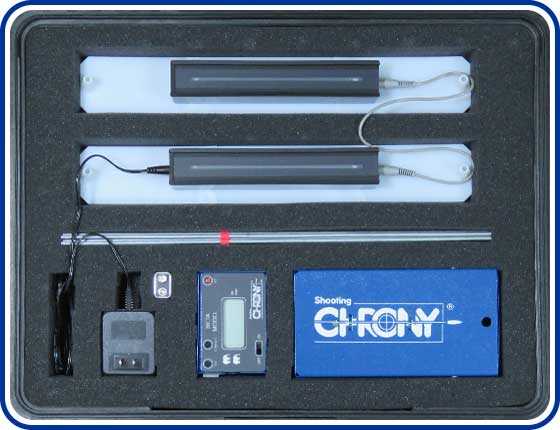 My Shooting Chrony Beta Master includes a remote display. I strongly recommend the Shooting Chrony LED lamps shown at top!
You'll need a chronograph!
The vast majority of mods for these guns are intended to increase velocity. Even if your goal is to increase shot count, you will still need to know where the power curve begins to fall off. Obviously, you are going to need a chronograph to determine how effective each mod is. I use a Shooting Chrony Beta (my version is the Beta Master with the remote display shown in the photo). After years of dodging clouds, sun, and rain, my recent testing finally prompted me to break down and buy the Shooting Chrony LED lamps for indoor chrony testing (at top in photo). I wish I had done that much sooner — while a little pricey, they are incredibly convenient and very reliable!
Pro tip: Be sure to read the owner's manual for your chronograph. For example, Shooting Chrony recommends placing the skyscreens at least 3 feet from the muzzle for airguns for best measurement accuracy. I see this ignored all the time in YouTube videos!
Modding: The need for speed . . .
B.B. constantly tries to guide his readers toward the straight and narrow path of handling and accuracy. However, many of us choose to wander the broad road of velocity, velocity, velocity! And indeed, the vast majority of modding is done to increase speed.
The gun I modded was the HiveSeeker II from Crosman 2400KT CO2 Air Rifle Part 9, a 2400KT with 14.6-inch Lothar Walther .22 barrel. When I tested the stock velocity of this gun, it averaged only 434 f.p.s. with 14.3 grain Benjamin Discovery Hollow Points. This was a full 124 f.p.s. below my other HiveSeeker 2400KT which was ordered identical except for its 18 inch barrel. I knew the HiveSeeker II could perform better. I needed more speed — and a modder was born!
. . . And the price of power
If any of you are fans of the "Once Upon a Time" series like my wife and I, then you know that each character must learn that "Magic always comes with a price!" Modding — and the laws of physics — are subject to the same rule! If you buy more velocity, you are going to pay for it somewhere else. In Part 9 we saw that when I changed valves in my HiveSeeker II, I bought 90 f.p.s. but paid for it with half the shots per fill. There is usually no free lunch in modding!
That wraps up today's blog and lays the groundwork for the mods themselves, which we will cover in the next two installments.