by Tom Gaylord
Writing as B.B. Pelletier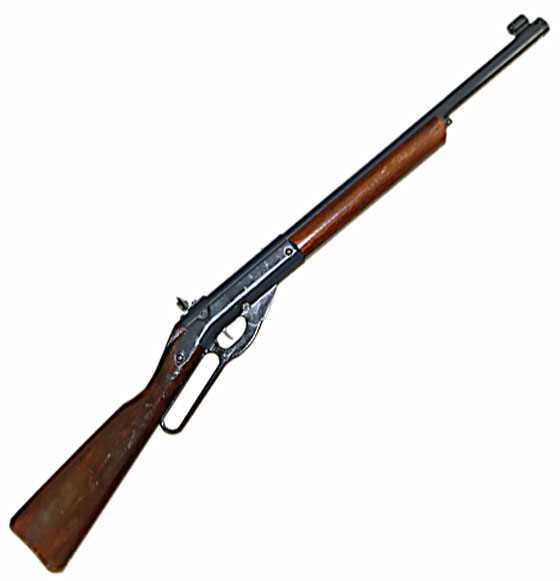 Daisy Model 99 Target Special.
This report covers:
The test
What is accuracy in a BB gun?
Air Venturi Steel BBs
Hornady Black Diamond BBs
Dust Devils
Daisy BBs
Daisy Avanti Precision Ground Shot
Discussion
499
Summary
Today is accuracy day for the Daisy 99 Target Special BB gun. Up to this point I have told you the history of the gun and we have looked at its velocity. Daisy purposely made this BB gun as a target gun. That means target sights and a sling. It also means a good trigger. But what about the barrel? Unless they did something with that you aren't going to see any more accuracy from this gun than you would from a Red Ryder. I owned a 99 many years ago but it's been so long that I can't remember what it was like. I'm learning about this gun right alongside you.
The test
I shot the test from 5 meters, the official national BB gun championship distance. I rested the gun on a UTG Monopod that you have seen in most of my other BB gun tests. Think of it as a sandbag rest. It's almost as stable.
I shot 5-shot groups because these are BBs that tear imperfect holes. That should be good enough to show the accuracy potential. The 99 came with a front post sight and I haven't changed it, so the tip of the post rests at 6 o'clock on the bull at 5 meters.
What is accuracy in a BB gun?
We must remember that this is a BB gun — not a pellet rifle. It's never going to be capable of the kind of accuracy we talk about with pellet rifles. As I show the groups I will try to remain focused on that fact.
Air Venturi Steel BBs
First to be tested were Air Venturi Steel BBs. I used the copper-plated ones that are no longer carried, but I linked to the BBs you can buy. The gun was empty so I loaded just 5 BBs through the loading port and started shooting. The first shot hit the target about 2 inches low and slightly to the left of center. Since all the BBs landed in the white and were clearly visible, I decided to leave the sights adjusted where they were. Five Air Venturi Steel BBs went into a group measuring 0.864-inches between centers. Honestly, that is smaller than I expected. I can see that Daisy did put some accuracy into this BB gun. Sure you will get a Red Rider that is this accurate from time to time, but most of them won't come close.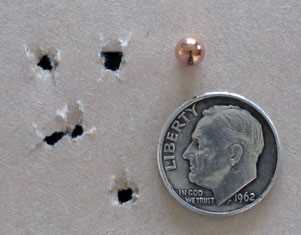 Five Air Venturi Steel BBs went into 0.864-inches at 5 meters.
Hornady Black Diamond BBs
The second BB I tried was the Hornady Black Diamond. These are often quite accurate in BB guns. And the 99 was no exception. Five went into 0.783-inches at 5 meters. This gun is accurate!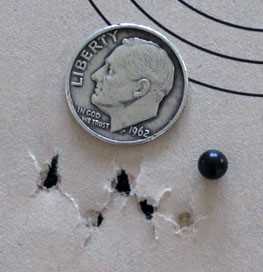 Five Hornady Black Diamonds went into 0.783-inches at 5 meters.
Dust Devils
Next I tried the Air Venturi Dust Devil BB. This is the one many folks want to know about, and it didn't disappoint. Five made a group at 5 meters that measures 0.758-inches between centers. I will tell you right now that was the smallest group of the test for the 99. That does not mean that Dust Devils are any more accurate than the other BBs we have seen. All it means is they are right there with the others when it comes to accuracy. It is incredibly hard to measure BB holes with a caliper, and I could easily be off by a lot.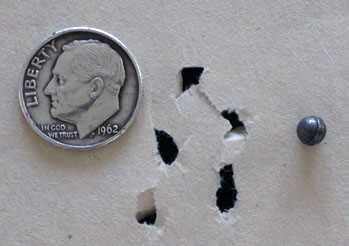 Air Venturi Dust Devils grouped 5 in 0.758-inches at 5 meters — the smallest group made by the model 99.
Daisy BBs
Next to be tested were Daisy Premium Grade BBs. When the Daisy 99 was new, Daisy BBs were the best BBs you could buy. They are still considered a premium BB, though many other brands have caught up. At 5 meters the 99 put 5 Daisy BBs into a group measuring 1.227-inches between centers. It is the largest group of the test and is significantly larger than the groups made by the other BBs.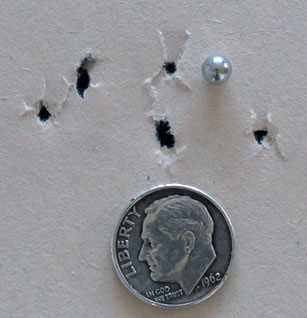 Five Daisy BBs made this 1.227-inch group at 5 meters.
Daisy Avanti Precision Ground Shot
The last BB I tried in the 99 was the Daisy Avanti Precision Ground Shot. These are the BBs made specifically for the Daisy Avanti Champion 499 BB gun that we know as the world's most accurate BB gun. If I hadn't tested them in this report, several readers would have let me know it!
Precision Ground Shot grouped 5 BBs in 1.057-inches at 5 meters, so there is no magic with them in this 99. They made the second-largest group of the five BBs tested.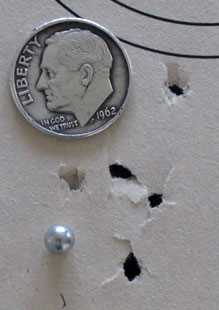 The Daisy 99 put 5 Avanti Precision Ground Shot into a 1.057-inch group at 5 meters.
Discussion
I am impressed by the accuracy of this old BB gun. It lives up to all the hype. Back in 1959 this BB gun would be seen as the marvel of the age. The 499 wasn't a gleam in an engineer's eye at that time. But time does pass and the 499 did come into being. So, how much more accurate is it than this 99? One good way to find out.
499
My 499 was almost zeroed, so I shot a few shots and adjusted the peep sight to get it in the center of the bull and then shot 5 for record. At 5 meters from the same rested position as was used for the model 99, 5 Precision Ground Shot made a group measuring 0.146-inches between centers. Now — THAT is an accuracy difference you can see! And that is why the 499 is called the world's most accurate BB gun. But it probably would never have come into existence if the Daisy Model 99 Target Special had not paved the way.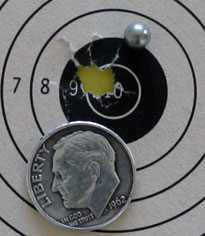 Five Precision Ground Shot from the Daisy 499 went into 0.146-inches at 5 meters.
Summary
We have spent some pleasant time with an oldie but goodie. Daisy's Model 99 Target Special is a BB gun worthy of consideration. I was pleased to be able to shoot the scarce first-year version that has gravity feed, and I must say the gun functioned perfectly throughout. Not a miss-feed or double feed in the entire test.
Talking about accuracy from any BB gun other than a 499 seems like a waste of time. It's the best and everybody knows it. Talking about accuracy from a BB gun seems like a waste, too. The range is just 16 feet! How could it not be accurate? Until you try shooting these guns, you will never know.