by Tom Gaylord
Writing as B.B. Pelletier
Beeman P17 Part 1
Beeman P17 Part 2
Beeman P17 Part 3
Beeman P17 Part 4
Beeman P17 Part 5
Beeman P3 Part 1
Beeman P3 Part 2
Beeman P3 Part 3
This report covers:
The test
Meisterkugeln Rifle
Group 2
Air Arms Falcons
RWS Hobby
RWS Match Pistol
RWS Superdome
Eleven Meisterkugeln pellets
The Beeman P3 versus the Beeman P17
HOWEVER
Summary
Today I shoot the Beeman P3 single stroke pneumatic air pistol for accuracy for the first time since I acquired it. You will remember that when I tested it for velocity two reports back (Part 2 of the P3 report), I discovered it was a little slow, so in Part 3 of this report I rebuilt both it and the Beeman P17 pistol. I did film that rebuild, but after editing most of it I think it is too boring to publish, so that one is going away. Sorry about that.
I remounted the Millett red dot sight that came with the P3 and then proceeded to the sight-in range, which is 12 feet from the target. The first shot was a 10, so sight-in was done! The Millett sight had come back to where it was when I took it off the pistol, assuming it was sighted in then!
The test
For this test I shot from 10-meters off a sandbag rest. I decided to shoot 5-shot groups and then take the best pellet from them to shoot a final 10-shot group. Wait until you see what happened! I was also supposed to shoot groups with pellets seated flush and deep, but I forgot to seat deep, so all the groups in this test are with the pellet seated flush. However, I am not going to run another test. It's too hard to deep-seat pellets anyway.
Meisterkugeln Rifle
The first pellet tested was the RWS Meisterkugeln Rifle wadcutter. I expected the pellet to rise from the sight-in shot, but it didn't. It hit the 9-ring to the right of the sight-in shot. Then I shot 4 more without looking through the spotting scope. Five shots went into 0.485-inches at 10 meters with the last 4 going in 0.185-inches!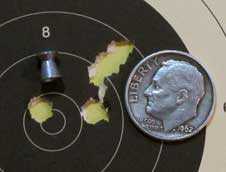 The sight-in shot is to the left. The five Meisterkugeln that were shot from 10 meters are 0.485-inches between centers, with the last 4 being 0.185-inches!
Group 2
That target was so encouraging that I decided to shoot the same pellet again. I adjusted the dot sight one click down and one click to the left and then shot group two. This time five pellets went into 0.221-inches from 10 meters. This pistol can shoot!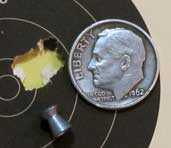 At 10 meters the P3 put 5 Meisterkugeln Rifle pellets in 0.221-inches between centers.
Air Arms Falcons
I adjusted the dot sight two more clicks to the left before shooting again. Next up were Air Arms Falcon pellets. Sometimes they are surprisingly accurate — especially in weaker airguns. This time five of them went into 0.79-inches, so the P3 doesn't seem to prefer Falcons.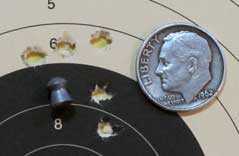 Five Falcon domes went into 0.79-inches at 10 meters.
RWS Hobby
I tried RWS Hobby pellets next, but I think I lost count and only shot 4 instead of 5. In the past I have had positive measures in place to know for certain that 5 pellets were shot, but this time I lost track and wasn't sure. When I saw the target I could only see 4 distinct holes, so I'm calling this 4 shots. The group measures 0.42-inches between centers, so Hobbys are probably a good pellet in this pistol.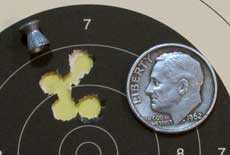 Four RWS Hobby pellets went into 0.42-inches at 10 meters.
RWS Match Pistol
Then I tried RWS R10 Match Pistol pellets. They made a strange vertical group that measures 0.538-inches between centers. Given the accuracy of some other pellets, the R10 Match Pistol is probably not for the P3.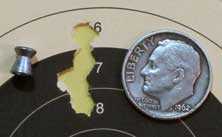 Five RWS R10 Match Pistol pellets went into 0.538-inches at 10 meters.
RWS Superdome
The final pellet I tried was the RWS Superdome. Sometimes Superdomes surprise me and this was one of those times. Five Superdomes went into 0.351-inches at 10 meters. The group is nice and round like the Meisterkugeln group, so I guess the P3 really likes most RWS pellets.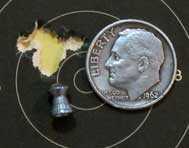 Five RWS Superdome pellets went into 0.351-inches at 10 meters.
Eleven Meisterkugeln pellets
The RWS Meisterkugeln pellets were the best of the five I tested, so I decided to shoot a final 10-shot group of them. However, something strange happened during the test. The pistol pumped very easily for the fourth shot and I figured it would go low. I could have shot it away from the target, and was tempted to, but I also wanted to see where it would go if I sighted for a good shot. So I did. I shot with the same hold that was used for all the other pellets and as you can see, the pellet landed low on the target but in line with the center of the bull.
After that low shot I fired another 7 pellets, because that shot didn't count. The 10 good shots landed in a strange tight and round group of 8 that measures 0.284-inches between centers, with two flyers that open the 10 shots to 0.735-inches. Why those two shots landed where they did I don't know, but I did see the pistol raise in recoil a couple times. I usually say these SSPs are recoilless, but the P3 definitely flipped up. Maybe that explains it. I have no other idea of what happened.
Last week I told you that during a 10-meter pistol match my pistol ran out of CO2 and a dropped a shot low. This is the same situation only it happened with a pneumatic.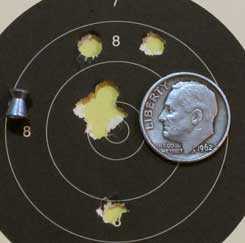 Ten Meisterkugeln landed in 0.735-inches at 10 meters, with 8 of them in 0.284-inches. The shot that landed low was the fourth shot that wasn't pressurized all the way.
The Beeman P3 versus the Beeman P17
There is no doubt about it — the Beeman P17 is a best buy. It always has been and, now that reader 45Bravo has shown us how to overhaul it, there is no reason to forego buying one.
HOWEVER
The P3 has the better trigger, hands down. And its internal parts are finished better. And, from today's test, we see that it is slightly more accurate — or at least of the two guns I'm testing the P3 is the more accurate. The best the P17 could do for me was five shots in 0.394-inches at 10 meters, versus today's best of five in 0.221-inches. And both guns did their best with RWS Meisterkugeln Rifle pellets.
The P17 is the better value and the P3 is the pistol with better quality overall. The decision is yours, as always.
Summary
This series of reports should last a very long time. In it we compared the two pistols side-by-side, we learned that the P17 was never a Weihrauch creation, we learned how to overhaul the guns with o-rings that are readily available and we learned that dot sights will bring out their best. I will be recommending the P17 as a best gift value this holiday season, and the P3 as a best heirloom value.