Crosman Challenger PCP 10-meter target rifle: Part 3
by Tom Gaylord
Writing as B.B. Pelletier
Edge Part 1
Edge Part 2
Edge Part 3
Edge Part 4
Edge Part 5
AirForce Edge 10-meter target rifle: Part 1
AirForce Edge 10-meter target rifle: Part 2
AirForce Edge 10-meter target rifle: Part 3
AirForce Edge 10-meter target rifle: Part 4
AirForce Edge 10-meter target rifle: Part 5
AirForce Edge 10-meter target rifle: Part 6
Challenger PCP: Part 1
Challenger PCP: Part 2
This report covers:
The test
Qiang Yuan Training pellets — I'm back!
JSB Blue Match
The trigger is great!
Gamo Match
RWS R10 Pistol pellets
RWS Meisterkugeln Rifle
Discussion
Summary
Today we shoot the Crosman Challenger PCP 10-meter youth target rifle for accuracy. Some of you were impressed by how long it held a charge. That's common for a good PCP, and this one obviously is. I have a lot to tell you so let's get started.
I filled the rifle and started shooting at 6 a.m. That's a good start for me because it gives me plenty of time to do what I have to, plus take pix and also write the report. I had a sneaking suspicion that this was gonna be a good day!
The test
I shot the Challenger off a sandbag rest from 10 meters. I shot 5-shot groups so I would stay fresh and still get to shoot many different pellets.
The rifle is so quiet that my cat, Dale Evans, didn't even raise an objection — a rare thing for her. I guess the 24-inch barrel really uses up all the compressed air — especially the way I now have the powerplant adjusted.
Qiang Yuan Training pellets — I'm back!
First to be tested was Qiang Yuan Training pellets. I fired a shot to see where the sights needed to be adjusted but when I looked through the spotting scope it was almost a pinwheel (a perfectly centered shot). And, after the other 4 pellets were fired, I knew this was going to be my day. Five pellets went into 0.097-inches, center-to-center at 10 meters!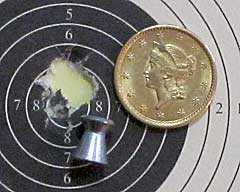 Five Qiang Yuan Training pellets went into 0.097-inches at 10 meters — a gold dollar group!
Then I reflected that the last time I shot the Challenger in 2009 I had sighted it in. It is still on!
JSB Blue Match
This is the first time I have tried this JSB Blue Match target pellet. The Challenger put five of them in 0.217-inches at 10 meters, which is not too bad.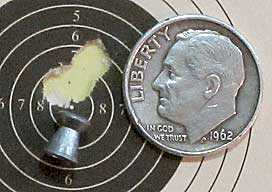 The Challenger PCP put 5 JSB Blue Match pellets into a 0.217-inch group at 10 meters.
The trigger is great!
I have to comment on the Challenger's trigger. I noticed that I didn't address it in Part 2 like I usually do.
Of course it is a Benjamin Marauder trigger and I have it set up exactly the way I like it — a long first stage and a crisp second stage that breaks cleanly at 1 lb. 13 oz. I reported that it was set at 1 lb. 12 oz in 2009, so it's holding up very well.
Gamo Match
I tried Gamo Match pellets next. Would they be even more accurate in the Challenger PCP? Not a chance! Five of them spread out to a 0.377-inch group. But in a way I was glad to see that, because it verified that I had been shooting well with the first two pellets — especially the first one!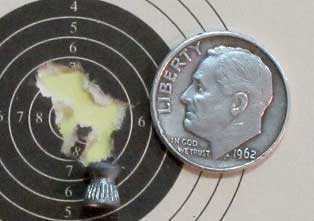 Five Gamo Match pellets ripped a 0.377-inch group at 10 meters. Not the pellet for the Challenger PCP!
RWS R10 Match Pistol pellets
The next pellet I tried was the old standby RWS R10 Match Pistol pellet. I expected great things and they delivered! Five went into a 0.134-inch group at 10 meters — another gold dollar!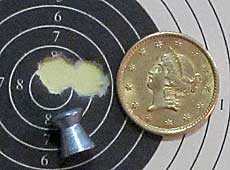 The Challenger PCP put five RWS R10 Match Pistol pellets into a 0.134-inch group at 10 meters. That's good for the gold dollar.
RWS Meisterkugeln Rifle
The last pellet I tried was the RWS Meisterkugeln Rifle wadcutter. Five went into 0.278-inches at 10 meters. In light of what's gone before it's a non-starter for the Challenger.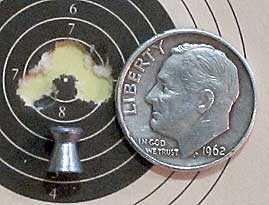 Five Meisterkugeln Rifle pellets went into 0.278-inches at 10 meters.
Discussion
It was sure nice to have a good day again! At least I know I can still shoot sometimes. After the first group I kept hoping for something even better, but that's getting into territory where even 10-meter rifles don't often go.
The trigger is adjusted so well that I was able to watch every shot fire with no movement of the rifle. The 3.8mm front sight aperture is perfectly sized for the 10-meter bulls!
The Challenger PCP gets lots of shots on a low-pressure fill and is the dream rifle of those with a hand pump!
Summary
This concludes our look at the Crosman Challenger PCP target rifle. We have now looked at both the AirForce Edge and the Crosman Challenger PCP. You should have enough information to make a good decision about which one meets your youth target rifle needs.
Tom Gaylord is known as The Godfather of Airguns™ and has been an airgunner for over a half-century, but it was the 
Beeman
 company in the 1970s that awoke a serious interest in airguns. Until then, all he knew were the inexpensive American airguns. Through the pages of the Beeman catalog, he learned about adult airguns for the first time. In 1994, Tom started
The Airgun Letter
 with his wife, Edith. This monthly newsletter was designed to bring serious reports about airguns to the American public. The newsletter and
Airgun Revue
, a sister magazine about collectible airguns, was published from 1994 until 2002, when Tom started
Airgun Illustrated
-- the first American newsstand magazine about airguns. Tom worked for three years as technical director at
AirForce Airguns
, the makers of the 
Talon, Condor, and Escape
 precharged air rifles. Today, he writes about airguns and firearms for various publications and websites. He also makes videos, and you'll find short clips embedded in some of his artices on Pyramyd Air's website. Tom is a consultant to Pyramyd Air and writes under the name of B.B. Pelletier.