Part 1
Part 2
Part 3
Part 4
Part 5
Part 6
Part 7
Part 8
Part 9
Part 10
This report covers:
The test
Magazine
Loading
H&N Baracuda Match with 5.53mm head
H&N Baracuda 18
H&N Slugs
Predator Polymag Short
Well?
Summary
Today we look at the accuracy of the Seneca Dragonfly Mark 2 multi-pump rifle when shooting from the magazine. I am amazed that it took me so long to try this! Of course I find a magazine on a multi-pump pneumatic about the same as an all-electric car towing a generator for its charges. But still, the rifle comes with a mag and it should be tested.

We received this comment in Part 10 from reader pacoinohio, "BB, [ I ] Checked the PA listing for this gun and noticed the reviews. There are two one star ratings out of 18 total. One complained of stiff pumping due to the linkage and one complained that the gun is not a repeater. I thought to myself, how did he think that this was a repeater? Checked clear through PA's description. Nothing there. Checked Specifications, and sure enough, PA lists it as a repeater. Something that surely needs to be addressed in Solon.
Regarding linkage stiffness- I treated myself to one of these post cancer surgery a couple months ago. I was barely able to operate the pump due to weight restrictions during recovery. So, I liberally oiled the pivot points and set the gun up on the shelf. Thanks for today's reminder to get it down and check it out."
But then reader old Bert chimed in and said, "I might have already said this, I pest rats at night with my Dragonfly. That rotary magazine has become very very handy! The main thing it is handy for is the fact that I don't have to carry spare pellets or try to reload a single pellet tray in the middle of the dark with no flashlight. It makes it so I have so much less to fumble with in the dark. I think the mag for what I do is a brilliant idea."
What a heck of a good reason to use the mag! That remark gave me the push I needed for today's test. Besides, this rifle is so forgiving with all pellets and so accurate that I wanted to try a couple I hadn't looked at yet.
The test
I shot off a sandbag rest at 25 yards, with the pellets feeding through the magazine. The UTG Reflex Micro Dot sight is still mounted on the rifle and of course it is sighted in. I shot 5-shot groups with all pellets. The rifle was pumped 8 times for each shot.
Magazine
The magazine that comes with the rifle is a spring-loaded circular type that will look familiar, but really doesn't seem to fit any other rifle I know of. If it does, it's no doubt one of those Chinese PCPs. It holds eight .22-caliber pellets, for that is the caliber of the test Dragonfly Mark 2. I almost said "my" Dragonfly right there. I sure don't need any more pellet rifles, but this one is going to be hard to return. I also have a pump-assist Benjamin 392 that could be its older brother.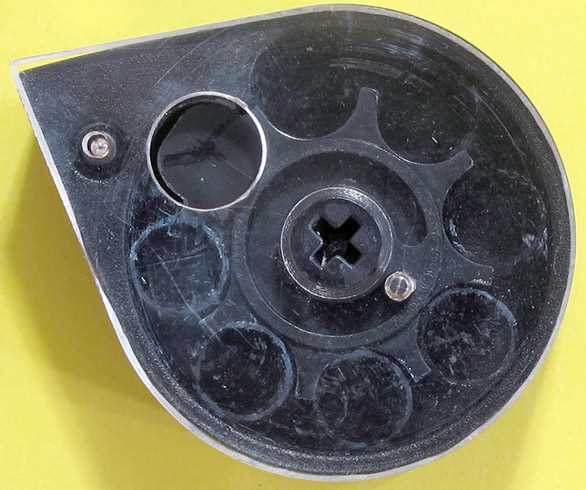 The Dragonfly Mark 2 has an 8-shot rotary magazine.
Loading
I found the magazine easy to load and extremely difficult to insert into the breech of the rifle. It got better as the test progressed, but it never became easy. The bolt has to be all the way back to install the mag, but you have to cock it to pump the rifle anyway, so no big deal.


The Dragonfly with its magazine installed.
That's enough for now. Let's get started.
H&N Baracuda Match with 5.53mm head
First up was the H&N Baracuda Match with a 5.53mm head. Five went into 0.856-inches between centers at 25 yards. I've done both better and worse than this in the past with this pellet, so the magazine seems to be neutral so far.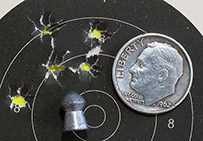 The Dragonfly put five Baracuda Match with 5.53mm heads into a 0.856-inch group at 25 yards.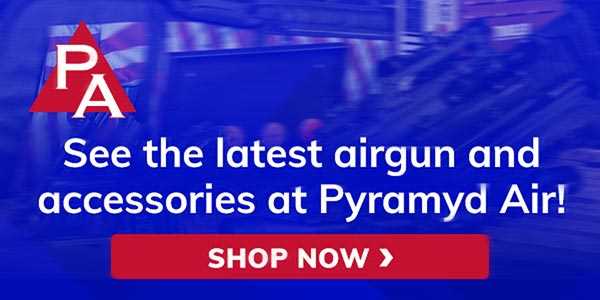 H&N Baracuda 18
Next to be tested was the H&N Baracuda 18 pellet. Five of them went into 0.715-inches at 25 yards. Another good group!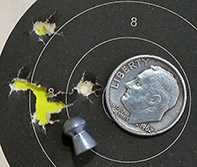 Five Baracuda 18s went into 0.715-inches at 25 yards.
H&N Slugs
I thought I would test the rifle with .22-caliber slugs, though I don't think the Dragonfly Mark 2 is powerful enough to use them. But what the heck — I guessed you guys would like to see what they could do. These were the H&N 0.218-inch 23-grain slugs. Five went into a 0.931-inch group at 25 yards. It was better than I expected.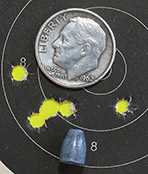 The Dragonfly Mark 2 put five .22-caliber slugs into 0.931-inches at 25 yards.
I will tell you that the slugs loaded very hard. I had to shove the bolt forward as hard as I could to get them to chamber; otherwise the bolt handle wouldn't go down.
Predator Polymag Short
The last pellet I tested was the Predator Polymag Short. Five of them went into a 0.642-inch group at 25 yards. It was the smallest group of the day, though it moved several inches from where the other pellets were hitting. They hit high and to the left.

The Dragonfly put five Predator Polymag Short pellets into a 0.642-inch group at 25 yards.
Well?
First of all, the Dragonfly Mark 2 magazine has no effect on the accuracy of the rifle. And except for the slugs that loaded hard, all pellets loaded easily. So, for events like the nighttime ratting mentioned by old Bert, the magazine does have a purpose.
But BB will not shoot his Dragonfly (there — I said it, didn't I?) with the magazine. The next test will be with the rifle scoped and BB plans to load it one pellet at a time.
Next — the rifle likes 8 pumps. The groups seem to have tightened up at that point. So I will continue to use 8 pumps in future tests. However, as reader Berserkeley Mike said yesterday, "Now that would be an interesting study: how does group size vary with the number of pumps, for different pellets? Can one "tune" a multi-pump for a specific pellet by picking the optimal pump number? Want to collaborate? We could put our data on a google spreadsheet. My arms hurt just thinking about it, but it would be cool."
When the mag was installed I couldn't hold the rifle at the receiver while pumping. Fortunately the Dragonfly Mark 2 pumps so easily that a wrist hold works. I'll have to do that when the rifle is scoped, so this was practice.
Summary
Yes, the Dragonfly Mark 2 is a repeater. And yes, the magazine works fine without affecting accuracy. It's not something BB wants to do, but if someone does, know that it works as it should.