by B.B. Pelletier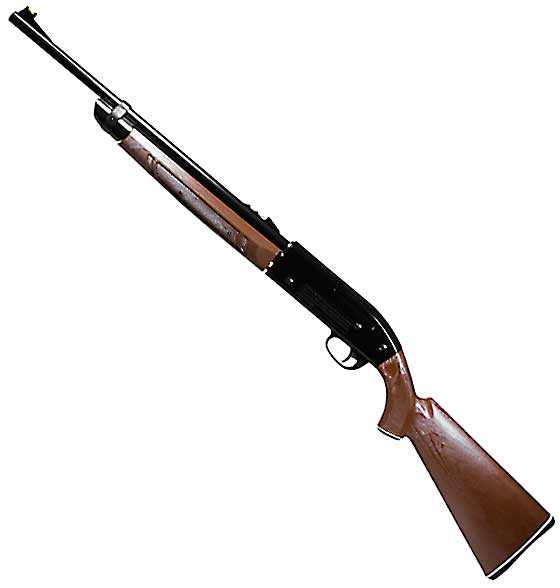 Crosman's 2100B is a full-sized multi-pump that hopefully delivers power and accuracy with a few economic concessions.
Blog reader J was alert and noticed that I had not yet done the accuracy test of the Crosman 2100B multi-pump. I was astonished to find that he was right, so today we're going to look at it. But before we do, I want to show you something I did at the range last week. Some of you who have been reading for a long time will remember that over a year ago I was suffering from eye problems. It turns out that my diabetes had dehydrated me so much that my eyesight was affected. And it took a long time for the situation to correct itself. I wondered if I would ever be able to shoot with open sights again.
This past Thursday, I was out at the range testing several firearms and airguns and a friend of mine happened to bring his Remington RangeMaster model 37 .22 rimfire target rifle for me to try. The model 37 was Remington's equivalent to Winchester's model 52 target rifle until the model 40X was created, and it (the model 37) has the reputation of being incredibly accurate. My friend can no longer use open sights and is scoping all the rifles he intends to keep. But this one is a rifle he has owned for decades but never shot. It still has the factory non-optical target sights.
The Lyman 17A front globe has a post-and-bead like target shooters used back in the 1930s and earlier. You put the post at the 6 o'clock spot on the bull. With good eyes, this kind of sight is considered second only to a properly sized aperture front sight out to 200 yards, and world records have been set with it. But notice I said, "With good eyes."
I shot it at 50 yards with Winchester Super-X high-speed ammo, which is hardly target ammo! When I saw the group made with five shots I was ecstatic, because it proves that I can still see good enough to use open sights. I stopped at only five shots because who wants to ruin a group like that? However, after an involved trade with my friend, I ensured many more years of shooting this 37, and eventually I will shoot 10-shot groups.  That's important for today's report, because the Crosman 2100B has a square post-and-notch sight, and the front has a bright green fiberoptic bead.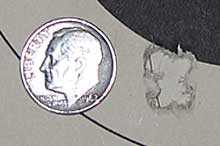 Five shots in 0.30 inches at 50 yards with open sights! The old man can still see! Sorry about the over-exposure.
Next, I tried my custom .17 HM2 that this same friend made for me on a Mossberg 44 US action. This rifle has a Leapers scope, so there's an even better chance of hitting the target. This time, five shots went into 0.266 inches at the same 50 yards. I was on fire! Unfortunately, I haven't yet mounted the scope on the FWB 300S, so I didn't have that to test, but everything I shot that day went where I wanted. Since I couldn't see the group through my scope, I knew it was a small one. And, once again, I chickened out after 5 shots. If I were reporting on the guns and shooting for the record, I would have shot 10 shots with each gun.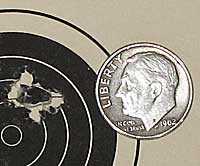 Five shots in 0.266 inches at 50 yards with a scope. Not that much better than open sights. It looks better because the .17-caliber bullet is smaller, but the actual size of the group isn't that much less than the first group.
On to today's test
I decided to begin shooting pellets with the 2100 at 10 meters. That way, if the rifle proved somewhat inaccurate, I could still keep them inside the trap. The 2100 has a .177 rifled barrel, so pellets should be more accurate than the steel BBs it also shoots. Since this is a Crosman rifle, what better to begin than with 7.9-grain Crosman Premier 7.9-grain domes?
The first thing I did was oil the pump head with several drops of Crosman Pellgunoil. I did that for the velocity test, as well; but since it's impossible to overdo this step and it does ensure the best compression, I did it again.
I decided on 5 pumps for this test because the velocity test showed that was enough to get all pellets into the 500 f.p.s. range. At 10 meters, that's all you need for good results. So, this test was very easy on me.
A new way of loading
Many owners may already have discovered what I am about to share; but while I was shooting the Premiers, I discovered a foolproof way of loading them. The loading port on the side of the rifle is too small for most adult fingers, and until now I've found it difficult to load the pellet so the head points forward. But during this test, I accidentally discovered that I could drop in a pellet in any attitude and simply elevate the muzzle of the rifle with the receiver rotated to the left so the loading port is angled up. The pellet would then try to right itself at the bottom of the loading channel; and, if it wasn't aligned, all I had to do was push it forward slightly with the cocking handle and then pull the handle back and the pellet would align itself every time. I tried this with the JSB Exact RS pellets, as well, but they got stuck and didn't align as easily as the Premier lites. I can't wait to try this method on my old Crosman 2200.
Sights are okay, but not great
I found the sights easy to acquire and very sharp and crisp, but the method of adjustment leaves a lot to chance. I never did get the group shooting where I wanted it. Also, though I elevated the rear sight nearly all the way, it was still just hitting at the point of aim at 10 meters. Forget about shooting longer distances unless you learn how to hold the front post above the top of the rear notch. But the sights are not important, because this will not be the last test of this rifle. Just like the M4-177 rifle I tested last year, I found the 2100B was far more accurate than the price indicated! In a word, it was phenomenal — which is why I told you about the state of my eyes in the beginning of the report.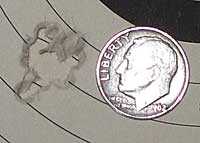 Ten Crosman Premier lites went into this 10-meter group that measures 0.539 inches. This is fantastic accuracy for an inexpensive multi-pump with fiberoptic sights.
Next, I tried the JSB Exact RS pellet. I was expecting to see a similar group, which is why what I got surprised me so much.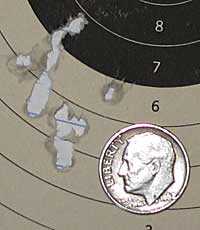 Ten JSB Exact RS pellets made this huge 10-meter group that measures 1.05 inches. This is obviously not the pellet for this 2100!
What a difference! Crosman could use this as an ad testimonial for Premiers, if they wanted. We all know that the JSB Exact RS is a premium pellet; but in this rifle, the Premier lite is the clear and obvious choice. I already demonstrated that my eyes are up to the task, so there's nothing to blame in this case but the pellet.
BBs next
After testing two pellet brands, I switched to Crosman Copperhead BBs and fired 10 from a standing supported position at 22 feet. If the group was small, I would then try other brands of BBs, but as you will see that wasn't necessary.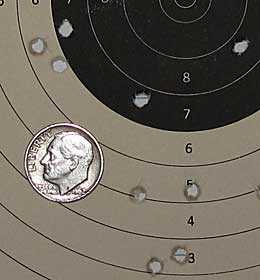 Ten Crosman Copperhead BBs went into this 2.219-inch group at 22 feet. This demonstrated that it wasn't worth pursuing BBs any further. My photo inadvertently cropped off a BB hole on the right of the group. It's on the 5-ring, as it ends on the right margin.
The results
This rifle is deadly accurate with Crosman Premiers and not very good with BBs. I wouldn't even bother with BBs in the 2100 anymore because I have a host of BB pistols that will out-shoot it. But with Premier lives, it's a different story.
The 2100B has earned the right to a special 25-yard test with a scope sight. That will come in Part 4, and I charge blog reader J with making sure I don't forget to do it!