by Tom Gaylord
Writing as B.B. Pelletier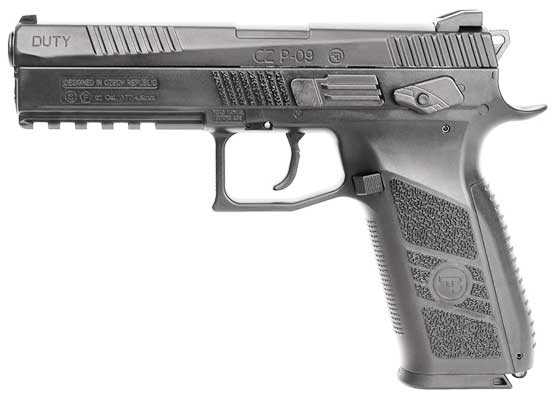 CZ P-09 BB and pellet pistol closely copies the firearm.
This report covers:
• Test design
• Daisy BBs
• ASG Blaster BBs
• Air Arms Falcon pellets
• RWS Hobby pellets
• Shot count
• Trigger pull
Today, we'll look at the power and velocity of the CZ P-09 Duty from ASG. If you remember from Part 1, this blowback pistol can shoot either steel BBs or lead pellets from its 16-shot magazine. Each end of the mag has an 8-shot circular clip that rotates as the gun is fired.
The pistol is both single-action (hammer is already cocked before the trigger is pulled) and double-action (hammer is cocked by pulling the trigger); but in this case, you're going to be firing it single-action most of the time. That's because each time the slide blows back, it cocks the hammer for the next shot. I did shoot it double-action (hammer down when the trigger is pulled) twice, but saw no real difference in velocity. And, since you aren't going to shoot it that way most of the time, I decided to test the gun single-action, only.