by Tom Gaylord
Writing as B.B. Pelletier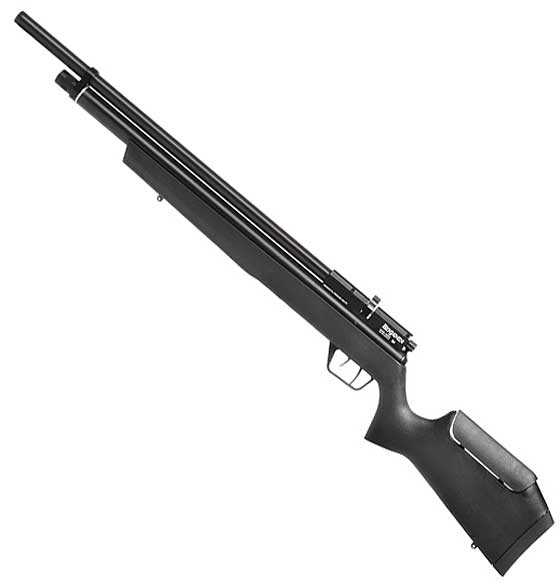 Second-generation Benjamin Marauder in a synthetic stock.
UTG Bubble Leveler scope: Part 1
Part 1
Part 2
Part 3
Part 4
Part 5
Part 6
Part 7
Part 8
Part 9
This report covers:
Mounting the Bubble Leveler scope
Back to the Marauder
Sight in
Shooting with this scope!
Unanticipated problem
I quit!
Oh, boy! This week I get to report on two world-beaters! First there was the Diana AR-8 N-TEC and today it's the gen 2 Benjamin Marauder. I will show you why I am so happy in a moment, but first, there is another story to tell. I mounted the UTG 4-16 Bubble Leveler scope on this rifle and that gives me a lot more to talk about.
Mounting the Bubble Leveler scope
Why would mounting this scope be any different from mounting any other scope? Simple — because it has a bubble level inside. My trick of bisecting the rear of the receiver with the vertical reticle line took on a whole new dimension when there was a bubble below it. I had to rotate the scope in the rings until the vertical reticle line bisected both the bubble and the receiver, which meant how I held the rifle entered into the process for the first time. It took me a while to get the scope to where the sight picture looked right with the bubble level and the rifle feeling right in my hands.
However — and what I am about to say is even more important now that we have this new scope — there is nothing that's "level" on any rifle, so you have to do this until it looks (and now feels) right to you. It makes absolutely no difference if it looks right to anyone else, because you are the one who is going to level the bubble for every shot. The rifle will therefore always be fired in the same attitude — irrespective of what your best friend thinks. Sure, you can hang a plumb line at 50 yards and line up on it if you want to — it makes absolutely no difference. Now that you have this bubble to check, you will always fire with the rifle in the same position. Today I learned just how important that is!
Back to the Marauder
The scope was now mounted and I was ready to shoot. But my house was being cleaned, and I could not use my 25-yard indoor range that shoots from the bedroom through the living room into the garage. Don't want no dead housekeepers! So I moved outdoors to a range I used to use. But it's only 20 yards — not 25. My testing today was done at 20 yards. I used to close the bedroom door and pop out the window screen which gave me 25 yards, but that was when I had Edith to control the cats and there wasn't another person walking around the house. So, 20 yards it was.
I also used my quiet pellet trap, since this was shot outside. Even with that, though, the .25 caliber pellets still whack the duct seal pretty hard and make a lot of noise. And there was one other problem I hadn't counted on that I will cover at the end of the report.
Of course I am still shooting the JSB Exact Kings that do so well. When you have a proven winner, why change?
Sight in
I must tell you that the bubble made me hold the rifle in an odd position. At first it seemed to be strangely canted, but as I shot, the more I realized I was holding it straight up and down for the first time. The amount of difference was way more than I would have believed.
I have used bubble levels on the outside of airgun scopes for years. But having a bubble inside the scope makes it so easy to center that bubble — especially when shooting from a sandbag. I know that I can have complete control over my rifle when shooting with this bubble.
I sighted in and discovered there is quite a bit of droop in my Marauder. I got on paper okay, but wasn't able to get the pellet as high as the crosshairs were on the paper. This is good to know, because I want to go to 50 yards next, and with the scope mounted this way it will never be able to shoot that far. I used 2-piece scope rings, so I will swap them around, front and rear, and I'll also add a shim in the rear ring.
Shooting with this scope!
But, it was shooting with the Bubble Leveler scope that really opened my eyes! Once I was "zeroed" (as best I could) I started shooting a group. Only the hole didn't appear to get any larger! Yes, I was only shooting at 20 yards, but the pellets kept going to the same place — until shot number 6. With shot 6 I relaxed my concentration just a bit and the pellet dropped low to double the group size. After the shot fired I looked at the bubble and noticed that the vertical reticle was passing through the right edge rather than the center of the bubble. That answers the question someone asked about how centered the bubble needs to be.
Shots 7 and 8 passed through the group without enlarging the hole and I was finished. Eight shots went into 0.239-inches at 20 yards, with 7 of them going into 0.122-inches! Yes, folks, that is how that is done!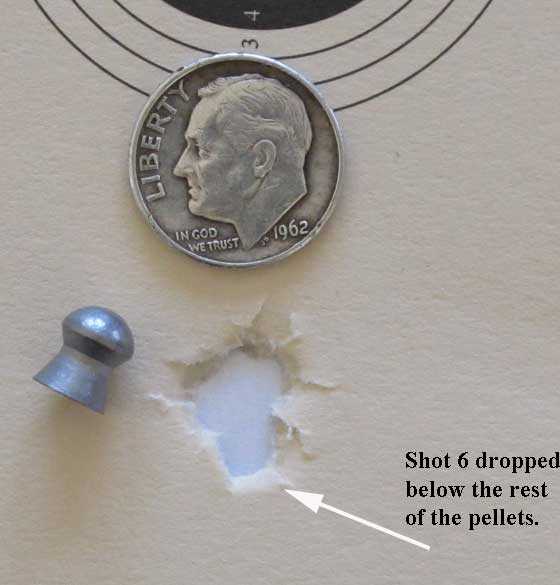 Eight shots in 0.239-inches, with 7 of them in 0.122-inches!
Unanticipated problem
Remember I mentioned an unanticipated problem with using the quiet pellet trap? Here it is. When pellet after pellet go to almost exactly the same place, they dig their way through the trap material. First the duct seal gives way and eventually the steel backing plate gets punctured. That actually happened on the 7th shot in this test. After that the pellets start working on my new cedar fence. So, no more quiet traps for this rifle!
I quit!
This one group was all I needed to see. The scope has to be remounted and shimmed for 50 yards, but I think I have just seen what the UTG Bubble Leveler scope can do for accuracy. The Marauder is a PCP, so there is no vibration with the shot. The trigger now breaks at mere ounces, so this rifle is set up to do its best. I need to get it to the 50-yard range quick!
Tom Himes, who tuned the action on my Marauder, said this is the most accurate .25-caliber Marauder he has seen, and I'm starting to believe him. This UTG Bubble Leveler scope really brings out the best in the gun. And the trigger that I consider too light is ideal for what I'm doing here. But let's see what she will do at 50 yards.
After the 50-yard test I plan to mount the UTG Bubble Leveler scope on an accurate centerfire rifle, to test it there. This scope will get a workout from me!