by Tom Gaylord
Writing as B.B. Pelletier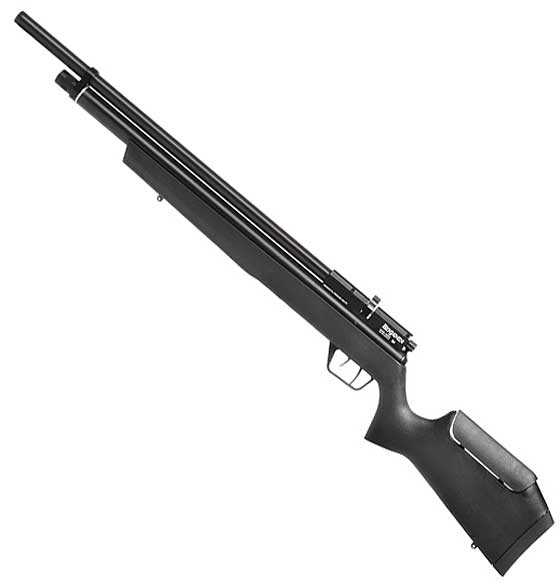 Second-generation Benjamin Marauder in a synthetic stock.
UTG Bubble Leveler scope: Part 1
Part 1
Part 2
Part 3
Part 4
Part 5
Part 6
Part 7
Part 8
This report covers:
What this is
Bubble Leveler scope
Today
Some variables
JSB Exact Kings
The bottom line
Trigger blade broke
How do you contact him?
Today I start another look at the .25-caliber gen 2 Benjamin Marauder. When I attended the Pyramyd Air Cup in September, I met Tom Himes. He showed me a Benjamin Marauder he tuned and asked me to cock the bolt. Every Marauder owner knows their bolts are stiff and sticky. But this one wasn't. It was light and smooth.
What this is
Tom tunes Marauders for their optimum shot count on a fill. He also adjusts and lubricates their triggers for optimum let-off. And he has a number of other tricks and tips that he passes on to his customers. When he told me that he could tune my .25 caliber rifle to get roughly 30 shots at 806 f.p.s. with JSB Exact Kings, I was intrigued. If you have followed this series you know that the best I've been able to do is 16 shots per fill.
We talked a long time and I decided to have him tune my rifle for optimum shot count. I already knew that 806 f.p.s. was where it liked to be with that pellet, and I also knew that that particular pellet was the best I have found for this rifle. Tom told me that his experience agreed with mine, which made me feel comfortable. I decided not to get the trigger adjusted, because I am satisfied with it the way it is now. So I sent the barreled action to Tom and he did his magic. Now we will all look at the results.
Bubble Leveler scope
This tune is not going to change the accuracy of the rifle. We already know it is very accurate, and Tom said when he tested it, it is the most accurate .25 Marauder he has seen. More smiles from me, of course! But the photographer never tells a parent their child is ugly, either!
Since the Marauder is so accurate I selected it as the first rifle to test the new UTG Bubble Leveler scope. That's why the link to that scope's blog report is in the list above. After the Marauder, I plan to mount the scope to my super-accurate AR-15 and give it another thorough test.
Today
Today I thought I'd test the velocity and shot count of my tuned Marauder for you. I'll also give you my evaluation of how it feels to cock. Let's go!
Before we get to the test, here is what Tom told me about tuning my rifle.
"We have your rifle completed and it turned out GREAT!  We achieved a full 30 shots from a 3,000 psig fill with no more than 3% velocity deviation. The minimum velocity is 790 ft/sec, the high is 815 ft/sec and with an average of 806 ft/sec.  All of this at a ambient temperature of 68°F to 70°F
I must also add, your rifle is exceptionally accurate – the most accurate .25 Marauder I have shot to date.  From the bench, shooting off the rear deck of my home, the rifle would nearly shoot hole for hole at 30 yards.
I was and still am very impressed with its accuracy.  This accuracy occurred after we cleaned the baffles as I noted before and also after we very lightly cleaned the bore with Balistol and dry patches."
Some variables
I think it is helpful to see what the tuner had to say about the rifle as we examine it today. But before we begin, let me discuss some of the variables under which this test is being conducted. First is the fill pressure. Was Tom filling by the rifle's built-in gauge or the gauge on his air tank? How closely does his tank gauge agree with mine?
And how closely does Tom's chronograph agree with mine? These are not givens. There is some variation.
JSB Exact Kings
The most accurate pellet for this rifle is the .25 caliber JSB Exact King, and that was what Tom set it up to shoot. So this will be a velocity test with a single pellet. I will show you the entire shot string from one fill to 3000 psi. I filled the rifle to 3050 psi on my tank gauge, which pegged the rifle's gauge at exactly 3000.
Shot………Velocity
1……………..808
2……………..812
3……………..801
4……………..806
5……………..810
6……………..809
7……………..808
8……………..817
9……………..813
10……………814
11……………805
12……………812
13……………813
14……………813
15……………811
16……………812
17……………810
18……………806
19……………802
20……………801
21……………796
22……………792
23……………796
24……………793
25……………786*below 790, the acceptable floor)
That's 24 good shots from a rifle that only gave 16 before the tune. Am I satisfied? You bet! But this isn't the final test.
See that first shot? It's 808 f.p.s. — right in the middle of the acceptable velocity range. Are there other good shots before that one? What I'm asking is — did the disparity between our gauges cause me to clip shots off the beginning of the effective shot string? Only one way to find out. Fill the rifle to well above the start pressure of 3000 psi and shoot another string. While we don't know if our two gauges agree, my results are close enough to Tom's that we know they are close. The same goes for our chronographs.
I filled the rifle to 3,200 psi by my tank's gauge and shot a second string. This time the rifle's gauge needle was just inside the red sector.
Shot………Velocity
1……………..792
2……………..797
3……………..787 *below 790, the acceptable floor)
4……………..793
5……………..786 *below 790, the acceptable floor)
6……………..808
7……………..795
8……………..803
4……………..796
9……………..806
10……………810
11……………810
12……………817
13……………814
14……………810
15……………818
16……………816
17……………811
18……………817
19……………812
20……………811
22……………812
23……………803
24……………805
25……………805
26……………801
27……………794
28……………789*below 790, the acceptable floor)
29……………777*below 790, the acceptable floor)
30……………781*below 790, the acceptable floor)
31……………764*below 790, the acceptable floor)
This string gave me 22 shots in the acceptable range. Now consider this — the "acceptable" range is arbitrary! Until I get on a 50-yard range and see what kind of accuracy this rifle gives, I won't know what is really acceptable. Past experience has shown that 808 f.p.s. is the ideal velocity, but how far I can deviate from that velocity was never tested. I just know that after 16 shots, my groups dropped lower on paper and opened up.
The bottom line
My rifle now appears to have at least 24 good shots per fill and maybe as many as 30. Since the 8-round magazine can be filled exactly three times for 24 shots, that's what I'm going to use.
Trigger blade broke
What I haven't told you is that the rifle arrived with the trigger blade broken. While that sounds like a bad thing, it's really an opportunity to see what Tom Himes does about it. He sent me a new trigger blade by express mail so I could keep this test on track. It wasn't his fault the blade broke, either. If you examine the blade you'll see it broke at the weakest spot.

My trigger blade broke during the return shipment. Tom Himes replaced it immediately for free.
How do you contact him?
In my opinion this tune was well worth the $50, plus shipping, I spent. The rifle now cocks so easily that I don't have to take it from my shoulder. I also have one additional magazine per fill, and we will see what that looks like at 50 yards next. Remember that I have the UTG Bubble Leveler scope mounted on this rifle now, so we're going to start that test next time, as well.
Tom Himes can be reached at batts@spcracing.com. His website is www.spcracing.com. Remember that he also tunes triggers, if you want that.