by Tom Gaylord
Writing as B.B. Pelletier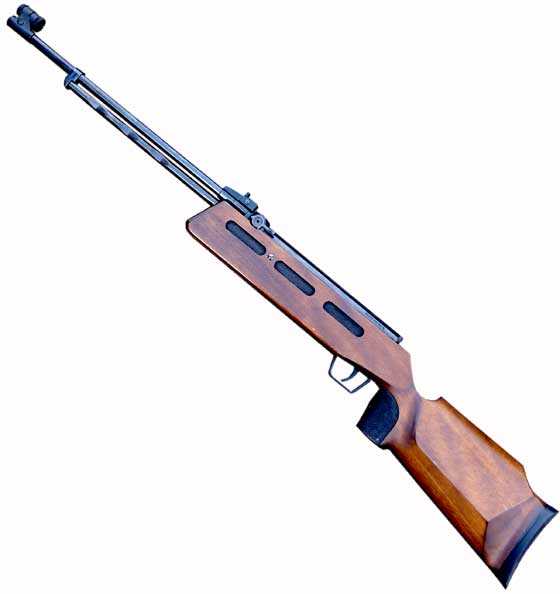 Mauser 300SL. There are three finger scallops along the cocking lever.
Part 1
Part 2
A history of airguns
This report covers:
The test
The trigger
Firing cycle
Qiang Yuan Training pellets
Sig Sauer Match Ballistic Alloy pellets
H&N Finale Match Heavy pellets
Last pellet was a dome
JSB Exact RS
Evaluation
We start looking at the accuracy of the Mauser 300SL target rifle today. This may be the first time this air rifle has been tested this thoroughly and also documented, so I want to cover as many of the bases as I can.
The test
I shot the rifle off a bag rest at 10 meters. I rested the rifle directly on the bag because of its gentle shot cycle. I used the sporting open sights the rifle came with. They are easy to see when the target is lit by a 500-watt photography light. I do think I would like to test this rifle with a rear target peep sight and, because the front sight accepts inserts, I would like to try installing an aperture insert in it. I think the accuracy might improve with these things, and we will have today's results to compare to.
The trigger
I have not yet adjusted the trigger on this rifle. Right now I can't tell if it is single-stage or two-stage, but it feels like it's been adjusted to single-stage. I can't be sure because some of the excessive travel might really be stage one. It's incorrect for a 10-meter target rifle trigger to have just one stage and I will try to adjust it in the future. The pull is long, heavy and creepy. I mentioned in Part 2 that I would like to lubricate this trigger when I adjust it, so perhaps that will be my next task.
Firing cycle
Tune in a Tube grease has made this rifle dead calm. It never recoiled much before the tune, so now it's the next best thing to a recoilless target rifle. Okay, let's get on with the test.
Qiang Yuan Training pellets
The first target was shot with Qiang Yuan Training pellets. You might think I should have used one of the other two more premium pellets made by this company, but this particular pellet has actually proven to be quite good on its own. I selected it because of the low original price point of the Mauser 300SL. I couldn't envision anyone shooting world-class pellets in a rifle this inexpensive. That doesn't mean I won't try them, since I now own the rifle. I just didn't want to overlook this training pellet, even though it would be considered a budget pellet.
Ten training pellets made a group that measures 0.658-inches between centers at 10 meters. There was one stray shot and the other nine landed in the same group that measures 0.459 inches between centers. This is what makes me wonder whether better sights might improve the accuracy.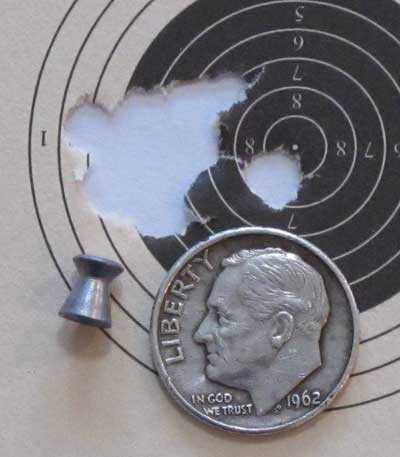 Ten Qiang Yuan Training pellets went into 0.658-inches at 10 meters. Nine went into 0.459-inches.
Sig Sauer Match Ballistic Alloy pellets
Next I tried 10 Sig Sauer Match Ballistic Alloy pellets. We have seen stunning results from this pellet in other vintage 10-meter rifles, so it had to be included in this test. Ten pellets went into 0.756-inches at 10 meters, with 9 going into 0.544-inches. The group is a little horizontal, so again I thought what those better target sights might do.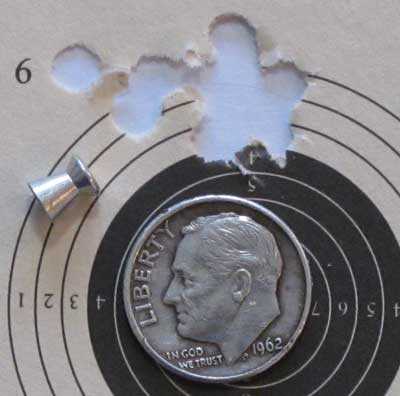 Ten Sig Match Ballistic Alloy pellets went into 0.756-inches at 10 meters. Nine went into 0.544-inches.
H&N Finale Match Heavy pellets
Next I tried some H&N Finale Match Heavy pellets. The ones I shot had 4.50mm heads, and no, I didn't sort them with a Pelletgage. I shot them straight from the tin. Ten went into a nice group that measured 0.693-inches between centers and there were no fliers.
Last pellet was a dome
One of our readers speculated that wadcutter pellets might not like jumping from a loading tap into the breech of a barrel when the gun fires. They thought a nice domed pellet might do even better. So I resolved to try a dome. Now, testing with one pellet does not make a complete test, so no conclusions will be made from the next results.
JSB Exact RS
I selected a JSB Exact RS dome for this test. No reason, other than they are often quite accurate, and they are among the lightest domes JSB offers in .177 caliber. Ten of them went into a scattered group that measures 1.026-inches between centers. It was the largest group of the test.
Like I said before, one pellet doesn't make a test, so hold your judgements until I can do a little more testing. But also know that domed pellets are not automatically more accurate than wadcutters in a taploading rifle.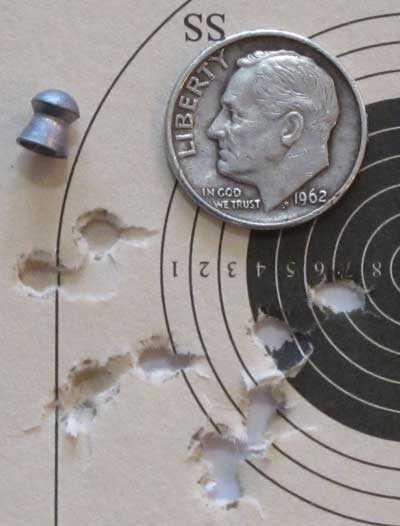 Ten JSB Exact RS pellets went into an open group measuring 1.026-inches between centers.
Evaluation
The Maser 300SL target rifle has a lot going for it. We didn't see the level of accuracy in this test that I had hoped for, but we're not done yet. There are other sights to try and other pellets, as well. And I am hoping I can adjust that trigger to be crisper and more precise. So, sit back and enjoy the ride!