by Tom Gaylord
Writing as B.B. Pelletier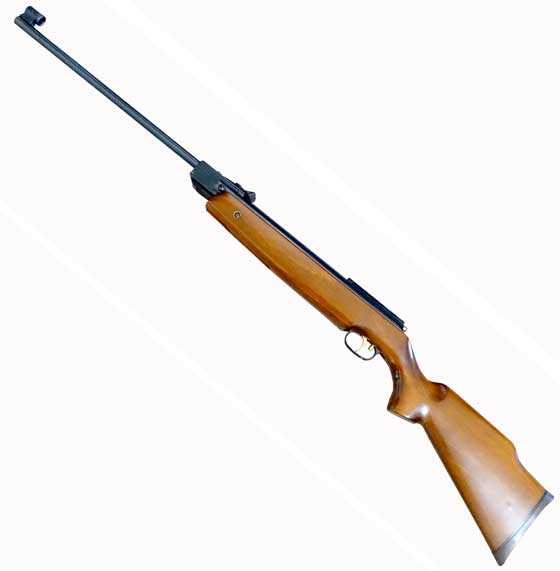 Weihrauch HW 85.
This report covers:
Sight-in
The test
Crosman Premiers
JSB Exact Jumbo
POI shift!
RWS Superdomes
Evaluation
Summary
It took me a month, but today I'm back with the HW 85 to test the accuracy at 25 yards with a scope. In Part 3 I had a meltdown, turning in some of the worst groups I have ever published in this blog. I felt strongly that it was because I couldn't see the front sight and today we will find out whether that was right.
I mounted a UTG 3-12X44 AO in 30mm BKL high rings. This scope is very clear and well-suited to the HW85's power. The BKL mounts won't slip even under recoil.
Sight-in
The scope was already zeroed from the Diana Stormrider test so sight-in went pretty fast. I started with two shots at 12 feet and then backed up to 25 yards for the test.
The test
The rifle was shot off a rest, using the artillery hold with the rifle rested on the flat of my palm. My off hand was extended out to the middle of the cocking slot. I shot 10 of each pellet, with one exception that I will discuss when we get there. Let's get started.
Crosman Premiers
The sight-in pellet was the domed Crosman Premier, so that was the pellet for the first group. The group is fairly well centered in the bull, but I wanted to leave dead center to use as my aim point. Ten pellets went into a group that measures 0.387-inches between centers. Oh, my! In the last report I did not shoot this pellet at 25 yards, but the two I did shoot grouped in 2 inches or greater. I said then that I was hoping for a 3/4-inch group at 25 yards. This group is about half that large.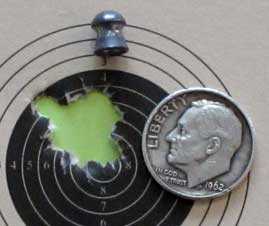 Ten Crosman Premiers went into 0.387-inches at 25 yards. That is a group!
Now we know the rifle can shoot! I discovered after the last report that I needed to use low-magnification reading glasses to see the front sight post and also to put drops into my eyes, which I now do several times each day. This is the most dramatic improvement I have ever seen when just one thing was changed. I guess BB is really gettin' older!
In fact, this is such a good result that I am encouraged to try this rifle at 50 yards. I have never had much success with a Beeman R1 at longer distances, so this is a real positive result.
JSB Exact Jumbo
Next up was the 15.89-grain JSB Exact Jumbo pellet. In the last test these were great at 10 meters (0.288-inches for 10) but opened to 1.903-inches at 25 yards. Using the scope I mounted I was able to put 10 of them into 0.667-inches at 25 yards. It's a larger group, but still very respectible.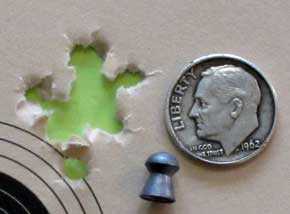 Ten JSB Exact Jumbos made this 0.667-inch group at 25 yards.
POI shift!
Look at where those pellets landed. The point of impact shifted when I fired a different pellet. They are centered an inch higher and three-quarters of an inch to the right of the Premier group. That tells me the HW85 is very twitchy in how it wants to be held. To tell the truth, I really worked for group number one. For group two I shot faster and, while I still used the artillery hold, I didn't prepare as long for each shot. That by itself could have been the difference in the group size.
RWS Superdomes
The final pellet I tested was the RWS Superdome. In the last test with open sights Superdomes grouped 10 in 2.694-inches, though only one pellets opened the group up. Nine were in 0.978-inches at 25 yards — just under an inch.
With a scope I was able to put 10 into 0.977-inches at 25 yards. I think maybe the Superdome is not the best pellet for this rifle. Notice that this group has shifted again. It's about one inch to the left and a little lower than the last group.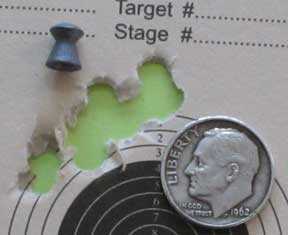 Ten RWS Superdome pellets went into this 0.977-inch group at 25 yards.
This is the second group I shot with this pellet. I wasn't satisfied that I was shooting well enough during the first group, though it turned out about the same size as this one.
Evaluation
The HW85 is a very accurate springer that's also quite sensitive to the hold. There may be an even better version of the artillery hold than the one I used today. Maybe when I go out to 50 yards I will test that with a single pellet — the Crosman Premier.
Summary
I'm so glad the rifle is this accurate. It's such a smoothie that I wanted to hang onto it, and today I saw the accuracy that makes that a done deal.