by Tom Gaylord
Writing as B.B. Pelletier
Part 1
Part 2
Part 3
Part 4
Part 5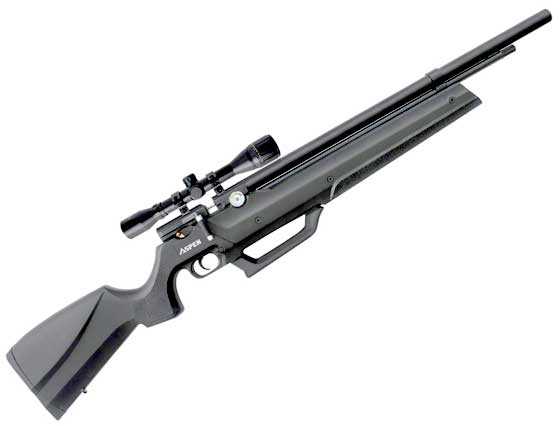 The Air Venturi Seneca Aspen precharged pneumatic air rifle.
This report covers:
Pay attention!
The .25 is different
The real reason to buy an Aspen!
A brand new gun
The manual
Physical differences between the rifles
Things that come with the rifle
Power
Description
Summary
Pay attention!
Read this paragraph, because I don't want to have this discussion a hundred more times. The Air Venturi Seneca Aspen PCP with a built-in pump is a complex airgun. The complexity isn't in the design or in the build — it's in how the rifle operates. So I have provided the links to the first 5 reports on the .22-caliber rifle I already tested last year, for those who want to go back and see how I tested it. After today's report I will only link to the test of this rifle.
The Aspen is a PCP that also has a built-in pump, so it can also operate like a multi-pump pneumatic. In my opinion, at least to this point in the testing, it makes more sense to operate the gun as a multi-pump, because you can then regulate the pressure in the reservoir. That gives you precise control over the velocity, where just filling it like a PCP will only give a handful of shots. All this is speculation, because I have not yet done the testing, but after seeing the pressure curves in Parts 2 and 3 of the test of the other rifle (in the links provided above) I am almost certain that I'm right. read more