by Tom Gaylord
Writing as B.B. Pelletier
This report covers:
Velocity
Accuracy
Oiled the gun
Daisy Premium BBs
Crosman Black Widow BBs
Dust Devils
Trigger pull
Cocking effort
The test
Daisy BBs
Crosman Black Widows
Air Venturi Steel
Hornady Black Diamond
Dust Devils
Discussion
Summary
Velocity
Today we look at the velocity of the Daisy model 105 Buck BB gun. If you read Part 1 you know that Daisy advertises on the box that this gun develops 350 f.p.s., but I told you I didn't think that was possible. The larger Daisy Red Ryder doesn't even shoot that fast. Pyramyd Air says 275 f.p.s., which agrees with Daisy's website. Today we find out what the one I'm testing will do.
Accuracy
I'll also test the accuracy of the gun today with the open sights that came with it. I'm doing that now because I'm getting ready to mount a scope on the gun using a brand new scope mount, the Little Buck Rail, that reader Terry Harman has created. So I'm packing a lot into this report to get us to that point. Let's get going.
Oiled the gun
Before I started the test I oiled the BB gun with Crosman Pellgunoil. That may sound odd (oiling a Daisy gun with a Crosman product), but Pellgun oil is just 20-weight non-detergent motor oil with an o-ring preservative added. Daisy has long recommended using 20-weight motor oil to lube their BB guns and they don't have a product of their own, so it isn't as strange as it sounds.
Daisy Premium BBs
First up were Daisy's own Premium Grade BBs. The first 10 averaged 238 f.p.s. The low was 231, and the high was 244 f.p.s. However I think you should see the entire spread.
Shot…….Vel
1………..240
2………..244
3………..244
4………..241
5………..239
6………..238
7………..232
8………..233
9………..234
10………231
What is happening? Why is the gun slowing down? I think the oil is spreading around and slowing things down. Every time I oil a gun it either slows it down, or, through detonation, speeds it up. I'm telling you this because of what happened next.
Crosman Black Widow BBs
This time, when I shot a different BB, the reverse happened. Let's see what happened with Crosman Black Widow BBs.
Shot…….Vel
1………..233
2………..239
3………..Didn't register
4………..237
5………..242
6………..243
7………..249
8………..250
9………..251
10………251
The average is 243 f.p.s.. The low was 233 and the high was 251 f.p.s. That's an 18 f.p.s. spread, but from looking at the string you can see that the velocity is increasing as the gun is shot. I think the oil is now spreading around and thinning out, and the gun is coming back to full power. To see if that was right I shot the Black Widows a second time.
Shot…….Vel
1………..252
2………..254
3………..252
4………..254
5………..258
6………..259
7………..254
8………..255
9………..258
10………259
The average this time was 255 f.p.s. The low was 252 and the high was 259 f.p.s. That's a difference of 7 f.p.s.
See how the velocity is rebounding? Okay, let's try a faster BB.
Dust Devils
Dust Devil frangible BBs are lighter so they will probably go faster. Only if too much air escapes around them will they go slower.
Shot…….Vel
1………..268
2………..261
3………..267
4………..276
5………..277
6………..274
7………..277
8………..274
9………..270
10………269
The average was 271 f.p.s. The low was 261 and the high was 277, so a 16 f.p.s. spread. There is Pyramyd Air's 275 f.p.s. number.
Yes, they went considerably faster. Now I wondered where the Daisy BBs that I shot first would be. Let's see.
Daisy BBs
Shot…….Vel
1………..260
2………..261
3………..261
4………..242
5………..264
6………..260
7………..265
8………..263
9………..263
10………267
11………266
I shot 11 BBs this time. But this time they averaged 261 f.p.s. where the first time they averaged 238 f.p.s. That's a 23 f.p.s. difference in the averages. That's what oiling does to this BB gun! I'm not telling you not to oil the gun. Just know what to expect when you do — and that holds for all BB guns with a similar powerplant.
I didn't shoot Smart Shot because I think the Buck is too weak for them. If you don't want BBs rebounding, shoot Dust Devils.
The Buck seems to be about where Pyramyd Air said it would be — 275 f.p.s. No matter what other BBs I try, if they are as uniform as these they will shoot at about the same velocity.
Trigger pull
The single stage trigger broke at between 5 lbs. 10 oz. and 6 lbs. 1 oz. It's consistent but heavy for a child.
Cocking effort
Cocking is a kid-friendly 11 lbs. but the short lever makes it harder than it sounds. Little tykes will need to find their anchor points to cock this gun.
Accuracy test
Now let's look at the accuracy. I will shoot 5-shot groups from 5 meters. If there are some tight groups I will also shoot 10 shots with that BB.
The test
I shot from 5 meters. I was seated and used the UTG monopod as a rest. I loaded 5 BBs of one type at a time, to keep all BBs the same for every target. I used a 6 o'clock hold with the fixed open sights. Let's go.
Daisy BBs
I started with 5 Daisy BBs. Three landed in 0.476-inches but the other two opened the group to 2.808-inches at 5 meters. The group was fairly well centered on the bull.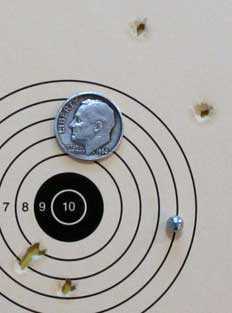 Five Daisy Premium BBs went into 2.808-inches at 5 meters, with 3 in 0.476-inches. Every shot was held perfectly.
Crosman Black Widows
The second BB I tried was the Crosman Black Widow. Five went into 1.341-inches between centers at 5 meters.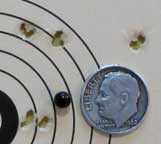 Five Crosman Black Widow BBs went into 1.341-inches at 5 meters.
Air Venturi Steel
Next I tried 5 Air Venturi Steel BBs. They went into a group that measures 2.409-inches between centers at 5 meters.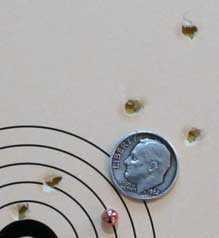 The Buck sent 5 Air Venturi Steel BBs into 2.409-inches at 5 meters.
Hornady Black Diamond
The next BB I shot was the Hornady Black Diamond. It's often the most accurate BB in my tests, but not this time. This time the Buck put 5 Black Diamonds in 4.508-inches at 5 meters. This is clearly the largest group of this test!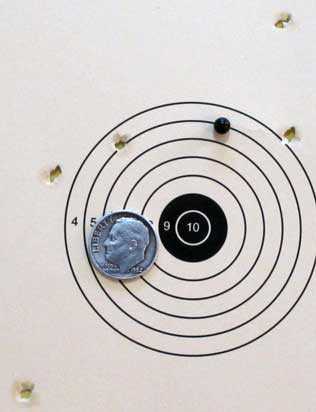 Five Hornady Black Diamond BBs made this 4.508-inch group at 5 meters. It is the largest group of the test.
Dust Devils
Next to be tested were the Dust Devil BBs. They usually shoot into larger groups, and after the Hornady group, I was concerned they might miss the BB trap altogether. Well, they didn't. The Buck put 5 of them in 3.233-inches at 5 meters. It is the second-largest group of the test, but still more than one inch better than the Black Diamonds.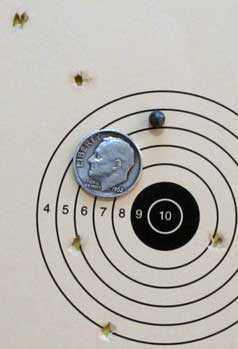 The Buck put 5 Dust Devil BBs in 3.233-inches at 5 meters.
Discussion
Well, none of the groups was very good. The Black Widow group was the best so far, at 1.341-inches, but even that wasn't worth shooting another 10-shot group.
It seemed to me that the Buck liked larger BBs best. I even dropped an oversized Marksman BB into the muzzle, but it was too large to enter the bore. So the only things I could think of were the Daisy Avanti Match Grade BBs that we know are on the high side of the average BB size. They are also very uniform. The Buck put 5 of them into 2.2 inches at 5 meters.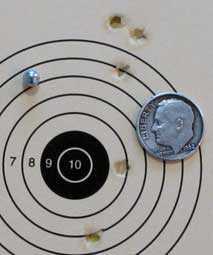 Five Daisy Match Grade BBs went into 2.2-inches at 5 meters.
Summary
Okay, we found out that the Buck isn't as fast as Daisy says, but it does shoot around 275 f.p.s., give or take. That's all the velocity you need to shoot at soda cans.
The accuracy seems a bit lacking, but we still have to test this gun with a scope. Remember — that was what motivated me to test it in the first place. I normally don't care to scope BB guns, but when I scoped a Red Ryder a few years ago I actually got better groups! That will be next.