by Tom Gaylord
Writing as B.B. Pelletier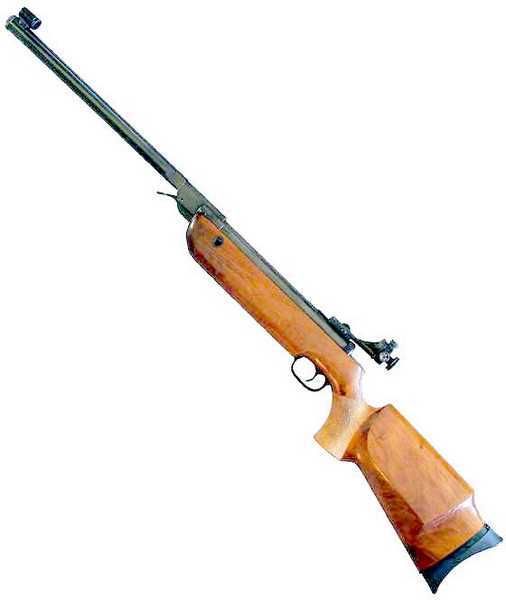 Walther's LGV Olympia is one of the last recoiling spring piston target rifles.
This report covers:
Velocity
RWS R10 Match Pistol
Sig Match Ballistic Alloy
Qiang Yuan Training pellets
H&N Finale Match Light
Discussion
Cocking effort
Trigger pull
Scope rail?
Rear peep
Summary
Well, well. There is a lot of interest in this vintage target rifle. Some of you want to know if I plan to shoot it at 50 yards. I hadn't planned to do that. I was planning on shooting it at 10 meters and seeing how accurate it might be when used for the thing it was created to do. But I do listen to you guys, so I'm open to exploring other things.
Velocity
Today we look at the power of this air rifle. I know it was just rebuilt when I got it and I really don't remember much about the performance, except to tell you that Walther spring target rifles in general were never as powerful as FWBs. An FWB 300S might shoot at 640 f.p.s. A Walther tops out at 575-600 f.p.s., as I recall.
RWS R10 Match Pistol
First to be tested were 10 RWS R10 Match Pistol pellets. They weigh 7 grains and should be the fastest pellets I test today. Ten of them averaged 600 f.p.s. The spread went from 592 to 606 f.p.s. — a difference of 14 f.p.s. This is about where the rifle should be, in my experience.
Sig Match Ballistic Alloy
Sig Match Ballistic Alloy pellets are made of tin and weigh 5.25-grains, so they will be quite a bit faster than lead pellets. In the LGV 10 of them averaged 686 f.p.s. The range went from 673 to 690 f.p.s., which is a difference of 17 f.p.s. In past tests we have seen this pellet at the top for accuracy, so it will be exciting to see what the LGV does with them.
Qiang Yuan Training pellets
Chinese Qiang Yuan Training pellets have also been something of a surprise. In some airguns they are the most accurate, overall. They weigh 8.12 grains, so I expected them to shoot slower. But they averaged 588 f.p.s., which is almost as fast as the 7-grain R10, so perhaps they fit the gun better. The spread went from 576 to 593 f.p.s., which is a difference of 17 f.p.s.
The more expensive Qiang Yuan Olympic pellets weigh exactly the same as the training pellets, so it will be interesting to see what they can do for accuracy.
H&N Finale Match Light
The final pellet I tested was the H&N Finale Match Light. At 7.87 grains it's lighter than the Chinese training pellet, yet it turned in the lowest average velocity — a mere 550 f.p.s. The spread went from 544 to 556 f.p.s., so a difference of 12 f.p.s. This average is slow for an LGV, so I'm thinking this pellet may not be right for this rifle, but now I have to test it for accuracy to know if I'm right.
Discussion
This rifle is a little faster than I expected. It should be able to shoot both rifle and pistol target pellets.
I thought I remembered that the rifle was buzzier than it is. It's pretty calm. I'm glad because I didn't want to take it apart, and now I don't have to!
Cocking effort
This LGV cocks with 17 lbs. of effort. It feels like less because the 2.5 lb. barrel sleeve helps pull the barrel down to cock. I'm usually seated when shooting and I rest the butt on my leg, so that barrel weight does help.
Trigger pull
The two-stage trigger has a 6-ounce first stage. It's followed by a glass-crisp 12-ounce second stage. The only thing it lacks is a positive trigger stop. It's not as light as a modern target rifle trigger or even as light as an FWB 300S trigger, but it's right there with the best of the rest.
Scope rail?
Some of you wondered if a scope could be mounted to the LGV. Well, it would be possible but also marginal.
The LGV has an 11mm scope rail that has been applied to the outside of the spring tube. It's probably silver-soldered or welded on — not cut into the tube. It's 2.3-inches long and not really suitable for a scope of any size. It's just for a peep sight, though a short and lightweight scope could be made to work. I think it has to be welded because hot bluing attacks silver solder, but still, this rail is pretty small.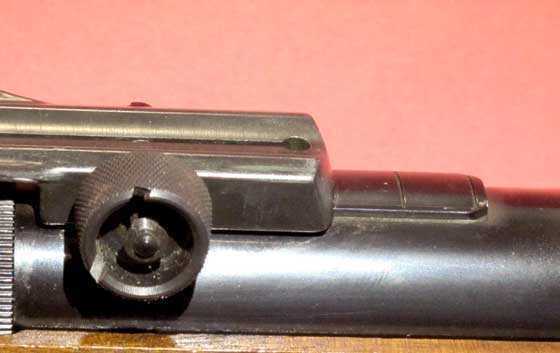 The peep sight is attached to a short rail that's attached to the outside of the spring tube, rather than being cut into it.
Rear peep
The picture of the peep sight caused some confusion last time. I was asked if there were additional adjustments for the sight. I had not examined it then, but I did for today and I can tell you that yes, there are some gross adjustments for the rear peep sight.
There are 4 screws on the front of the sight that allow you to reposition the sliding parts of the rear peep in both directions. Loosen two of the screws and the entire peep slides either horizontally or vertically, depending on which screws are involved. In the picture below you can see a little of the slots in which the body of the sight slides.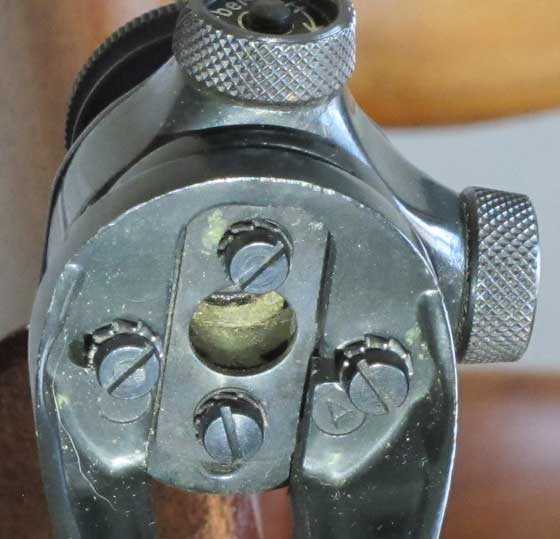 The peep sight slides in both directions just a little. Loosen two screws and slide the sight in the direction you need. Then lock it down and let the fine adjustments take over.
Summary
So far the LGV is living up to my fondest memories. It's solid, smooth cocks easily and has a delightful trigger. I can't wait to see what it will do with modern target ammo!