Posts Tagged 'M1 carbine'
by Tom Gaylord, a.k.a. B.B. Pelletier
Blog reader Kevin asked me this question recently, and I embraced it because I usually don't even have time to think about which airgun I would prefer to shoot. There's always another blog, a feature article and 5 other deadlines pressing on my time…so thinking like this is not a luxury. It's a fantasy! Then, Kevin asked this question and "forced" me to stop and think about it for today's report. Ahh! Happy Friday!
The first gun that pops into my head when I ask this question is the Diana model 27 rifle. It's just such a simple, uncomplicated airgun that I guess it serves as my happy place. But as I think about it, other guns pop up. The Air Venturi Bronco, the Falke model 70, the Diana model 25 are 3 more that come to mind immediately. They all share the model 27′s chief attribute — ease of operation. In short, they're all fun airguns.

Diana's model 27 breakbarrel is so light, smooth and easy to operate that it epitomizes everything that's good about airgunning in my eyes.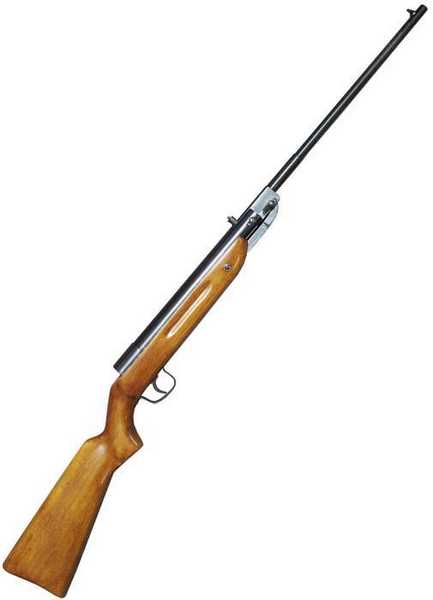 Falke model 70 is another vintage breakbarrel that's light and smooth like the Diana 27.
To take the fantasy a little farther, have these guns always been the ones that do that, or have there been others? Yes! There have been others!
My straight-grip Webley Senior pistol is exactly like the Diana 27 in this respect. It's small and easy to operate. I still own this pistol, although there's seldom any time to actually shoot it. But it's right there in the drawer where I can put my hands on it whenever I want. I guess that's good enough. I guess it will have to be.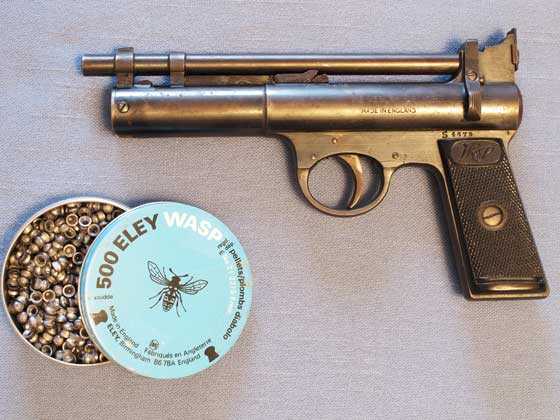 I've owned this straight-grip Webley Senior since the early 1970s. It's easy to cock, has a nice trigger and is fun to shoot. Not terribly accurate, but it's one of those rare guns I let slip by because everything else works so well.
When I think a little longer and harder, my Beeman R8 pops into view. It comes in later because it has a scope, and scopes do complicate things. So do target sights, but my Walther LGV Olympia 10-meter target rifle now comes to light. And with it comes the new .22-caliber LGV. The target rifle took longer to pop up because it's a heavy gun. The .22 took longer because of its power. When I want to play, power is the farthest thing from my mind.
Firearms?
Kevin didn't ask me what my favorite firearms were; but since this is Friday, I'll take a little license and include them, as well. Right now, my new PO8 Luger is a favorite because it's accurate, recoils very little and it eats my handloads like they were candy! And when I think of that gun, I cannot overlook my Ruger Single-Six in .32 H&R Magnum. It has great power and almost no recoil. For cutting out the center of a bullseye, that little Ruger wheelgun is a dream.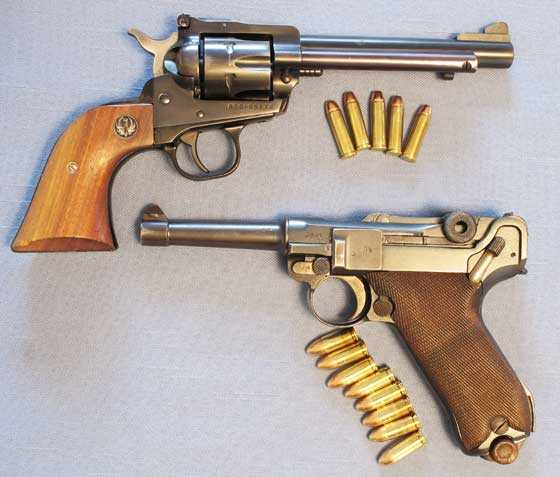 The Ruger Single Six is chambered for the .32 H&R Magnum. It's light, yet very powerful and will out-penetrate a .357 Magnum on a steel target. The 1917 Luger is such a smooth shooter that it's like eating peanuts — I can't stop! Both guns are very accurate.
Then, I think of my O3A3 Springfield. It's one of the few military rifles that gives me an honest sub 2-inch group at 100 yards. If it didn't recoil so much, I'm sure it would have popped up even sooner.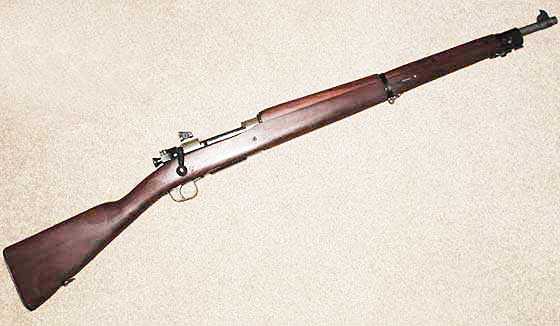 This O3A3 Springfield will smack you with recoil when you're shooting full-house loads. The short stock gives it a running start at your shoulder. But the accuracy is stunning!
My M1 Carbine is also a favorite — not for its accuracy, which is just average — but for the fact that it drops the empty cases on top of the shooting bench! Most autoloaders throw their cases a country mile, but this little sweetie piles them up for me. With more training, I'm sure I can get it to put them back in the box!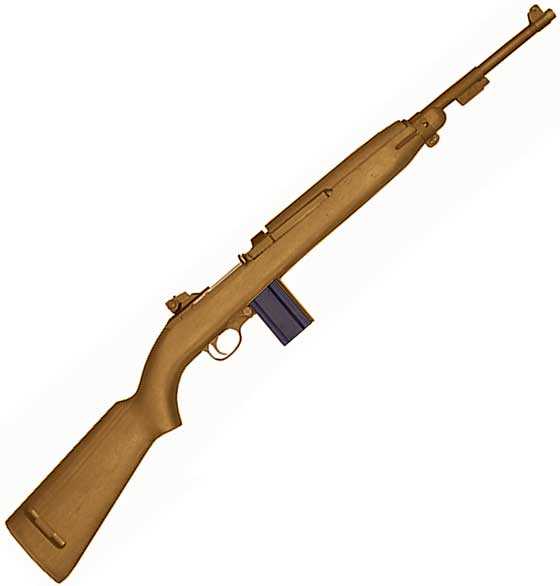 My M1 Carbine is well-behaved. Next, I'm going to teach it to put the fired cases back into the box!
Guns I wish I still had
Now comes the Great Lament — the ones that got away! I had a Bernardelli Baby in .25 ACP that would put 3 shots into the bottom of a soda can offhand at 30 feet. Most .25s are lucky to hit dinner plates at that distance, but this little pistol was a good one. I let it get away. I recently bought another Bernardelli Baby in the hopes of doing the same thing. Alas, this one is a dinner-plate special.
Ruger .44 Magnum Blackhawk with 10-inch barrel
They're very collectible now; but when I had my 3-screw Ruger Blackhawk, they were just good guns. I was too stupid to know that the one I had was an exceptional shooter. I figured I could always get another one.
Custom .458 Winchester Magnum
I have written about this rifle many times. I shot it with a 550-grain cast lead bullet, and it would put 10 shots into less than 2 inches (outside measurement) at 100 yards. It was like owning a target-grade 45/70. Stupid me — I thought I would always be able to find another one just as good. Haven't yet!
What kind of shooting do I like to do?
I'm pretty easy to please. I like whatever kind of shooting I happen to be doing at the time — usually. The things I hate are magnum spring rifles that buzz like bottles of hornets, slap me in the face and have no accuracy. I also disdain black rifles that can't group in less than 3 inches at 100 yards. In fact, I dislike almost anything that isn't accurate.
I enjoy shooting a .45 Colt Single Action Army with accurate loads and feeling the plow-grip roll in my hand during recoil. I like shooting a nice 1911 and feeling the slight burp of recoil when I hold my thumb over the manual safety. I shot a Walther P38 recently that had a nice trigger and is very accurate. My experiences with P38s aren't that good, but this one was memorable. I could burn up a lot of 9mm ammo in that one.

When I came home from the hospital several years ago, I received this Single Action Army as a gift from the readers of this blog. It is a favorite of mine because it mimics the feel of a Gen 1 Colt perfectly!
Same for the PO8 I got for Christmas. The ergonomics are legendary and the trigger is extremely good for a Luger (their trigger linkages usually make for poor triggers). My handloads are moderate enough that I can shoot this pistol for the rest of my life and not put any wear on it!
I enjoy holding a 10 with a target air pistol and seeing the pellet hit the pinwheel. I love seeing 10 shots from an accurate rifle sail through the same hole at 100 yards, knowing the hole they made is smaller than half an inch. I love shooting 5 shots from a 10-meter rifle and seeing a group smaller than a tenth of an inch.

Holding a 10 with a pistol is very enjoyable!
I love shooting my Daisy Avanti Champion 499 offhand and making quarter-inch groups. My shooting buddy Otho bought one for himself this past December and has been doing the same thing ever since.
I enjoy shooting a Garand and hearing the shot go off but not feeling the recoil. I know it's there, but the push is so slow that it doesn't seem to count. The same holds true for my .357 Magnum Desert Eagle. It's got enough power to drop a steer, but the soft recoil feels like a 1911 shooting +P ammo.
Best of all
But the thing I like above all is when I solve some problem of inaccuracy and turn a bad gun into a real shooter. It doesn't happen as often as I'd like, but from time to time I do hit one out of the park. I'm hoping to do that with my Ballard someday. And maybe my Meteor, as well.
by Tom Gaylord, a.k.a. B.B. Pelletier


M1 Carbine on top and Crosman M1 Carbine below. A realistic copy!
Today, we'll test the Crosman M1 Carbine BB gun for accuracy. I pulled out all the stops, plus I shot a comparison group with a Daisy Avanti Champion 499 BB gun for comparison.
The course
I fired all targets from 15 feet, which is the NRA distance for BB gun competition. Daisy uses 5 meters, which is about 16 feet, 6-and-a-fraction inches, but the NRA standardized on 15 feet many years ago and hasn't changed. They don't hold any significant competitions that I am aware of, while Daisy hosts the International BB Gun Championships every year. But since the gun I'm testing was never meant for competition, I felt the shorter distance would suffice.
I shot the gun from a rest using the artillery hold to take myself out of the picture. The target was well lit, and the Crosman M1 Carbine has an adjustable peep sight at the rear, so the sighting system is pretty advanced.
Daisy Premium Grade zinc-plated BBs
The first BB was the Daisy Premium Grade zinc-plated BB. You saw how these compare to the Umarex precision BBs in Part 2 of this report. Nine of the 10 BBs landed in 1.354 inches and were slightly low and to the right of center. But 1 of the 10 shots strayed up and to the right, opening this group to 5.148 inches between centers. No shot was a called flier.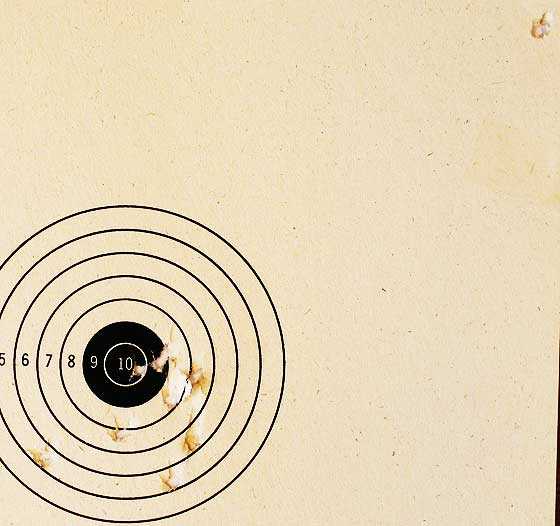 The 9 shots in the bull area went into 1.354 inches, but the shot at the upper right corner opened the group to 5.148 inches. Daisy Premium Grade zinc-plated BBs.
I expected results that were like the 9 shots. I did not expect any wild shots like this one!
Okay, so maybe the Umarex BBs would do better in this gun. Remember, I'm shooting off a rest at 15 feet.
Umarex Precision BBs
Next, I loaded 10 Umarex Precision steel BBs and tried a second group on a fresh target. I can't tell you how large this group is because 2 of the BBs missed the target trap and hit the backer board I put up to protect the wall. I know one of them was high because it passed through a piece of cardboard I had taped to the target trap. The 8 shots that landed on the target paper made a group measuring 3.046 inches between centers. It's impossible to know how large the actual group was since 1 of the BBs left no record whatsoever.

These 8 Umarex BBs landed in a 3.046 inch group at 15 feet, but 2 BBs missed the target paper altogether. So, the 10-shot group is larger, but there's no way of knowing how large.
Wow! This wasn't the way I remembered the M1 Carbine! I knew you would have a lot of questions for me. So, I decided to do something about it.
Avanti Precision Ground Shot
I also tried the Avanti Precision Ground shot that Daisy sells for the Avanti Champion 499 BB gun. This shot is very uniform in size and measures 0.1739 inches with my micrometer. That's considerably larger than either of the other 2 BBs I shot.
This time, all 10 BBs hit the paper and made a group measuring 3.681 inches between centers. That is the best group of all 3 BBs tried. But it wasn't good enough for me. Shooting 3 inches at 15 feet is something I never want to do because I know I'm better than that. How much better? Well, I had to find out.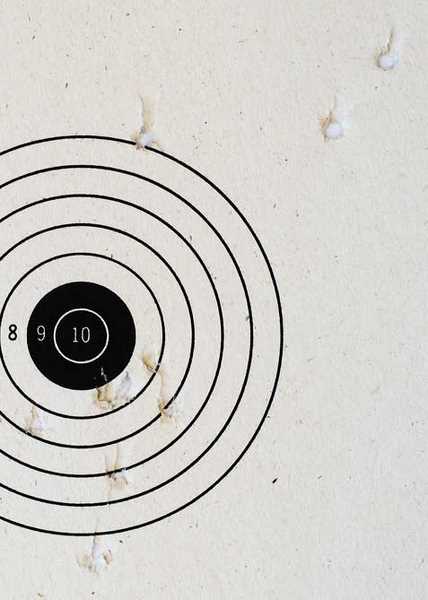 Ten Avanti Precision Ground shot BBs made this 3.6781-inch group at 15 feet. It was the best group made by the the M1 Carbine in this session.
Avanti Champion 499 BB gun
I next shot a group in the same way but with the Avanti Champion 499 BB gun — the world's most accurate BB gun. Naturally, I used the Avanti Precision Ground shot since it's the only BB developed specifically for this gun.
This time, 10 shots went into 0.328 inches. They were a little high and right on the target, which means I need to adjust the rear sight just a little, but I'm pleased with the group size. It came after firing 30 aimed shots, so I was starting to get tired, if anything.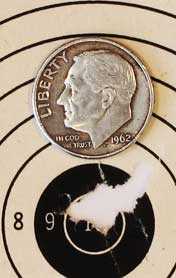 This is 10 shots from the Daisy Avanti Champion 499 BB gun. Though the group measures 0.328 inches between centers, the gun is capable of much smaller groups in the right hands.
Conclusion
The Crosman M1 Carbine is not as accurate as I remembered. I expected to put 10 shots into 1.5 inches or better, and that didn't happen with any BB — not even the Precision Ground shot. I think I've shot 5-shot groups with this BB gun in the past, and that may have given me false expectations.
Still, the Crosman M1 Carbine is a wonderful BB gun from the standpoint of realism and power. It comes from a time I fear we will never see again, and I lament the end of the era that produced such a fine BB gun.
by Tom Gaylord, a.k.a. B.B. Pelletier


M1 Carbine on top and Crosman M1 Carbine below. A realistic copy!
Today, we'll take a look at the velocity of the Crosman M1 Carbine BB gun. My gun is one that has a plastic Croswood stock, which means it was made between 1968 and 1976. It doesn't have any indications of having been taken apart, so I'm assuming that it's factory original.
Strange spring-piston gun!
This rifle is unique in that it has a valve. Despite being a spring-piston gun, there's a pop valve in line with the piston. It remains shut until overcome by pressurized air. A small coiled spring holds it shut as long as possible. That allows the maximum air pressure to build up, so the BB doesn't start moving before the piston has almost reached the end of its travel.
Most BB guns use a hollow tube to push the BB off its seat and get it up to about 50-80 f.p.s. Then, the compressed air comes through the air tube and blasts the BB on up to terminal velocity. But the Crosman M1 Carbine and the Crosman V-350 action from which is is designed do not have the tube. So, the compressed air is held back until it reaches overwhelming pressure, and it's the only thing that acts on the BB. How well does it work?
Daisy Premium Grade zinc-plated BBs
The first BB I loaded was the Daisy Premium Grade zinc-plated BB. I've found these BBs to be very uniform and larger than some on the market. They measure 0.171″ to 0.173″ in diameter, and their surface is smooth, though not as smooth as some. They weigh 5.1 grains, on average.
Daisy BBs averaged 383 f.p.s. in the Crosman M1 Carbine. The range went from a low of 365 f.p.s. to a high of 391 f.p.s. That's a pretty large spread for a spring-piston BB gun, but the average velocity is also on the high side. We'll have to wait to see how accurate they are; but in my experience, Daisy BBs are always near or at the top, as far as accuracy goes.
Loading BBs
BBs are loaded in the front of 2 holes in the upper handguard of the gun. The rear hole is for oiling the piston seal, which on this gun has a huge impact.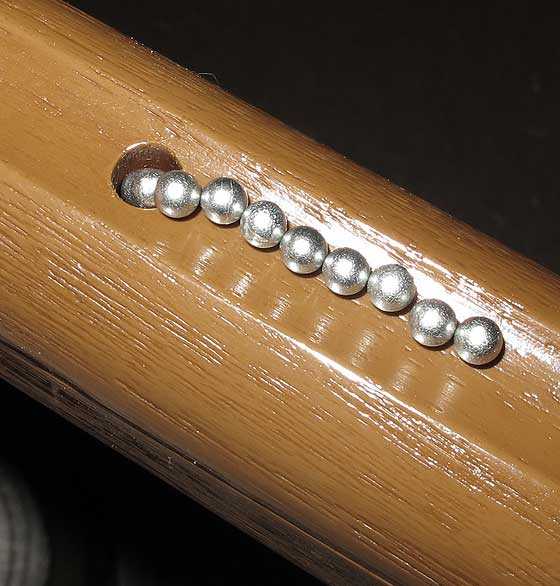 The BBs load into the 22-shot gravity-fed magazine through a hole in the front of the upper handguard. Pull back on the operating handle to open this hole for loading. Although Crosman says the magazine holds 22 BBs, my gun holds 23.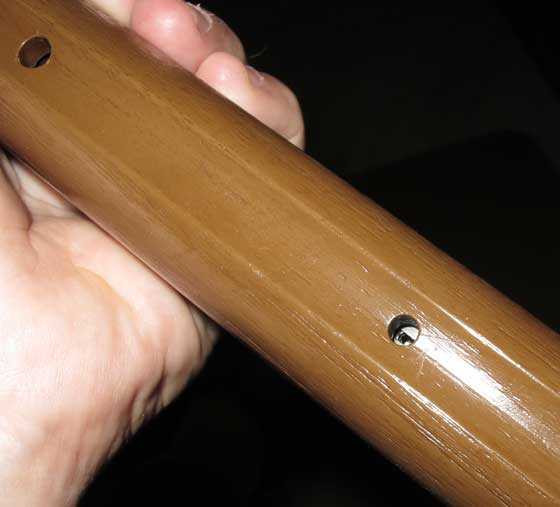 The rear hole in the upper handguard is for oiling the mechanism. You can also see BBs through the hole if the gun is loaded.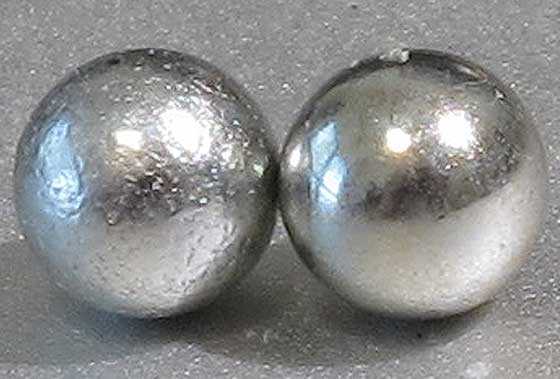 Daisy Premium Grade zinc-plated BB on the left, Umarex Precision steel BB on the right. The Umarex BB is visibly smoother; but in tests with many guns, these 2 BBs are similarly accurate. It'll be interesting to see how the Crosman M1 Carbine handles each BB in the accuracy test.
Umarex Precision BBs
Next, I tried Umarex precision steel BBs. They averaged slightly less velocity, as 375 f.p.s., but the spread was also tighter. The low was 367 f.p.s. and the high was 382 f.p.s. That's a range of 15 f.p.s., compared to 26 f.p.s. for the Daisys.
Trigger-pull
The Crosman M1 Carbine trigger is light, breaking at 2 lbs., 13 ozs. on the test gun. The blade is very thin, though, and that makes the pull feel heavier.
This airgun is performing at the peak of its power right now. An average Crosman M1 Carbine will shoot around 350, so this one is certainly a little hot. I can't wait to see how well it does in the accuracy test.
by Tom Gaylord, a.k.a. B.B. Pelletier


M1 Carbine on top and Crosman M1 Carbine below. A realistic copy!
When I attended San Jose State College in the 1960s, I was in ROTC. My first 3 years as a cadet were in the enlisted ranks, and we all drilled with the M1 Garand. Today, people feel the Garand is a cool historical military weapon (and it is!); but in the late 1960s when it was all we had, it wasn't nearly so cool. It was, in fact, heavy, clumsy and dangerous when you performed Inspection Arms. We learned to live with it and eventually became adept at not smashing our thumbs when we closed the bolt, but the fact was that the Garand was a 10.5-lb. clunk that always seemed to weigh too much.
The cadet officers, in sharp contrast, were issued the M1 Carbine, which weighed about half as much and felt like a feather compared to the Garand. When they performed Inspection Arms, there was no heavy spring to fight to get the bolt open and no chance of an M1 thumb. The bolt on the Carbine action slides home with minimal fuss.
Of course, we never got to shoot our guns. We just drilled with them. I could perform the Manual of Arms pretty well but had no idea what it was like to touch off a round. And those days were long before Garands became widely distributed among private owners in the U.S. They were around, but a kid in college like me shot a 1903 Springfield if he shot anything.
Carbines were more readily available, but I never had the chance to shoot one of them, either. So my entire opinion of both weapons was based solely on their weight and the relative ease with which the Manual of Arms was performed. Naturally, I fell in love with the M1 Carbine.
I wasn't an airgunner in those days. I'd been one 10 years earlier when firearms were out of the question…and I would be, again, in a few years when I encountered adult airguns during a tour with the First Armored Division in Germany. I was unaware that Crosman had marketed an M1 Carbine lookalike BB gun from 1966 to 1976. And, given my interest in firearms at the time, it's doubtful that I would have been interested in one if I had known about them.
It wasn't until I started going to airgun shows in 1993 that the Crosman M1 Carbine popped up on my radar screen; and when it did, I assumed it was a CO2 gun since my total knowledge of Crosman was that they made CO2 guns. Having lived through the great experiment of the "bottle-capped" CO2 containers in the late 1950s (they leaked gas), I wanted nothing to do with any gun that used it. That's a story of its own, and it's one I'll share with you soon.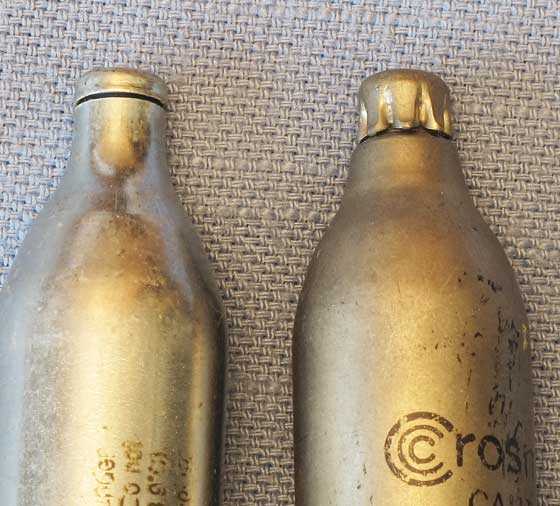 Crosman's first CO2 cartridge (right) used a type of bottle-cap close. Many leaked.
In the late 1980s, someone offered me a Crosman M1 Carbine for $15, and I turned it down because of my distaste for CO2 guns. It wasn't until about 10 years later when I was writing The Airgun Letter that I discovered my mistake. The Crosman M1 Carbine is not a CO2 gun. It's a spring-piston BB gun that cocks using the push-barrel system that Quackenbush (Henry Marcus, not Dennis) made popular in the late 1800s.
I also discovered that this BB gun had a rear sight that adjusts in the same way the type II and type III Carbine rear sights adjust. And it's lightweight — just like the military gun. And powerful for a BB gun! And also accurate. What was not to like?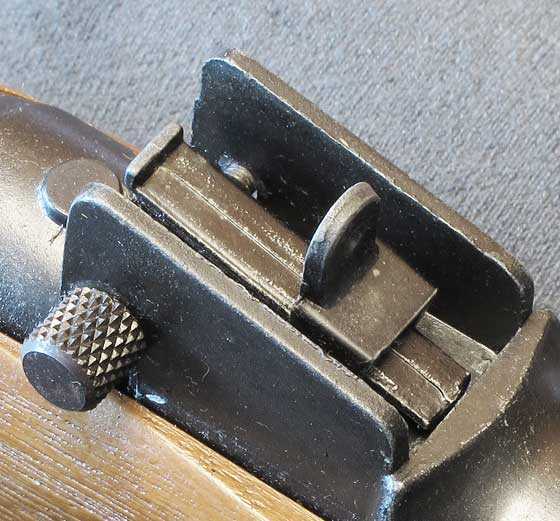 The Crosman rear sight is fully adjustable for windage and elevation — just like the type III military Carbine rear sight.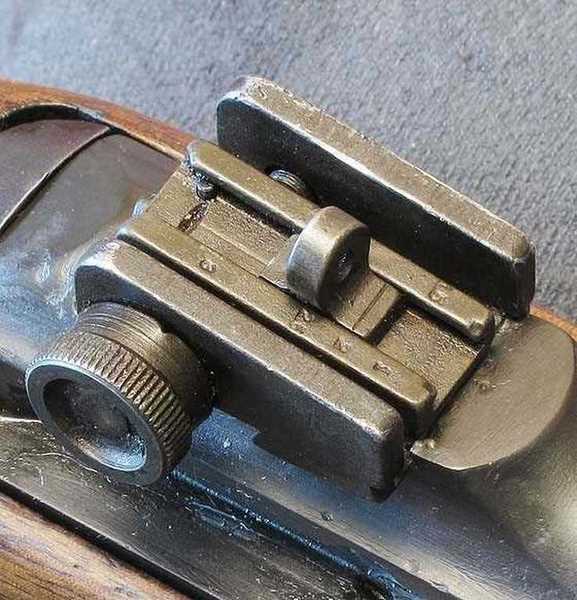 A military Carbine type II rear sight is very similar to the Crosman sight. They adjust the same way!
I broke down and bought a wood-stocked Crosman M1 Carbine at the Winston-Salem Airgun Expo. That gun taught me what I'd been missing all those years. It was accurate (for a BB gun), powerful and looked great. But those were busy days when I was buying and selling airguns often to have new material for the newsletter. So, I let that gun get away from me — for almost twice what I paid to get it! That was the value of the wood stock, which was available only for the first two years of production.
Then I went into a severe case of seller's remorse, which I guess I also verbalized a little. My friend, Mac, saw me looking at another M1 Carbine at another airgun show, and he bought it for me as a gift. That was the kind of friend he was.
Following that, I got serious and set about to acquire my first actual M1 Carbine firearm — just to complete the circuit. I found it to be wimpy, weak, inaccurate and in all other respects thoroughly lovable. I have not been without a Carbine since. And I will never get rid of my Crosman M1 BB Carbine.
The rifle
The Crosman M1 Carbine is a very realistic airgun. It weighs 5.25 lbs., which is within 1 ounce of the firearm's weight. The stock is plastic dyed medium brown and given a grained pattern on the surface. Crosman called it Croswood, and for its day it was very realistic. In fact, it looks much more authentic than the real wooden stock that's slab-sided and without figure. The Croswood stock is much more rounded and more fully contoured than the wood stock.
The picture shows that the airgun is in most ways very similar to the firearm. Of course, there are some significant differences. The "magazine" for instance is nothing but a metal box — a reservoir for BBs that must be dumped out and then loaded into the 23-shot gravity-fed magazine before they'll work in the gun.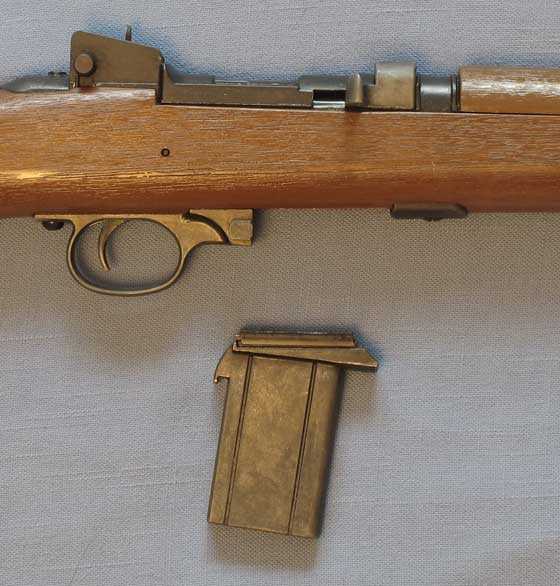 Crosman's magazine is really just a reservoir for extra BBs. They have to be removed from the reservoir and loaded into the gun.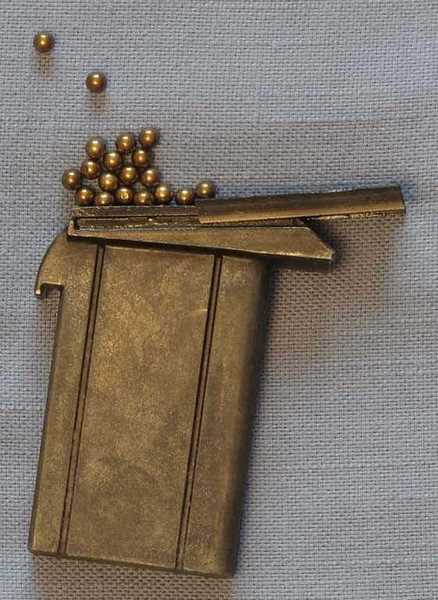 Slide the plastic cover off the magazine and pour out the BBs.
That magazine, by the way, is the gun's Achilles heel. Kids (and parents who don't understand its purpose) remove it and lose it. The gun will still work fine without it, but some of the authenticity is lost. There have been solid plastic magazines sold over the years for those who need to regain the look without the storage compartment.
The BB gun loads through a hole in the top of the stock. To load, you slide the operating handle to the rear to open the hole, then drop in the BBs one by one. They roll back toward the butt, which is natural. When you cock the gun, you pull back on the barrel and normally the muzzle will be elevated when you do.
This gun can be difficult to cock — even for some adults. The mainspring is powerful, and the barrel doesn't offer a good handle to grasp when pulling it back. Many people cheat by putting their palms over the muzzle and pushing the barrel back. That puts your palm over the muzzle of a cocked gun — which is not something you want to do.
The right way to cock the gun is to use the front sight as an anchor for your index finger but not put any part of your hand in front of the muzzle at any time. I'm sure kids developed their own ways of cocking this gun, as it's entirely too powerful for most youngsters to cock conventionally. Most Carbine BB guns will have significant finish wear on the barrel just behind the front sight due to repeated handling.

Grasp the barrel this way to avoid putting your hand over the muzzle. This wears the finish off the barrel at this point.
The pull of the stock is a somewhat short 13 inches. But the firearm's pull extends only another quarter inch farther, so it's right in line with that. And the overall length is 35.50 inches for the BB gun and 35.75 inches for the firearm. So, the pull is where the difference is.
This gun was an icon to kids growing up in the late '60s and '70s. It was (and still is) so realistic that every junior BB-gunner wanted one for himself. Even if he couldn't cock it without resorting to trickery, this was a gun to own!
by B.B. Pelletier
Announcement: Adrian Cataldo Beltran is this week's winner of Pyramyd Air's Big Shot of the Week on their facebook page. He'll receive a $50 Pyramyd Air gift card. Congratulations!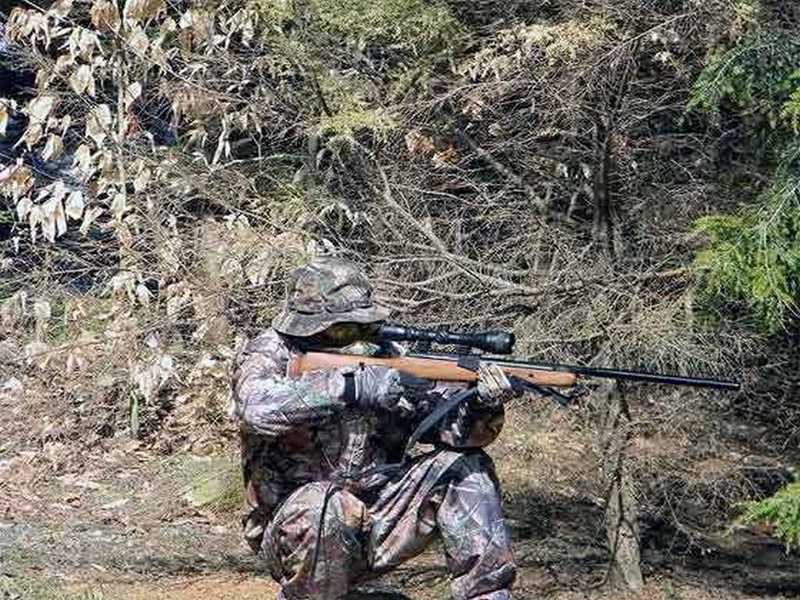 Adrian Cataldo Beltran is the BSOTW.
This is the second time I've used this title for a blog. The last time was a blog I did back in July 2007, almost five years ago. In that report, I was mostly addressing the expectations of accuracy that new airgunners have and how they relate to reality. Today, I want to look at something different.
Today I want to look at our secret hopes — those unspoken agendas that push us and direct us toward gun purchases that can sometimes disappoint us. I had one of these happen to me just this week.
When I was a boy back in the 1950s, I loved the Winchester model 61 slide-action .22 repeater — what we kids called a pump gun in those days. I loved it because every time I got to shoot one, which wasn't that often, the rifle spoke to me. It was just the right size, with a slick action that seemed to bespeak rapid-fire accuracy. Since I never shot at anything smaller than a soup can, I don't suppose that real accuracy ever came into question, but that gun just SEEMED accurate to me.
As a young adult in the middle 1970s, I had the opportunity to buy a 98 percent model 61 that had been produced in 1953. It still had the original box and cost the exorbitant price of $250, but I knew it was worth every penny. I didn't actually shoot it that much, but I shot it enough to know that my childhood imagination had amplified the rifle's true capabilities. It was accurate enough for what it was, but it was no tack-driver. Anyhow, the day finally came when I was forced to sell it before I apparently fulfilled my fascination for the gun — because a couple years ago I had a chance to buy another one in very good shape (call it a 75-percent gun) for just $550. This time I could afford the gun, but I didn't act quick enough and the opportunity passed.
Last week I passed the pawn shop where I had seen the model 61 for sale, and once more the same childish thoughts flashed through my mind. And here's the point of what I'm telling you. I now own a Marlin model 39A that is even slicker than the Winchester, and a Remington model 37 target rifle whose accuracy can embarrass almost every other .22 on earth. So why does my heart still yearn for the old pump gun that I know can't compete with the guns I have? I think it's that eternal desire to return to my childhood!
I had the exact same experience with a Daisy No. 25 slide-action BB gun, only this time I actually acquired nine of the things — all in beautiful, collectible condition. Owning them for over two decades allowed me to purge the demons from my past; and a couple years ago, I started quietly selling off that collection. The void in my heart had been filled.
At one time, I had the itch for a Colt Woodsman .22 pistol, because as a youngster I shot my uncle's gun and did very well with it at 25 yards. From the prone position with a two-hand hold, that pistol grouped like a fine .22 rifle! But I've owned several Woodsman pistols over the years, and the experience has filled that pothole in my character. I know now that a Ruger Mark II can be just as accurate and just as reliable for one-quarter the price.
The longest itch I ever had was for the M1 Carbine, because I still have it even though I own one! I have owned several, and all have been good shooters — if not terribly accurate. But something about the little semiautomatic action that's still impossible for gunmakers to build (no semiautomatic rifle has ever been made that was as light and powerful as the M1 Carbine) turns me on! I cannot pass one by. It's as though I need to own them all, even though I have whittled my own "collection" down to just one good gun.
The strangest itch I ever had was for one specific gun. Years ago, I acquired a Trapdoor Springfield rifle that was in NRA antique good condition. It wasn't anything to look at; but the bore was great, and it was fun to shoot. But I tired of that hard-kicking rifle after many years and eventually traded it away. Then, seller's remorse set in. A year later, when I saw it up for sale, I bought it back. And I had it for several more years until I traded it away a second time. Then, a couple months later, I learned that the new owner intended selling it because the barrel was too long for him, so I traded for it, again. I also own a really accurate scoped .45-70 rolling block that I shoot all the time, but apparently I cannot stand to not also own this tired-looking old Trapdoor. Like a prized horse that's been put out to pasture, I guess this one will remain with me until my estate sells it!
The point of this report
What I'm driving at today is that all shooters carry some baggage. For me, it's the Winchester 61 and the others I've mentioned; but for you, a Browning Auto 5 may light your fire, or perhaps you find Lugers fascinating! I know that Mac has a soft spot for any shotgun in .410 caliber. Somewhere on the path of life, we have an experience or even just a fascination, and it starts the pot inside us brewing with lust.
BB's Kryptonite
Old B.B. Pelletier still has a couple voids left in his soul besides the Winchester. One would be a beautiful blue H&R model 999 Sportsman .22 revolver. There's just something mystical about that break-open design that fascinates me! I have the good sense to know that I couldn't possibly shoot it any better than any other top-quality revolver, but something about it still haunts me. I have never even fired one shot from a 999, so of course the thing is really buried deeply under my saddle! I fantasize about breaking open the action and watching those nine empty cases extract from the cylinder, as if by magic. It's not a healthy wish, but this one's on my bucket list.
For some asinine reason, I'm fascinated by the Johnson semiautomatic battle rifle of World War II. They're all selling for way over $2,000 these days, and good ones go for much more; so this is an itch I don't ever expect to scratch — but it's still there. I would probably be underwhelmed by one if I shot it, because I've shot the Garand (another itch that has been satisfied many times!), but I guess you want most the things you can't have.
Oh, and for some dumb reason, I find I cannot look away from an 8mm Hakim battle rifle. I know it's because I've owned so many of the air rifle trainers, but the phrase "the poor man's Garand" has sunk its hook firmly into my lips. I've come very close to pulling the trigger on several fine-looking Hakims in the past but was always put off by their poor bores that resulted from firing corrosive 8mm military ammunition.
Airguns
In airguns, my secret desire is to own another Sheridan Supergrade multi-pump pneumatic. I owned one years ago and learned that it was no more powerful nor more accurate than a simple Blue Streak, but something about the robust styling of the gun still attracts me. Years ago, I was forced to sell the one I had for economic reasons, so the fascination was never completely satisfied. And I sold it just after the prices began to rise. I told myself I would buy another one when I could, and then I encountered the super-inflationary price increases of recent years.
A couple years back, I had the chance to buy a nice Supergrade at the Roanoke airgun show and I even (momentarily) had the money to buy it! But something inside stopped me from forking over the cash. And that was two weeks before I made the landmark trade for my Ballard rifle — so I guess the still small voice I listened to was the voice of reason that time! I had to use the cash to buy several things that were used in that trade, so it was either the Ballard or the Supergrade.
To quote Minnie Pearl, "I'm done playin' now!" I want to spend the rest of this weekend reading about what turns YOUR crank!
by B.B. Pelletier
Announcement: Aliabas Abas is this week's winner of Pyramyd Air's Big Shot of the Week on their facebook page. He'll receive a $50 Pyramyd Air gift card.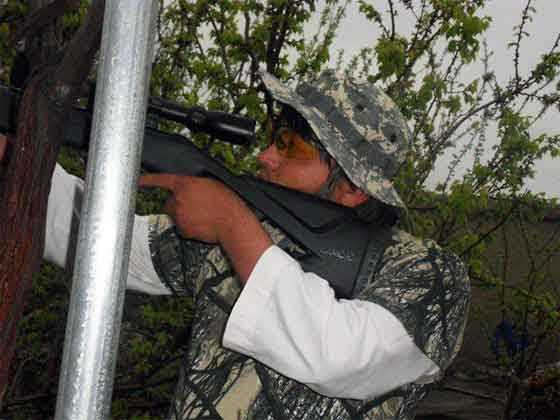 Aliabas' winning photo. Looks like he's got a Gamo.
I had a different blog prepared for today, but I can't use it because the products haven't arrived at Pyramyd Air yet, and I don't want to talk about something that you can't get.
Yesterday's blog got me thinking about lookalike airguns. I mentioned that Crosman had made the M1 Carbine BB gun that I love so much, and they made a host of others like the SA-6 that resembles a Colt SAA revolver, and the 38-T and 38-C revolvers that look something like Smith & Wessons.
Today, I want to talk about many airguns that are lookalikes. Some of these are airguns that are seldom seen, though they exist in quantity, while others are very unique. Let's go!
Makarov
I owned a Makarov BB pistol before I ever bought the actual firearm. And the pistol I owned was made on a genuine Makarov firearm frame. Then, I got a Bulgarian Mak in 9x18mm that hasn't jammed or failed to feed one time in close to a thousand rounds. It's accurate and has a soft recoil.What a great gun it is!
Then to my surprise, Umarex brought out their Makarov BB pistol, and it turned out to be a superior airgun. If you ever saw the American Airgunner TV show, it was the Makarov that I used to teach Crystal Ackley to shoot. And after a single lesson, she started out-shooting Paul Capello, me and even a national silhouette champion — WITH HIS OWN AIRGUN!

Mak firearm at top, then the first BB gun Mak that was made on a firearm frame and the Umarex Mak on the bottom. When I put these away, I got confused and put the Umarex gun in my nightstand, where the firearm should be!
M1911 A1
I was a 1911 fan long before Umarex brought out their CO2 version of the Colt M1911 A1, which is why I got one to keep forever. The realism is astounding. Of course, today I could say the same about many new BB pistols, because the 1911 is one of the most-copied firearms of all time.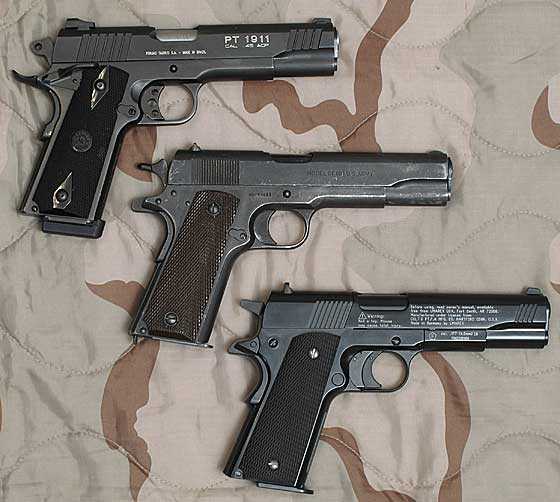 Taurus PT 1911 on top, genuine World War I 1911 in the center and Umarex Colt 1911 A1 CO2 pistol at the bottom.
PPK/S
The Walther PPK/S is the airgun that got me interested in lookalikes. I owned the Crosman M1 Carbine; but when I got the WaltherPPK/S, I decided that I also had to own the firearm, as well. So I got a .22-caliber PPK/S that's a bit of a rarity on its own.

Both are genuine Walther PPK/S pistols. Top is a .22 rimfire. Bottom is a BB pistol.
M1 Carbine
I've owned three Crosman M1 Carbines. The first had a wood stock, which was only made in the first two years of production (1966-1967). Then I owned one with a Croswood (plastic) stock, but I let it get away. Then Mac gifted me the one I own today, which also has the Croswood stock and the original box.
I would own this even if it weren't any good as an airgun because of the association with the military rifle, but the irony is that this is also one heck of a BB gun! It's powerful and accurate and has fully adjustable sights. What's not to love?
The M1 Carbine is so very popular that besides the 6 million that were produced during World War II, there have been millions more made commercially after the war. They're still being made today! And some of these commercial guns are in calibers other than .30 Carbine. My .22 Long Rifle German-made Erma made for Iver Johnson is one such gun. So, here were have an original firearm, a copy that is also a firearm, as well as an airgun copy.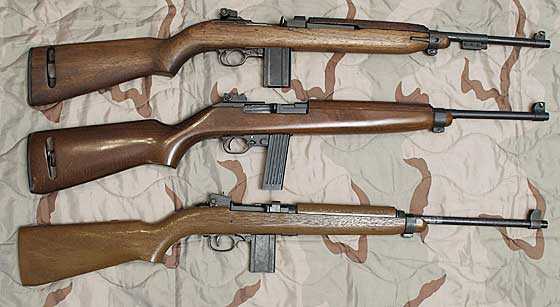 Genuine military carbine on top, then an Erma .22 carbine and the Crosman BB gun at the bottiom.
Walther Lever Action
The Walther Lever Action is a copy of the iconic Winchester 1894 lever action rifle that ushered in the era of smokeless powder for the maker. Except for the butt that is larger to house the 88-gram CO2 cartridge, it's very similar to the firearm. Not only is this air rifle a close copy of the firearm, it's also very accurate and a fun gun in its own right! While pricy, it's worth it if you value the similarity to both the look and operation of the firearm it mimics.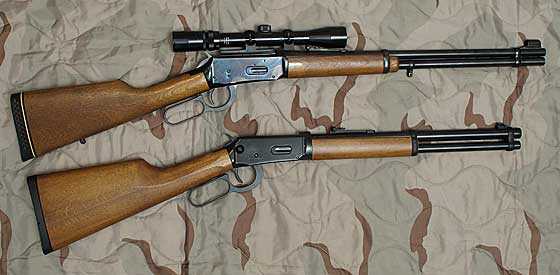 A Winchester 1894 30-30 on top and a Walther Lever Action at the bottom. The firearm has a side-mounted scope, because it ejects empty cartridge cases straight up.
Daisy model 26
Not to be outdone, Daisy had its own lookalikes — starting with the 1894 lever-action and progressing to a copy of the BB gun you're about to see. They copied the Remington Fieldmaster 572 — a slide-action (pump) — .22. Why they chose that particular model, I don't think we'll ever know. When I asked at Daisy, they told me that firearm was such a classic! Yeah! Like a Hudson Hornet is a classic car! Anyhow, they made a beautiful lookalike BB gun that was first marketed as the model 26 for reasons no one seems to know, and then as the model 572, which is understandable. The guns are identical, but the model change allows collectors to date their guns to a certain degree.


Daisy's model 26 was the first copy of the Remington Fieldmaster 572. Daisy later changed their model number to 572.
Something really odd
Up to this point, you could buy any of these airguns or firearms within a couple of months of diligent searching here in the United States. Now I want to show you something that I bet you've never seen and were not even aware that it existed. Even advanced airgun collectors do not know about what you're about to see.
In 1976, this country celebrated its 200th anniversary and the party was huge. I was in Germany at the time, so I missed it, but I see the reruns on TV all the time.
One gun manufacturer — called Ultra-Hi — had been manufacturing black powder guns in Japan and decided to make an airgun to commemorate the bicentennial. An underlever BB gun was made that looked very much like an 1840s caplock rifle. Airgun collectors know about the Pioneer '76 and consider it very collectible.
What they don't know is that Ultra-Hi copied one of their own black powder rifles when designing this BB gun. Here, for the first time, you'll see both the BB gun and the muzzleloading rifle it copied.


Here's an airgun and firearm pair nobody knows about. The Ultra-Hi Pioneer '76 on top is a BB gun that is well-known among collectors. The Ultra-Hi .45-caliber percussion rifle underneath is the gun nobody knows about. Both guns have fake brass-colored plates where there should be patchboxes, and both rifles have stocks made from two separate pieces of wood to save money. The brass strip on both stocks hides that fact.
What comes next?
I made this Part 1 in case this is a subject that interests you readers. This is an area of airgun collecting that's nearly ignored, because airgun collectors often don't like firearms and firearm collectors don't care for airguns, as a rule.
I'll watch your reactions to what I've shown today to determine if it's worth pursuing this subject any farther, but from the response to yesterday's report on the Crosman M4-177 Multi-Pump Air Rifle, it looks like it might be.
by B.B. Pelletier
First, for those who don't read the comments, the organizer of the Roanoke Airgun Expo, Fred Liady, passed away three days ago. Fred has been seriously ill all year long and in and out of the hospital. His wife, Dee, was taking care of him at home for several months.
Fred sold his airgun collection to Robert Beeman several years ago, but he continued to run the Roanoke show out of love for his many friends who attended. He'll be missed by thousands of airgunners whose lives he touched over the years.
The fate of the Roanoke show is yet to be decided. We can't press Fred's widow, obviously, so no decisions have been made. However the show has so much momentum that it may well continue. When I get some facts, I'll share them with you.
Daisy No. 25
Well, let's begin Part 3 with my Daisy No. (not model) 25 guns, because this is a funny one. The gun is the pump-action BB gun designed by Fred LeFever in 1913. He agreed to work as a consultant with Daisy for six months to get them into production and wound up staying with the company for 44 years!
When I was a lad in the 1950s, I briefly owned a No. 25. It was a beautiful wood and blued steel gun that I bought for $5 with paper route money. But nobody told me you have to oil them to keep them going. When the power dropped off after a couple of days of shooting, I took the gun halfway apart to try to fix it. That turned it into a basket case. I then sold the parts to a friend for a quarter, just to get it out of my sight. He got his father to assemble it and brought it back to rub it in my face. He chided me for not knowing that old BB guns have to be oiled.
So, I have a thing for Daisy 25 guns made in Daisy's first plant at Plymouth, Michigan. I own eight of them, though I have parted with a No. 325 target set, which is the engraved 1936 No. 25 in a box with lots of target paraphernalia. Here's the funny part. I'm almost over my childish fixation, and was toying with bringing a few of them to Roanoke to begin the great selloff. My illness this year has reoriented how I feel about possessions. It's funny, because I recently saw an American Pickers television episode in which the person they were picking had been involved in a major traffic accident and was now selling off all of his collections.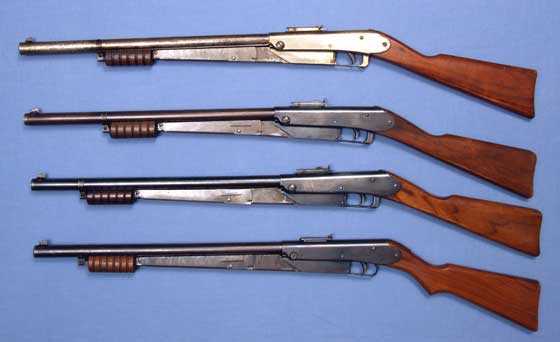 These are my four oldest No. 25 guns. The top gun is from 1913/14. It was originally black nickel, but all that finish has flaked off and now the silver nickel underneath shows through. This gun is so old that it has a soldered compression tube that Daisy stopped making in 1915. The next gun is from around 1916. It has the adjustable front sight and the short throw pump lever. Gun three is from around 1925 and has the fixed front sight and long lever but still retains the penny-sized takedown screw. Bottom gun is from 1930-1936 and has the stamped metal triggerguard and case-hardened pump lever. These four guns are a collection unto themselves.
Don't worry, though. I'm not getting morbid on you or saying that I'm quitting airguns or anything like that. It's just that these old No. 25 guns no longer hold the fascination they once did. I'm still quite fixated on M1 Carbines and Garands. Can't pass by a carbine without examining it.
Sheridan Blue Streak
I bought my Blue Streak in 1978 and have kept it until now. That is something of a record for me, because I go through guns and airguns pretty fast. But the Blue Streak has stayed with me. When our house in Maryland was infested with mice that our cats insisted on playing with instead of killing outright, Edith learned how to use the Sheridan and it became her air rifle. She also killed nine rats with it when they moved from a neighbor's mulch pile into the planter underneath our front porch in Maryland. Too much sentiment there to part with.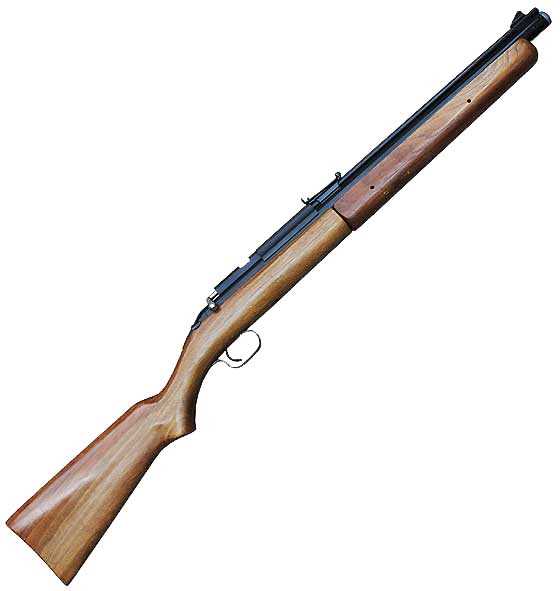 This rocker-safety Blue Streak is from 1978. I'm the original owner and there's no plan to get rid of it. It's still Edith's go-to gun when if she has to dispatch small rodents.
Crosman model 101 pneumatic
I've owned a good many of these 101 guns, including several marked as 1924 guns. But this one I will keep, as it works well and I'll always need a vintage pneumatic to use for airgun projects. I had it resealed by Dave Gunter, and it shoots very well. Every so often I like to take it out, just to reconnect with the past. I store it with a pump of air, and it always exhausts the air when shot, no matter how long it was stored.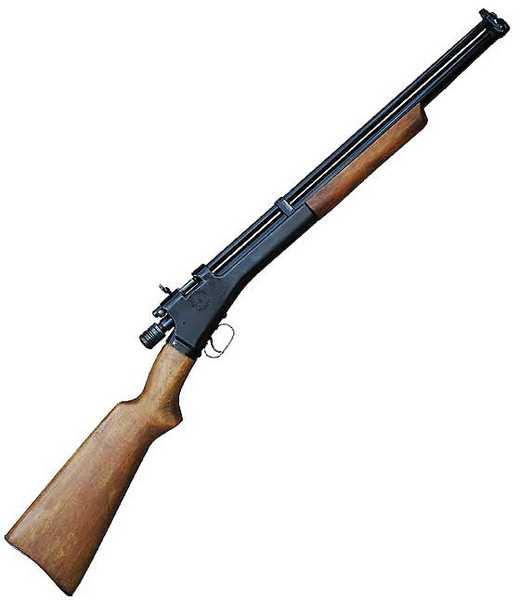 A fine vintage multi-pump, the Crosman 101 dates back to 1924.
Air Arms TX200 Mark III
I once sold a TX200 Mark II. But that was because I had just acquired the Mark III I now own. I didn't need two TXs. However, I will always want to have one around.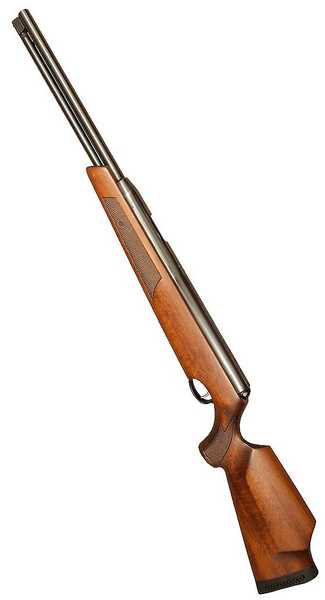 This TX 200 is a Mark III with the old-style checkering. I've owned it since the model came out, and I have no desire to sell it.
Walther PPK/S .22 LR
This is an uncommon firearm. There weren't that many made, and this one is made in Germany, rather than France, where many of them were made. I don't really love this gun, but I've never been able to part with it.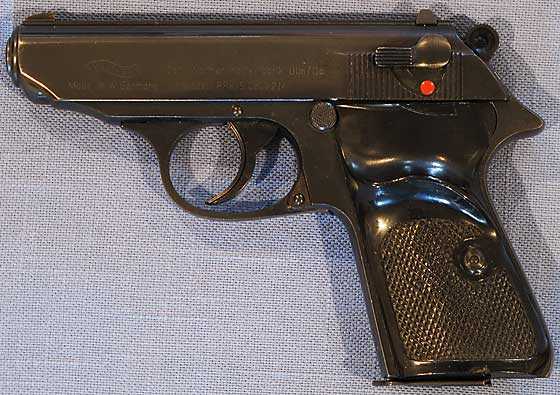 This Walther PPK/S is unusual because it's chambered for .22 long rifle instead of .380 ACP. It's a delightful pocket pistol.
Ruger Mark II Target
This is not an uncommon gun, or even worth a lot of money, but I've fitted this one with an adapter from Dennis Quackenbush to accept my legal silencer. I'm keeping the pistol because it fits my silencer and I don't want to take the adapter off. It's accurate, reliable and, with the silencer in place, very quiet.


The perfect platform for this Pilot silencer, because the tall Patridge target sights are visible above the can.
There are more, of course, but not today.