Posts Tagged 'Smoothbores'
by Tom Gaylord, a.k.a. B.B. Pelletier
"Shirley, you jest!"
No, I don't — and don't call me Shirley.
Back in the 1960s, when gadgets ruled the day and turnpike tolls were paid with coins instead of folding money (or by simply attaching your bank account to the state treasury via an electronic snitch), there was a way cool thing called a Turnpike Toll Gun that shot coins into the hopper at the toll booth. Yes, I said shot.
If such things existed today and teachers used them, they'd be tackled by the security guards at their school when they passed through the metal detector — at least in states along the Eastern Seaboard. In Texas, several communities are requiring some of their teachers to be armed and to take special defense classes as an added measure of school safety. So, their toll booth guns would not be confiscated. In fact, they would probably be belt-fed!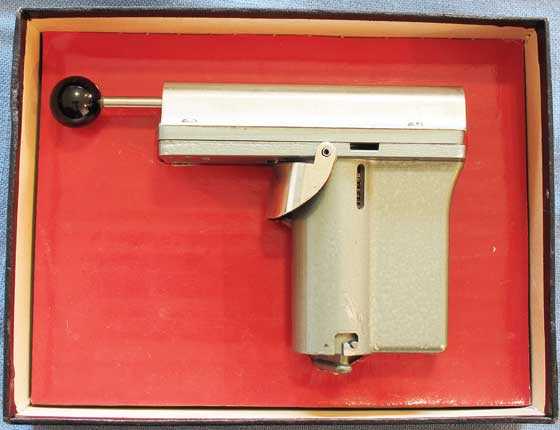 Yes, it exists and yes, it's cool! The Turnpike Toll Gun.
When Edith and I published The Airgun Letter, John Steed, one of our subscribers, first told us about the existence of this gun and then he sent us one. Until then, I had no idea it even existed. I'm guessing that the gun is from the 1960s on the basis of the appearance of the literature that came inside the box and the fact that the two patents for the gun date to 1965 and 1968.
The gun was made by Lyman Metal Products of Norwalk, Connecticut. You can find these guns on Ebay, but the starting prices are completely unrealistic. The cheapest one listed now starts at $169.99. They should be worth about $25 to possibly as much as $50 in pristine condition. I'm sure when they were new they sold for well under $10.
The gun comes in a cardboard box that also contains a set of operating instructions that I don't have and a one sheet promotional sheet that I do have.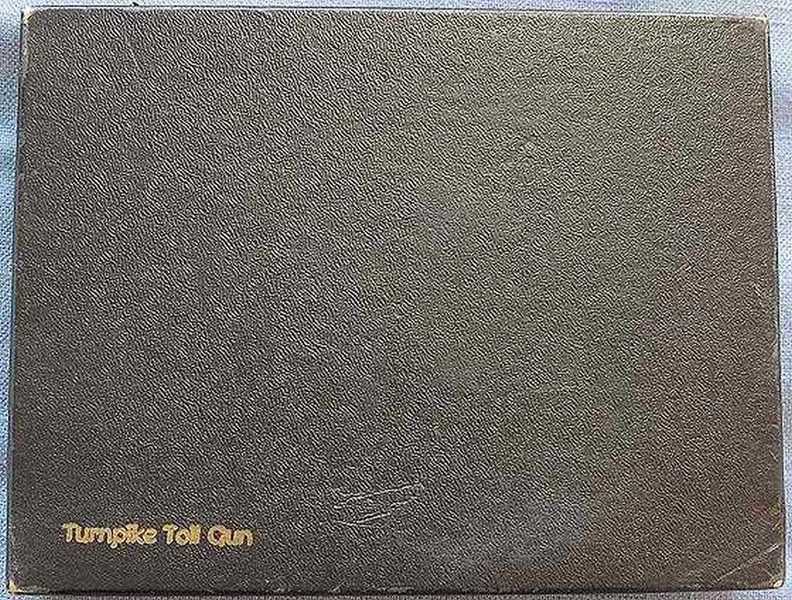 The box is plain but has the name of the gun in gold letters at the lower left.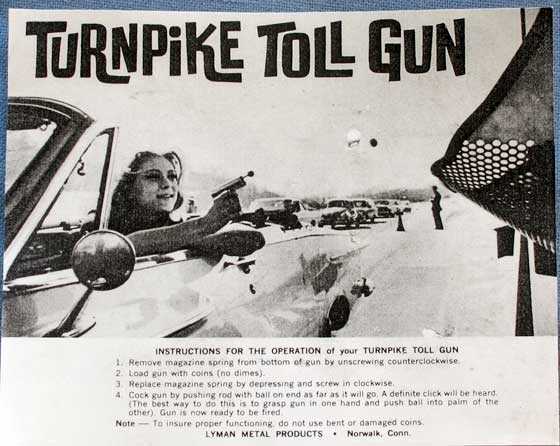 Promotional sheet looks '60s to me.
Is it an airgun?
Strictly speaking, the Turnpike Toll Gun does not use air to propel the coins. It uses a spring. So it is a catapult gun. But we've included catapult guns with airguns for so long that they have become identified with them by this time. The Daisy 179 pistol is a catapult gun, as are the Johnson Indoor Target Gun, the Sharpshooter pistol and the Hodges gun. Unlike any of those guns, however, this gun shoots a very heavy projectile. An American quarter coin weighs 87.5 grains, which would be a lightweight big bore bullet weight for a .308 rifle.
You don't want to launch a quarter so fast that it bounces off the toll booth basket and bounces into the street. No points for that! So, this gun will launch a quarter about 6-8 feet, maximum. And not every quarter leaves the gun at the same speed. I tried to chronograph the quarters, but the instrument could not read the quarters. Indeed, 4 out of 8 of them didn't make it past the second skyscreen! I estimate the velocity of the quarter at between 20 and 30 f.p.s.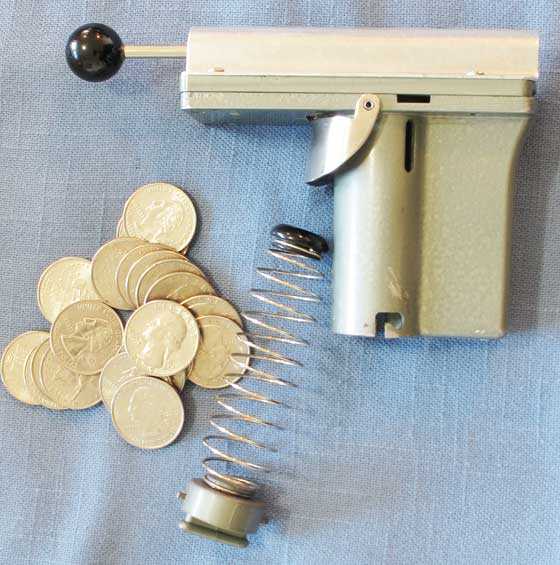 The magazine has a coiled spring pushing a black plastic follower against the quarters.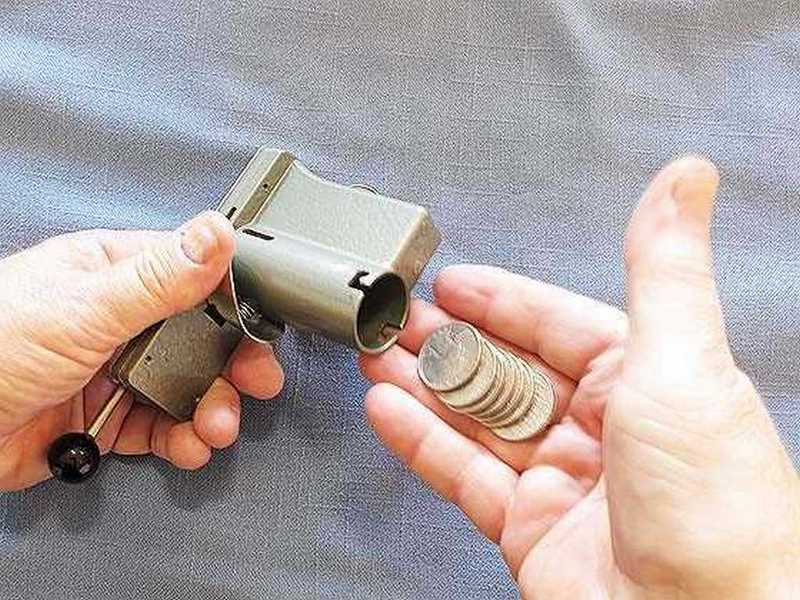 Fill the magazine with quarters, then insert the spring-loaded cap and lock it in position.
The gun is a repeater, but it must be cocked for every shot. It's really no different than a bolt-action repeater in that respect. To cock the gun, you simply push back the spring-loaded rod in front of the gun. A black plastic ball cushions your hand while doing this. It takes 11 lbs. of force to cock the spring.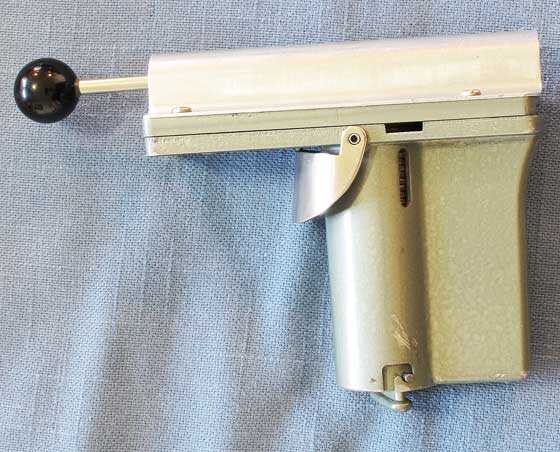 The gun is uncocked.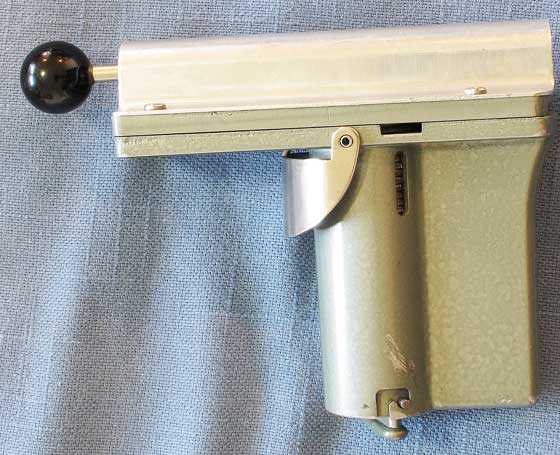 Push the black ball, and it cocks the gun and readies the next quarter to be fired.
The gun
The gun is very small, but also very wide. Overall length is just 5-3/4 inches, while the width is 1-5/8 inches. The width is largely dictated by the ammo, which is 0.955 inches wide. The gun weighs 8 oz. when empty.
The lower half of the gun appears to be electrostatically painted a medium green, while the upper cover is bright aluminum and held on by 4 screws. Most of the gun's frame is made of aluminum, and the small parts are steel.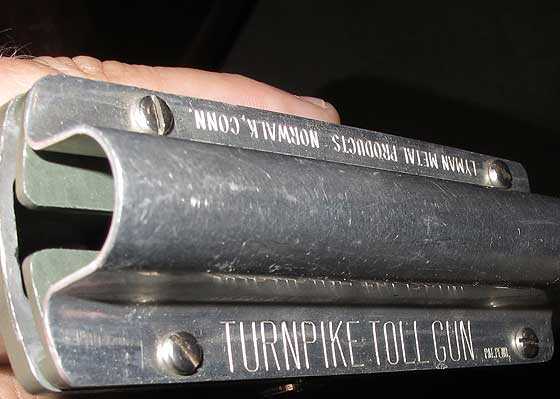 All the lettering is on the top cover of the gun. This is the right side.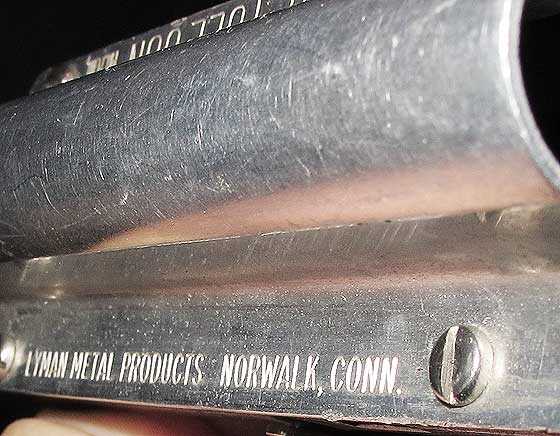 And this is the left side.
Trigger
The trigger is single-stage and very light. Mine releases at a crisp 1 lb., 9 oz. The gun uses the quarter as the sear. The quarter is under spring pressure from the mainspring, but the trigger blocks it until it is pulled down, out of the way. Then, the mainspring sends the quarter on its way and covers the magazine until the gun is cocked again, allowing the next quarter to rise and be blocked by the trigger again. When there are no more quarters in the magazine, the gun cannot be cocked; so, dry-firing is impossible.
Barrel
The barrel is not rifled, as you might have guessed, but there actually is a short barrel. It's really just a quarter-sized slotted tunnel that starts the missile on its path to the toll basket.
There are no sights, so this is an instinct shooter. But it takes only a couple shots before you can hit a one-foot circle every time from 6 feet. That's all the accuracy you need to do the job.
As odd as it is, this isn't the only gun that shot money. Apparently there have been others, though they may not be easy to find.
I remember when I reported on this gun the last time. There was a small rush to locate them. They aren't very sporting, of course, but if you don't shoot at the intended targets (toll booth baskets), you can reuse the ammunition countless times. Perhaps that's what caught the attention of airgunners.
by Tom Gaylord, a.k.a. B.B. Pelletier

Daisy's new Powerline model 35 multi-pump air rifle is designed for youth. It's a smoothbore with several interesting features.
I'm retesting an airgun that I tested over a year ago. One of our readers called Daisy and said he was getting much better accuracy from his Daisy model 35 multi-pump air rifle than I had gotten in my test, and he asked Daisy if they would look into it. Well, they read the accuracy report (Part 3) and agreed with him that I should have gotten better accuracy than I did. So Joe Murfin, Daisy's vice president of marketing, called and asked if I would be open to a retest.
Joe told me that Daisy engineers were getting groups of about 1.25 inches to 1.5 inches at 10 meters. I'm sure he meant 5-shot groups, and of course I shoot 10-shot groups; still, his groups were significantly smaller than what I'd gotten from the last gun. My 10-shot groups were in the 2.5-inch to 3-inch range.
I don't like to retest
Normally, retesting airguns leaves me cold. My philosophy is that I test what users get, and it's whatever it is. I look at the gun the same way a user would, except that I may know a few more things than the average user and am able to do things most people wouldn't think to do. That gives the gun a fair test and also educates people who may learn a new trick or two by reading what I've done.
I have to admit that over the past year I've learned a lot about accuracy with diabolo pellets and the things to look for. More recently, I have become aware of the tremendous accuracy potential of some smoothbore airguns. From that standpoint, a retest of this smoothbore airgun is warranted.
This is not life-saving equipment, and the outcome isn't that important in the grand scheme of things; but wouldn't it be nice to know if this $35 airgun is really better than we initially thought? I agreed to retest the gun, and Joe sent one directly from Daisy. Instead of the black stock I had last time, this new gun is finished in camo. Other than that, though, it's identical to the gun I tested before.
Upon reviewing the last accuracy test, I see I used the 7.9-grain Crosman Premier pellet, RWS Hobby pellet and some vintage Daisy Superior Match Grade pellets I had laying around. At the time, that sounded like a good idea; but after spending more time with the Diana 25 smoothbore in recent months, I think there are some other pellets I ought to try — namely the JSB Exact RS pellet and the RWS Superdome.
In the last report on the model 35, I wasn't specific about what number of pumps to use for each shot. There was nothing to go on for this test except my experience with other multi-pumps. I would only be shooting at 10 meters, and high velocity wasn't necessary. Six pumps sounded good to me, and that's what I used for every target. If this was a larger, more powerful multi-pump, I might have opted for 5 or even 4 pumps, but the Daisy 35 is pretty small, and 6 sounded about right.
First target revealed loading problems
I shot the first target with JSB Exact RS pellets. They did well for the most part, but 3 shots landed apart from the main group. I was having difficulty loading the gun, and I think I may have loaded several pellets backwards because of how easily they flipped around on their own in the loading trough. I was shooting in a dark place to overcome the fiberoptic open sights and was unable to see the breech when the pellet was loaded. Those 3 stray shots might be explained as loading errors. Before I move on, I should note that the size of this first 10-shot group is close to what Daisy told me to expect from 5 shots at 10 meters.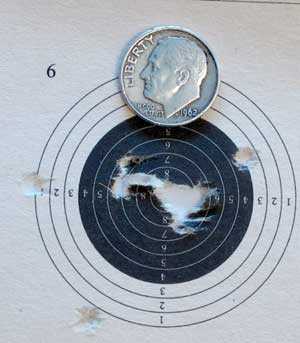 A well-centered group is ruined by three wild shots. They may have been pellets loaded backwards. Group measures 1.52 inches between centers.
Nothing to do but shoot another group with the RS pellets — making sure each pellet went into the breech the right way this time. I used a portable spotlight to shine on the breech during loading to see which way the pellets were oriented. I think Daisy could spend a little time fixing this problem because that loading trough is almost too small to work with.
The second group was much better. Ten more JSB Exact RS pellets went into 1.108 inches. This is better than what Daisy told me to expect, and my interest was piqued. How good would this gun get?

The second group of 10 JSB RS pellets went into 1.108 inches at 10 meters.
RWS Superdomes
The second pellet I tried was the RWS Superdome that so many people love. The first 10 pellets made a 1.119-inch group. It's actually too close to the second group of RS pellets to see the difference, but that's what the caliper read when I measured it. And these pellets hit the target in approximately the same place as the JSBs even though they're heavier.

The first group of 10 RWS Superdome pellets went into 1.119 inches at 10 meters.
The second group of Superdomes wasn't quite as tight as the first. One stray pellet that I hesitate to call a flier landed below the main group, opening it up to 1.243 inches. But that's still the best that Daisy said to expect from this gun!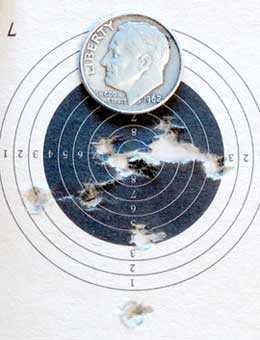 The second group of 10 RWS Superdome pellets went into 1.1243 inches at 10 meters.
But wait –
Well — there you have 4 groups that are all significantly better than any of the groups I got in the last test. The Daisy model 35 can shoot after all — just like our reader said. I wondered if there was any more accuracy beyond what the gun had already delivered. So, I fired a fifth group, this time with JSB RS pellets. Instead of 6 pumps per shot, I gave it the full 10 pumps for each shot. This time, they all landed in 0.76 inches, or as close to three-quarters of an inch as it's possible to get.

Ten pumps tightened each shot to deliver almost a three-quarter-inch group. JSB RS pellets, again.
Obviously, using the right pellets made all the difference in the world. That's a lesson I'll try not to forget. Even an inexpensive airgun like the Daisy 35 deserves a fair chance to perform its best.
What's next?
I would love to press the 35 into service as a dart gun, but the tiny breech prevents the loading of darts. I may be able to load them through the muzzle, but you'll have to wait to find out because I seem to have misplaced my .177-caliber darts. But there's still 25 yards to test, so you haven't seen the last of this airgun.
by Tom Gaylord, a.k.a. B.B. Pelletier

This Diana 25 smoothbore was made in World War II.
Today's blog falls under the heading, "It's not always a good idea to try everything." Back when we were exploring the Diana 25 smoothbore airgun, we saw how incredibly accurate it was with certain pellets at 10 meters.

This 10-shot group of JSB Exact RS pellets was shot at 10 meters. The extreme spread measures just 0.337 inches between centers! It made us all wonder just how accurate a smoothbore pellet gun can be.
When I backed up to 25 yards, however, the groups opened up to between 2.5 and 3+ inches for the same pellet. Obviously, the pellet needs to be stabilized by both the high drag of its diabolo shape and by the spin introduced by rifling. Drag, alone, is not enough to stabilize the pellet.
One reader then asked me to try shooting round lead balls in the gun. Today, I'll conduct that test for you.
Beeman Perfect Rounds
I shot Beeman Perfect Rounds, which are H&N Rundkugel but under the Beeman label. They weigh 7.7 grains, which is the weight of a medium-weight diabolo pellet.
The balls fit the Diana's breech quite well, though one was slightly larger than the others. But the rest would not drop into the breech and had to be seated with the thumb — just as a pellet would. They did seat easily, however, and I noticed the gun's powerplant seemed harsher than it is with pellets. I suspect the balls had less resistance than a pellet since they only touched the bore at their circumference, and there's no rifling to engrave them.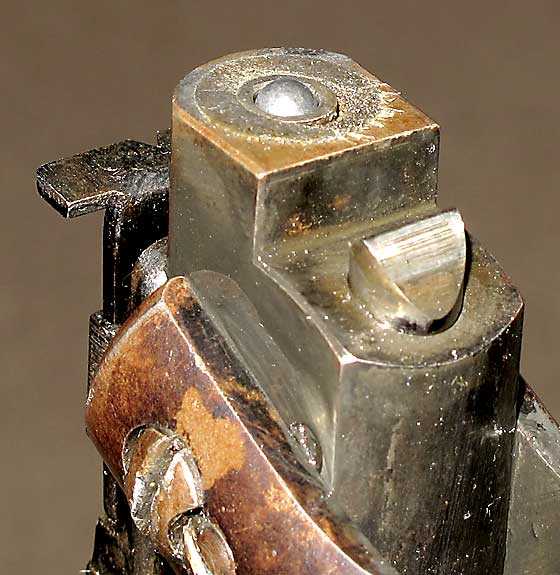 Except for one, each round ball fit the gun's breech very well. Most stopped like this and had to be gently pressed into the bore with the thumb.
Testing at 10 meters
I began the test at 10 meters, thinking the gun was accurate at that distance with diabolos, so it should be accurate with round balls. I'm sure the reader who asked me to test round balls must have thought the same thing. But when I fired the first shot and could not find the hole on the target paper, I stopped shooting. Fortunately there were no new holes in the wall!
I then moved up to 12 feet and shot again — this time standing and using the door jamb as a brace. The shots now went to the bull at which I was aiming. But the group is hardly worth celebrating. Ten shots went into 1.166 inches at this distance. I've shot many BB guns that could do so much better than this that it's embarrassing to consider.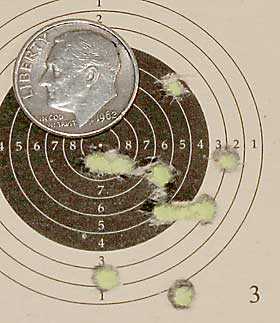 Ten shots from 12 feet did make a group on the target, but that's way too close for a gun like this! Group measures 1.166 inches between centers.
I guess the Diana 25 isn't made to shoot round balls. If there was any doubt before, I hope this clears it up. I didn't shoot any more groups because of how harsh the powerplant seemed to be. I didn't see any reason to strees the mechanism more than I already had.
Darts?
Shooting round balls got me thinking about other types of non-pellet projectiles, and of course darts came to mind. I decided not to try them in this gun,as the powerplant is too powerful for them. It would bury a dart deep in wood, causing its destruction upon extraction. But that did give me another idea.
I was recently asked to conduct a retest of a gun I tested some time ago. Apparently, a blog reader felt my results were not typical of the gun I tested, so he called the manufacturer and they contacted me. That gun in question is a smoothbore, as well, and it's a multi-pump, so the velocity can be controlled. I plan on testing darts when I test that gun for you.
by Tom Gaylord, a.k.a. B.B. Pelletier

This Diana 25 smoothbore was made in World War II.
One thing that I really like about this blog is the fact that it affords me the opportunity to test certain things thoroughly. In fact, it somewhat forces me to test them thoroughly; because as I test and write, I think about you readers and all the questions you'll have for me. So, I test to be able to tell you as much as I can about our mutual interests.
This Diana 25 smoothbore airgun that I'm reporting on today is one such subject. I get to work with a vintage airgun that's very enjoyable, plus I get to test how well diabolo pellets stabilize and how accurate they are when they don't spin. In turn, that reflects on the test of how the rifling twist rate affects accuracy.
I tested this airgun at 25 yards — a serious distance at which any and all airguns will show their true colors. And I used 10-shot groups, another tool in our growing bag of diagnostic accuracy tricks. Just one group can reveal significant findings, instead of five 5-shot groups or, worse yet, I shoot a bunch of 5-shot groups and show only the best one.
I was on the rifle range last week with a young man who was shooting a .257 Weatherby Magnum and trying to get it to group. He obviously knew what accuracy is because he wanted groups that measured under .75 inches at 100 yards. But he was shooting only 3-shot groups! That isn't enough shots to make more than a good guess about a rifle's potential accuracy. When I called him on it, he pointed out that he was pasting his targets to a backer at the same place every time, so all his shots would overlap on the backer as he changed targets. That told me he's afraid of shooting large groups in case he makes a mistake. I've been there and done that, too!
Today's test frankly frightened me, as I wasn't sure the gun was accurate enough to hit the pellet trap all the time. I decided to use the JSB Exact RS pellets that performed so well at 10 meters. I seated each pellet deep in the bore with the Air Venturi Pellet Pen and Pellet Seater because the 10-meter test showed that was the way the gun likes it best. Let's look at the two targets from that test before I continue.

The flush-seated JSB Exact RS pellets made a 10-meter group that measures 1.158 inches between centers.

The same pellets seated deep made this 0.337-inch group at 10 meters. It looks significantly smaller!
The test
The first shot at 25 yards did hit the target paper, but it was high and outside the bull. I checked it with a spotting scope immediately after shooting it. I also checked after the second shot, just to make sure it was also on the paper. It was, so after that I settled down and put 8 more shots into the target. In the end, they were all high and formed a group that measures 3.879 inches between the centers of the two widest shots. So that's what the gun seems to be capable of, but I wanted another 10-shot group, just to confirm it.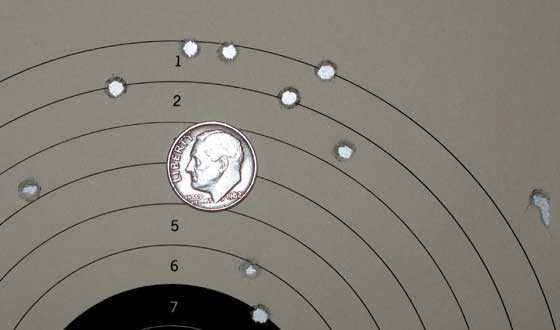 The first 25-yard group of deep-seated JSB Exact RS pellets measures 3.879 inches between centers.
I lowered the simple rear sight elevator for the second group and fired 10 more JSB Exact RS pellets. The first shot hit the target in the black, so I knew I was okay to complete the 10 shots without looking. At the end, I had 10 shots in a 3.168-inch group. As far as I was concerned, those two targets demonstrated the accuracy potential of this smoothbore pellet gun at 25 yards with deep-seated JSB Exact RS pellets. But something nagged at me.

The second group of deep-seated JSB Exact RS pellets measures 3.168 inches between centers. It's better than the first group, but it's in the same general neighborhood.
How much worse would this gun shoot pellets that were only seated flush with the breech — in other words, loaded in the normal way? I had to test it. Once more, I shot 10 shots at 25 yards. This time, I was really scared because it looked from the 10-meter test that these pellets might not all hit the paper. Would this group be over twice as large as the other two — like the 10-meter group was? But the first shot went into the bull and the second one landed very close, so I calmed down and shot the other 8 shots without looking again. In the end, I had a 10-shot group that measures 2.421 inches between centers — the smallest group yet at 25 yards!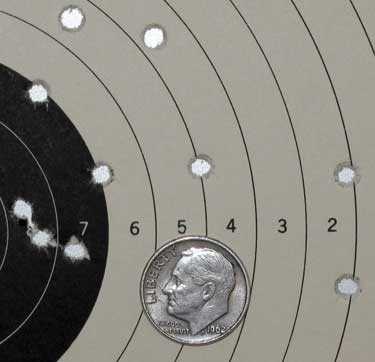 The first group of flush-seated pellets measures 2.421 inches between centers — the best group of the test!
What had happened? The gun was shooting more accurately at 25 yards with pellets seated flush, when it had clearly shot deep-seated pellets best at 10 meters? Not knowing what else to do, I shot a second group with the pellets seated flush. This time the group was larger, but at 2.957 inches it's still the second-best group of the test.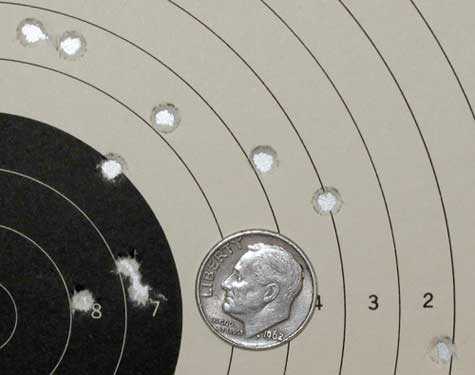 The second group of flush-seated pellets measures 2.957 inches.
What have we learned?
This test demonstrates that diabolo pellets do stabilize from their high drag, alone. They do not require a spin to stabilize them because they all hit the target nose-first. But they're not as accurate as they would be if shot from a rifled barrel. The spin introduced by rifling is important for accuracy, if not for stability.
A second lesson is this: Even though I shoot and record 10-shot groups, a single group may not be enough data. The difference in accuracy at 10 meters and 25 yards between deep-seated pellets and flush-seated pellets would seem to indicate that. Or it could just be that deep-seated pellets are more accurate at 10 meters, but flush-seated pellets are more accurate at 25 yards. If that's the case (and I don't know that it is), I have no idea of why it would be that way.
I think I need to test this gun once more and shoot 3 10-shot groups with each type of seating at each distance before we'll know anything for sure.
by Tom Gaylord, a.k.a. B.B. Pelletier

This Diana 25 smoothbore was made during World War II.
What a topic to follow a twist-rate report — one about a smoothbore! Today, we'll look at the accuracy of the WW II-era Diana 25 smoothbore airgun. This is a play-day for me because this gun is so non-finicky and trouble-free. It's the way I wish all airguns could be. Just load and shoot. No special handling beyond the basic artillery hold, and no need to treat it like it's a vial of nitroglycerin.
Shoot from 10 meters
I decided to shoot from a rest at 10 meters just because this is a smoothbore, and I had no idea of what results we would get. I hoped it would hit the paper with all shots. That would be good enough. But nothing beats shooting, so that's what I did.
JSB Exact RS
The first pellet I tried was the JSB Exact RS, which is a .177-caliber favorite of blog reader Kevin and has become one of mine, too. It seems to work in most airguns, and it's often one of the very best pellets. So, how would it do in a smoothbore?
I shot off a rest with the artillery hold. My off hand was back touching the triggerguard, but the gun is not muzzle-heavy. The first shot landed below the center of the bull — but actually at the point of aim, if a bit off to the right. So, the rear sight elevator was pushed forward to raise the sight. I didn't care if it was hitting the center of the bull or not, but I wanted to keep the shots mostly inside the large black bull of a 10-meter pistol target because I could see the holes when they were in the white and distracted me.
The first 10 shots were fired with the pellet seated flush with the breech face. And the group turned out better than I had expected, though about as good as several readers had indicated they get from their smoothbores. It may not look that good to you, but notice how narrow it is compared to the height? That'll become important in a moment. This group measures 1.158 inches between centers.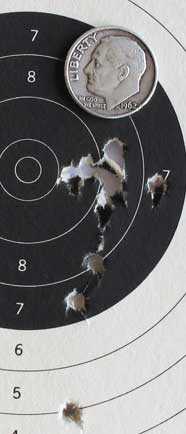 Ten JSB RS pellets in 1.158 inches, center to center, at 10 meters. The lone shot in the white was the first sight-in shot and is not part of the group.
Next, I shot another 10 rounds of RS pellets, but this time I seated each pellet deep in the breech with the Air Venturi Pellet Pen and PellSet. As before, the pellets all landed in the black bull, so it wasn't until I walked down to change the target that I saw the group. Imagine my surprise to see a 10-shot group that could just as easily have been shot with an expensive target rifle! Ten JSB RS pellets went into a group that measured 0.337 inches between centers.

Ten JSB RS pellets seated deep in the breech made this 0.337-inch group at 10 meters. This is amazing for a smoothbore!.
You might shoot 5 shots some time and luck out like that, but 10 shots tell the truth. This airgun is very accurate at 10 meters, even though it's a smoothbore. And it takes deep-seating the pellets to do it — at least with the JSB RS pellet. Now, I was curious. Would the two other test pellets show similar results?
Beeman Devastator
The second pellet I tried is one I don't shoot a lot, but after it did so well in the Velocity versus vibration accuracy test I did a year ago, it has moved into the category of pellets I like to try when the circumstances are unusual. The Beeman Devastator is a hollowpoint that acts like a wadcutter at the same time. And a smoothbore is definitely unusual. The first 10 flush-seated pellets went into a group measuring 1.948 inches between centers. Not very good and more like what I'd been expecting from this airgun.

Ten Beeman Devastators didn't group too well when seated flush with the breech. Group size is 1.948 inches between centers.
Now, it was time to shoot 10 Devastators that were seated deep in the breech. Would they also tighten up?
Well — yes and no. The 10-shot group of deep-seated Devastators measures 1.982 inches between centers, which is a little larger than the group of flush-seated pellets. However, 8 of those pellets did group into 0.691 inches. I would say that the deep-seating method still looks promising at this point.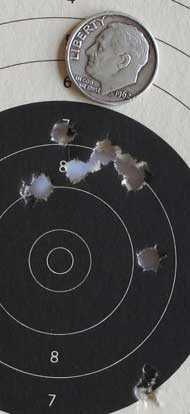 Ten deep-seated Beeman Devastators made a group of 1.982 inches between centers, but 8 of those were in 0.691 inches. Deep-seating still looks good.
RWS Superdome
The final pellet I tried was that universal favorite — the RWS Superdome. The first group of flush-seated pellets was not that large, at 1.156 inches. If the deep-seating method held true for this pellet as well, it might beat the tight RS group when seated deep.

Ten RWS Superdomes went into 1.156 inches at 10 meters. This is the best flush-seated group thus far.
A happy accident
As I was shooting the next group of Superdomes, I forgot to seat the second pellet deep and had to stop shooting the target. But the result on target was so dramatic that I photographed it, so you could see what happened. The deep-seated pellet is the high one and the flush-seated pellet is the low one. That shows more clearly than anything how deep-seating affects the shot.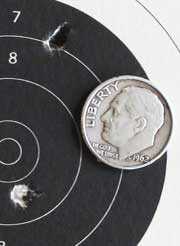 The deep-seated pellet went high and the flush-seated pellet went low. This shows the dramatic difference deep-seating makes.
Deep-seated Superdomes
Then I got serious again and shot 10 rounds of Superdomes seated deep. They made a group sized 1.047 inches. While that's only a little better than the same pellets seated flush, notice that these shots are centered in the bull much better. Not that I'm looking for that, but it's a nice side benefit.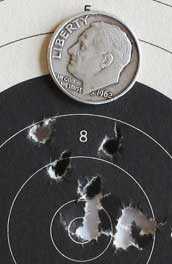 Ten deep-seated RWS Superdomes went into 1.047 inches at 10 meters. It's better than the flush-seated pellets.
What have we learned?
The first thing this test has taught us is that a smoothbore airgun isn't that much of a disadvantage at 10 meters. I think the results of the RS pellets definitely call for another test of this airgun at 25 yards.
The next thing I learned is that deep-seating the pellets seems to improve their accuracy. Some improved more than others, but every pellet seems to have done better with deep-seating.
The last thing is that all of this shooting, all 63 shots, were fired with simple open sights. After some of the trauma you've witnessed me undergo in recent weeks to get some air rifles to group, this little Diana 25 seems to have breezed past all the big-name guns and taken the lead. I think that says a lot about what power levels are best for spring-piston air rifles.
by Tom Gaylord, a.k.a. B.B. Pelletier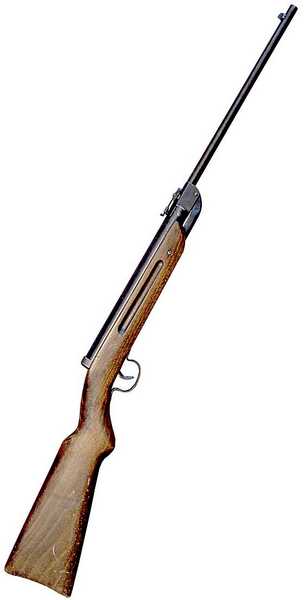 This Diana 25 smoothbore was made during World War II.
Oh, the things we think we know — how they vanish when we test! Today, we're going to look at the Diana model 25 smoothbore that Vince sent me. You may remember in the last report that I was pondering when this airgun might have been made. Well, Kevin told me to look on the bottom of the butt, as the date stamp used to be there. Indeed it was! This airgun was produced in June of 1940, during the first part of World War II.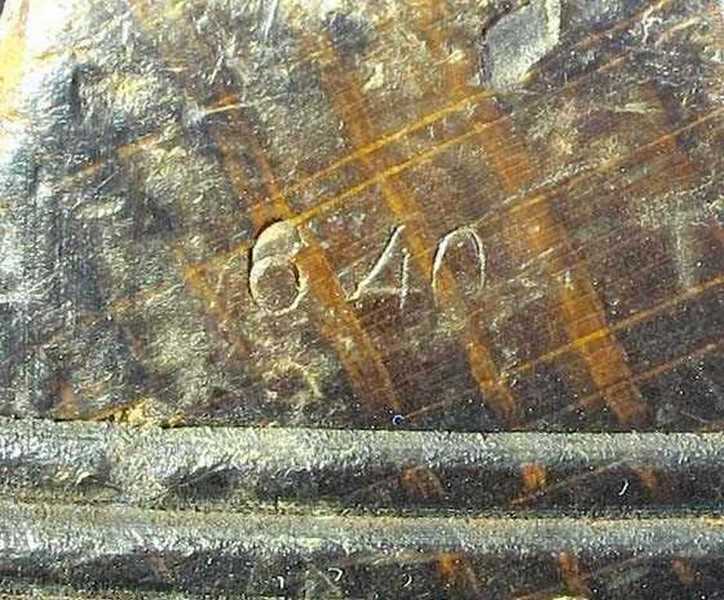 The manufacture date of the gun is stamped in small numbers on the bottom of the wooden butt.
The curiosity of a smoothbore is the extent to which the rifled barrel affects performance of the gun. I should have two identical airguns to test — one rifled and the other a smoothbore, but even then there would be subtle differences in their individual performance. I think it's safe enough just to say what I expect from such a gun and then see what I get.
I would think a Diana 25 in good condition would give a muzzle velocity of around 625-650 with lightweight lead pellets. Remember — this is a .177. The last model 25 I tested was a Winchester 425 that was a rifled .22-caliber gun. That one gave an average velocity of 440 f.p.s. with 11.7-grain Hobbys, which I thought was a little slow. I expected about 525-550 from it with that pellet.
Preparation: Oiling the leather piston seal
To prepare for this test, I oiled the leather piston seal with about 10 drops of 3-IN-ONE oil. I just stood the gun on its butt and dropped the oil down the muzzle. By leaving it standing that way for a couple weeks while I was at the SHOT Show, the oil ran down into the compression chamber and soaked into the leather piston seal. I also oiled the leather breech seal at the same time so it would be pliable for this test. And I note that the gun now smells of burnt oil when it shoots, so everything was successful. We can be sure that the gun is performing up to the limit of its capability.
You may remember that Vince tuned this gun before he sent it. The mainspring inside was one he cut down from another rifle, so it isn't exactly what the Diana had in it from the factory. But he took the spring from the harmonica gun that we suspect used to be a Diana model 27, so the dimensions of the spring are probably pretty close to original. We can guess and conjecture all day long, but a better way is to just shoot the gun and see what it does.
RWS Hobby
For the first pellet, I chose the 7-grain RWS Hobby. It's a lead pellet that's both lightweight and also a bit large, so it fits a lot of airguns very well. Since the gun was so well oiled, I actually shot three strings of 10, rather than my usual single string. The reason for this will soon be obvious.
The first string ranged from a low of 593 to a high of 627 f.p.s. The gun started in the 620s and progressively dropped in velocity as more shots were fired. That tells me it's burning off some lubricant; and from the smell, I knew that it was.
The average for the first string was 609 f.p.s., but I believe that is too high. I think the dieseling caused by the excess oil boosted the velocity a lot. Immediately after the first string, I shot a second one.
I expected the second string to be slower and less variable, and I was right on both accounts. The average velocity for string 2 was 598 f.p.s., and the velocity ranged from 593 to 613 f.p.s. At the average velocity, the Hobbys produced 5.56 foot-pounds of energy at the muzzle. I don't think the gun has settled down completely at this point, and I expect to see the average drop a few more feet per second as the gun continues to shoot. But there was still one more thing I needed to test.
Deep seating
I'd been seating the pellets flush with just my finger to this point. What would happen if I seated them deep with the Air Venturi Pellet Pen and PelSet? This time the average dropped to 594 f.p.s. and the range went from 584 to 621 f.p.s. What I make of that is that the pellet pen and deep-seating has little to no effect on the velocity of this rifle with a Hobby pellet. I think breech seating will be good, but I'm not going to leave it at that. I'll also try shooting a group with the most accurate pellet seated deep, to compare to flush-seating.
Hobbys fit the breech tight and just a little of the skirt stuck out of the barrel. I expected them to increase in velocity with deep seating, but I guess this gun needs the extra resistance to generate all the power. It's right on the cusp because deep-seating produces almost the same velocity, but the variability is greater; so I don't think deep-seating is worth the extra effort.
Beeman Kodiak
The second pellet I tried was the heavyweight Beeman Kodiak. At 10.65 grains, the Kodiak is way too heavy for this gun. But that's why I wanted to try it. I expect I'll also try it for accuracy because who knows what it'll do in this smoothbore?
After a couple shots that obviously dieseled, the Kodiak settled down to shoot in the mid 400s. The average was 461 f.p.s., and the range went from 443 to 470 f.p.s. At the average velocity, the Kodiak produces 5.03 foot-pounds of energy at the muzzle.
Just for fun, I also tried deep-seating Kodiaks that fit the breech very loose. This time the result was more positive. The average velocity dropped to 448 f.p.s., but the range tightened to between 439 and 455 f.p.s. That's just 16 f.p.s., compared to the 27 f.p.s. spread for flush-seated pellets. I guess I'll also try deep-seating Kodiaks in the accuracy test.
JSB Exact RS
The 7.3-grain JSB Exact RS dome was the last pellet I tested in the gun. These fit the breech even looser than the Kodiaks, but they gave an average 517 f.p.s. velocity with the tightest spread of the test. The low was 512 and the high was 525 f.p.s., so only 13 f.p.s. between the top and bottom. At the average velocity, this pellet produces 4.33 foot-pounds of energy at the muzzle.
Naturally, I tried deep-seating the RS pellet, as well. And to my surprise, the consistency grew even tighter as the average velocity decreased. The average was 504 f.p.s., but the spread went from 500 to 511 f.p.s., for an 11 f.p.s. difference. I guess I'll deep-seat all the pellets during the accuracy test, as well.
Cocking effort.
The Diana 25 cocks like many vintage breakbarrel springers. It begins easy, then stacks toward the end. The max effort required is 19 lbs., which makes this a youth airgun in my book.
Trigger pull
The trigger is two-stage, and stage two is reasonably crisp. The first-stage pull is 1 lb., 8 oz., and stage two breaks at 5 lbs., 11 oz. It isn't a target trigger in any respect, but it's crisp enough that I know I can do good work with it.
Impressions so far
I'm finding that this smoothbore is, in fact, very similar to the rifled version of the Diana 25. The size, fit, trigger and feel of the gun give no indication that the bore is smooth. But this gun was made in 1940; and as such, has several differences from the Dianas of the 1970s that I'm used to. For starters, the sights are simpler, and there's no rear base for a peep sight. Then, there's the simpler trigger that cannot be adjusted.
I have to admit I'm very curious about how this gun is going to perform on target. I know it can't be as accurate as a rifle, but I find myself hoping that it's close. We shall see.
by Tom Gaylord, a.k.a. B.B. Pelletier
Announcement: Pyramyd Air has changed their Big Shot of the Week to the Big Shot of the Month, and the reward has been upped from $50 to $100. Guy Roush is this month's winner of Pyramyd Air's Big Shot of the Month on their airgun facebook page. He'll receive a $100 Pyramyd Air gift card. Congratulations!
Guy Roush is the Big Shot of the Month on Pyramyd Air's facebook page.


This Diana model 25 smoothbore is an old airgun!
This report comes to you courtesy of Vince, who sent me this Diana 25 to test for you. While I just recently tested a .22-caliber Diana 25, this one is quite different. It's a .177-caliber smoothbore gun, and I think it'll be the very first smoothbore pellet gun that I've tested since this blog began in 2005. There have been plenty of combination guns that shot both BBs and pellets, but to my recollection, they all had rifled barrels.
How pellets are stabilized
Diabolo pellets are so-named for their wasp waist and flared tail, which is hollow. They're named after a juggling apparatus called a diabolo that a juggler works with a string. The wasp waist and hollow tail create lots of aerodynamic drag that both slows the pellet down and also keeps its weighted nose pointed forward. Because of how much the shape of the pellet affects its stability in flight, the question often arises whether the rifling in the barrel that spins the pellet is necessary.
I often see comments asking how much I think the presence of rifling affects the accuracy of such and such a gun, and I never know what to say. My best guess is that at close range, say 10 meters, a smoothbore is okay; but as the distance to the target increases, the smoothbore quickly falls behind the gun with the rifled barrel. Now, I have the means to actually test that, and we can all see for real!
The origins of this airgun
Vince acquired this gun recently, and I don't think it was represented to him as a smoothbore. I think he even asked me if it was a smoothbore, and I told him to look for the word glatt somewhere on the barrel, as that would be the term they would use. Well, guess what? There are no words on the barrel of this gun, so what do I know? I think the early manufacture of this gun is the reason why things like being unrifled were left off.
In fact, other than the Diana logo and model number on the spring tube, there are no marks of any kind on this gun. There's no serial number, of course, but that's common for guns this old. But this gun goes even farther than most. Not even the caliber is marked, so I guess buyers either had to get that from the hang tag, or perhaps this gun was originally sold in Germany at a time when .22-caliber pellets were not common. I went over the entire barreled action with a tactical flashlight and a magnifying hood looking for other marks. It doesn't even say Made in Germany, which leads me to think it wasn't made for export.
This model is also a much earlier gun than the 1970s-era Winchester 425 (Diana 25) that I tested for you recently. Looking in the Blue Book of Airguns, 10th edition, I would say this is either a model 25 Improved that was produced 1933-1940 and 1950-1985, or it's an even earlier model 25A. If I had to guess, I would put it in the earlier group for the lack of country of origin and caliber markings, plus the strange configuration of the breech (which I'll show in a moment). It's definitely a leather-seal gun with a direct-sear trigger. This will be the first direct-sear model 25 or 27 Diana I've ever tested, so I'm curious how well the trigger works. Naturally, it isn't adjustable.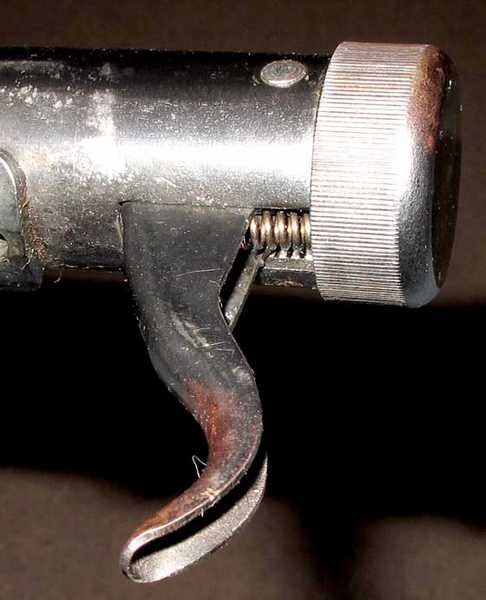 The trigger on this rifle is old-school, with direct-sear contact.
What model is it?
I know it's a Diana model 25, but that can be any of three different airguns. And here is a puzzlement. The overall length of the gun is 38.375 inches. That's close to the 38.5-inch Blue Book-listed length of the earlier model 25A that was made from 1925-1934. The model 25 Improved is supposed to have a length of 39.7 inches, which is too much of a difference from the gun I'm testing. But the earlier gun is supposed to have a walnut stock, according to the Blue Book, and this one definitely has a beech stock. So, I'm thinking this might be an earlier gun and that the Blue Book might have overlooked the beech stock possibility.
Perhaps, the strange shape of the breech is a clue about which model it is. Instead of a conventional straight-cut breech with parallel sides, the action forks have strange-looking scalloped cuts on both sides of the baseblock —  and they really stand out.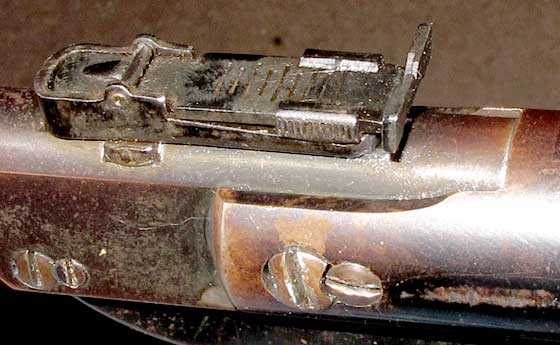 Here you can see the rather strange, scalloped breech shape. The rear sight adjusts for elevation, only.
As little as this gun is, it might look cheap at first glance, but all you have to do is break open the 15.4-inch barrel one time to feel the bank-vault quality that's built into the locking detent. While the price was undoubtedly modest at the time, this is no cheap airgun. The beech stock is very slim, yet the pull is an adult 13.25 inches, making the gun pleasant to shoot for older children and adults, alike.
Vince went through the gun and tuned it before sending it to me, so I can't comment on how the original powerplant might have felt. He installed the mainspring from the harmonica gun I reported on several years ago. A couple coils were cut to make it fit, and now the rifle cocks with great ease.
I've shot the gun several times just to familiarize myself with the operation. It shoots with the same authority that a more recent model 25 has. The buzzing is very low, which I must attribute to Vince, since I can see his work through the cocking slot. I imagine the original gun was probably a little buzzier.
The front sight is a tapered post that's dovetailed to the barrel. The rear sight is leaf-type sight that's adjustable for elevation only. It's also dovetailed to the barrel.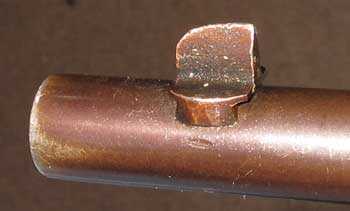 The front sight is a tall, tapered post.
Test plan
My plan is to test this gun exactly like I would test any airgun. I'll check the velocity next, and then the accuracy in Part 3. If I can find an accurate pellet when I test at 10 meters, I might do a fourth test from 25 yards. Everything will be done with iron sights, as there's no convenient way to mount a scope on the gun. But I think I proved with the El Gamo 68 that I can shoot iron sights at 25 yards.
Future plans
Once the gun has been baselined for accuracy, I plan to use it as a testbed for other tests with diabolo pellets. Finally, we'll have a basis for comparison, rather than just guessing what might happen. Between this airgun and the Twist rate test, we should wind up with a pretty good idea of what rifling is doing for diabolo pellets.