Posts Tagged 'vintage guns'
by Tom Gaylord, a.k.a. B.B. Pelletier
Announcement: Adrian Beltrán is this week's winner of Pyramyd Air's Big Shot of the Week on their airgun facebook page. He'll receive a $50 Pyramyd Air gift card. Congratulations!
Adrian Beltrán submitted this week's winning photo for BSOTW.
As I was doing the barrel-bending report, I was thinking about what got me to a place where I needed to know how to bend an airgun barrel. Why? Because I bought a used airgun — that's why!
I've often given people the advice to buy a used airgun if their budget won't support a good new one. Today, I'd like to expand on that thought a little.
Why buy more guns?
We shooters buy guns for the same reason some women buy clothes — to improve our lives. In the case of shooters, the belief is the next gun you get will be the one that actually shoots well. It couldn't be you who's inaccurate, so it must be the gun — right? Maybe you don't think that way, but I sure do.
The funny thing is that it sometimes happens that the next gun you get really is accurate! All it takes is one time in 10 and you're as hooked as a Pavlovian dog. Gun shows become huge opportunities for you to find the guns that can shoot.
Other side of the coin
But there's another way to look at it. Why would anyone ever sell an accurate gun? Doesn't it stand to reason that they'll have tried the gun they want to sell you and found it wanting? If you think about this very much, you'll never again buy anything used.
My way of thinking
I think of it another way. Sometimes, guns become available when the original owner has no more use for them, as in — they left the building. But that isn't the only thing that happens. Maybe I own ten 10-meter target rifles and discover that on my best day I can only ever shoot three of them at the same time. So, I decide to thin the herd. You might think that I would keep the most accurate guns and sell the rest, but that's not always how it works. I might be keeping what I keep for other reasons, like the condition or sentimentality. I might actually sell the most accurate guns I have and keep the ones I think are the prettiest. Or something like that.
The seller may not know what he has
I find that many times a seller really has no idea how a certain gun shoots because he hasn't taken the time to shoot it. This happens a lot with dealers who have large inventories of airguns. You and I are envious of their racks of fine airguns, but the truth of the matter is that, to them, it's more of a business and way less personal. I know many airgun dealers who have never tried their guns before selling them; or if they have, it was just to see if they worked. You can tell when a guy hands you a tin of inappropriate pellets to test a certain airgun that he has no interest in it whatsoever. But if he tells you which head size shoots best and how deep to seat each pellet, you can be sure he knows exactly what he's selling.
Some sellers want you to be pleased!
This is a difficult concept for some people to embrace, but there are really people in the world who want you to be happy after doing business with them. They'll sell you an accurate airgun and be glad that you bought it. If you buy a gun from them, it's important to give them feedback after you shoot it because your satisfaction is what motivates them.
The previous owner may have missed something
This is the hope that springs eternal in every buyer's breast — that the fellow who owned this gun before you missed something — something that you will find and then the sun will come out and the flowers will dance and the young girls will look at you with adoring eyes! Well, maybe not all that, but at least you'll have found out something he didn't know that will let you shoot your new gun better than he ever did. And it does happen. For example, the former owner may have been a cheapskate who only bought pellets on sale at Wal-Mart. You get the gun and start feeding it JSBs taken from fur-lined tins and voilá! It begins to shoot! You've uncovered the secret of the Incas and can turn any bargain airgun into a World Cup contender — pocketa, pocketa, pocketa.
The gun is already broken-in
Most used guns have already been though the break-in cycle. This is a double-edged sword, though, because I've bought some guns that were so broken-in they were broken, altogether! That can happen. It happens most often when the guns in question are hot-rods to begin with. The guns that are like old tractors (i.e., strong, relatively slow, overbuilt, etc.) will seldom be found completely inoperable. I once bought an FWB 124 Sport for $35. That's the cheap one, and it was rusty and had worn, chipped wood finish and was generally disgusting to look at. It was the kind of airgun that requires a tetanus shot just to hold. But being a 124, it was also overbuilt, so another $35 worth of replacement parts and the gun was shooting like new again. It still looked like a throwaway, but it put pellet upon pellet downrange.
But the Super Dragon-Fire Zombie-Killer EXtreme that some guy discounts $50 because he's owned it for three months is the gun I would avoid. The owner has already discovered his rifle takes too much effort to cock and cannot hit a target in the compass quadrant where the muzzle is pointing. That gun is the two-year-old baseball card collection, or last year's Hummel decorative plate! It will continue to drop in value until it hits the rising tide of inflation, and from that point on will be worth ten cents on the original dollar paid.
Buy what you like
The longer I'm in airguns, the more I find that everyone has an opinion, and although many of them are mistaken, they don't know it, for they simply refuse to see things my way. That's good because it leaves room for me and for the good stuff. And I also find that my tastes change over time. So this year I may be hyped on 10-meter guns, but next year it's tuned springers and the year after that I'm over on the dark side. As long as I can remain out of phase with most of you, there's room for all of us in the boat!
Oh, and I suppose after rambling on like this I should end with something concrete. I bought the El Gamo 68 used and loved it. I bought the Crosman 160 used; and after I cleaned it up, it shot like a house afire! And just this past Saturday, I bought a Taiyo Juki Junior CO2 rifle at a gun show for a very good price. It doesn't hold gas and some fool had stuffed two darts up the bore; but after I get it sorted out and resealed, I'll have yet another wonderful used airgun!
by B.B. Pelletier
Announcement: Isaiah Garrison is this week's winner of Pyramyd Air's Big Shot of the Week on their airgun facebook page. He'll receive a $50 Pyramyd Air gift card. Congratulations!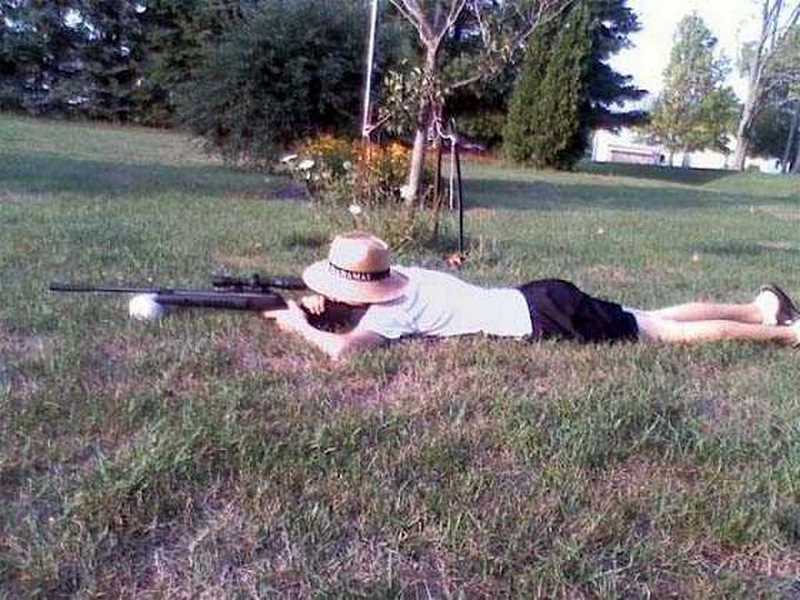 Isaiah Garrison is this week's BSOTW.
It's uncommon for a firearms manufacturer to make an airgun. Many of them put their names on airguns made by someone else, but not many bona fide firearms manufacturers actually produce them.
Even rarer is when an airgun manufacturer makes a firearm. It does happen, but it gives us cause to stop and wonder.
In 1952, Sheridan, the airgun maker from Racine, Wisconsin, began offering the Knocabout single-shot .22 long rifle pistol. When it was first produced, this unique pocket pistol retailed for $17.95 at the same time that the model A Sheridan air rifle was selling for $56.50! What a turnabout that was!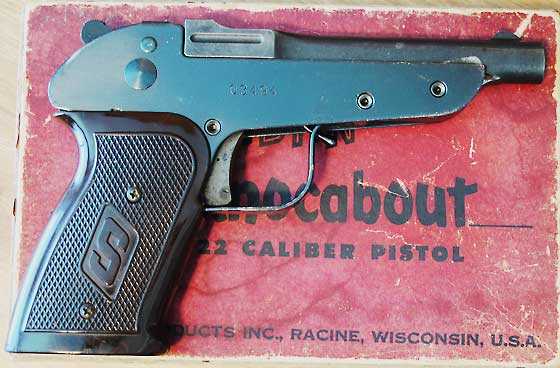 Sheridan Knocabout
Today's report was requested by blog reader Robert of Arcade, who has waited patiently for this for several years. As most long-term readers know, Robert is an old-school hunter and trapper from upstate New York. One thing about the Knocabout that must appeal to him is its utility on a trapline for administering the coup de grace to any trapped animal. Of course, that's not its sole purpose, but it's one of the big attractions because of the gun's budget price.
Knocabout is right
Before I continue, let's get something straight. Knocabout is the correct spelling for this model. I'm aware that it's not the right spelling of the actual English word. That would be knockabout. But Sheridan must have had their reasons for spelling it differently. And speaking for Pyramyd Air, we have no room to comment.
One of my little strategies for finding Sheridan Knocabouts on gun auction sites is to enter the word both ways. I often find that the seller spells it incorrectly in his caption of a photo of the box lid with the correct spelling!
Construction
The Knocabout is made in the most cost-effective way possible for the time, without stepping over the line into cheap. The barrel is a steel casting that also contains some of the features required for the breech. If it were made today, the barrel would be a thin liner pressed into an outer shell; but on the Knocabout, it's a single, solid piece of steel with several machined areas that serve different functions.
The pistol weighs 1 lb., 7.30 oz. The barrel is 4-3/4 inches long and the overall length is 7 inches.
Two steel side plates contain all the action parts, riveted together into a working assembly. It's not a very maintainable way to build a gun, but it sure avoids a lot of manufacturing steps. The best part is that it works very well! It's not a minimal design that barely functions. It's reliable, consistent and easy to operate.


You're looking inside the grip frame at the mainspring that drives the hammer.


The pistol is upside-down, and you're looking at the metal plates that hold everything together. The barrel release and triggerguard are at the right.
The floating firing pin sticks out of the breechblock when the hammer rests against it.. When the safety is applied, it cams the hammer slightly back, allowing the firing pin to be pushed back by its spring. For the sake of safety, you should always apply the safety before opening the gun.
The grip is comprised of two plastic shells that are screwed to the sides of the sheet steel grip frame by two sheetmetal screws in each grip. When they're removed, you gain somewhat better access into the action for cleaning with cotton swabs, though no other parts can be removed because they're all retained by the seven rivets that hold the sheetmetal frame halves together.
Functioning
The hammer is exposed and must be cocked manually. Then, open the breech by flipping the barrel up. Do this by pressing in on the lever sticking through the front of the triggerguard. The safety should be on when you do this. I found it best to load a cartridge, close the breech with the safety still on. Cock the gun and then release the safety when the muzzle is pointed toward the target. The instructions that are printed in the lid of the gun's box tell you to do it this way.
The trigger-pull is single-stage and releases with 2 lbs. of pressure. There's very little felt creep, and this trigger rates as a very good one!
The sights are cast and machined into the barrel casting. There's a crisp, wide rear notch and a thinner front post that stands out clearly against a target with bright light falling on it. They're non-adjustable, of course, but I admire how finished they appear to the shooter.
Shooting
I'm sure you want to know how the Knocabout shoots, so I took it to my local gun club and shot it on the 15-yard range. I used a rested two-hand hold and a 6 o'clock sight picture. The targets were 50-foot timed and rapid-fire pistol targets, and I was at 45 feet, so they were ideally sized.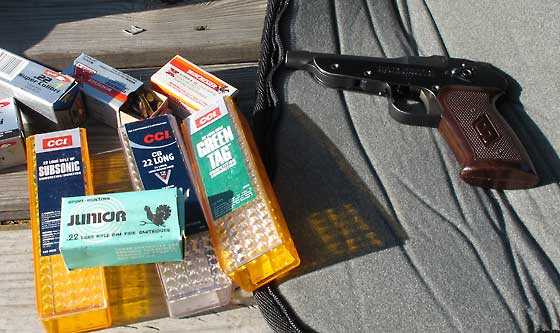 I tried the Sheridan with a lot of different ammo.
I shot the pistol with high-velocity .22 long rifles, standard-speed rounds that are listed as subsonic and two types of CB capsbecause they're made for guns like this. As an afterthought, I also included some inexpensive Russian standard-speed long rifle ammo that has proved mediocre in some of my other .22s. Who knows if they would somehow shine in this pistol?
This is a single-shot pistol that takes a lot of time to load, so I went with 5-shot groups for this test. I'm not going to show you every target I fired, but I'll give all the results. I'll show only the worst group and the best. The first target, however, I mis-counted and shot 6 rounds.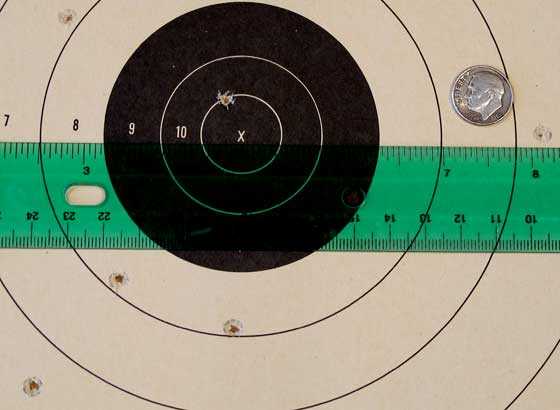 This 6-shot group measures 6.5 inches across — from the outside of the two holes farthest apart. It was shot with CCI CB Longs, a round that did well in my 6-part report on CB caps versus pellets. In the Knocabout, however, it was dead last.
Other rounds
Winchester Super-X high-velocity .22 long rifle rounds made a group that measured 5-3/8 inches across the two widest holes. Aguila Super Colibri made a 5-1/8 inch group. Then, CCI subsonics turned in a group that measured 2-3/8 inches across. That sounded very good in light of what had gone before. But, then, I tried the Russian Junior ammo. Amazingly, they struck the center of the bull and gave a group measuring just 1-7/8 inches across. The pistol really could shoot, after all! I only needed the right ammo.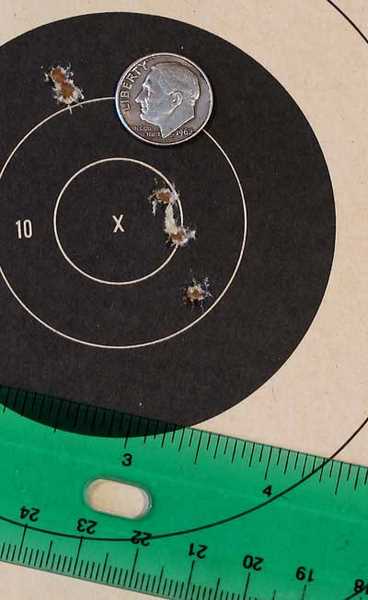 This group of 5 Russian Junior rounds was astounding after what had gone before. It measures 1-7/8 inches across!
Two other guns
Someone who doesn't know me might think that I don't know how to shoot, so I thought I would shoot two other .22 handguns to put these results in perspective. One is a very early Ruger Single-Six with the flat loading gate, and the other is a nondescript Ruger Mark II Target pistol. I didn't shoot as many different rounds in either of these guns as I did the Knocabout, but I shot enough to show that I can shoot.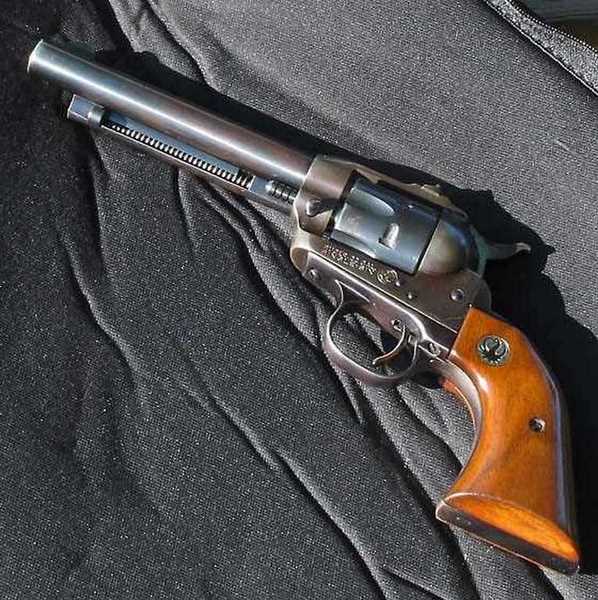 This Single-Six is an older one.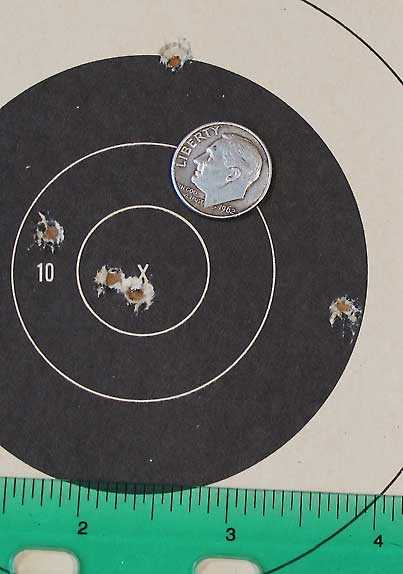 Five Winchester Super-X rounds from the Ruger Single-Six made this 2-3/8 inch group that's well-centered in the bull.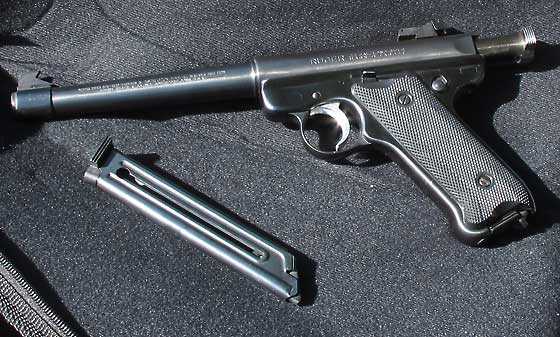 Ruger's Mark II Target pistol is mundane, but highly accurate.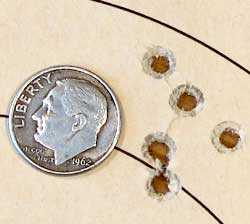 This target made by the Ruger Mark II with 5 CCI subsonic round measures 15/16 of an inch across the outside.
Compared to what?
I've said many nice things about the Knocabout. It probably sounds as though I think it's almost a free pistol. The truth is, it's a long way from that. But compared to the other inexpensive single-shot .22 pistols made at the same time, I think the Knocabout might just be the pick of the litter. It's certainly much better than a Wamo Powermaster; and from what I know from examination but without shooting one, a Savage 101. I know there were a double handful of other cheap single-shots in the '50s, and I'm going to guess that the Knocabout is probably better than all of them. Of course, what do I know? I haven't tested any of them. I'm saying that based on what I see in front of me and what I know about Sheridan's reputation at the time.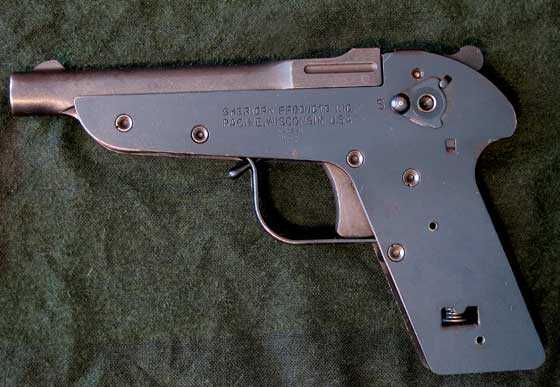 With the grips off, you can see what the pistol looks like underneath.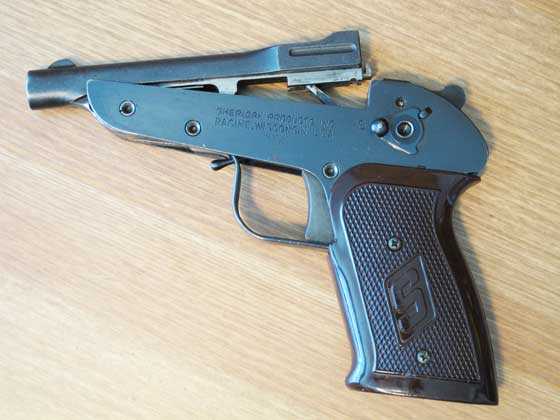 The barrel flips up for loading.
by B.B. Pelletier
Announcement: Connor Moynihan is this week's winner of Pyramyd Air's Big Shot of the Week on their airgun facebook page. He'll receive a $50 Pyramyd Air gift card. Congratulations!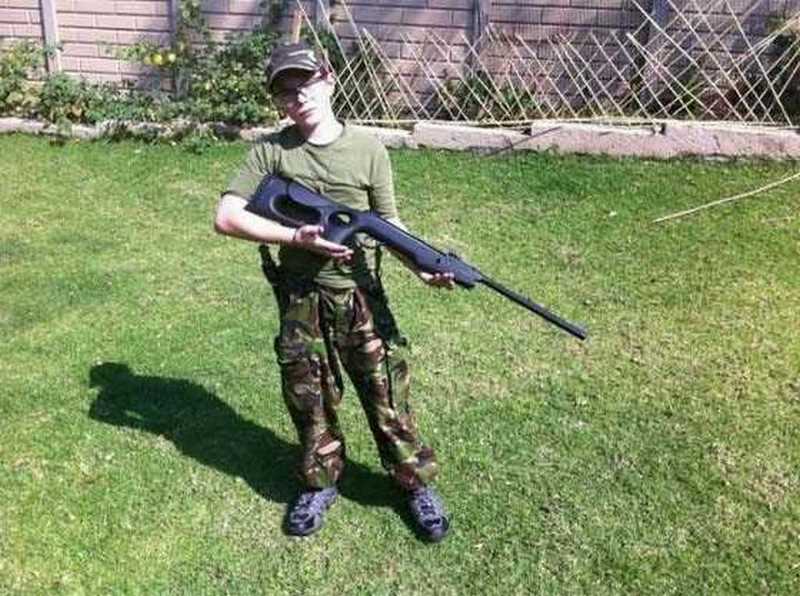 Connor Moynihan is this week's BSOTW.
This report just bubbled up on its own. I was scanning Gun Broker the other day when I came across a listing for a "Benjamin Franklin" model 312 air rifle in exceptional condition. Whenever I see a listing for a Benjamin Franklin airgun, I know the person doing the listing doesn't know anything about airguns, because there never was any air rifle that was called a Benjamin Franklin. That was just a title on certain Benjamin airguns as a play on the company name.
Instead, I concentrated on the "exceptional" condition that was mentioned. A model 312 is a multi-pump that has a Tootsie Roll pump handle. It's made from all brass that's been plated with silver nickel and then plated with something we call black nickel, but I don't think that it actually is. The black wears off quickly with handling. The silver lasts a lot longer. And, finally, the gun wears down to the brass, which the owner often shines up like a trumpet. The gun in question was a shiny brass one.
In other words, far from being the exceptional gun mentioned, this was a well-worn air rifle with no original finish remaining. It graded good, at best. That started me thinking about the condition of used airguns and whether they should ever be refinished. That's what I would like to talk about today.
Is condition everything?
If you're in the middle of a large, deep lake in a small boat, you want that boat to be waterproof, first of all. The question of whether the cushions match the paint scheme can be tabled until you are safely ashore. So, in certain circumstances, functionality trumps appearance. You can equate that to most things that we use and also collect.
If you bought a Feinwerkbau 125 (a very rare 5mm version of the FWB 124) to hunt with, and subsequently cut down the barrel to carbine length, you now have a nice spring carbine that's no longer collectible. The fact that it started out as a collectible doesn't matter after the gun was changed. As a hunting rifle, your gun has value. As a collectible, it has none. But it's not always that clear, is it?
Let's say you bought a nice Crosman model 101 multi-pump that was made between 1925 and 1940. It's not a rare airgun; and when you bought it, it wasn't holding air, so you had the gun resealed. You spent $100 for the gun and another $40 to get it resealed, so you now have $140 in it. But you're something of a handyman and decided to refinish the outside of the gun. You strip it, sand it, repaint the metal parts and refinish the wood. The gun now looks like new, and you have about $175 in it. At this point, you probably have a little more money in the gun than it's worth. As nice as it looks, who knows? Someone might pay $175 for it. Or perhaps they'll even pay $200.
The point is that this particular gun has gone as far as it can go. As the years pass, the gun will increase in value, but it won't increase very fast. Compare that to a genuine like-new model 101. This one really is in like-new condition and still has all the factory finish on it. More importantly, the owner can prove that it's all original. This gun might bring $500-600, even if it doesn't hold air. Why the difference, when it looks no better than yours, and perhaps not even as good? Because it's in all-original condition, which is something collectors want. This airgun is collectible, where yours is a good-looking shooter and no more. Add an original box to this gun and the value might easily double. Add a reproduction box to your own refinished gun, and the price won't increase by a nickel!
Wait a minute!
If what I just said about guns that have been fooled with is true, then there are practically no original M1 Carbines remaining in the world! Why? Because over the past 50 years, ill-advised collectors have stripped the guns and replaced them with parts all made by the same manufacturers — in spite of the fact that when they were made this never happened! Finding a Carbine in factory condition is next to impossible today, unless something very unusual happened to it to preserve its integrity along the way. So, has almost every M1 Carine been reduced to the status of a shooter? Absolutely not!
In the case of the M1 Carbine, collectors accept the fact that all the guns have been fooled with by the swapping of non-original parts. By non-original, I mean parts that were not put on the gun when it was manufactured. The parts are, in fact, genuine M1 Carbine parts — they simply weren't installed on the guns they're found on today, because the government had an aggressive program of swapping parts between manufacturers in the Carbine program. It was designed to promote interchangibility, and it's why a gun that has mostly Winchester parts or mostly Inland parts today was not originally manufactured that way.
But collectors of Winchester firearms are very different! They want their guns to either be exactly as they were produced; or if they've ever been changed, they want those changss to have been done and clearly marked by the Winchester company.
Colt collectors are much the same as Winchester collectors, with a few exceptions. The most common exception is the 5-inch artillery model single-action Army Colt, the Peacemaker, that was manufactured during certain years in the late 1800s. This gun, alone, is allowed to have grip straps and triggerguards with different serial numbers than the frame of the gun, because these guns went through an arsenal rebuild process where they were all disassembled and put into piles of parts for refinish. When they were reassembled, no attention was paid to the serial numbers matching, and that fact is understood and accepted by Colt collectors for this one model and range of guns. But it doesn't apply to any other model of Colt.
And so it goes. Each collectible firearm or airgun has its own set of rules. No one can give a single set of rules that fits all models and circumstances. I could go on with various anecdotes, such as the Schmeisser-type bolt-action air rifles that often have their stocks cut in front to fit inside a duffle bag, so they could be brought back from the European theater after World War II. But for the sake of brevity, I will stop right here.
Airgun conditions
Now, I want to talk about airgun conditions and tell you what's official, what's accepted and what's wrong.
NRA Modern Condition Descriptions
Let's start with the NRA standards for modern firearms. These are published and maintained by the National Rifle Association and are the accepted definitions to describe the conditions of any gun. However, if you obtain these standards from other sources, many of them will be paraphrased, resulting in confusion. I have copied these from the Blue Book of Airguns, whose publisher, Steve Fjestatd, is a long-time board member of the NRA. If any source can be considered accurate, it is this one.
New: Not previously sold at retail, in same condition as current factory production.
Perfect: In New condition in every respect. [NOTE: This is often listed AS NEW]
Excellent: New condition, used but little, no noticeable marring of wood or metal, bluing perfect (except at muzzle or sharp edges).
Very Good: In perfect working condition, no appreciable wear on working surfaces, no corrosion or pitting, only minor surface dents or scratches.
Good: In safe working condition, minor wear on working surfaces, no corrosion or pitting, only minor surface dents or scratches.
Fair: In safe working condition but well worn, perhaps requiring replacement of minor parts or adjustments which should be indicated in advertisement, no rust, but may have corrosion pits which do not render article unsafe or inoperable.
Then there are a separate set of NRA standards for antique firearms.
NRA Antique Condition Descriptions
Factory New: All original parts: 100 percent original finish, in perfect condition in every respect, inside and out.
Excellent: All original parts; over 80 percent original finish; sharp lettering, numerals and design on metal and wood; unmarred wood; fine bore.
Fine: All original parts; over 30 percent original finish; sharp lettering, numerals and design on metal and wood; minor marks in wood; good bore.
Very Good: All original parts; zero to 30 percent original finish; original metal surfaces smooth with all edges sharp; clear lettering, numerals and design on metal; wood slightly scratched or bruised; bore diregarded for collector firearms.
Good: Some minor replacement parts; metal smoothly rusted or slightly pitted in places, cleaned or reblued; principal lettering, numerals and design on metal legible; in good working order.
Fair: Some major parts replaced; minor replacement parts may be required; metal rusted, may be lightly pitted all over, vigorously cleaned or reblued; rounded edges of metal and wood; principal lettering, numerals and design on metal partly obliterated; wood scratched, bruised, cracked or repaired where broken; in fair working order or can easily be repaired and placed in working order.
Poor: Major and minor parts replaced; major replacement parts required and extensive restoration needed; metal deeply pitted; principal lettering, numerals and design obliterated; wood badly scratched, bruised, cracked or broken; mechanically inoperative, generally undesireable as a collector's firearm.
The difference between airguns and firearms
Airguns are often made from materials that are very different than those used to make firearms. They don't have to endure the same working pressures, operating abuse and general ruggedness standards to be acceptable to airgunners. Let me illustrate this with an example. The Desert Eagle firearm is made of steel, is extremely robust and can stand up to the hardest abuse and still operate. The Desert Eagle airgun is made of large amounts of plastic and, while acceptable to shooters, it cannot withstand any of the rugged treatment the firearm can.
The Schimel
I mentioned that certain firearms (Colt SAA artillery model, M1 Carbine, etc.) are treated differently than the NRA standards dictate, for various reasons. This also holds true for airguns. The Schimel GP22 is a single-shot CO2 pistol from the early 1950s. It was designed to resemble a Luger pistol, even to the point that the loading bolt was part of a toggle linkage that was manually raised up from the receiver to load each pellet — much the same as the toggle link works in the semiautomatic firearm — every time it fires.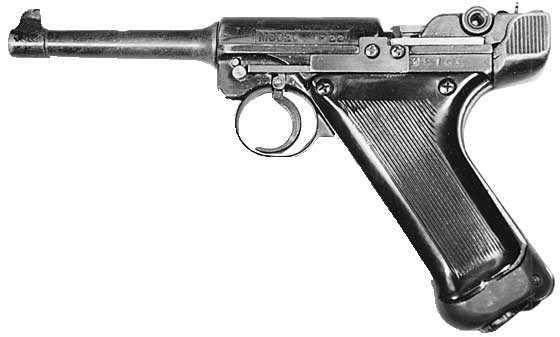 The Schimel was a CO2 pistol made in the early 1950s.
The Schimel was constructed of potmetal parts with reinforcements for needed wear durability. For instance, the rifled barrel is a thin steel tube that's pressed into a potmetal jacket that resembles a barrel on the outside. Because two dissimilar metals were in contact, many guns suffered electrolysis over the decades, and these parts are now welded together.
Schimels were painted with a flat black paint that did not hold up well over time. As a result, most guns have lost some to all of their original black finish.
Schimel grip panels were made of a synthetic that shrank over time. Most grip panels will show some shrinkage, which makes me suspicious of any Schimel with grip panels have not shrunk.
I've never seen a Schimel in 100 percent original condition, and I'm pretty sure one doesn't exist. I've seen a couple of 80 percent guns that I thought were refinished. I've seen Schimel grips that were not shrunk, and I am all but certain that are not original parts.
So — what would make a perfect Schimel collectible? I think a gun that has as much as 25 percent of the flat black (don't handle this gun because that paint is still flaking off!) and shrunken grips in a nice original box is about the best you can hope for. Anything beyond that is either a gun that was in a mammouth's mouth when he was flash-frozen, or it's been refinished. That's my opinion, and it's not necessarily true.
Back to the first gun I talked about — the Crosman 101. If the American Pickers suddenly discover one that has been housed in a warehouse in a dry climate, it may be possible that it has its original finish. But 99.999 percent of this model that have 100 percent finish have been refinished. They may be worth as much as $200, where a good shooter might bring only $100. But that one lone gun the American Pickers found is worth whatever anyone is willing to pay.
Rarity means very little
Every airgun is potentially unique in this respect. And, despite the efforts to which some refinishers have gone to make the guns shine, their collector value remains low because of the major changes that were made to get the gun in the finer condition.
I own a Falke model 90 underlever spring rifle. According to the best information available, there may have been fewer than 200 of these airguns made in the early 1950s. Mine is in fair-to-poor condition because of the vandalism of a former owner who tried to carve his initials into the stock. If my gun was a Winchester that was just as scarce, it would be worth five figures in this condition. But as it is, my Falke has been offered at several airgun shows at $450 in working condition and has been ignored. If it was in 80 percent condition (even if restored to that condition) and had the rear peep sight, it might bring $450. But it probably wouldn't bring a lot more.
In contrast to the Falke, Sheridan produced 2,130 model A (Supergrade) rifles from 1947 to about 1953. One of these that works and has been restored to near-new condition will fetch about $1,400 today. That's despite the fact that this rifle is in no better condition, from the NRA standards standpoint, than my Falke.
Slang terms used to describe condition
Here are some terms that are commonly used to describe the condition of airguns.
Pristine: Meaningless, but it conveys about the same as NRA Excellent condition.
Mint: Same as Pristine. Meaningless for firearms or airguns. Minty is a subset of Mint.
LNIB: Stands for Like New in Box. It conveys that the condition is New and there is also a box.
Excellent condition, considering its age: Watch out for anything sounding like this! The seller wants to cover the true condition by having you imagine what it might be. Whenever I see this phrase, I think I'm about to be swindled. The only time you should consider the age of an airgun is after you've been told what the real condition is, as in, "This gun is in Good condition, which is not too bad when you consider its age."
Also watch out for sellers who try to mix the condition ratings, like, "This gun is in 95 percent excellent condition. The one thing that keeps it from being rated that high is a small area of deep pitting, where moisture from the box rusted the left side of the slide at some time." He has taken a gun that is in NRA Fair condition (the deep pitting) and upgraded it to almost Excellent by how he worded the description. This is dishonest but probably not intentional. Watch out for it, nevertheless. Like blurry closeup photos — you don't know whether the guy is covering something up or is just a lousy photographer.
Be concerned when someone tries to come across as your friend when they describe a gun. Such as, "This gun was obviously loved a lot by some proud little boy," is code for "It's a wreck!"
What does it all mean?
Collecting is complex. That's the lesson I think you can take from today's report. Rarity, alone, often has little bearing on the value buyers will place on an airgun. However, there are things to watch for. Guns that have been modified have generally lost all collector value, if they ever had any. That doesn't mean they aren't valuable — just that collectors won't see them that way.
Restoring an airgun can add to its value — to a point. And that point will differ with each and every model.
by B.B. Pelletier

David Lurch Primary New York City gallery gun.
You readers have been very patient waiting for the next installment on this report! For that, I thank you. This project is taking a long time because it isn't on the front burner (it probably isn't even on the stove!) and because this is the kind of project in which you must "make haste slowly."
Last time, I described the gun (it's a smoothbore, so it's not a rifle) and told you some of the general, as well as some specific, history of this particular example. Today, I want to honor Mr. Duskwight, our Muscovite blog reader who's actively building a recoilless spring-piston rifle of his own design! Duskwight became fascinated with the performance of the Whiscombe air rifle and decided he could build one. Many of us have said similar things, but in this case the conviction remained even after he sobered up; and he's spent many long months and a LOT of money making his dream come true.
By watching what happened to him, we've learned just how difficult and risky it is to build something from scratch. You don't just tackle the technical job with all its intricacies and challenges. You also take on the entire socio-economic profile of your society, enduring substandard work, business failures, technical incompetence and on and on.
What I'll show you today has one additional complexity added to the story. The builders didn't have access to modern machine tools! Most of what you are going to see was made with files and hand labor. The metal hardening was done using a forge and eyeball, carefully judging the state of the metal by its color. If anything had to be timed, they did it with a pocketwatch instead of a digital timer linked to a time standard.
And the design came from someone's head! There probably were no drawings in the "factory," which was really just a quiet workshop. If they required anything to go by, there were possibly pattern parts that journeymen makers copied. While it's true that what you are going to see is very simplistic, don't make the mistake of thinking that it's simple to do! Each part has to fit, and each part has a specific job to do if the whole item is to work as intended.
Enough talk, let's see what this baby looks like. The first thing I will show is the new crank that Dennis Quackenbush made for the rifle.
Like the gun itself, this crank looks deceptively simple. It's just a gear and a handle to turn it. Yes, but that gear isn't as simple as it appears. Dennis has made cranks like this before, so he thought this one would be straightforward. He asked me for the width of the hole the gear fits into, as well as the width of a second hole on the inside of the gun that serves as a bearing for the crank once it's inserted. I gave him those two dimensions, and within a month he sent me a pinion gear with instructions to try to fit it to the rack gear inside the gun.
I did, and it was a no-go. Dennis thought it would simply be a case of cutting a new gear that had more teeth; in his experience, these gears had one of only two different numbers of teeth on the pinion gear. Unfortunately, that wasn't it, either! We were stumped. He had to see the gun.
We met at this year's LASSO shoot, and he got the chance to examine the gun. When he did, he discovered that the rack gear in my gun is different from any other he's seen. Apparently, David Lurch, who made the gun, had a better idea. He filed the rack gear teeth on a bias; as the crank is turned, the handle is also pulled tight against the mechanism because of the angle of the meshing teeth. A straight-cut gear cannot mesh with teeth cut on a bias, even when the number of teeth are the same because they aren't set at the correct angle.
This time, Dennis took the gun home with him so he could cut the new pinion gear to the corresponding angle. He delivered the new crank assembly at the Malvern airgun show, and as you can see, it fits perfectly. He intentionally did not harden the new pinion gear because he wanted it to be the sacrificial part on the gun. The gun's rack gear is hardened. If anything fails in operation, it'll be this gear, which can always be remade. But he didn't stop there.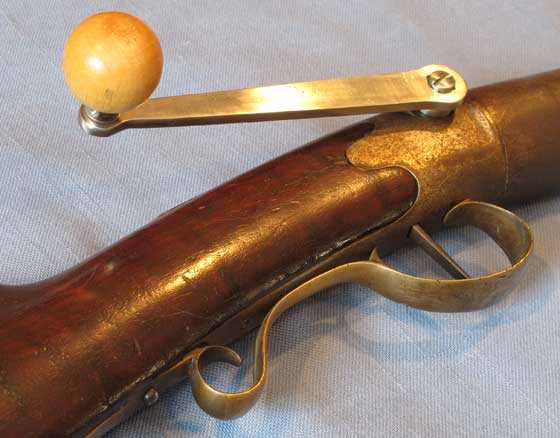 The crank Dennis made fits the gallery gun very well. It's still shiny, but I will take care of that with a browned finish later.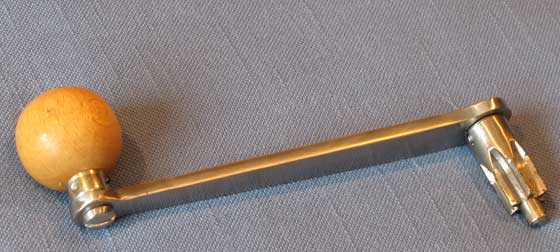 The crank turns the pinion gear, which engages the rack gear attached to the piston, withdrawing it as the springs are compressed.
Dennis contacted collector Larry Hannusch, who was kind enough to disassemble one of his Primary New York City gallery dart guns and remove the double volute spring mechanism so Dennis could have a look at it. Larry had seen my gallery gun at the Malvern airgun show the year before and was quite taken by it — as most collectors are. It's not that this is an especially beautiful example, or that it's extremely rare. It's just that each one of these guns was made by hand, so every one is a collection unto itself. Just as Duskwight will be forever proud of all the effort he puts into his new rifle, so we can appreciate all the labor and skill that went into making one of these dart guns in the 1860s.
Larry brought the spring mechanism from his gallery gun and Dennis took measurements. He plans on making a new double-volute mainspring assembly for my gun. This will be the first time he's made one of these springs; and to my knowledge, it hasn't been done in recent times. It's very possible that someone has made one and just not written about it, of course; but as far as I know, this will be the first time a double-volute mainspring has been made and documented in modern times. The documentation is important. How are we going to know about these old dart guns if we can't test them? And nobody seems to be writing about them, so I guess I'm going to be the first one.
Last year at Malvern, Larry Hannusch showed me how to disassemble my gun. It proved about as easy as disassembling a Garand, but I had shied away from trying because of the age of the airgun. I really thought the gun would be fragile. But after seeing how things go together and how robust the parts are, I have confidence that I can work on this gun just as easily as I would a modern spring rifle.
A gallery gun works just like any other spring-piston airgun. The piston is driven forward by springs, rapidly compressing air in front of it that pushes the dart out the barrel. The big difference in this Lurch gallery gun is that the piston is very large (over 1.5-inches in diameter), and the piston stroke is quite long (about three inches). Those volute springs I thought were so fragile are probably far more robust than coiled steel wire springs. Seeing them up close and examining their potential travel gave me a new appreciation for the ingenuity of these old gun makers.

This is a gallery gun piston with its two volute springs and a spring guide that you cannot see. Notice that this piston seal doesn't look like mine, which you'll soon see. Mine is a replacement that needs to be trimmed.

The rear spring has been removed, and you can now see the spring guide that sits between both springs. Notice the piston rod is the rack gear that the crank works with to cock the gun.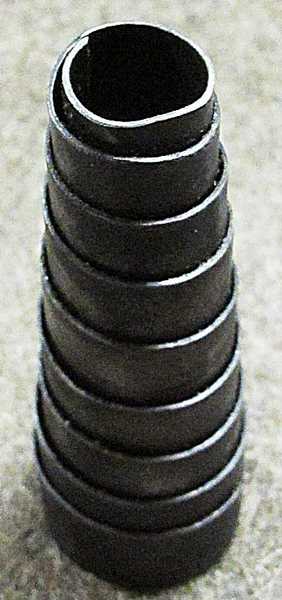 Here you see how a volute spring works. It's a coiled steel bar that's pulled into this cone shape before hardening. It's incredibly strong, plus it has a huge length of travel before becoming fully compressed.


This is the piston assembly with springs and spring guide. The tiny notch seen on the side of the piston rod opposite the rack gear teeth is the sear notch, properly called the "bent" at the point in time this gun was made. That's what the trigger holds onto!
Are you enjoying this so far? Well, there's more to come. Now, I'll disassemble my gallery gun and show you the parts we've been talking about.

The compression chamber simply unscrews from the action of the gun. There's no fastener holding the two assemblies together other than the threads seen here. You can actually see the color-hardening of the piston rod that has the rack gear teeth, but I'll show it closer.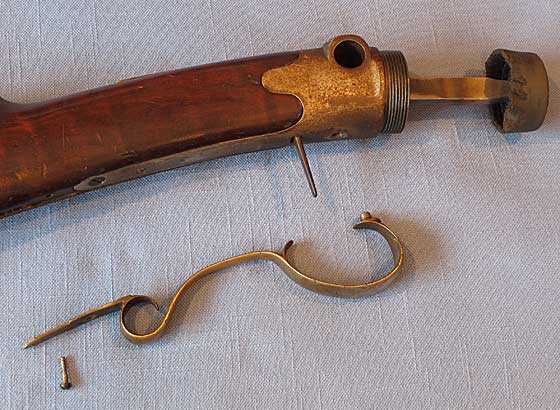 The rear screw is removed from the triggerguard, which is then unscrewed from the action. The front of the hand-filed brass guard is a screw!

Two screws are removed, and the wooden butt is separated from the action. You can see the rear of the piston rod in this view.


In this view, you can see the entire piston rod. The sear notch is also visible, opposite the rack gear teeth. Each gear tooth was filed by hand. Notice how much excess leather hangs down from the piston head.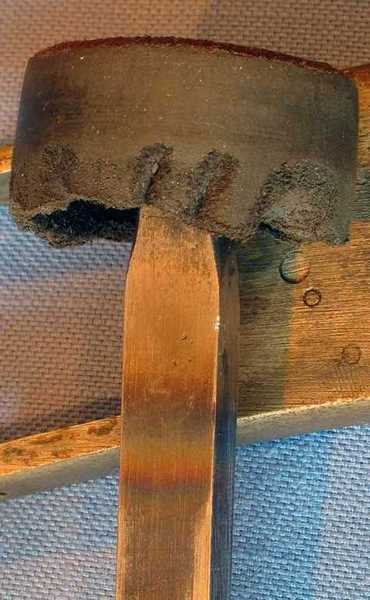 The piston rod was hardened to a medium blue, which is pretty hard! The excess leather on the seal really stands out.


Here you can see that the gear teeth were cut on a bias to pull the cocking crank tight into the gun when it's wound.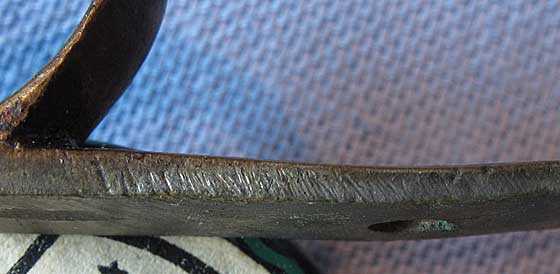 The side of the brass triggerguard still shows the marks of the maker's file that shaped the piece to fit the gun after it was cast.
Well, that's what the inside of a 150-year-old handmade airgun looks like. Dennis is going to make a pair of volute springs for me, but in the meantime I may try to get the gun operational with a coiled steel spring. It won't be ideal, but it may provide me with a platform for testing the darts that I'm going to have to make.
The caliber appears to be exactly .25, as a .256 bullet will stop after entering the breech. So, I may be able to find large .25-caliber pellets that fit, and there may even be a .25-caliber dart I can find.
The bore is pretty ugly from the neglect of more than a century, so that will be my next task. I don't know when I will return to this airgun again, but you can rest assured that it's in the queue.
I found my silver dime!
In other news, my silver dime has returned! It was hidden under a Post-It note on a desk I'd used temporarily when changing computers several weeks ago. So, you will be seeing silver soon.
by B.B. Pelletier
I was in Wal-Mart the other day and a guy was looking at the airguns, so I struck up a conversation. He was looking at a Crosman M4-177 for eliminating pest birds; and when I tried to steer him toward a more powerful breakbarrel in .22 caliber, he had a fit over the price. Apparently $145 is the Rolls Royce of airguns for him!
So, today I thought I'd reflect a bit on the cost of things — some expensive and some cheap, but all very good. We have a growing contingent of firearms shooters who have found this blog and I'm doing this for them.
The most expensive?
Well, let's be realistic. There's only one air rifle that was carried by Lewis & Clark,  and Dr. Beeman has donated it to the U.S. Army War College museum. It's value is well over a million dollars; but since there's only one, it doesn't really count in today's discussion.
I'm also not talking about the collectible airguns that are available in greater numbers. A complete Plymouth Iron Windmill BB gun, the predecessor to the Daisy line, has commanded as much as $10,000. But second model Daisys are even rarer, because they were so prone to break. I've seen one change hands for $16,000, and that was close to a decade ago. But, for today, I want to talk about guns that are generally available.
Whiscombes
When Edith and I bought our JW75 with four barrels and the Harmonic Optimized Tuning System (HOTS) on each of them, the cost was $2,100. That was in 1996. The cost did increase after that; but when John Whiscombe stopped making his rifle several years ago, the price took off like a rocket. Today, it's hard to find a single-barrel Whiscombe rifle with no frills for under $3,000, and full sets like ours will certainly bring a lot more.

You can't buy a new Whiscombe rifle anymore, so used rifles command top dollar.
So, are Whiscombes the most expensive air rifles? Hardly. There are all sorts of custom airgun makers around the world who offer almost whatever the traffic will bear. I've seen single rifles in Europe priced at over $8,000, and that was five years ago. Who knows where it all ends? The point is, air rifles can cost a bundle if that's what you're looking for.
Back to earth, some of the more expensive production air rifles today are made by the target rifle companies, where top models retail for nearly $3,000. And they're built for a specific purpose — not for general shooting. The FWB 700 Alu, for example, is a very expensive air rifle that cannot be used for most popular airgun pursuits like hunting and plinking. But for punching holes in paper, it's one of the best. The same can be said for top target rifles from Steyr, Walther, Anschütz and a couple others.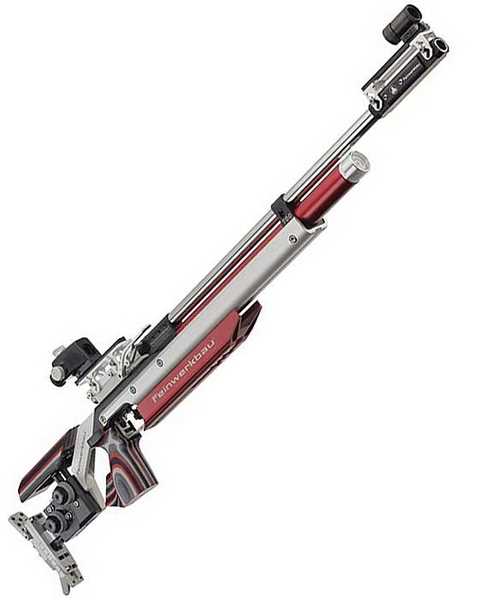 The FWB 700 Alu looks like an expensive air rifle!
For the sport of field target, it's difficult to top the Air Arms EV2 precharged competition rifle. It has won and placed at the world level many times in recent years and is one of those rifles shooters tend to covet.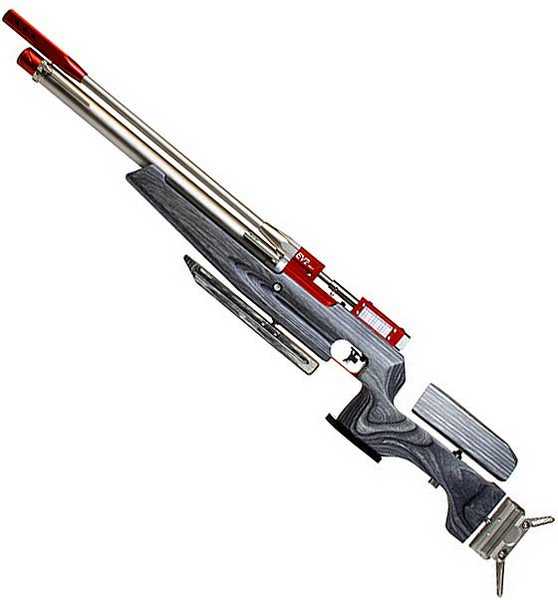 The Air Arms EV2 has won its share of top honors in field target.
In sporting rifles, Daystate and FX Airguns are among the most expensive brands. And now their top models are around $2,000 or less. Fifteen years ago, the number of makers of these rifles was much greater, but many brands have left the market.
Do you have to spend so much?
Of course you don't! There are plenty of fine air rifles that cost considerably less than those mentioned and still deliver a boatload of options and value. But that isn't today's topic. We're looking at the most expensive and the least expensive.
How low can you go?
Speaking of the least expensive, what can you get for very little money? How about a Beeman P17 pistol? For under $50, Pyramyd Air will sell you an air pistol that's so accurate you cannot outshoot it — I don't care who you are. This is a pistol that you can learn on and use to take your handgun shooting to the next level. For the life of me, I cannot fathom why Beeman doesn't triple the price and bring this out as a pseudo-10-meter target pistol! All the foundation is there. Gamo did the same thing with their Compact pistol, and this one costs one-fifth as much! They could easily add target grips and sights and have a wonderful, inexpensive target pistol, but I guess they just don't see the potential.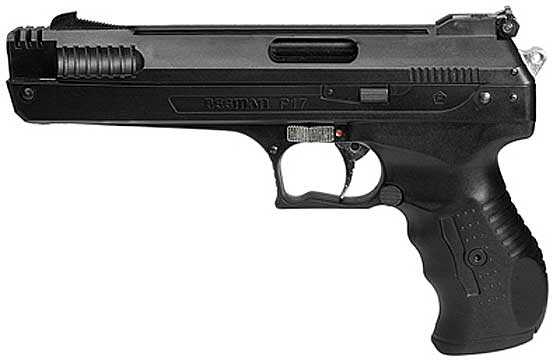 For the money, you can't buy a better air pistol than the Beeman P17.
I wish I had an air rifle to list for under $100. They exist, but none of them are what I would call really exemplary. But the Air Venturi Bronco is the finest low-cost air rifle I know of. It has accuracy equal to or better than a Beeman R7, a great trigger, nice size and is generally a fine rifle for older youth and adults.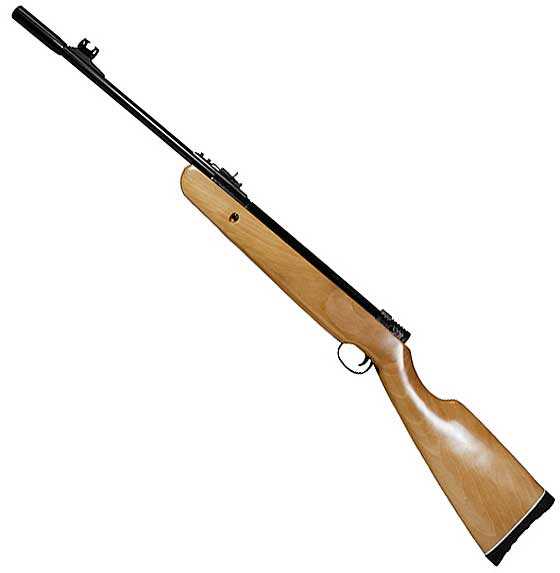 Air Venturi's Bronco is the air rifle to beat on the low end of the price spectrum.
The bottom line
And now you've guessed my agenda with this report. It wasn't just about the most expensive and the least expensive. The guns I listed are also among the best of their types in the world. Sure, I could compare the Benjamin Marauder to some of the expensive PCPs and make a case for it being just as good functionally, but that wasn't what this report was about. It was to define the limits of cost in our hobby for all the new readers who come over from the world of firearms.
by B.B. Pelletier
As I mentioned in yesterday's blog about the Roanoke Airgun Expo, this year there was more time to sit and talk, and we all did a lot of it! I chatted with Jay in VA about a number of things that will become blogs in the future, but something that was said as an aside turned out to be the most important thing of all. Someone asked a question about something — I can't remember what — but it prompted me to answer that such-and-such a book was the best place to get the answer. It might even have been Jay who mentioned it, and the topic might have been firearms-related and not airgun, but it started us talking about an airgunners library. Jay suggested that I write a paragraph of description about the books I think every serious airgunner needs to have.
I've done this before, I know, but this time I'll be doing it from a different and more personal angle. I have recently been helped by some old books that almost nobody even knows about, thanks mostly to recommendations from Kevin and Robert from Arcade. So, let's get right to it.
Yours Truly by Harvey Donaldson
Yours Truly by Harvey Donaldson is a compendium of the written works of Harvey Donaldson, the man best-known as the inventor of the .219 Donaldson Wasp cartridge. In the book, Donaldson is revealed not as a wildcatter of the 1920s, but as a thoughtful benchrest and varmint hunter who was always searching for accuracy. He knew all the greats such as Pope, Neidner and Whelen; and he even schooled a few of them — notably Whelen. He drove a Corvette and was honored in his '80s by GM as the oldest sports car enthusiast in the world, so the man was in touch with reality, too. From his book, I learned a loading technique that promises to advance my accuracy with the old Ballard rifle by an order of magnitude. Search Amazon for used copies of this book.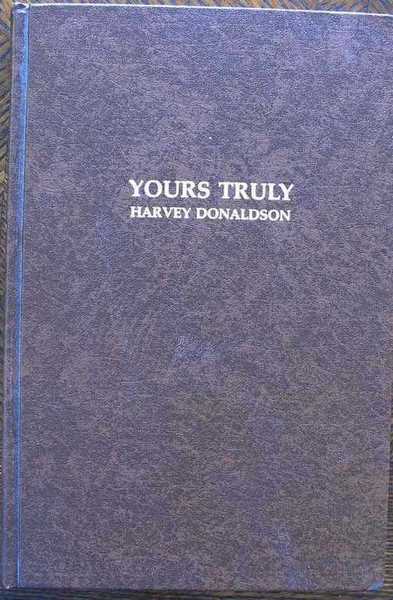 This is the book that started my current quest for "new" gun books. It's a marvelous read.
The Muzzle-Loading Cap Lock Rifle
Ned Roberts, the inventor of the .257 Roberts cartridge, is the author of The Muzzle-Loading Cap Lock Rifle. Roberts wrote the book in 1940; yet, when I tried his ideas in a Schmidt-Rubin target rifle a couple weeks ago, I found them fresh and applicable. For the first time in my life, I shot a 100-yard group smaller than one inch with cast lead bullets. True, it was only a 5-shot group, but I'm just getting started. Oddly enough, this book had very little to say about cartridge arms, yet the info is quite germane to accuracy. It was the impetus for the overbore blog I wrote last week, and it helped me formulate several ideas about accuracy. If you're serious about shooting and hitting what you aim at, read this book! Find it on Amazon or at one of the used book dealers you get with a Google search.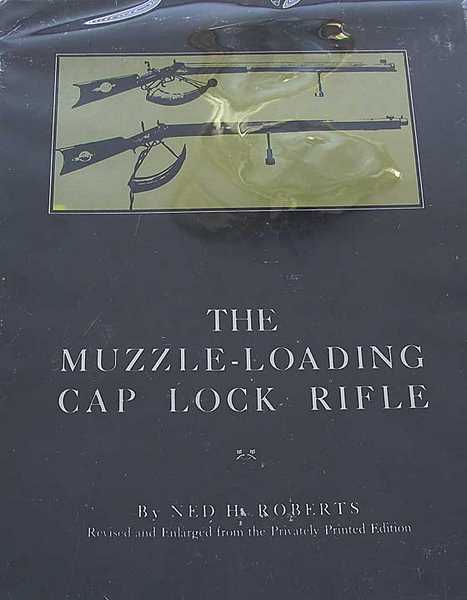 This old book is a prize for shooters who want to put them all in the same hole!
But they're not about airguns!
I know that many readers will look at the two books mentioned already and wonder what they have to do with airguns. Both are about firearms with not a mention of an airgun. Yet, the principles of accuracy still apply. I find that when something works in one world, it probably carries over to the other. And let's face it — a good universal airgun book doesn't exist. I will recommend a couple books I find to be most helpful, but I have to admit that the airgun world is lacking in anything as universally applicable as can be found in the world of firearms.
Powder to Target/Trigger to Target
Here are two books of fundamentals that every serious airgunner needs to own. The first is The Bullet's Flight from Powder to Target, written by Dr. Franklin W. Mann in 1909. It has tests that Mann conducted to try to identify the components of accuracy. Not much has changed in a century, has it? Mann spend considerable time (37 years) and money testing everything he could think of to try to identify why some guns shot more accurately than others. He called fliers the X factor. And 30 years later, Roberts called them "outliers." But both men were interested in why some bullets did not go where the shooter intended. Mann even made a range protected from the wind, by stretching a canvas tunnel 18 inches in diameter down the 100 yards of his test range. The tunnel was curved to allow for bullet drop! Can you imagine the skill it took to construct such a thing — and the anal personality it took to actually build it? Mann would have been one of those guys who carries around a thick notebook full of targets and spreadsheets, and if you saw him coming you would turn around and walk away. You would do so because the first time you met him you had a pleasant five-hour conversation about the effects of precession induced by crosswinds coming from various angles. You said, "Hello" when the conversation started and "Goodbye" when it thankfully ended. He did the rest of the talking.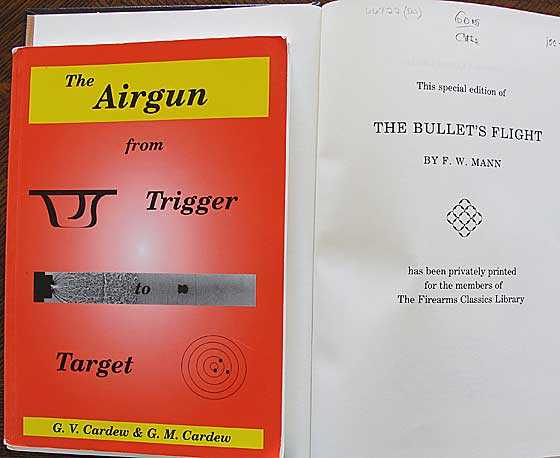 Both books are about the things we want to know but don't have the time or resources to test ourselves. These are fundamental references that a shooter cannot afford to do without.
So — not a crowd-pleaser, but a milestone experimenter when it comes to accuracy. It reads like stereo instructions written by Shakespeare, so it's not a page-turner; but I can say the same about a lot of other valuable references. Buy the book off Amazon or from the used book dealers and buy only a reprint, as an original costs about what an HW55 costs!
In the 1970s, a father-son team of G.V. Cardew and G.M. Cardew wrote The Airgun from Trigger to Muzzle. It was updated in 1995 to The Airgun from Trigger to Target, when they added material. I have both books and the later one is the better one to get.
The Cardews were just as curious about airguns as Mann was about accuracy. They carried out numerous experiments to answer those questions that always come up whenever airgunners get together — only they actually tested their theories.
Want to know how dieseling differs from detonations? They cover it. How long does a spring gun barrel need to be for maximum velocity? They were the first to publish the results and today they are quoted by people who don't even know they exist. Their book is a seminal work, and though it is sometimes hard to follow, I recommend it to everyone. This one will be hard to find, as it goes in and out of print. Just buy it if you ever see it.
It's a Daisy
It's a Daisy is a book about the birth and growth of Daisy — the most iconic American airgun company. The author is Cass S. Hough, the grandson of the founder of the company, and a character in his own right. Hough was the test pilot who inadvertently broke the sound barrier in 1943 in a dive over an airfield in England while trying to rectify the handling problems of the P38 Lightning fighter. He worked for Daisy both before and after the war, and was finally president of the company. He gives a deep insight into the workings of the company during its first 50 years.
The first printing of this book had skyrocketed to $100 on the used market a few years ago. Then, Daisy reprinted it. You can't buy one directly from them, but it's available here.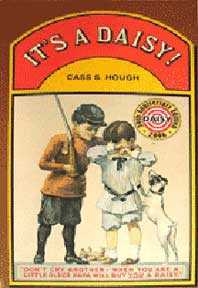 If you want to learn the history of BB guns in America, this is the place to start.
The Blue Book of Airguns
Twenty years ago when I got back into airgunning the biggest complain about airgun books was there were no reliable price guides. Today the biggest complaint is that the Blue Book of Airguns exists, and who do they think they are? Their prices are often so different from what you really pay for the same guns.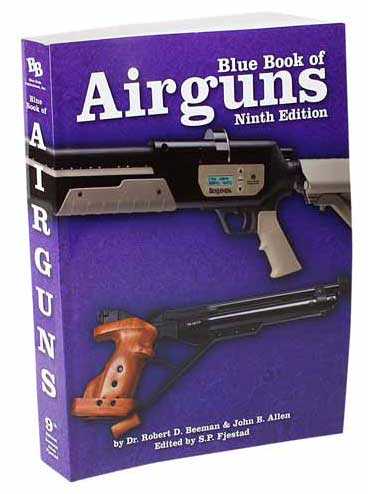 This is the best reference for what's out there. It gets better with each new edition. This one is number nine.
Well, surprise, surprise! The Kelly Blue Book of automobile values works the same way. Thery may say that a 1998 Ford F-150 is worth X, but you might see one in great shape for half that if the owner lost his job and can't keep up with the payments. Or you might see one listed for 2X if it was last owned by a famous personality (Remember John Voight's Chrysler LeBaron on Seinfeld?). Just deal with it. The thing about the Blue Book is not the prices — it's the other information on guns many of us have never seen or even knew existed. I have made a lot of money by owning and consulting a Blue Book.
Wrap up
So there you have it. My short list of airgunner must-haves. Even if you are not a reader, these books can make you a better-informed airgunner, and shooter in general.
One last thing
I wasn't going to mention this, but there has been some talk among you readers, so I will post it here. My best buy at this show turned out not to be an airgun at all! While looking at the tables I saw and bought a slingshot that has both a red dot sight and a laser designator for Edith. She was really keen on getting one after seeing it online, so I bought it for her. It's a cool device and I may find a way to work it into a posting sometime, but that wasn't my best deal.
At the same table I spotted a 1918 trench knife that I assumed to be a replica. I assumed that because this is a rare variation of the more common 1917 model made by LF&C. I had seen the 1918 version on Pawn Stars, so I had some sense of what a real one would be worth, and the asking price was well within my budget, so I bought it.


A chance find at an airgun show! The 1918 trench knife is rare.
Long story short, this isn't a replica. It's the real deal from World War I. Most of these were used and abused, so mine, which I would rate as very good, is even rarer. I didn't expect to find one of these at an airgun show, but because I knew what it was I bought it the moment I saw it. The fact that it turned out to be real is a plus, because I paid for what I thought was a very good replica.
The old salesman's adage applies here. If you want to make the sales you have to make the calls. Or better yet — the time to buy them is when you see them.
by B.B.Pelletier
There I was, at the Roanoke airgun show, and this year was REALLY different! For starters, it wasn't in Roanoke. It was up a small mountain road several miles south of the big city, and I thought that would keep the attendance down. But at the Friday opening, there were hundreds of attendees who came through the doors. And those who struggled to find the place were rewarded with what I have to categorize as the very best airgun show I've been to. Allow me to explain.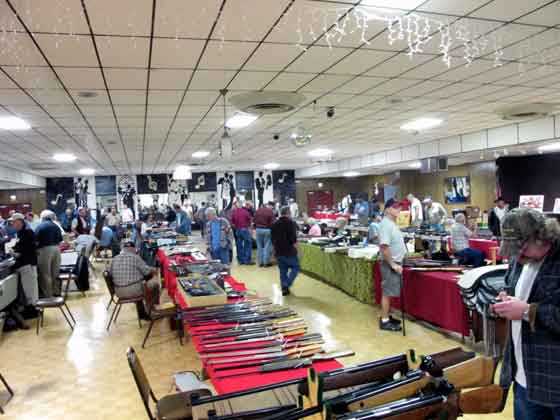 About midway through the first day, and the show was doing a brisk business.
It seems that hard financial times have hit the airgun market, and as a result there were too many great buys to count. Also, something else happened that I guess is like the changing of the guard. It seems that many of the old graybeards were cleaning out their closets and selling most everything they had. Some strange metal surfaced to bait the faithful, as well as the tried and true guns we all love.
One thing I was looking for are readers of this blog. RidgeRunner was first to step up and introduce himself. He was doing his impression of a walking garage sale by lugging a rifle, pistol and a daypack full of pellets around the show. And the last time I saw him, I think he had bought some pellets! Talk about taking coals to Newcastle!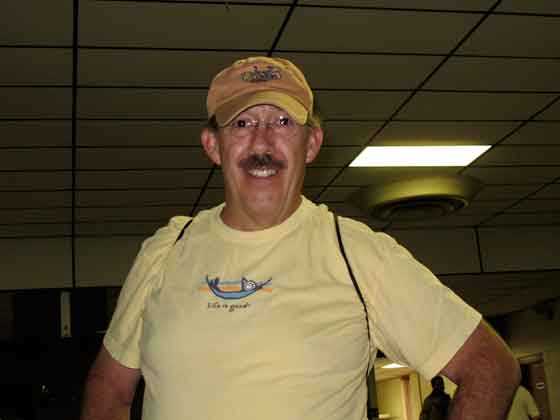 RidgeRunner was happy to be at the show.
Lloyd and his beautiful wife, Mary Ellen, were next to stop by. Mary Ellen was returning home from a business trip, and her plane was diverted to Roanoke; so Lloyd did the manly (and opportunistic) thing by rushing down to pick her up. We gabbed about old times while Mary Ellen looked around her very first airgun show. She said she was impressed, and I think that was an honest appraisal because for some reason this was a classy show.
Usually, a show has some sort of "flavor." By that I mean that there will be one or more memorable things that happen only at that particular show. I remember one where there were new-in-the-box Smith & Wesson 78G and 79G pistols stacked up in piles. At another show, a man was trying to sell a genuine Girardoni military rifle. I was flabbergasted when he sold it for $3,500. Several years afterward, I was even more flabbergasted to see a similar rifle sell for over $50,000!
I look for those "patterns" at every show, and they help me report the show. At this show, I couldn't see any pattern on Friday. Maybe there was a smallish group of 10-meter target rifles for sale and a few nice Benjamin Discovery rifles were out on the tables, but I couldn't see any real patterns.
But what did happen at this show more than at others I've been to was that we had time to actually talk. Several other readers came by and even people I know just from seeing them at every show I attend; but, for once, there was time to really talk. And as a result, I was set straight on a number of technical topics. The beauty of that is that Edith wasn't there to keep me in line, so the task was shared by many people. Of course, they weren't as good at it as Edith is…but, then, she's had many years of practice.
Mac shared a table with me, and he had a super first day! He brought most of his stable of 10-meter rifles, plus many of his finest sporting guns. His first sale was an FWB 124 I tuned about 10 years ago, and it still averages 881 f.p.s. with Premier lites. After that, his guns were flying off the table as I watched enviously from the sidelines. Part of his success is due to his engaging style. He stood in the aisle in front of the table and hooked them as they ventured too close.

Mac discusses the finer point of airgun trivia with a patron who moved too slow.
I'm always on the lookout for different things, and Wayne Fowler had one on his table. It was a .35-caliber single-shot round ball shooter with a ball reservoir that Mike Reames made. Wayne said his pistol is very accurate, so he mounted a red dot sight to the barrel and shot a group with it. The proof is right in the center of the bull.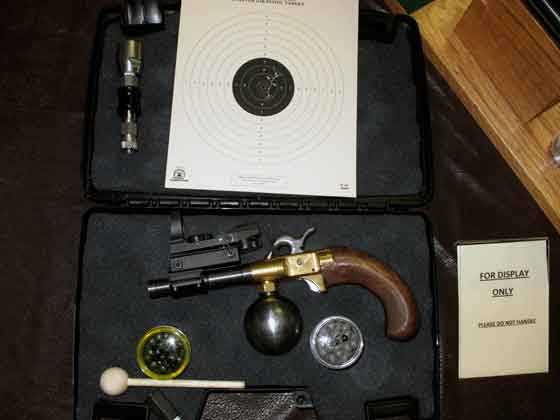 Wayne Fowler's handmade pistol drilled the bull. The 18th century meets the 21st as the red dot sight sits atop a round rifled barrel. Strange but true!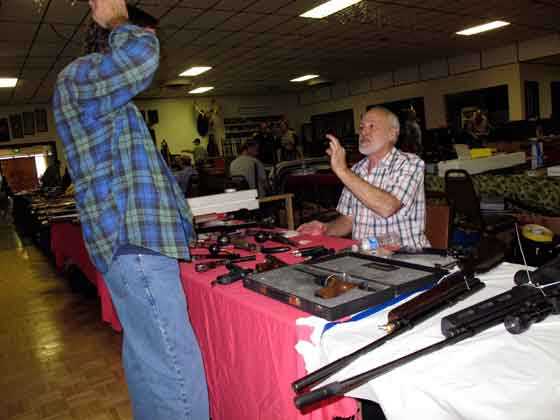 Want a ball reservoir pistol of your own? A customer deals with maker Mike Reames, who has several unsold ball reservoirs on his table.
I vowed I wasn't going to buy anything at this show, and that resolution lasted until almost 12 hours before the doors opened. How could I need anything more, I asked, as I forked over the cash for several impulse purchases made while chatting at the motel the evening before the show opened? You'll be seeing the results of those purchases in upcoming events. But here's one: Edith has been asking for a slingshot with a laser for almost a year, and I found one for her that has a laser and a red dot sight. (Note from Edith: Woohoo! He's right. Ever since I saw some online demo videos, I've been wanting one of these.)
Saturday
The Saturday show was much different than Friday. Saturday is normally when the locals come; and while a few did make it in, it was a very slow day. Mostly dealers trading with dealers.
I did overhear conversations between several dealers saying they'd had as good a show as ever despite the smaller size and change of location. I would estimate was only 75% as large as the Roanoke shows of the past. There's room to grow in the current facility, and show promoter Davis Schwesinger has plans to do just that.
One last comment. Although I mentioned him earlier and even showed a picture of one of his pistols, I must say that Mike Reames, who makes the unusual ball reservoir pistols, is making a name for himself. His work is of good quality, and everybody who gets one seems to enjoy it. I think we'll do more with Mike in the future.
The show ended around 2 P.M. Saturday, but all the dealers I talked to said they were coming back next year. I know that many of the dealers who were not there will make plans to attend. It may take a while, but I think we'll grow this into a fine, large airgun show, again.