by B.B. Pelletier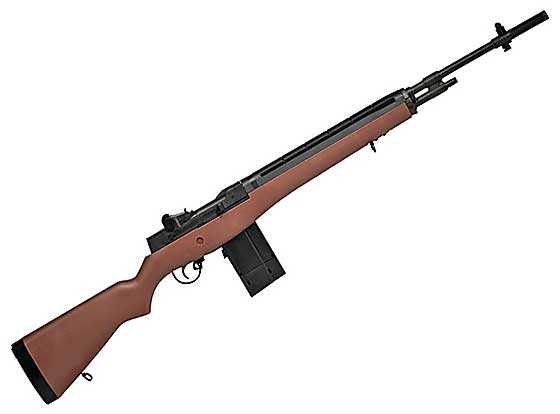 Winchester's new M14 dual-ammo rifle looks very much like the military rifle it copies.
Redemption is a powerful experience, because it comes only after suffering and anguish. Redemption is what I longed for with the Nelson Lewis combination gun and with my Ballard rifle. Today, however, I'm going to talk about another redemption — that of the Winchester M14 dual-ammo rifle.
In Part 1, we learned that this rifle is nearly all plastic — which for many, including me, is a put-off. We also learned that it uses two 12-gram CO2 cartridges instead of one, and that assaulted the the miser in all of us. Accuracy is the only thing that would make it worth the extra cost.
When we looked at the velocity in Part 2, we discovered that the rifle does not begin to achieve the advertised velocity of 700 f.p.s. That's not a bad thing, except it leaves us disappointed from unrealized expectations. The velocity should prove high enough, though, as long as the rifle is accurate — which brings us to today's test. Part 3 — accuracy day.
The Winchester M14 is both a BB gun and a pellet rifle, so I had to test the accuracy of both types of projectiles. BBs get tested at the standard 5 meters (just over 16 feet) distance, while pellets were shot at 10 meters. And each target got 8 shots instead of 10 because of the capacity of the circular clip at either end of the stick magazine. Trying to load just two more of anything in one of these clips is annoying and troublesome at the least.
So, it was BBs first, as they're shot at the closer distance. I shot the rifle using Daisy zinc-plated BBs offhand at 16.5 feet.
I left the sights as they came out of the box. With a 6 o'clock hold, the first BB struck the target at the exact aim point, so I stopped checking and fired 7 more shots. This rifle is super-easy to shoot, as there's nothing to do but pull the trigger. The cocking and advancement of the cylinder are all taken care of by the gun. And as light as the rifle is, it's easy to hold it on target for all 8 shots.
After the clip was empty, I walked up to the target to see the results, which is when the word "redemption" came into my thoughts. The group is very round and measures 0.532 inches between centers! This is a group I might shoot with a Daisy 499 Champion — the world's most accurate BB gun. I've never shot a group this small with any other long BB gun, that I can remember.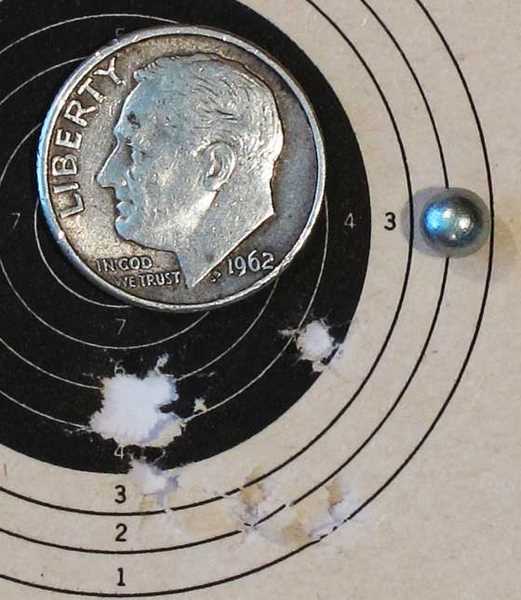 The first group of Daisy BBs made this dime-sized group at 5 meters. It measures 0.532 inches. Pretty encouraging!
What if it was just a fluke? What if the next 8 BBs went into a group twice the size? Only one way to find out. I shot a second group. This time, it was positively fun — as the confidence of an accurate gun poured over me! I adjusted the rear peep up three clicks and shot again.
The second group was easier to shoot because I now knew the gun was accurate. I only hoped I could repeat what had been done before. Alas, that didn't happen, as the second group was smaller than the first. Eight shots went into a group measuring 0.472 inches!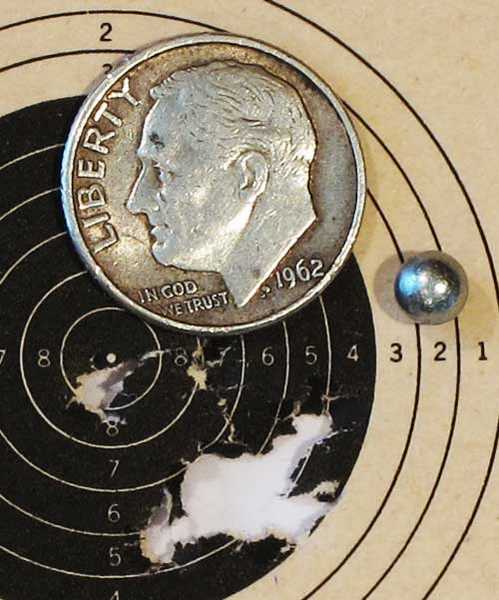 This second group of BBs is even better! It measures 0.472 inches.
What now?
Here's a BB gun that rivals the most accurate BB gun ever made! And this one has M14 sights that encourage target shooting. Look at the center of the second group. It's just a little higher than group one, which is exactly how the sights were adjusted.
Now I moved back to 10 meters where I could shoot pellets from a rest. Again all the groups will have 8 pellets because of the mag capacity. The rifle was rested on a sandbag positioned under the forearm just in front of the magazine that hangs down. Although this rifle is very light, I found it to be very steady in the rested position, and the trigger-pull did not disturb the aim point.
The first pellet I tried was that champion of lower-powered spring guns — the JSB Exact RS that Kevin turned me on to. It struck the target higher than the BBs, but did not group very well. Eight pellets made a group measuring 1.384 inches between centers. That's not good for 10 meters.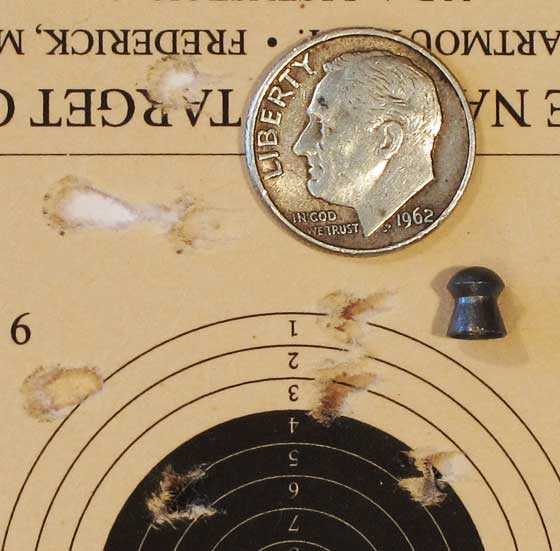 JSB Exact RS pellets blew up at 10 meters! Group measures 1.384 inches between centers.
I followed the JSB pellet with our new friend — the H&N Baracuda Green that we're learning to love. As light as it is, I wondered if it might be suited to the lower power this rifle generates. Apparently it is, because 8 of them went into a tight group that measured 0.739 inches. This is only 10 meters; but if you look at this group, I'm sure you'll see the potential the rifle promises.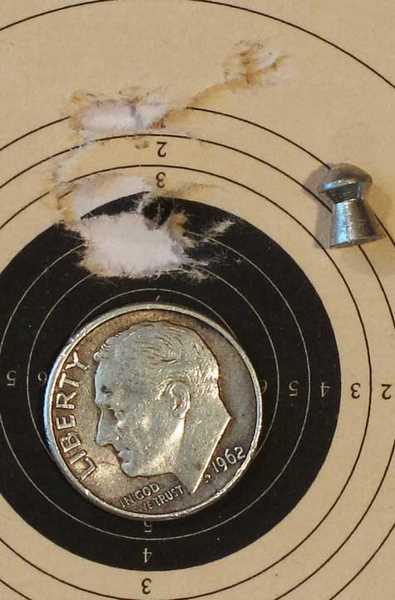 H&N Baracuda Green pellets made this tight 0.739-inch group at 10 meters. You can see how tight it is. This shows real potential.
Next up were some H&N Match Pistol pellets. I chose them for no special reason, other than I am trying to mix up the pellets I usually test with. They printed a group that measures 0.694 inches between centers — so just a little smaller than the Baracuda Greens. The rifle just keeps on doing better!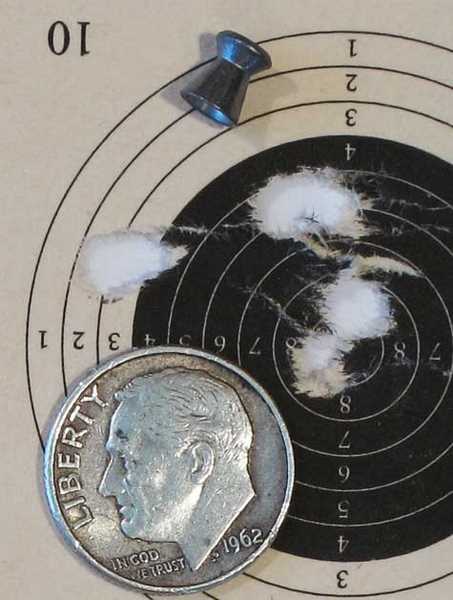 H&N Match Target pellets made the best group of pellets, measuring just 0.684 inches at 10 meters.
The final pellet I tried was an RWS R10 Match Pistol pellet. This pellet is among the best target pellets I have available, and I wanted to see what it could do in this rifle. The 8-shot group measures 0.722 inches across, so it's between the Baracuda Greens and the H&N Match Pistol pellets.

This group of RWS R10 Match Pistol pellets is also very tight — at 0.722-inches.
Evaluation
Do you notice we have three groups that are very similar in size? I think the rifle is capable of this level of accuracy all day long, and perhaps there's another pellet I haven't tried that's even better. The gun shoots easily and very much resembles a fine target rifle when I shoot it. The sights are easy to see, and very crisp, plus they seem to adjust with precision.
As I shot this rifle I thought of blog reader Matt61 and his new Garand. Here's an apartment-sized airgun that he could use to keep his skills sharpened for those days when he can't get out to the range with the large firearm.
I was also reminded of when I was a youngster, shooting the NRA's beginner training course. There's virtually no resemblance between this rifle and the Winchester 52, but the shooting experience seems so similar that it's scary. I understand why all those customer reviews have praised the accuracy so highly, and also why they've forgiven the plastic and light weight for the most part. The Winchester M14 has redeemed itself in my eyes!
The last word
I used the Winchester Airgun Target Cube to stop the BBs and pellets fired in this test. Because this rifle shoots faster than 350 f.p.s., the cube was turned to the side for higher-velocity rounds. As before, the cube caught all BBs and pellets with no mess and nothing got through. I will continue to report on the performance of this cube backstop as I use it in future tests, with an eye to discovering just what it will take.