by Tom Gaylord
Writing as B.B. Pelletier


The B3 underlever from China.
Part 1
Part 2
Part 3
Part 4
Part 5
Part 6
Part 7
This report covers:
The test
JSB Exact RS
RWS R10 pistol
Sig Match Ballistic Alloy
Discussion
Summary
Today I conduct the 25-yard accuracy test of the Chinese B3 underlever air rifle. Before shooting this particular B3 I had never shot any Chinese sporting spring rifle at this distance and I didn't think there were any that could manage it.
The test
I read Part 6 to learn which pellets did best in the rifle. All shooting was off a rest, using the artillery hold. And I have to use the open sights on the rifle, as there is no easy way to mount a scope. Later B3s do have dovetails for scopes but this early one does not.
I knew from the last test at 10 meters that the rifle would do okay at 25 yards, so I wasn't really afraid of testing it. Many times I get scared when I move back to 25 yards because a lot of spring guns are not that stable — especially the ones from China. This one isn't just from China, it's a model designed by the Chinese and only sold here because they wanted to. Nobody asked for the B3 — it just came as it was.
JSB Exact RS
The first pellet I tried was the domed JSB Exact RS. I shot the first shot and checked where it hit through the spotting scope. It landed at the top of the bull, which I thought was okay, so I continued shooting without checking further. The last shot hit the binder clip that was holding the target, and I knew the rifle had been shooting too high.
Sure enough, when I changed the target I saw that the first shot was the only one low enough to hit the bull. All the rest had climbed a couple inches higher. Because one pellet had hit the clip there weren't even 10 shots in the group. So I adjusted the rear sight down as low as it would go and shot a second target. This time I got a decent group that was well-centered but still high on the target. Ten pellets went into 1.549-inches at 25 yards.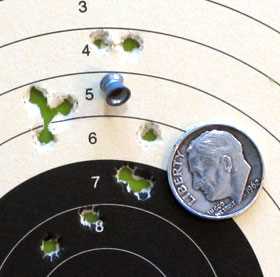 Ten JSB Exact RS pellets went into 1.549-inches at 25 yards.
You might think that group is large, and you would be right. But for a B3 I think it's a nice group.
RWS R10 pistol
Next I tried some RWS R10 Match Pistol pellets. As wadcutrters they are about at the limit of their accurate range at 25 yards. Sometimes I see great groups while other times they open up something fierce. This was one of those other times. Ten shots landed in a loose pattern that spread 2.09-inches between the centers of the two holes farthest apart. Notice that these shots landed significantly lower and to the left than the JSB Domes.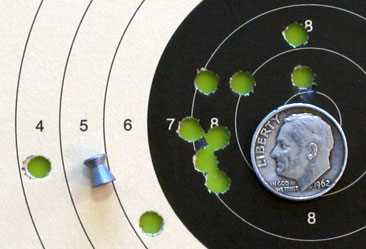 Ten RWS R10 Match Pistol pellets made this 2.09-inch group that looks more like a pattern. You can see that the pellet on the left was tipped when it hit the target.
I had hoped for better groups than this with this B3 rifle. It did so well at 10 meters.
Sig Match Ballistic Alloy
The last pellet I tried was the Sig Match Ballistic Alloy pellet that has surprised us with its accuracy so many times. This time was no exception. The first shot hit low and left, so I adjusted the rear sight up and to the right.
Sig pellets turned in the best target of the test. Ten went into a group measuring 0.983-inches between center. Not only is this the smallest group of the test, it's also the roundest. I know it doesn't compare to some groups I have shown you, but for a B3, I think it's wonderful.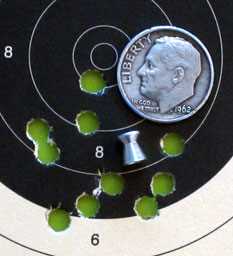 Ten Sig Match Ballistic Alloy pellets made thin s 0.983-inch group at 25 yards.
Discussion
The lube tune I did to the B3 is still paying dividends. The rifle fires smoothly and cocks with the greatest of ease — compared to before. The sights adjust well enough and the trigger is crisp, if a bit too heavy. All in all this is a very surprising air rifle.
Summary
We have now looked at this B3 rifle in the greatest detail. We have gone inside and seen the inner workings, and we have tested the rifle thoroughly. We learned how to fix a leaky breech seal with a fawcet washer in 15 minutes. We learned how Tune in a Tube corrects a host of sins.
In short, I think this excursion with the old B3 I found in a pawn shop was most entertaining and enlightening. It was a trip that was well worth taking!