by Tom Gaylord
Writing as B.B. Pelletier


The B3 underlever from China.
Part 1
Part 2
Part 3
Part 4
Part 5
Part 6
This report covers:
Refresher
The test
Sig Match Ballistic Alloy
Sight adjustment
On a roll?
Air Arms Falcon
POI change
RWS R10
Best for last
JSB Exact RS
Summary
Today was day of learning, or perhaps I should say remembering, because today's test of the Chinese B3 underlever took me back to my early days with spring-piston air rifles. I will explain as the report unfolds.
Refresher
I found this tired old air rifle in a pawn shop many months ago. In this series I have replaced the breech seal with a faucet washer, opened up the powerplant, lubricated the moving parts with Tune in a Tube and shot the rifle for accuracy. That was when I discovered how accurate this old Chinese underlever is. So I vowed to shoot it for accuracy once more, now that the powerplant has been tamed.
The test
I shot the B3 from a sandbag rest at 10 meters. I used the artillery hold, with my off hand back by the front of the triggerguard.
Sig Match Ballistic Alloy
In the last test Sig Match Ballistic Alloy pellets were the clear favorites, so I started this test with them. I knew they were not zeroed, but I let that go for the first 10 shots. The first 5 of those shots gave a very tight group, but the final 5 opened up considerably. I was wearing reading glasses to see the front sight, but after the group was over I felt I hadn't concentrated on the front sight well enough.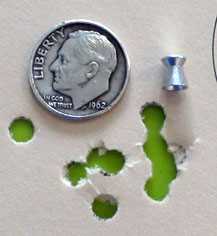 Ten Sig Match Ballistic Alloy pellets made this 1.027-inch group at 10 meters. The first 5 shots were almost half that size.
This is so much larger than the 10-shot group I shot with the same pellet in Part 4 that I knew something wasn't right. In fact, that earlier 10-shot group was probably smaller than the first 5 shots on this day. I had to try again.
Sight adjustment
The Sig pellets hit to the left and a little below the aim point, so I adjusted the rear sight right and up. I also decided to just shoot 5-shot groups from this point so I could maintain my concentration on the front sight. This group did move up and to the right a little, but not as far as I had hoped. However, by concentrating on the front sight I managed to put 5 rounds into 0.328-inches at 10 meters. That's a group!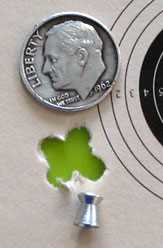 On the second try, 5 Sig Match Ballistic Alloy pellets made this 0.328-inch group at 10 meters. It's the best of the test.
On a roll?
I hoped this group was a forerunner of great things to come. I wanted to try a domed pellet next.
Air Arms Falcon
Next up was the Air Arms Falcon dome. I shot them in the velocity test after the lube (Part 6) and they did very well. But not on paper! Five Falcons made an astonishingly large 1.769-inch group at 10 meters.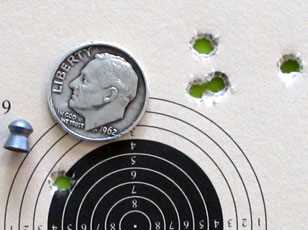 Five Air Arms Falcons went into 1.769-inches at 10 meters.
POI change
That is a horrible 10-meter group, but look where its center is. It's high and to the right of the center of the bull. I did not change the sights after the last group of Sig pellets This is what I meant when I said at the beginning that today's test took me back to my early days with spring-piston air rifles. In those days you had to test all pellets — both for accuracy as well as for the point of impact. Each pellet had the potential to land in a completely different place, and you never knew where that was unless you tested them all. This B3 is from that time period, so I guess it's performing like the old rifles did.
RWS R10
Since the Sig Match pellets are so accurate I wondered whether other match pellets might also be good. Of course I'll never know unless I test them all, but for today's test I shot the RWS R10 Match Pistol pellets. While they are still expensive, they are half the price of the Sig Match pellets, so I was hoping they would be good in the B3.
Five R10 pellets went into 0.361-inches at 10 meters, which makes them very accurate. On top of that, they moved to almost dead-center on the bull without any sight adjustment! This group is dramatic in two ways!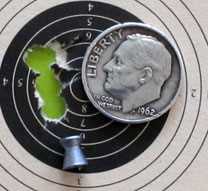 Five RWS R10 Match Pistol pellets made this 0.361-inch group that's very close to being centered.
Best for last
The B3 rifle is showing a level of accuracy I have never seen in any other Chinese underlever from this timeframe. I have heard people make claims like this, but I always wrote them off as random groups. Now I see different. But I still wondered whether I could get accuracy with a domed pellet that I would be more likely to shoot in this rifle, and also one that is more affordable.
JSB Exact RS
The pellet that came to mind was the JSB Exact RS dome. They are a premium pellet, but also affordable to those who value accuracy. They are often accurate in lower-powered spring guns, which the B3 certainly is. They seemed perfect for this test.
Five RS pellets went into a group measuring 0.421-inches between centers at 10 meters. And just as good, they went high and are almost exactly centered with the bull. That means I can adjust the rear sight back down and be perfectly sighted in. This is the pellet for the B3!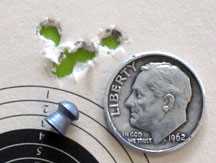 Five JSB Exact RS pellets landed in a group measuring 0.421-inches between centers at 10 meters. Better than that, the group is almost centered, left to right, and about 1.2-inches high.
Notice how much the groups have shifted around the target since I did the one and only sight adjustment after the first 10-shot group with Sig pellets. I wasn't expecting to see so much movement, but it brought back the good old days when this was the way pellets behaved.
Summary
This has been an interesting journey. I took a cheap Chinese air rifle that wasn't worth $30 when new and installed a new breech seal in 15 minutes without disassembly. That got the old girl back on her feet. Then I lubed it to the point of smooth shooting. I did lose a significant amount of speed with the Tune in a Tube, but the gun still shoots in a comfortable place for me. And it is now very calm.
I found not one but three good pellets. Who knows how many others might still be out there? I had planned to end the series with today's test, but after seeing these results I want to back up to 25 yards and have one more go. So, stay tuned!