by Tom Gaylord
Writing as B.B. Pelletier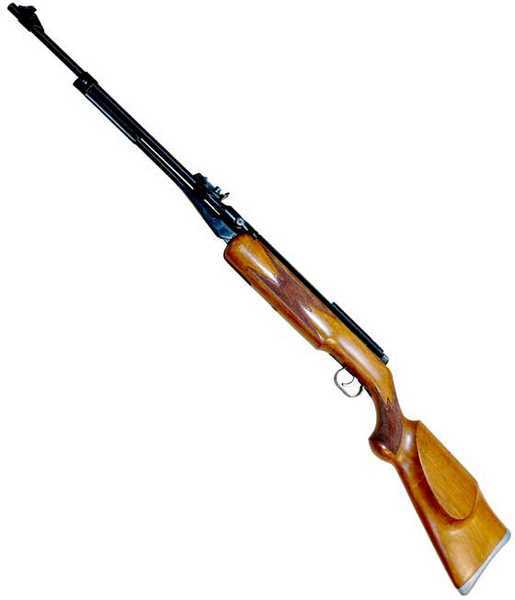 BSF S54 target rifle.
This report covers:
Insert
The test
Sight-in
H&N Finale Match Light
H&N Match Green
Sig Match Ballistic Alloy
Why so much better?
Finale Match Light again
One last time
10-meter rifle?
Summary
I said the next step with this BSF S54 was a teardown and lube tune with Tune in a Tube, but I changed my mind. The front sight insert I bought from Chambers arrived and I wanted to give it a go first. I'm glad I did, as you will learn later on.
Insert
Remember, I told you that T.W. Chambers in the UK has some front sight inserts for the S54? RidgeRunner wondered if there was an aperture or ring insert for the front and I thought there might have been, so I looked. Sure enough there was and I ordered one.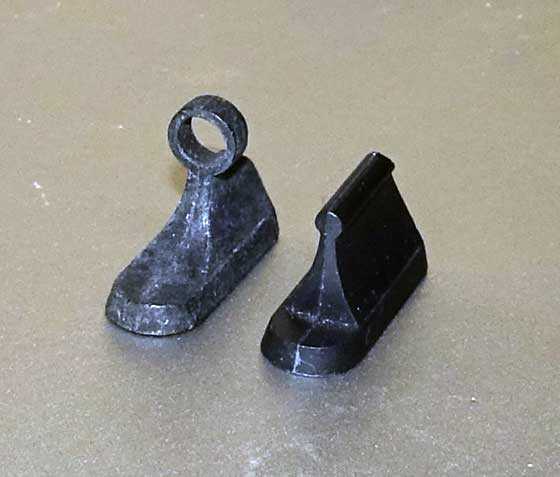 The new ring insert, left, will circle the black bull and hopefully give a more precise aim point.
The test
I shot 5-shot groups at 10 meters on a sandbag rest from the bench. I used the artillery hold with my off hand resting under the rear of the very short cocking slot. This time I noticed that the butt of the rifle slides down off my shoulder when I'm in in this position and I had to reposition the rifle many times. I may have to fashion a suede cover for the butt to stop this. Fortunately I know someone who works with leather.
Sight-in
The rifle was shooting high with the new insert. It took 5 shots to get on target. I'm pleased to announce that new/old target peep I got works beautifully!
H&N Finale Match Light
First up were Finale Match Light pellets with 4.50mm heads. Five pellets went into a group that measures 0.305-inches between centers at 10 meters. The group is fairly well centered on the target but a little too large to get excited.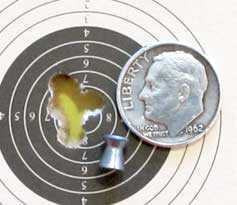 The BSF S54 put 5 H&N Finale Match Light pellets in a 0.305-inch group at 10 meters.
H&N Match Green
Next up were 5 H&N Match Green pellets. They hit an inch below the aim point, but I didn't adjust the sights because I knew I was coming back to Finale Match Lights. Five H&N Match Greens made a 0.331-inch group at 10 meters. As you can see, I had to leave the target taped to the backer board to measure this group.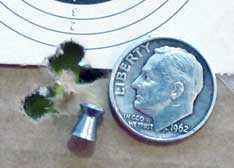 Five H&N Match Green pellets made a 0.331-inch group at 10 meters.
Sig Match Ballistic Alloy
Even though they didn't do so well in Part 3 I had to try Sig Match Ballistic Alloy pellets with the new sight insert. They also grouped an inch low on the target and this time they made the best group of the test. Five went into 0.242-inches at 10 meters.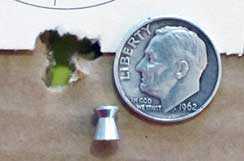 Five Sig Match Ballistic Alloy pellets made this 0.242-inch group at 10 meters.
Why so much better?
In Part 3 I shot 5 Sig Match Ballistic Alloy pellets into 0.792-inches at 10 meters. That group was so large that I didn't bother testing them again in Part 4. I only tested them today because I thought they might be better than that — which they were.
However — more is going on than just the new sights! This BSF S54 rifle is so hard to cock (for a 10-meter target rifle) that's it's starting to get to me. It took the sight-in and the first two groups to get settled in, which is one reason this Sig group is so small. But I'm also getting tired.
The cocking is harder than it needs to be, but it isn't what I'm having the problem with. It's the trigger. The trigger is variable and sometimes stops at stage two positively and other times just goes off as though it was a single-stage trigger. It's hard to shoot my best when that is happening. The extra concentration that I need to get the perfect sight alignment before I start pulling the trigger seriously is what's really wearing me out.
I need to try to get this trigger more uniform in its release. If it wasn't a BSF trigger that might be easy, but as I have mentioned, the BSF trigger is variable. I will lubricate it when I tune the rifle and hopefully that will straighten things out.
Now, given the group you just saw, I'm sure many folks think I should adjust the sights and keep shooting the Sig pellets. But those H&N Finale Match Light pellets did so well last time that I wanted to continue with them.
Finale Match Light again
The next group is a heartbreaker. Four Finale Match pellets went into 0.147-inches at 10 meters. It looked like trime-time — EXCEPT! Shot number 4 landed high and right, opening the group to 0.862-inches! Whaaaat???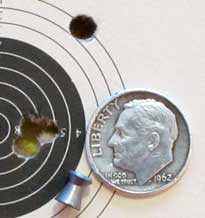 Four H&N Finale Match Light pellets went into 0.147-inches at 10 meters and one pellet opened the group to 0.862-inches. What a heartbreaker!
I swear I was holding all shots to the best of my ability! The rifle must have touched something that caused it to recoil in a different direction for that one shot because shot number five went back into the same small group as shots 1 through 3.
One last time
I was pretty tired by this point from all the concentration on the trigger. But I gave it one final go. And my target shows how I was feeling. Five are in 0.616-inches, with 4 in 0.292-inches. It's official — I'm done!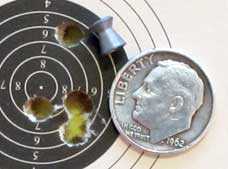 Five Finale Match Light pellets went into 0.616-inches at 10 meters, with 4 in 0.292-inches.
10-meter rifle?
I don't have the proof yet, but I'm starting to think this BSF S54 might be able to hold its own against the other top 10-meter spring-piston target rifles of its day — guns like the HW55M, the FWB 300 and the Walther LGV. It might be that the S54 is just harder to shoot well because it's so powerful and it vibrates a lot when shot. Well, I'm planning on fixing that! So we shall see.
That's so strange, because I never gave this rifle that much credit. The loading tap and what I thought was a loose front sight element (turned out to be just the hood over the sight) were two good reasons I thought an S54 wasn't in the same class as the besties. But maybe it was/is. I hope to find out.
Summary
I have learned a lot about this rifle since I decided to spend some time with it. And, thanks to Chambers for having the parts I needed to make the rifle perform its best. I have a little comparison test planned for the future where the S54 gets pitted against my other vintage target rifles in a great shootoff. But first I have some things to do.