by Tom Gaylord
Writing as B.B. Pelletier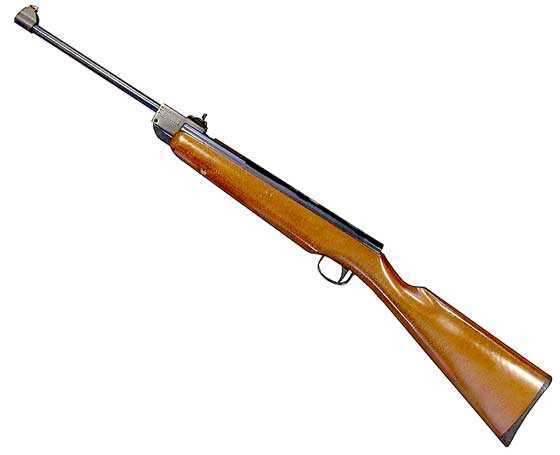 My new Beeman C1 is a .177.
This report covers:
Baseline
H&N Baracuda Match 4.50mm
RWS Superdome
RWS Hobby
Discussion 1
Trigger pull
Cocking effort
Discussion 2
Summary
The Beeman C1 I am testing is the airgun I acquired at the Texas Airgun Show this year. In Part one I noted for you all the shortcomings I could find with the rifle, which were many. These are the things I will address as this report advances. So, we will look at velocity today, but not accuracy until I straighten the bent barrel and tune the powerplant.
Baseline
Today's test will just establish where things are at this time. Now before we start testing, I want to say a few things. Reader David Enoch said he thought detuning this rifle to shoot a little slower might be a good idea. He was looking for a rifle that cocks easily. I hadn't thought of that, but it doesn't seem wrong.
The C1 doesn't have an adjustable trigger. It's a light trigger and we will find out how light this one is today. But a small rifle that's accurate and easy to cock is a very nice thing. It's the reason I like the Diana 27 so much. The C1 is larger than the Diana 27, but still small enough to be considered handy, so I'm going to give this idea some thought. Until we open her up and see what's inside I really don't know where we are yet.
Okay, let's see what she's doing today. This is a .177 caliber rifle that Beeman touted as an 830 f.p.s. airgun. We'll see.
H&N Baracuda Match 4.50mm
I started with the heavy H&N Baracuda Match pellet with a 4.50mm head. This pellet weighs 10.65-grains and in the C1 it averaged 647 f.p.s. That produces a muzzle energy of 9.9 foot-pounds. The 10-shot string ranged from a low of 637 to a high of 655 f.p.s., so the spread was 18 f.p.s.
We know that in spring-piston airguns the lighter pellets are usually more efficient, so they should be slightly more powerful as the weight decreases. The C1 is a vintage spring gun that should prove the rule. Let's see.
RWS Superdome
The 8.3-grain RWS Superdome was next to be tested. Ten Superdomes averaged 732 f.p.s. for an average muzzle energy of 9.88 foot-pounds. So the power "rule" doesn't play out with this pellet.
The velocity ranged from a low of 722 to a high of 740 f.p.s. That's a spread of 18 f.p.s. — again. Interesting.
RWS Hobby
Without a doubt the RWS Hobby was the pellet Beeman used to test the C1, back in the day. It was the lightest lead pellet generally available here in the U.S. at that time and was always used for velocity tests.
In the C1, Hobbys averaged 806 f.p.s. for 10 shots. That's a muzzle energy of 10.10 foot-pounds, so the power rule holds true with this pellet. The spread ranged from a low of 793 to a high of 817 f.p.s. That's a difference of 24 f.p.s.
Discussion 1
I am surprised this C1 is as powerful as it is. I would have bet against it, given how light the cocking effort seems to be.
There is a small bit of vibration with each shot, but by the standards of the day when the rifle was made it's not much. We don't have to put up with it today, and I don't intend to, but I'm saying the powerplant may be in better shape than I imagined at first.
Trigger pull
The single stage trigger breaks at 3 lbs. 3 oz. It's fairly crisp and has very little perceptible creep. I will look at the condition of the mating trigger parts and at least lubricate them when I'm inside the gun.
Cocking effort
The C1 has a strong chisel detent that requires a slap at the muzzle to open easily. You can break it with just your hands, but the slap makes it go faster. Once broken open the barrel is very loose and flops around. I do want to tighten the barrel pivot if I can.
The rifle cocks with 26 lbs. of effort. It should be about 35 lbs.  The cocking stroke is smooth all the way through. David Enoch, I think this rifle is what you want right now if I can fix those other things. If the mainspring is still straight I will leave it in the rifle. But if it's canted I will replace it, because a canted spring causes buzz.
Discussion 2
I will be interested to see the piston seal, because the one in this rifle is made of Teflon. It doesn't have a parachute lip; it's just a solid white hockey puck.
Summary
This is as far as I can take the C1 before I straighten the barrel. So the next installment may take some time, because a lot of things might have to happen before I can write it.