by Tom Gaylord
Writing as B.B. Pelletier


Air Arms S510XS Ultimate Sporter with Laminate Stock.
Part 1
Part 2
Part 3
Meopta MeoPro Optika6 3-18X56-scope: Part 1
Part 4
Part 5
Part 6
This report covers:
50 Yards
Shot like a TX200 Mark III
Field target rifle
Pro-Sport
On with today's report
The test
Air Arms 16-grain domes first target
Oh, oh!
JSB Exact Jumbo
JSB Exact RS
Summary
Today is the final report on the Air Arms S510XS Ultimate Sporter with Laminate Stock, but this isn't the last time you will see it. This rifle is almost or even just as accurate as my TalonSS from AirForce Airguns, and this one is a repeater with an adjustable trigger! So I am buying it to use as a testbed for .22 caliber pellets. I will leave the Meopta Optika6 mounted in the Sportsmatch 30mm high adjustable scope mounts so it is always ready to go. And I will buy an aftermarket Foster adaptor to get away from the proprietary Air Arms fill adaptor.
50 Yards
Today I will shoot the rifle at 50 yards. I normally go to my gun club for this, but this time I went to the Arlington Sportsman Club where the Texas Airgun Show is held each year. Jeff Cloud, the show organizer, had been touting his HW97 underlevers to me for over a year, after hearing of my problems with them. He brought several of them out to show me and also to let me shoot.


Jeff Cloud's HW97 in a laminate stock.
Shot like a TX200 Mark III
Jeff told me he had tuned this 97 with a Vortek kit, and I must say — it shot as smooth as a TX200 Mark III! I can't say whether it is as accurate, but it probably is. We had some swirling wind on the 50-yard range that was playing havoc with .177 caliber pellets. We would get two in the same hole and then the third 1.5 inches away. But the rifle cocked easily, and the Rekord trigger was adjusted very nice.
I once owned an HW97K and I also tested a second one and I found both of them lacking. I was comparing them to my HW77K that had been tuned and it was smooth and powerful, where both 97s were buzzy and weak (under 12 foot-pounds). That Vortek kit and the way Jeff installed it made all the difference!
Field target rifle
Jeff also brought out another HW97 that was tuned by Dave Slade. If you have been an airgunner for a few years you have probably heard of Dave. His tunes are superb!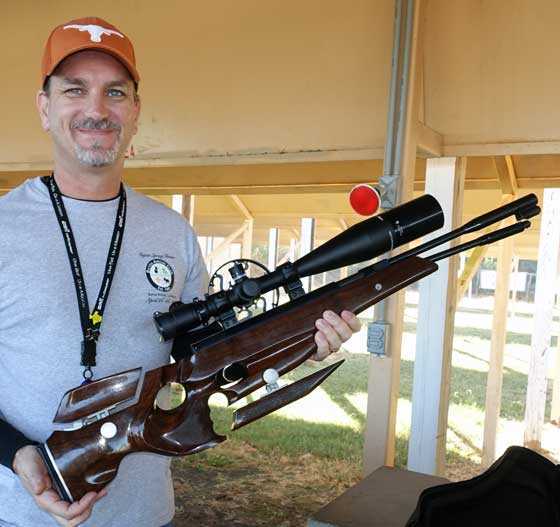 You would smile too, if you had an HW97 like Jeff Cloud's!
This rifle sits in a field target stock and Jeff uses it to shoot in the Hunter class I believe. I may not have heard him right on that. It wasn't sighted in so he wasn't able to see what it could do after the tune, but he did say it shot quite smoothly.
I didn't shoot that one because it wasn't sighted in and also because you don't shoot another man's field target rifle. But I did shoot another rifle of his that was even better, in my opinion. Jeff didn't know it, but until he told me this was one of his favorite rifles I was prepared to make him an offer for it. And it is another rifle I have panned in this blog several times — the Pro Sport!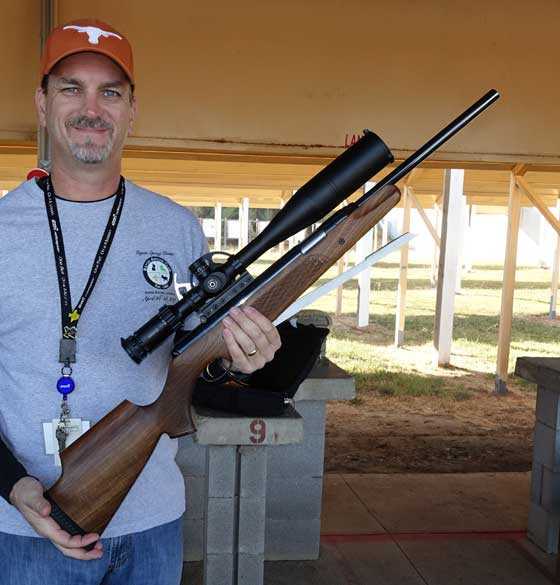 Jeff Cloud's Pro Sport is in a beautiful walnut stock.
Pro-Sport
Jeff tuned this rifle with a Vortek kit, too, and overcame all the reasons I don't like the rifle — or didn't before shooting this one! The Pro-Sports I have shot all had two things against them. First, they took an additional 10 pounds of cocking effort to overcome the location of the fulcrum of the shorter cocking lever. And second, they have all buzzed. But Jeff's rifle cocks as easily as my own TX200 Mark III and is equally smooth. And the trigger breaks at an estimated three ounces! I didn't have a gauge to test it, but it's not half a pound. Like the 97 I couldn't get it to group because of the wind, but I have no doubt that it can.
When we were done shooting airguns Jeff and I went to the pistol range and shot my Sig P365, Sig P320 M17 and my CZ75 Shadow SP01 firearms. I seldom get a day of fun like this, where I can just shoot and forget about things. It was so refreshing!
On with today's report
But I really did shoot the S510 at 50 yards. That was one of the big reasons I went. Yes, I had to buck the same swirling wind, but the 510 is a .22 so it can do that a lot better.
The test
I shot at 50 yards with the rifle rested on a sandbag. I bumped the power up one notch, to make it one notch below maximum, both because of the distance and also because of the breeze.
Air Arms 16-grain domes first target
I was all set to see all ten pellets go into a single group, so the first group of Air Arms 16-grain domes was disappointing. Three pellets wandered out from the main group, opening it to 0.973-inches between centers. The other 7 pellets are in 0.527-inches, which is very good for 50 yards. My Talon SS can only put 10 in 0.6-inches at 50 yards on a perfect day.

The first group of Air Arms 16-grain domes went into 0.973-inches at 50 yards, with 7 of them in 0.527-inches.
The Meopta scope is so clear that even though I could not see the 10-dot on these targets out at 50 yards, I did see where the center of the target was, and the crosshair was clear against it. I'm sure that helped the accuracy. I'm really happy with the clarity of that scope!
Oh, oh!
On my 6th or 7th shot at this first target it suddenly dawned on me that I hadn't filled the rifle since the last test. As far as I could tell, the rifle already had 20 shots on the last fill and was off the power curve. So I filled it and loaded 10 more Air Arms domes.
The second group was more like what I expected from this fine rifle. Ten Air Arms 16-grain domes went into 0.822-inches at 50 yards. This time there are no stray holes. This group is a little larger than I like from a premium PCP at 50 yards, but with the wind swirling like it was I doubt my TalonSS could do much better.

This group of 10 Air Arms pellets measures 0.822-inches between centers. Notice how horizontal it is? That's the swirling wind.
JSB Exact Jumbo
With that group under my belt I loaded the magazine with 10 JSB Exact Jumbo pellets. These look very similar to the Air Arms domes and we know that JSB makes both of them. At 25 yards previously this pellet did almost as good as the Air Arms pellet, but at 50 yards on this day there were two fliers. The 10-shot group measures 1.257-inches between centers with 8 of them in 0.821-inches.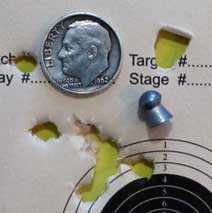 Ten JSB Exact Jumbos went into 1.257-inches at 50 yards, with 8 in 0.821-inches. No doubt the wind played a part again.
JSB Exact RS
The last pellet I tested was the lightweight JSB Exact Jumbo RS. At 25 yards indoors these pellets did very well, but out in the swirling wind at 50 yards on this range I wondered if they could keep it up. Not really. The first shot hit the bull almost in the center, but the remaining shots went high and wide. Ten shots are in a group that measures 1.525-inches between centers. The RS is just too light for such a breezy day.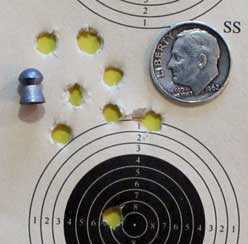 Nope! JSB Exact Jumbo RS pellets did not do well in the wind. Ten shots in 1.525-inches at 50 yards.
Summary
I find the Air Arms S510XS rifle to be a top-notch performer in all respects. It is very adjustable, the regulator handles air well, it's powerful and accurate. Of the four power settings, the top three work well.
This is an expensive precharged air rifle, but it's a repeater, it's accurate, it adjusts for the shooter's build over a wide range of options and the trigger is good. It's also reasonably quiet. This is the sort of air rifle you save up for, because it does deliver all that you expect from an air rifle in this category.