Seneca Dragonfly Mark 2 multi-pump rifle: Part Fifteen
Part 1
Part 2
Part 3
Part 4
Part 5
Part 6
Part 7
Part 8
Part 9
Part 10
Part 11
Part 12
Part 13
Part 14
This report covers:
The test
10 pumps
11 pumps
12 pumps
13 pumps
14 pumps
15 pumps
The final group
Discussion
Summary
Today we test the Seneca Dragonfly Mark 2 for accuracy with 10 to 15 pumps per shot. It should prove interesting.
The test
My plan today is to pump the rifle 10 to 15 times per shot to shoot 5-shot groups with this pellet. That gives us 6 groups to consider and I will shoot one extra group at the end — so seven groups in all.
I'm shooting off a sandbag rest at 25 yards indoors. The Dragonfly is rested directly on the bag. The rifle is scoped with a UTG Bug Buster 3-12X32 scope that was zeroed in Part 13. I have purposely not centered the shots inside the bullseye to preserve the aim point. And I did not touch the scope adjustments today. I'm using the Air Arms 16-grain dome that my rifle seems to like the best. Okay, let's begin.
10 pumps
On ten pumps the Dragonfly put five pellets into a 0.237-inch group at 25 yards. It's nice and round and it looks like just three shots but I swear there were five. It's the best of today's test and the second-best of the entire test.


Ten pumps on the Dragonfly produced this 0.237-inch group at 25 yards.
11 pumps
On 11 pumps the group dropped just a bit and five pellets are in 0.429-inches between centers. This is also a roundish group.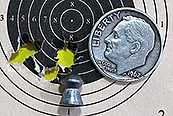 On 11 pumps the Dragonfly Mark 2 put five pellets into 0.429-inches at 25 yards.
12 pumps
On 12 pumps the group seemed to drop a little lower. Five pellets made a group that measures 0.494-inches between centers. And this group is a bit vertical.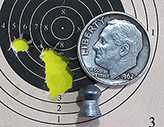 On 12 pumps the pellets dropped just a little lower Five shots are in 0.494-inches between centers at 25 yards and this one is a bit vertical.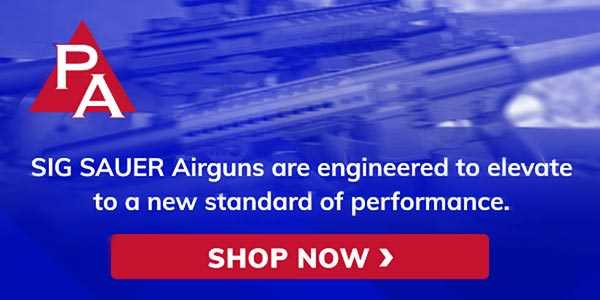 13 pumps
Now it's getting serious. I would never pump the rifle this many times if I wasn't doing this test. The pumps strokes aren't getting harder but there sure are a lot of them. I also checked to make sure that all the air was exhausting with the shot by cocking and dry-firing. The gun was empty.
This time the pellets dropped significantly. Five shots are in 0.516-inches between centers at 25 yards.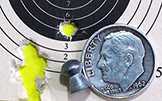 On 13 pumps the Dragonfly put five pellets into 0.516-inches at 25 yards.
14 pumps
I'm sweating as I pump now. This really is aerobic! And once again I dry-fired the rifle to be sure that all air was exhausted after the shots. I didn't do this every time, but a couple times as I shot.
The shots didn't drop any lower — thank goodness! Five shots grouped in 0.356-inches between centers.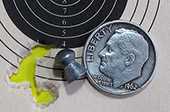 On 14 pumps the Dragonfly Mark 2 put five Air Arms 16-grain domes into a 0.356-inch group at 25 yards.
15 pumps
Now it was time for the full 15 pumps. They put five pellets into a 0.297-inch group — the second-smallest of today's test (with the exception of what is about to come). As before I tested for leftover air and there was none.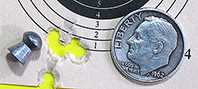 With 15 pumps the Dragonfly put 5 pellets into a 0.297-inch group at 25 yards.
The final group
What's this? Another group? Yep. I wanted to see if the rifle was still accurate on five pump strokes, which gave the smallest group so far. It was just 0.196-inches between centers. And what was it this time, after I had pumped the rifle 375 times?
This time five pumps put five pellets into a 0.277-inch group at 25 yards. I aimed at the letter N in the target title and on shot two I blew it away — so the scope adjustment hasn't changed.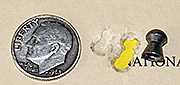 On five pumps the Dragonfly still drills them where it's aimed.
Discussion
The best group in this test, going from 4 pumps per shot to 15 pumps, was 5 pumps. Five shots went into 0.196-inches between centers at 25 yards. Second best was 10 pumps and 0.237-inches and third best was 8 pumps and 0.293-inches. That leads me to say that 8 pumps is probably the best for max power, convenience and accuracy and 5 pumps for absolute accuracy. And that is, of course, only for this one pellet.
The rifle performed flawlessly throughout this test. It was pumped a total of 575 times for all the groups. That includes the last 5-shot group for today. The scope remained in place and the zero held.
Remember that I said that this test could engender other tests? Well it has. I think I would like to replicate the best and worst groups — by using the same number of pump strokes. I'll give you a rest for a little while, but that's my thinking.
Summary
I like this air rifle.
Tom Gaylord is known as The Godfather of Airguns™ and has been an airgunner for over a half-century, but it was the 
Beeman
 company in the 1970s that awoke a serious interest in airguns. Until then, all he knew were the inexpensive American airguns. Through the pages of the Beeman catalog, he learned about adult airguns for the first time. In 1994, Tom started
The Airgun Letter
 with his wife, Edith. This monthly newsletter was designed to bring serious reports about airguns to the American public. The newsletter and
Airgun Revue
, a sister magazine about collectible airguns, was published from 1994 until 2002, when Tom started
Airgun Illustrated
-- the first American newsstand magazine about airguns. Tom worked for three years as technical director at
AirForce Airguns
, the makers of the 
Talon, Condor, and Escape
 precharged air rifles. Today, he writes about airguns and firearms for various publications and websites. He also makes videos, and you'll find short clips embedded in some of his artices on Pyramyd Air's website. Tom is a consultant to Pyramyd Air and writes under the name of B.B. Pelletier.