by Tom Gaylord, a.k.a. B.B. Pelletier
Today's report is a guest blog from reader Paul Hudson. It It's his evaluation of the Crosman 622 repeater.
If you'd like to write a guest post for this blog, please email me.
Over to you, Paul.
The Crosman 622
by Paul Hudson
The Crosman 622 is a rarity — a slide-action CO2 repeater.
The Crosman 622 is a repeating slide-action CO2 pellet rifle. It was produced from 1972 to 1978 in .22 caliber only. It uses the familiar 12-gram Powerlets and has a rotary clip that holds six pellets.
There have been only a few other slide-action repeaters available in the recent past — the Gamo Extreme CO2 and the Shark roundball repeater made in Argentina are two examples. The Gamo uses an 88-gram cartridge, and the Shark is a bulk-fill gun.
This particular 622 belongs to my brother-in-law's friend. It had not been fired for many years and was in need of a resealing. The old factory lube had turned to hard wax, and several hours of cleaning was required to get everything in working order.
Due to its design, the 622 did not develop a reputation for durability. The valve body is made of two parts held together with a single screw and is prone to breakage. A second bolt or pin can be added to the bottom of the valve body to greatly strengthen the assembly. Another problem was the tendency for the gun to jam with certain pellets; this can happen if the muzzle is elevated when the slide is cycled. Some pellets (depending on their shape) can back out of the clip enough to prevent it from rotating. Keeping the gun pointed down will help prevent this. Possibly due to this problem, Crosman added a lever to the receiver of later 622s to aid removing stuck clips.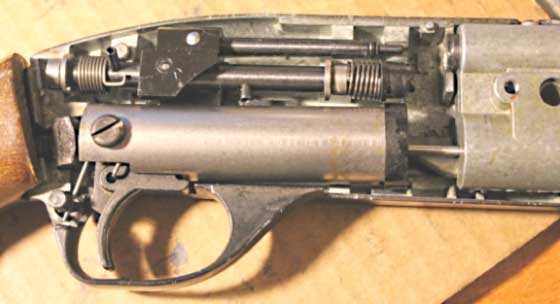 There are many parts in the 622′s receiver. The large, rectangular casting on the right is the valve body, and it's prone to breakage. The probe is near the top of the receiver and is in the rearmost operating position. In the middle is the rotating rod that advances the clip. The large cylinder on the bottom houses the striker.
The 622 is large enough not to feel like a toy. It's 40.5 inches long with a 13.5-inch length-of-pull, so it's adult-sized. The blued barrel is 23 inches long, and the gun weighs 6 lbs. without a scope. A square post front sight and a square notch rear sight come from the factory, and they're entirely suitable for the ranges at which the gun would be used. The painted receiver is made of two die-cast pieces and is grooved for mounting a scope. While the paint isn't the greatest finish, no complaints can be made about the blueing on the barrel and gas tube. It's very well done for a low-priced gun. Both the stock and forearm are made of varnished hardwood that has a very straight grain. The receiver is only about an inch thick, and the gun does not feel bulky; combined with the light weight, it's a perfect plinker and can be carried for hours.

The rear sight is a simple square notch and is adjustable for elevation and windage.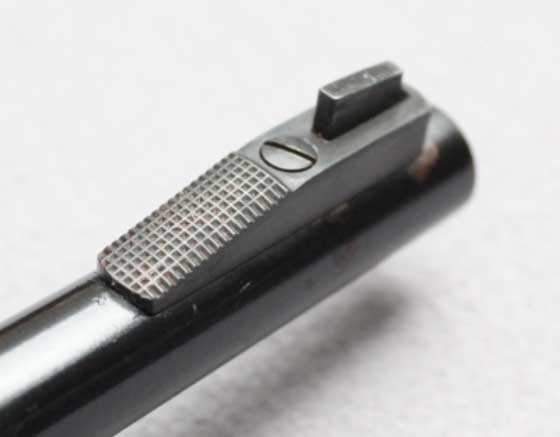 The front sight is a square post. The ramp is textured to prevent glare.
A manual safety is mounted behind the trigger; it's very similar to the unit on many other Crosman models. The single-stage trigger was a pleasant surprise. It isn't adjustable…but it's fairly smooth, mostly creep-free and breaks at a consistent 2 lbs., 2 oz. For an inexpensive airgun, it's quite good. Holding down the trigger while cycling the action lets the striker travel forward with the slide; it will not fire the gun.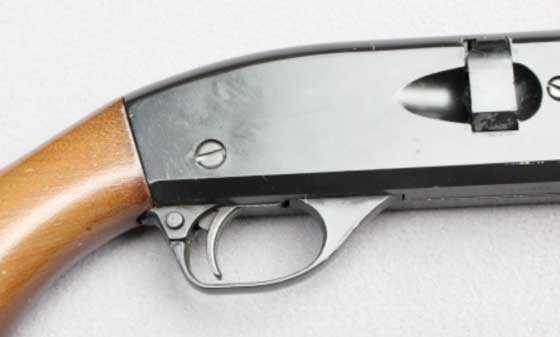 The trigger features Crosman's typical cross-bolt safety and is surprisingly good.
The rotary clip
The 622′s 6-shot rotary clip is easy to load and fits entirely within the receiver; it will not interfere with a scope or catch on anything during handling. Unfortunately, the clip accepts pellets with a max length of 0.275 inches. This prevents longer domed pellets and pointed pellets from being used. All wadcutters fit, and most cycle fine.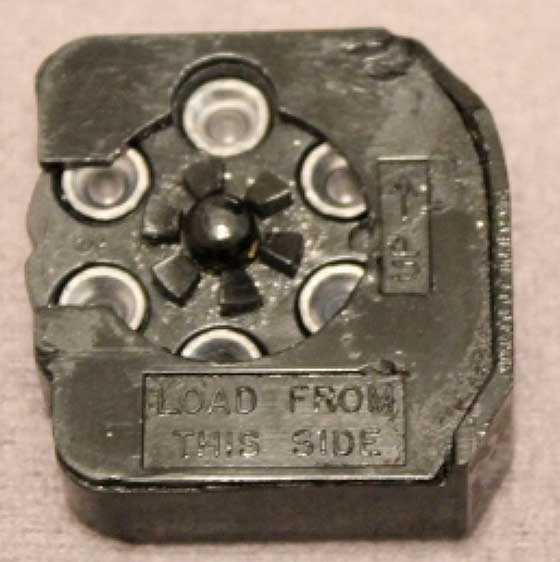 Rear view of the clip. Pellets load easily from this side.

The thin clip will not accept pellets over 0.275 inches long. The Baracuda Hunter is about the longest pellet that fits.
To charge the 622, the end cap of the lower tube is removed. A CO2 cylinder is dropped in nose-first (don't forget a drop of Pellgunoil on the tip), and the end cap is replaced. As the cap is tightened, a slight hiss will be heard as the cartridge is pierced. Further tightening should not be needed. Since the CO2 cylinder seats against a flexible seal, it should be removed after shooting. A single cylinder was good for 36 shots, or 6 full clips. A two-cylinder lower tube, similar to that of the Crosman 160, was available for a time; but this was an aftermarket part not supplied by Crosman.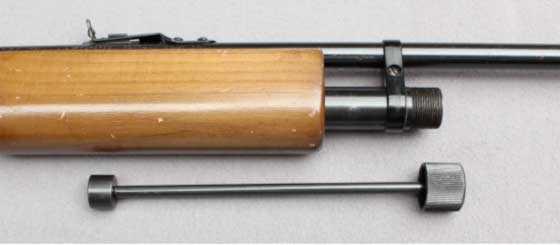 A single CO2 cartridge is used in the long gas tube.
Performance
The 622 was rated by Crosman at 450 fps; this gun exceeded that rating with all tested pellets. The temperature was around 90 degrees during shooting.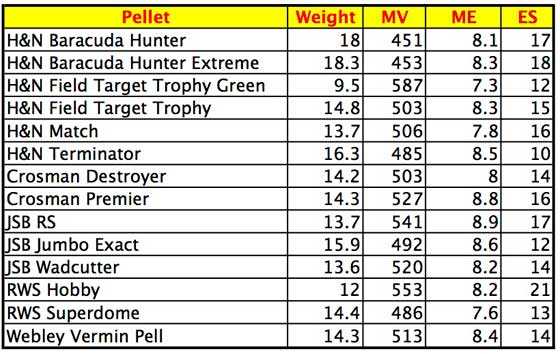 MV=muzzle velocity (fps), ME=muzzle energy (ft-lbs), ES=extreme spread (fps)
Getting the best accuracy from the 622 is a bit of a challenge. The forearm uses a single operating rod and can slightly rotate around the lower tube. This allows the gun to move upon firing if it's held by the forearm. For best accuracy, support the 622 just ahead of the receiver by holding the gas tube. This is really a minor point; the 622 is not a long-range target gun — it's a plinker, and one of the most entertaining ones at that.
10-meter groups with open sights
All pellets tested were more than accurate enough at 10 meters for plinking and informal shooting. Groups are 6 shots since that's the magazine capacity. Here are a few of the best performers: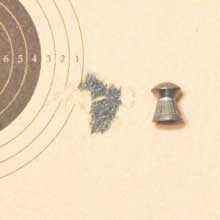 The RWS Superdomes gave a nice, round 0.31-inch group at 10 meters.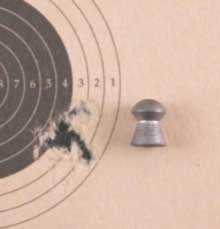 The 15.9-grain JSB Exact Jumbos made this 0.27-inch group at 10 meters.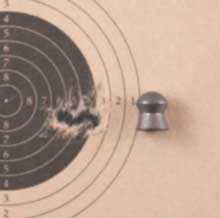 At 10 meters, the Beeman Field Target Specials produced the best group at 0.24 inches.
25-yard groups with a scope
The factory open sights just aren't precise enough to produce the best accuracy at 25 yards. I mounted a simple 4x Leapers scope for these groups. Most pellets gave groups in the inch to inch-and-a-half range. There were a few standouts, however: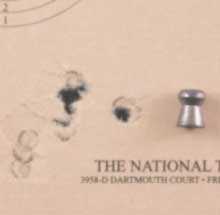 Six H&N Baracuda Hunters made this 0.84-inch group at 25 yards.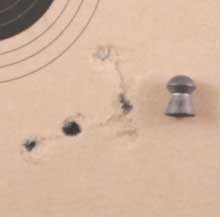 The 15.9-grain JSB Exact Jumbos also performed well at 25 yards with this 0.79-inch group.

The most accurate pellet at 25 yards was the Crosman Premier. Six pellets made this 0.57-inch group. There are three pellets in the lower left hole, two on the right, and one high and left.
Summary
While the 622 isn't the best engineered or most accurate airgun Crosman ever made, it's still an interesting piece. There have been only a few slide-action airguns produced; and for plinking, the rapid-firing provided by a slide-action really ups the fun factor.
Many 622s are still in circulation, and they regularly show up at airgun shows and on auction sites. Lack of attention from collectors has kept the price reasonable. One caveat is to make sure the gun includes the clip — they fetch about 25 dollars apiece. It's possible to load the rifle singly, but it's tedious.
by Tom Gaylord, a.k.a. B.B. Pelletier
Photos by Earl "Mac" McDonald
The SHOT Show is not a gun show — though that is what many attendees call it, and the mainstream media that doesn't attend also calls it that. Instead, it's a happening — to use a 1960′s term. Or it's a Middle Eastern open market. The big booths house the recognized names like Colt, Winchester and Crosman. Their booths are two stories tall with signs hanging from the ceiling that you could see a mile away if there weren't other signs hanging in front of them.
But the real drama of the show isn't at those booths. People already know what to expect in those places. It's the little out-of-the-way booths hugging the walls that have the surprises. I always set aside some time just to cruise the aisles, looking for some rocks to turn over.
I'll be walking along a narrow aisle and someone will step out to stop me. Then, in a conspiratorial tone, he leans over and says something like, "Don't you just hate it when your ice cubes melt and dilute your drink? Cold Bars have solved that problem forever. These are sanitized stainless steel bars that retain the cold almost as well as water, plus they're reusable forever. Put three of these in your scotch and soda, and it'll be as fresh and strong after 20 minutes as when it was poured. When you finish the drink, just pop them in the freezer for 10 minutes…and they're good to go again. While you wait, you use the second set of three bars in your next drink! Nothing could be easier."
This guy is serious! You look at his spartan booth and realize that he has poured everything into this venture because at some point watery drinks pushed him over his tipping point. When he bounced the idea off his wife and friends, they all agreed it was the next big thing. They had no idea he would mortgage the house and put his life savings into it!
So, here he is, in a narrow aisle of a large trade show, hawking his brains out to people who, for some reason, just don't seem to get it. Who doesn't want cold, undiluted drinks?
Think I'm exaggerating? Attend a trade show and walk the aisles some time.
Why do I plod through these pathways of personal misery? Because next to the stainless steel ice cube booth there 's the G+G Airsoft booth that has the best action target I've seen in a long while. It's a lighted rubber hemisphere that's computer-controlled to react to being hit by an airsoft BB. You can turn the light on or off, depending on how you have programmed it.
They call it the MET Unit, which stands for multifunctional electronic target. It can exist as one single target or they can be strung together in up to 25 targets for a prolonged target array.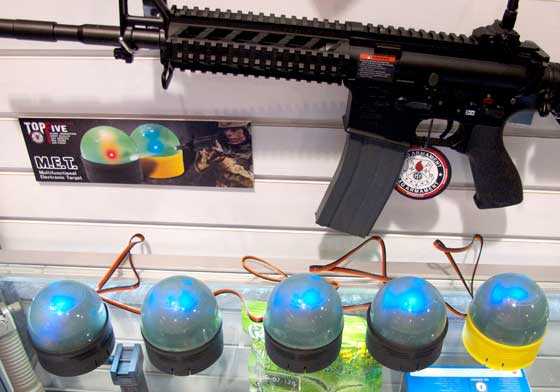 The MET Unit is from 1 to 25 programmable lights that turn off or on when hit by an airsoft BB.
The wires between targets can be up to 50 meters in length, which allows them to be set up in a tactical course and either light up at some random time until hit or stay on for a programmed time and go off after the time is up or when hit. Two competitors can shoot at the same target and change the color of the lights when they hit it, establishing a duelling target.
The individual target will sell for $66 or 5 for $250. It looks like a great way to have fast-action fun with airsoft guns. They can take hits from AEGs shooting 0.20-gram BBs at up to 450 f.p.s. Naturally, they're not robust enough for even the lowest-powered steel BB or pellet guns.
Umarex
Umarex is now branding airguns under their own name. This year, there are three new long guns: the Octane is a breakbarrel with a Reaxis gas spring and SilencAir, which is a baffled silencer; the Surge is an entry-lever springer breakbarrel; and the Fusion is a CO2 pellet rifle, and it also has the SilencAir noise dampener. We've seen the Fusion before, branded as the Ruger LGR, but Umarex tells me the Fusion is a Gen 2 upgrade and quite different. I never got the chance to test the LGR, so I'm looking forward to testing the new Fusion as soon as possible.

The Fusion is a new CO2 single-shot rifle from Umarex that sports a 5-chamber noise dampener.
Leapers
I spent an hour at the Leapers booth this year. The most important thing I wanted to see was the new scope with an internal bubble level. It's a 4-16x in a 30mm tube, and it looks exactly like what the doctor ordered for those long-range targets we love to shoot. They're working hard to get it to market this year, but it won't go out until they're certain of the quality. Putting a bubble level inside scopes on a production line is apparently quite a challenge…but one I'm sure Leapers will do correctly.
The entire line of scopes have been upgraded with finer adjustments — many of them 1/8-minute adjustments — and greater repeatability. They have a broad range of adjustment in both directions, and their production models are even exceeding the maximum limits they established! All leaf springs have been replaced with coil springs to increase adjustment precision and repeatability.
But the WOW factor comes on the stuff you can see. How about a 3-9x scout scope (10-inch eye relief) with a wide field of view? That is the big trick for scout scopes, and I saw a beauty mounted on an M1A — though it would be just as correct on a Mosin Nagant.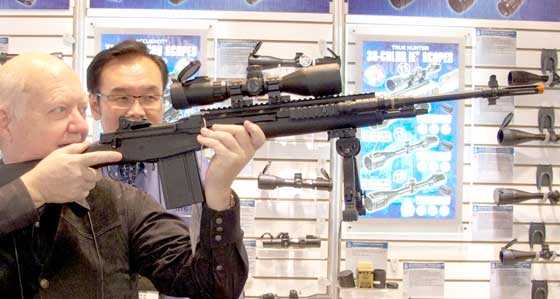 Leapers new scout scope has a full field of vision — something scout scopes are not known for.
Another surprise from the folks in Michigan is the smallest tactical laser I have yet seen. I asked Mac to photograph it next to a quarter for scale.

Leapers new laser is the smallest I have yet seen. That's a quarter next to it.
Crosman
Back to the Crosman booth to show you what the new Benjamin pump looks like when the handle is raised. I didn't expect the huge reception this pump got when I showed it the first time this year. Please note that it has not one but two pump tubes. This is a 3-stage pump — the same as the current pumps, but this one compresses a bit more air with each stroke. I'll have more to say about it when I test it.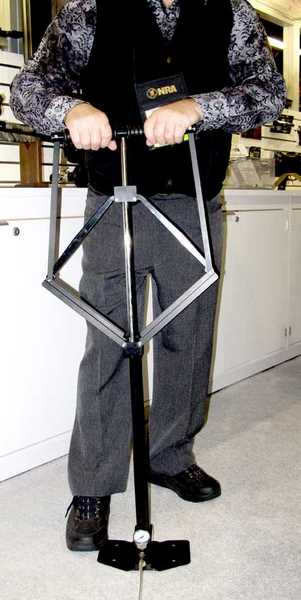 Maybe this view will help you understand how the new Benjamin pump magnifies the force you put into each pump stroke.
Hatsan
I'll close with a last look at the Hatsan booth. They have the AT-P carbine and AT-P1 pistol…and both are precharged pneumatics. They'll come in .177, .22 and .25 calibers that each have hunting levels of power. These are repeaters with circular clips and adjustable Quattro triggers. The sights are fiberoptic, and there are provisions for scopes. The air cylinders remove, and spares will be available as options.
For those who are looking for hunting air pistols, I think these two should be considered. I'll work hard to review them for you as soon as possible.

The Hatsan AT-P2 Tact (left) and the AT-P1 are exciting new PCP airguns.
Leaving the show
As Edith and I left the show we passed by one final booth. The guy is selling Instant Water for survivalists. Just drop one of his pills in a bucket of water and — Presto! — instant water. Why I can't think of things like that?
by Tom Gaylord, a.k.a. B.B. Pelletier
I'm on the road to Roanoke, Virginia, today, so this report was written in advance. You veteran readers please continue to help the newer readers, because I don't see the comments until I stop for the evening. Thanks!
The American public was shocked to discover in the 1970s that an Oldsmobile car had a Pontiac (or Chevrolet) engine. There was at least one lawsuit over it, and General Motors had to rename all their corporate components with generic titles as a result. But it wasn't the first time one product borrowed heavily from another and it was about to become the established norm.
I remember being oh, so bitter when Crosman bought the Benjamin Air Rifle Company and soon renamed the new division Benjamin Sheridan, without so much as a hyphen between the names. Benjamin had bought out Sheridan the decade before, but they kept all the models and even the manufacturing sites separate; but when Crosman bought Benjamin, everything went into a corporate blender.
In firearms, you buy either a South Gate Weatherby, a German Weatherby or one made in Japan. Never mind that the Japanese-made guns were at least the equals of and perhaps better than those made in Deutschland (and that will start an argument in most gun circles), nothing made by Miroku could possibly equal the quality of a rifle from Voere! What?
Yes, Virginia, Santa sometimes buys his gifts from a store — just like mom and mad. And sometimes an HW80 does bear more than a passing resemblance to a Beeman R1.
Okay, okay, here's what we'll do. We'll make a big list of all the model names and match them to the real models and manufacturers. Let's see — a Winchester 427 is a Diana 27. A Hy Score 807 is also a Diana 27 [Hey, this is easy!]. A Hy Score 801 is a Pieper — wait a minute. It could also be a Diana, depending on when it was made. Oh, well, a Blue Streak is always a Sheridan. A Super Streak is a Benjamin Sheridan. WAIT A MINUTE! This is starting to get complex.
Remember Rainman?
There's a sequence in the movie Rainman where the autistic character portrayed by Dustin Hoffman tries to actually solve the Abbott and Costello routine of "who's on first." It's both humorous and sad at the same time. Well, I'm sorry to say, there are some airgunners doing the same thing with airgun models. I cite discussions we've had on this blog about the various pedigrees of the HW50 over the past few years and rest my case.
Why do they do it?
Let me illustrate why manufacturers reuse various parts and even whole guns, rather than being original all the time. When I took the idea for what eventually became the Benjamin Discovery to Crosman in 2006, I did so with one of their existing models in hand. It was not the 2260 that eventually did become the Discovery. My idea was based on the Benjamin AS392T. Because I was able to cobble together an external tank, hose and coupling that connected to the AS392T intake — where the 88-gram CO2 cartridge normally fit to a regulated source of high-pressure air. I did it that way because, as a hobbyist, that was the easiest way I could think of to demo my idea.
But all I had to do was present the concept of operating a PCP air rifle at 2000 psi instead of 3000 psi, and Ed Schultz cobbled together two working prototypes from 2260s — a .177 and a .22 — proving to himself and to the rest of Crosman that I wasn't crazy. You really could run a powerful PCP on 2000 psi air and still get good performance. He built and tested those two rifles in less than a week! For him, it was easier to modify the 2260, plus it retailed for one-third the cost of the AS392T. It was both cheaper to work with as a prototype and also cheaper to modify into the final PCP we were designing.
As many existing 2260 parts as possible went into the Discovery because they were already in production. For each one that was included, there was no startup tooling cost, no engineering cost and the life cycle of that part was already well-established. That kept the development cost of the Discovery down to a reasonable level.
Was there more work to do after that to complete the Benjamin Discovery? Heck, yes, there was. A lot more. I'm going to go out on a limb and estimate they put no less than $50,000 into the development of that rifle before it was ready for market.
What hobby builders fail to take into account is that during development a company may prototype a part many times, looking not only for the ultimate in performance but also in the cost to manufacture and the life-cycle cost. A hobby builder may make a valve body out of brass, not caring that the raw material (brass bar) cost $7 before the work begins. A manufacturer contemplating making 10,000 of the same valve will spend considerable effort looking for a lower-cost alternative material. Every dollar they put into a gun adds four dollars to the retail price.
Now, let's contrast the Discovery investment with the one that was required to turn the Benjamin Rogue from a concept into a production gun. The Rogue needed a new valve, new trigger, new receiver, new feed system — new everything. I would not be surprised to learn that Crosman poured 10 to 15 times as much into the development of the Rogue, and they're still working on it. It was a huge risk compared to the Discovery because they had to design everything from scratch.
Why this is so hard to understand
People just cannot comprehend that manufacturing something as simple as a precharged air rifle is anything but easy. They see a talented amateur build one gun or even a half-dozen — and immediately, they think a manufacturer could do the same thing on a larger scale. It's so simple, they think. Just do what he's doing, only do more of it. What they don't realize is that the amateur has spent 10 times more of his time building the one gun than anyone would be willing to actually pay. How many of you would buy a PCP that sold for $4,000? That's what it would cost if the amateur builder were willing to charge all his time to the project. But he doesn't, of course, and so the only cost we ever see is the $350 for supplies, materials and parts he had to buy. And we grouse about that!
Crosman has to build the same gun for $125 — materials and labor — to be able to retail it for $500, because on top of their cost to build they must add money for advertising and several different wholesale price levels for their various customers who also have to make money. So, when the hobbyist buys a Lothar Walther barrel for $90 and puts it on his one gun, that's $90 added to his bottom line. When Crosman does the same thing, they negotiate a better price of $72 for the same barrel because they buy a 1,000 at a time, but they have to add an extra $205 to the retail price of the gun to pay for it. So, to them, a Green Mountain barrel that costs $30 and is accurate is a much better deal than a Lothar Walther barrel costing $72.
If they can use the same $50,000 worth of injection molds to make the stocks for three different rifles in their catalog instead of only one, that's much better, too, because those molds get amortized over three line items and a lot more production. If half of their pneumatics use the same diameter seamless tubing for their air reservoirs, they can save a lot because they have to stock fewer unique materials to build guns, plus they can buy more of each type of material, thereby enabling them to negotiate a better price.
Now, I'm gonna shock many of you. According to some sources, the U.S. sent men to the moon and got them safely back over 40 years ago. They used the Saturn V booster rocket to launch the lunar payload into orbit. But we used up all those rockets, and they were expendable. We don't have any more. To make a long story short, we don't have a booster rocket today that can do what we were able to do 40 years ago. The scientists among our readers can correct me on this, but I believe it's correct to say that we have lost some of the manufacturing ability to produce an essential component of the space program. That's not to say we can't build even better rockets today or that we have lost all the knowledge that came with the Saturn V program — just that we haven't kept up with the technology as well as we might have. If I'm right, then there are things that can be built during one period of time and then never again replicated.
You aren't going to like this!
When the Glock 17 pistol first came out, the media went into histrionics about "plastic guns" that could not be detected by X-ray. Shooters rebelled against them, at first. Then, as economics plus the reliable performance of the synthetic guns became established, more and more institutions and then the general public embraced the technology. Now, hold on to your seats.
There is a "thing" called a 3-D printer. Imagine a device the size of your kitchen refrigerator, only when you program it correctly it fashions parts from plastic goo. In the beginning, we stood around these things and watched them work. They spit out brittle plastic parts that were sufficient to see the shape and size of a design created in CAD software. Then, the plastic material got better and we were able to use the parts for prototypes. Now, the goo is good enough that some real usable parts can be made this way. These machines don't work fast enough for high-rate production, yet, but they're money-savers when you compare what you have to pay a 25-year-old CAD programmer against what a 50-year-old model maker costs.
The next step could be high-rate production and testing directly from paperless "drawings." And, perhaps some time in my lifetime, we'll say to a machine, "Tea, Earl Grey" and a hot cup of a potable beverage will materialize.
But, as these things come to pass, guess what? Airguns aren't going to be made of wood and steel any longer. And the economy of sharing platforms (meaning actions, reservoirs, triggers, barrels and sights) among several different models will become more and more the norm. I guess my advice is to get used to it — or go vintage, like so many of us already have.