Posts Tagged 'Daisy zinc-plated BBs'
by Tom Gaylord, a.k.a. B.B. Pelletier
Part 1
Today, we'll look at the velocity of the Beretta model 84 FS BB pistol. We'll also look at the trigger and the shot count.
Of course, the first step to shoot a CO2 BB pistol like this one is to install a fresh CO2 cartridge. And when you do, never forget to put a drop of Crosman Pellgunoil on the tip before piercing. The oil will be blown through the gun, coating every seal on the inside and sealing it tight for a long time. I found the cartridge sealed immediately after it pierced, so this pistol is conventional in that respect. Remember — once the cartridge is pierced and the gas stops hissing, you don't want to tighten the screw any more or you'll soon tear the face seal that the cartridge butts against, creating a leak.
The BB magazine holds 17 BBs comfortably, and 18 can be forced in. I loaded them one at a time, but in this mag, they load easily.
Umarex Precision BBs
Thye first BB I tested was the Umarex Precision BB. In past tests I have found this BB to be one of the 2 top BBs on the market for precision and size uniformity. They tend to be larger in diameter, which means they give the best velocity.
These BBs averaged 368 f.p.s. for 10 shots, but I did notice the gun is very susceptible to velocity dropoff if the shots are fired fast. When I waited at least 10 seconds between shots, the velocity held steady; but if I fired 2 shots quickly, the second one was always much slower. In one test, the first shot went 372 f.p.s. and the next shot…fired a second later…went 358 f.p.s.
The fastest shot in the string went 385 f.p.s. and the slowest went 356 f.p.s., so the spread was 29 f.p.s. However, the first 3 shots on a new cartridge always go much faster than the average. If we eliminate those 3 shots from this string, the average drops to 363 f.p.s., which seems like a more reasonable average.
Daisy Premium Grade BB
Next I tried the Daisy Premium Grade BB that's the other top BB on the market. These BBs are also very uniform and very consistently sized. Ten of them averaged 357 f.p.s., with a spread from 350 to 373 f.p.s. That's a 23 foot-second spread.
The Daisy Premium Grade BB is as good as BBs get, unless you opt to buy the special Avanti Precision Ground Shot that are the finest BBs available today. But they only show their advantage when used in the equally superior Daisy Avanti Champion 499 BB gun. If you shoot them in anything else, you're wasting money as sure as someone who loads target rimfire ammo into a semiauto sporter.
Crosman Copperhead BB
The final BB I tried was the Crosman Copperhead BB. This BB is not as consistent as the other 2 because the diameter varies, causing velocity variations. You probably won't find any flat spots on these BBs, but the diameter inconsistency puts it into the second rank for both velocity and accuracy.
In the 84 FS, Copperheads averaged 348 f.p.s., but the spread is very revealing. The low was 314 f.p.s., and the high was 375 f.p.s. That makes the spread 61 f.p.s.
After shooting 64 BBs (there were many that didn't register on the chronograph, plus I filled the magazine with each type of BB and then shot the rest of them without recording the velocity), the next few Daisy BBs went 317, 306, 301 and 294 f.p.s., respectively. So, the liquid CO2 was exhausted at this point, and the gas pressure was dropping.
Shot count for a CO2 cartridge
I continued to shoot the pistol until the blowback no longer worked. That happened at shot 78, so that's the number of shots you can get from the gun. By that time, the gun is shooting the Daisy BBs in the mid-200s, meaning that about 100 f.p.s. have been lost since the cartridge was fresh.
Blowback
The blowback on this pistol is faster than the blowback on most air pistols, because the slide doesn't come back as far. When the CO2 cartridge is fresh, you just feel an impulse when the gun fires, but I wouldn't call it realistic recoil. But as the gas pressure lowers, the slide starts cycling slower and you do feel the recoil.
Trigger
Remember that I told you in Part 1 that the trigger felt strange? I said it felt like a double-action-only trigger instead of the single-action trigger that it is. Well, this time I tested it and proved that's how it feels. Despite the slide cocking the hammer for each shot, the trigger is still very long and heavy.
The first-stage pull runs about 4 lbs., and stage 2 breaks at 9 lbs., 9 oz. every time. Pull the trigger slowly, though, and stage 1 becomes creepy, plus stage 2 increases by a full pound. This will be an interesting handgun to shoot for accuracy!
Evaluation thus far
I like how the 84 FS holds. It's small, but not tiny. It fills the hand with its wide grip frame. But that trigger will be something to contend with. The trigger on my Micro Desert Eagle .380 firearm pistol is also DAO and also challenges me when I shoot farther than 20 feet; but it's smoother near the end of the pull. This trigger stacks up a lot at the end of the pull. We'll see!
by Tom Gaylord, a.k.a. B.B. Pelletier


M1 Carbine on top and Crosman M1 Carbine below. A realistic copy!
Today, we'll test the Crosman M1 Carbine BB gun for accuracy. I pulled out all the stops, plus I shot a comparison group with a Daisy Avanti Champion 499 BB gun for comparison.
The course
I fired all targets from 15 feet, which is the NRA distance for BB gun competition. Daisy uses 5 meters, which is about 16 feet, 6-and-a-fraction inches, but the NRA standardized on 15 feet many years ago and hasn't changed. They don't hold any significant competitions that I am aware of, while Daisy hosts the International BB Gun Championships every year. But since the gun I'm testing was never meant for competition, I felt the shorter distance would suffice.
I shot the gun from a rest using the artillery hold to take myself out of the picture. The target was well lit, and the Crosman M1 Carbine has an adjustable peep sight at the rear, so the sighting system is pretty advanced.
Daisy Premium Grade zinc-plated BBs
The first BB was the Daisy Premium Grade zinc-plated BB. You saw how these compare to the Umarex precision BBs in Part 2 of this report. Nine of the 10 BBs landed in 1.354 inches and were slightly low and to the right of center. But 1 of the 10 shots strayed up and to the right, opening this group to 5.148 inches between centers. No shot was a called flier.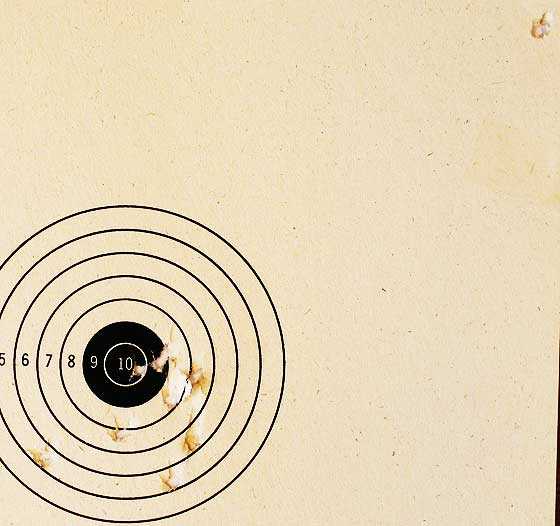 The 9 shots in the bull area went into 1.354 inches, but the shot at the upper right corner opened the group to 5.148 inches. Daisy Premium Grade zinc-plated BBs.
I expected results that were like the 9 shots. I did not expect any wild shots like this one!
Okay, so maybe the Umarex BBs would do better in this gun. Remember, I'm shooting off a rest at 15 feet.
Umarex Precision BBs
Next, I loaded 10 Umarex Precision steel BBs and tried a second group on a fresh target. I can't tell you how large this group is because 2 of the BBs missed the target trap and hit the backer board I put up to protect the wall. I know one of them was high because it passed through a piece of cardboard I had taped to the target trap. The 8 shots that landed on the target paper made a group measuring 3.046 inches between centers. It's impossible to know how large the actual group was since 1 of the BBs left no record whatsoever.

These 8 Umarex BBs landed in a 3.046 inch group at 15 feet, but 2 BBs missed the target paper altogether. So, the 10-shot group is larger, but there's no way of knowing how large.
Wow! This wasn't the way I remembered the M1 Carbine! I knew you would have a lot of questions for me. So, I decided to do something about it.
Avanti Precision Ground Shot
I also tried the Avanti Precision Ground shot that Daisy sells for the Avanti Champion 499 BB gun. This shot is very uniform in size and measures 0.1739 inches with my micrometer. That's considerably larger than either of the other 2 BBs I shot.
This time, all 10 BBs hit the paper and made a group measuring 3.681 inches between centers. That is the best group of all 3 BBs tried. But it wasn't good enough for me. Shooting 3 inches at 15 feet is something I never want to do because I know I'm better than that. How much better? Well, I had to find out.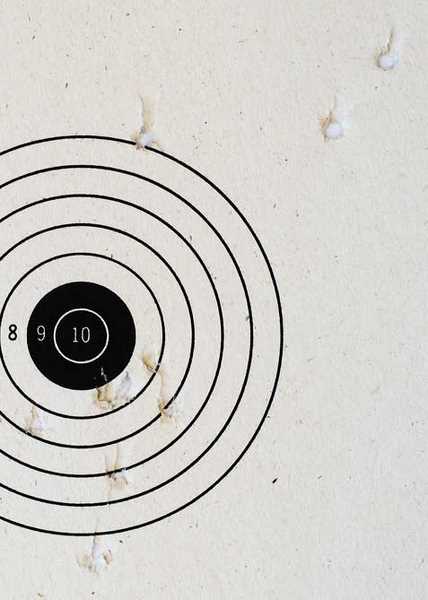 Ten Avanti Precision Ground shot BBs made this 3.6781-inch group at 15 feet. It was the best group made by the the M1 Carbine in this session.
Avanti Champion 499 BB gun
I next shot a group in the same way but with the Avanti Champion 499 BB gun — the world's most accurate BB gun. Naturally, I used the Avanti Precision Ground shot since it's the only BB developed specifically for this gun.
This time, 10 shots went into 0.328 inches. They were a little high and right on the target, which means I need to adjust the rear sight just a little, but I'm pleased with the group size. It came after firing 30 aimed shots, so I was starting to get tired, if anything.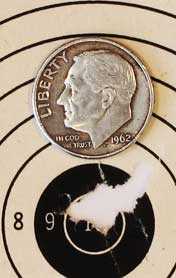 This is 10 shots from the Daisy Avanti Champion 499 BB gun. Though the group measures 0.328 inches between centers, the gun is capable of much smaller groups in the right hands.
Conclusion
The Crosman M1 Carbine is not as accurate as I remembered. I expected to put 10 shots into 1.5 inches or better, and that didn't happen with any BB — not even the Precision Ground shot. I think I've shot 5-shot groups with this BB gun in the past, and that may have given me false expectations.
Still, the Crosman M1 Carbine is a wonderful BB gun from the standpoint of realism and power. It comes from a time I fear we will never see again, and I lament the end of the era that produced such a fine BB gun.
by Tom Gaylord, a.k.a. B.B. Pelletier


M1 Carbine on top and Crosman M1 Carbine below. A realistic copy!
Today, we'll take a look at the velocity of the Crosman M1 Carbine BB gun. My gun is one that has a plastic Croswood stock, which means it was made between 1968 and 1976. It doesn't have any indications of having been taken apart, so I'm assuming that it's factory original.
Strange spring-piston gun!
This rifle is unique in that it has a valve. Despite being a spring-piston gun, there's a pop valve in line with the piston. It remains shut until overcome by pressurized air. A small coiled spring holds it shut as long as possible. That allows the maximum air pressure to build up, so the BB doesn't start moving before the piston has almost reached the end of its travel.
Most BB guns use a hollow tube to push the BB off its seat and get it up to about 50-80 f.p.s. Then, the compressed air comes through the air tube and blasts the BB on up to terminal velocity. But the Crosman M1 Carbine and the Crosman V-350 action from which is is designed do not have the tube. So, the compressed air is held back until it reaches overwhelming pressure, and it's the only thing that acts on the BB. How well does it work?
Daisy Premium Grade zinc-plated BBs
The first BB I loaded was the Daisy Premium Grade zinc-plated BB. I've found these BBs to be very uniform and larger than some on the market. They measure 0.171″ to 0.173″ in diameter, and their surface is smooth, though not as smooth as some. They weigh 5.1 grains, on average.
Daisy BBs averaged 383 f.p.s. in the Crosman M1 Carbine. The range went from a low of 365 f.p.s. to a high of 391 f.p.s. That's a pretty large spread for a spring-piston BB gun, but the average velocity is also on the high side. We'll have to wait to see how accurate they are; but in my experience, Daisy BBs are always near or at the top, as far as accuracy goes.
Loading BBs
BBs are loaded in the front of 2 holes in the upper handguard of the gun. The rear hole is for oiling the piston seal, which on this gun has a huge impact.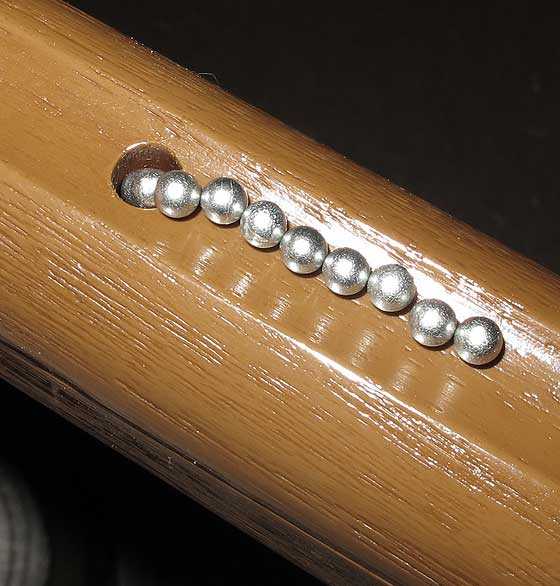 The BBs load into the 22-shot gravity-fed magazine through a hole in the front of the upper handguard. Pull back on the operating handle to open this hole for loading. Although Crosman says the magazine holds 22 BBs, my gun holds 23.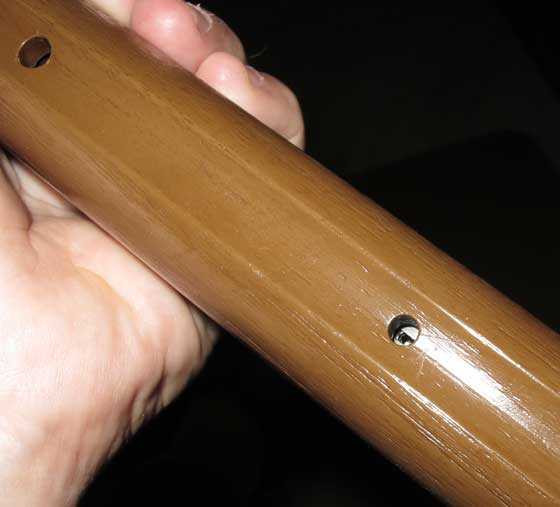 The rear hole in the upper handguard is for oiling the mechanism. You can also see BBs through the hole if the gun is loaded.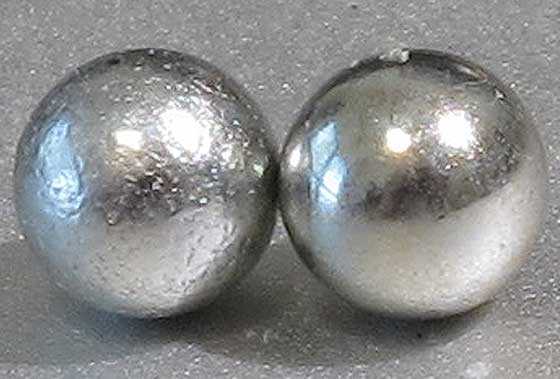 Daisy Premium Grade zinc-plated BB on the left, Umarex Precision steel BB on the right. The Umarex BB is visibly smoother; but in tests with many guns, these 2 BBs are similarly accurate. It'll be interesting to see how the Crosman M1 Carbine handles each BB in the accuracy test.
Umarex Precision BBs
Next, I tried Umarex precision steel BBs. They averaged slightly less velocity, as 375 f.p.s., but the spread was also tighter. The low was 367 f.p.s. and the high was 382 f.p.s. That's a range of 15 f.p.s., compared to 26 f.p.s. for the Daisys.
Trigger-pull
The Crosman M1 Carbine trigger is light, breaking at 2 lbs., 13 ozs. on the test gun. The blade is very thin, though, and that makes the pull feel heavier.
This airgun is performing at the peak of its power right now. An average Crosman M1 Carbine will shoot around 350, so this one is certainly a little hot. I can't wait to see how well it does in the accuracy test.
by Tom Gaylord, a.k.a. B.B. Pelletier

Daisy's new Powerline model 35 multi-pump air rifle is designed for youth. It's a smoothbore with several interesting features.
I'm retesting an airgun that I tested over a year ago. One of our readers called Daisy and said he was getting much better accuracy from his Daisy model 35 multi-pump air rifle than I had gotten in my test, and he asked Daisy if they would look into it. Well, they read the accuracy report (Part 3) and agreed with him that I should have gotten better accuracy than I did. So Joe Murfin, Daisy's vice president of marketing, called and asked if I would be open to a retest.
Joe told me that Daisy engineers were getting groups of about 1.25 inches to 1.5 inches at 10 meters. I'm sure he meant 5-shot groups, and of course I shoot 10-shot groups; still, his groups were significantly smaller than what I'd gotten from the last gun. My 10-shot groups were in the 2.5-inch to 3-inch range.
I don't like to retest
Normally, retesting airguns leaves me cold. My philosophy is that I test what users get, and it's whatever it is. I look at the gun the same way a user would, except that I may know a few more things than the average user and am able to do things most people wouldn't think to do. That gives the gun a fair test and also educates people who may learn a new trick or two by reading what I've done.
I have to admit that over the past year I've learned a lot about accuracy with diabolo pellets and the things to look for. More recently, I have become aware of the tremendous accuracy potential of some smoothbore airguns. From that standpoint, a retest of this smoothbore airgun is warranted.
This is not life-saving equipment, and the outcome isn't that important in the grand scheme of things; but wouldn't it be nice to know if this $35 airgun is really better than we initially thought? I agreed to retest the gun, and Joe sent one directly from Daisy. Instead of the black stock I had last time, this new gun is finished in camo. Other than that, though, it's identical to the gun I tested before.
Upon reviewing the last accuracy test, I see I used the 7.9-grain Crosman Premier pellet, RWS Hobby pellet and some vintage Daisy Superior Match Grade pellets I had laying around. At the time, that sounded like a good idea; but after spending more time with the Diana 25 smoothbore in recent months, I think there are some other pellets I ought to try — namely the JSB Exact RS pellet and the RWS Superdome.
In the last report on the model 35, I wasn't specific about what number of pumps to use for each shot. There was nothing to go on for this test except my experience with other multi-pumps. I would only be shooting at 10 meters, and high velocity wasn't necessary. Six pumps sounded good to me, and that's what I used for every target. If this was a larger, more powerful multi-pump, I might have opted for 5 or even 4 pumps, but the Daisy 35 is pretty small, and 6 sounded about right.
First target revealed loading problems
I shot the first target with JSB Exact RS pellets. They did well for the most part, but 3 shots landed apart from the main group. I was having difficulty loading the gun, and I think I may have loaded several pellets backwards because of how easily they flipped around on their own in the loading trough. I was shooting in a dark place to overcome the fiberoptic open sights and was unable to see the breech when the pellet was loaded. Those 3 stray shots might be explained as loading errors. Before I move on, I should note that the size of this first 10-shot group is close to what Daisy told me to expect from 5 shots at 10 meters.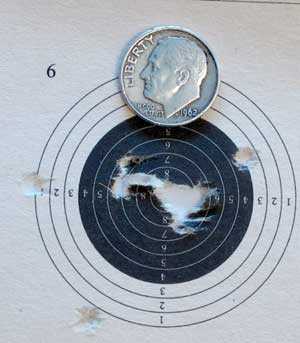 A well-centered group is ruined by three wild shots. They may have been pellets loaded backwards. Group measures 1.52 inches between centers.
Nothing to do but shoot another group with the RS pellets — making sure each pellet went into the breech the right way this time. I used a portable spotlight to shine on the breech during loading to see which way the pellets were oriented. I think Daisy could spend a little time fixing this problem because that loading trough is almost too small to work with.
The second group was much better. Ten more JSB Exact RS pellets went into 1.108 inches. This is better than what Daisy told me to expect, and my interest was piqued. How good would this gun get?

The second group of 10 JSB RS pellets went into 1.108 inches at 10 meters.
RWS Superdomes
The second pellet I tried was the RWS Superdome that so many people love. The first 10 pellets made a 1.119-inch group. It's actually too close to the second group of RS pellets to see the difference, but that's what the caliper read when I measured it. And these pellets hit the target in approximately the same place as the JSBs even though they're heavier.

The first group of 10 RWS Superdome pellets went into 1.119 inches at 10 meters.
The second group of Superdomes wasn't quite as tight as the first. One stray pellet that I hesitate to call a flier landed below the main group, opening it up to 1.243 inches. But that's still the best that Daisy said to expect from this gun!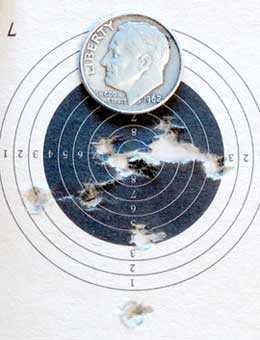 The second group of 10 RWS Superdome pellets went into 1.1243 inches at 10 meters.
But wait –
Well — there you have 4 groups that are all significantly better than any of the groups I got in the last test. The Daisy model 35 can shoot after all — just like our reader said. I wondered if there was any more accuracy beyond what the gun had already delivered. So, I fired a fifth group, this time with JSB RS pellets. Instead of 6 pumps per shot, I gave it the full 10 pumps for each shot. This time, they all landed in 0.76 inches, or as close to three-quarters of an inch as it's possible to get.

Ten pumps tightened each shot to deliver almost a three-quarter-inch group. JSB RS pellets, again.
Obviously, using the right pellets made all the difference in the world. That's a lesson I'll try not to forget. Even an inexpensive airgun like the Daisy 35 deserves a fair chance to perform its best.
What's next?
I would love to press the 35 into service as a dart gun, but the tiny breech prevents the loading of darts. I may be able to load them through the muzzle, but you'll have to wait to find out because I seem to have misplaced my .177-caliber darts. But there's still 25 yards to test, so you haven't seen the last of this airgun.
by Tom Gaylord, a.k.a. B.B. Pelletier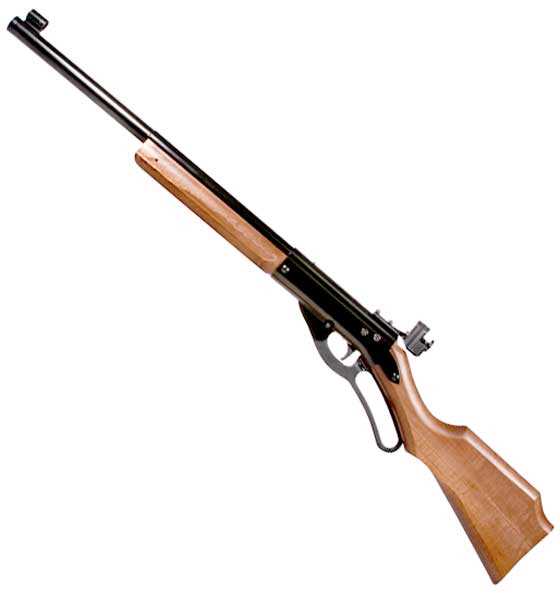 Daisy Avanti Champion 499 is the world's most accurate BB gun.
This test of the Daisy Avanti Champion 499 at 10 meters was requested a couple weeks back by a blog reader, and several of you seconded the request. It was in response to a discussion of the spin rate of projectiles and what benefits it conveys.
After I agreed to write the report, another reader asked me to test not only the Avanti Precision Ground Shot that's made specifically for the 499, but also some more common BBs. So, today, we'll see how the 499 performs at the 5-meter distance for which it was designed, as well as at 10 meters. I think we're in for some interesting ballistics.
The 499
For those who don't know, the Avanti Champion 499 is the world's most accurate BB gun. It's the only BB gun to compete each year in the International BB gun Championships at Bowling Green, Kentucky. Like the wheels and axels on Soap Box Derby racers (the All-American Soap Box Derby is an annual race where children race home-built cars powered by gravity, alone), the 499 is so specialized and ahead of the competition that there's nothing that can touch it. Unlike derby wheels, though, anyone can own a 499 because they're sold through specialized airgun dealers like Pyramyd Air (along with their special ammunition).
Although it may look like a Red Ryder to the casual observer, the 499 is as special among BB guns as a Formula One racer is among automobiles.
The 499 is a single-shot BB gun that has a precision smoothbore barrel. It's loaded through the muzzle by dropping a BB down a funnel-shaped spout, where it enters the true barrel and rolls to the rear to be captured by a magnet. Regular BBs take 0.50 to 1.00- seconds to roll down the barrel, while the Precision Ground Shot can take up to 5 seconds.
The gun was developed by Daisy for their National BB Gun Championship Match. They noticed that coaches were ordering many shot tubes for their teams' model 99 and 299 target BB repeaters that were used in competition at the time. The coaches were looking for the most uniform barrels that would shoot the best. When Daisy recognized that, they simply designed a gun to be accurate from the start. Once the 499 became a reality, all other BB guns were obsolete because nothing else could keep up.
For over a decade, the gun and ammunition was available only directly from Daisy, until I discovered it while writing The Airgun Letter. The guns were hand-built and Daisy didn't really think they could sell them to non-target shooters because of the extra cost; but once the word was out about how accurate they are, everything changed. They're probably still made by hand today, and I'm sure they're not one of Daisy's most popular products; but if you like accuracy, you really should look into getting one of these.
Baselining the gun
Before I shoot at 10 meters, I thought it would be nice to see what the gun can do at the regulation distance of 5 meters. I could have found old images for this because I've done this test many times before, but I always welcome the opportunity to shoot this marvelous little gun. I shot it on NRA 15-foot targets because I don't have any of the slightly larger official 5-meter BB-gun targets on hand. The NRA is out of touch with BB gun competition and is stiill using the 15-foot target, where the rest of the world has backed up another 1.4 feet to 5 meters.
For this test, I selected three types of ammunition — Crosman Copperhead BBs, Daisy Zinc-Plated BBs and Avanti Precision Ground Shot. When I load the gun, I listen to the BB roll down the barrel and strike the magnet at the bottom. Copperheads roll the fastest — taking about a half-second to make the trip.
Crosman Copperhead BBs
I shot 10 shots with each BB at 5 meters. I used the back of a chair as a rest because this was a test of the gun — not me. There were no called fliers, and the 10 Copperheads grouped in 0.574 inches. That measurement is approximate, as BBs do not tear clean holes in target paper.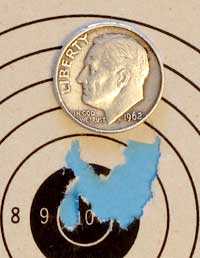 At 5 meters, 10 Crosman Copperhead BBs tore this hole, which measures 0.574 inches between centers.
Daisy Zinc-Plated BBs
Next up were Daisy Zinc-Plated BBs at 5 meters. These are ever-so-slightly larger than Copperheads and take 0.50 to 1.50 seconds to roll down the barrel. They made a 10-shot group that measures 0.361 inches between centers — and keep in mind this is approximate, at best. But you can see in the photo that this group is tighter than the first one.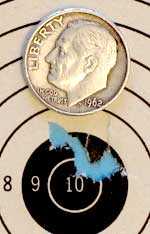 Ten Daisy Zinc-Plated BBs made this 0.361-inch group.
The final group was shot with Daisy Avanti Precision Ground Shot that is specially made for the 499. If anything is going to group well in the gun, this is. Ten shots made a group measuring 0.224 inches between centers. The hole on the target tells all, as it is either a score of 99 or 98 — it's too close to tell.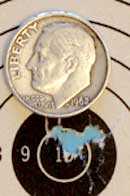 Avanti Precision Ground Shot shows what the 499 can really do. Ten went into this 0.224-inch group at 5 meters. This is almost a perfect score.
On to 10 meters
Now that we know how well the gun can shoot, it's time to back up to 10 meters and test what we all came to see — namely, how well the 499 does at 10 meters. This is the first time I've done this, so I am just as interested in the results as all of you.
Crosman Copperhead BBs
First up were the Copperheads. I didn't change the sight setting, so we'll forgive the placement of the shots in this test. Ten shots landed in a group that measures 1.118 inches between centers. That's actually slighly smaller than double the 5-meter group size (which would be 1.148″); so, allowing for the measurement error, it seems to be right-on.
Notice the two shots that landed below the main group. There were no called fliers, so those BBs are probably not the same size as the others.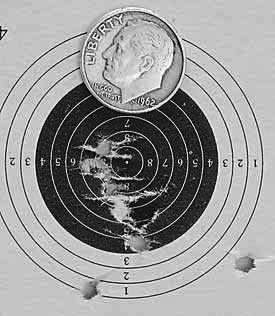 At 10 meters, 1o Crosman Copperhead BBs made a 1.118-inch group. Those two at the bottom were not called as fliers.
Daisy Zinc-Plated BBs
Next up were the Daisy Zinc-Plated BBs that do so well in this gun for normal BBs. Ten of them made a group measuring 0.828 inches. That's larger than double the 5-meter group size, which is what I expected at 10 meters. Again, there were no called fliers, and one stray BB hit below the main group.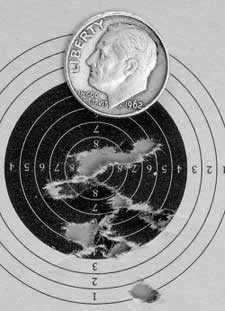 Daisy Zinc-Plated BBs did well at 10 meters. This is a 0.828-inch group. The lone shot at the bottom was not a called flier.
Daisy Avanti Precision Ground Shot
Finally, I shot the Avanti Preciaion Ground Shot at 10 meters. The picture tells the story. Ten shots landed in a group that measures 0.755 inches across. This group is larger than double the 5-meter group with the same BB, which is what we would expect. Let's talk about that next.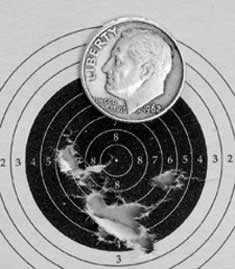 This is where the pedigree of the Avanti Precision Ground Shot shows up. Ten made this 0.755-inch group with no real stragglers.
Why aren't the groups just double the size at 10 meters?
This is a common misconception that I'd like to address. Groups don't open up on a linear scale as distance increases. A 10-meter group should not be twice as large as a 5-meter group. And here we must differentiate between a spin-stabilized conical bullet and a round ball fired from a smoothbore.
A ball that's not spin-stabilized will deviate much faster than a ball that's stabilized by the spin introduced by rifling. A rough comparison can be made to a baseball that is intentionally thrown without spin — the famous knuckleball. It will go straight for a short distance, then suddenly deviate wildly and unpredictably from its ballistic path. The comparison is not perfect because a baseball has seams that affect its movement through the air, but the principle is similar.
Conclusion
Don't run out and buy Avanti Precision Ground Shot for your Red Ryder. That would be like putting premium gasoline into a lawnmower! On the other hand, don't buy a 499 and then try to shoot it with standard BBs. That's false economy going the other way. Back up a few feet and look at what you are paying for ammunition, and then buy what makes the most sense.
The 499 is a special gun that's purpose-built to do one thing — shoot BBs as close to where you aim as possible. I rested the gun for this test, but every year there are children who shoot similar targets offhand in competition.
Thank you!
I would like to thank everyone who requested today's test because it was something I've never done before. Now, we all know what an accurate smoothbore shooting a steel BB can do at 10 meters.
by Tom Gaylord, a.k.a. B.B. Pelletier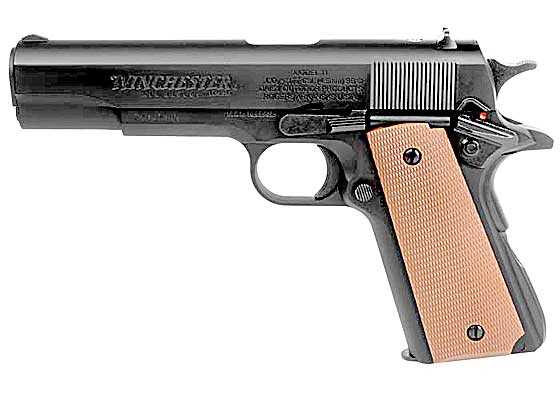 The Winchester semiautomatic BB pistol is an attractive M1911A1-style BB pistol. It's also accurate!
You know how I always say that if a gun is accurate it covers a multitude of sins? It doesn't happen that often, but today we will be looking at a BB gun that is without sin! Sorry to put the conclusion at the beginning of the report, but this test was a real eye-opener for me, and I want to pass along those feelings to you.
I know there are a few of you who are on the lookout for a good BB pistol that can be used for target shooting and firearm handgun familiarity training. I think this Winchester 16-shot semiautomatic BB pistol is one of them!
One more thing about loading
I mentioned in Part 2 that the stick magazine for this pistol is set up for easy loading. What I didn't mention and didn't discover until I shot it for accuracy, is the magazine is built to be loaded while lying flat on a table. The base of the mag is larger than the rest of it, so it rests on an angle. You can just drop BBs into the big loading hole and most of them will roll down to the front (the top of the mag) out of the way. I did have a couple of jams when I tried loading this way, but overall it seems easier than holding the magazine in my hand while loading.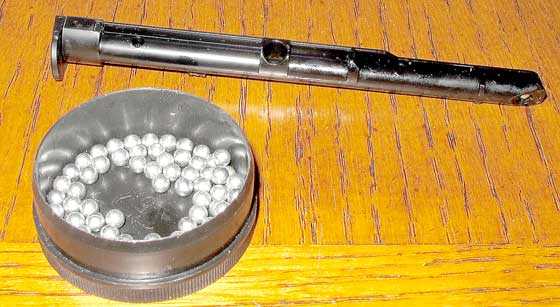 When the magazine is laid flat on a table with the loading hole up (like shown above), it slants toward the top, allowing the BBs to be loaded and roll out of the way.
Shooting
Now, it was time to shoot the gun. I set up the range in my bedroom, where it's warm. Texas has been cold recently and the garage where I would normally shoot is too cold for a CO2 gun. As the gas cools down the gun, it cannot recover. So, the velocity just keeps getting lower with each shot.
I used a 6 o'clock hold at 15 feet from the target. And I used a one-hand hold. As you can see, the BBs went right to the center of the bull when I did my part.
I used the Winchester Airgun Target Cube to hold a Birchwood Casey Shoot-N-C target bullseye that I stuck to a cardboard square taped to the front of the Target Cube. When the group was completed, it took only seconds to rip the old one off and slap a new one down in its place. I like this kind of target because it gives me instant feedback on how I'm doing when the target changes color as the BB passes through. That helped me concentrate on my shooting technique because, with this pistol, all the shots went exactly where I aimed!
First shot
The first shot with any BB pistol is always in doubt because I have no idea where it's going. A rifled gun will usually be more or less on target, but a BB gun can spray them anywhere. That's why I shoot at 15 feet — aside from that being the generally established distance for BB guns. But with this Winchester pistol, I needn't have worried. The first BB went into the 10-ring.
I wish I could tell you that the rest of the magazine went there, too, but it didn't. I still don't have the muscle control I used to have to hold a pistol on target with one hand. Even at 15 feet, my group was larger than it should have been.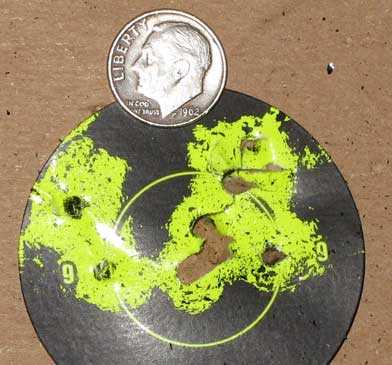 The first group was larger than it should have been, but it wasn't the pistol's fault.
After seeing the results of the first 10 shots, I became very interested in this pistol. The group was centered perfectly and the only thing that kept it from being better was me. That's a good thing because it means this pistol shoots better than I do so I can use it to improve my skills. All of a sudden, I had an air pistol I could use to train with; and it was a repeater that had a light trigger and simulated recoil! That makes it perfect for firearms familiarization training.
I do have other air pistols that can be used to train with, but none of them are repeaters with blowback like this one. This one has a good trigger that has to be managed, and it has the same grip as my 1911 firearms — or close enough that I don't notice the difference. If I want, I can pull the trigger several hundred times each week and possibly recover some of my pistol shooting ability.
I got a little excited on the second target and rushed several of the shots. The target tells the story. The group is somewhat larger and wider than the first one.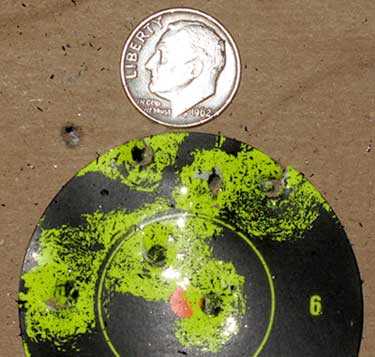 The second group was larger than the first one, and I threw one shot out of the black. But all the bad shots on this target are my fault because I could see where the shot was going to go the moment the gun fired.
By this point in the test, I was really excited. Here was an air pistol that shot to the exact point of aim. If the shot didn't go where it should have, the fault was entirely mine. You can't ask for a better training tool than that! The cost of shooting this BB gun is a fraction of what I have to pay for firearms cartridges — and I cast my own bullets, so I shoot for very little compared to what most folks pay.
It was time for another target and time for me to buckle down and try my best. Of course, this kind of concentration is very tiring; so by this point in the test, I was starting to experience some shaking in my gun hand. Training will fix that,. With this Winchester pistol, it looks like I'll get that training.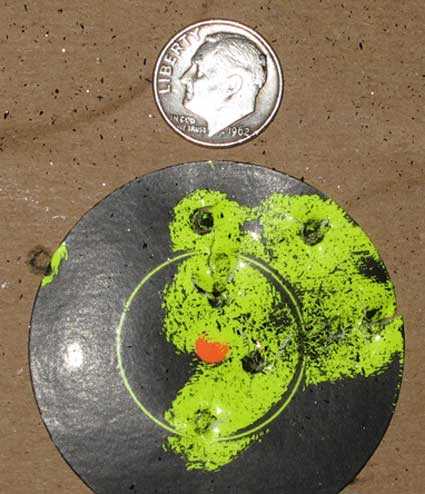 An interesting group. All the shots but one are grouped on the right. That indicates that I was holding the pistol more uniformly and controlling the trigger better, but my feet were not planted correctly. There was tension in my body that caused me to pull each shot to the right. The hole on the left was a wild shot that was my fault.
What do I think of this air pistol?
Up to this point, I've been critical. I didn't like all the words on both sides of the gun, nor was I very keen about the CO2 piercing arrangement because it makes it difficult to get the spent cartridge out of the gun. I also don't like the safety that takes two hands to operate. But all that goes away when I see just how well this pistol shoots. As I've said many times, accuracy makes all the difference!
After my third group, I talked about the gun with Edith. She doesn't get out to the range as much as I do, and she needs this kind of training even more. So, we decided to buy the test pistol from Pyramyd Air!
I've shot other BB pistols in the past, and several of them were quite accurate. That, by itself, is not what makes me like this one so much. I like this one for the trigger that feels a lot like a firearm trigger, and I like the sights that are so realistic. The designers could have put fiberoptics on the gun and ruined it completely, but they didn't. You can aim this one exactly as you would a firearm.
I hope they're all like this; and if you order one, I hope you get one that's as nice as I got. Two thumbs up!
by Tom Gaylord, a.k.a. B.B. Pelletier
NOTE: While I've been calling this a 16-shot gun, the owner's manual and Pyramyd Air's website state that it's a 15-shot BB gun. I could easily get 16 shots into the mag. Edith informs me that it's not uncommon for more shots to be loaded in airgun mags and that manufacturers sometimes understate the max rounds you can load.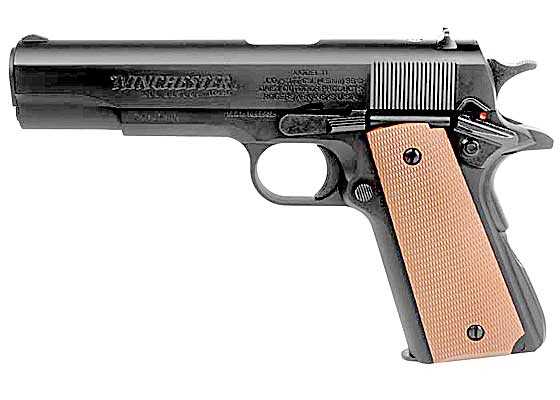 The Winchester semiautomatic BB pistol is an attractive M1911A1-style BB pistol.
Today is the day we look at the velocity of this Winchester 16-shot semiautomatic BB pistol. In Part 1, I looked at the design and noted that this is a realistic BB pistol with some of the controls of the firerarm it copies, but there are differences, as well. The two-hand requirement for the safety was a concern, as were the large number of words printed on both sides of the gun. But the heft and feel were about right. As I told you in Part 1, this gun has blowback, which means that on each shot the slide is blown to the rear by the force of CO2 gas. That cocks the hammer and readies the pistol for the next shot. The inertia of the slide imparts a feeling of recoil than many shooters like, including me.
Blowback
Blowback allows the slide to cock the hammer automatically, making this BB pistol function like a true semiautomatic handgun. Since the slide cocks the hammer, every shot is single-action, which allows the trigger to be as light and crisp as possible. The cost is that some of the CO2 gas must be used to move the slide, and that subtracts from what is available to shoot BBs. But clever designers can offset this by lowering the velocity of the gun and by minimizing the amount of gas needed to move the slide.
Today's test will focus on two performance variables — velocity and the number of shots that are available from a 12-gram CO2 cartridge. I'll make an observation here. Do you remember that I showed you the unique way this pistol pierces its CO2 cartridge? I noticed that there was no hiss of gas when the cartridge was pierced. It may be that this pistol pierces its cartridges more efficiently than most other gas guns and therefore conserves some gas. We shall see in today's test.
Velocity
Winchester rates the pistol at 410 f.p.s. That's on the high side for a BB pistol, so it'll be interesting to see how many shots I can get from one CO2 cartridge. I tested with Daisy Zinc-Plated BBs, which testing has shown to be the most accurate and most uniform BBs available, short of buying the special Avanti Precision Ground shot. In a semiautomatic BB pistol like this one, the extra precision of that shot would be lost, so the standard Daisy BBs are the best.
Ten shots from a fresh CO2 cartridge averaged 388 f.p.s. I allowed a minimum of 10 seconds between shots to let the pistol recover from the cold CO2. The first shot was 395, and the velocity trailed off with each new shot until shot 5, where I waited 75 seconds after shot 4. Then the velocity rebounded from 384 (for shot 4) to 393 for shot 5. When I resumed shooting with 10-second intervals, the velocity again began to decline until shot 10. Shot 9 was 381 f.p.s., and shot 10 was 383, with about 10 seconds between. That tells me that this (the low 380s) is about where the gun wants to be.
The blowback is very powerful. It certainly feels like a .22 rimfire cartridge being fired in a medium-weight semiauto rimfire pistol, and that's very good for a CO2 pistol.
Next, I loaded the magazine again and fired 15 quick shots. I waited a couple minutes to let the gun recover from the cold and fired the last shot through the chronograph — hoping to record it. Alas, the shot didn't register, so I reloaded the magazine and started shooting again. On the third shot into the third magazine, I finally got a velocity reading that was 385 f.p.s. at shot 35, so my guess about where the velocity will be after the gun stabilizes seems to be correct. I finished that magazine and loaded another. The gun had now fired 48 shots on the CO2 cartridge. I reloaded and continued firing.
Shot 60 went 385 f.p.s. Shot 70 went 339 f.p.s. and was definitely falling off the pressure curve. That said, there are 4 good magazines of 16 shots each on a CO2 cartridge. Considering the power the gun delivers and the energetic blowback, I would say this is a very conservative gas pistol!
You can continue to shoot after this, of course, but at some point the velocity will be so low that you risk sticking a BB in the barrel, and that's what I want to avoid. I also want to note that if you fire the pistol as fast as you can, the velocity drops in a pronounced way that can be discerned without the use of a chronograph. You can actually hear the shots getting weaker.
Trigger
This pistol has something I haven't experienced in more than 30 years. The trigger is a M1911A1 trigger instead of a longer 1911 trigger. The difference is in the reach of the trigger finger to the center of the blade. The M1911A1 trigger was developed for soldiers with smaller hands, who would have a more difficult time reaching the trigger when the arched mainspring housing was installed. Today, most 1911s have gone back to the flat mainspring housing and the longer trigger of the earlier model. I find the earlier design points more naturally, although the arched mainspring housing of the 1911A1 was developed especially to resolve the pointing problem.
The trigger-pull is two-stage, and please don't get that confused with single-action. Stage one is very short and stage two is pleasant, but I can feel it move through the stage. There is no roughness to the pull and the trigger breaks at 4 lbs. on the nose.
Loading
The magazine has a large loading hole on the reverse side of the follower slot. It loads one BB at a time but loads very fast that way. I found it quick and easy, and the follower stayed put until I released it.


The back side of the magazine has a large loading hole that makes it easy to load, even if it's just one BB at a time.
The CO2 cartridge that goes in without a hiss turns out to be a problem to remove on the test pistol. The clearance is just too small, and it takes a lot of fiddling to get out the old one. The new cartridge goes in very easily by comparison.
Evaluation so far
I keep finding things to like and things not to like. This is certainly a different BB pistol. I like how it handles, its power, the good blowback and nice trigger. But I dislike all the words on the gun, the difficulty of removing the CO2 cartridge, the two-handed safety and the fact that not all the controls work like the firearm. I guess it all comes down to accuracy.