Posts Tagged 'Dan Wesson BB revolver'
by B.B. Pelletier
Blog reader Kevin Lentz asked for this report; but as soon as he posted his request, it was seconded by a couple other readers. The first time I did a report with this title was way back in 2007, and that was a four-parter. This time, I'll hold it to just two parts to save some time, because there are a lot of new models coming out at this time of year. Kevin revised the categories just a little and I went with his suggestions.
Guns under $150: Air rifles
A couple guns that used to be in this category have fallen off the list, in my opinion. They did so due to major changes in product quality. Even at this low level, a gun has to shine to make the list.
Crosman's 1077 is a wonderful 12-shot CO2 repeater. It's accurate, reliable and a lot of fun to shoot. This budget rifle is accurate enough to benefit from a scope.
The Crosman M4-177 multi-pump is another wonderful value for the price. It's accurate, has a tactical look and is very rugged. As a bonus, this is a five-shot repeater!
The Gamo Lady Recon makes the list for its accuracy, ease of operation and the fact that it comes with open sights. The plain Recon doesn't have open sights and misses the list for the lack. This is a lot of youth air rifle for the money, but I suppose only girls will like it because of the pink color.
Stoeger's X5 makes the list for accuracy and build quality. The one drawback with this one is the heavy trigger. But if you get past that, this is a lot of airgun for the money.
Daisy's Powerline 953 TargetPro is a budget version of that company's 853 target rifle. Though it lacks the Lothar Walther barrel, the 953 manages to do quite well with its domestic barrel. It's a great way to get into target shooting without spending a bundle.
Buy the Daisy Avanti Champion 499 only if you like hitting what you shoot at. Billed as the world's most accurate BB gun and the only gun used in the International BB Gun Championships (because nothing else can compete with it), the 499 is every target shooter's dream. Sure, it's a BB gun, but one that will put 10 shots inside Roosevelt's head on a dime offhand at 5 yards.
And the winner among air rifles in this price range is the Air Venturi Bronco. It is, without question, the most accurate pellet rifle under $150, and it has the best trigger of the category as well.
What can I say? I love this air rifle.
Guns under $150: Air pistols
For informal target shooting, you can't do any better than Beeman's P17 single-stroke pistol. It's a Chinese-made copy of the German-made Beeman P3 that costs many times more, yet the P17 holds its own on power and accuracy. A few of them have been known to have reliability issues; but if you oil yours with Pellgunoil, I think you'll get past that. I've owned two, and both were perfect.
There used to be several different models of this next gun to choose from, but the last one standing is the Crosman 357W. A pellet revolver for under $50, this CO2-powered gun has inspired shooters for decades. It has the accuracy you want and ease of operation, plus it's a pellet revolver!
Another super buy is the Crosman 2240 .22-caliber single-shot pistol. This gun is the direct descendant of Crosman pistols dating all the way back to the 1940s. It's accurate, powerful and a wonderful value.
The Crosman 1377C is a classic multi-pump air pistol selling for half the price of most other pump guns. It has the power and accuracy to hold its own against challengers selling at more than twice the price. Plus, it's the basis of many hobby airgunners' projects.
The Makarov BB pistol is the best BB pistol in this or any other price category. It's accurate, reliable and extremely realistic. If you like to hit what you shoot at and want to shoot BBs, this is the gun to buy!
If you want a fun, realistic BB revolver, they don't get any better than the Dan Wesson BB revolver. I've linked to the 8-inch barreled gun, but all the barrel lengths and finishes cost the same and provide the same great service.
Guns $150-250: Air rifles
Not as many guns in this price category, because I hold them to a higher standard. With guns like the Bronco and the Beeman P17 out there, most higher-priced guns can't deliver.
Hatsan recently decided to go it alone in the U.S., but I haven't had a chance to test anything they offer. Back when they were making guns for whatever conglomerate financial organization owned Webley at the time, who knows what craziness they were forced to make? So, they should be given the chance to make and sell good guns on their own. Time will tell, but this year I have no information, so they didn't make the list.
With all the product-cheapening that's been going on, it's been difficult to see that the Diana RWS 34P has progressively morphed into a fine air rifle. The barrel got better, the trigger did the same and the powerplant went from a cheap buzzy nightmare in the 1980s to a dream gun in 2012. Diana avoided the Gamo pitfall of going to more power, and, instead, they concentrated on giving us a great rifle with reasonable power and splendid accuracy. You do need to use the artillery hold to get it, though. This one deserves credit for being a wonderful air rifle. When I list the 34P, I'm actually including all 34 rifles.
Guns $150-250: Air pistols
Same thing goes for air pistols as for rifles. Too much competition from the lower-price category and not enough innovation and quality in this one.
I can't say enough good things about the Smith & Wesson 586 4-inch CO2 revolver. It's a "real" gun! Get one if you like fine double- and single-action triggers, smooth revolver actions plus stunning accuracy. The realism cannot be faulted. Same thing goes for the 6-inch barreled gun.
Some of you may remember my story about telling the then-president of Crosman why airgunners would drop $150 on a handgun he sold for $39.95. Well, he left the company, and the new management decided to build these modified guns themselves! The Crosman 2300S is one such gun. It's based on the 2240 frame, but has a boatload of high-value appointments that are just what most airgunners want. Can't beat it for the price.
I'm going to include the Daisy Avanti 747 Triumph Match, which is somewhat quirky and more than a little clunky, but it's the lowest-cost real target pistol available. The Lothar Walther barrel is what makes it rank above the nearly identical 717. And, Daisy, could you please give this gun a couple more names? I can still pronounce it without taking a breath.
What's this? I put the Beeman P17 on this list for under $150 and I'm also putting the Beeman P3 on the same list? Yep. This one is good, too. Better trigger than the P17 and just as accurate and powerful. Want a better gun? Get a P3.
Well, that's my list. You might ask me what the criteria were to make the list. Simple. These are the airguns I can recommend and not hear anything bad about them. That doesn't mean that everyone likes all of them. It means that the guns, themselves, don't have any bad habits or features that make people mad at me for recommending them. Next time, I'll do a $250-500 list and an unlimited one. You think I was picky today? Just wait.
A note from Edith: This is a G-rated site
Recently, I've noticed some acronyms creeping in that aren't G-rated. If you have a budding young airgunner that you've encouraged to read the blog and the comments, do you want to have to explain to him what those initials mean? Probably not, so it's best if we don't use those colorful words/acronyms in our comments.
Also, when symbols have to replace letters in a word because the word is offensive, please don't use that word…with or without symbols. I appreciate your help in keeping Airgun Academy a G-rated site and a place where airgunners of every age can comfortably ask questions and grow to love the shooting sports.
by B.B. Pelletier
Happy New year! I thought I'd review the best products I got to test last year. Some will be new, but others have been around a long time — I just got around to testing them.
Benjamin Marauder pistol
Back in January, when I was pouting about missing the SHOT Show, I had the opportunity to test the Benjamin Marauder PCP pistol. Actually, the test began in 2010 and extended into 2011, but it was such a good test that the pistol has to make it into this report.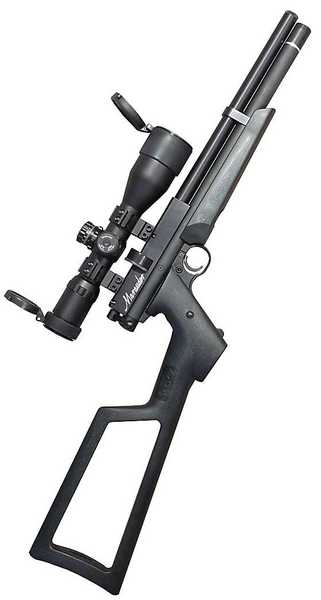 Benjamin's Marauder pistol, known as the "M-rod," is a winner!
I even did an extra accuracy test because for the first one I mounted an old Leapers 6×32 scope that didn't seem to give the pistol a chance to perform up to its capability. When I substituted a CenterPoint 3-12x44AO compact scope in the last test, the pistol showed what it can do.
The Marauder pistol is a .22 caliber with all the accuracy you could hope for. The power is great for this size airgun, and I strongly recommend attaching the standard shoulder stock extension that comes with the gun.
Beretta 92FS
The next great product of 2011 was the Beretta model 92FS air pistol with wood grips. I completed the test on this one in March. I was so impressed that I thought for a long time that Edith and I needed to get the firearm to go with it. In the end, we returned it because you just can't keep them all; but while I had it, I thought it was a wonderful air pistol.
Hawke Sport Optics 4.5-14x42AO Tactical Sidewinder rifle scope
This one is not an airgun, but I would be remiss if I didn't tell you about the finest rifle scope I've ever tested — the Hawke Sport Optics 4.5-14x42AO Tactical Sidewinder rifle scope. I've owned several Leupolds and looked through other premium scopes, but this Hawke has them all beat.
What's so good about this scope? The clarity. It's even clearer than my Unertl 6x that used to be a standard for target shooters. At 14x, it's clearer than other scopes are at 32x. You have to see it to understand how that could be possible, but it is.
It's very costly, though with the clarity it surpasses others of greater price. It's the best I've ever seen.
Crosman Silhouette pistol
The Crosman Silhouette PCP air pistol is another pistol that made my list. I'd tested it the year before, but this one had some improvements, the most notable of which was the trigger.
The power is great, in the high 400s with medium-weight .177 pellets, but the number of shots on a fill reached 75, which is even more phenomenal. Crosman really did their homework on this pistol — refusing to let it alone after the initial offering. The result is that they launched an even better model in 2011 that will have airgunners talking for a long time.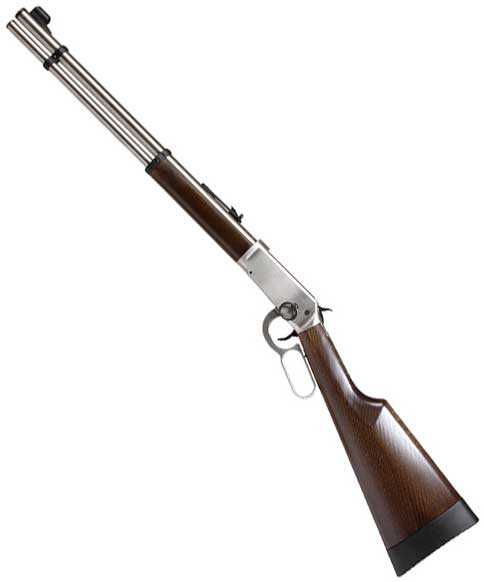 Looking very Western, the Walther Lever Action rifle was one of the best airguns from 2011.
Walther Lever Action rifle
Walther already had a good lever-action air rifle, but last year they modernized it to accept the 88-gram CO2 cartridges, and the new Walther Lever Action Rifle is even better than before! I liked it so much that I did a special 4-part review on the gun and showed you accuracy you didn't expect to see from this kind of airgun.
This rifle is pricy, but you get what you pay for. It's slick, accurate and reliable. If you want a good lever-action pellet rifle it's the only game in town. (My test featured the nickel version, but Pyramyd Air no longer sells it…but the blued version is still available.)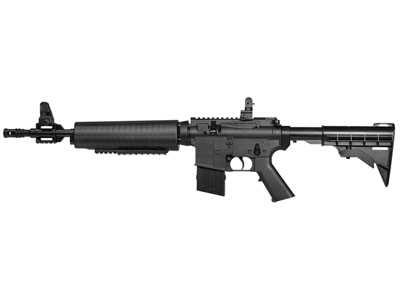 Crosman's new M4-177 multi-pump rocks!
Crosman M4-177 air rifle
I would be remiss if I didn't rave about the new Crosman M4-177 multi-pump air rifle. I liked mine so much I bought it! Does that tell you anything?
The gun is realistic, accurate and well-made. I bought one of the early guns that were mismarked, but Crosman begins shipping guns with the correct marking this month. I don't know if Pyramyd Air has any of the mismarked ones left. However, don't let that stop you — this is an airgun we can all enjoy.
MTM Predator Shooting table and Predator shooting rest
I use both the MTM Predator shooting table and the Predator shooting rest for almost all of my tests, if that tells you anything. But they've just been added to the Pyramyd Air product list and are now available to all of you. So, I included them in the 2011 list, even though I've had mine for several years. Both products let you make a firing line wherever you are, and that's a necessity for someone who shoots a lot. I take mine to the rifle range and use the table in preference to the concrete tables on the range.
Dan Wesson BB revolver
We ended the year on a high note with the Dan Wesson BB revolver. When I reported on this novel new revolver, I said I was impressed by the realism they packed into the design. Twenty years ago, you just couldn't get this level of realism in an airgun.
The one thing I failed to note in my report is the quirky way the safety works. Of course, a safety on a revolver is about as common as a unicorn horn; but if you have one, it ought to work right. This one doesn't. You can put it on when the hammer is down and the action will be locked; but if the hammer is cocked, the safety does nothing at all. That's dangerous, because there are new shooters who haven't been properly trained and will test every safety in an unsafe way. This one will fire if they do.
Still, the gun is powerful, gets lots of shots and is quite accurate for a BB pistol. It's also all metal. I don't know what more you could ask for.
Summary
I reviewed many other airguns in 2011, including a host of vintage models that I won't report in this list. These are the ones that stood out and caught my interest. You may have others, and now it's your turn to comment.
by B.B. Pelletier
Before I start…today is the last day of Pyramyd Air's weekend Doorbuster Deal on the Gamo Big Cat 1250 air rifle. Besides knocking back the price of the gun, they've also taken a huge discount on the Big Cat's large pre-packaged deal. If this gun is on your "buy" list (for yourself or as a gift), this would be the time to get it.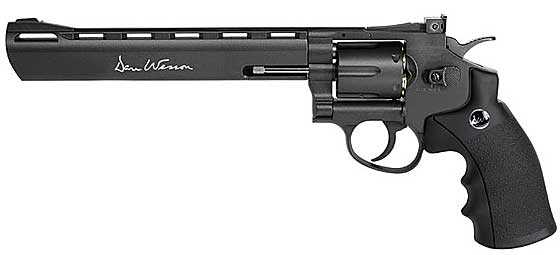 The Dan Wesson CO2 BB revolver with the 8-inch barrel is a large, impressive, all-metal airgun.
I can't report on this gun fast enough. The Dan Wesson revolver has taken off on afterburners at Pyramyd Air, now that people have seen it perform. Today, we'll look at accuracy — the final question we had regarding this unique new revolver. You won't be disappointed!
The Rob Speedloader
Blog reader Rob recommended a procedure for loading the speedloader rapidly by simple pressing it into a flat tray of BBs. I didn't think it would work, but it worked so well that I'm loading the gun this way from now on. This is the fastest BB-loading system I've ever seen — commercial speedloaders included. The following two photos will show how it works.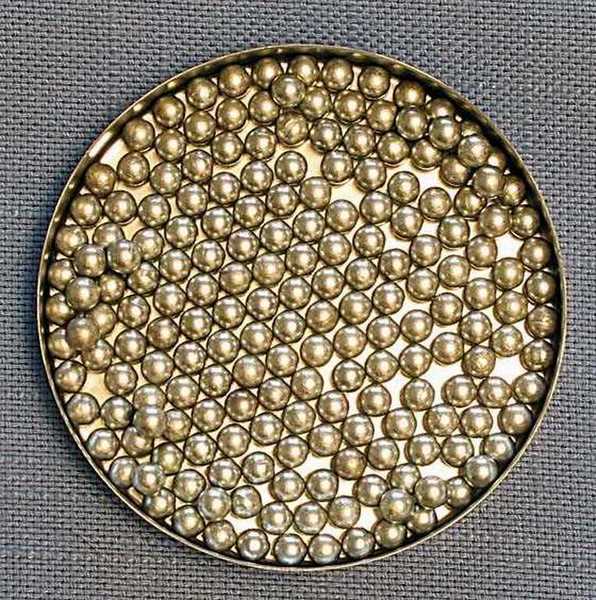 First step is to fill the bottom of a pellet tin lid with a layer of BBs. Keep it to a single layer, so all the BBs are the same height.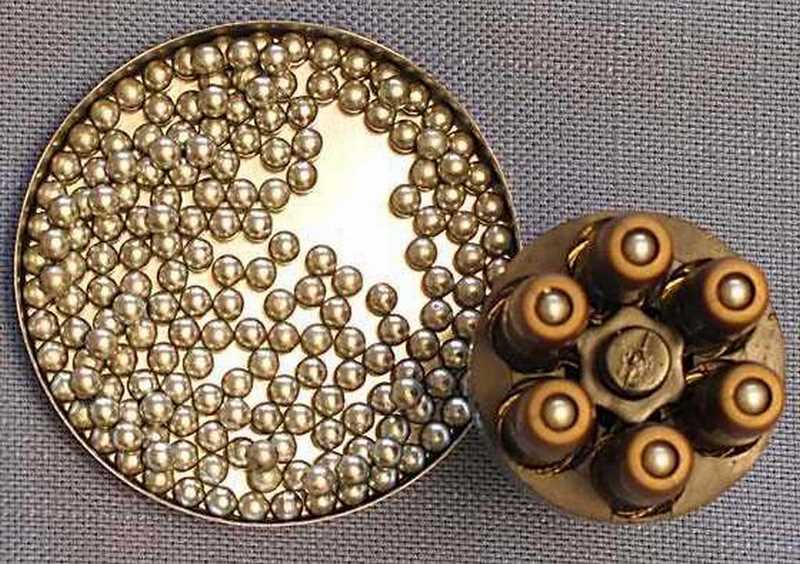 Next, press the speedloader into the BBs. One push is all it takes and you don't have to press hard. Each of the six cartridges will pick up one BB like this. Notice that the layer of BBs in the lid is diminished, and some are piled on top of others. Spread them flat again and you can load several more speedloaders before you have to add more BBs to the lid.
I reloaded the speedloader many times this way with three different brands of BBs, and only once did I come up with less than six BBs. That one time, I just pressed the speedloader back into the tin once more and the last cartridge was loaded.
Basic marketing
Now, however, I have to take Crosman and Walther to task for how they package their BBs. Some marketing committee seems to have decided that shooters want a BB container that releases BBs slowly, so both of these companies have designed a container that releases them haphazardly, instead. Only Daisy allows you to pour the BBs out en masse, and that's too bad, because with this Dan Wesson revolver, people are going to want to shoot thousands of BBs. Marketing 101 tells us that if your product is cheap, you make sure people have unlimited access to it, so only the Daisy zinc-plated BBs support this style of reloading. The other two brands are difficult just getting six out of the bottle.
Accuracy
Here's what we've all been waiting for. How accurate is this Dan Wesson? Because of the long barrel, I started shooting at 25 feet — like I did last week with the Crosman M4 BB gun. Longer barrels aren't really any more accurate than short barrels, but you can't deny that they look like they are!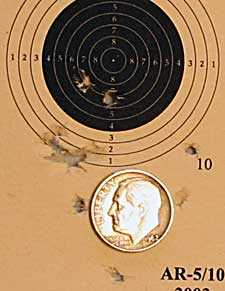 From 25 feet, 12 Daisy BBs made this 1.622-inch group. Not too bad for a smoothbore!
After seeing this first group I decided to move in and shoot from my traditional 15-foot distance. First up were another 12 Daisy BBs.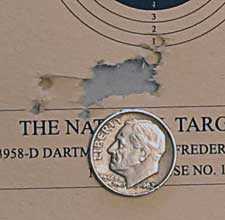 Twelve Daisy BBs went into this tight group from 15 feet. It measures 1.019 inches between centers.
I was actually shooting a lot more than the targets reveal. I tried double-action, but I'm not steady enough for that yet. The red front sight glared too much until I turned off the overhead light and just illuminated the target. Then, the front post was dark and sharp against the bull.
Next, I tried Walther BBs, because in tests with other BB guns they've worked just as well as Daisys. This time, however, they surpassed the Daisys to turn in the best group of the session.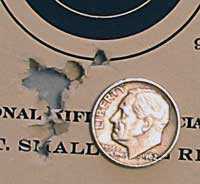 Twelve Walther BBs went into this 0.817-inch group at 15 feet. This was the best group of the session.
Finally, it was time to try Crosman Copperhead BBs. Though they usually don't perform as well as Daisy BBs, in the test of the Crosman M4 rifle last week they were more accurate. In this test they put 12 into a group measuring 1.061 inches from 15 feet. That is so close to the Daisy result that I have to say they're about the same.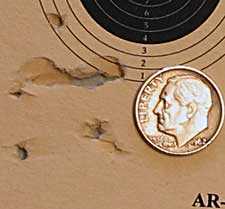 Twelve Crosman Copperhead BBs went into this 1.061-inch group, which isn't much different than the group the Daisy BBs turned in. When it's this close, it's too close to call.
Sights
The revolver appears to shoot to the point of aim at 15 feet. When I adjusted the sight higher to bring the BBs into the center of the bull, I ran out of elevation and the screw popped out. So, figure the gun will put a BB wherever the top center of the front sight blade is when shooting from 15 to 25 feet.
I found the sights sharp enough after adjusting the room lighting, but the front red ramp does glare and mess up the aim point more than a little. I have firearm handguns with this same flaw, so it isn't confined to BB guns. It just seems that the people who make the guns these days don't shoot them to see how they actually perform. If they did, there would be fewer of these bright, shiny ramp sights.
Number of shots
Well, this BB revolver just keeps on shooting and shooting. I figured that, at its higher velocity, it would run out of gas around 60 shots; but it was still going strong at 97 shots. I chonographed shots 108-113 and report them now.
Shot–>Vel.
108—>299
109—>298
110—>299
111—>303
112—> —
113—>301
Well, these velocities are well off the power curve we saw in Part 2, where the average for these same Daisy BBs was 466 f.p.s. But if you're popping soda cans in the back yard, I don't think you'll notice. However, I did notice that at shots 111 through 113, the BBs were bouncing off the duct seal of the BB trap, so the velocity is getting into the "time to change cartridges" zone. For what it's worth, that best group of Walther BBs was shot with over 80 shots on the cartridge, so the gun was still in the zone at that time.
The bottom line
Well, it's official. In a couple days, I'll submit this revolver to Tom's Picks. It delivers on everything that's promised and is a very good training gun, to boot. I may have to retain this one in my personal collection — just so I can come back to it from time to time. It's all in the interest of science, you understand.
by B.B. Pelletier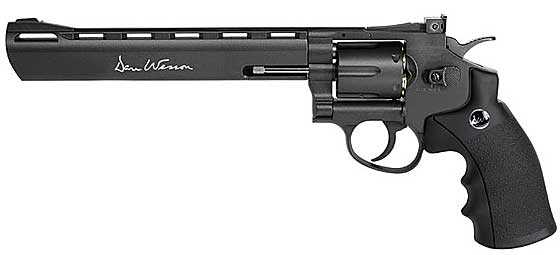 The Dan Wesson CO2 BB revolver with the 8-inch barrel is a large and impressive all-metal airgun.
There's no question that there's a LOT of interest in this Dan Wesson revolver! The response we got from readers was enormous, plus Pyramyd Air reports the same level of interest from their customers. I'm always glad to be able to report on an airgun everyone likes, so this is getting exciting.
If you now go to the Dan Wesson page on the website, you'll see three additional barrel lengths and two silver-finished guns. So, your choices are many. And if you decide to buy one, check out that "Click to save $8.00 more!" button, because Pyramyd Air has put together a great bundle of necessary stuff to accompany the gun.
I also happen to like the gun, as well as the whole Dan Wesson pistol pac concept. In fact, when Edith, who was unaware of the Dan Wesson history, saw the pistol pac in Part 1 of of this report, she had the same reaction as many readers. She agrees with me that this idea of a gun with many personalities is too good to let pass.
Good ideas
Some of you have wondered where I get all my ideas for airguns and new products like the UTG drooper scope mount base for older RWS Diana spring guns. Well, this is how it happens. I see something that was a great idea in the past, and I know it would be received the same way today; but the people making decisions in the airgun industry are not aware of what has gone before, so all I have to do is modernize the idea and take it to them. However, there's a potential problem.
Take the Dan Wesson pistol pac idea as an example. When Dan Wesson designed it back in the 1960s, they did it the right way, so the customer would have a properly adjusted gun if he followed their directions and used all their tools when changing his barrels. Fast-forward to the Chinese breakbarrel rifles that have recently been made with interchangable barrels, but in the cheapest possible way. By their design, these rifles are doomed to failure, because they're not good guns to begin with and their barrel-changing process is not fully engineered — at least not to the same extent that Dan Wesson engineered it.
So, as you can see, a good idea can be executed poorly and doom the outcome from the start. Dan Wesson did it the right way; and as a result, we remember them and desire their products. I have a related story to tell you about a Desert Eagle Magnum pistol, but that will have to wait for another day. Today is velocity day for the Dan Wesson revolver, so let's get started!
Velocity
The first task is to charge the revolver with a CO2 cartridge. Of course, the tip of every new cartridge gets a drop of Crosman Pellgunoil to keep the inner seals fresh and sealing.
To load the cartridge, pull the grip panel straight back. It comes back and at the last instant flips up out of the way. The website doesn't show this, so I took a picture to let you see how it works.

Pull the grip panel straight back, and it will flip up to expose the CO2 cartridge housing like this.
Loading BBs
Remember that speedloader I criticized in Part 1? A reader was kind enough to point out how it worked, and when I went to the owner's manual I found that it's addressed there, as well. It does work exactly as it should. When I told Mac what a mistake I'd made, he told me that he once bought a speedloader for a .357 revolver and for a year and a half had the same problem. He probably didn't, but that's what good friends do — they keep you from feeling like the dufus you really are.
I tell you this because the speedloader is an important part of loading the BBs. Oh, I'm sure you could load them singly and everything would still work just fine, but the manual wants you to put the empty cartridges in the speedloader first, then snug them down and load them that way. Since I was the one who lead you wrong, allow me to show you.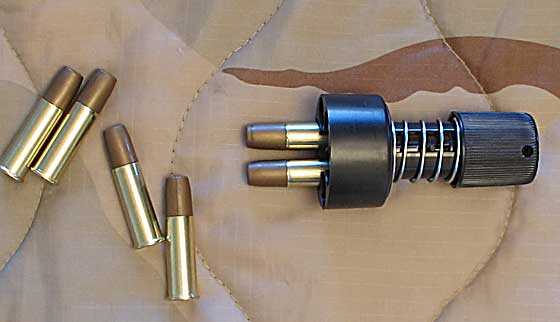 Insert six cartridges base-down into the speedloader. Notice that the speedloader spring is relaxed.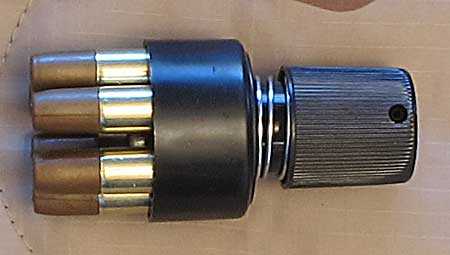 Push in on the back of the speedloader and twist to the right. You'll hear a click — and the cartridges are locked in the loader.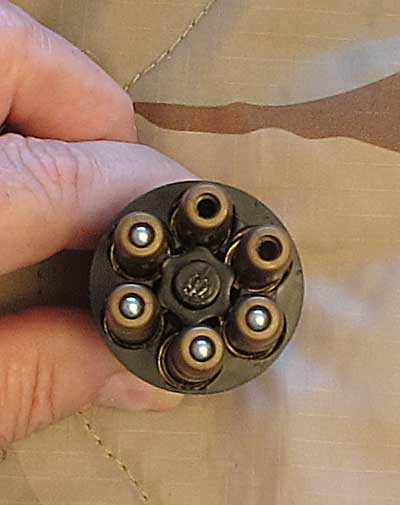 Load a BB into the mouth of each cartridge. You have to push in the BB until it's captured by the synthetic lip of the cartridge.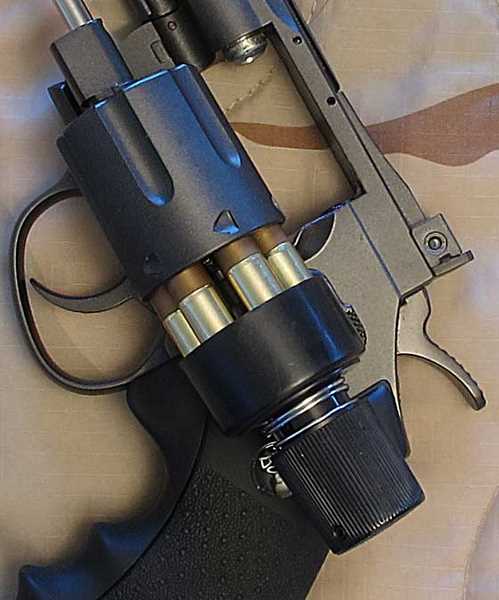 Insert the speedloader into the rear of the cylinder. When it gets to this point, it will push the cartridges forward into the cylinder with a click.
This is a unique way of loading BBs into a revolver. I've done something similar with an airsoft revolver years ago, but never before with steel BBs. I like the realism, and it compliments the realistic look and feel of this revolver. I think it helps make the Dan Wesson a winner!
Velocity
I first tested the gun with Daisy zinc-plated BBs. They averaged 466 f.p.s. The spread went from a low of 462 to a high of 470 f.p.s. That's pretty tight. There was also no difference in speed between single-action and double-action. When the cartridges were ejected they were oily, so the Pellgunoil is moving through the valve as it is supposed to.
Crosman Copperhead BBs were next, and they didn't do as well. They averaged 456 f.p.s., but the spread was much larger — from 445 to 471 f.p.s. That's still pretty good, but not when compared to the Daisy BBs. Like the Daisys, the Copperheads were just as fast in single-action as in double-action.
The revolver is rated at 426 f.p.s.; and as you can see, this one is faster. So, it's met and exceeded the advertised specification for velocity. I do want to caution all readers that a steel BB going over 450 f.p.s. is very prone to rebound from a hard surface. Wear safety glasses every time you operate this BB gun and make sure everyone in the area does the same.
So far
Well, I love the revolver thus far. If it also turns out to be accurate I'm thinking of making it one of my personal picks. I don't do that for many airguns, but this one will have earned a spot if it can shoot a decent group.
by B.B. Pelletier
I'm sure many of you have noticed that the podcast has not been updated since May. I apologize for that and hope to stay on schedule with a new podcast every month. Click to read the latest podcast.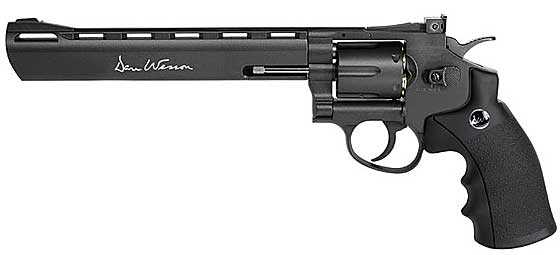 The Dan Wesson CO2 BB revolver with the 8-inch barrel is a large and impressive all-metal airgun.
Several of you have mentioned wanting to see a review of this BB revolver, plus the customer reviews are quite good. And I also wanted to see how good it was, so everything came together today.
This Dan Wesson revolver resembles the classic firearm somewhat, but misses the mark of being a perfect replica. However, only a Dan Wesson nut would spot the flaws.
The cylinder latch is made like the one on a Smith & Wesson instead of the traditional Dan Wesson, which would be a flat button located on the left side of the crane. I never liked how that latch worked, which kept me from ever owning a Dan Wesson revolver, and the omission looks like an improvement to me.
It has a safety!
Flying in the face of firearm revolver design, but validating every female British mystery writer ever born, the Dan Wesson revolver actually has a safety catch. So, Agatha Christie was right after all. Pull the cylinder latch straight back and the gun is on safe. The trigger is blocked and the hammer cannot move.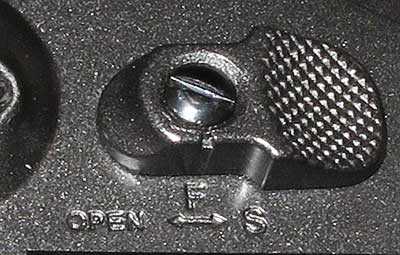 Yes, Virginia, this revolver has a safety catch. Slide the cylinder latch back, and the action locks up.
This revolver comes in 2.5-inch, 4-inch, 6-inch and 8-inch versions…and some come in black and others come in a stainless finish (that Pyramyd Air is calling "silver"). Only the 8-inch version was available when I ordered, so that's what I'm testing.
Let's start off with some insight into the Dan Wesson revolver concept and the history of the gun.
Dan Wesson
Dan Wesson was founded in 1968 by Daniel Baird Wesson II, the great-grandson of one of the two founders of Smith & Wesson. His concept for revolvers was the modular approach, which in 1968 was quite new and innovative. And the hallmark revolver that company made was the .357 Magnum model 15-2, which in its highest form was sold in a "pistol pac" that contained the revolver, an extra set of grips, three extra barrels of different lengths that the owner was expected to install, a belt buckle and the wrench and feeler gauge for the barrel and shroud. When I was a young man, this was one of the most coveted handguns on the market and was revered for its strength, beauty and for the facility to change barrels and therefore also control the cylinder-to-barrel gap. The only real reservation I had, as I mentioned, was the cylinder latch that was hard to work and a deal-breaker for me.
The Dan Wesson name passed through a number of hands since the founder's death in 1978, and today they produce several other models that are not as distinctive as this revolver system. So, the BB gun we're now testing is supposed to copy the original firearm that had interchangable barrels, though this one does not.
The BB gun
Rejoice, fellow airgunners, for this is an all-metal revolver! You pay for that realism — and it's delivered. Nothing on the outside of the gun but the grips is anything but metal. Still, the gun is very light for having such a long barrel. It weighs 2.29 lbs. or about a full pound less than a typical firearm with the same length barrel.
The cylinder is mounted on a real crane that swings out to the left side when the cylinder latch is depressed and the cylinder is pushed out. Twenty years ago, such realistic features were only dreams for airguns and even for some lower-priced rimfires. Since it does swing out, you'll need to restrain yourself from flipping it closed like you see on TV, as nothing will ruin the mechanism faster.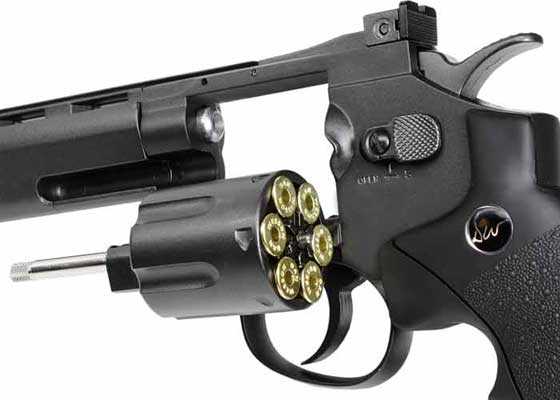 This revolver has a real crane that allows the cylinder to pop out for loading.
The cylinder revolves freely when the gun is not cocked, being restrained only by a spring-loaded barrel that pops into a mating recess in the front of each chamber, just like the S&W M&P R8 BB revolver that Mac is testing for us. The bolt at the bottom of the frame comes into play only when the trigger is pulled, so the gun locks solid when fired either single- or double-action. In this respect, it's not unlike a suicide special revolver of the late 19th and early 20th century.
The gun comes with a second set of six "cartridges" that hold the BBs and a speedloader to load them into the cylinder. The speedloader does not do the job like its firearm component. The cartridges are not held in the loader at all and will fall out if it is tipped past level, so it's more for looks than for function. You can't carry a loaded speedloader in your pocket the way you can with a firearm speedloader. However I did find it very convenient for unloading the cylinder, as all the cartridges fall back out into the loader when the gun is tipped up. Since there is relatively low pressure running through each cartridge, they do not swell when fired as firearm cases do.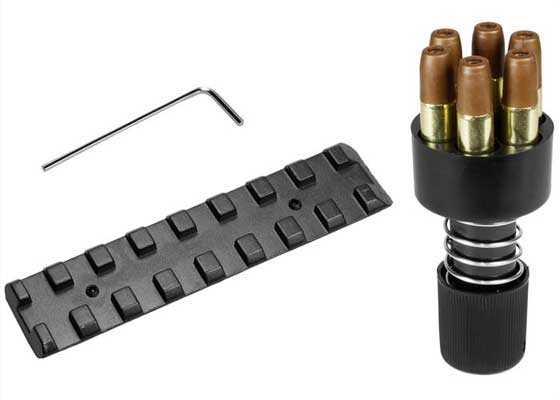 The speedloader with six extra cartridges comes with the revolver. Also included is the accessory rail and installation wrench.
Sights
The sights are a post on a ramp at the front with a white dot in the top center and a traditional square notch at the rear. I find them easy to acquire, and good for precision aiming. I hope the gun is as accurate as most of the reviews claim. The rear sight is adjustable in both directions with a flat-bladed screwdriver.
Accessory rail
The revolver is also provided with an accessory rail that takes the place of the rear sight. You can mount a dot sight on your handgun with this rail.
Trigger
The double-action trigger-pull ranges from 10 lbs., 8 oz. to 11 lbs., 8 oz. and is stiff and creepy. It stacks towards the end. As I recall, the double-action pull of the firearm was also heavy and stiff. The single-action pull breaks between 7 lbs. and 7 lbs., 13 oz. and is reasonably crisp. Though it's a trifle too heavy for the absolute best work, it's very usable.
Manual
One look at the manual tells me this revolver was made by an airsoft manufacturer. The details are sparse and the print quite small, with line drawings to accompany the important points. Older owners will have to use a magnifying glass to read it, but I don't suppose they're the target consumer for this revolver.
What's next?
Well, if I were Full Ruler and Controller, I would make up some sort of pistol pac for this revolver. That's such a great idea, and you know that owners could never tolerate having an empty slot in a case for their favorite airgun!
Since the barrels cannot be changed, I would include a nice miniature holographic dot sight, two full speedloaders with six additional cartridges (24 cartridges in all when you include the ones in the gun), some kind of neat case for BBs, a belt buckle and safety glasses.
I'll show the BB cartridges and how they're loaded in detail in Part 2 when I test velocity. For now, back on your heads — the break is over!