Posts Tagged 'JSB Diabolo Exact Heavy pellets'
by Tom Gaylord, The Godfather of Airguns™
Writing as B.B. Pelletier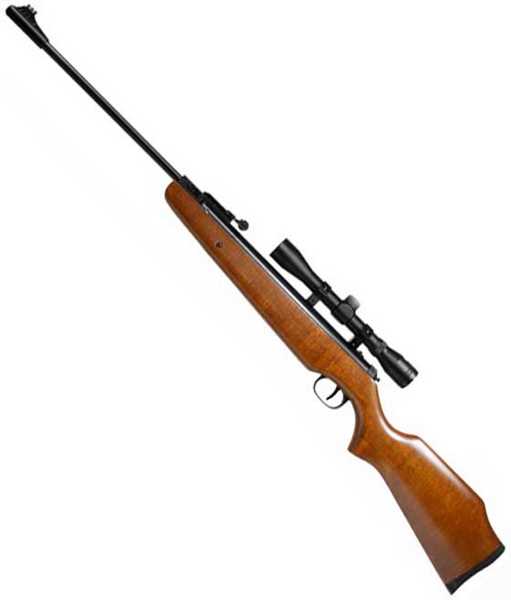 Ruger Air Hawk combo is very popular.
This report covers:
• Doing something different
• Tightened the barrel joint
• Sight-in and the first group with Hobby pellets
• Air Arms Falcon pellets
• RWS Superdome pellets
• H&N Baracuda Match pellets
• JSB Exact Express pellets
• Crosman Premier 7.9-grain pellets
• Alternate hold
• Conclusions
I started this test in July but have laid off for several weeks. Thanks for bearing with me. Today, we'll look at the accuracy of the Ruger Airhawk combo at 10 meters.
I'm looking at this combo because a number of readers say they really like the rifle. Of course, it's been compared to an RWS Diana 34, but I wouldn't go that far. Yes, there are similarities between the two rifles, but they're not identical. And each has its own unique firing characteristics – and we'll all learn a lot about those as I fire the rifle for accuracy using the open sights.
If this rifle proves to be accurate, it'll be a best buy, given the price of just $130. I know my test rifle is shooting slower than the advertised velocity, but I plan on testing the velocity, again, after the accuracy test, so don't give up just yet.
Doing something different
I'm changing the way I test air rifles in an attempt to make some progress faster than in the past. I'll shoot just 5 shots at 10 meters off a rest with each pellet and then look at the group. If the group shows promise, I will come back to the pellet. If not, I'll move on. That way, I'll be able to test more pellets in the same time.
I'll also test at least 2 different variations of the artillery hold — the 2 that have proven the most successful over the years. If one seems better than the other, I'll continue to use that hold for all the other tests.
Tightened the barrel joint
I noticed last time that the barrel joint wasn't tight. This barrel has a bolt that can be tightened, so I removed the action from the stock and tightened the barrel pivot bolt. When I was doing that, I noticed that all of them were loose. The inletting of the action in the stock was very tight — fully the equal of anything made in Europe. That gives me hope this rifle will be accurate.
Sight-in and the first group with Hobby pellets
I sighted-in the gun and shot the first group with RWS Hobby pellets. Sight-in amounted to just one shot that told me the rifle was on target from the factory.
I'm showing the sight-in shot along with the first group for two reasons. First, it shows how low the first shot was, yet I knew I'd be okay because I was shooting from just 12 feet. I knew the group would hit the paper higher. Second, it shows how much the shots climbed on target when I shot from 10 meters. This lesson demonstrates that you cannot sight-in a gun for anything under 10 yards and expect it to be on at any other distance. Even 10 meters is too close to sight-in a rifle if you expect to ever hit things at 15 yards and beyond. The sights are too close to the target, and the angular separation from the bore is too great when you're this close.
I held the rifle on the flat of my off hand with the triggerguard touching the heel of that hand. The group of 5 Hobbys measures 0.678 inches between centers. This is too large for a 10-meter group, so Hobbys are out of consideration.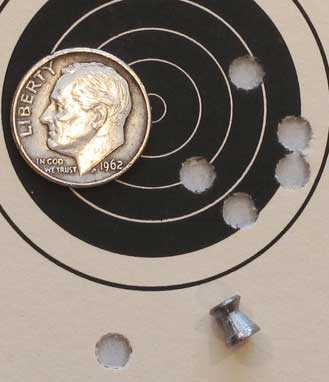 The sight-in shot hit below the bull, telling me the rifle was sighted-in. Five RWS Hobbys made a 0.678-inch group at 10 meters. Not good enough!
After this group, I adjusted the rear sight 7 clicks to the left but didn't touch the elevation. The sight remained in that setting for the rest of this test.
Air Arms Falcon pellets
Next, I tried Air Arms Falcon pellets. Falcons hit the target well-centered but much lower than the Hobbys. Five pellets went into a group that measures 0.493 inches between centers. While that isn't as good as I'd like to see at 10 meters, it does show some promise. I'll probably shoot Falcons from 25 yards, as well.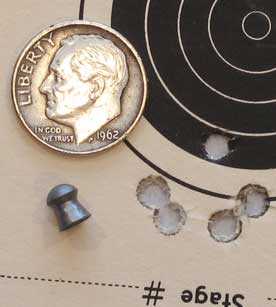 Five Air Arms Falcon pellets went into 0.493 inches at 10 meters. This is interesting.
RWS Superdome pellets
Next, I tried RWS Superdomes. They gave me a puzzling result. Four of the 5 pellets went into 0.506 inches, but the final shot opened the group to 0.906 inches. That might have been an aiming error; but at 10 meters, I usually don't make mistakes that large. I might try these again, but not if I find 2 other pellets that are better.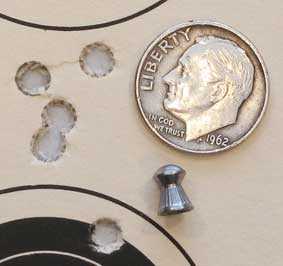 Five RWS Superdome pellets went into 0.906 inches, but 4 of them are in 0.506 inches. Interesting, but not good enough.
H&N Baracuda Match pellets
Next, I shot 5 H&N Baracuda Match pellets. Sometimes these pellets that seem too heavy for a gun will surprise you with their accuracy, although I have to say that happens more with heavy .22-caliber pellets than with .177s. It certainly didn't happen this time. Five Baracuda Match went into 1.372 inches. Although 3 pellets are close, I don't think this pellet is right for this rifle.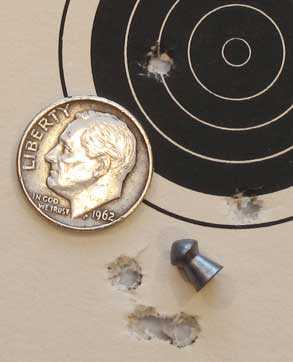 Five Baracuda Match pellets in 1.372 inches at 10 meters. Not the pellet for this rifle.
JSB Exact Express pellets
Five JSB Exact Express pellets were next. I have to confess that, while I like JSB pellets a lot, I've never had any luck with the Express pellet in either caliber. Today was no different. Five went into a 1.466-inch group that proved to be the largest of the test. Definitely out of the running for this rifle!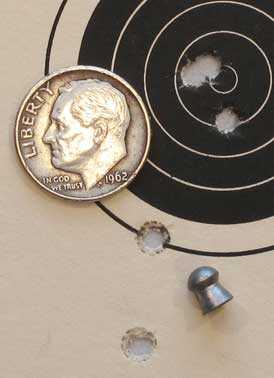 JSB Exact Express pellets made the largerst group of the test — 5 in 1.466 inches at 10 meters.
Crosman Premier 7.9-grain pellets
I felt I had to try the 7.9-grain Crosman Premier pellet that's often the best in some rifles. And I got an interesting result. The first pellet hit the target high and near the center of the bull. Then the next 4 dropped over one inch and grouped in 0.411 inches.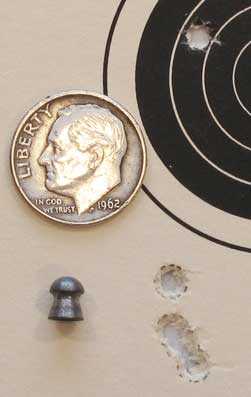 As a 5-shot group, Premier lites were not impressive, but only the first shot is apart from the group. Four went into 0.411 inches at 10 meters. This is a pellet worth testing further.
This group is small enough to interest me, so I shot a second group of 10 pellets. They landed in 0.746 inches, which is okay, but not the best. However, if you look at the group, you can see that 6 of the 10 pellets went into a much tighter group that's a single hole measuring 0.357 inches between centers. I know that aiming errors can put me off by as much as these 4 outlying pellets at 10 meters, so this group gives me confidence that the Airhawk can really shoot.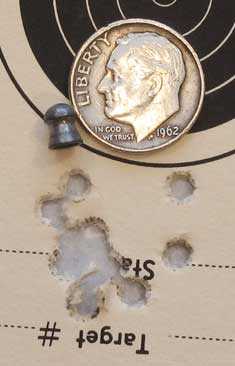 Ten Premier lites went into 0.746 inches at 10 meters, but 6 of them went into just 0.357 inches. That looks promising!
Alternate hold
I then tried the same Premier lite pellets with my off hand slid forward so I could feel the beginning of the cocking slot against my palm. Now that I know this is a good pellet, I can try different things like this. Five pellets went into 0.852 inches, which isn't good — but look where 3 of them went! That hole is a group measuring 0.069 inches! I don't think that was due to the different hold, but I do think it tells me this rifle can really shoot and that the Premier lite pellet is right for this gun.

Using an alternate artillery hold, 5 Premier lites went into 0.852 inches. While that isn't so good, 3 of those pellets went into 0.069 inches. I think the rifle can shoot, and this pellet is the right one – but the first hold is best.
Conclusions
Edith spotted the fact that I may have skewed the test results by not seasoning the barrel for each pellet. I guess that's the down side of shooting so many 5-shot groups. It does bring up a good point. I think that when I move back to 25 yards, I'll season the barrel with 20 shots per pellet before shooting the first 10-shot group.
She also suggested that I do a seasoned barrel vs. unseasoned barrel accuracy test. There are enough of you who believe in the seasoning process, so that makes such a test worth the effort.
by Tom Gaylord, a.k.a. B.B. Pelletier
This report covers:
• Ruger Air Hawk velocity retest
• RWS Hobby pellets
• JSB Exact Heavy pellets
• RWS HyperMAX pellets
• New Arlington field target club
• Beautiful course!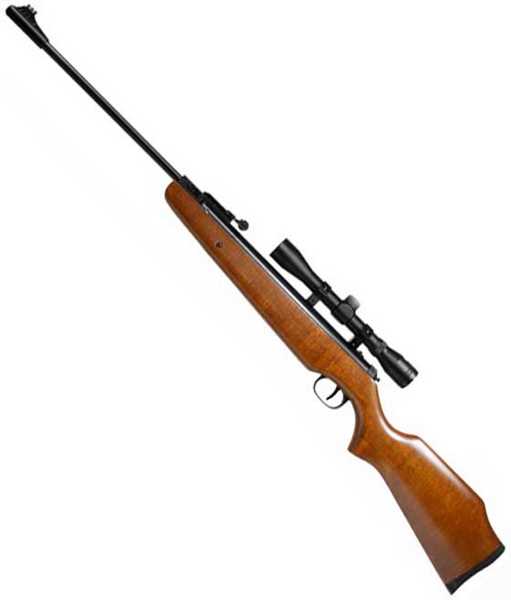 Ruger Air Hawk combo
Ruger Air Hawk velocity retest
I hadn't planned to do this test, but the velocity numbers in the previous blog post were so far off expectations that I felt compelled to try it, again. I was curious about the poor velocity performance of the Ruger Air Hawk combo. Someone suggested the breech seal might be too low and others agreed, so I shimmed the seal. It appears to be ever so slight higher now, but the velocity is definitely higher.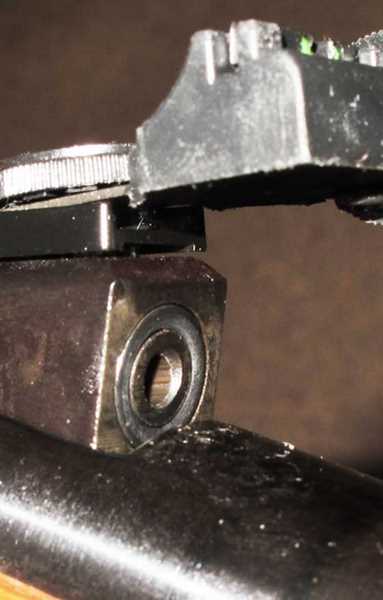 Before the shim the breech seal was low and flat.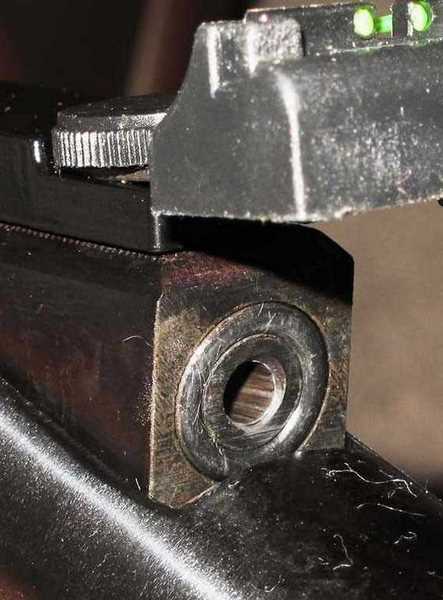 The shim raised the breech seal slightly.
RWS Hobby pellets
In the first test, RWS Hobby pellets settled into a range of 750 to 810 f.p.s. I didn't give averages because the gun seemed to be detonating too much.
This time, the range went from 1014 to 1088 f.p.s. Two shots registered 649 and 761 f.p.s., respectively. My gut feeling is that the velocity has increased, but the rifle's still detonating too much to know anything for sure.
JSB Exact Heavy pellets
The second pellet was the JSB Exact Heavy that weighs 10.34 grains. In the last test, these ranged between 534 and 757 f.p.s. In this test they ranged between 572 and 893 f.p.s., with all but two shots above 623 f.p.s. There's a definite velocity increase this time; but, again, I can't be precise.
RWS HyperMAX pellets
The last pellet tested was the 5.2-grain RWS HyperMAX lead-free pellets. Previously, these ranged between 817 and 970 f.p.s. In this test, they ranged from 906 to 1203, with only one not going above 1180 f.p.s.
I think it's clear that the breech seal was too low during the first test. Raising it with a shim did boost velocity, though the gun is still burning too much oil to tell for sure how much velocity has been gained. When it stabilizes, we'll have a better idea – but it does seem the gun is on the numbers now.
My next test will be for accuracy at 10 meters, using the open sights.
And, now, for something completely different!
New Arlington field target club
We have a new field target club in North Central Texas. The Arlington Sportsman's Club has started a field target club, which held their second trial match last Saturday on 10 of the club's 35 3D archery lanes. These lanes are carved into a wooded section of the club's property and are ideal for field target matches.
This is the second FT match I've attended in the past few years, and I have to comment that the sport is now more popular than ever! When I competed in the 1990s, field target was run by a rigid set of rules that put older and less mobile shooters at a disadvantage. And there were some clubs that enforced offhand-only shooting to the extent that the sport just wasn't attractive to many shooters.
Today, I see relaxed rules that allow seating and bipods for the rifles, changing everything! The shooter doesn't have to get into a seated position on the ground and hold the rifle so nothing touches the ground. Now, it's fun! And I can tell that the shooters are 10-20 years older than they were when I competed in the 1990s. That still puts them at my age — only, now, they're having fun.
Beautiful course!
The Arlington match director, Chris Simmons, showed me around the course, which was the finest FT course I've ever visited. Of course, having those lanes premade by the 3D archers made all the difference.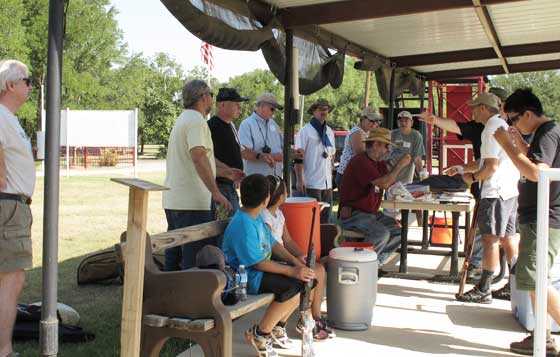 The match director's briefing started early, so the match started right on time.
Chris allowed one point for every target that fell, which is the common way of scoring a match. The Pecan Plantation club I visited some months back allowed 2 points for a target fall and one point for just hitting the target. Either way works fine, but seeing the target fall is what the sport's all about.
Chris left all the kill-zone reducers off for this match, so every kill zone was 1.5 inches. In the future, that will change. I know these targets seemed easier to kill, but when they have half-inch kill zones and are 25 yards distant, that will change.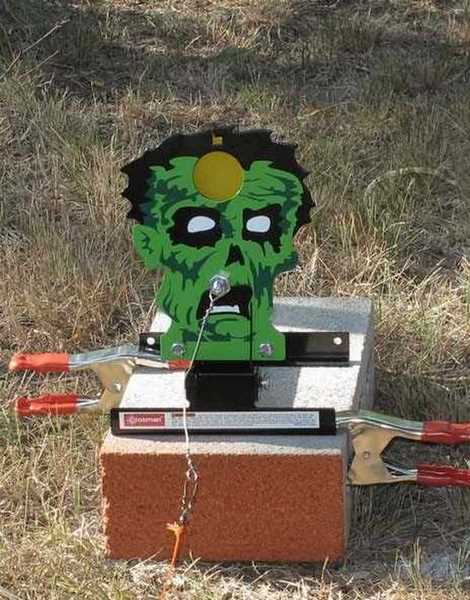 The kill-zone reducers were left off all targets for this match.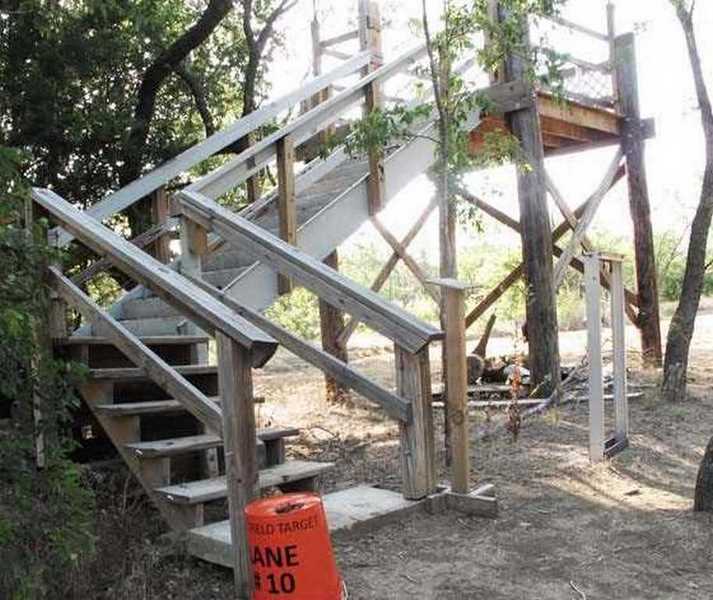 The match used archery facilities like this tower, which was designated for offhand shots, only. We never had features like this when I was a match director!
You might think that because this is a startup club all the shooters were duffers, but that was not the case. I saw many shooters who obviously knew exactly what they were doing. One man was shooting a Whiscombe JW 70, which is rare at any FT match. And another shot an Air Arms Pro-Sport he received only the night before the match. He got zeroed before the match started and did very well shooting from the offhand position.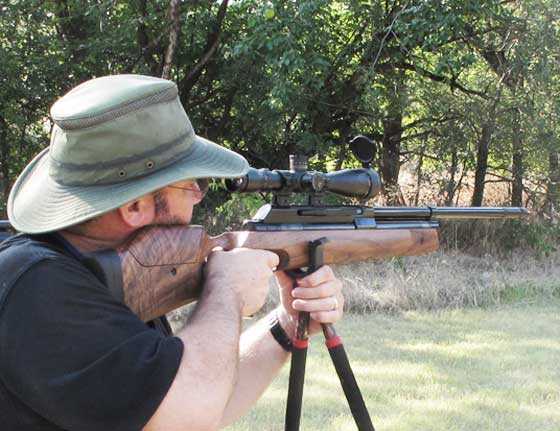 Here is a Whiscombe JW 70! How many of these have you seen?
The shooters from the Dallas FT club weren't able to make this match because they were working on a new venue for their club on the same day. But they'll attend matches in the future. And I think I may blow the dead bees out of my Air Arms TX200 and shoot a few matches, myself. It's been over 15 years since I competed; but the way things are run today, this looks like fun!
by Tom Gaylord, a.k.a. B.B. Pelletier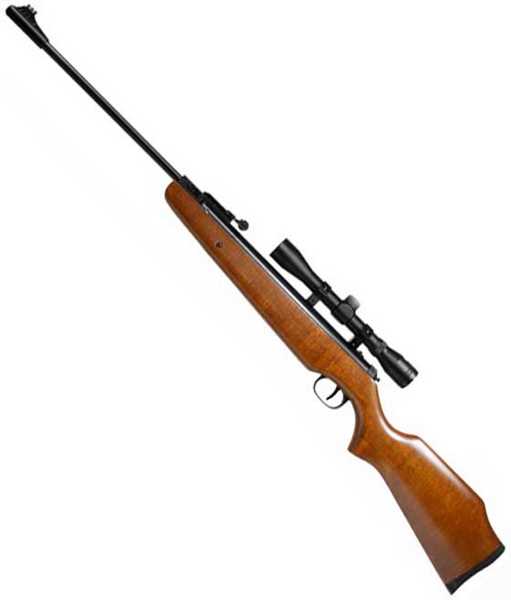 Ruger Air Hawk combo
This report covers:
• Why the Ruger Air Hawk?
• Impressions of the rifle
• Before the test
• RWS Hobby pellets
• JSB Exact Heavy 10.34-grain pellets
• Trigger-pull
• Firing behavior
• What to do now?
I'm testing the Ruger Air Hawk combo today, and I'm also starting something new. I'm combining Parts 1 and 2 into a single report. Part 1 has always been a general description of the item being tested, and Part 2 has been the velocity test. But you can follow the links embedded in the report to the Pyramyd Air product page and read the specs, so I don't have to dwell on them very long. Just give you my impressions and then check velocity, cocking effort and trigger pull. If this works, I will do it this way from now on if the gun isn't overly complex and if there's nothing unique about it. If not, I'll return to the conventional format. For that reason, I'm calling this both Parts 1 and 2.
Why the Ruger Air Hawk?
Most of you are aware that Ruger doesn't make airguns. They have them made by others to their specifications. In today's case, the Air Hawk is made in China. It's imported and distributed by Umarex USA.
I chose to review the Air Hawk because many readers have asked me repeatedly to do so. At the time of this report, there are 114 customer reviews on the rifle and it's rating is about 4.5 stars out of 5. That bodes well. I won't read those reviews before I examine the rifle, just to keep my opinions honest.
The Air Hawk is a straightforward breakbarrel spring-piston air rifle. The one I'm testing is in .177 caliber, the only caliber they come in. Mine is serial number 00474874. It has a conventional coiled steel mainspring, a wood stock and blued steel finish. The fiberoptic sights are constructed mostly of plastic, though the rear sight does have some metal parts. And the rear sight is adjustable in both directions.
It has been said that this is a copy of the Diana 34. I do see the resemblance, but there are also differences. The trigger isn't the same, nor is the cocking linkage.
So here we have a very traditional breakbarrel rifle. What's the attraction? The price, I suppose. This combo that also includes a 4X32 scope retails for $130. What makes this Ruger Air Hawk such a bargain? One word: Power!
The Air Hawk is a 1,000 f.p.s. rifle — according to its manual, or a 1,200 f.p.s. gun if you believe what's written on the box. One velocity is probably derived with lightweight lead pellets and the other with lead-free pellets. We shall see in a moment. The point is that velocity sells airguns these days. New shooters need to experience all they can with high-velocity spring guns before they're willing to explore the rest of what's available. And, with 4.5 stars from 114 customers, it sounds like the Air Hawk really delivers the goods. Again, we shall see.
Impressions of the rifle
The Air Hawk is heavier than I was expecting. It weighs a tad over 8 lbs. and feels stout in my hands. The stock proportions are generous without being oversized. This is a large air rifle. They rate the cocking effort at 30 lbs., and the test rifle cocks at 30 lbs. on the nose. I did have to try it several times before getting it down to 30 lbs., so there's initial stiffness that has to be worn away; but that's part of every break-in.
The finish of the wood and metal parts is smooth and even. The metal parts are matte black and the wood has a shine. The contouring of the wood is well done, although there's no checkering. The comb is Monte Carlo-shaped, and there's no raised cheekpiece. Since the automatic safety is located at the rear of the spring tube, this is a 100 percent ambidextrous rifle.
The cocking linkage is two-piece and articulated in the middle. The rear piece slides on a channel cut in the wood stock. Unlike many Chinese spring rifles, this Air Hawk sits centered perfectly in the stock, with no canting of the action! That's a plus because it means there's no rubbing of the cocking linkage parts against the wood.
The barrel detent is a ball bearing, similar to a Diana 34. I do have to slap the barrel slightly to break it open, so the ball is under a lot of spring tension. The base block that holds the barrel is held to the action forks by a bolt — meaning that barrel tension can be adjusted. That's a huge plus in any breakbarrel.
The trigger blade is metal and very straight. I like the angle of the blade, as it suits my hand quite well. The trigger-pull adjusts for the length of the first stage, only. A screw in front of the trigger blade controls this.
My overall impression is that this is a well-designed air rifle. More importantly, someone is in the Chinese plant assuring adherence to quality standards.
Okay, you can get the rest of the specifications from the product listing I've linked to above. Now, I'm going to test the velocity and trigger-pull.
Before the test
I shot the rifle before the test and noted that the first 5 or 6 shots were detonations (loud bangs, like gunshots) with oil droplets coming out of the muzzle. So, the rifle is lubricated heavily at the factory. I shot the rifle several more times until the detonations  seemed to end.
RWS Hobby pellets
The first pellet tested was the RWS Hobby. I use the Hobby as my reality check with some airguns, because not only is it a pure lead pellet — it's also often very accurate. I'm going to show the entire string here, for reasons I will explain.
Shot       Vel.
1…………1093
2………..1499
3………….789
4………….797
5………….766
6………….803
7………….810
8………….755
9………….769
10…………806
11…………750
12…………771
Pretty obvious what's happening. The gun was detonating on the first 2 shots, then it sort of settled down for the next 10. I'm not going to give any averages here because I don't believe the rifle has completely settled down yet.
People always ask me how I break in new airguns. Well, that depends on the gun. I thought I would show you with this one.
JSB Exact Heavy 10.34-grain pellets
Next up was the JSB Exact Heavy 10.34 grains pellet. If Hobbys are going in the 700s, then this pellet is too heavy for the powerplant; but when a gun is detonating, a heavier pellet will help burn off the excess oil. The rifle was still spewing out a cloud of oil mist with each shot.
Shot       Vel.
1………….659
2…………757
3…………665
4…………534
5…………553
6…………536
7…………550
8…………593
9…………555
10………..546
11………..631
12………..581
13………..559
As you can see, the gun is still burning off excess oil. That's where those faster shots come from.
Another way to burn excess oil is to shoot a very light pellet. It makes the gun detonate, which is probably needed here. So, I switched to RWS HyperMAX lead-free pellets.
Shot       Vel.
1………….882
2…………970
3…………892
4…………904
5…………854
6…………835
7…………816
8…………877
9…………814
10………..799
The rifle is still burning oil, but it's calmed down a lot by this point. I returned to Hobbys to see where things were.
Shot      Vel.
1…………630
2………..644
3………..677
4………..722
5………..720
6………..699
7………..706
8………..1080
9………..790
10……….1089
Okay, at this point I know the rifle is still detonating a bit and dieseling on every shot — as it's supposed to. All spring guns that shoot over 600 f.p.s. diesel with each shot, according to the testing that was done in the 1970s by the Cardew father/son team.
Trigger-pull
The trigger adjusts for stage-one length of pull, only. This one feels good where it is, so I'm leaving it there. The trigger releases at 3 lbs., 6 oz. Stage 2 is fairly crisp. I think this will be an easy rifle to shoot.
Firing behavior
The Air Hawk I'm testing has a quick shot cycle with some recoil and some vibration. But during the few shots of this test, the rifle became easier to cock and the firing cycle smoothed out. So, I think this is a rifle that will improve with time. Also, I now note that the barrel no longer remains where it's put after being cocked. So, the pivot joint needs to be tightened. I'll do that before the next test, which will be an accuracy test using the open sights that come on the rifle.
What to do now?
This is where a lot of newer airgunners are stumped. If they have a chronograph, they may feel their rifle is broken or that they'll hurt it by shooting it more. But the 98 percent of shooters who don't own a chronograph will just keep right on shooting their airgun, which is what I plan to do.
Next comes the accuracy test. I'll test the rifle at both 10 meters and 25 yards using the open sights, then I'll mount the scope that came with it and test it again.
After I finish the accuracy testing, I'll return and look at the velocity once more. I'm guessing the rifle will have settled down by then.
by Tom Gaylord, a.k.a. B.B. Pelletier
Yesterday, I shot the TX200 Mark III at 25 yards and discovered that it can shoot accurately when rested directly on a sandbag. Today, I'll take the rifle to the range and shoot it again at 50 yards.
I decided to continue shooting with the rifle rested directly on the bag because it seems to work well, and also because I haven't settled down yet. The bag-rested results should be a fair representation of what the rifle can do.
The day was dead calm throughout the test. Conditions were perfect for the rifle to do its best. But the results were most interesting and not what I expected.
H&N Baracuda Match
You will recall that, yesterday, I got the rifle sighted-in with the point of impact hitting about quarter-inch high and a half-inch to the left of the aim point. I left the scope setting where it was, so you could see what happened out at 50 yards. I'm shooting with the same H&N Baracuda Match pellets that were used yesterday.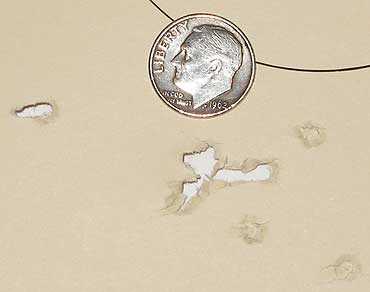 Ten H&N Baracuda Match pellets didn't do very well at 50 yards. Yes, there's the one pellet off to the left, but there are 3 more to the right of the main group. Group measures 2.2 inches between centers, with 9 pellets going into 1.199 inches.
The new point of impact (center of the group) is about 2-1/2 inches low and 1 inch to the left. This pellet dropped 2-3/4 inches, going from 25 yards out to 50 yards. The group is pretty large, measuring 2.2 inches between centers. It was shot 2 that strayed over to the left. The other 9 pellets are in 1.199 inches, or about one inch less. That's still on the large side.
JSB Exact Heavy
Next up were JSB Exact Heavy pellets. They weigh 10.3 grains and are often the most accurate pellets in premium airguns. They certainly were this day, as the first 10 turned in a group measuring 1.042 inches. It was the best group of the day.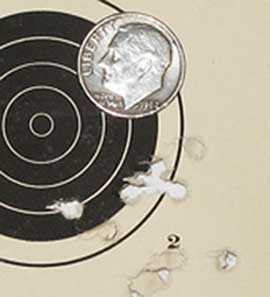 Ten JSB Exact Heavys made this 1.042-inch group.
The other 2 groups I shot with the JSB Exact Heavy pellets were larger. One measured 1.289 inches, and the other measured 1.66 inches. I did adjust the scope between groups, but I was careful never to hit the aim point of the target bull.
 The second group of JSB Exacts measures 1.289 inches between centers.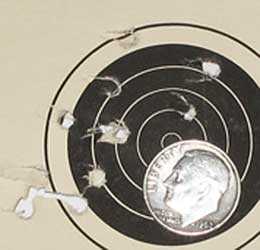 The third group of JSB Exacts measures 1.66 inches between centers.
Crosman Premier Heavy
Seeing that I'd given the JSB Heavys a fair chance, I then shot a group of 10.5-grain Crosman Premier Heavys. They made a 10-shot group measuring 1.365 inches between centers. Since its size is about in the middle of the 3 JSB groups, I think it's safe to say this pellet is about as accurate as the JSB Exact Heavy. I'm not making any claims, though, because I don't think I've done the TX200 Mark III justice in this test.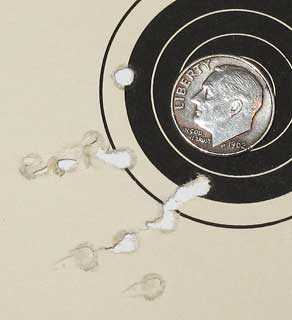 Ten Crosman Premier Heavys made this 1.365-inch group at 50 yards. That puts them on par with the JSBs.
The bottom line is that I'm not satisfied with these test results. I've seen this rifle do better, and I believe it still can — I just need to change something. I've never before shot a spring rifle directly off a sandbag at 50 yards, but I don't think that's the problem. I think I was using the wrong pellets.
Some observations
Remember at the beginning that I told you how far the group dropped when I went out to 50 yards with the 25-yard zero? I also shot the TX200 at 100 yards on this day. I didn't shoot an entire group, just 3 JSB Exact Heavy pellets. I used the 50-yard zero after adjusting the scope at the range. The 3 pellets went into about 6 inches, but what's really interesting is the fact that they struck the target more than 2 FEET below the aim point. Don't let anyone kid you that shooting at 100 yards is simply double shooting at 50 yards. The transition out to 100 yards is very dramatic! I did this just as an aside to see what would happen. Well, I saw all right!
I also think by shooting only heavy pellets on this day that I hindered the TX200′s chances to shine. I want to rerun this 50-yard test with some lighter pellets that are known to be accurate. Someone asked me about that already, and I think it needs to be tested.
Finally, blog reader Tunnel Engineer asked me to try resting the TX on the sandbag close to the triggerguard and again out at the cocking slot. He wanted me to compare group sizes and point of impact with the 2 balance points. But the bag I use is very long and runs all the way from the triggerguard to the cocking slot, so I don't see how I can do that.
by Tom Gaylord, a.k.a. B.B. Pelletier
Part 1
Part 2
Secrets of loading the Benjamin Marauder magazine
Today, I'll begin a look at accuracy for the Benjamin Marauder precharged pneumatic air rifle. If the Marauder was a normal PCP, this would be one quick report, but it isn't. The owner has the ability to change not only the rifle's power, but also the fill pressure the reservoir will accept. That makes testing a Marauder potentially complex if you want to try everything, and we certainly do want to do that here. So, today will just be a first look at potential accuracy, after which I'll determine the shot count the rifle now gets with the best pellet, and then tune it to a preselected optimum range and test it again to see if the shot count increases. Neat, huh?
I know I'm going to shoot this rifle a lot, so I selected one of the best scopes I have — a CenterPoint 8-32x with parallax adjustment. The scope I chose is an old one from the time when Centerpoint was having Leapers make all their scopes. It's no longer available, but a close equivalent would be this UTG scope.
Where to begin the test
Oh, boy, where do I start? I thought it would be good to test a number of premium pellets and try to find 1 or 2 that stand out for accuracy. Then, I'll concentrate on those pellets, which will help me focus on what has to be done.
I shot at 25 yards indoors because that's the distance at which things start to happen. If a pellet is going to be accurate, 25 yards is usually far enough for it to stand out.
This is one time where 5-shot groups come in handy. I decided to shoot all the pellets I'd selected in 5-shot groups and see if 1 or more of them stood out as exceptionally accurate. Five-shot groups save time, pellets and air; and when you're faced with testing 8 different pellets, as I was, it makes a big difference.
If there was no favorite pellet, I would just have to pick a couple pellets and proceed to work with them. But as it turned out, this rifle does have a favorite. When I show you how much better it is than the others, you will probably say what my wife, Edith said when she saw the groups. She couldn't believe that 1 pellet was so much better than all the rest, and exclaimed, "Woohoo," involuntarily.
Marauder's noise level
But before I get to that, when I walked into her office to show her the groups, Edith asked me what airgun I was testing because she couldn't hear it. She thought it was some low-powered air pistol. And our female cat, who normally runs around the house complaining whenever I shoot, slept through the whole session. As it stands right now, the Marauder I'm testing is about as loud as a politician volunteering to do something proactive in a non-election year.
Pellets tested
I selected the following pellets to test:
Crosman Premier 10.5-grain
Crosman Premier 7.9-grain
JSB Exact Heavy (10.34 grain)
JSB Exact RS
RWS Superdome
Beeman Kodiak
JSB Exact Monster
JSB Exact Express
I did sight-in the rifle, but not so it would hit the center of the target because that would destroy the aim point. Nevertheless, a couple pellets did do just that. Fortunately, it was at the end of the 5 shots and no harm was done.
Average groups
The Marauder is accurate no matter what pellets it shoots. It's better with some pellets than others. Take a look at some of the 5-shot groups.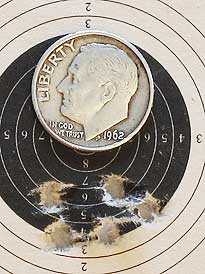 Five RWS Superdomes made this 0.528-inch group at 25 yards.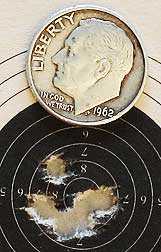 Five 10.3-grain JSB Exact Heavys made this 0.376-inch group at 25 yards. It's better than the Superdomes, but still not great.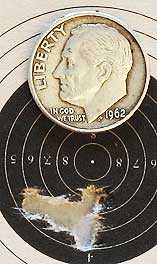 Five JSB Exact Monsters made this 0.316-inch group at 25 yards. It's the second-best 5-shot group of the test.
Okay, I could live with the JSB Monster group, and there were a couple other pellets worthy of further examination if that was the best the Marauder was going to do. But it wasn't. When I shot 5 Crosman Premier lites, the whole test changed.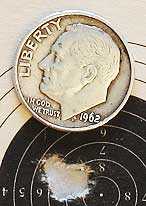 Five Crosman Premier lites made this 0.139-inch group at 25 yards. It is hands-down the best 5-shot group of the test.
It should be obvious that Crosman Premier lites are the best pellet of those tested. On the basis of the 5-shot group, they're twice as accurate as the next best pellet. Now, it was time to shoot a 10-shot group with them and see where that took us.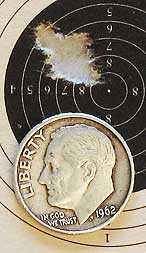 Ten Crosman Premier lites made this 0.285-inch group at 25 yards. This is exactly what I was looking for.
Obviously the 5-shot group was no fluke. This rifle really likes this pellet.
What's next?
Where do we go from here? First, I'm going to fill the rifle again to 3,000 psi and shoot nothing but Premier lites to determine the total shot count with the gun as it's currently tuned. You may remember that we found this rifle was tuned to the max when we did the velocity test in Part 2. While that high speed obviously doesn't hurt the accuracy of the Premier lite pellet, wouldn't it be nice to get several extra shots from a fill and keep the same accuracy? The rifle currently shoots Premier lites at an average 1,015 f.p.s., and I think an average 900 f.p.s. will be just as good. That's where I'll be adjusting the rifle. Several of you have asked how the power is adjusted on the Marauder, so this will give me the opportunity to show how it's done.
Then, I'll count the total number of shots at that new velocity, and we'll see what reducing the velocity gains, if anything. I'll also test the accuracy at the new lower velocity to see if the rifle is still just as accurate.
After that, I plan to adjust the maximum fill pressure of the rifle. I'll experiment with the rifle operating at a lower fill pressure while still getting the same velocity. This will be at the new velocity of around 900 f.p.s. We'll see what benefits there are to having a lower fill pressure.
I do plan on shooting the Marauder at 50 yards, too, but that will come after all the adjustments have been made and evaluated. By then, we should know the test rifle very well and be able to tune it for the best performance. There's a lot more in store for this rifle!
by Tom Gaylord, a.k.a. B.B. Pelletier
This is a look back at an air rifle that has become iconic throughout the world — the Benjamin Marauder. The last time I looked at this rifle, I did it in my conventional way. This time I'm doing it different because I know more about the rifle.
My goal this time is to tune the Marauder exactly as I want it to shoot. I think there will be a great benefit for those who want to learn about PCPs to watch this as it develops. Today, I'll test the rifle for velocity in the conventional way, except I won't do a shot count — not today.
In the next report, I'll test the rifle for accuracy at 25 yards, only I'll stack the deck by selecting the pellets that I believe will be the most accurate. The accuracy test will tell me which one(s) to select. After that, I'll test that one pellet for velocity and for the total shot count I can get.
Then, I'll decide what I want that pellet to do. If it's a heavyweight, I'll try for moderate velocity in the 850 f.p.s. range and then try to get the greatest number of shots from it. If it's a medium or lightweight pellet, I'll probably dial the velocity back to about 900 f.p.s. and try for the best shot count.
I'll also be interested in the fill pressure. If I can get 25 good shots with 2,500 psi air, I won't care that 3,000 psi air gives me 31 good shots with the same pellet. But if 3,000 psi gives me 38 good shots compared to 25 good shots with 2,500 psi, then, yes, I'm going to set the gun up to fill to 3,000 psi.
As I do all of this experimentation, I'm going to document it so those who have questions about the Marauder can see how it works. You tell people today that an air rifle has adjustable velocity, and they expect to see a rheostat on the side of the stock; but the Marauder isn't like that. It's a thinking man's airgun. You set it and forget it. You don't keep fiddling with the controls until it's a jumbled mess. We're going to spend the time to learn how to do it right.
But wait…there's more! Not only does the Marauder allow you to adjust the velocity of the pellet, it also lets you adjust the maximum fill pressure of the air reservoir. When you hear that, you probably wonder why anyone would bother with a fill pressure other than the maximum — which in the case of the Marauder is 3,000 psi. Here's why they do it. Some owners may use hand pumps that they find difficult to use above 2,500 psi. Other owners may use scuba tanks, but they live 40 miles from the dive shop and want to be able to use their rifle for a longer time than conventional wisdom permits. For these owners, adjusting the maximum fill pressure to 2,500 psi makes perfect sense. They understand that they'll get fewer shots at maximum velocity when the fill pressure is lower — just as you understand that you can't go as far on a gallon of gas as you can when the tank is full, but you can go just as fast.
When you're adjusting the velocity and the maximum fill pressure, you have to find a balance point between the two. That's what's confused many people. The Marauder is the first air rifle in the world to allow both the fill pressure and the velocity to be adjusted. It's like they've given you your very own NASCAR engine, and it's up to you to tune it for the race track you're going to drive on.
One pellet is all I want
I don't care to discover 27 different pellets for this rifle. I only want the single best one. I don't care how much it costs — only how accurate it is and how effective (power and shot count) I can make it. So, that'll take some time to locate and some more time to set up the gun to use that single pellet most effectively.
That's what I intend doing. The first step is to test the rifle for velocity now. I plan to test the following pellets:
Crosman Premier 10.5-grain (Premier heavy)
Crosman Premier 7.9-grain (Premier lite)
JSB Exact Heavy (10.34 grain)
JSB Exact RS
RWS Superdome
Beeman Kodiak
I may not have included your favorite .177 pellet on my list, but allow me to explain my thinking. First, all of these pellets are domes. I know the domed pellet to be the most accurate pellet shape on the market. And each of the pellets I selected to test are known by me to be very accurate.
I selected the Beeman Kodiak, but I've found that the Beeman Kodiak Match, H&N Barauda and H&N Baracuda Match are all the same pellet, as far as performance goes. I use them interchangeably, so I only have to test one to know how all four perform.
There may be other pellets that are better in the Marauder; but starting from zero, these pellets are the ones I would choose. Let's see how they do.
Crosman Premier heavy
Crosman Premier heavies averaged 943 f.p.s. with a spread that went from 941 to 945 f.p.s. That's right — only 4 f.p.s. separated the fastest and slowest shots! At the average velocity, this pellet makes 20.74 foot-pounds of energy at the muzzle.
Crosman Premier lite
Crosman Premier lites averaged 1,015 f.p.s. The low was 1,012 f.p.s. The high was 1,018 f.p.s., so 7 f.p.s. was the total velocity spread. At the average velocity, this pellet produces 18.08 foot-pounds of energy at the muzzle.
JSB Exact Heavy
JSB Exact Heavy pellets averaged 936 f.p.s. The low was 932 f.p.s. and the high was 940 f.p.s. The total spread is 8 f.p.s. At the average velocity, this pellet produces 20.12 foot-pounds of muzzle energy.
JSB Exact RS
JSB Exact RS pellets averaged 1,032 f.p.s. The spread went from a low of 1025 f.p.s. to a high of 1039, so a total spread of 14 f.p.s. At the average velocity, this pellet makes 17.34 foot-pounds of energy at the muzzle.
RWS Superdome
Of all the pellets tested, RWS Superdomes were the most difficult to load into the magazine. I had to use a pusher to get almost every pellet into the mag. They averaged 1,014 f.p.s. and went from a low of 1,008 f.p.s. to a high of 1017 f.p.s. Total spread was 9 f.p.s. At the average velocity, this pellet produced 18.95 foot-pounds of energy at the muzzle.
Beeman Kodiak
Beeman Kodiaks averaged 957 f.p.s. in the Marauder. The high was 960 f.p.s and the low was 955 f.p.s., so the spread was 5 f.p.s. Kodiaks produced an average 21.66 foot-pounds of muzzle energy.
Where are we?
I just dumped that data on you so I could get to this discussion. What do these numbers tell us? They tell me my rifle is set up extra-hot. I have no need for all that speed; so after I find the right pellet, I plan to dial back the power to between 850 and 900 f.p.s. If the best pellet is light, I'll let it go toward the 900 f.p.s. side of that range. If it's a heavy one, I will try to get it down to around 850 f.p.s.
Why would I do that? To get additional shots per fill. The way the rifle is now set up, I'm wasting air. Not that too much air blows out with every shot, but I just don't need these pellets to go so fast, to do what I want them to.
Did you notice?
I was impressed by how tight the shot strings were. Remember, the Marauder doesn't have a regulator. It's doing all this with just a well-balanced valve. We'll want to keep that in mind when it comes time to make adjustments.
The magazine is superior!
There have been a lot of negative comments on the Marauder's spring-loaded magazine. I can shed some light on that. I've watched some new owners who were befuddled by how this magazine works, and they ruined it by forcing it when it didn't do what they expected it to. My magazines are several years old and with hundreds of shots run through each of them. I've never had a single problem. But force them even one time to do what they weren't designed to do, and you'll ruin them. This mag is a copy of a successful UK PCP magazine, and that one had the same learning curve problems.
Silent operation
My test Marauder is very quiet! Even operating at the high power level it's at right now, it's extremely quiet. I don't know if it'll get even quieter when I cut the power, but I do plan on observing and reporting.
More about the stock
The Marauder stock is not as clunky as people say. In fact, the pistol grip is thinner and narrower than most UK PCP stocks. The forearm is wide, but only enough to contain the large reservoir.
The trigger
I'm ambivalent about adjusting the trigger because the one on my rifle is so sweet that I don't want it to change. It's exactly where I want it to be. Theoretically, I can always adjust it back, but I've seen too many instances where the theory didn't pan out.
The 2-stage trigger breaks at less than 11 oz. The first stage is 9 of those ounces, so the release is very light and glass-rod crisp. Only the addition of an overtravel stop would make it better.
So far
I knew what the Marauder was like before this test began. That's why I'm testing it the way I am. I get to learn something new, and people who are interested in the Marauder get to see it in a way they probably haven't seen anywhere else. I think the Marauder is a classic for all time, but you have to decide that for yourselves.
by Tom Gaylord, a.k.a. B.B. Pelletier

Walther LGV Olympia was a top-quality 10-meter target rifle in the 1970s.
The weather cooperated yesterday and gave me a perfect day at the range, so I was able to shoot the Walther LGV Olympia at 50 yards. I also shot the Talon SS with the 1:22″ twist barrel before the wind kicked up and stopped all airgun shooting, so I'm on the way to the final test of the different twist rates.
I knew the LGV Olympia was never going to hit the target no matter what I did to the rear sight, so I placed two 3-inch bulls on a 2×4 piece of target paper and used them for sighting. The shots landed far below these bulls, of course. How far is an eye-opener. I took a picture so you could see.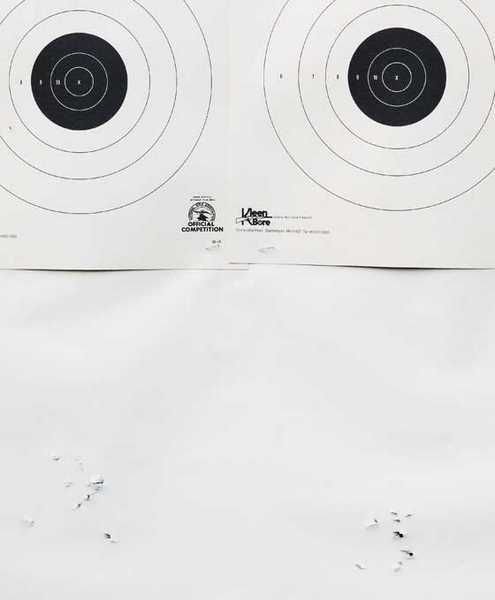 The pellets landed about 18 inches below the aim point at 50 yards. The sights had the pellets hitting the center of the target at 25 yards, so this is how far they drop in the second 25 yards. Notice that the center of the group of JSB Exact Jumbos on the right is about 2 inches lower than the center of the RWS Superdomes on the left.
I fully expected this to happen, so I stapled the bullseye targets to a huge piece of target paper so the pellet holes would show. Knowing they could well go to the same point, I used two separate bullseyes as aim points; and from the picture, you can see that was a good idea.
I selected the two best pellets from the 25-yard test for this. They were the JSB Exact Heavy, which was the best pellet at 25 yards, and the RWS Superdome that took second place.
I shot off a sandbag with the rifle rested on the flat of my hand in the classic artillery hold. The flight time of both pellets was extreme. Although I couldn't see them in flight, the flight time told me they were dropping rapidly as they moved downrange.
JSB Exact Heavy
The first pellet I tried was the 10.34-grain JSB Exact Heavy. It's by far too heavy for the LGV Olympia powerplant; but in the 25-yard test, 10 Exact Jumbos went into a group that measures 0.354 inches between centers. A novice might expect that, since the range was doubled, the group size would be as well. That would give us something like a 0.70-inch group for this pellet.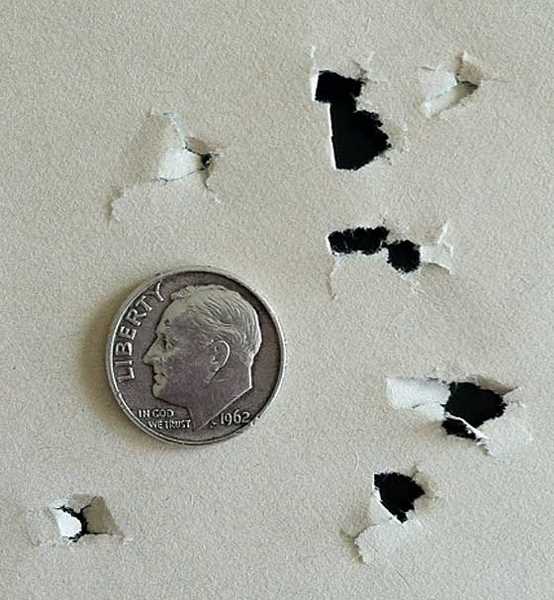 The 50-yard group was larger than expected. Ten JSB Exact heavys went into 2.285 inches.
What I actually got was 2.285 inches between the centers of the two pellets that were farthest apart. That's roughly 6 times larger than the 25-yard group and more than 3 times the expected size if you simply tried to extrapolate straight from 25 yards to 50 yards. This is why you have to be careful when making generalizations about accuracy.
The shooting conditions were perfect for this test. There was no breeze to speak of; and if I felt something, I always waited it out. I also had no shots that were called as anything but perfect. What you see here represents the best I was able to do with the LGV Olympia at 50 yards with this JSB pellet.
RWS Superdome
The second-best pellet at 25 yards was the RWS Superdome, which gave me a 10-shot group measuring 0.695 inches. Multiply that by 6, and you'll get an anticipated group size of 4.17 inches. I'm doing that because of what happened with the JSB Exact Jumbos.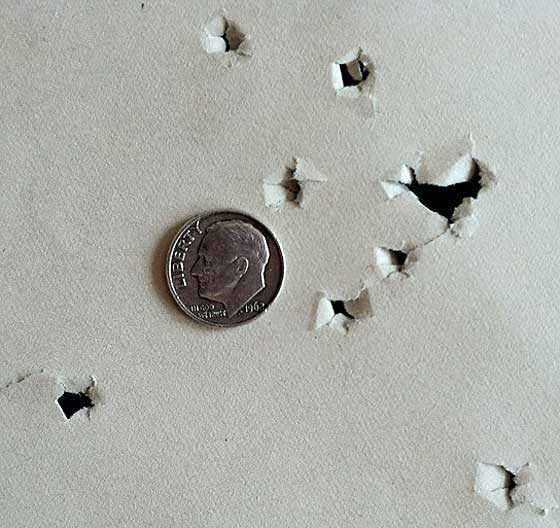 RWS Superdomes opened up even more than JSB Exact Jumbos. This group measures 3.062 inches between centers.
What Superdomes actually did was put 10 shots into 3.062 inches, so it was better than predicted (if you use the 6x predictor) but certainly much larger than simply double the 25-yard group size.
The lesson here is that group size does not simply increase linearly with distance. We hear that all the time. If a certain gun shoots 1-inch at 100 yards, we say it should shoot 2 inches at 200 yards. I'm saying that rarely happens. The group usually opens faster as the distance increases. Not always, but usually.
Evaluation
The Walther LGV Olympia is a remarkable airgun. Out to 25 yards, it's extremely accurate, plus it's very easy to cock and quiet to shoot.
Beyond 25 yards, though, the LGV Olympia quickly gets outside its comfort zone. There just isn't enough power pushing the pellet to hold the group size to what you might expect.
These results are consistent with the results I got when shooting the FWB 300S at 50 yards. Installing a scope helped in that test, but only marginally. So, I'm not going to put a scope on this rifle. I'm satisfied and that's as far as I'm going to test this rifle in a field setting.