Posts Tagged 'multi-stroke pneumatic'
by B.B. Pelletier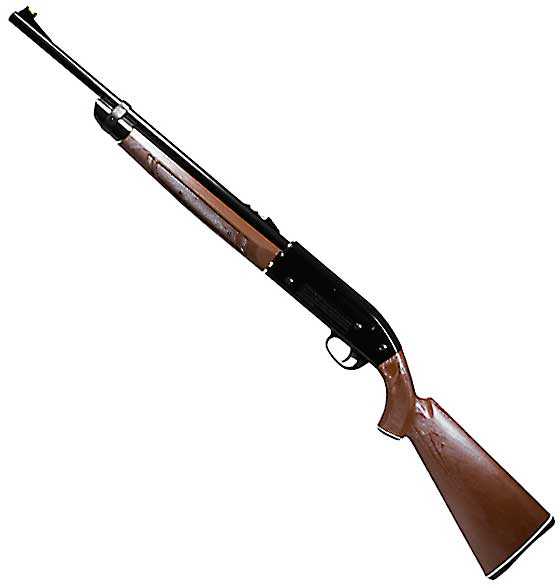 Crosman's 2100B is a full-sized, multi-pump that hopefully delivers power and accuracy with a few economic concessions.
Today, we'll look at the velocity of the Crosman 2100B multi-pump, and a strange thing occurred during the test. Actually it was two strange things — one an amazing coincidence and the other just weird. Both relate to oiling the gun, and both will be informative.
First, the coincidence. As I was writing this blog (last week, because I'm in Las Vegas at the SHOT Show this week), I got a question from a reader whose 2100 wasn't pumping air. I asked him if he had oiled the pump piston head like he was supposed to, and I directed him to the online owner's manual that tells how to do it and to a blog I wrote years ago that tells the same thing. A couple hours later, I get a thank you message that he's oiled the gun and it seems to be holding air.
So, there I am in my office pumping the gun and shooting it for velocity and I ask myself about the state of the pump piston head of the particular gun I'm testing. Sure, it's brand-new, but that doesn't mean that it has enough oil. I look, and the pump head appears to be dry. For those who wonder what I'm talking about, please read the manual.
Then, I recalled that someone had guessed that this rifle would shoot in the low 600s with lead pellets, because someone he knew had tested it. Lo and behold, it was shooting only about 622 f.p.s. on 10 pumps (which is the maximum) with Crosman Premier 7.9-grain pellets. Wow! He was right!
But, wait! The pump head was dry, so I oiled it with some Gamo oil for CO2 guns. The velocity jumped to 658 f.p.s. with the same pellets and 10 pumps. But after about 10 shots the velocity started declining again.
So, I oiled the pump head again — this time with Crosman Pellgunoil. The velocity jumped to 690 f.p.s. before sliding backward to the 620s.
What did I learn?
First, I re-learned for the umpteenth time how important it is to oil a multi-pump gun. That was all it took to fix the reader's rifle! Second, I saw that the test 2100 rifle responds to oiling immediately, but falls off again almost as fast.
So, the published velocity of 725 f.p.s. can probably be achieved with real-world lead pellets for a brief time, but this test gun won't hold that velocity very long. Maybe the material the pump head is made of needs a break-in period? I don't know. What I do know is that I can change the velocity of this gun by 70 f.p.s. simply by oiling it.
It doesn't end there, however. While that story was unfolding I was also experimenting with the speed of my pump strokes. Since the pump head seemed somewhat hard, I figured that faster pump strokes would build more pressure. And they did! I could increase the velocity by 10 f.p.s. at least, just by changing the speed at which I pumped. I've tried the same thing in the past with other multi-pumps, but this one is particularly sensitive.
I think the most representative method of testing this rifle for velocity is to let it sink back to its lowest velocity and stabilize there. That way, the velocity test will also represent the velocity at which the accuracy test is conducted, because I'm certainly not going to oil the pump head after each and every group! Undoubtedly, there's sufficient oil in the gun right now because of the two oilings I mentioned.
Crosman Premiers
The first pellet tested was the 7.9-grain Crosman Premier. Since the 2100 is a multi-pump, I decided to test each pellet and BB at 5 pumps and 10. That gives us a good picture of what the gun can do across the entire range.
On 5 pumps, Premier lites averaged 540 f.p.s. when the gun was pumped fast. They ranged from 537 to 543; and at that velocity, they produced 5.12 foot-pounds On 10 pumps, again with rapid pump strokes, this pellet averaged 630 f.p.s. The range went from 628 to 635 f.p.s., and the average muzzle velocity was 6.96 foot-pounds.
JSB Exact 8.4-grain dome
Next I tried the 8.4-grain JSB Exact dome. On 5 fast pumps they averaged 526 f.p.s., with a spread from 517 to 531 f.p.s. The muzzle energy averaged 5.16 foot-pounds. On 10 pumps, they averaged 608 f.p.s. with a spread from 595 to 611 f.p.s. The average muzzle energy was 6.9 foot-pounds.
JSB Exact RS
For a light pellet, I tested the JSB Exact RS. The name of this pellet includes the word Match, but they're domes, not wadcutters, and cannot be used in formal match shooting. At 7.33 grains, they're very light, yet I've had some good luck with them in other pellet rifles.
In the 2100, 5 pumps gave an average 559 f.p.s. The spread went from 555 to 563 f.p.s. The average energy was 5.09 foot-pounds. On 10 pumps, the average velocity was 646 f.p.s., and the range went from 635 to 654 f.p.s. At the average velocity, the muzzle energy was 6.79 foot-pounds.
So, the reader who said the 2100 wouldn't get to 700 f.p.s. was right. As long as you don't shoot it immediately after oiling with Pellgnoil, it won't shoot that fast. But oil it, and it'll probably top 700 f.p.s. with lighter pellets.
On to BBs
BBs were next, and with them things are much more standard. Though there are subtle differences in BB brands, they don't vary as much as pellets. We'll now see if the advertised velocity of 755 f.p.s is reasonable. Since this is a Crosman gun, I tested it with Crosman Copperhead BBs.
BBs are loaded into the large reservoir, then the gun is shaken and they fall into the smaller spring-loaded magazine. Once the magazine is empty, you can shoot pellets again, even though there BBs are still in the big reservoir; if they aren't in the magazine, they won't load automatically.
On 5 pumps, Copperheads averaged 570 f.p.s. They ranged from 564 to 578 f.p.s. At the average velocity, they generated 3.68 foot-pounds of energy at the muzzle. On 10 pumps, they averaged 678 f.p.s. and ranged from 672 to 682 f.p.s. That's an average muzzle energy of 5.21 foot-pounds.
So the bottom line is that the test gun doesn't meet its advertised spec for velocity. It falls at least 73 f.p.s. short. It does the same with lead pellets, so I'm withdrawing my remark that the gun is suitable for light hunting. Clearly, it's below the safe margin. Yes, it will kill small animals, but I could not recommend it for that task based on these results.
I also note that the barrel is starting to loosen at the breech. It rotates slightly at this point, and I'll keep an eye on it. And the pump lever hits the gun with a loud slap on every pump stroke — there's no cushioning material to deaden the sound.
I hope these results don't disturb owners of this gun, because they in no way condemn it. The accuracy test is still to come, and we might get a big surprise there.
by B.B. Pelletier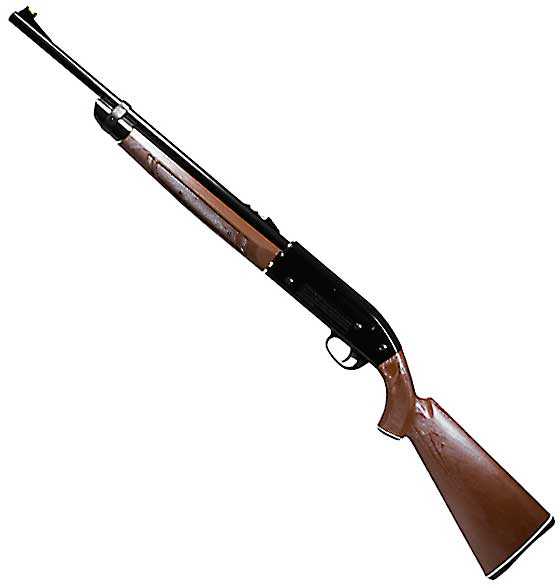 Crosman's 2100B is a full-sized multi-pump that hopefully delivers power and accuracy with a few economic concessions.
I've been reviewing some basic and even classic airguns and air rifles for the past month, and today's Crosman 2100B multi-pump is one of them. It was initially my plan to get all these at least started by Christmas 2011, but I didn't even make that date. Next year, I need to start in early October, because other things do get in the way.
I know many of you are 2100 fans because you've said as much in the comments.
I may be the last guest to come to the party where the 2100 is concerned. Only Crosman's smoothbore 760 Pumpmaster is more popular; and, of course, with the release of the rifled M4-177 late last year, that will be a tough act for any airgun to follow.
Think of the 2100 as the 760′s older brother, though there are a couple very important differences. For starters, this powerplant is completely conventional. You can pump the gun and leave air in the reservoir without cocking it first. That's a big plus in my book. And the piston stroke in the 2100 is longer than that of the 760, so the power is greater, as well. Best of all, the 2100 has a rifled barrel!
The power level is elevated over that of the smaller multi-pumps. Crosman rates the rifle at 755 f.p.s. with steel BBs and 725 f.p.s. with lead pellets. Naturally, I'll test both numbers for you, and Crosman Copperhead BBs will be involved. So, this is a more powerful airgun than most of the others in its class.
Sights
The sights are a fiberoptic bead in front and a plain notch in the rear. The rear sight is adjustable in both directions, though the adjustments are crude. There's an elevator wedge for elevation, and the entire sight can swing in either direction for windage. A screw then locks it in place.
The stock and forearm/pump handle are plastic, but the rest of the exterior of the gun seems to be metal. Only the bolt handle and barrel band are plastic, while the exterior of the barrel is jacketed in some metal around a soda-straw steel barrel. This barrel is rifled, as mentioned, yet the rifle can handle steel BBs if you're so inclined.
Cocking
The bolt retracts to open a funnel-shaped loading port, similar to what we saw in the review of my vintage Crosman 2200 multi-pump rifle back in 2009. I'll wait until I've loaded the gun several times before reporting on how easy it is to load. Naturally, this time, there are also steel BBs to be loaded from an internal reservoir, so I'll cover that later as well.
The effort needed to cock this gun is considerable, and buyers should know that before they buy. This isn't the gun to pick to train your 10-year-old. Think of it as more of an adult pneumatic. I compared it to my vintage 2200, which is much easier to cock, so there's a possibility that this will wear in with time and use.
Most people love the 2100!
I looked at the owner reviews of the gun, and only one of them was really negative. Apparently, the buyer expected a $125 rifle for $60. He said the barrel is plastic, but it isn't. It's metal, but as noted, it's just a jacket around a soda-straw steel barrel. He was terribly upset about the construction of his gun. So much so that he forgot to report how it shot.
There were 32 others, however, who gave the gun five stars, and I think what they say is a lot closer to the truth. I've tested Cannon multi-pump air rifles from Indonesia that are all metal and wood, but don't shoot worth a darn until their valves are rebuilt by their owners. Even then most of them don't even perform to spec, and only after they're made to work at all do the owners discover that the barrels are often less than accurate. I expect more from this Crosman rifle and will be shocked if I don't get it. A little plastic where it doesn't matter (and, no, Michael…the one person who gave this a negative review, the bolt handle will not break when you cock the gun — even 10,000 times!) is not a detractor if the performance is there. That's what this report will determine.
The rifle
Weight-wise, the 2100 is light, but not overly so. At just 4.8 lbs., it lays light in your arms but it doesn't float the way many similar smaller multi-pumps do. For many people, that's a good thing. The length of pull is an adult 13-3/4 inches that will work for older kids, as well. The molded plastic stock and forearm are both checkered with large, sharp diamonds that really do grip your hands. Overall, the rifle feels pretty good in the offhand position.
Pellets are loaded singly, but the BBs are poured into a 200-shot reservoir that's accessed through a discreet hole in the bottom of the pistol grip. Just slide the grip cap to the rear and pour in up to 200 BBs. Pull the BB magazine follower to the rear and lock it in place, then, while holding the muzzle down, shake the rifle from side to move BBs into the 17-shot visible magazine on the left side of the receiver. Finally, release the BB follower. Every time you cock the gun, a magnet on the bolt tip will grab a BB until the BB magazine is empty. It's possible to have BBs in the larger reservoir and not in the magazine and to shoot pellets single-shot without BBs getting in the way.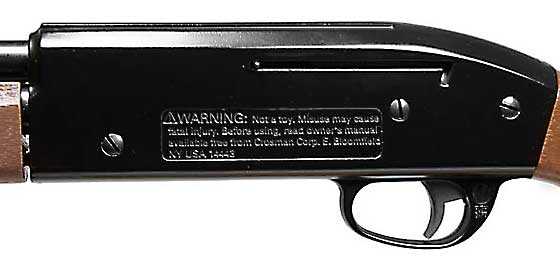 The 17-shot BB magazine is located on the left side of the receiver.
Trigger
I measured the trigger-pull with my Lyman electronic scale. The trigger is two-stage with a very short first stage. It's not adjustable. Stage two breaks very consistently at between 4 lbs., 10 ozs. and 4 lbs., 12 ozs. — as long as the squeeze is slow and consistent. Yank the trigger, and the pull goes over 5 lbs. on the test gun.
Pump effort
I have to comment on the effort it takes to pump this gun, because it could surprise some buyers. Where the 760 Pumpmaster and its derivatives all pump easily, the 2100 does not. It pumps as hard or even harder than a Benjamin 397 multi-pump. I may need to measure this for you. I checked it against my 2200, and it's close to the same effort for both, so this is probably not going to change.
Hunting?
Yes, and no. Yes to the five percent who can reliably hit a quarter at 30 yards offhand five times out of five. And no to the rest who can't, but just want an extra-cheap airgun to do what it isn't made for. And the five percent are also the ones who know better than to try to hunt with such a light air rifle.
Yes, this airgun probably has enough power to take very small game humanely at close range. Unfortunately, too many shooters will try to stretch the distance well beyond what the gun can reliably do. So, please, think of the 2100 as a plinker and not as a hunter.
Overall
This will be another enjoyable rifle to test, because it has so much going for it. No wonder it's a classic — it feels and handles right!
by B.B. Pelletier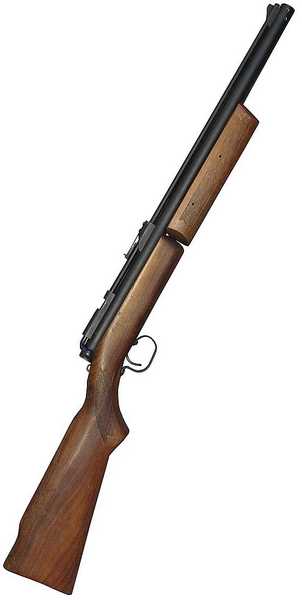 Benjamin's 347 multi-pump was sold between 1969 and 1992.
Let's shoot this old classic Benjamin multi-pump and find out just how accurate it can be. This is a test of a rifle you can't get anymore, but the Benjamin 397 is a very similar airgun, if you're interested.
Before we begin
I must first comment on the open sights; because after many trips to the range with the .22 rimfire target rifles I've been using for the CB cap test, I was shocked back to reality by the wide open notch in the rear sight blade on the 347. It isn't a precision sight in any respect, and the rear notch is about three times too wide for the front post. I had to guesstimate if the front post was centered in the rear notch, because it's too wide to know for sure.
Some readers might be inclined to mount a scope or a red dot sight on a rifle like this, but I'm not going to. It has always seemed to me that a rifle like this was meant to be shot with open sights, plus the mounting methods for optics on these multi-pumps leave something to be desired. The mounts can flex the barrel solder joint, eventually breaking it. There's no good repair when that happens.
I also want to comment on the trigger. Compared to a modern "lawyer" trigger, this one is downright decent. Oh, it isn't super-light, nor is it especially crisp, but it still breaks at less than 3 lbs., as we discovered in Part 1 of this report; and that's a trait I like in a sporting rifle. I wish all modern airgun triggers could be this nice.
I decided to shoot at 10 meters, partly because I didn't know what to expect from this rifle and partly because this is a sporting rifle, after all. It isn't supposed to be a 50-yard tackdriver.
This rifle does have one quirk. The pump link is loose at the pump handle; every time you pump the rifle, it shifts position with a click. That could easily be fixed with a new link and bushing.
Accuracy
The first shot was offhand from about 15 feet to establish that the pellet was going pretty close to the point of aim. It was, so I moved back to 10 meters, where I rested the rifle for the test.
The first pellet tested was the RWS Hobby wadcutter. The 347 is a .177-caliber rifle, and in that caliber the Hobby weighs just 7 grains. I decided to use five pumps per shot, which is enough to shoot even farther than I was for this test.
After the first test shot, I figured that the pellet would rise a bit at 10 meters, and it did. Since the rifle has no scope, I used binoculars to verify that the pellet was hitting the point of aim, which was a six o'clock hold on a 10-meter rifle bull.
The shots were landing slightly low and to the left, but they were within the bull, so I left the sights exactly where they'd been.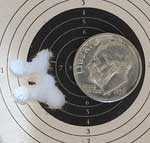 Though they landed a little left, these 10 RWS Hobby pellets went into a group that measures 0.458 inches.
Next up were Beeman Kodiaks. I've found over the years that these heavy pure-lead domes usually perform well in multi-pumps. They are one of my "go-to" choices. As before, the gun was pumped five times.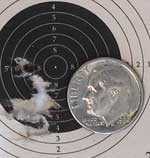 Ten Beeman Kodiak pellets went into this group, which measures 0.558 inches across. That's one-tenth larger than the group of Hobbys.
For some reason, this rifle didn't like the Kodiaks as much as I thought it would. They made a slightly larger group than the Hobbys, but I thought it would be just the other way around. This is still a good group, but it isn't as good as I expected.
The final pellet tested in the 347 was the Crosman Premier lite. Where the other two pellets had some resistance upon entering the breech, there was none with the Premier lite. It went in like it was made for the rifle…which it is, in a way.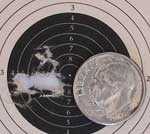 Finally, I got the performance I was looking for! Ten Crosman Premier lites made this 0.39-inch group. You can see that the dime will cover the group easily. This is the pellet for this rifle!
Because I'm shooting 10-shot groups, I don't have to keep shooting group after group when the results are good. Ten shots eliminates a lot of the randomness of a 5-shot group. To put it simply, it's far more difficult to shoot 10 shots and have all of them be right than it is to shoot just 5.
So, the 347 is a shooter, just as I thought it would be. It's right in there with all the other good-quality multi-pumps.
One other thing to note is that the points of impact for all three pellets were remarkably close. Hobbys being very light and Kodiaks being on the heavy end should have spread these points of impact more than you see; but this was shot at close range, and a pneumatic is less influenced by pellet weight than a springer. That's something for hunters to bear in mind.
The bottom line
A vintage multi-pump like this one has a lot going for it. It will have a much nicer trigger than contemporary models; and unless it's been abused, it should shoot just as well as a modern pneumatic. With all the aftermarket support that is available for rifles like these, you can be sure they will be doing their thing for decades to come.
Just remember to oil the pump piston head with Crosman Pellgunoil and to store the gun with a pump of air at all times.
by B.B. Pelletier
Heads up! Before you read today's blog, I wanted to alert you to a special scope deal Pyramyd Air is running through GearHog.com. For one day only, they've slashed the price on a Leapers 4×32 compact scope with rings. The scope goes on sale Wednesday morning (9/21/11) at 3:00 A.M. Eastern. I can't say for sure the exact minute that evening when it'll go back to the regular price, so be sure to order early if you want it. Click on the Gear Hog link to get yours. There's also an order limit of 2 per person. Now, on to today's blog.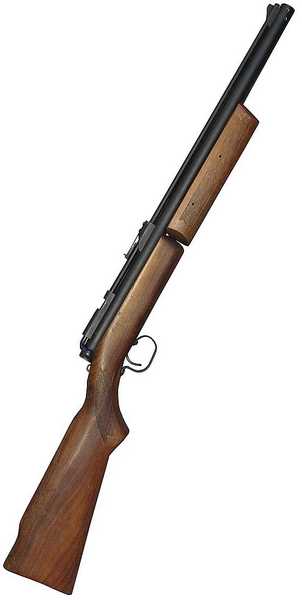 Benjamin's 347 multi-pump was sold between 1969 and 1992.
Today will be a "Grasshopper" day, as in basic learning. We will transition from "Wax on. Wax off" to learning a few basic offensive karate moves — metaphorically speaking.
I'm going to demonstrate today how I assess the firing condition of a new (to me) multi-pump airgun. This is a drill you probably should be using with all your multi-pumps when you first get them — new and used, alike.
Today's lesson requires the use of a chronograph. My choice is the popular Alpha model Shooting Chrony that costs right at a hundred dollars.
The first thing I do is cock the gun and shoot it to release any air that might still be inside. Hopefully, there will be some; but with a used gun, the chances of that happening are less than 10 percent. From this point on, though, you should always store the gun with one pump of air in it if the mechanism allows you to do that. Some guns, like the Daisy 22SG, are designed so they cannot be stored this way, but the Benjamins and Sheridans still can; they should always be stored with air in them.
The next step is to pump the gun to the maximum, which with most modern Benjamins is eight pump strokes. Then, load a pellet and fire it through the chronograph. I always use the Crosman Premier pellets for this; and with the .177 guns, I use Premier lites. With the 347 in this test, I got a velocity of 646 f.p.s. on eight pumps.
According to Crosman literature, a new Benjamin 397 should get up to 800 f.p.s. with the maximum number of pumps. That would be with the lightest pellets, so figure a max with Premier lites of around 750 f.p.s. I happen to have a Benjamin 397 in great condition, and it gets 748 f.p.s. with Premier lites on eight pumps.
So, the 347 I'm testing is a bit weak. However, it's not as bad as it sounds, because the bolt on the 347 doesn't have an o-ring sealing it like the 397 does. It might never have been quite as fast when it was fresh, due to a small air loss at the breech upon firing. Not that metal-to-metal seals can't be absolutely airtight, because they can. But on a high-rate production gun like the 347, the time needed to assure a good seal cannot be taken; while it's good, it isn't perfect.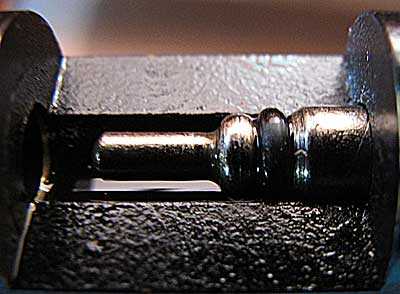 The Benjamin 397 bolt has an o-ring to seal the breech.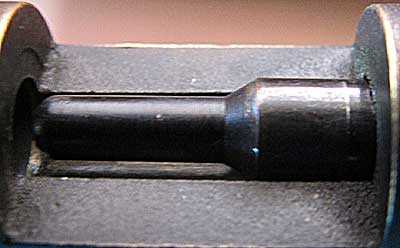 The Benjamin 347 bolt seals with an angled metal-to-metal contact. It's less airtight.
The comprehensive test
Now we're ready to comprehensively test the subject rifle. There are several different ways to do this, but the one I'll show you is pretty quick and also very thorough. I'm going to pump the rifle to a different number of pump strokes and record three shots at each level. After I finish the maximum number of strokes, which is eight, I'll pump the rifle additional times and shoot through the chronograph. After every one of those shots, I'll cock the gun and fire it to see if any air remained in the gun. When I get to the point that air remains, I'm finished with the test.
Pumps–Velocity
2            404, 416, 408
3            488, 489, 485
4            546, 540, 545
5            582, 578, 578
6            609, 614, 616
7            644, 639, 641
8            666, 656, 668
9            678 No air remaining in gun
10          700 Air remaining in gun
The test was stopped at this point, because the gun's valve cannot handle 10 pump-strokes worth of air. That doesn't mean I'll be filling the gun to nine strokes, either. It simply means the gun is a little tired and the valve can handle more air than the eight strokes I'm currently putting in it. But pumping to a higher number of strokes puts more stress on the pump mechanism; so if you want your air rifle to last for decades, don't exceed the maximum recommendation. However, if you absolutely must have the last foot-second from the gun, then this one needs an overhaul.
Personally, I'll keep on shooting it as it is, because I don't need this gun to be a magnum. I have other airguns for that.
Shot string analysis
Let's look at the shot string and see what we can learn. First, notice what huge jumps in velocity you get when advancing to pump strokes three, four and five. Those large increases start tapering off after five strokes, and the additional strokes only boost the velocity a little. The jump from four strokes to five is about 34 f.p.s.; but from seven strokes to eight, it's just about 22 f.p.s. We're stressing the system more for a smaller boost in velocity.
Next, notice how the rifle stabilized and gave very tight velocity variances on pumps three through seven. Apparently, it likes that range of pressures.
After the test
After the shooting was finished, I went back and shot one more shot at each number of pumps to see if the results still agreed with what I got when shooting the strings. What I'm doing here is canceling any bias from the gun heating up.
Pumps–Velocity
2            411
3            483
4            539
5            581
6            610
7            642
8            659
Comparing these numbers with what was seen in each of the strings, I'd say the rifle is shooting in the groove and there's been no heating up from use. However, the first shot on eight pumps differed from the string on eight pumps, so the gun does need a couple shots to warm up in the beginning.
One other test
One final test, and I'm finished testing this rifle. When I bought it from a pawn shop several weeks ago, of course there was no air in it. I immediately put in one pump and have stored it that way ever since. When I started this test, the first thing I did was cock the rifle and shoot it, to see if there was still compressed air inside. And there was! That means it held air for over a week.
For the rest of the time I own this rifle, I'll test it from time to time to see if it 's still holding that pump of air. My Sheridan Blue Streak, which was new in 1978, has been stored with a pump of air in it since new and it still holds air indefinitely. I've shot it after storing it for over a year, and there's still air inside. It's lost about 75-100 f.p.s. velocity since new, but it still holds air; and that means the valve is still tight. My Crosman model 101 .22-caliber multi-pump rifle, which was built in the 1940s and was overhauled about seven years ago, has held one pump of air for as long as two years, which is as long as I've tested it so far.
Do you notice that I only used a single pellet for today's test, and that I ran the test differently than usual? Multi-pumps are different guns and have different things to watch, so this kind of a velocity test is better-suited to their design quirks.
by B.B. Pelletier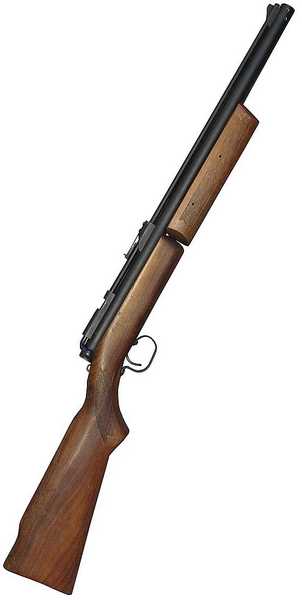 Benjamin's 347 multi-pump was sold between 1969 and 1992.
The Benjamin 347 is a single-shot, multi-pump pneumatic made by the Benjamin Air Rifle Company of St. Louis from 1969 through 1992. Most of what I will say about the 347 (the .177-caliber version of the gun) also applies to the .22-caliber model 342.
There are two variations of this gun. The model I'm testing for you today is the first variation. It is characterized by a checkered pistol grip and forearm and was made from 1969 until 1986. The second variation has a plain stock and went from '86 to '92.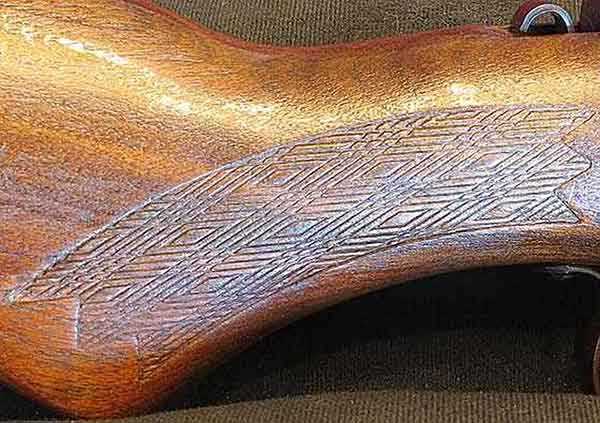 This closeup shows the checkering on the 347 pistol grip. Not great, but what do you expect?
This is the model that took Benjamin out of the old days and into the modern era, where the successor models 397 and 392 took over and remain current today. The rifle just prior to this one was the model 317. It was also an underlever pump like the 347, but Benjamin had used the same model designation for an earlier front-pump, pushrod-type multi-pump that was made before World War II.
When I got back into airgunning seriously in the early 1990s, the presence of these two different Benjamin airguns with the same model number caused a lot of confusion; but now that Crosman has brought out the now-discontinued Benjamin Super Streak, a breakbarrel spring-piston rifle, most collectors have gotten used to the idea of model name reutilization.
The rifle
The 347 is generally the same as all underlever multi-pumps that went before and came after its time, but don't think there are no differences. For years, I've told people that a 347 is just an older 397; but now that I have both of them to examine, I can see several differences. The first is the overall length of the gun. The 347 is just under 34-1/2 inches long, while the 397 that I have is 36-3/4 inches overall. All that difference appears in the stock, as the barreled actions are exactly the same length. That's important, because the length of the barrel determines the maximum velocity the rifle can achieve.
While this is not a report on the 397, I'll say that the first 397 rifles looked remarkably similar to the 347. Over time, though, certain features — such as where the safety is placed and how the rear sight works — have changed. Today, the 397 is quite a different rifle, though at its heart it's still a multi-pump with the same capability as all other similar guns.
The pull on the 347 is just 13 inches, which is about 7/8 of an inch less than the 397 and about 3/4 of an inch more than the 397 carbine. I compared it to the specs Mac gave us for the 397C, and it turns out to be just a little longer over all and heavier (at 4 lbs., 12 ozs. compared to 4 lbs., 4 ozs. for the carbine). So, this is a smaller air rifle, yet still sized for an adult.
The safety is located at the rear of the receiver and is a push-pull type similar to many shotgun safeties. It's entirely manual.

The bolt is just bent from a solid rod. The safety. located behind the receiver tube, is manual and slides in and out. It is convenient to the thumb.
The trigger is another interesting feature. While it's quite simple in design and operation, it has an average 46-oz. pull-weight and is reasonably consistent (within 3 oz.). That's under three pounds and quite a bit better than the lawyerly 5-7 lb. triggers we see on multi-pumps today. The blade is very wide and flat and feels good to me.
Sights
The rear sight is adjustable in both directions, though both adjustments are crude. To adjust windage, loosen the rear screw on the sight leaf and push the whole sight in the direction you want the pellet to go. For elevation, there's a stepped elevator that sits under the rear leaf. I'll find out how well they work when I test the rifle for accuracy.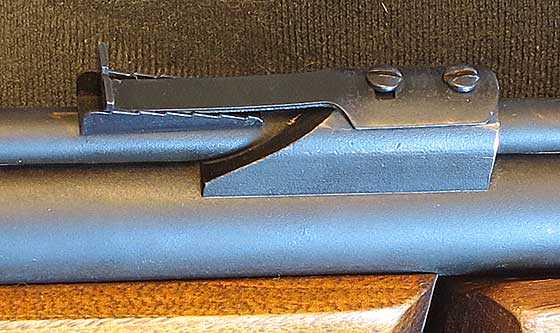 The rear sight has crude adjustments for both windage and elevation.
The rear sight notch is very wide in comparison to the front blade. A little extra light on either side of the front blade is good, because it allows you to frame the front blade exactly in the center. But this seems to be too much; and once, again, I'll find out when I shoot it for accuracy.
The 347 will accept the Williams peep sight, but the receiver isn't pre-tapped for it. That was a marketing mistake on Benjamin's part, and Crosman corrected the situation when they took over the company. Owners do not want to drill and tap holes in their receivers, and why should they? Even though the receivers on all Benjamin pneumatics are made of brass that's easy to drill, it's an extra step that most people just will not take; but if the holes are already there, quite a number will decide to try the peep sight.
As far as scoping the rifle goes — my advice is to forget it. The intermount that fits on the barrel of a rifle like this is so prone to break the barrel solder joint from flexing it with the extra weight of a scope that it isn't worth the attempt. My advice is to just use open sights on these older multi-pumps. Of course, there have been receiver bases for the modern Benjamin rifles that change everything, but I don't know if they'll work on an older-profile receiver like the one found on a 347.
Maintainability
Though the parts are no longer generally available for an older model like the 347, there are plenty of service stations that are making and modifying parts for these guns. So, they can be repaired and rebuilt. The pump piston rod in the rifle is adjustable for wear. As the power drops off, the pump rod can be turned out (made a little longer) to make the piston head go closer to the inlet valve, thereby pushing more compressed air into the valve/reservoir when the rifle is pumped. It's not a means to hot-rod the gun, but to tweak it back to original performance when it gets a little tired.
Naturally, the best maintenance for any airgun like this is to keep the pump head moist with Crosman Pellgunoil, which helps it maintain a seal against the walls of the compression tube when it moves. For long-term care, leave a pump of air in the gun when it's stored. That seals the valve against airborne dirt that can quickly destroy the seals. A rifle thus stored can be expected to function for many decades.
My pet peeve
The rifle says "Benjamin Franklin" on the left side of the receiver tube. I knew that was a play on the company name when I was nine years old and inherited my father's model 107 pistol. For some reason that I cannot fathom, adults in their 60s still don't get it and think the rifle is called a Benjamin Franklin. Nothing sets me off quicker that when someone makes this mistake. Sorry, but you've been warned.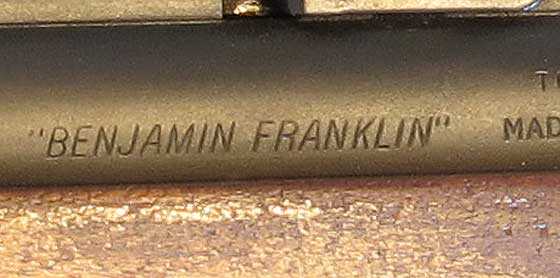 The presence of quotation marks around the name, Benjamin Franklin, indicates that it's not real. It is, in fact, just a play on words. Since the company name is Benjamin, they wrote Benjamin Franklin on all their guns during certain years. There was never a Benjamin Franklin airgun model, nor is there any other connection to the name.
Another factoid
All Benjamins are made of solid brass. It's amusing to see one all polished like a trumpet and the owner thinks he has the greatest thing in the world. In fact, they're all solid brass under the finish. At gun shows, it tickles me to hear dealers talking with pride about their "all-brass Benjamin Franklin" when the guns are still made of the same materials today.
Putting things into perspective
A look at a 347 is a look back into history. This rifle was made when the old Sheridan Blue Streak with the classic rocker safety was made and should be equivalent to it in most ways except power. As a .177, this rifle will always come out on the short side of a power test because pneumatics like to push heavy pellets for greater power. However, velocity will be greater for the smaller-caliber guns. So there's a balance.
This should be a fun gun to test.
Postscript
Last weekend, I heard a funny line in the new movie Contagion. One of the main characters was a blogger portrayed by Jude Law. A doctor, played by actor Elliott Gould, told him that a blog is just graffiti with punctuation.
by B.B. Pelletier
When I started The Airgun Letter back in March 1994, I did so out of frustration. I had just subscribed to American Airgunner magazine and they folded, leaving me with half a subscription unfulfilled and an unquenchable thirst for more information about airguns. I could buy all the gun magazines I wanted, because there were over a dozen titles on the newsstands back then, but there was never one about airguns. And, the few articles gun writers wrote about airguns were trash back then…just as it is today.
Edith suggested that I write my own magazine about airguns, and I thought she was crazy. I told her I didn't know enough about them to fill a whole magazine, so she suggested that I write a monthly newsletter, instead. I still thought she was out of her cabeza, but at her suggestion I sat down one day and wrote the titles of all the articles I knew I could write about. When I had three-and-a-half legal sheets filled with one-line titles (about 150 titles) I figured it might be worth a try.
The rest of the story is that we started publishing the newsletter in March 1994 and added 50 percent more pages a year later because I needed the extra space. Then, we also published six different 100-page magazines called Airgun Revue, for which I wrote historical airgun articles.
The only reason we stopped publishing the newsletter was we were losing money. People were copying the newsletter and sending it to their friends. I had thousands of readers the world over, but most of them were not paying for a subscription. Plus, the internet was growing, and we also found some of our articles online. In those days, it was harder to shut down another website for infringing on your copyright.
Balderdash!
But back to today's report. One thing I did when I wrote my newsletter was address topics that no other writer would. There were deep dark secrets back in those days, and various interest groups didn't want the great unwashed (that's everyone except themselves) to know these things. So, I wrote about them in a column called "Balderdash." Two of them have to do with today's blog.
There were several myths about multi-pump pneumatics that were being espoused on the few chat forums we had back then. One was the myth that a multi-pump loses power when left to sit for a long time after pumping, because pumping generates heat (the heat of compression); and when the gun has the chance to cool off, it will slow down significantly.
Another myth was that the cadence at which you pump each stroke has a tremendous effect on the power output of the gun. I'm going to answer those myths right now.
I tested both questions, using my Sheridan Blue Streak and a Japanese-made Sharp Ace I owned and found that pumping the gun fast or slow had virtually no effect on velocity. There were differences, but they were smaller than the total variation of velocity both guns had, so the results were "in the noise," as electronic engineers like to say. There was no difference in the velocities of the guns whether they were pumped slow or fast that could be supported with statistical confidence.
What about shooting immediately as opposed to waiting for a long time? Would velocity vary then? Many said that it would, because the heated reservoir (and the air inside) would have time to cool and therefore lose energy. W.H.B. Smith claimed in his classic book, Smith's Standard Encyclopedia of Gas , Air and Spring Guns of the World, that there would be a difference from the loss of heat over time, but it would be very small. Back in 1995 when I ran this test, Smith's book was one of the only books on the subject of air-gunnery in existence. We knew even then that there were errors in the book, such as the low results he got with the HW 54 EL Barakuda ether-injected rifle that was probably due to a blown piston seal. But since it was just about all there was, we read it and thought about it and this idea of power loss through cooling became a fact.
The test I ran with my Sharp Ace indicated a small difference in power that favored the hotter gun over the gun shot later, but the results were, once again, very close. At about 770 f.p.s., the two results were separated by just seven f.p.s. for 10 shots. I concluded that the difference might actually exist, but that it was too small to be of practical interest.
But let's set those two questions aside now, because yesterday, blog reader Aaron prompted me to write this blog when he responded to my test of accuracy between the Ruger 10-22 and the AirForce Talon SS that wrote about in yesterday's blog. Aaron said that he could not understand comparing airguns to powder burners. That each was created to do a different thing and that any comparison was therefore senseless (I'm using my own words to paraphrase his thoughts here).
I agree with Aaron that we shouldn't compare airguns and firearms — except that so many people do. When I was growing up, I heard a lot of older boys and even men saying, "That old Benjamin of mine is as powerful as a .22. I just pump her up 30 times and she cracks like a rifle!"
Overlooking the fact that the gun they were talking about probably was a rifle, I understood what they meant and I'm sure you do, too. What they meant was their multi-pump, when pumped about 30 times, had (they assumed) all the velocity and (they assumed) power of a .22 rimfire cartridge.
At this point, blog reader twotalon chimed in to tell us he knew what the outcome of this test would be. Well, he was right, but there is a VERY important point that we all need to understand. While conducting the first test about the speed of the pump strokes affecting the velocity, the first time I ran the test I actually proved that it did! And I published the results that way!
Several people took exception to my findings, and at about the same time I was testing the Beeman R1 for the articles that would eventually become the R1 book. Well, I discovered that my ancient Shooting Chrony chronograph that I bought used from Paul Watts could be "tricked" into displaying velocities faster or slower, depending on the angle of the pellet path through the skyscreens. I had to throw out a lot of R1 test results after I found out how to "cheat" the machine by angling the barrel for the shot. And that made me wonder about everything else I had tested with the same machine, so Edith and I bit the bullet and I bought a new Oehler 35P chronograph.
The new chronograph showed that there was very little difference between slow and fast pumping, so I had to print a retraction to the earlier article. I also learned the value of good equipment, because I had to rerun a lot of the R1 tests that were already in the can.
I'm not saying anything bad about today's Shooting Chrony chronographs. I use one most of the time these days. But the one I had been using for those tests was one of the very ancient ones that had cardboard "windows" above each skyscreen, and the ones on my machine had been so shot to pieces that the results were unreliable. You'd get a three-digit number, but how close it came to the truth was anyone's guess.
Back to the report
At any rate, I'd always wondered if the old guys were kidding themselves by thinking an overpumped pneumatic was more powerful, so I conducted a test. I really didn't want to pump my Blue Streak more than eight times because ever since it was brand new in 1978 I'd been so careful to limit my pumps to a maximum of eight, just like the manual advised.
I'm sure that I conducted that test and published the results somewhere, but I can't find it anywhere in the index of the Airgun Letter. So, I had to run another test for you today. Once again, I drafted my 1978-vintage Blue Streak for the job. And we remember that the manual that I lost years ago, but which Pyramyd Air has in their online library of manuals, says that 8 pumps are the maximum. So, let's roll!
For this test, I used my old Blue Streak, which I oiled especially for today. The pellets are all 14.3-grain .20-caliber Crosman Premiers.
Pumps….Velocity
3………….410
4………….431
5………….453
6………….459
7………….461
8………….467
9………….491
10………..495
11………..475
12………..471
Well, that chart shows what I was talking about, but not as well as I'd like. You can see the power drop off after the tenth pump stroke. But a Blue Streak should be doing that on pump number nine and the velocity should be much higher.
I could tell at pump five that my old Blue Streak wasn't feeling well. It looks like the old gal finally needs some attention, because the last time I recorded the same pellet at 8 pumps it was going 643 f.p.s. and a few years before that it was close to 675. There's reason No. 12 to own a chronograph.
Next, I pressed a Benjamin 392 into service. These days there isn't much difference between the 392 and the Blue Streak, except for the caliber. My 392 is a pump-assist model that I reported on several years ago, but the powerplant is stock.
Same Crosman Premier 14.3-grain pellet was used, but this time in .22 caliber. Again, the gun was oiled before testing began.
Pumps….Velocity
3………….421
4………….488
5………….540
6………….572
7………….602
8………….625
9………….637
10………..654
11………..614
12………..667
13………..622
14………..632
15………..639
That wasn't the clear and obvious test result I was hoping for. In the past, I've seen velocities turn around after pump eight, or in some guns after pump nine and everything thereafter was slower. This time, the gun kept increasing until pump 13, where it went slower for the first time, but after that it seemed to want to remain at about the same velocity no matter how many pumps were put into the gun. This wasn't from residual air pressure remaining in the reservoir, because I was dry-firing the rifle after each shot from seven pump strokes on. Usually, I'll be able to hear when the gun hasn't exhausted all its air because there will be a small crack from the dry-fire afterward, but that didn't seem to be happening with either my Blue Streak or this 392. The Blue Streak just needs an overhaul but there could also be some dynamic about the pump-assist conversion I'm not familiar with, I guess.
But the main point  I wanted to make today was that the gun doesn't just keep on getting faster and faster with each additional pump stroke, and that was proven in both tests. So, the myth of 30 pump strokes turning it into a .22 rimfire is just that — a myth.
I'm not blaming Aaron for any of this. He only said he didn't think we should compare airguns to firearms. He never mentioned any of these old stories, but that was enough to set me off on this strange quest to expose some old-wives' tales about our airguns.
Now, I have yet another sick air rifle to care for. It seems that the cobbler's children will have to go barefoot a while longer.
by B.B. Pelletier
Photos and tests by Earl "Mac" McDonald

The Benjamin 397C (right) is noticeably shorter and smaller than the 397 long gun. It's three inches shorter and more than a full pound lighter than the rifle we know today.
Before we begin today's report, I'd like to give you an update on two projects. First, I've replaced the trigger in the RWS Diana 34 P rifle, so I'm ready to do the T06 trigger evaluation. It was the easiest trigger replacement/piston removal I've ever encountered! I used to think Weihrauchs were easy to work on, but now that Diana has gotten rid of the T01 trigger that had a couple small things you needed to know how to do, replacing a trigger in one of their rifles is about like putting batteries into an airsoft AEG. I did the whole job in 20 minutes, start to finish, which included set-up and clean-up time. A lot of the credit for that goes to the Air Venturi spring kit that was in the gun, because the mainspring is not under a lot of pre-compression. I'm sorry to see that product go, because it made a world of difference in the performance of the gun.
I was so pumped with the success of the trigger swap that I tackled the Slavia 631 next. It's also easy to take apart, and you won't believe the improvement that just lubrication has brought. A 35-lb. cocking effort is now down to just 21 lbs.! I had guessed it could drop to 28 lbs., but that was way too conservative. I also got rid of 80 percent of the vibration, but that's something I will save for the next report. Since the rifle is now so different from the way it was, I'm going to retest the velocity for you in a special report.
There's lots more to tell about both projects. This was just an update to let you know how things are going. And, wprejs, this week I'll pack the harmonica rifle and send it to Vince. Now, let's look at today's test.
Let's take a look at the accuracy potential for the Benjamin 397C that Mac's been testing. There's been a lot of interest in this little rifle since this report started, and practically nobody knew of the gun's existence before now. Even so, it was produced so recently that there's still a good chance of finding one in near-new condition and still in the box, so this is one of those sleeper opportunities that abound in this hobby. As I finish this report, you have to ask yourself what it is that you like about airgunning; because if it's finding rare guns for very little money, this carbine is one to look for. And, you need some references like the Blue Book of Airguns to help you find things like this.
The test
Because this is a multi-pump pneumatic, there are some things we need to know before we look at the targets. The number of pumps that were used for every shot. Mac shot the carbine off a rest at 25 yards, and each shot got the maximum of eight pumps.
The way this gun works, some high-pressure air will always be trapped in front of the pump piston head after the pump stroke is finished. All the air does not go into the reservoir, even on modified guns.
As the number of strokes increases, the amount of air trapped in front of the piston head increases, so naturally it's always the greatest when using the maximum number of strokes. When that happens, the air pushes back on the piston head, forcing down the pump lever, which is the carbine's forearm, just a little. When you shoot, the air pressure inside the reservoir drops instantly and the tiny bit of high-pressure air in front of the pump piston head pushes its way into the reservoir. That allows the forearm to return to its relaxed position, and the shooter feels this as the whole gun settling. It's a trait very common to a multi-pump, and it allows some movement of the gun with the shot.
There's nothing a shooter can do about this movement when it happens; when it does, the pellet is already out of the barrel. The slight movement should have no effect on the accuracy of the gun. However, I want you to remember this discussion, because it had an effect on the outcome of the test.
Mac notes that the little carbine is hardly a bench gun, and we wouldn't expect it to be at just 4 lbs. Sometimes, light weight and overall shortness can be a detriment to accurate shooting, as these little rifles are so twitchy (sensitive to how they are held).
You'll remember from Part 1 that there is a Williams peep sight on this gun. Mac installed the hunting aperture, which has a larger hole for more rapid target acquisition. Peep sights with large apertures are quicker to get on target than regular notch sights, but the downside is you give up some precision to get the speed. I love the way an M1 carbine gets on target in an instant, but nobody will ever confuse it with a target gun because the large aperture reduces it to a minute-of-person weapon.
Accuracy
The first pellet Mac tried was the 7.9-grain Crosman Premier  dome that's usually one of the most accurate pellets in these multi-pumps from Crosman, Benjamin and Sheridan. But this day there was no joy as five pellets went into a group measuring 0.93 inches.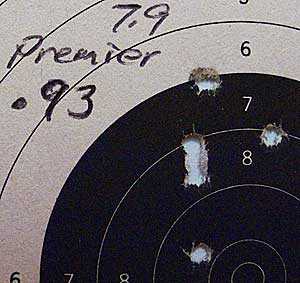 Crosman Premier lites were disappointing, producing a 0.93-inch group for five shots at 25 yards.
Next, he tried RWS Hobby pellets, which he also thought would be wonderful. They disappointed as well, with a five-shot group that measured 0.77 inches at the same 25 yards.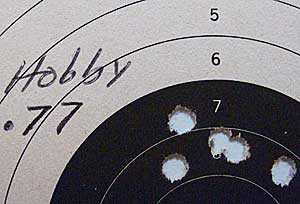 RWS Hobbys that usually do well were only so-so in the 397C. The group measures 0.77 inches.
Finally, Mac tried the pellet he likes the best for most air rifles in .177 caliber — the RWS Superdome. But try though he might, five of them grouped only 0.84 inches at 25 yards. Then, he had a thought.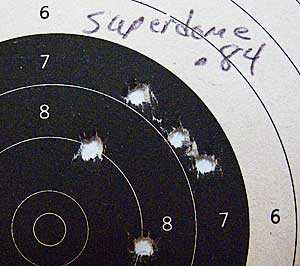 RWS Superdomes that Mac likes didn't do so well, either. This group measures 0.84 inches at 25 yards.
Inspiration!
Remember that forearm that moves on every shot? Mac noticed it, too, and was holding the rifle with his off hand close to the triggerguard, the way you're supposed to hold a breakbarrel. He decided to throw caution to the wind and rest the rifle with the forearm lying on the flat of his palm. He just knew that the moving forearm would throw him off, but he tried another five RWS Superdomes and discovered the secret. That's the perfect way to hold this little carbine! Five pellets went into 0.24 inches at the same 25 yards.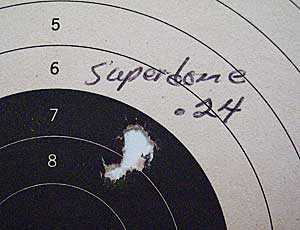 Mac discovered the secret hold! Resting the forearm on the flat of his off hand made this spectacular five-shot group with RWS Superdomes. It measures 0.24 inches between centers.
What this test tells us is that conventional wisdom isn't always right. This reminds me of the time when I decided to hold my Beeman C1 carbine with a super-light hold to see how bad it would group and wound up discovering what I now call the artillery hold!
The bottom line for this little gun is that Mac loves it. He likes it most for its size and weight, and it's the gun he most often hands to guests when they want to do a little shooting. Offhand, it shoots much better than these groups might suggest, and Mac doesn't worry about the loss of velocity. As long as everyone has a good time and can hit the targets, everything is fine.