by Tom Gaylord, a.k.a. B.B. Pelletier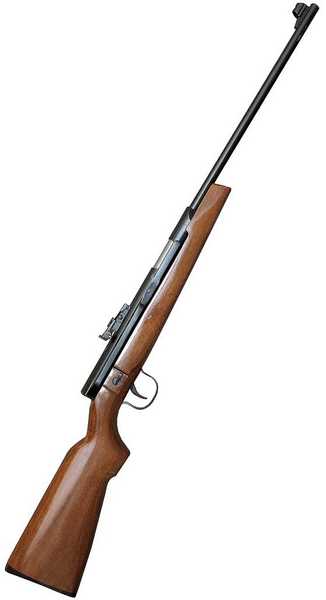 The Chinese Fast Deer sidelever air rifle is attractive. Does its performance live up to its looks?
It's been a long time since we looked at the Fast Deer sidelever. The last report was in December of last year! At that time, I was unsatisfied with the results of the 25-yard targets because of how well the rifle seemed to do at 10 meters. I said we might come back to it, but the gun got put on the back burner to simmer while I did other things.
It was those other things that bring you today's report, and surely the ones that must follow. I've spent a lot of time this year exploring the fundamentals of airgun accuracy. Of course, I've barely scratched the surface, but some of the things that have popped up have been surprisingly helpful in ways I couldn't imagine when they happened. One of them was the test of the Diana model 25 smoothbore that we finished way back in March of this year. In Part 4 of that test, I saw that while the smoothbore was very accurate at 10 meters, it was pretty bad at 25 yards. From those results, I deduced that spin is important to stabilizing a pellet over longer distances, while the high drag of the diabolo pellet is sufficient for accuracy at close range.
It wasn't until I wrote a column about the Fast Deer for Shotgun News this month that I noticed the Fast Deer's 25-yard targets resembled those of the Diana 25 smoothbore more than a little. The Fast Deer was also accurate at 10 meters but not at 25 yards. So, here was a rifled bore that performed like a smoothbore. Could we learn something from this? Is the Fast Deer capable of better accuracy than we saw in Part 4?
I was so impressed by these results that I wrote a special report titled Advanced airgun diagnostics: Part 1, in which I showed you the comparison between the 2 airguns. Yesterday I tested the Fast Deer again at 25 yards, but this time I did so believing that it was the fault of the pellet that made the groups so large. Turns out I was only partly correct, and therein lies the meat of today's report.
The test
I had one pellet that fit the Fast Deer's bore well…both the skirt and the head. It's a Tech Force domed pellet that Pyramyd AIR used to sell but no longer does. That makes it a Chinese pellet, and I've seen only one other Chinese pellet that was worth a darn. That one was a hand-sorted wadcutter that I used to compete with in 10-meter pistol.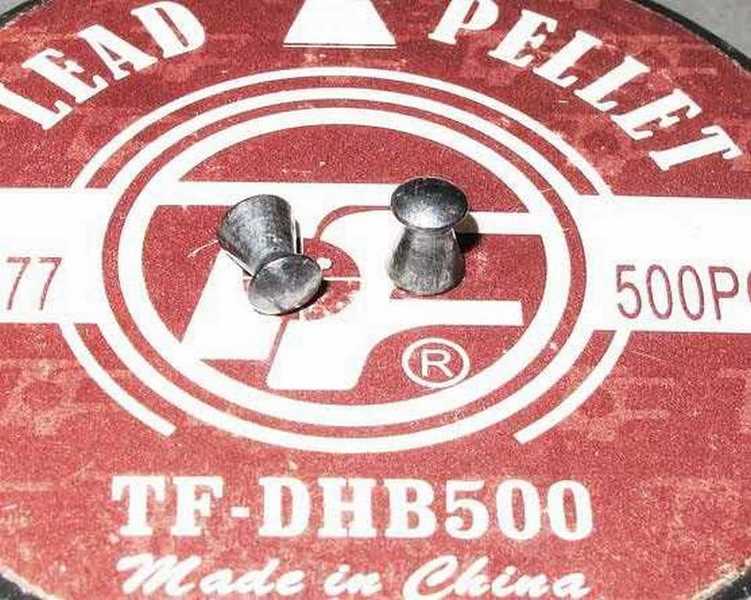 These Tech Force domed pellets are larger than most. They fit the bore of the Fast Deer rifle well.
The subject pellet fits the bore well, but not tight. Many other pellets just fall out of the breech, indicating a too-large bore, which is characteristic of Chinese air rifle barrels. I knew from the last test that the rifle was at least on paper at 25 yards, so I set up at 25 yards indoors and commenced firing. The first 10 pellets all landed to the right of the aim point, but they were all on paper, so I finished the first 10-shot group with the sights set where they were. This group measures 1.428 inches between centers. That's not great, BUT — it's actually smaller than the best group I had fired in the entire last report! In that session, the best group was shot with Air Arms Falcon pellets, so I knew I had to try them again for comparison; for now, I stayed with these Chinese domes.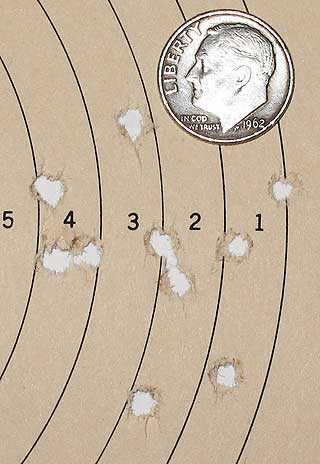 Ten pellets made this first 1.428-inch group. It may not look good, but this is the best 25-yard group this rifle has made so far.
After the first group was completed I adjusted the rear sight to the left. You may remember that I had flipped the sight backwards in response to a suggestion blog reader Vince gave me. That gives a sharper rear notch when aiming, and any little thing like that will help. So, all adjustment had to be done backwards; but since this sight has a very visible index mark to watch, the adjustment was no problem.
As I adjusted the sight, I also discovered that the entire unit is loose. It's mounted on the gun securely enough, but the very construction of the sight itself is a sheetmetal tangle of parts that will always be loose and subject to movement.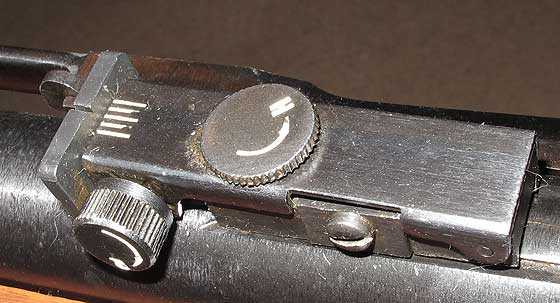 The rear sight is clearly marked and easy to adjust, but it's always going to be loose because of how it's made.
I decided that I had to push the sight to the left before every shot. That would hopefully return it to the same place every time, giving me the best chance to get good results from it despite its looseness. Then, I shot the next group with more Chinese domes. I forgot to move the sight for 2 of the 10 shots. Nevertheless, this group measures 1.328 inches between centers, which is a significant improvement.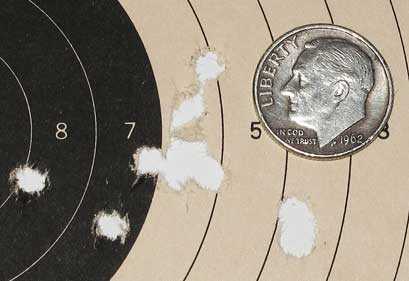 Ten shots went into 1.328 inches at 25 yards. I never thought I'd be happy with a group like this, but I am! It's interesting that perhaps 6 of the pellets in this group went into a much smaller cluster near the center of the main group.
After this target, I adjusted the rear sight once more and then shot a third 10-shot group with the Chinese pellets. I only forgot to push the sight once this time, on shot 9. The group measures 1.597 inches between centers, which is the largest group shot this day with this pellet. Perhaps I was tiring?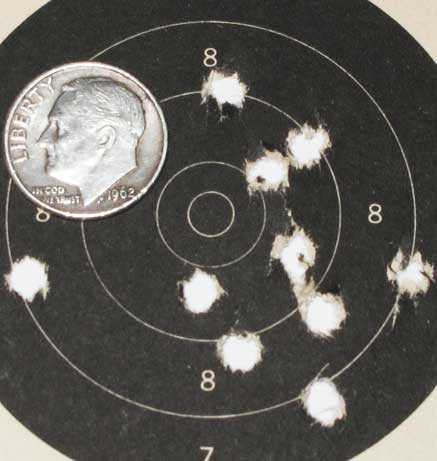 Ten shots went into 1.597 inches at 25 yards. I never thought I would be happy with a group like this, but I am! While it's tempting to think that the shot on the left was the one that I didn't push the rear sight for, I cannot say that for certain.
Falcon pellets
It was time to try the Falcon pellets again. In the last test, 10 Falcons made a group that measured 1.497 inches between centers at 25 yards. This time, 10 went into 1.783 inches. Obviously that's a lot larger; but if you examine the group, you'll see that 7 of the pellets went into just 0.692 inches. Taking that and the other group-within-a-group that I shot with the Chinese domes, I came to the conclusion that this Fast Deer may really be accurate but is being hindered by its open sights. The next test of this rifle must therefore have a scope mounted.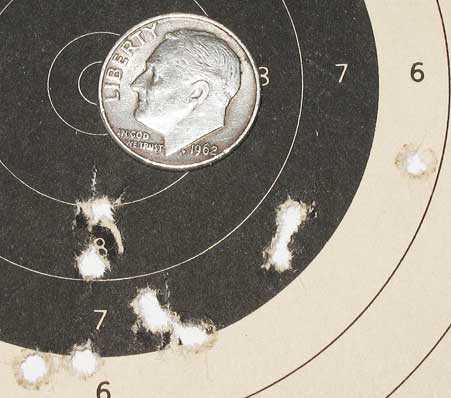 Ten shots went into 1.783 inches at 25 yards. While that isn't very good, look what 7 of those shots did! That's a 0.692-inch group.
Summary
I do not like testing airguns that have been given every chance and still haven't performed. Every once in awhile, something anomalous like this Fast Deer jumps out at me and needs to be investigated further. If it hadn't been for my going over the results of this rifle so close to the time I reported similar results from the Diana 25 smoothbore, I might never have given this rifle its second chance today. Now, we'll all get to see if that was worth it.
I admitted up front that this test demonstrated that the pellet was only part of the reason the Fast Deer has been inaccurate at 25 yards. From today's test, we might conclude that the poor rear sight that moves is also affecting the outcome. In the next test, I need to make sure that the scope is locked down solid, so the rifle is free to be as good as it can be.