by Tom Gaylord
Writing as B.B. Pelletier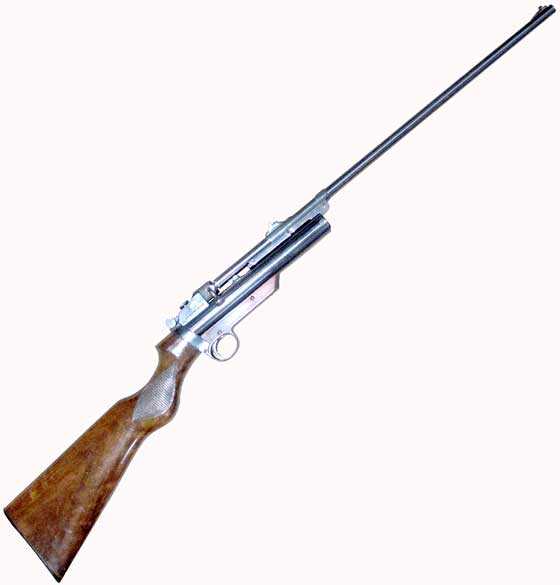 Webley Mark II Service Rifle.
Part 1
Part 2
Part 3
Part 4
Part 5
Part 6
Today's report is another in the series I did on the Webley Mark II Service rifle. Today's post is by reader RidgeRunner, who now owns the rifle. He tells us about his rifle's performance after the maintenance he reported in Part 6.
If you'd like to write a guest post for this blog, please email me.
And now, take it away, RidgeRunner.
This report covers:
A Round Tuit
My Chrony Rig
Into The Breech!
RWS Super H-Point
Eley Wasp
H&N Sniper Light
H&N Field Target
JSB Exact Jumbo RS
JSB Exact Jumbo
Crosman Premier Hollow Point
H&N Baracuda Hunter Extreme
H&N Baracuda
Summary
A Round Tuit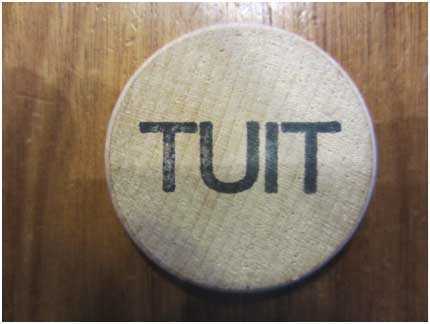 Well, it took me a while to get to this, but now that I have a round tuit I can start doing the velocity test on this old gal. Since I spent most of a warm, calm, sunny Sunday shooting this air rifle, you might want to make sure you have a full cup of coffee before you go much further.
My Chrony Rig
Before I get to all of the pellet data, I wanted to show off my data collection equipment.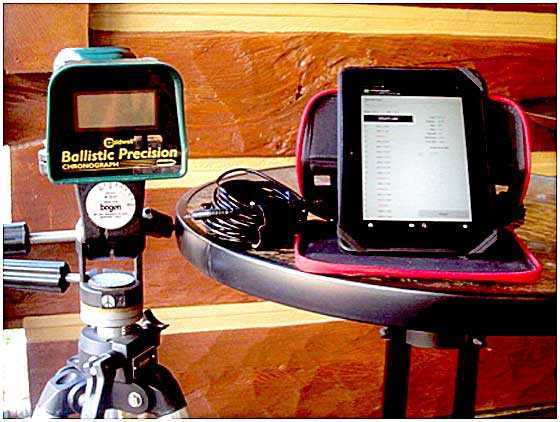 Chronograph is connected to a Kindle Fire.
I recently acquired a Caldwell Ballistic Precision Chronograph. In and of itself, it is probably the most basic of chronographs available today. However, when you add in the software package, I think they call it an app today, you have quite a nice data collection setup.
Since I do not have one of those so-called smart phones, I downloaded the app to my Kindle Fire HD. This also gives me a much larger screen to work with, which is nice since I am half-blind and have large, clumsy fingers.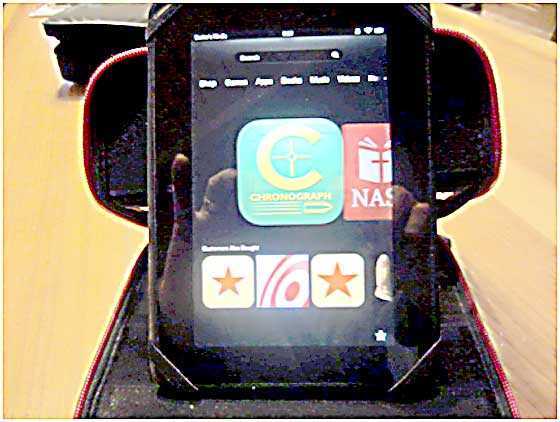 Kindle Fire with the chronograph app installed.
I have yet to find any instructions for using this app, but after fumbling around a bit I even managed to figure it out, at least to where it is usable for me.
The first thing you do is create a file for the projectile you will be shooting.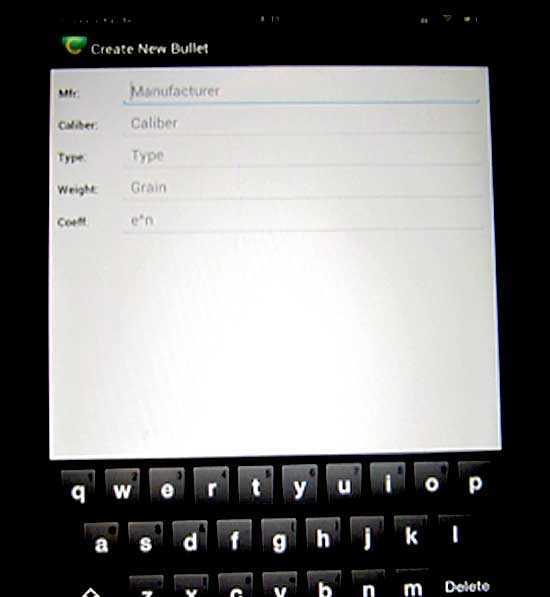 The app is open and ready to accept data.
Once you have done that you can start recording data.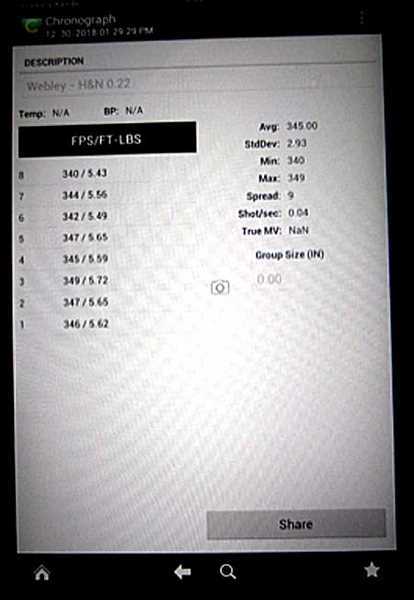 Data is entered.
As you can see, it gives you the file name, date and time stamp, shot count, f.p.s. and energy per shot, average f.p.s., standard deviation, minimum and maximum velocity, yada yada yada. It does pretty much everything but swab the bore and wipe it down.
Into The Breech!
Now that I have bragged for a bit about one of my new toys, Let me show you some of that data I collected with it. A couple of these BB used before in this air rifle before I took it apart and put in a new piston ring. Most of these pellets seem to fit the bore nicely. I too am curious as to whether this old gal has a little more pep. We shall see.
RWS Super H-Point
First I tried the RWS Super H-Point in 14.2 grains. Ten shots averaged 454 f.p.s. with a low 446 f.p.s. and a high of 467 f.p.s. Pretty nice velocity, but that is also a pretty wide spread. I don't know about this one.
Eley Wasp
The Eley Wasp in 14.6 grains is one that BB tried before. In fact, he sent me a tin of these with the Senior pistol. Before he replaced the breech seal, it was averaging 308 f.p.s. After he worked on the breech seal, the velocity jumped to 371 f.p.s. After I replaced the piston ring, this pellet averaged 453 f.p.s. for four recorded shots with a low of 450 f.p.s. and a high of 458 f.p.s. Not only is that a considerable increase in velocity, but the spread seems to have tightened up.
H&N Sniper Light
Up next were 10 H&N Sniper Lights in 14.04 grains. Seven of these averaged 442 f.p.s. with a low of 432 .p.s. and a high of 449 f.p.s. This pellet and the Wasp seem to fit the bore best of all that I tried.
By now some of you may have noticed that although I am shooting ten shot strings, not all of them are recording. Such is life.
H&N Field Target
Ten of the now obsolete H&N Field Target pellets in 16.36 grains averaged 407 f.p.s. for eight of them. The low was 399 f.p.s. and the high was 414 f.p.s. It is a shame they seem to have quit making these. A couple of my air rifles really like them.
JSB Exact Jumbo RS
This is another one of the pellets BB tried in this rifle. In his first test they averaged 325 f.p.s. and in his second test they averaged 373 f.p.s. This time nine of the 13.43 grain JSB Exact Jumbo RS pellets averaged 440 f.p.s. the low of 436 f.p.s. and a high of 444 f.p.s.
JSB Exact Jumbo
Next up was the JSB Exact Jumbo in 15.89 grains. Eight of these averaged 417 f.p.s. with a low of 409 f.p.s. and a high of 422 f.p.s.
Crosman Premier Hollow Point
Since I had some Crosman Premier Hollow Points in 14.3 grains, I thought I would give them a try. Ten of these averaged 437 f.p.s. with a low of 430 f.p.s. and a high of 442 f.p.s. Not too bad considering these were loose enough to drop about an eighth of an inch down the breech.
H&N Baracuda Hunter Extreme
Now to try out a couple of honkers. Seven H&N Baracuda Hunter Extremes at 18.52 grains averaged 373 f.p.s. with a low of 369 f.p.s. and a high of 380 f.p.s..
H&N Baracuda
Another heavy I tried was the H&N Baracuda at 21.14 grains. Eight of these averaged 345 f.p.s. The low was 340 f.p.s. and the high was 349 f.p.s.
Summary
All in all I would have to say that not only was there a considerable increase in velocities, with only a couple of exceptions, the velocity spreads indicate she is shooting with a lot more stability than previously.
Now that we know what is happening at the muzzle, let us see what is happening downrange. That's coming next.