by Tom Gaylord
Writing as B.B. Pelletier
This report covers:
Cardinal Shooting Center and Campground
Matches
Banquet
Gunslynger
Field target
What about me?
Enter Ruth
Fixin' in the field
Interesting stuff
Summary
One last thing
Website
Today I will finish my report of the 2019 Pyramyd Air Cup. My report differs from everything else you have seen on the web, because I don't want to cover the things that have been well reported by many other sources. Instead I am trying to give you the view of the event that you might have had if you had attended.
Cardinal Shooting Center and Campground
I mentioned at the start of Part 1 that the vendor's row where registration took place looked like a carnival with its brightly colored pop-up tents. This was Pyramyd Air's first event at Ohio's Cardinal Shooting Center and Campground, so there were lots of things for them to learn. Though the previous venue was large, the Cup had outgrown the areas they could use, so it was nice to have a place where there was room to expand. And, boy was there room! Maybe too much room, as the Cup was spread over an area that extended over two miles in length!
Also, the Cardinal Center is expanding, and it looks like next year there will be buildings that take the place of the pop-ups. I'm sure the Pyramyd team will look at this year's Cup and rearrange some things to close up the expansive distances, so people don't have to walk so far. For instance the public ranges, where there were examples of guns the public could shoot for free, was a quarter mile from the registration tent. You could drive down there and many people did, but it was a little overwhelming upon first arrival. The field target match, camping and banquet hall were two miles in the other direction.
Matches
The 100-yard benchrest match was the first event to take place. As I mentioned in Part 1, there was a strong breeze from the right that befuddled many shooters. Even .30 caliber pellets drifted far in that kind of wind. This is very similar to what happened in 1920 — when firearms shooters were trying to shoot 100 yards with centerfire cartridges. Shooters on the leading edge of benchrest in those days were trying to push the .22 Winchester Center Fire (WCF) cartridge to 3,000 f.p.s. and able to put 10 shots in one inch at 100 yards. They never made it to the desired velocity but they did get the accuracy when a wildcat version called the .22 Hornet was perfected in the 1920s. Then modified Hornets shooting lighter bullets pushed past 3,000 f.p.s. in the '30s.
Today the big push is shooting airguns accurately at 100 yards. Like in 1920 the wind plays a big part in this, and long-range benchrest airgun competitions have become popular. The 100-yard competitions are now the hottest thing going, so the Pyramyd Air Cup inaugural 100-yard match this year was at the sharp end of the stick.
Shooters shot .25 caliber and .30 caliber rifles (up to .357 caliber is permitted) purpose-built to compete in this competition. But they all shot diabolo (wasp-waist, hollow tail) pellets that are extremely sensitive to the wind. The rules require mass-produced diabolo pellets. This puts the shooter at a disadvantage, but the rules apply to everyone so the field is level. And the range at the Cup favored no one shooter. There are 30 minutes to shoot 25 rounds, so you have 72 seconds per round. That may sound like a lot, but remember you are fighting the wind, so there is a limit to waiting until the wind dies to shoot.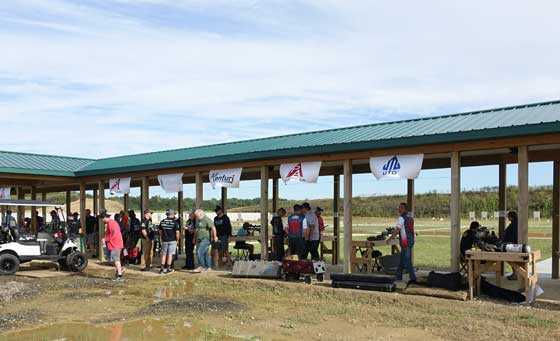 The benchrest competition was new at the Cup this year and was the hottest competition there.
The winner, Justin Welsh, shot a .30 cal. FX Impact Mark II, as did 2nd through 4th places. Fifth place was the highest .25 cal., an Air Arms S510 shot by Ed Lenarduzzi. The lone woman to place in the top 10 was Abby Casey, shooting a .25 caliber RAW HM1000X. She placed 7th overall and as she left the stage with her trophy she proudly announced to the room that she was the only girl in the top ten! The awards were given out at the banquet Saturday evening.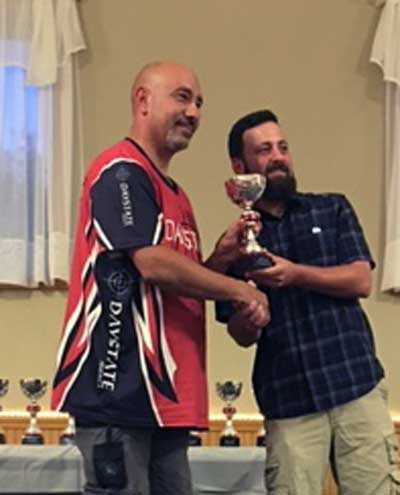 Pyramyd Air's Tyler Patner (right) passed out the awards at the banquet.
Banquet
The banquet was held Saturday evening and even though some shooters had just finished their final competition, the place was packed! In fact, they will need to expand the space for next year, because some people had to be turned away.
Besides the many awards, there was also a raffle of many great prizes. Even cheap old BB dropped a few tickets into the jars! The grand prize was a $4,000 Air Arms Air Arms RSN70 PCP. Only 10 were sent to the United States, and boy are they beautiful! Speaking of things that are beautiful, the rifle was donated by and also given away at the banquet by Claire West, the managing director of Air Arms.
Unfortunately Claire is quite shy and reserved in public, having recently graduated from the Madonna school of self-deportment, so she was barely noticed up on stage (like heck!). But she held it together and managed to give the rifle away.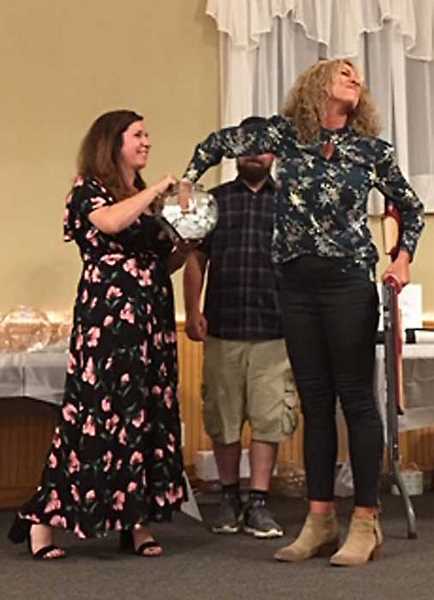 Claire West (right) draws the final raffle ticket from the jar Kristen is holding.
Gunslynger
The Gunslynger is Pyramyd Air's own version of metallic silhouettes with a twist — speed. The first shooter to knock down five chickens, five pigs, five turkeys and five rams wins! When it started several years ago there were misses among those who placed high, but this year it was a pure speed race. A miss set you back far!
Matt Dubber of South Africa won, shooting a .22 caliber FX Impact Mark II. Val Simmons came in second, also shooting a .22 caliber FX Impact Mark II. Third place went to Greg Suave who shot a .22 caliber Daystate Red Wolf. How about that, Chris U.S.A.?
Field target
Someone said that high-level field target matches today are decided by the forced offhand lanes. That's different from when I competed. We had lanes where the target placement forced shooters to stand or kneel, but mandatory offhand lanes weren't as common back then. We used smaller kill zones to weed out the duffers. I haven't seen a quarter-inch kill zone in quite a while, though I still own a couple targets with them. At this year's Cup the smallest kill zone was 3/8-inch and they were as large as two inches.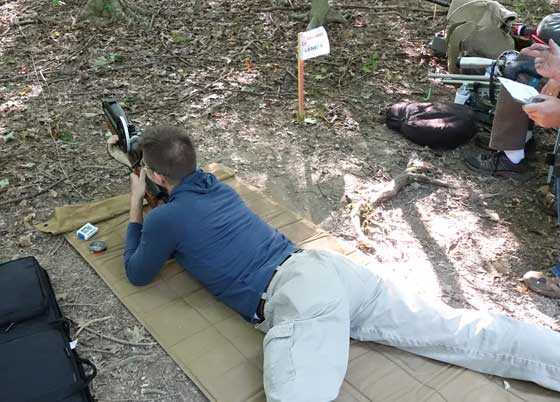 In field target not all shots are from the sitting position.
Top shooter in the World Field Target Federation class was Jack Harris from Wales with 117 of 120 possible points. In Hunter PCP class Bill Rabbitt placed first with 113 of 120 points. Gary Palinkas won the PCP Open class with a 105/120. John Fairbrother of the Air Arms team took first in the piston class with a 108/120. And first in the Hunter Piston class was Dan Putz with a 93/120.
What about me?
Since I don't compete anymore, I get to walk around and just listen to what people are saying. This comment last Friday from reader William Schooley sums up what I hear. He asked me for airgunsmiths to modify his rifle. This is what he said.
"Specifically. I'd like to find an airgunsmith with the knowledge and tools to have my .22 Gauntlet tuned, modified and accurize to the point that I can at least be competitive in the 2020 AirCup benchrest competition.
All I saw, or at least it seemed to me, on the line this year were expensive rifles like Air Arms, Daystates and RAWs. And these with expensive optics and bipods.
Being retired, these are all too rich for me. I want a price point air rifle modified into something like my modified 10/22 that I use for shooting at Camp Perry.
In the alternative, I'd like to see the AirCup expanded to have "stock events" more geared for shooting with price point air rifles.rifles. Barring that, I'll see about modifing what I've got to be competitive.
P.S. And I like the work to be done in time so I can practice practice and practice some more.
Thanks,
William Schooley"
Well, that stumped me. Because, after what I saw at the Cup, I don't think there is any way an Umarex Gauntlet can be modified affordably to compete in a 100-yard match in the wind that we saw at the Cup. But I understand his frustration. He wants to compete, but not in a sport that's an equipment race and not against semi-professionals, which some of these shooters have become.
Enter Ruth
So, while I was speaking with Ruth Kass, one of the salespeople at the Cup (where, by the way, everything in the catalog was a flat 20 percent off), it hit me. Ruth and I blue-skyed a new competition that has never existed before. It will use factory airguns! Now, whatever airgun we select for this event will turn out to be the wrong one for 90 precent of the competitors (the loosers), but they won't know that until the match is over. Maybe I'll let them burn me in effigy, although I'll first look at an Ohio map to make sure Effigy isn't the name of some nearby town!
I'm not-a-gonna tell you what the event will be, what the rules are or nothin' else. Mostly because we are making it up as we go. But I will tell you that there may be a competition for average people at the next Cup.
Fixin' in the field
Down at the public ranges, I was talking with Gene Salvino when somebody brought over a Seneca lever action PCP that wouldn't fire. I watched as Gene eliminated the usual suspects and discovered that the problem was deep down inside the action. There, on a folding table with minimum tools, Gene stripped that action and found that an alloy pellet had slipped out of the chamber and fallen deep into the action, blocking the hammer. Once the smashed-up pellet was shaken free, the rifle was back in service with a total of 10-15 minutes spent.
While he was working Gene was surrounded by kibitzers like me who kept him busy talking all the time! My point is — don't assume it's broken when it doesn't work.  Also, you can always talk to an Italian because they multitask like a switchboard as they work!
Often the simple solution saves the day. Also, it doesn't take a shop full of tools and a white lab coat to work on these things. What it takes is knowledge and some common sense that my late aunt said isn't that common.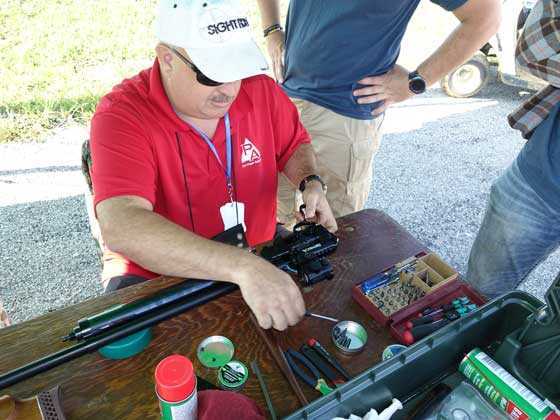 Gene had to dig deep to find the jammed pellet.
Interesting stuff
One attraction I usually see at the Cup is Rich Shar. Rich drives over from Indiana to show me what he has done with his bevy of large-caliber breakbarrel springers. I have reported on this before, but every year Rich raise the power bar a little higher and increases the smoothness at the same time. The first rifle I fired was his custom .30 cal. Hatsan 135.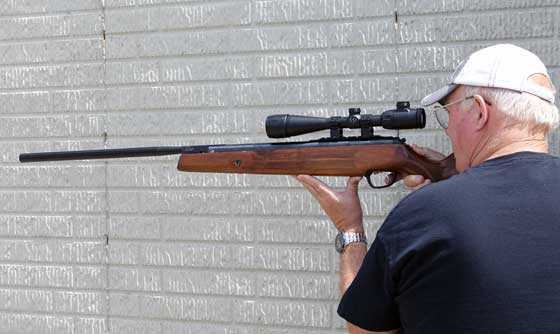 I'm shooting a custom .30 cal. Hatsan 135 that Rich built a couple years ago. He has continued to use it as his testbed and I must tell you — this .30 caliber powerhouse shoots as smooth as an ASP20!
Hatsan and Sig — you had both better pay attention. Rich has used his son's knowledge of materials to continually improve the performance of this powerhouse. How far has he gone? Would you believe a breakbarrel spring-piston air rifle can generate 44.91 foot-pounds and still not slap your face?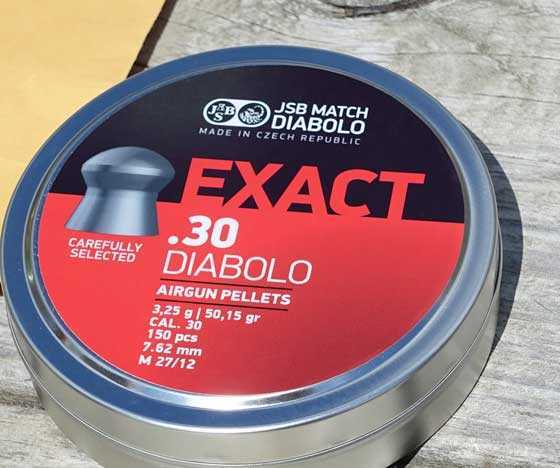 The rifle I am shooting shot this 51.15-grain pellet…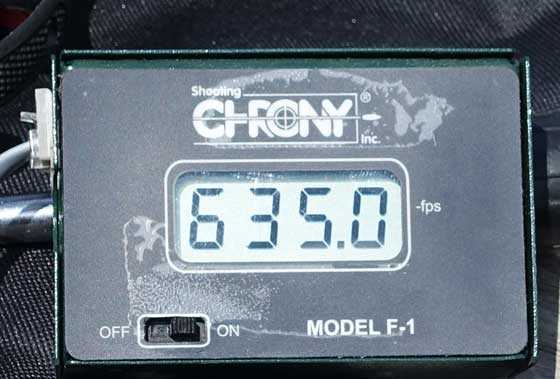 … this fast! I took the picture because I couldn't believe it! A stock rifle is about 100 f.p.s. slower. Hatsan knows!
This year Rich showed me a Gamo Magnum that he had reworked. I was surprised at how smooth it shot. It felt like an HW 50 that had an application of Tune in a Tube, yet this is a full-power breakbarrel magnum springer! So — Gamo — pay attention, too. Rich Shar has secrets of power and smoothness that all manufacturers could benefit from. Some of his treatments are labor-intensive and not suited to rate production, but others are! He's worth talking to!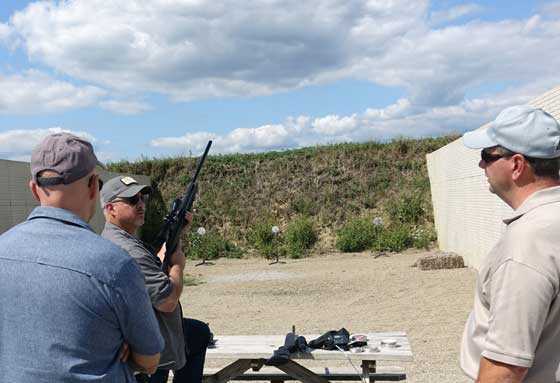 Rich Shar (right) shows his modified Gamo Magnum to a couple of enthusiasts. After shooting it they offered to buy it on the spot!
Summary
The end came too soon as it always does. This year's Pyramyd Air Cup was the most different one I have ever attended and after seeing the new venue I know it will only grow even bigger and better.
If you live within a thousand miles of Columbus you owe it to yourself to make the journey. I'm told that next year's Cup will also have an airgun show with tables for buying and selling. If so, I'm driving up from Texas (1,250 miles) with a truckload of goodies that haven't been seen on the eastern side of the Mississippi for 18 years. I hope to see you there!
One last thing
Many of you known that my birthday was last Thursday. I turned 72. John and Yvette from AirForce Airguns took me to dinner with several other friends, and, at the end of the meal, they gave me a gift I must share with you. When I opened the box I said to John, "It looks like a Girardoni!" He just smiled, because it is a Garardoni. It's a wall hanger made of metal and resin parts and the darn thing looks absolutely real! In fact upon seeing it for the first time my neighbor, Denny, said, "You need a long piece of walnut for this one!" He meant it has to go on the wall.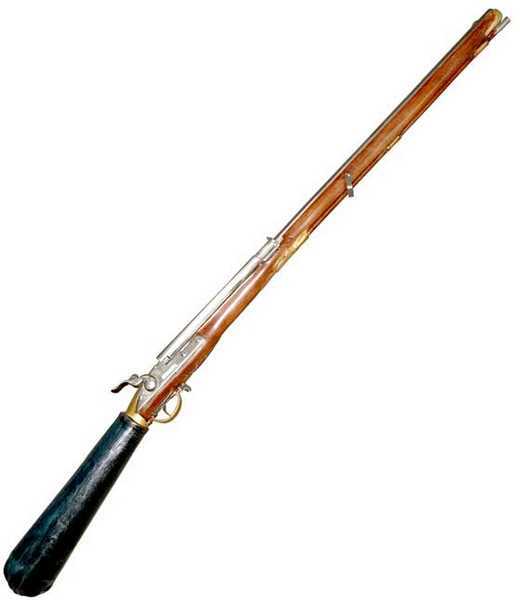 It's a full-sized Girardoni and the shuttle for the breech loading really works!
It's made by a man in Fort Worth who makes replica dinosaurs, of all things. And he made up a batch of these, perhaps not knowing that this rifle is the single most important rifle in the world, because of what it did for Lewis & Clark! Forget the 1,500 the Austrian army used from 1780 to 1800 — the single L&C rifle confounded and amazed all the Indian tribes across what is now the United States and guaranteed the expedition's safe return!
Website
The maker has a few more if you are interested in acquiring one. Go to his ebay listing to contact him. They won't last!
By the way — he spells it Girandoni, not Girardoni, which is the correct spelling of the name. Most listings on the internet spell it the wrong way because a misspelling in print 50 years ago has propagated.
Thank you very much, John and Yvette!