Archive for February 2011
by B.B. Pelletier
Part 14
Part 13
Part 12
Part 11
Part 10
Part 9
Part 8
Part 7
Part 6
Part 5
Part 4
Part 3
Part 2
Part 1
Welcome to the longest blog segment I've ever written. This is part 15, and I'm not going to guess whether there will ever be another. This blog began as my report on a 124 I got years ago that had been preserved for the ages. After going through several tunes on that rifle, I explored the foundations of the Beeman company and the three addresses of Robert Beeman's store. That ties into my mummified FWB 124 because it has a very rare and very early San Anselmo address.
Then, I went to Roanoke and returned with journalist Mark Taylor's 124 that I promised to tune for him. That became Part 13 of the report. While registering a Sheridan Knocabout pistol at my local gun dealer's. I stumbled across another FWB 124 that I showed you and tuned for you in part 14. You got to see what an original 124 piston seal looks like when it disintegrates and I tuned the rifle with a Maccari kit for you. Well, today I'll show you the accuracy of that rifle. But first, just to remind you of what it looks like, how about a picture?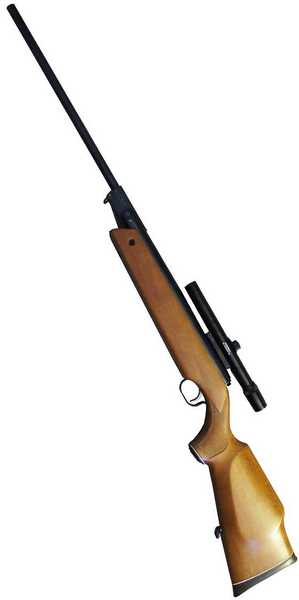 This is the FWB 124 Sport I acquired at the gun store while registering another firearm. I've tuned it for you, and today we'll see how accurate it is.
Look at the scope
The first thing I want you to do is take a look at the scope that came on the rifle. That's not an airgun scope. It's a 4x .22 rimfire scope that holds onto the rifle's dovetail grooves by clamping pressure alone. Usually, that won't work unless you have BKL scope mounts that are made for it, but this little scope is so lightweight that it holds tight. The scope also slides on the top side of the clamp, so it's double-adjustable for eye relief.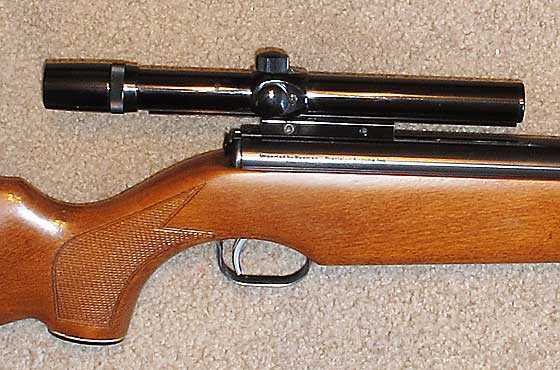 This is not an air rifle scope. It's a cheap .22 rimfire scope, and the parallax is way off. The scope slides along the rail that clamps it to the rifle. Even with this scope, however, the 124 was accurate.
But it's not a quality optic! It has no parallax adjustment. The way the scope is designed, I didn't see an easy way of adjusting it with the objective lens. So, at the 25-yard range I shot, the bulls were fuzzy — to say the least.
All shooting was done on an indoor range at 25 yards off a rest. Because this is a 124, you need quite a bit of technique to shoot accurately. By that, I mean the artillery hold. I slid the rifle forward on the palm of my off-hand until the heel of my hand touched the triggerguard. That way, the rifle is muzzle-heavy, which produces the best groups.
I also broke with my tradition of 10-shot groups because I wanted to test many pellets. This time, I shot the 5-shot groups we're all familiar with. Obviously, 10-shot groups would be larger than the ones you'll see.
Air Arms Falcon pellets
The Air Arms Falcon pellet weighs just 7.33 grains and is a preferred (for longer-range accuracy) domed pellet. They're tricky in wind. If the air is still, they perform well at the power level of this 124. They have good potential in this rifle, but perhaps not the best, as we shall soon see.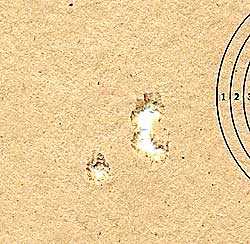 The lightweight Air Arms Falcon pellet grouped 5-shots okay at 25 yards. Group measures 0.626 inches across.
JSB Exact 8.4-grain pellets
Next, I tried the JSB Exact 8.4-grain domed pellets. Being heavier, I thought they might group tighter than the Falcons, and they did. Barely.

Five JSB Exact domes were also good at 25 yards with the 124. They measured 0.612 inches across.
Beeman Kodiak pellets
The Beeman Kodiaks proved downright disappointing. Usually Kodiaks do well in a 124, but this rifle wasn't having any of it.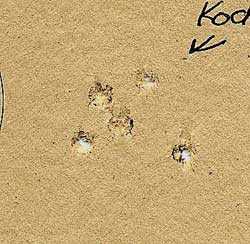 Five Beeman Kodiaks made this disappointing pattern at 25 yards. It measures 0.781 inches across.
Crosman Premier 7.9-grain domes
Following the Kodiak disaster, I tried Crosman Premier 7.9-grain "lites." I figured they'd perform better in this rifle, but please remember that I was fighting the poor optics of the scope. The vertical string, though tight, tells me Premier lites are not right for this rifle.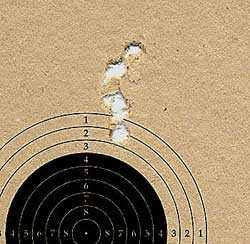 A vertical string tells me the Premier lite isn't the best in this 124. Although it measures 0.594 inches, the vertical stringing is cause for concern. The stock screws were all tight.
JSB RS domes
While they have performed well in other rifles, in this 124, JSB RS domes were only mediocre in this rifle. You may think they're the same as the Falcons, but the groups prove different.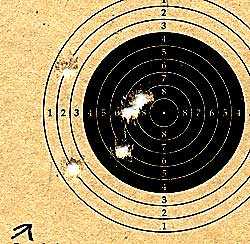 Five JSB RS domes went into this 0.763-inch group at 25 yards.
Air Arms 8.4-grain Field pellet
And then I hit it. The best pellet! The Air Arms 8.4-grain Field pellet shot amazingly tight, even with the optical problems.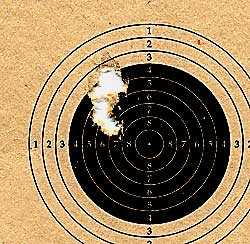 Five Air Arms 8.4-grain domes went into this tight group that measures 0.385 inches.
So, this FWB 124 is accurate, just like all of the others. Now, it has a long-life tune that'll keep it that way for many years and thousands of shots. If the scope is replaced, we might expect to see these groups shrink even smaller.
I no longer own the rifle. I traded it for another FWB target rifle that needed an overhaul. While I can do a 124 with ease, I do not trust myself to do the same thing on a recoilless target rifle, so I sent off my vintage 150 for someone competent to do the job. When it returns, I'll test it for you some day in the future.
One of our blog readers got the 124, and it was ready to start shooting the minute it came out of the box. If he cares to, I would welcome his report as the new owner of this classic sporter.
by B.B. Pelletier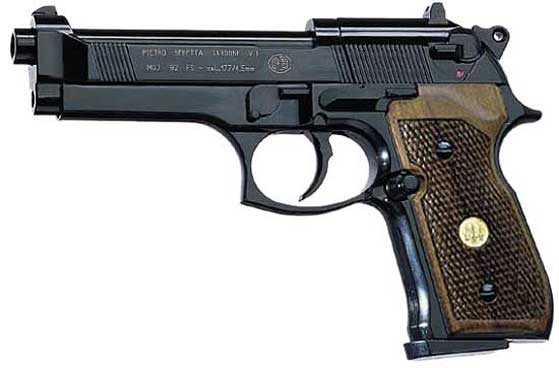 The 92FS with wood grips is a big, beautiful handgun. With its weight and size, you'll be hard-pressed to imagine that it's an air pistol.
Today, we'll test velocity on this Beretta 92FS wood grip air pistol, and I've incorporated one or two extra things into the test. But first things first.
Installing the CO2 cartridge
I said in the last report that I'd show you how the CO2 cartridges load into the gun. Today's the day for that. To open the grip for a CO2 cartridge, just press in on what looks like the magazine release on the left side of the gun. That pops off the right grip panel, and you have access to load the cartridge.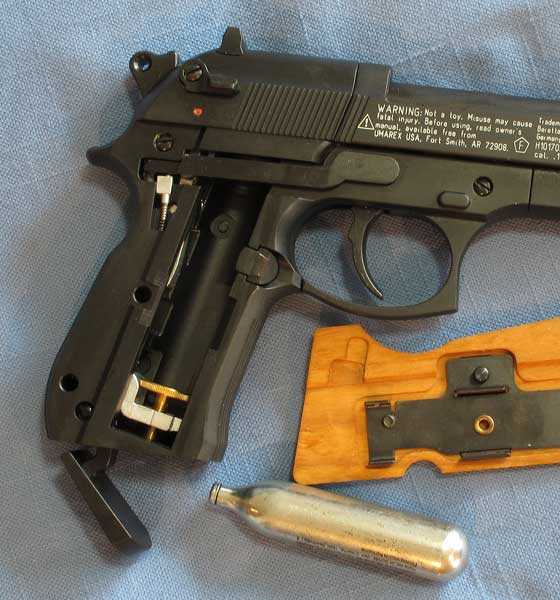 Once the grip panel is off, you have access to load a CO2 cartridge. Here, you can see the mechanism to adjust the tension on the cartridge before the floorplate is pushed up to pierce it. Do not adjust the screw as tight as it can go, or you'll wear the face seal that seals the cartridge.
Once the floorplate is pushed up, the CO2 cartridge should be sealed. The adjusting screw doesn't have to be absolutely as tight as you can make it before you push the lever up. Leave a small amount of play (maybe 1/8 turn of the brass wheel), so the cartridge doesn't smash the face seal. Don't forget to use a drop of Crosman Pellgunoil on the tip of each new cartridge. That's how to keep your gun sealed for years to come.
Starting the test
The 92FS pistols function in both double-action and single-action modes. Double-action means just pulling the trigger for every shot, and the gun does the rest. For single-action, you first cock the hammer, then a pull of the trigger at your convenience fires the gun. Double-action requires a much harder trigger-pull, because the trigger has to both cock the hammer and advance the clip before the shot's fired. Single-action offers the better trigger-pull, but it's slower to perform.
The point is that the gun will perform differently depending on which firing mode is used. So, I chronographed it both ways for comparison.
You're also interested in how many reliable shots you get from a CO2 cartridge. Umarex rates the pistol at 425 f.p.s., which is pretty fast for a CO2 pistol, so we can estimate that there will be about 50 good shots to a cartridge. Testing will confirm or refine this number. I should point out that because this gun has an 8-round clip, that was how many shots were fired in each string.
RWS Hobby pellets
The first pellet I tried was the RWS Hobby. It weighs exactly 7 grains and is a pure lead pellet, so it's among the very lightest of all the lead .177 caliber pellets. That means we'll see the highest velocity the pistol is capable of with lead pellets.
Double-action mode
In double-action, the Hobby pellet averaged 404 f.p.s.The range of velocities went from 388 f.p.s., to 434 f.p.s., so the advertised velocity is well within reason. At the average velocity, this pellet produces 2.54 foot-pounds of energy at the muzzle.
Single-action mode
In single-action, I often see greater power than double-action, but that seems to vary from one model to the next. In the test pistol, RWS Hobbys averaged 393 f.p.s. in single-action. The range of velocities went from 385 to 401 f.p.s. So, the gun is a little more consistent in single-action, though it gets a little less velocity. At the average velocity, the pistol generates 2.40 foot-pounds of energy at the muzzle.
Deep seating
I noticed that Hobbys fit the clip very snug and stopped before their entire skirt entered the chamber. Could that have lowered velocity, because of the energy needed to push the pellet into the chamber? I wondered, so I conducted a separate test.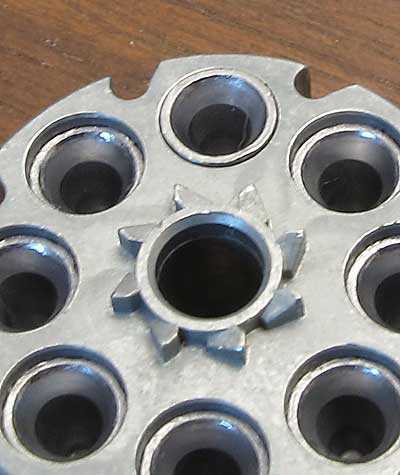 RWS Hobby pellets fit the chambers of the clip very snugly. In this experiment I pushed them into each cylinder with a seating tool. The pellet at the top is seated with finger pressure alone, and you'll note it doesn't quite go all the way into the chamber.
The deep-seated Hobby pellets were all fired in the single-action mode. The average velocity was 395 f.p.s. and the spread went from a low of 385 to a high of 413 f.p.s. That's so close to the results of the regular seated Hobby pellets fired single-action that I felt it wasn't worth pursuing.
Beretta Target pellets
Next, I tried some Beretta Target pellets. They are an 8-grain pure-lead wadcutter pellet that Pyramyd Air no longer stocks.
Double-action
Beretta Target pellets were smaller than Hobbys and did not have the same resistance to entering the clip chambers. In the double-action mode, these pellets averaged 373 f.p.s., with a spread from 355 up to 387 f.p.s. At the average velocity, they generate 2.47 foot-pounds of muzzle energy.
Single-action
In the single-action mode, Beretta Target pellets averaged 348 f.p.s. The spread went from 340 to 365 f.p.s. The average velocity produced a muzzle energy of 2.15 foot-pounds.
Crosman Premier 7.9-grain pellets
Next, I tried Crosman Premier 7.9-grain pellets. They're hard lead, of course, but they fit the clip chambers very well.
Double-action
In double action these pellets averaged 361 f.p.s. They ranged from a low of 345 f.p.s to a high of 368 f.p.s. At the average velocity they produced 2.29 foot-pounds.
Single-action
For some reason, the Premiers were slightly faster in single-action than in double-action. That was contrary to the rest of the test; but because I tested them last, it may be an indication that the pistol is breaking in. They averaged 363 f.p.s, and ranged from 351 to 375 f.p.s. At the average speed, the muzzle energy is 2.31 foot-pounds.
Total shots per cartridge
Since I was shooting both single- and double-action, my shot count was not as high as it might have been if I'd shot only in the single-action mode. In the test gun, I got 56 good shots before the power started to drop rapidly. The final shot went 326 f.p.s double-action. That equates to seven full clips between CO2 cartridges. Had I shot only single-action, there might have been one more clip in the cartridge.
None of the velocity strings were shot near the end of a cartridge. I made sure I had a relatively fresh cartridge for every pellet velocity test.
The gun has a long, heavy double-action pull. I would estimate it runs 12 lbs. or more. In single-action, stage two is very creepy and the break point is 5 lbs., 6 ozs.
I'm still impressed by the width of the grip on this gun. It really feels like a chunk in my hand. We'll see in the next report whether that affects accuracy at all.
by B.B. Pelletier
Before we start, I wanted to give you some more info about the 2nd Annual Airgun Extravaganza in Arkansas. The show's promoter has made a deal with a couple motels. Mention the show and you'll get a discount:
Comfort Inn Malvern, 501-467-3300: Thurs. $55, Fri. $65
Holiday Inn Malvern, 501-467-8800: Thurs. $85, Fri. $90
Make reservations early because they may fill up since the show's being held on the same weekend as the Arkansas Derby.
I plan to attend this show with Mac, and we have a couple tables. I know it didn't work out last year, but let's hope that doesn't happen again!
Test and photos by Earl "Mac" McDonald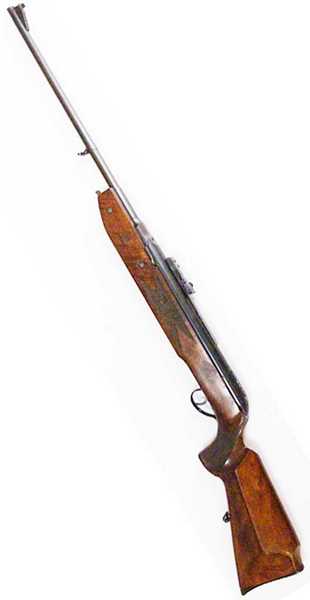 My Falke 90 underlever air rifle isn't in the best condition, but with fewer than 200 known to exist, it doesn't matter that much. Anyone is a good one.
Well, we've seen how Vince was able to rebuild my Falke 90 underlever rifle. Now, Mac's going to test it for us. Vince delivered the rifle to Mac so I wouldn't have to cock it. That was when I first found out about my hernia. I'm now wearing a support, so I can do more than before, but Mac had all the fun this time. I think he deserves it as a small reward for handling all the work I haven't been able to do over the past year. I'm really lucky to have a friend like him, and I couldn't have kept this blog going without his help.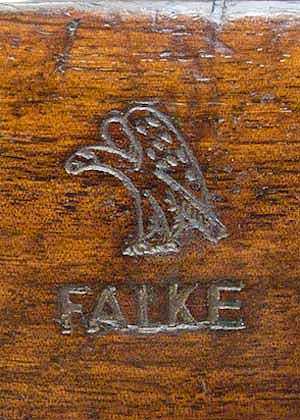 Falke is German for "falcon," so the logo is a bird, of course.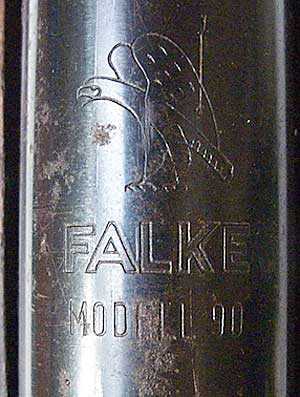 The logo is all over the gun.
I've said several times that the Falke 90 is very much like a Hakim air rifle made by Anschütz for the Egyptian army. This is the first Falke 90 I've ever seen, but I've owned about 15 Hakims and can tell you there's a lot of similarity between the two rifles. Someone asked why we can't see the underlever, so Mac took a photo of the gun with the lever in the down position. You can see what it looks like and how it fits up into the stock and out of the way. As I told you before, many other air rifles did and still do use this same design, with the Air Arms Pro-Sport being the one that's sold today.

When stowed, the underlever fits into the bottom of the forearm, out of sight.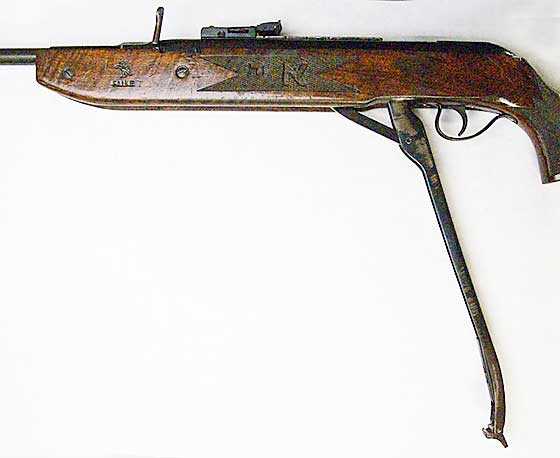 The cocking lever is tucked under the gun, inside the forearm. When it goes down, the loading tap opens automatically.

Loading tap and rear sight.
Very few known to exist
The Falke 90 is a very rare air rifle, with fewer than 200 known to exist. Mine is serial No. 39, which is stamped several places on the gun, the most obvious being the loading tap. There's a Falke forum called Falke Talk, where every known Falke 80 and 90 is being tracked. These rifles are so hard to find that owners from all over the world band together to share information about them.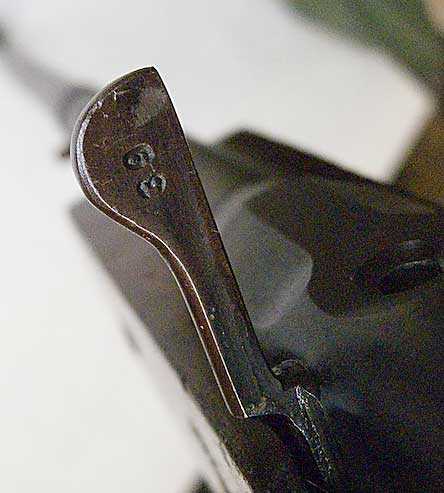 My rifle is serial No. 39.
Overall impressions
Mac says the Falke 90 feels very natural to him. The placement of the loading tap, the righthand palm swell and the weight distribution all conspire to make this an easy rifle to shoot offhand. The stock is a nice figured walnut with checkering on the grip and forearm.
On this rifle, some previous owner has carved initials into the checkering on the left side of the forearm, reducing the stock to poor condition. The pull measures 13.75 inches and the length overall is 44.25 inches. Mac has no way of weighing the overall rifle, but I expect that it has to be over 8 lbs. at least.
The metal was finished well at one time; but like the wood on my rifle, it's suffered over the years. The barrel measures 19.25 inches to the center of the loading tap. The trigger-pull as Vince has set it is 56 oz., but Mac says it feels much lighter. The first stage is very light, and the let-off is crisp. The cocking effort is 28 lbs. but seems like less. The stock is completed with one-inch sling swivels.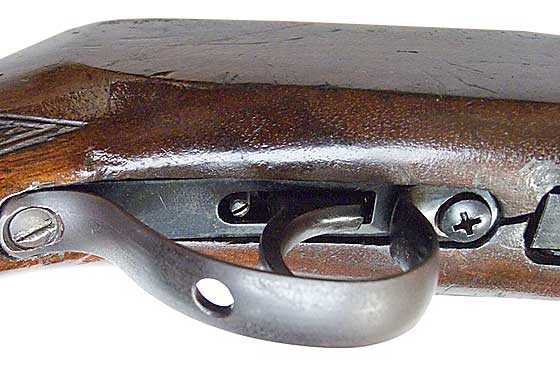 The trigger is adjustable via a small screw behind the trigger blade. Note the crack in the stock. It'll also be found on every Hakim. An apparent weak spot in the design of the stock for this type of action.
Sights
The front sight features replaceable blades, though I only have the one that's mounted at this time. However, I believe that it can be flipped upside down for a shorter post on the bottom of what is now showing. The rear sight is a precision open leaf sight with a choice of two notches. There are several places along the scope rail to lock down the rear sight or the optional peep sight that I don't have.

Front sight is replaceable and (I believe you can flip this one over for a shorter post on the bottom).
The rear sight is a heavy precision unit that resembles the one on the Hakim but is considerably heavier. This one is made of machined parts and conveys the sense of great value. A peep sight was also available, but I don't have one and there are very few Falke parts available for the 80s and 90s.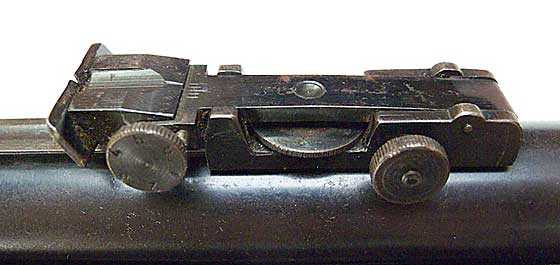 The rear sight is heavy and precisely made. Fully adjustable in both directions with choice of two notches.
Impressions
Well, this certainly is a strange and wonderful vintage air rifle. It dates back to a time when quality was the standard and German quality was the watchword of the world. It's exactly the kind of air rifle most of us say we want — heavy machined metal and beautiful walnut wood, with attention to each and every detail. It's unfortunate they're so scarce, because many more want them than there are rifles to go around. Fortunately, the BSA Airsporter underlever and the Hakim are both very similar rifles that exist in far greater numbers.
Next time, I'll combine both velocity and accuracy into one report.
by B.B. Pelletier
This is part 3 of Vince's disassembly and repair of the Falke model 90 I sent him several weeks ago. After this, we'll start a new series with the range testing of the Falke, as Mac now has the gun.
If you'd like to write a guest post for this blog, please email us.
Bloggers must be proficient in the simple html that Blogger software uses, know how to take clear photos and size them for the internet (if their post requires them), and they must use proper English. We'll edit each submission, but we won't work on any submission that contains gross misspellings and/or grammatical errors.
by Vince
Now that this mystery was solved (.177 pellets stuck in this .22 cal. rifle), I had to tend to the more mundane issue of that putrid piston seal. Even though the original seal was leather, I've got the idea that — like the Hakim — a modern Diana seal can be made to fit this gun. Measuring the bore confirms this, so I have to figure out how to adapt one to this piston.
First things first, though. I've got to remove that old leather seal, which means I have to remove that center screw. It doesn't want to cooperate, and the beat-up screw head is only getting worse. There's not much of a slot to engage a screwdriver, and I don't want to mess up what little there is. I decided to remove the leather first — by destroying it. That way, I can grab the sides of the screwhead with something and loosen it.
Well, the screw still doesn't want to come out. I suspect that it's being retained by the pin circled in the following picture. Quite obviously has to be drilled. Once that's done the screw spins out rather easily: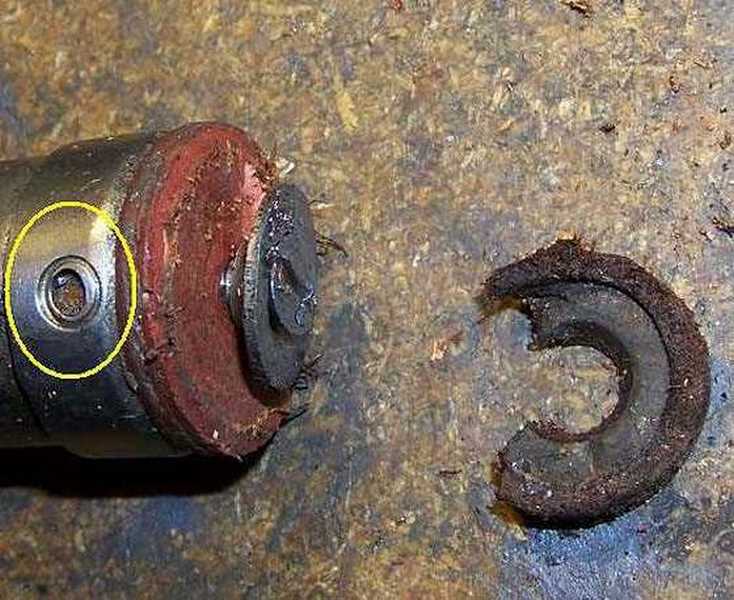 Even with a screw loose, it wouldn't come out.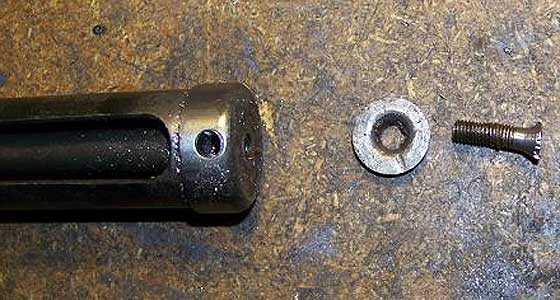 After some "coaxing," the screw gave it up.
Next, I made a button adapter for the Diana seal. I've got some 1-inch nylon bar stock laying around (doesn't everyone?), so I drilled a hole into one end (it doesn't have to be perfectly centered or straight).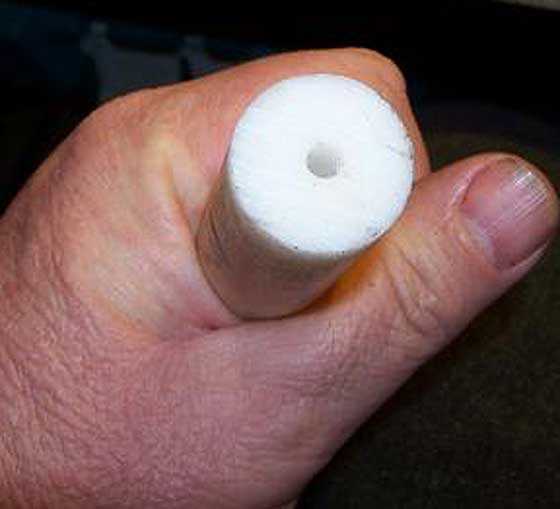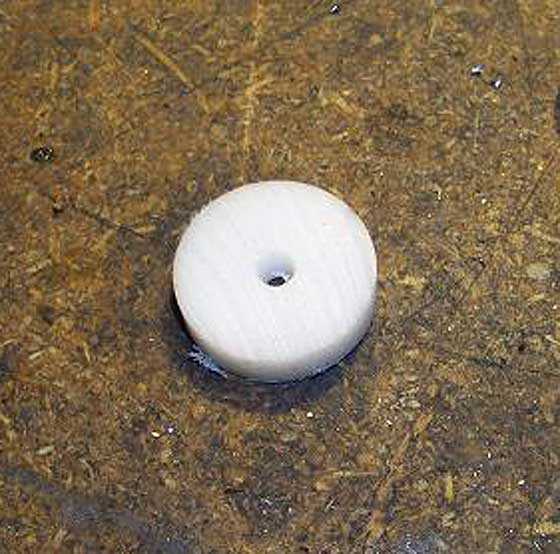 I drilled a hole in some spare 1-inch nylon bar stock and sliced off a section that's the same thickness as the seal.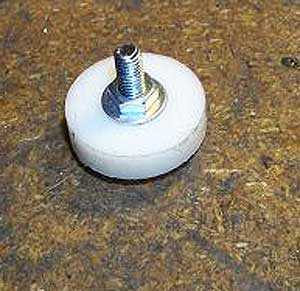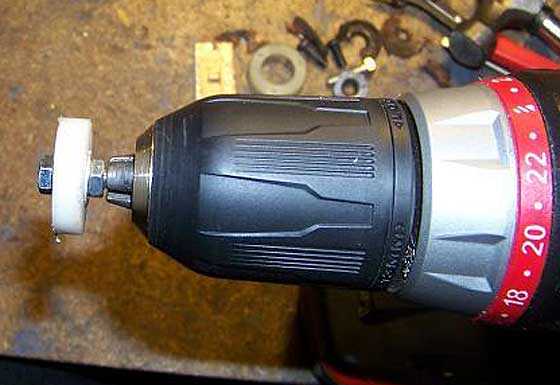 I installed a machine screw and nut through it and chucked it up in a drill.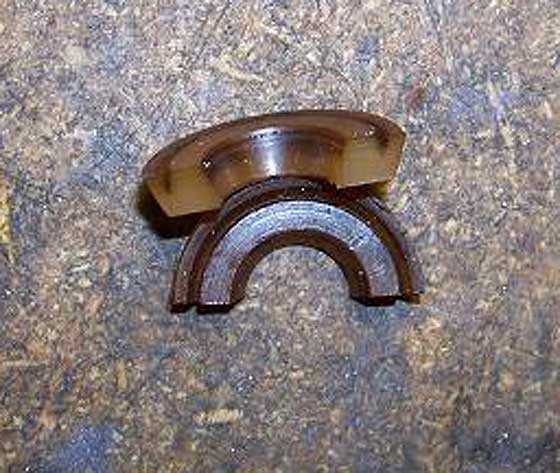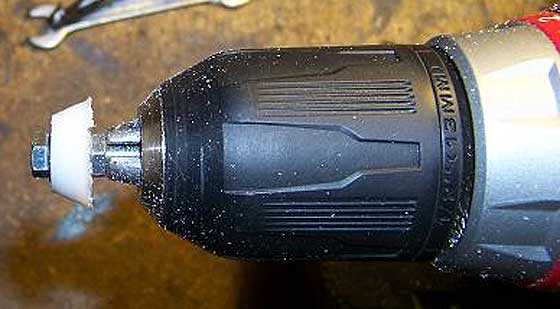 I sliced an old seal in half to give me an angle guide and used a bench grinder to shape the plastic button while spinning it in the drill. I fine tuned it until it's just about a perfect fit.
Remember that pin I drilled out of the piston? Turns out that it was also securing the piston rod into the piston — after I removed it, the rod loosened up. Since it looks like we can't do without it, I replaced it with a roll pin.
I used threadlocker on the center screw, so I'm NOT relying on the roll pin to secure it. I don't want the pin interfering with its installation or removal. I threaded a 5mm bolt into the head of the piston as far as possible and then pressed in the roll pin until it bottomed on that bolt.
I ground down the head of the pin so it's flush with the piston and forcibly removed the 5mm bolt (which was binding against that pin). I ran a tap down that hole to cut through any interference. The front of the piston is now ready to go.
I installed the new button and seal onto the piston and found out that the installed height of the new seal is less than the original. This would allow the piston to move forward more than before and interfere with the cocking linkage. So, I made a spacer out of a belt.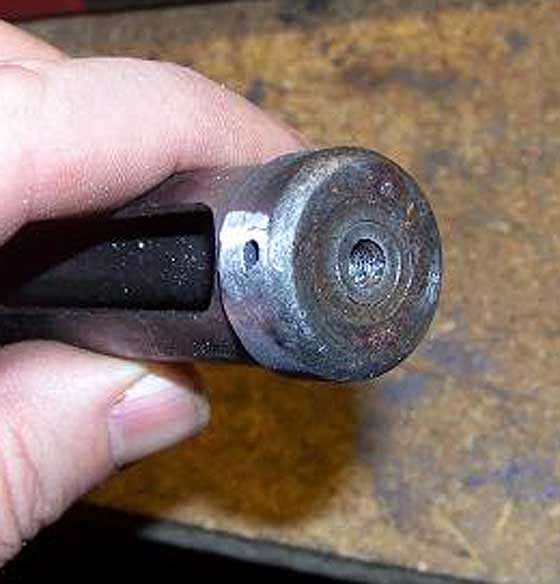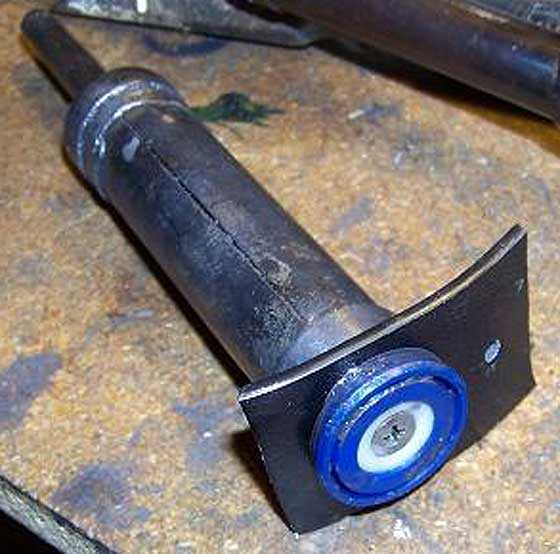 With a new button and seal installed, I needed a spacer…so I cut up one out of an old belt.
Almost perfect, but I eventually added a little more using material from a coffee can lid.
I cleaned the compression tube and reinserted the piston and spring. Another look at the rear spring retainer, and I see a problem — no rear spring guide! When I took the gun apart, there was a metal tube inside the spring up near the piston end. I didn't think much of it at the time, but now it dawns on me (duhhhh) that it's the actual guide pulled out of the rear retainer. Nothing seemed to be broken — just a press fit that wasn't quite tight enough. Wood chisel to the rescue! I expanded the diameter of the tube by spreading the seam.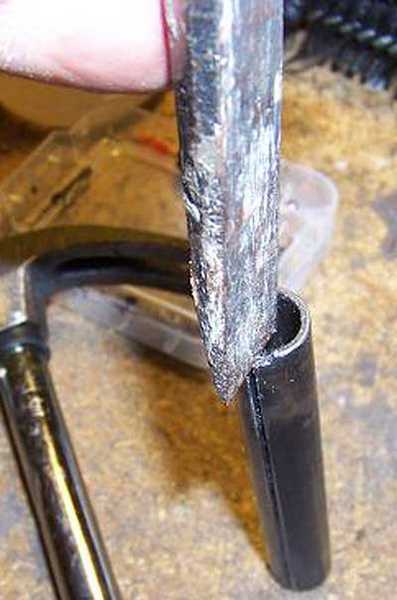 The guide had to be inserted back into the spring retainer, but the fit was too loose. A wood chisel helped tighten things up by spreading the the seam with my handy wood chisel.
I asked B.B. about pinning it (which involves drilling holes into precious and rare parts), but he assured me that this gun won't be getting a lot of use. So, this repair stays as it is.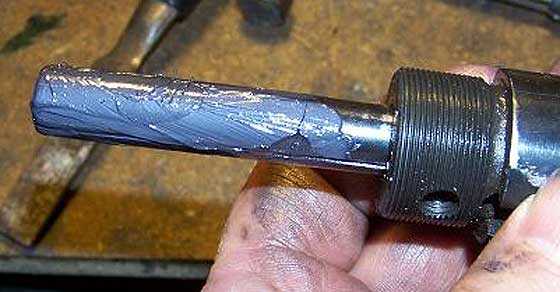 The retainer/guide assembly is all gooped up and ready to go!
The rear guide/retainer went back in as did the cocking linkage. Now, I'm back to where I started — the taploader assembly.
First thing I did was fish around for a skinny little spring and a 3mm ball to replace the missing detent.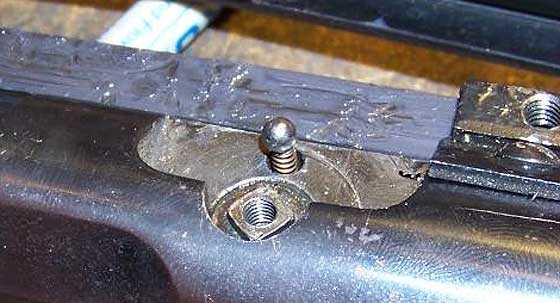 The detent.
Of course, when working on something like this, it's EXTREMELY important to heavily grease all parts BEFORE assembly, ESPECIALLY that little ball bearing which, incidentally, happens to be the only one I have. Why grease it now? Because when it goes sproing during one of several reassembly attempts, that itty bitty ball bearing HARDLY BOUNCES and DOESN'T ROLL! It sticks to things, making it infinitely easier to recover: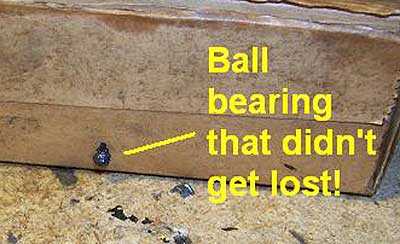 A greasy ball bearing does not bounce, not even an ounce, but if it did…I would trounce — it!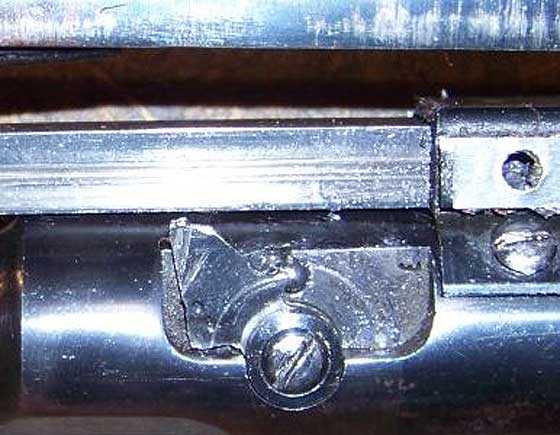 Back together and ready to work on the stock.
Everything went back together, and I'm getting psyched. I even put a couple of rounds through it before putting it back into the stock, and it seems to function just fine. So, I grabbed the admittedly beat-up wood. Just as I was putting the guts back into it, I noticed a crack in the stock.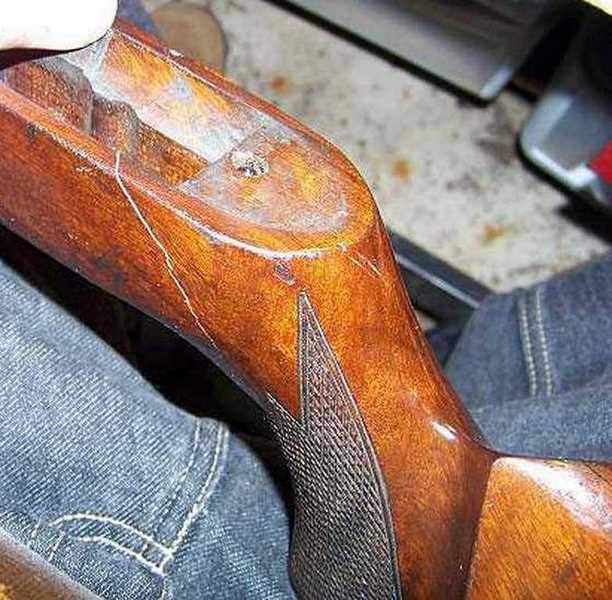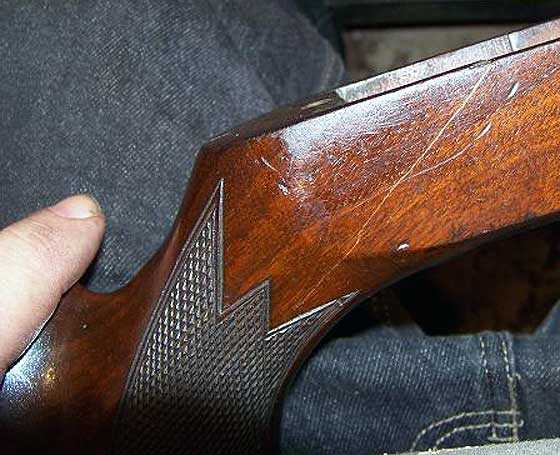 Finished with the action…on to the stock.
Great. Didn't notice that before. Oh, well, shouldn't be that hard to fix. Unexpected, but I'm awful glad I caught it. It's a lot easier to fix a crack, even a bad one, than it is to fix a total break.
I'm hardly a woodworking expert, but I don't really see a good way of pinning this. Shouldn't be necessary, a friend of mine assured me. Today's wood glues are so strong that I shouldn't need anything else. Not much choice.
Starting on the starboard side, I spread the crack as much as I dared with a small screwdriver and used my finger to force the glue deeply into the crack.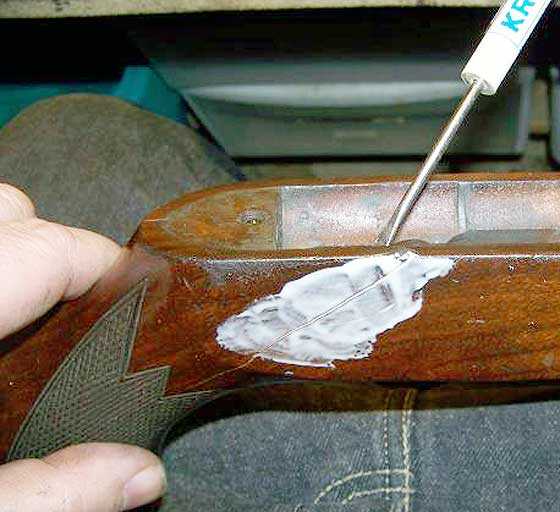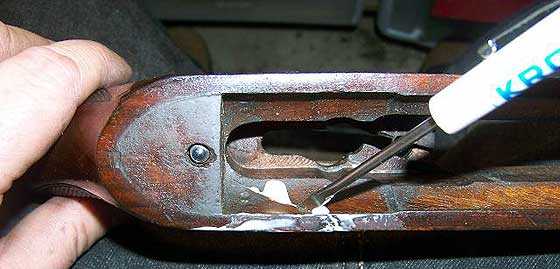 Glue is enough to keep this crack together without risking a complete break.
Actually, I made out pretty well and was able to get glue to ooze out of the other side of the crack
Close it, clamp it, wipe off the excess and let it sit. Hopefully, it'll be as solid as it's gonna get. Repeat for the port side, and I'm done.
One more thing. B.B. wanted me to do a quick write-up on the trigger so you can see how it works…which I remembered after getting the gun back together. So, it comes apart again, I pulled the trigger parts out and arranged them on the workbench in their approximate working positions. Since the rest of the gun is still assembled, I'm using an old piston rod just for illustration.
This picture shows the mechanism in the cocked position: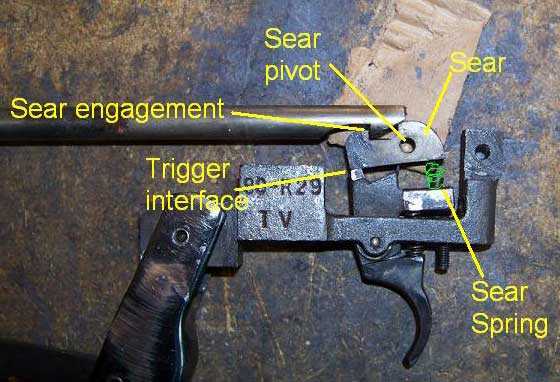 As the piston rod comes rearward, it pushes on the sear, rotating it clockwise so the sear engagement catches the hooked end of the rod. As the front of the sear lifts upward, the trigger rotates clockwise and the trigger interface slides under the sear to keep it in position.
When the trigger is pulled, the trigger interface moves forward, allowing the sear to drop down and release the piston:
While it's a step up from a direct-sear, it's not a particularly elegant mechanism, similar in concept to the trigger on the (shudder) Industry B3.
So, that's about it for working on the Falke. I did shoot it some, and found that the velocity averages almost 500 fps with Gamo Match pellets. Accuracy? I had trouble getting under .50 inches at 10 meters with the open sights. Perhaps Mac will do better.
My overall impressions of the quality of the gun? Generally, it's not as bad as my overall impressions of the quality of the rear triggerguard scew.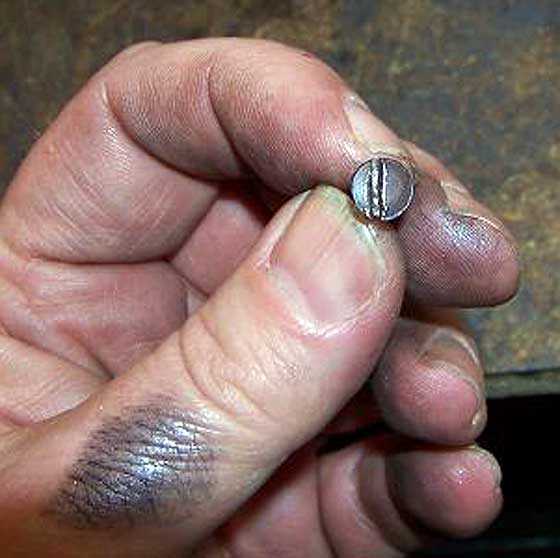 Rear triggerguard screw.
In all honesty, I was a little disappointed. This is only the third type of taploader I've worked on, the previous being the aforementioned Hakim while the first was a pre-WWI BSA underlever. That BSA sort of ruined it for me. It was such a beautiful example of 100-year-old metalwork. I'm still half-sick that I ever let Wayne have that gun back! The Hakim was somewhere on the better side of the middle, as is this rifle. But, it's certainly solid enough, and there's no reason why this gun shouldn't still be working well after all of us are pushing up daisies. Or Crosmans, or whatever we prefer to be buried with!
by B.B. Pelletier
Today, we'll look at the velocity this Sterling HR-81 underlever air rifle produces. You'll recall that this airgun started out as a UK rifle, so the power was limited to 12 foot-pounds. Benjamin-Sheridan didn't change that when they took over manufacture in 1994. The U.S. production ended in 1994 when Crosman bought the Benjamin company. So, an American Sterling rifle is probably a pretty rare airgun.
Trigger
I finally had the opportunity to test and evaluate the Sterling trigger. It's single-stage with lots of creep before the release. The trigger-pull measured 40 oz.; because of the creep, it felt like more. The safety is manual, which I really like. When it's applied, it just blocks the trigger from moving.
Firing behavior
The rifle fires with a solid thunk and no vibration to speak of. That's probably due to the tune that Jim Grossman put on this particular gun, because all the online reviews I read about Sterlings criticized the vibration a lot. This one is solid.
The underlever
The underlever releases by pulling back on a knurled handle located at the end of the underlever. Unfortunately, the handle must also be manually pulled back to return the underlever to the stowed position. This slows the cocking process just a little. The rifle cocks with 25 lbs. of force; and because there's no anti-beartrap device (nor is one needed, because of the bolt-action loading), it's possible to uncock the rifle.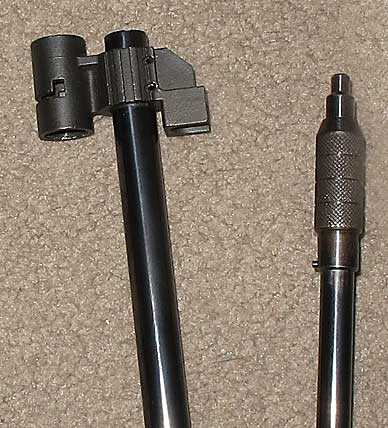 The lever catch has to be pulled back to both extract the lever for cocking and to put it back.
Velocity test
Now, I'll go through the velocity test. I did warm up the powerplant with two shots before starting the first string.
Falcon pellets
The first pellets I tested were Falcon pellets from Air Arms. At 7.33 grains, they're a very lightweight domed pellet, yet they've also been among the more accurate pellets in a number of other rifles. In the Sterling, they averaged 626 f.p.s., but the range went from 506 all the way to 653 f.p.s. That's a spread of 147 f.p.s. That one slow shot was not an anomaly, either, because there was another shot that registered only 614 f.p.s. The bulk of the shots went in the 630s and 640s, but there was another slower shot, so the 506, while surprising, was not a complete fluke. At the average velocity, the rifle generated 6.38 foot-pounds.
JSB Exact 8.4-grain pellets
The JSB 8.4-grain dome pellets averaged 597 f.p.s. in the Sterling, but, again, the spread was pretty large. It ranged from 564 to 625, with half the shots in the 600s. The spread was 61 f.p.s. At the average velocity, the muzzle energy generated was 6.65 foot-pounds. It's interesting that this pellet, which is heavier than the Falcon, also generated slightly more energy. Usually a heavier pellet will make less energy in a spring gun.
Crosman 7.9-grain Premiers
The next pellet I tested was the Crosman Premier lite 7.9-grain dome. It averaged 580 f.p.s. in the Sterling and once more the spread was huge. It ranged from a low of 467 f.p.s. to a high of 611 f.p.s., which is a total of 144 f.p.s. At the average velocity the energy was 5.90 foot-pounds.
A little less energy than I expected from this rifle. And, the wild velocity variance is anybody's guess. However, I had a theory that it could be pellet skirts that weren't sealing well. So, I conducted a little experiment. I used a ball-end pellet seating tool to enlarge the skirts on 10 of the lightweight Falcon pellets and chronographed them again.
Second test after enlarging the skirts
Well, I was wrong. I enlarged the skirts to the point that the pellets had to be pressed down into the loading trough. Even with that, the average velocity was 584 f.p.s. The spread went from 496 to 648 f.p.s., a range of 152 f.p.s. The average muzzle energy was just 5.55 foot-pounds. Obviously, something else is at work here. Tight pellets are not the answer to tighter velocity spreads.
I'm hoping I'll find the rifle accurate — though, with 100 foot-second spreads, I can't hope for much past about 20 yards. The rifle has a Lothar Walther barrel, so maybe it's a tackdriver in spite of the numbers. We shall see.
by B.B. Pelletier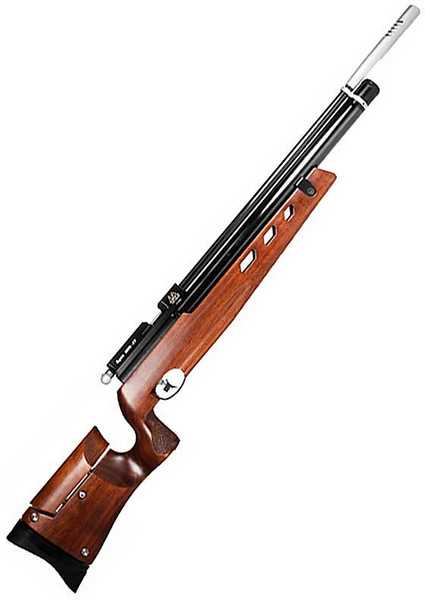 The Air Arms S400 MPR FT is a beautiful international-class field target rifle.
Today, we'll test the accuracy of the Air Arms S400 MPR FT precharged pneumatic air rifle, and it's a challenging test because I shot this 12 foot-pound rifle at 50 yards on a day with 20 mph winds. The wind was from my 6 o'clock, and the trees created some swirls. I had to wait out the gusts and shoot in relatively calm periods.
However, before I begin today's report I'll rant a little. I was testing several things last week and someone asked me to test his Talon SS. He claimed he could not shoot groups smaller than 2 inches at 30 yards and most of his groups at that range were four inches. Well, I've never seen a Talon SS that shot that bad; even the one with the only Lothar Walther barrel I ever condemned in my three years at AirForce.
When I asked for pellets to shoot in his gun he handed me Crosman Premier hollowpoints in a tin can. The first pellet fell through the barrel and the second one wouldn't enter the breech, so I asked for some other pellets. He gave me some Daisy pointed pellets.
There's your problem!
Folks, just as an airplane cannot fly on 87 octane gasoline, a precision air rifle cannot be accurate with discount store pellets. Yes, I know how "cheap" they are; but really, guys, when the rubber meets the road, you need better ammo than this.
I don't want to start a long argument about bang for the buck, or anything like that, so I thought I'd show you just how important the right bullet/pellet is. Last week, I also happened to get out to the range with my Ballard target rifle. This time, I was testing a new load, and it just so happened that there was a new bullet in this load, as well.
The first target I ever shot with the Ballard was shot with lead bullets just as they dropped from the bullet mold. They were sized 0.381 inches nominally and lubricated by my finger pressing grease into the grooves. The new bullets I was trying were the exact same bullet, but sized to 0.379″ and with the grease grooves filled by a machine. Let me show you what happened.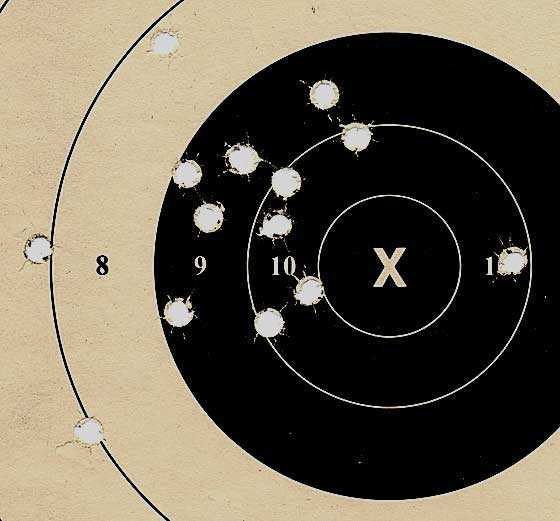 This is the first 100-yard group I shot with the Ballard rifle. I was just burning up the old 16-grain loads with the as-cast, finger-lubed bullets. I made two sight adjustments while this group was being shot! As casual as this group is, it's clearly better than the second group made with the new ammo.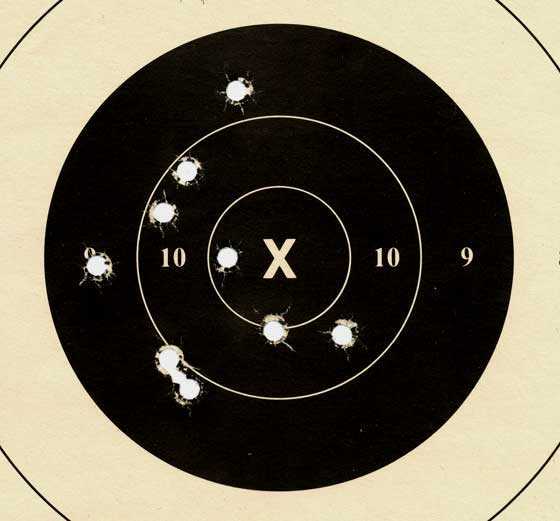 This was supposed to be the perfect 10-shot group. Here, I used the new bullets sized 0.379 inches and 18 grains of powder. The reason the bullet holes are smaller is because the bullets were moving faster — I guess! This is not a good group.
Obviously, I moved away from a good load and toward a bad one. The unsized bullets are better in this rifle than the sized bullets. The powder change may not have helped as I thought it would.
Back to pellet guns
This is what I mean when I say that your ammunition matters. Want to know what I shot with that "inaccurate" pellet gun? At 30 yards, I shot groups measuring .75 inches in a stiff wind. One four-shot group inside the five was .25 inches. I was using Crosman Premiers in the cardboard box. It made all the difference in the world. The message? Stop using discount-store pellets in precision airguns!
Today's report
Back to the Air Arms S400 MPR FT. I'm also testing a Hawke 4.5-14×42 Sidewinder Tactical scope with illuminated reticle, on which I'll give a separate report, and it was mounted on the S400 MPR. I tried light and heavy pellets. Because of the wind, the light pellets didn't fare as well as the heavies. Just like picking the right pellet for the gun, picking the right pellet for wind conditions is very important for accuracy, as you'll see.
Air Arms Falcon pellets
The first pellet I tried was the Air Arms Falcon. At 7.33 grains, this domed pellet is extremely light, and while it is often one of the most accurate pellets in a given rifle, the day was too breezy for it to hold up at distance. Remember, I'm shooting 10 shots at 50 yards, which is not easy with any pellet rifle!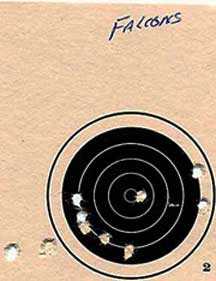 The spread of these 10 Air Arms Falcon pellets is 2.191 inches at 50 yards. Clearly, the wind is too much for this pellet at long range.
JSB Match Diabolo Exact pellets
The next pellet I tried was the JSB Exact 8.4-grain domed pellet. It proved to handle the wind quite a lot better, posting three 10-shot groups of 1.221 inches, 1.374 inches and 1.699 inches.

The best of three targets shot with JSB 8.4-grain Exact domed pellets. It measures 1.221 inches.
Crosman Premier pellets
Next, it was time to try the 7.9-grain Crosman Premier domed pellet in the cardboard box. Remember my rant in the beginning of this report? Premiers that are not in the cardboard box are made on the same dies as those in the box, but they're not sorted by die. Which means they will have a larger variation than the boxed pellets. Look at the results that two thousandths of an inch made in the Ballard rifle and understand that it does make a big difference what you load into your air rifle. Maybe for plinking at 25 yards you can get away with discount store pellets. For the ultimate in potential, you have to use the best pellets you can buy.
With the 7.9-grain Premiers, I shot two groups. They were 1.697 inches and 1.736 inches, which is pretty close. Not as good as the JSBs and not the pellet to choose for this rifle on a windy day.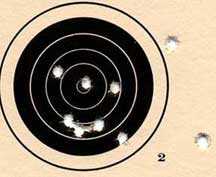 You can see the lateral dispersion from the wind. Ten Crosman Premier 7.9-grain pellets at 50 yards. This was the better of two groups of lite Premiers.
The last straw — Beeman Kodiaks
Had I realized the wind would be such an issue, I would have brought more heavy pellets to test. I almost didn't bring the tin of Beeman Kodiaks, but I threw them into the range bag because this is a PCP rifle that performs best with heavier pellets. Even at only 12 foot-pounds, the Kodiaks should have done fairly well.

Beeman Kodiak pellets shot the best group of the test. Ten pellets went into this group that measures 1.183 inches.
The bottom line
You're used to seeing .75-inch groups at 50 yards, so these results may not impress you. Bear in mind that this is a 12 foot-pound rifle. So, the pellet stays out in the wind much longer than if it were going faster. A 20 mph wind is not a day for setting records at 50 yards with any air rifle. That much wind is hard on even a .22 long rifle bullet at 50 yards! So, these groups are actually pretty good for the conditions.
I'll be reporting on the Hawke scope. But, I'll tell you right now it's a wonderful optical sight. A lot of what I was able to do on this challenging day was because I could easily bisect the center of the small bullseye at 50 yards.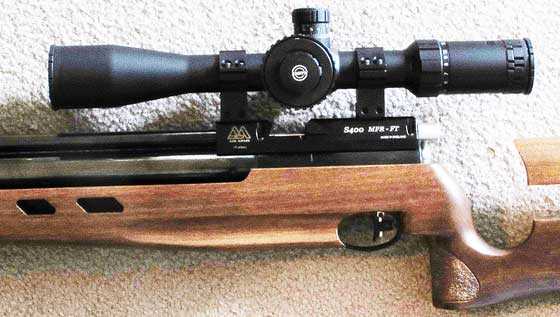 There will be a complete report on the Hawke 4.5-14x42AO Sidewinder Tactical scope in the future, but from this test I can tell you it's a winner!
I'll also do another report on adjusting the power higher. Stay tuned for that.
by B.B. Pelletier
This report was prompted by reader Rikib, who asked the following:
"If you find the time could you provide info about AirSoft guns, their purposes, uses, ranges of fps. Why would I want one if I have a pellet gun? Just wondering what an AirSoft gun is useful for I guess, other than training children to shoot safely. Do I have a use for one, they are relatively inexpensive."
Well, I guess it's time to go through the origins of airsoft again. I've done this before, but it's been so many years and I don't even remember where it is anymore, so this is a good opportunity to bring us up to date.
Rikib — You think airsoft guns are inexpensive? Well, the few you have seen may be, but how would you feel about paying $3,000 for an airsoft copy of the BAR? Because they do exist. How about $1,000 for an airsoft M60 machine gun (a crew-served weapon on a bipod) and another thousand for the accessories? A good friend of mine owns one, and guys who spend tens of thousands on full-auto crew-served weapons flock to his side when he gets it out at a shoot. Airsoft guns can be very expensive, as well as the guns you see here at Pyramyd Air. Perhaps, if you know the history of airsoft, you'll understand what the guns are and why they exist.
A little history
Airsoft guns came into being in the Orient, where firearm and even pellet gun ownership is severely restricted. In fact, in several countries, a private individual cannot own a firearm of any kind. That doesn't change the fact that a Japanese man can be just as attracted to firearms as an American, a Brit or a German. So, there's always been a demand for firearms even though the possibilities of owning them in some countries are insurmountable.
Enter the airsoft gun. Back in the late 1970s, companies in the Orient started bringing several non-weapons to market to satisfy the itch many people have to hold and fondle firearms. So that these replica guns would do something, they were made to shoot 6mm balls at velocities low enough to be relatively safe. Hence, the term airsoft. In the beginning, it was copies of military ordnance, like that BAR and M60 I mentioned. As time passed, they began to develop other lower-cost models of civilian guns that would have a wider appeal.
As the 1980s dawned, the American company, Daisy, began importing several inexpensive models of airsoft guns into this country to sell to their customers. They changed the name to soft air, a misnomer that Crosman also copied when they entered the airsoft market. The realistic-looking guns frightened U.S. lawmakers. The best airsoft guns were nothing but genuine firearms whose internal mechanisms had been adapted to shoot 6mm round balls the Asians called BBs. They also called them bullets, and they often called them BB bullets.
The U.S. government was about to ban the importation and sale of airsoft guns for the U.S. when a California lawyer came up with a way of marking the guns to make them distinguishable from firearms. Their muzzles would either be colored a specific shade of blaze orange, or they would have transparent bodies that showed the internal parts. After several years of discussion, laws were framed and airsoft sales continued in the United States in the early 1990s by the thinnest of margins.
Back in the late 1970s, companies in the Orient started bringing several non-weapons to market to satisfy the itch many people have to hold and fondle firearms.
But it's in Asia where the real innovation on the guns continued and flourished. The guns they built originally to satisfy gun collectors and enthusiasts were now being used in mock battles. Because the guns are much less powerful than even paintball markers, they gained popularity rapidly. They don't hurt as much when they hit, and less protective gear can be worn.
The directions of airsoft
However, it's at this point where the world of airsoft splits cleanly once more. Part of it remains with the collecting side, while the other part, the far larger part, goes toward gaming or mock battles. It's the gamer or skirmisher who has driven the accuracy and shootability of the guns to where it is today. And, even that push has undergone another split in recent years, with skirmishers going in one direction, which is by far the largest group, and a very small and select group heading in the practical pistol shooting direction. The latter are the guys who pursue the sport of IPSC — with timers, timed silhouette targets and courses of fire that resemble the ones that the firearms crowd engage. While this is a very small group, they spend more money per capita on their guns than any other group of airsoft enthusiasts, other than collectors. It's not unusual for these shooters to purchase a gun for $200 and spend another $1,000 on it to get it into full race-gun trim. Their guns can shoot groups well under one inch at 30 feet and are completely semiautomatic and entirely reliable.
They're fun to watch, as they do everything a firearm IPSC competitor does except endure the noise and recoil of the gun. Their guns are lightning-fast, super-slick and always on the money when they're adjusted properly.
Gaming
Without a doubt, for the past 10 years, it's been the gaming end of airsoft that's grown and thrived the most. And, it's this aspect that the casual public is most aware of. Using the same "Capture the Flag" scenario that paintball has embraced, teams of skirmishers armed with airsoft guns are maneuvering around on simulated battlefields trying to out-maneuver each other and accomplish their military goals. The guns they use are becoming increasingly more capable of supporting such operations. For example, a sniper "rifle" of today can be adjusted to land most of its shots inside a 12-inch circle at 50 yards, making it feasible to actually perform valid sniping roles on the battlefield.
Battle rifles, which are often based on the U.S. M16 and M4 variants, can be modified with steel gearboxes and other special performance parts to enable them to sustain operations under very realistic conditions for a long time. These guns are almost at the point where they can take the same rugged field conditions as genuine firearms. Indeed, there are a few select airsoft guns that are sold only to the military and are every bit as rugged and reliable as the firearms they copy. The larger commercial world of airsoft is rapidly approaching the same level of reliability and ruggedness.
At the high end of the gaming group, there are trademarked training simulations that travel all over the world and charge hundreds of dollars for the chance to be led and trained by battle-tested veterans with impressive military credentials. Airsoft teams are buying radios for their helmets, so their squads can have operational nets in the field, and even genuine military vehicles like 2.5-ton trucks to transport the squads to the training area. An individual might have to spend several thousand dollars to outfit himself for this kind of activity.
Law enforcement
Police departments are even using airsoft to replace Simunitions as a means of saving vast amounts of training funds, as well as reducing damage and injury in training by an order of magnitude. And, this interest is only in its infancy. As the equipment becomes more robust, the move to use it will increase because of the enormous savings it presents.
Without a doubt, for the past 10 years, it's been the gaming end of airsoft that's grown and thrived the most.
But what about the regular folks?
So that, Rikib, is a thumbnail overview of airsoft and where it is today. Now, to answer your specific question about how you can use it, I'm going to assume that you do not contemplate spending several thousand dollars on guns and equipment, nor are you looking to own a hard-to-acquire gun like a BAR, which would cost $30,000 as a firearm but only one-tenth that much as an airsoft replica gun.
Like most of our readers, you want to know if there's something that is both cheap and fun to use. The answer is yes. For less than $25, you can buy a 1911A1 pistol that's a repeater and has enough accuracy to hit a motel soap bar every time at 30 feet. If you can live with that level of enjoyment, then, yes, airsoft is for you. That kind of gun is the very cheapest reliable gun on the market. Look at the Tanfoglio Witness as one such gun.
The first thing you'll notice when you fire this pistol is how far the airsoft BB flies without appearing to drop. As you shoot the gun, the ability to see the BB in flight helps you make sight corrections until you cannot miss any reasonable target within range. This type of gun uses the lightest airsoft BBs, weighing just 0.12 grams. They travel under 300 f.p.s. and are the best way to get to know airsoft, in my opinion.
The next step up would be a gun powered by gas. Green gas is the easiest to use, and will give you true semiautomatic operation as well as stunning accuracy. For about $90, look at the TSD M190 pistol, which is a Beretta 92FS. I've owned and used one for the past 5 years and it's still running fine. Accuracy with 0.20-gram BBs is on the order of 1.5 inches at 30 feet, with a velocity of 330 f.p.s. on green gas. And, this gun has full blowback and a single-action trigger!
If long guns are your style, consider one of the very affordable sniper "rifles" (all airsoft guns are smoothbores), like the UTG Master Sniper that I tested for Shotgun News. I was able to keep over 90 percent of my shots on a silhouette target at 50 yards using 0.24-gram BBs with this authentic weapon. This gun comes out of the box shooting 460 f.p.s.; and, with a few aftermarket tweaks, it can easily top 500! That's a lot of performance for only $105.
I've purposely avoided talking about the higher-priced guns, because I don't think they're the right place to enter the world of airsoft. You now understand that Pyramyd Air is selling the low- to mid-range airsoft guns. They do not stock the high-end or ultra-collectible guns because the market for them is too small and unpredictable. To get your feet wet, there isn't a better place to begin than here. I would start with one of the lowest-priced pistols and advance only when I found the sport too compelling to ignore.
I used to write a lot more about airsoft. But, because Pyramyd Air has the No. 1 rated airsoft blog, I no longer have to. So, my advice — if you're interested in pursing this further — is to check out the Pyramyd Airsoft Blog.