Posts Tagged 'Foster quick-disconnect'
by Tom Gaylord, a.k.a. B.B. Pelletier
Part 1
Part 2
Secrets of loading the Benjamin Marauder magazine
Today, I'll begin a look at accuracy for the Benjamin Marauder precharged pneumatic air rifle. If the Marauder was a normal PCP, this would be one quick report, but it isn't. The owner has the ability to change not only the rifle's power, but also the fill pressure the reservoir will accept. That makes testing a Marauder potentially complex if you want to try everything, and we certainly do want to do that here. So, today will just be a first look at potential accuracy, after which I'll determine the shot count the rifle now gets with the best pellet, and then tune it to a preselected optimum range and test it again to see if the shot count increases. Neat, huh?
I know I'm going to shoot this rifle a lot, so I selected one of the best scopes I have — a CenterPoint 8-32x with parallax adjustment. The scope I chose is an old one from the time when Centerpoint was having Leapers make all their scopes. It's no longer available, but a close equivalent would be this UTG scope.
Where to begin the test
Oh, boy, where do I start? I thought it would be good to test a number of premium pellets and try to find 1 or 2 that stand out for accuracy. Then, I'll concentrate on those pellets, which will help me focus on what has to be done.
I shot at 25 yards indoors because that's the distance at which things start to happen. If a pellet is going to be accurate, 25 yards is usually far enough for it to stand out.
This is one time where 5-shot groups come in handy. I decided to shoot all the pellets I'd selected in 5-shot groups and see if 1 or more of them stood out as exceptionally accurate. Five-shot groups save time, pellets and air; and when you're faced with testing 8 different pellets, as I was, it makes a big difference.
If there was no favorite pellet, I would just have to pick a couple pellets and proceed to work with them. But as it turned out, this rifle does have a favorite. When I show you how much better it is than the others, you will probably say what my wife, Edith said when she saw the groups. She couldn't believe that 1 pellet was so much better than all the rest, and exclaimed, "Woohoo," involuntarily.
Marauder's noise level
But before I get to that, when I walked into her office to show her the groups, Edith asked me what airgun I was testing because she couldn't hear it. She thought it was some low-powered air pistol. And our female cat, who normally runs around the house complaining whenever I shoot, slept through the whole session. As it stands right now, the Marauder I'm testing is about as loud as a politician volunteering to do something proactive in a non-election year.
Pellets tested
I selected the following pellets to test:
Crosman Premier 10.5-grain
Crosman Premier 7.9-grain
JSB Exact Heavy (10.34 grain)
JSB Exact RS
RWS Superdome
Beeman Kodiak
JSB Exact Monster
JSB Exact Express
I did sight-in the rifle, but not so it would hit the center of the target because that would destroy the aim point. Nevertheless, a couple pellets did do just that. Fortunately, it was at the end of the 5 shots and no harm was done.
Average groups
The Marauder is accurate no matter what pellets it shoots. It's better with some pellets than others. Take a look at some of the 5-shot groups.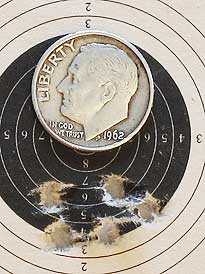 Five RWS Superdomes made this 0.528-inch group at 25 yards.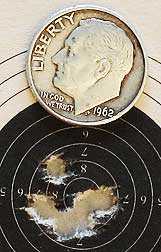 Five 10.3-grain JSB Exact Heavys made this 0.376-inch group at 25 yards. It's better than the Superdomes, but still not great.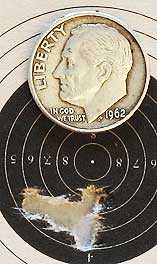 Five JSB Exact Monsters made this 0.316-inch group at 25 yards. It's the second-best 5-shot group of the test.
Okay, I could live with the JSB Monster group, and there were a couple other pellets worthy of further examination if that was the best the Marauder was going to do. But it wasn't. When I shot 5 Crosman Premier lites, the whole test changed.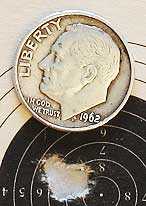 Five Crosman Premier lites made this 0.139-inch group at 25 yards. It is hands-down the best 5-shot group of the test.
It should be obvious that Crosman Premier lites are the best pellet of those tested. On the basis of the 5-shot group, they're twice as accurate as the next best pellet. Now, it was time to shoot a 10-shot group with them and see where that took us.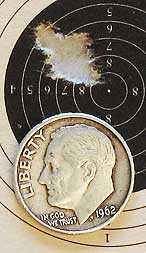 Ten Crosman Premier lites made this 0.285-inch group at 25 yards. This is exactly what I was looking for.
Obviously the 5-shot group was no fluke. This rifle really likes this pellet.
What's next?
Where do we go from here? First, I'm going to fill the rifle again to 3,000 psi and shoot nothing but Premier lites to determine the total shot count with the gun as it's currently tuned. You may remember that we found this rifle was tuned to the max when we did the velocity test in Part 2. While that high speed obviously doesn't hurt the accuracy of the Premier lite pellet, wouldn't it be nice to get several extra shots from a fill and keep the same accuracy? The rifle currently shoots Premier lites at an average 1,015 f.p.s., and I think an average 900 f.p.s. will be just as good. That's where I'll be adjusting the rifle. Several of you have asked how the power is adjusted on the Marauder, so this will give me the opportunity to show how it's done.
Then, I'll count the total number of shots at that new velocity, and we'll see what reducing the velocity gains, if anything. I'll also test the accuracy at the new lower velocity to see if the rifle is still just as accurate.
After that, I plan to adjust the maximum fill pressure of the rifle. I'll experiment with the rifle operating at a lower fill pressure while still getting the same velocity. This will be at the new velocity of around 900 f.p.s. We'll see what benefits there are to having a lower fill pressure.
I do plan on shooting the Marauder at 50 yards, too, but that will come after all the adjustments have been made and evaluated. By then, we should know the test rifle very well and be able to tune it for the best performance. There's a lot more in store for this rifle!
by Tom Gaylord, a.k.a. B.B. Pelletier
This is a look back at an air rifle that has become iconic throughout the world — the Benjamin Marauder. The last time I looked at this rifle, I did it in my conventional way. This time I'm doing it different because I know more about the rifle.
My goal this time is to tune the Marauder exactly as I want it to shoot. I think there will be a great benefit for those who want to learn about PCPs to watch this as it develops. Today, I'll test the rifle for velocity in the conventional way, except I won't do a shot count — not today.
In the next report, I'll test the rifle for accuracy at 25 yards, only I'll stack the deck by selecting the pellets that I believe will be the most accurate. The accuracy test will tell me which one(s) to select. After that, I'll test that one pellet for velocity and for the total shot count I can get.
Then, I'll decide what I want that pellet to do. If it's a heavyweight, I'll try for moderate velocity in the 850 f.p.s. range and then try to get the greatest number of shots from it. If it's a medium or lightweight pellet, I'll probably dial the velocity back to about 900 f.p.s. and try for the best shot count.
I'll also be interested in the fill pressure. If I can get 25 good shots with 2,500 psi air, I won't care that 3,000 psi air gives me 31 good shots with the same pellet. But if 3,000 psi gives me 38 good shots compared to 25 good shots with 2,500 psi, then, yes, I'm going to set the gun up to fill to 3,000 psi.
As I do all of this experimentation, I'm going to document it so those who have questions about the Marauder can see how it works. You tell people today that an air rifle has adjustable velocity, and they expect to see a rheostat on the side of the stock; but the Marauder isn't like that. It's a thinking man's airgun. You set it and forget it. You don't keep fiddling with the controls until it's a jumbled mess. We're going to spend the time to learn how to do it right.
But wait…there's more! Not only does the Marauder allow you to adjust the velocity of the pellet, it also lets you adjust the maximum fill pressure of the air reservoir. When you hear that, you probably wonder why anyone would bother with a fill pressure other than the maximum — which in the case of the Marauder is 3,000 psi. Here's why they do it. Some owners may use hand pumps that they find difficult to use above 2,500 psi. Other owners may use scuba tanks, but they live 40 miles from the dive shop and want to be able to use their rifle for a longer time than conventional wisdom permits. For these owners, adjusting the maximum fill pressure to 2,500 psi makes perfect sense. They understand that they'll get fewer shots at maximum velocity when the fill pressure is lower — just as you understand that you can't go as far on a gallon of gas as you can when the tank is full, but you can go just as fast.
When you're adjusting the velocity and the maximum fill pressure, you have to find a balance point between the two. That's what's confused many people. The Marauder is the first air rifle in the world to allow both the fill pressure and the velocity to be adjusted. It's like they've given you your very own NASCAR engine, and it's up to you to tune it for the race track you're going to drive on.
One pellet is all I want
I don't care to discover 27 different pellets for this rifle. I only want the single best one. I don't care how much it costs — only how accurate it is and how effective (power and shot count) I can make it. So, that'll take some time to locate and some more time to set up the gun to use that single pellet most effectively.
That's what I intend doing. The first step is to test the rifle for velocity now. I plan to test the following pellets:
Crosman Premier 10.5-grain (Premier heavy)
Crosman Premier 7.9-grain (Premier lite)
JSB Exact Heavy (10.34 grain)
JSB Exact RS
RWS Superdome
Beeman Kodiak
I may not have included your favorite .177 pellet on my list, but allow me to explain my thinking. First, all of these pellets are domes. I know the domed pellet to be the most accurate pellet shape on the market. And each of the pellets I selected to test are known by me to be very accurate.
I selected the Beeman Kodiak, but I've found that the Beeman Kodiak Match, H&N Barauda and H&N Baracuda Match are all the same pellet, as far as performance goes. I use them interchangeably, so I only have to test one to know how all four perform.
There may be other pellets that are better in the Marauder; but starting from zero, these pellets are the ones I would choose. Let's see how they do.
Crosman Premier heavy
Crosman Premier heavies averaged 943 f.p.s. with a spread that went from 941 to 945 f.p.s. That's right — only 4 f.p.s. separated the fastest and slowest shots! At the average velocity, this pellet makes 20.74 foot-pounds of energy at the muzzle.
Crosman Premier lite
Crosman Premier lites averaged 1,015 f.p.s. The low was 1,012 f.p.s. The high was 1,018 f.p.s., so 7 f.p.s. was the total velocity spread. At the average velocity, this pellet produces 18.08 foot-pounds of energy at the muzzle.
JSB Exact Heavy
JSB Exact Heavy pellets averaged 936 f.p.s. The low was 932 f.p.s. and the high was 940 f.p.s. The total spread is 8 f.p.s. At the average velocity, this pellet produces 20.12 foot-pounds of muzzle energy.
JSB Exact RS
JSB Exact RS pellets averaged 1,032 f.p.s. The spread went from a low of 1025 f.p.s. to a high of 1039, so a total spread of 14 f.p.s. At the average velocity, this pellet makes 17.34 foot-pounds of energy at the muzzle.
RWS Superdome
Of all the pellets tested, RWS Superdomes were the most difficult to load into the magazine. I had to use a pusher to get almost every pellet into the mag. They averaged 1,014 f.p.s. and went from a low of 1,008 f.p.s. to a high of 1017 f.p.s. Total spread was 9 f.p.s. At the average velocity, this pellet produced 18.95 foot-pounds of energy at the muzzle.
Beeman Kodiak
Beeman Kodiaks averaged 957 f.p.s. in the Marauder. The high was 960 f.p.s and the low was 955 f.p.s., so the spread was 5 f.p.s. Kodiaks produced an average 21.66 foot-pounds of muzzle energy.
Where are we?
I just dumped that data on you so I could get to this discussion. What do these numbers tell us? They tell me my rifle is set up extra-hot. I have no need for all that speed; so after I find the right pellet, I plan to dial back the power to between 850 and 900 f.p.s. If the best pellet is light, I'll let it go toward the 900 f.p.s. side of that range. If it's a heavy one, I will try to get it down to around 850 f.p.s.
Why would I do that? To get additional shots per fill. The way the rifle is now set up, I'm wasting air. Not that too much air blows out with every shot, but I just don't need these pellets to go so fast, to do what I want them to.
Did you notice?
I was impressed by how tight the shot strings were. Remember, the Marauder doesn't have a regulator. It's doing all this with just a well-balanced valve. We'll want to keep that in mind when it comes time to make adjustments.
The magazine is superior!
There have been a lot of negative comments on the Marauder's spring-loaded magazine. I can shed some light on that. I've watched some new owners who were befuddled by how this magazine works, and they ruined it by forcing it when it didn't do what they expected it to. My magazines are several years old and with hundreds of shots run through each of them. I've never had a single problem. But force them even one time to do what they weren't designed to do, and you'll ruin them. This mag is a copy of a successful UK PCP magazine, and that one had the same learning curve problems.
Silent operation
My test Marauder is very quiet! Even operating at the high power level it's at right now, it's extremely quiet. I don't know if it'll get even quieter when I cut the power, but I do plan on observing and reporting.
More about the stock
The Marauder stock is not as clunky as people say. In fact, the pistol grip is thinner and narrower than most UK PCP stocks. The forearm is wide, but only enough to contain the large reservoir.
The trigger
I'm ambivalent about adjusting the trigger because the one on my rifle is so sweet that I don't want it to change. It's exactly where I want it to be. Theoretically, I can always adjust it back, but I've seen too many instances where the theory didn't pan out.
The 2-stage trigger breaks at less than 11 oz. The first stage is 9 of those ounces, so the release is very light and glass-rod crisp. Only the addition of an overtravel stop would make it better.
So far
I knew what the Marauder was like before this test began. That's why I'm testing it the way I am. I get to learn something new, and people who are interested in the Marauder get to see it in a way they probably haven't seen anywhere else. I think the Marauder is a classic for all time, but you have to decide that for yourselves.
by Tom Gaylord, a.k.a. B.B. Pelletier
I'm starting a long report about an air rifle that comes up in conversation all the time — the Benjamin Marauder. I use it as a standard for comparison to most other air rifles in its class; though, to be honest, there are no other air rifles that are in its class. They may have some of the same features, but no other air rifle on the market has everything that the Marauder has.
It's very significant that the Marauder occupies the top position on the Pyramyd Air search page for precharged pneumatic (PCP) air rifles when you sort for the most popular models. Even though it costs more than the Benjamin Discovery, which was created to be the entry-level gun for those coming into PCPs for the first time, the Marauder out-sells the less expensive airgun. And with all that it has to offer, the Marauder is still a blistering bargain…not only among PCPs, but among the larger category of fine air riflesin general.
This is not my first report on the Marauder, or, as the insider jargonists have named it, the M-Rod. Way back in 2009, I did a 5-part report on this .177 rifle as it was first launched. Back then, the airgun community was just starting to get used to the idea that Crosman could build precharged airguns instead of buying them from other manufacturers and slapping their name on it. The Benjamin Discovery that the slangsters have shortened to Disco was their first attempt at building a PCP here in the United States, and they were so careful with the launch that they hit a home run the first time at bat. But the Marauder was the rifle they really wanted to build. And, with it, they knocked the ball out of the park!
When the Discovery was in development, Crosman engineers knew shooters were going to want a match-type trigger, a baffled barrel and superior accuracy. I argued that we first needed to get our production feet wet with a simpler design that had fewer technical challenges to build. As things evolved over time, we were both right. Building the Discovery first gave Crosman's East Bloomfield plant the time it needed to ramp up a precharged pneumatic assembly line and to learn all the sensitive issues involved with building PCPs. But the customers really did want all the bells and whistles on their guns; so when the Marauder came out, the company was praised for finally getting it right.
As it turns out, there are actually two distinctly different motivations for buying these rifles. The Discovery is what you buy when you want to save every last penny and still get into precharged airgunning with a brand new airgun, while the Marauder is the one that's bought for all its features. Sometimes, these are two entirely different customers; and other times, they're the same customer but at different times in their airgunning journeys. Whatever the psychology, each model compliments the other one, and neither would be as successful by itself.
I've always believed that a company needs high-performance models to encourage timid buyers to purchase their more mundane products. That's why the automobile industry pours millions of dollars into NASCAR — so that mom and dad can feel special while driving their ordinary wheels to soccer practice and to work. Remember this — most Range Rovers never leave the pavement — despite the fact that they can.
But Crosman has taken this marketing strategy one important extra step. They've built a high-performance PCP and held the cost to a fraction of what others charge for airguns of lesser capability. It's like Ferrari is making a sports car that retails for under $30,000. The dinosaurs will claim that it can't be done, yet here's the Benjamin Marauder, proving it can.
This rifle deserves a second report because we keep bumping into it as we look at other airguns. It's often held as the standard against which other air rifles are compared. So, it's time to look at the rifle in its own light to see if all the hype is deserved.
As an interesting side note, I have not shot this rifle since June 2009, and it's still holding air. I'm mentioning that because a lot of people talk about how these PCPs don't hold their charge.
I also tested a .25-caliber Marauder air rifle, and that coincided with my illness and hopitalization. My good friend Mac had to step in and finish that test for me in 2010.
One last footnote before I talk about the gun. There's a new synthetic Marauder coming out, and I'm going to get one to test for you. This is going to be a very thorough look at the M-Rod family.
The rifle
The Marauder is a PCP repeater that comes in .177, .22 and .25 calibers. The .177 that I'm testing now holds 10 shots in the rotary clip. The .22-caliber rifle has the same number, but the big .25 caliber drops to 8 pellets.
The barrel is shrouded so successfully that the Marauder is held up as the standard for what a quiet PCP should be. Of course, you can make it even quieter with certain aftermarket modifications. But as it comes from the box, it's quieter than 90 percent of the comparable PCPs on the market. The shroud gives the appearance of a bull barrel, which is pleasing to most shooters. But the real 20-inch barrel is located deep inside the shroud.
The stock is beech with a conventional shape. It's thick through most dimensions. The fact that it encloses the rear of the reservoir tube means that it's a trifle thick through the forearm. It really isn't that wide; but it looks like it is, and that's the impression most people have of the rifle — that it's larger than it really is. In fact, it weighs only a trifle over 7 lbs., depending on the wood weight, and is actually a fairly lightweight air rifle.
The pistol grip is contoured nicely for right-hand and left-hand shooters, alike, with a hint of a palm swell on either side. The cheekpiece rises high enough to naturally bring your eye up to the eyepiece of the scope. The bolt handle located on the right is perhaps the one thing lefties will find objectionable.
The rifle is finished with a matte finish overall. The metal parts are a pleasing dark gray, and the wood has a satin sheen. It looks like it was designed for hunters by hunters, and the presence of detachable sling swivel studs is proof of that.
No sights come on the rifle because the shooter is expected to mount a scope. The 11mm scope base on the receiver stands above the barrel, so there will be good clearance for a large objective lens; but the circular clip protrudes above the top of the receiver, forcing you to use rings that raise it high enough to clear. You almost have to use a 2-piece mount, although it would be possible to use a cantilevered 1-piece mount that reaches over the clip. I'm telling you that you need to think about the scope and mount more carefully than with some other rifles.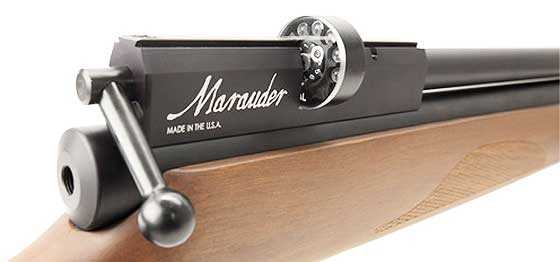 The spring-loaded clip sticks up above the top of the receiver, meaning the scope mounts need to provide clearance.
The rifle is filled through a male Foster quick-disconnect nipple that has a 2-micron filter inside to stop dirt from entering the reservoir. This type of fitting is nearly universal these days, and it's one of the pleasing features that all Crosman-made PCPs share.
Adjustable trigger
The Marauder's trigger is adjustable in ways the triggers on guns costing twice as much cannot equal. You control the first-stage and second-stage lengths, the weight of the let-off and even the position of the trigger blade when it's at rest. The trigger releases with a light and crisp second stage that's worthy of the title match trigger. I'll discuss the trigger more in a future report.
Adjustable power
The user can adjust the rifle's power, within limits. But this is not a simple adjustment that acts just on the hammer spring, alone. Both the hammer-spring tension, or preload, and the hammer-stroke length are adjustable. You control both how hard the hammer strikes the valve stem and also how far it can push it. This gives you fine control over the rifle's power output, but it's a procedure that requires the use of a chronograph and balancing between the spring tension and the hammer-stroke travel. I'll have more to say about this in a future report.
Adjustable fill pressure
I know of no other PCP that has the ability to adjust the maximum fill pressure of the gun. You're actually controlling the volume of air that can flow through the valve when the hammer's struck. This has to be done in conjunction with the power adjustment to be fully effective. If not done correctly, you could have a situation where the fill pressure restricts the possible top power the rifle can generate, rather than the hammer stroke and spring tension. I'll talk more about this in a future report.
Accuracy
Marauders have a well-deserved reputation for accuracy. We'll test that, of course; and in the years since the rifle was tested last, a number of good pellets have become available. This should be an interesting update for all of us.