by Tom Gaylord
Writing as B.B. Pelletier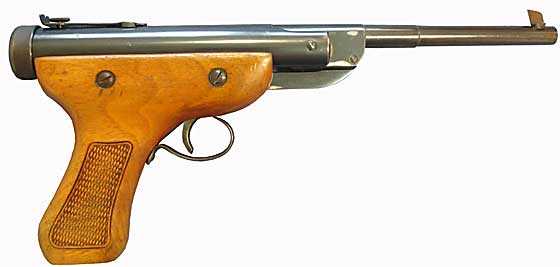 Diana model 5V pellet pistol.
This report covers:
RWS Hobbys
JSB Exact RS
What is dieseling?
Sig Match Ballistic Alloy
Cocking effort
Trigger pull
Next
Observations
Today we look at the power of my old Diana model 5V air pistol. I expected to see results in the same class as the BSF S20 and Webley Hurricane, but perhaps a little slower because of the age of this airgun. I reckoned somewhere in the high 300s, at least.
RWS Hobbys
The first pellet I tested was the RWS Hobby, which is often the standard for velocity in an airgun. In the 5V Hobbys averaged 397 f.p.s., which I think is a pretty healthy result. The low was 387 and the high was 408 f.p.s., so the spread was 21 f.p.s. At the average velocity, this pellet produced 2.45 foot pounds of energy. I will add the Hobby fit the bore pretty tight.