by Tom Gaylord, a.k.a. B.B. Pelletier
Benjamin Marauder .177 caliber: Part 1
Part 2
Secrets of loading the Benjamin Marauder magazine
Part 3
Part 4
Part 5
Part 6
Fixing a Marauder magazine
Part 7
Benjamin Marauder .25 caliber: Part 1
Benjamin Marauder .25 caliber: Part 2
I told you this report was going to be a different kind of test, and today I'll prove it. I shot the .25-caliber Benjamin Marauder off a rest at 25 yards, but the purpose was not to learn if the rifle is accurate — I already knew it is. And 25 yards is hardly long enough to show the accuracy potential of this powerful PCP.
No, I told you that I would be searching for the most accurate pellets in this rifle. You see, unlike .177- and .22-caliber guns, the big .25 doesn't have that many accurate pellets. Going into this test, I only knew of 3 — the H&N Baracuda (also branded as the Beeman Kodiak), the Benjamin dome and the JSB Exact King. Other .25-caliber pellets I've tested were not accurate enough to be considered. Today's test is to establish that the 3 good pellets are still good in this test rifle and to see if there's another good pellet or 2 out there.
The rifle is now scoped with the UTG 6-24X56 AO scope with illuminated reticle, which I'm also testing for you. I won't get into that evaluation in this report, but I will use this test to report on that scope. This scope has high rings that come packaged with it.
Testing pellets rapidly
Time is a commodity in short supply around here. It takes a long time to test something, then pictures have to be taken and it takes even more time to write it up. Normally, I shoot 10-shot groups for accuracy, but I told you I was going to do things differently today, and this is where it starts. Instead of shooting 10-shot groups (or 8-shot groups because the .25 Marauder circular magazine only holds 8 pellets), I decided to shoot 4-shot groups. The results of those groups would tell me which pellets were worth testing more closely. But testing more closely won't be at 25 yards. It will be out at 50 yards.
H&N Baracuda
Since I'd just mounted the scope, I had to sight-in the rifle, and for that I loaded a full magazine with 8 H&N Baracudas. Sight-in took just 2 shots, so the first group for the record was 6 shots instead of 4. As predicted, it was a tight 0.376 inches at 25 yards. Of course, some of that is due to the lesser number of shots, so bear that in mind. Also, bear in mind that a group of .25-caliber pellets will look much larger than the same size group of .177-caliber pellets.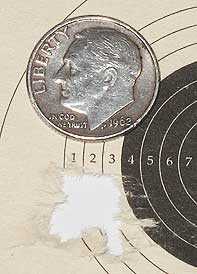 Six H&N Baracudas went into 0.376 inches at 25 yards. This pellet is on the list for 50 yards.
JSB Exact King and Benjamin dome
Next, I shot 4 each of the JSB Exact Kings and Benjamin domes. Both performed exactly as expected. The 4 Benjamin domes went into 0.196 inches. Of course, I would expect this group size to double with 10 pellets, but it's still the kind of accuracy I was looking for.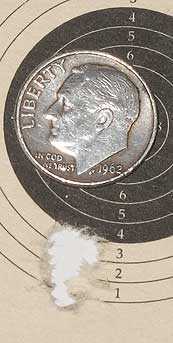 Four Benjamin domes went into 0.196 inches at 25 yards. They made the list, as well.
I shot the first 3 JSB Exact Kings into a very tight 0.11-inch group, but the fourth shot was a called pull to the left. It opened the group to 0.383 inches; but since I know that I pulled the shot, it doesn't phase me. This pellet also made the cut for more testing.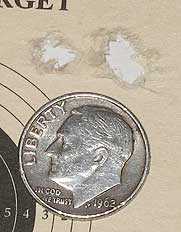 Three JSB Exact Kings went into 0.11 inches at 25 yards. That's the larger hole on the right. A pulled fourth shot that was called opened the group to 0.383 inches, but that doesn't bother me. This one is a keeper, as well.
Predator Polymags
The only other pellet that showed promise in this test was the Predator Polymag. Four of them went into 0.274 inches at 25 yards. That's good enough to earn a chance to shoot at 50 yards in my book.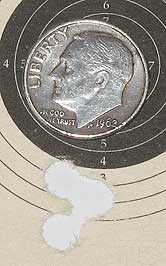 Four Predator Polymag pellets went into 0.274 inches at 25 yards. That was enough to make the cut.
The other pellets
As I said before, the .25-caliber pellet is not as uniformly accurate as the .177 and .22. Until this test, only the first 3 pellets I shot had shown any promise. Now, we have a fourth. To show you what some other pellets look like in comparison, here are 3 more that didn't make the cut.
RWS Superdome
The results of 4 RWS Superdome pellets tell the story of the .25 caliber very well. Four went into a group that measured 1.378 inches between centers. You can clearly see there's no need to shoot 10 pellets, when just 4 make a showing like this.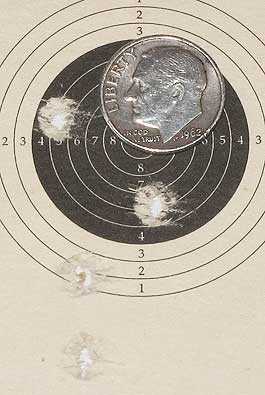 Four RWS Superdomes made this 1.378-inch group at 25 yards. It was the largest group of the test.
Diana Magnum
Next, I tried the pellet that was the best .25-caliber pellet for many years in the 1990s. Until the H&N Baracuda came out in .25 caliber, the 20-grain Diana Magnum was the pellet people chose for accuracy. Certain individual guns may have done better with other pellets, but the Diana Magnum was considered the best all-around .25-caliber pellet of its day.
Not surprisingly, Diana Magnums turned in the smallest group of the three pellets that were not selected to go on to longer-range testing. Four went into 0.588 inches at 25 yards.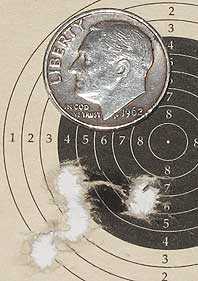 Four Diana Magnums made this 0.588-inch group at 25 yards. Fifteen years ago, this was the best pellet we had in .25 caliber.
Beeman Ram Jet
Another pellet that has left the stage is the .25-caliber Beeman Ram Jet. It was supposed to be a domed pellet that also performed like a wadcutter, but accuracy was never this pellet's strong suit. Four of them made a 0.769-inch group at 25 yards.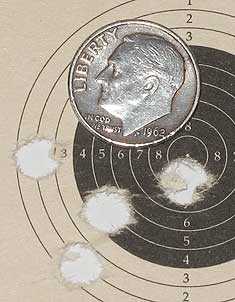 Four Beeman Ram Jets made a 0.769-inch group at 25 yards. This pellet was also never in the running.
Summary
I hope from these results that it's clear why I went with 4-shot groups instead of 10-shot groups. I never planned on testing the .25-caliber Marauder at 25 yards, except to prepare for the 50-yard test, which will be next. I think you can see the clear differences between the pellets that were selected and those that missed the cut. More than any other caliber, the big .25 is an all-or-nothing caliber. And there aren't that many pellets to choose from.
Trigger
One more thing I want to report today is how the trigger now performs. I adjusted it before this test and got it exactly where I want it. I won't say that it's better than the trigger on my .177 Marauder, but it's just as good. The Marauder trigger is something Crosman can be proud of, for it surpasses most PCP adjustable triggers I've tested. This one now has a positive stop at stage 2, followed by a very light, crisp break. It allowed me to hold very precisely and know when I pulled my shots, which only happened once during this session. This trigger will certainly do!
Next, I plan to shoot the rifle at 50 yards with these 4 pellets. That should give us a good idea of the long-range capability of the rifle. If the results suggest it's capable, I may attempt a 100-yard test, as well. I need for the shooting conditions to be perfect to do it; but if they are, we may see the real potential of the big Marauder.