by Tom Gaylord
Writing as B.B. Pelletier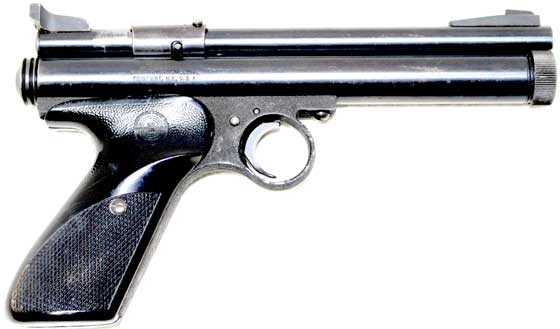 Crosman's 150 looks plain and simple, but was a pivotal airgun.
This report covers:
The test
Different type of inlet valve
Not much sight adjustment
RWS Hobby
JSB Exact RS
Change the aim point
Crosman Premier
General observations
The sights
2016 Texas Airgun Show
Today we'll look at the accuracy of my Crosman 150 CO2 pistol. Several of you said you have either a 150 or a 157, and this report reminded you if what a nice airgun it is. So you dug them out. I hope to hear some good reports from you.
I don't think I have ever shot this pistol for accuracy. If I did, I forgot about it. This seemed like a test of a brand new airgun, to me.
The test
Since I knew nothing about the gun I decided to test it at 10 meters off a bag rest. Instead of 10-shot groups I went with just 5 shots, thinking I would test each pellet on both low and high velocity. That assumption faded with the very first pellet I tried. read more