Posts Tagged 'Falke model 90 air rifle'
by Tom Gaylord, a.k.a. B.B. Pelletier
I'm in Ft. Smith, Arkansas, today filming the 2014 episodes of American Airgunner. Because I am on the road, I'll ask my veteran readers to help answer the questions we get from the new guys. After a day's filming, I have to return to the hotel, answer my email then write the next day's blog. The blogs are going to be pretty short this week because I was so busy last week that I didn't have a lot of time to bank any of them.
Today's report is about 2 rimfire rifles that were made by airgun manufacturers — Daisy and Falke. I introduced both rifles in Part 1 and gave you my opinions and observations about their quality. In today's report, I'll take these 2 rifles to the range and shoot some targets at 50 yards.
I also introduced a Crickett .22 rimfire in Part 1. That rifle was made by a firearms manufacturer and served as my control during this test.
There were a lot of comments on the first part of this report. A number of readers expressed interest in these small single-shot rifles, and more than a few people said this was the first time they had heard of one or all of them.
Daisy model 8
The first report was mostly descriptive. I talked about the relative quality, or the lack of quality, that I see in each of the subject rifles. I came down on the Daisy model 8 the hardest, and in retrospect, everything I said was deserved. The rifle is made on a zinc diecast receiver — the weakest possible type of construction. Yet, it does work.
What doesn't work on the Daisy is its reliability. It fails to fire almost half the time. Either the mainspring is weak or the headspace is too great or the firing pin isn't long enough — something is wrong. But in spite of that, the rifle shoots well.
I said in the first report that the Daisy was inaccurate, but in this test I discovered that it is plenty accurate. I shot it at 50 yards outdoors on a very cold and windy day, and the rifle grouped like a much more expensive firearm.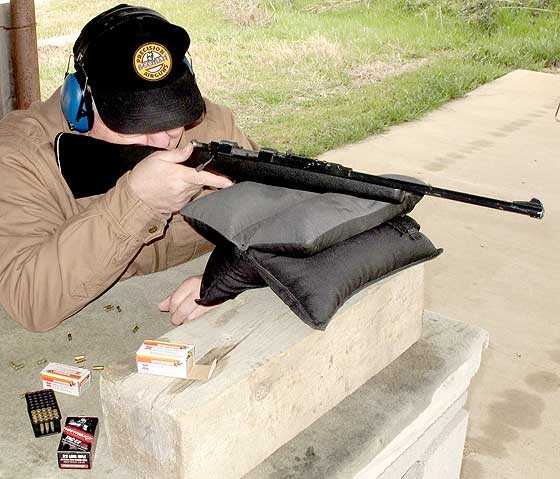 The day was cold and blustery, but the little Daisy model 8 shot very well.
When I went down to inspect the first target, I couldn't believe what I saw. I recalled that the Daisy model 8 was inaccurate, but 7 shots in 2.045 inches in the black were proving me wrong. I know this isn't the best group in the world. I've done much better at this distance, but I never thought the little Daisy could even keep all its shots on the paper at 50 yards.

This first 7-shot, 2.045-inch group showed me that the Daisy can shoot.
I put up another target and shot another 10 Aguila standard speed rounds at it. This time the spread between centers was 2.393 inches, which is larger — but not by much. And the shots are still nicely centered. Only one round missed the black bull.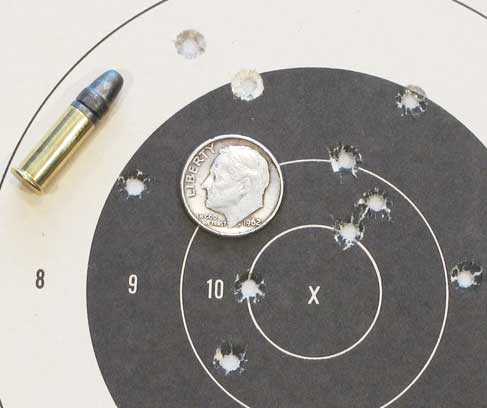 The Daisy put 10 shots into 2.393 inches at 50 yards. While that's not great, it's better than I expected!
Falke rifle
The Falke single-shot is the most deceptive of the 3 rifles being tested. Overall, it looks fine; and in a 21st century context, it even looks like a premium gun! But by understanding what was happening in Germany right after World War II, we can understand why that's so. All hand work was cheap at that time because labor was plentiful and inexpensive. The hand-checkered pistol grip and the high polish on the metal parts are to be expected. But the design of the rifle is crude. That shows up best in the flat spring that powers both the sear and trigger.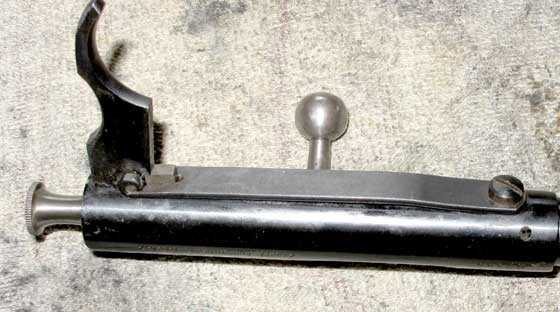 The Falke trigger/sear spring looks like it was taken from a half-ton pickup truck!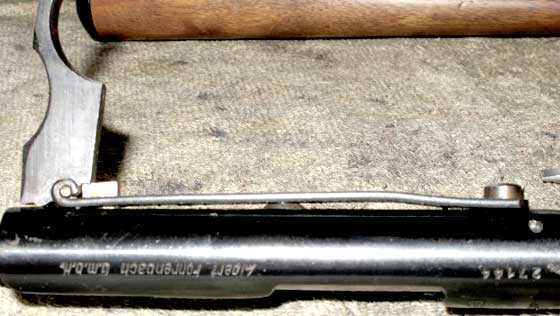 This shot shows how Falke made the large flat spring work as both the sear spring and the trigger return spring. It saves money but isn't very elegant.
That spring was making the Falke cock very hard because the sear didn't want to get out of the way when the bolt was withdrawn. I lubricated it heavily with moly grease and reduced the effort by at least two-thirds. The trigger-pull also dropped from about 18 lbs. down to about 8 lbs.
No joy
Alas, all my work was for naught, for the Falke rifle was not the equal of the Daisy at 50 yards. Ten bullets went into 2.91 inches at 50 yards. Of course, I may not have used the best cartridge for the Falke, and it may have been the best one for the model 8 — but that'll take a lot more testing to discover. The point is just this: A rifle that looks much better and is more expensive than the Daisy model 8 may not be any more accurate. That's all I'm saying.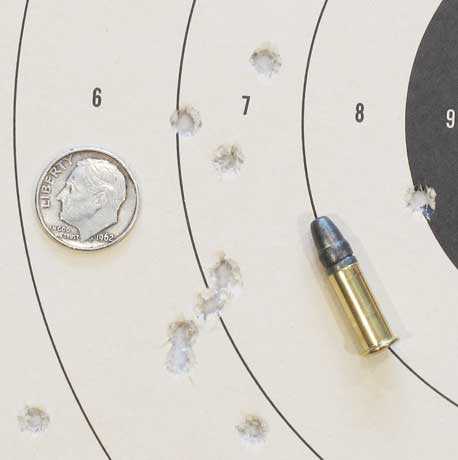 The Falke rifle grouped larger than the Daisy and also out of the bull. The sights need some adjustment. Ten shots in 2.91 inches between centers.
Crickett
The Crickett rifle was supposed to be the control in this little comparison. While both the Daisy and Falke rifles were made by airgun manufacturers, Crickett makes only firearms. I already noted that the Crickett has a much better appearance and feel. Despite the cheap synthetic stock with its pink panels, a lot of real thought went into this rifle. It may be small, but it looks right.
But at 50 yards the Crickett put 10 rounds into 2.564 inches. They were at the top of the target paper and one was a quarter-inch off the paper, so there are just 9 holes visible. The rear peep sight has enough adjustment to get the shots back into the bull at this distance, but it will take a different cartridge to shoot better than the little Daisy.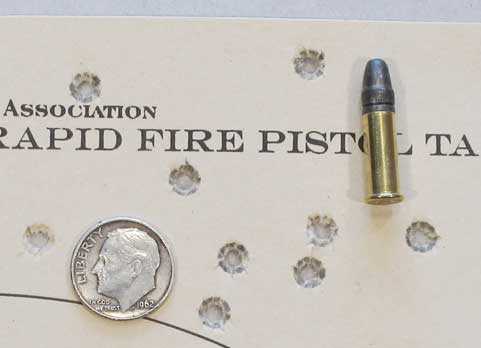 The Crickett sights are way off! Ten shots went into 2.564 inches, but one of those shots landed a quarter-inch above the highest shot in this picture.
On the other hand, the Crickett is 100 percent reliable. And the trigger is light. Those things do live up to its gun-making heritage.
Interesting!
This test was interesting. On one hand, ugly (the Daisy model 8) triumphed over beauty (the Falke); and on the other, enthusiasm (Daisy, again) beat out experience (the Crickett). That's not how I thought this would turn out! Given the circumstances and from what I saw, I thought it would have been the Falke first, followed closely by the Crickett, with the Daisy bringing up the rear…and very far behind the others.
Conclusions
The Daisy model 8 may be a cheaply made single shot rifle, but that doesn't mean it can't shoot. It still needs some work on the firing reliability, but I would say the accuracy is where it needs to be. We still have no idea about which rifle is most accurate. To learn that, a lot more shooting is required. I'm glad to do it, but I'm just saying that we don't want to dismiss either of the other 2 rifles.
Is there a point to all of this? I think there is. That point would be that you don't want to judge a gun (or anything) by appearances, alone. Furthermore, inexpensive materials and cheap construction don't always mean something is no good. Only by testing can we determine if a gun is up to snuff.
One more thing. Some readers have noticed that I sometimes spend a lot of time on an airgun that has seemingly very little to recommend it — like the BSA Meteor. This Daisy might fall into that same category. If I can get it to shoot reliably, what a wonderful little rifle it will turn out to be!
by Tom Gaylord, a.k.a. B.B. Pelletier
Got a lot to cover today, so let's get to it.
First up is the Daisy Manufacturing Company, now called Daisy Outdoor Products. Daisy is best-known for the BB guns they make, but did you know they also made firearms? That's correct. In fact, Daisy made 3 different lines of .22 rimfire rifles — though one of them is only a rimfire by common categorization. That would be the Daisy V/L. V/L stands for Van Langenhoven, the last name of the man who invented the caseless cartridge technology Daisy used to make this gun. I've covered this before when I wrote about the new Daisy book published in 2012.
Although it's commonly classified with .22 rimfire rifles, the caseless round does not even have a rim. There's no priming compound in this cartridge. This caseless cartridge was made from a material that combusts when heated rapidly by the compressed air of a spring-piston air rifle. So, the Daisy V/L is, in fact, an underlever spring-piston air rifle that just happens to shoot caseless .22 rounds. Daisy made their V/L rifle in the late 1960s (1968 & '69).
Daisy also made a line of bolt-action rifles called the Legacy line in the 1980s and '90s. These rifles have weird diecast and steel receivers mounted in both plastic and wood stocks. But they're not the guns I want to discuss today.
I have handled both the Legacy and V/L rifles, but I don't know much about them. What I do know something about is a Daisy rimfire that is even less well-known than either of these.
I also wrote about airgun makers who made firearms in 2006.
Daisy model 8
In 1988 and '89, Daisy produced an economical .22 rimfire single-shot rifle for Wal-Mart. They were supposed to have built 30,000 rifles, but the contract was either terminated or somehow not completed; and the actual number of rifles made is something less. The Blue Book of Gun Values says they made 30,000 of them, but Joe Murfin of Daisy told me about the problem with Wal-Mart and said they didn't make that many. Something on the left side of the barrel has been machined off. This is on every model 8 I've seen.

All the Daisy model 8 rifles I've seen (about 10) have had this area of the barrel machined off. Something was stamped there.
This rifle is small. If you know what a Crickett rifle is, this one is just slightly larger. If you don't know what a Crickett is, the Daisy rifle has an overall length of just 32-1/4 inches and a weight of 3 lbs., 1 oz. In other words, it's tiny!
It has a painted action and barrel in a hollow plastic stock. The overall impression is — this gun is cheap.

Daisy rear sight looks a lot like an airgun sight. It adjusts for windage and elevation.
Do you think that airgun companies are loaded with engineers wearing white lab coats? The Daisy model 8 looks more like something that was designed in high school shop class when the teacher was out on his smoke break. The designer is someone you all know — the kid without the eyebrows. The one who couldn't hear out of his left ear. Later on in life, he was known as Stumpy; and before he turned 25, he disappeared completely.
What I'm saying is that this is a bolt-action rifle that's designed with screen-door-latch technology. It began as an exercise to see how cheaply we could make it, and that was followed by two rounds of cost-cutting before corporate council pulled the plug for liability reasons.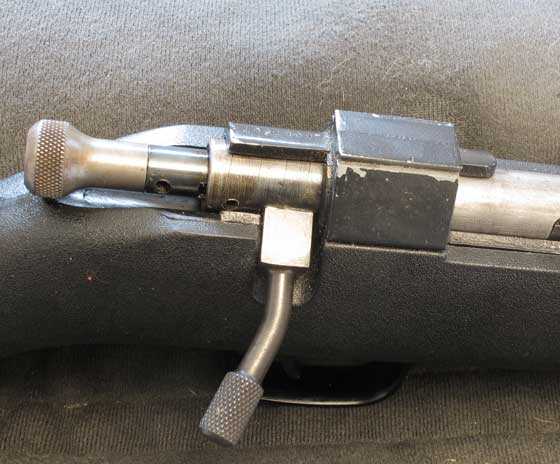 Model 8 bolt handle looks like common hardware! The receiver is a diecast part with a steel tube pressed in for strength.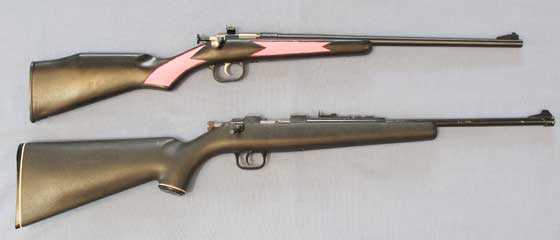 Daisy model 8 (below) is just a little larger than a Crickett.
And I have one! Are they rare? I don't know. Are they scarce? Most assuredly! Have some of them been lost over time? Almost a given! Are they worth anything? Not very much. This is not an heirloom gun — it's a hair-brained gun!
I bought one just because of what it is. I also bought the Crickett to serve a basis for comparison. Both are small, but one (the Crickett) is designed by gunmakers, while the other (the Daisy model 8) looks like it was designed by McGuyver while he was in the throws of an acid flashback.
Yes, I have shot this rifle. No, it doesn't shoot very well. In fact, it misfires about 25 percent of the time, which I attribute to a weak firing pin spring. Accuracy is on the order of 3-4 inches at 25 yards — so far. Maybe I haven't found the right ammo, yet — ha, ha.
The Crickett
I said I bought the Crickett for comparison. I'm just throwing it in here because many more shooters are familiar with it than with the Daisy. Much of its design is similar to the Daisy model 8; but at every turn, you can see where its design exceeds the Daisy. I guess I would say the Crickett is just a small firearm, while the Daisy is more of a small example of what not to do.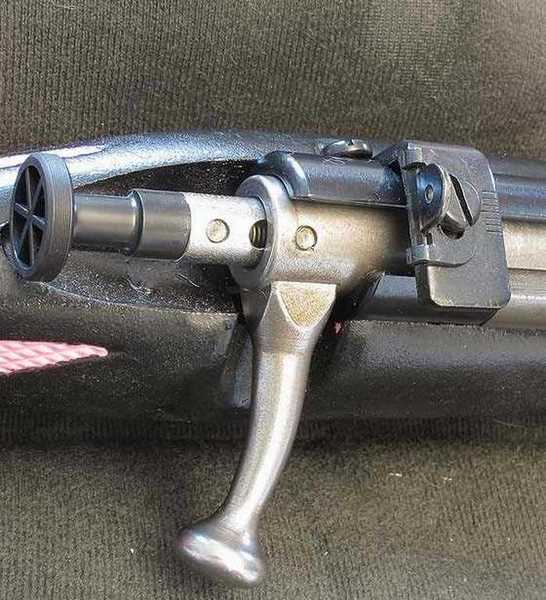 In sharp contrast to the Daisy, the Crickett bolt looks like a firearm bolt and the receiver is all steel. They even put a peep sight at the rear! Didn't cost that much, but this is what designers can do.
I've also shot the Crickett, and it's 100 percent reliable. While it's no tackdriver, it will put its shots into 1.5 inches at 25 yards — and sometimes the groups are even smaller. In my estimation, the Crickett is a small, inexpensive firearm, while the Daisy model 8 is a cheap rimfire wannabe. Having said all that — who have I insulted? I sure hope your favorite .22 is not a Daisy model 8!
So what?
The point of this look is to see what an airgun manufacturer will turn out when they make a firearm. But maybe this Daisy model isn't a fair representation because Daisy built this for their customer. Let's look at another rimfire rifle that was made by a different airgun manufacturer, and this time they made it for themselves.
The Falke single-shot
Yes — that Falke. The same people who made the super-rare and interesting Falke model 80 and 90 underlevers and also the Falke models 10, 20, 30, 40, 50, 60, and 70 breakbarrel spring rifles. We looked at a Falke model 70.

Compared to the Daisy model 8 (top), the Falke single-shot is a full-sized rifle.
This rifle is a confusing firearm. On the one hand, the walnut stock is shaped nicely and hand checkered, the metal polish and bluing is even and deep, and the action is cheap and stiff to operate. What should be the simplest of all actions — a single-shot — is machined very well, yet it functions like it's been rusting in the corner for decades.
Falke was one of those "anything for a buck" companies that arose in Germany after the war. I'm sure they would have disagreed with that assessment, but the fact is they had no plan of succession; and when the founder got sick in the late '50s, the company folded.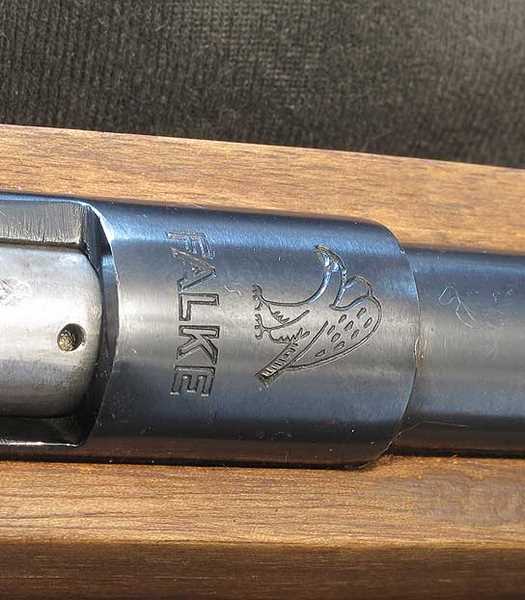 Where have we seen this logo before?
They made at least 2 firearms. This bolt-action rifle is one, and I've also seen a stylized Remington double derringer in .22 rimfire.
I bought this rifle because it's a Falke and because it looked so nice on the internet. When I received it, I found it to be even nicer than the photos portrayed. But the action is stiff and clunky! I never would have bought it if I'd tried it first. However, I believe I can correct most of this with some careful gunsmithing.
The rifle is full-sized at 40-3/4 inches overall, with a 23-inch barrel. The pull length is 13-1/2 inches. The barrel is nicely rifled, and the gun appears to be in 90 percent condition. The wood has been sanded, which is the only detractor from the overall appearance.
The front sight is a common post with a bead, but the rear sight has the same quirky elevation adjustment that we saw on the Falke model 70 air rifle! With luck, this rifle will shoot.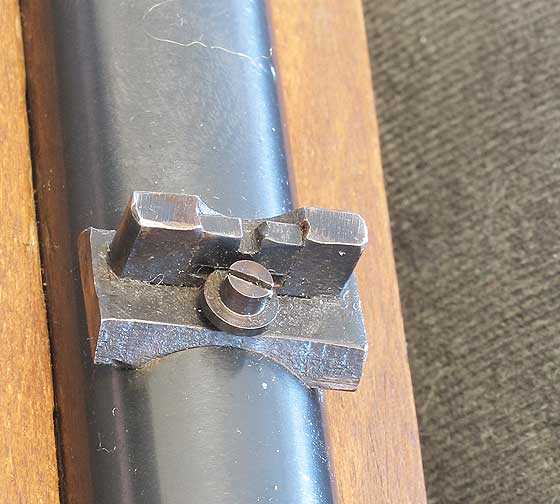 We saw a rear sight just like this on the Falke model 70 air rifle.
This is a bolt-action single-shot. It has a separate cocking piece that will cock the rifle by itself (without the bolt being operated), but right now the sear is under too much tension and the cocking piece cannot be pulled back all the way. The bolt cocks the action on closing.
Again — so what?
I've shown you 2 firearms that were made by 2 different airgun makers. My plan is to shoot both of them and come back to you with the results in the next report. I'll do that as the rifles stand right now, but the Daisy really does need a stronger firing pin spring, and the Falke needs its action smoothed a lot.
Why am I doing this? Perhaps, to show the contrast of firearms and airguns made by the same maker. I think we have that in both these cases.
I know several of you readers probably own Daisy Legacy rimfire rifles, and I would like to hear what you think of them. If any of you own a Daisy model 8, you have both my apologies and my sympathy. And if anyone ownes a Falke firearm, I sure would like to hear about it!
by B.B. Pelletier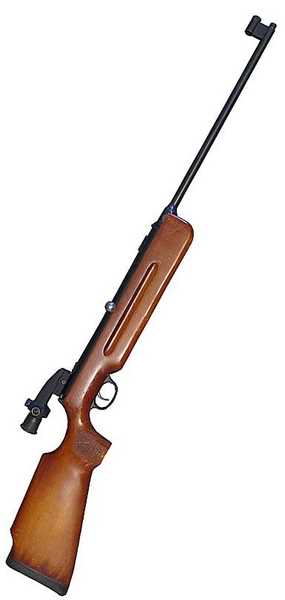 The Haenel 311 is the world's only bolt-action spring-piston 10-meter target rifle.
Today is accuracy day for the Haenel 311, and the day holds a couple surprises and should be a fun read. Because of the crude design of this rifle, I don't shoot it that often and I forget just how well it shoots.
The 311 is a recoiling spring-piston air rifle and, as such, has to be held with the artillery hold for best results. I needed to be reminded of that.
Also, I tend to shoot smaller groups with the Ballard .38-55 rifle at 100 yards when I wear my glasses. But when shooting a 10-meter rifle I tend to do best without them. Since I haven't shot at 10-meter targets in a while, that was another point that needed to be remembered.
Finally, the 311 rear sight adjusts for lighting conditions. But it only works if you remember to adjust it.
So the first few groups I shot were horrible because I held the rifle too tight, wore my prescription glasses and didn't adjust the peep size. Then, I figured out all three things at about the same time and the rifle caught fire — at least with one pellet. And that was the other thing that surprised me in this test. The cheap eastern-European target rifle scorns high-priced target ammo from the best pellet makers. Instead, it loves the cheapest wadcutters on the market. I know that will disappoint many of you, but that's how it is.
RWS Hobbys
I sighted-in with RWS Hobby pellets. Why a 10-meter rifle ever needs to be sighted-in is beyond me, because what other things would you do with them besides shoot them at 10-meter targets? Well, maybe not you. I guess I'm talking about me. Nevertheless, the rifle was hitting the edge of the bull when I started and required about 30 clicks of left adjustment to get the pellet close to the center. As I'm not really keeping score, I stopped when the first pellet was close enough.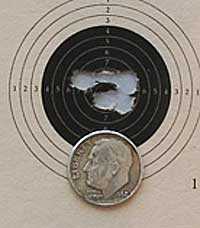 Five RWS Hobby pellets at 10 meters. Not very impressive for a target rifle. This was shot when I was doing everything wrong.

And this is the very next group of Hobbys after I took off my prescription glasses and made the rear sight aperture smaller for greater depth of vision. This is still not a good group, but it does look better than the first one. Hobbys are probably not a good pellet for the 311.
H&N Finale Match Pistol
The next pellet I tried was the H&N Finale Match Pistol pellet. This pellet has always been good in my 10-meter rifles. Maybe it's not the best in every rifle, but it's among the top three almost every time. Well, I used perfect technique to shoot the group you are about to see.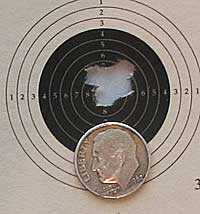 H&N Finale Match Pistol pellets did this at 10 meters. It looks like a group fired by an Avanti 853 to me. It would be acceptable for a junior target rifle, but not for a precision-class rifle. The technique was perfect, so this is not a good pellet in my 311.
Gamo Match
I said I would try the new Gamo Match wadcutter in the 311, even though I didn't hold out a lot of hope for it. As I shot the first group, I was holding the rifle in a good soft artillery hold and pulled the fourth shot. It was so obvious that I exclaimed, "Oh no!" aloud and Edith heard me in her office. You can see the results of pulling that shot on the target.

And that's what it looks like when you pull a shot and are able to call it. The four are in a very nice group, however, so I decided to shoot another group using (hopefully) perfect technique.
Since the four shots were in such a tight group, I decided to shoot another group, and this time watch both my technique and the sight picture very carefully. Before I show you the group, I want to answer the question that some readers are asking right now. Isn't this what I'm supposed to do every time I shoot? Yes, it is; and if I were a world-class shooter, I would be able to do it. However, that takes a state of concentration that I've never achieved. Shooters who compete will understand.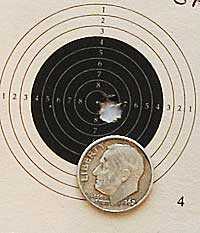 And there it is. This is the best 10-meter group I've ever shot with any target rifle. It's so close to zero that I won't even attempt to measure it. Five Gamo Match pellets went through that little hole.
I told you there were some surprises in today's report. Will I ever be able to repeat that group? Probably not. Is the group representative of what the 311 can do? No, I don't think that it is. Everything had to be perfect for a group like that to be shot — even from a rest at just 10 meters! But I was curious about the possibility of repeating it, so I shot another group of Gamo Match, just to see.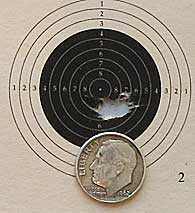 Here's the very next group. I held just as steady and sighted just as well. This is probably representative of what the 311 can do with these Gamo Match pellets. This 5-shot group measures 0.163 inches between centers.
Wrap-up
So what can I say about the Haenel 311 target rifle? Well, it's more accurate than its styling would seem to indicate, but it's a crude rifle from the standpoint of ergonomics and powerplant operation. Yes, it can shoot alongside the FWB 300S, but it takes a huge amount of technique to do so. The 300S is easy to shoot, in comparison.
The Haenel has a heavier trigger than I like in a target rifle. It's very positive, but I would like it to be a few ounces less and have a positive stop after the release.
All things considered, the Haenel 311 is a swell target rifle for just $59. That was all it cost when they were first available to American buyers. You'll now pay $250 and up for the same gun, and I think that's still a bargain.
For shooting while standing, this is a great and inexpensive way to go.
by B.B. Pelletier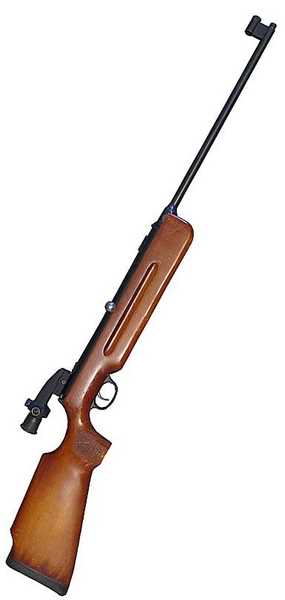 The Haenel 311 is the world's only bolt-action, spring-piston 10-meter target rifle.
Let's look at the velocity of my Haenel 311 target rifle. Because of the way it cocks, this rifle is low-powered. It isn't possible to put a long-stroke piston or a stout mainspring in the mechanism when the rifle is cocked by pulling back on a three-inch bolt handle. You don't pull it straight back, either. The base of the handle pivots like a fulcrum, and the handle rocks back to pull the piston into the cocked position. As I mentioned in Part 1, it's so difficult to cock that the gun is destined for adults, only.
However, a short piston stroke and a weak mainspring combine to give very low velocity. Since this is a target rifle, velocity doesn't matter. But this wouldn't be the gun to choose as an all-day plinker. Get a Diana 27 for that, or any one of the Haenel breakbarrels. Save the 311 for its intended purpose.
If it sounds like I'm making excuses for the gun, that's not what I want to do. I just want the reader to understand it in the right context.
Since this rifle has a leather piston seal, I dropped several drops of oil into the loading tap, then closed it and stood the rifle on its butt for several days before this test. For those who are new to airgunning, leather seals need lots of oil to do their jobs. Synthetic seals need a lot less oil, and it needs to be silicone chamber oil so it won't detonate with the high heat it can generate.
In a rifle of the 311′s power, you can use plain old household oil for the seals, because the rifle doesn't generate that much heat. But using silicone chamber oil won't hurt anything, so that's what I used. And there's one additional reason for oiling the gun before shooting. The loading tap has to have some clearance to be able to move and do its job. When you oil the gun at the tap, some oil gets on the tap itself and helps to seal it when the rifle fires.
Velocity test
A note to the new reader. I test rifles with a range of pellets appropriate to that rifle. There will be a weight spread among the pellets I use, so you can gauge the power of the gun from what I use. But bear in mind that some pellets will work better in certain guns and the lighter pellet won't always be the fastest. I also won't test a gun with a pellet that I deem inappropriate for the gun, such as Beeman Kodiak heavyweight domed pellets for this target rifle. For a 10-meter target rifle, I'll test with wadcutters since they're the only pellets that are legal to use in a 10-meter match.
Let's get right to it. The first pellet I tested was the Gamo Match wadcutter. This pellet used to be a viable and inexpensive pellet for target guns, but the design was changed a few years ago. While it's still inexpensive, it doesn't perform as well as it used to in many guns. Still, I thought it was worth a try.
This pellet averaged 462 f.p.s., but the spread was quite high — going from 439 to 479 f.p.s. At the average velocity, the rifle puts out 3.66 foot-pounds with this pellet. The wide velocity spread makes me think this one won't be that accurate, but we'll see.
Next I tried RWS Hobby pellets. At just seven grains weight, they should be among the fastest lead pellets in this rifle. Hobbys averaged 490 f.p.s. in the 311, and the spread went from 478 to 497 f.p.s. That's tighter than the Gamo Match. At the average velocity, the energy developed at the muzzle was 3.73 foot-pounds. Sometimes, Hobbys are very accurate in certain guns and are worth trying in this one.
The last pellet I tried was the H&N Finale Match Pistol pellet. At 7.56 grains, you'd think they'd be slower than the Hobbys that weigh a half grain less, but these pellets averaged 492 f.p.s. in the 311, and the spread went from 480 to 501 f.p.s. They're clearly faster and more efficient. At the average velocity, they produce 4.06 foot-pounds of energy at the muzzle.
Seeing the efficiency of this pellet gave me an idea. What if I used a pellet seater to iron out the skirts of this pellet? What would happen to the velocity then? I say that because a taploader tends to allow some air to blow past the pellets before they're blown into the bore. Enlarging the skirts is a possible way to minimize this.
I tried enlarging the pellet skirts with the ball end of a pellet seater. However, the results surprised me. Instead of boosting velocity, this knocked it back to an average 474 f.p.s. for the H&N Finale Match Pistol pellets. However, the extreme spread ran only from 472 to 478 f.p.s., so the overall velocity was a lot tighter from shot to shot.
The bottom line is that the Haenel 311 is a target rifle and nothing more. Because of the design, there's no way to soup it up for greater performance; and as I noted in Part 1, this is a rifle you want to stay out of.
Next time we'll look at the accuracy of this Cold Warrior.
by B.B. Pelletier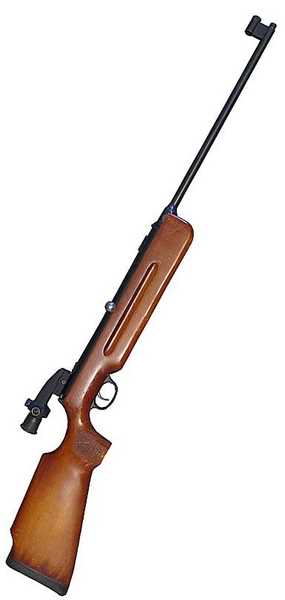 The Haenel 311 is the world's only bolt-action spring-piston 10-meter target rifle.
At the Roanoke Airgun Expo several weeks ago, I saw a Haenel 311 target rifle on one of the tables, which it reminded me that I'd promised myself long ago to give you a full report on this curious air rifle. Today, I'll begin to fulfill that promise.
Back in the days when Edith and I published The Airgun Letter, we were contacted by a pawn shop that was importing target airguns from the former East Germany. We told our readers about them, and thousands of model 310s and 311s and a few 312 sidelevers were sold over the course of a few years. The prices were quite low. As I recall, the 310s went for $49, and the 311s brought $59. I bought several guns to test and as gifts, and the 311 you'll see here is one of those purchased.
The 311 is unlike any other air rifle in the world. It's a .177-caliber pellet rifle that uses an articulated bolt action to cock a spring that powers the piston. It appears similar to the Haenel 310 action except the 310 shoots only round lead balls fed from a magazine, while the 311 shoots standard diabolo pellets fed one at a time though a loading tap. The two guns are very different, except for their cocking levers.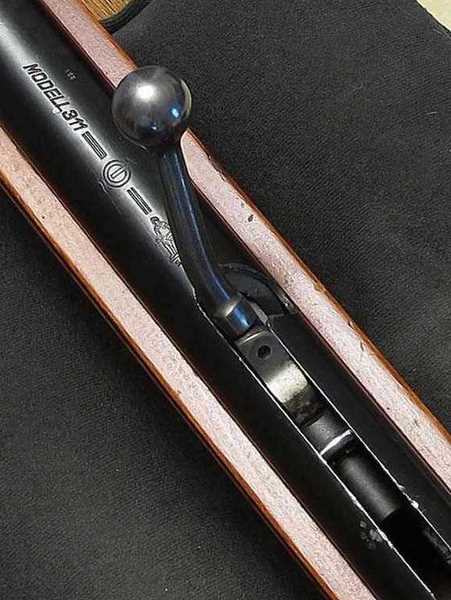 Here the cocking bolt/lever has been lifted out of its stored position and is ready to be pulled back to cock the gun.
The rifle is sized for an adult, with an overall length of 43-7/8 inches and a weight of 7 lbs., 14 ozs. These numbers come from my rifle and do not agree with the information in the Blue Book of Airguns.
The stock is blocky and looks like it was fashioned from a two-by-six piece of lumber. The wood is tightly grained and may be beech, though I'm not certain. It's stained with a thin orange color that does not penetrate the wood to any depth. The finish is a thin shellac that's very prone to chipping and wear.
The pistol grip is hand-checkered with large diamonds in a very crude pattern. The work looks like it was done by a prisoner wielding a not-too-sharp jackknife. There's no checkering on the forearm, but both sides have a long European-style finger groove.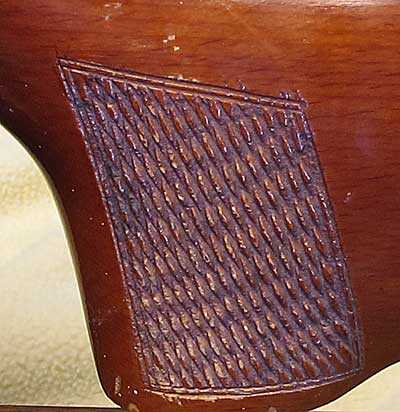 The checkering is clearly hand-cut, and a rough job at that. Overruns and missed diamonds abound.
The metal is very well polished and finished with an even hot blue. You must appreciate that Haenel has a reputation as a fine arms maker, and this rifle is so out of line with most of what they made that it looks like a government job for sure. The rifle began production in 1964, which was at the height of the Cold War, so that assessment is probably right on the money. Production ended in the early 1990s.
The 311 is a 10-meter target rifle, but it is so different from any other 10-meter rifle that it's very difficult to categorize. The cocking effort is very difficult — owing to the short cocking lever — so this is not a three-position rifle in anyone's book. It's meant for offhand shooting, alone. Even then, the shooter must take care where he points the muzzle while he struggles with the cocking lever. It takes 33 lbs. of force to cock my 311, and applying it through the 3-inch bolt handle isn't easy. In the offhand position, I would shoulder the rifle and simply pull the handle back, using my shoulder to hold the rifle in place. It sounds easy, but after a couple shots you start feeling the strain.
Sights
The 311′s sights are very interesting. The rear adjustable aperture sight looks very similar to a Walther target sight of the same era. Though it's designed for inexpensive production, you can see that the designers managed to make it quite precise. It has the swept-back look of the 1930s.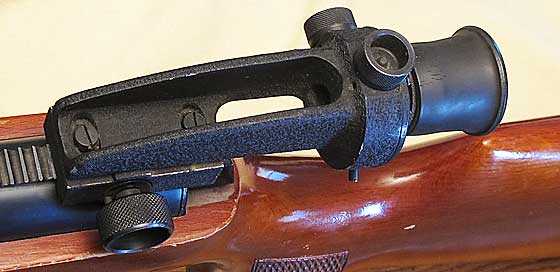 The adjustable rear aperture sight looks like something from a 1930s sci-fi movie. The design is simple but very similar to what Walther was making at the time.
As austere as this sight is, it still contains diopters (peep holes) of different sizes to accommodate different lighting conditions. That's an advanced feature that you don't expect to find on such a crudely finished rifle. And it doesn't end there.
The 311 also has the provision for mounting an intermediate adjustable sporting sight on a base located at the end of the compression tube, just behind the loading tap. Most 311 owners have never seen this sight, but I was able to obtain one with my rifle, so I can show it to you now. This sight must relate to some sporting event the East Germans had for this rifle. The Falke rifle also had provisions for two different types of rear sights, so there must have been a good reason for them. I do know that many zimmerstutzens come with this same provision, and there's a separate sporting match for the zimmerstutzen. It's not too difficult to imagine that there was the same kind of match for air rifles that are equipped this way.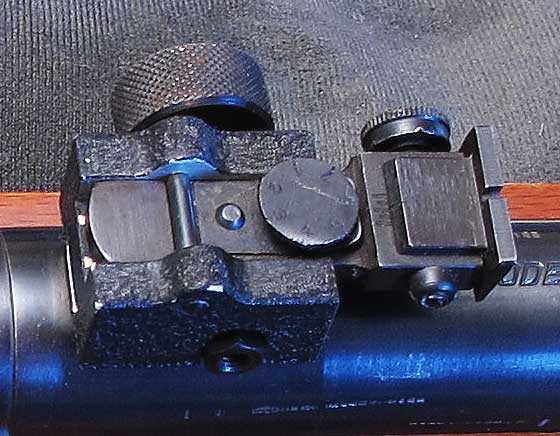 This adjustable sporter rear sight is an accessory few 311 owners have ever seen. It mounts behind the loading tap and is undoubtedly used in different matches than the target sight.
The front sight is a globe mounted on a tall stalk. It accepts different sight inserts, which would be necessary if the sporting rear sight were to be used. My rifle came with an aperture in the front sight.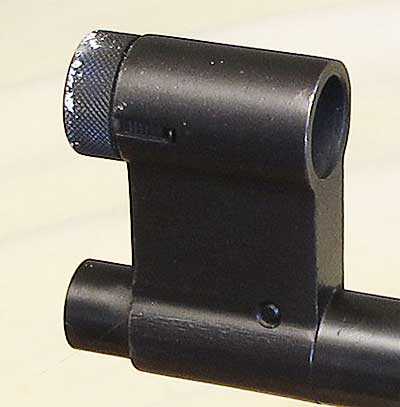 The front sight is a globe with replaceable inserts that sits on a tall stalk.
Loading tap
The 311 loads through a rotating loading tap. That is a strange feature on a target rifle, because the shooter cannot insert the pellet directly into the rifling. The tap is entirely manual and separate from the cocking function, so it can be operated at any time.

The loading tap is manual and not connected to cocking the gun in any way.
One thing about a loading tap is that it requires a different procedure for oiling the piston seal. I put 5-10 drops of silicone chamber oil into the tap, then close it and stand the rifle on its butt for at least an hour. The reason I used 5-10 drops is in case the piston seal is made of leather. I use silicone chamber oil in case it's synthetic. Talk about covering all the bases!
Trigger
The trigger is one place where the Haenel pedigree shines through. It's a multi-lever unit that breaks cleanly if not crisply. It's every bit as nice as the trigger on the Bronco.
Here's a warning to all you would-be tuners. Years ago, I wanted to quiet the vibration of my 311 action, so I started what I thought would be a simple disassembly. When I got inside the trigger, however, the job proved to be anything but simple. I assembled the gun with the automatic safety out of whack and have lived with it ever since. The 311 is not the rifle to take apart unless you have a lot of patience and perhaps a spare rifle to look at when it's time to put it back together.
As for power and accuracy — well, this is only Part 1. I'll test this rifle completely in the established pattern, so you'll get answers to both questions.
by B.B. Pelletier
Test and photos by Earl "Mac" McDonald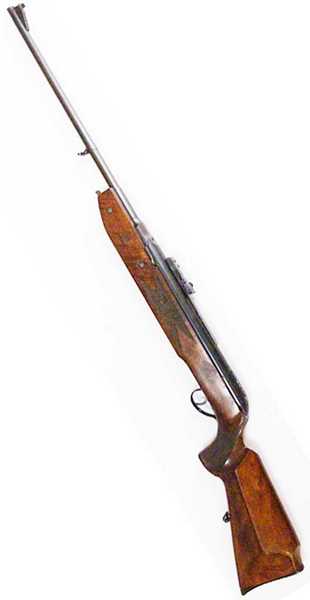 Falke 90 underlever is a rare and vintage British air rifle.
I got an email from Vince yesterday morning, asking if I planned on publishing the rest of Mac's Falke 90 test. Well, I figured old Vince just hadn't read the blog the day I did the rest of the test. A few minutes of fruitless searching later, I discovered he was right, I hadn't told you the rest of Mac's story. What happens in a case like this is I get the report, I read it and then two days later I forget what I'm doing and figure that everyone in the world knows what I know. To make up for that, I'm going to combine Parts 2 and 3 and give you the rest of the report on the Falke 90 today.
As you may recall, the Falke 90 is a rare underlever spring rifle from the 1950s. It copies the even older BSA Airsporter, in that the underlever is concealed in the forearm and the pellets are loaded through a tap that opens automatically when the rifle is cocked. According to the best information we have at hand, it's believed that fewer than 200 Falke 90 airguns were ever made and fewer than 35 are known to exist today. It's not an airgun that's commonly encountered.
Vince repaired this rifle, which wasn't working when I acquired it at the 2010 Roanoke airgun show. He reported on how that went in a special three-part report. Now that we've seen the insides and read Mac's overall impressions of the gun, it's time to test both the velocity and accuracy.
Overbore
Mac found the bore to be oversized, which was common for British airguns back in the 1950s, so he tested the largest pellets he had on hand that also had the thinnest skirts. The first of these were RWS Superdomes.
RWS Superdomes
The 14.5-grain Superdome isn't a large pellet, but the skirt is thin and it can be expanded with a ball-type pellet seater. That's what Mac did.


The Beeman pellet seater has a ball on one end to expand pellet skirts for a better fit.
Superdomes averaged 490 f.p.s. with a total velocity spread from 481 to 494 f.p.s. At the average velocity, they generated 7.72 foot-pounds. The total velocity spread was just 13 f.p.s. Mac mentioned that he did try these pellets without expanding the skirts, but the rifle sounded wrong. It sounded as if it was dry-firing.
A loading tap like the one found on this Falke is tapered on the inside. It has to pass all sizes of pellets in the correct caliber range, and the taper usually takes care of that. But most taps tend toward the large side, and we know that the bore of this rifle is already oversized, so only by expanding the skirts can regular pellets be used.
RWS Superpoints
I told Mac that I had found RWS Superpoints to be accurate in the Hakim, which is very similar to the Falke 90, so he tried them next. Superpoints have very thin skirts — even thinner than the skirts found on Superdomes. They weigh the same 14.5 grains as the Superdomes, but their skirts have less reinforcement, so I figured they would be good in this rifle.
They averaged 499 f.p.s. and ranged from 488 to 513 f.p.s., for a total spread of 25 f.p.s. The average muzzle energy was 8.02 foot-pounds.
Eley Wasps
The next pellet Mac tested was the 5.56mm Eley Wasp. These are still being made, and I believe you can import them from Canada, but the U.S. Eley importer stubbornly refuses to bring them into this country, and Eley doesn't seem to mind. I bought 30 tins of them years ago to make the importation worth the effort. If you decide to try to get some, be aware that there's a 5.5mm Wasp pellet, also, and they won't be as large as these. Only the 5.56mm Wasp is oversized for all those vintage pellet rifles that have overbore barrels.
Eley Wasps also weigh 14.5 grains, so at their average velocity of 474 f.p.s in this rifle they generate 7.24 foot-pounds of energy. The total velocity spread went from 451 to 500 f.p.s. — a 49 f.p.s. gap. Those numbers are for a group of pellets with expanded skirts. But Mac found that he had to push the expanded pellets into the tap, so he shot a second string with non-expanded pellets.
The second string averaged 503 f.p.s. with a spread from 465 to 542. So, the spread was 77 f.p.s. At the average velocity the energy developed was 8.12 foot-pounds.
Okay, so now we know the power, to which Vince already alerted us in his guest blog. Next, let's look at accuracy.
Accuracy
For this test, Mac tried both the open sights and a Mendoza sport aperture rear sight that Pyramyd Air no longer stocks. With the open sights that came with the rifle, the best group of 10 Eley Wasps he was able to get measured 0.66 inches between centers at 15 yards.
When he installed the Mendoza rear sight on the rifle, it was loose, so he inserted a paper shim under the sight base to tighten it up.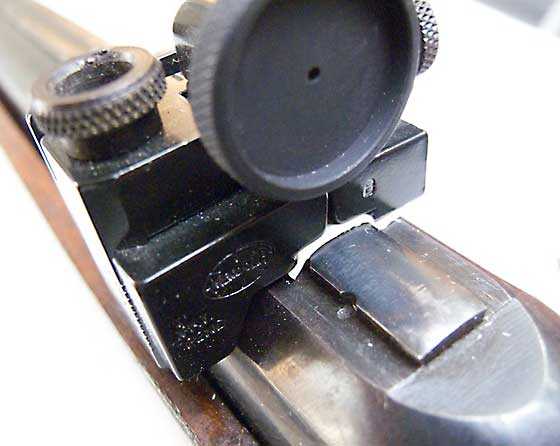 Here you can see the paper shim Mac placed under the base of the Mendoza peep sight to tighten it on the Falke.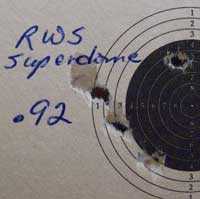 Ten RWS Superdomes made this group at 15 yards that measures 0.92 inches between the centers of the two farthest holes. This is not good accuracy for a rifle like this. You can probably blame the too-small pellets for this.
Mac says he also tried shooting RWS Superpoints at 15 yards, but they were too bad to measure. Several missed the target.

This is a great 10-shot target! It measures 0.35 inches at 15 yards. Ten Eley Wasps, which appear to be THE pellet of choice for the Falke 90. These Wasps had their bases expanded.
From my experiences with Hakims, I can say that this Falke is just about as accurate as they are. In the past, I used to mount short scopes on Hakims, and they shot just about like this Falke is doing with the peep sight.
Final word
The Falke 90 is a shooter, as well as a rare vintage collectible. Vince was clever enough to put this one back on the range. Thanks to Mac, we now know what to expect. It's certainly no barn-burner air rifle. More like a Diana 27 that's put on too much weight. But the neat hidden underlever and machined parts throughout the action make the Falke 90 an airgun you'll remember.
Many people have asked me if I intend to refinish the stock, or in my case, to get it done by somebody else. I don't think I will. Even though it's been disfigured by someone in the past and even though the wood is cracked in several places (that Vince glued), I think a rare gun like this is always more valuable when it's left as is rather than being prettied up. Refinishing destroys collectibles in my opinion.
by B.B. Pelletier
Before we start, I wanted to give you some more info about the 2nd Annual Airgun Extravaganza in Arkansas. The show's promoter has made a deal with a couple motels. Mention the show and you'll get a discount:
Comfort Inn Malvern, 501-467-3300: Thurs. $55, Fri. $65
Holiday Inn Malvern, 501-467-8800: Thurs. $85, Fri. $90
Make reservations early because they may fill up since the show's being held on the same weekend as the Arkansas Derby.
I plan to attend this show with Mac, and we have a couple tables. I know it didn't work out last year, but let's hope that doesn't happen again!
Test and photos by Earl "Mac" McDonald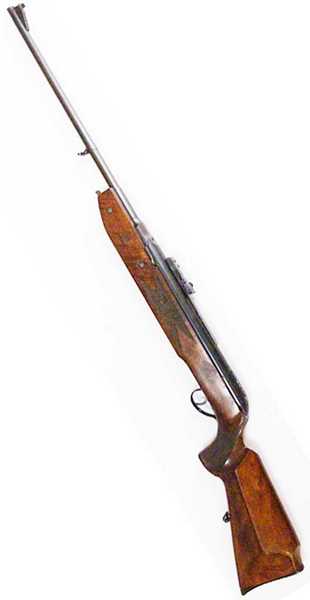 My Falke 90 underlever air rifle isn't in the best condition, but with fewer than 200 known to exist, it doesn't matter that much. Anyone is a good one.
Well, we've seen how Vince was able to rebuild my Falke 90 underlever rifle. Now, Mac's going to test it for us. Vince delivered the rifle to Mac so I wouldn't have to cock it. That was when I first found out about my hernia. I'm now wearing a support, so I can do more than before, but Mac had all the fun this time. I think he deserves it as a small reward for handling all the work I haven't been able to do over the past year. I'm really lucky to have a friend like him, and I couldn't have kept this blog going without his help.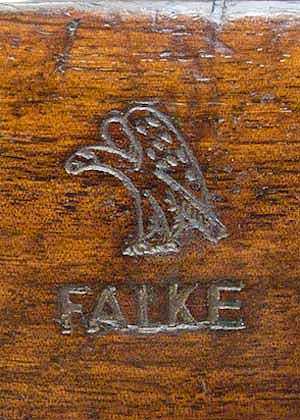 Falke is German for "falcon," so the logo is a bird, of course.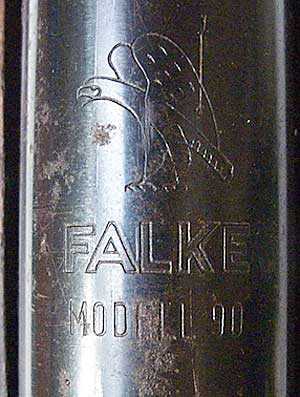 The logo is all over the gun.
I've said several times that the Falke 90 is very much like a Hakim air rifle made by Anschütz for the Egyptian army. This is the first Falke 90 I've ever seen, but I've owned about 15 Hakims and can tell you there's a lot of similarity between the two rifles. Someone asked why we can't see the underlever, so Mac took a photo of the gun with the lever in the down position. You can see what it looks like and how it fits up into the stock and out of the way. As I told you before, many other air rifles did and still do use this same design, with the Air Arms Pro-Sport being the one that's sold today.

When stowed, the underlever fits into the bottom of the forearm, out of sight.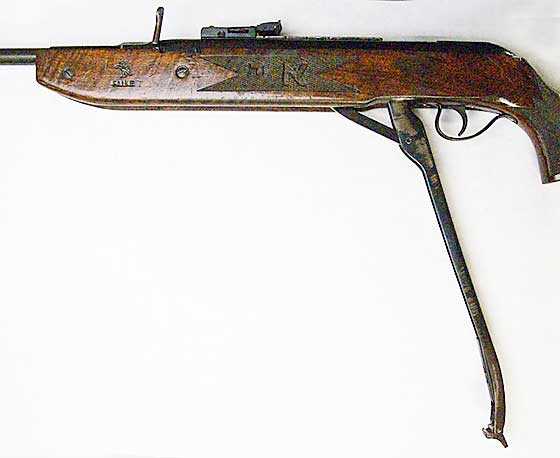 The cocking lever is tucked under the gun, inside the forearm. When it goes down, the loading tap opens automatically.

Loading tap and rear sight.
Very few known to exist
The Falke 90 is a very rare air rifle, with fewer than 200 known to exist. Mine is serial No. 39, which is stamped several places on the gun, the most obvious being the loading tap. There's a Falke forum called Falke Talk, where every known Falke 80 and 90 is being tracked. These rifles are so hard to find that owners from all over the world band together to share information about them.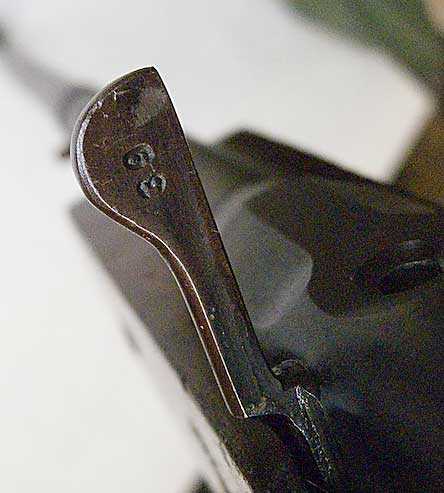 My rifle is serial No. 39.
Overall impressions
Mac says the Falke 90 feels very natural to him. The placement of the loading tap, the righthand palm swell and the weight distribution all conspire to make this an easy rifle to shoot offhand. The stock is a nice figured walnut with checkering on the grip and forearm.
On this rifle, some previous owner has carved initials into the checkering on the left side of the forearm, reducing the stock to poor condition. The pull measures 13.75 inches and the length overall is 44.25 inches. Mac has no way of weighing the overall rifle, but I expect that it has to be over 8 lbs. at least.
The metal was finished well at one time; but like the wood on my rifle, it's suffered over the years. The barrel measures 19.25 inches to the center of the loading tap. The trigger-pull as Vince has set it is 56 oz., but Mac says it feels much lighter. The first stage is very light, and the let-off is crisp. The cocking effort is 28 lbs. but seems like less. The stock is completed with one-inch sling swivels.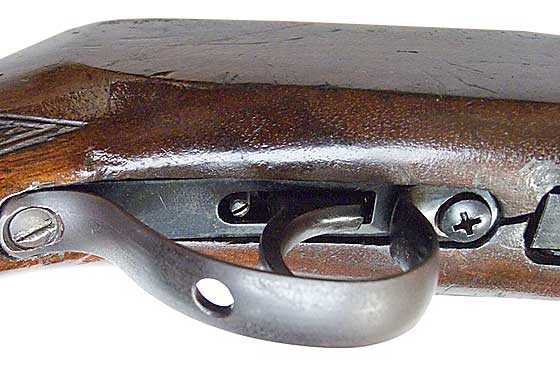 The trigger is adjustable via a small screw behind the trigger blade. Note the crack in the stock. It'll also be found on every Hakim. An apparent weak spot in the design of the stock for this type of action.
Sights
The front sight features replaceable blades, though I only have the one that's mounted at this time. However, I believe that it can be flipped upside down for a shorter post on the bottom of what is now showing. The rear sight is a precision open leaf sight with a choice of two notches. There are several places along the scope rail to lock down the rear sight or the optional peep sight that I don't have.

Front sight is replaceable and (I believe you can flip this one over for a shorter post on the bottom).
The rear sight is a heavy precision unit that resembles the one on the Hakim but is considerably heavier. This one is made of machined parts and conveys the sense of great value. A peep sight was also available, but I don't have one and there are very few Falke parts available for the 80s and 90s.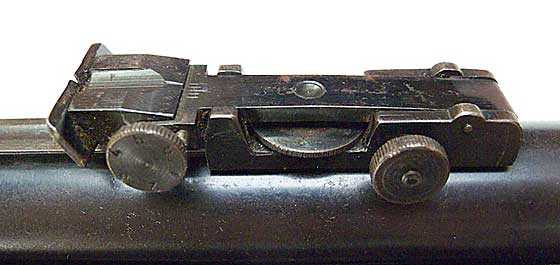 The rear sight is heavy and precisely made. Fully adjustable in both directions with choice of two notches.
Impressions
Well, this certainly is a strange and wonderful vintage air rifle. It dates back to a time when quality was the standard and German quality was the watchword of the world. It's exactly the kind of air rifle most of us say we want — heavy machined metal and beautiful walnut wood, with attention to each and every detail. It's unfortunate they're so scarce, because many more want them than there are rifles to go around. Fortunately, the BSA Airsporter underlever and the Hakim are both very similar rifles that exist in far greater numbers.
Next time, I'll combine both velocity and accuracy into one report.