Posts Tagged 'RWS Chamber Lube'
by Tom Gaylord, a.k.a. B.B. Pelletier
Airgun lubrication — spring guns: Part 1
Airgun lubrication — spring guns: Part 2
Airgun lubrication — gas guns
This report addresses:
• What is a pneumatic?
• No. 1 lubrication need.
• A short pneumatic history.
• Which oil to use?
• Other lubrication.
• Wipe down.
This report was written for blog reader Joe, who asked for it specifically; but I know that many of our newer readers also found the information useful. Today, we'll look at pneumatic guns. There are 3 very different types of pneumatic airguns — precharged, single-stroke and multi-pump — but I think they're similar enough to cover all of them in the same report.
What is a pneumatic?
Pneumatic airguns store compressed air for one or more shots. Single-strokes get just one shot per fill and so do most multi-pumps, though there are some that do get multiple shots. Precharged pneumatics (we shorten the name to PCP) get many shots per fill.
Big bores, which are always PCPs, get the fewest number of shots per fill, but the smallbores (.177, .20, .22 and .25) get many. How many depends on the output power of the gun and the amount of compressed air that's available (i.e., the capacity of the air reservoir).
No. 1 lubrication need
The most important reason to lubricate a pneumatic of any kind is to seal the gun. This is similar to gas (CO2) guns; but since pneumatics use air — which is thinner than CO2, their lubrication is extremely important. The seals in the guns are all sized to their jobs. In the case of o-rings, they sit in channels that assist in their sealing role; but without the right lubrication, all would be lost.
A short pneumatic history
Pneumatics are the oldest type of airgun, and their technology has evolved over more than five centuries. The first pneumatic guns used leather seals in all places to seal the reservoir as well as sealing the firing valve.
As time advanced, airgun makers learned how to lap (polish until smooth) valve faces of animal horn that is much better and less porous than leather. These valve faces would be hand-lapped to match the exact surface of the metal (brass or bronze) valve seats to which they were fitted. When the lapping job was finished, these valves would hold air much longer than leather. Leather was still used to seal the junction around the threads of the reservoir, so the guns still leaked down — but the amount of leakage was reduced by a significant amount.
[Note: Airgun designer John Bowkett determined decades ago that precisely machined stainless steel valve faces and valve seats work best of all, providing there's enough lubrication and the machining is correct. The contact surface of this type of valve is extremely fine and narrow; but if it's perfect, this valve will be very controllable. The downside is that valves made this way are still extremely labor intensive.]
Leather seals and horn/brass valves were still being used in big bore PCP airguns up through the 1920s. Smallbore PCPs didn't come into being until 1980, when Daystate converted one of their tranquilizer dart guns into a .22-caliber sporting rifle they called the Huntsman. Daystate was the first company to build a modern PCP; and when they did, synthetic materials were both available and far better suited for pneumatic valves. At the same time, o-rings in properly cut channels provided the remainder of the sealing solution in place of leather — and the modern PCP was born.
Synthetic seals are less porous than animal horn and last far longer. They're not as hard as stainless steel, so the mating surfaces of the valve do not have to be machined as precisely (they have a little give to accommodate slight imperfections in the valve seats). Synthetics make the modern PCP possible. And lubrication is what keeps PCPs sealed almost forever.
Leather seals in other pneumatics
Leather has been used for the peripheral seals in multi-pump pneumatics up to as recently as the 1950s. Just like the leather seals of old, the problem has always been how to keep the leather seals lubricated so they remain soft, pliable and doing their job. Oil was used originally in these airguns in the late 1890s. But times change and today we have better lubricants. Petroleum jelly will stay on the job many times longer than straight oil, so even the leather seals in your vintage multi-pumps can be lubricated for a long time.
Which oil to use?
That brings us to the big question of the day: Which oil to use? In this instance, there isn't just one answer. For PCPs, the right oil needs to have a very high flashpoint so it isn't prone to explode when subjected to high pressure.
I know of two instances in which petroleum-based oil or grease has caused an explosion in a PCP. One was a vintage PCP reservoir that was pressurized to around 800 psi. The interior walls of the reservoir were coated with grease to trap any dirt particles that might get in during filling. This is a common practice with such airguns; but this time the person who greased the reservoir used petroleum grease instead of organic-based (animal) grease. The reservoir blew apart at the soldered seam! Fortunately, no one was hurt.
The other instance was one I got from a news story, and the person involved was, unfortunately, killed when his modern PCP reservoir exploded. The article said he had apparently introduced regular household oil into the reservoir.
On the other hand, I've safely oiled PCP tanks hundreds of times with a couple drops of Silicone Chamber Oil through the air intake port. I put several drops into the fill port before the gun is filled. When the air blows in, the oil is atomized and gets on all the sealing surfaces inside the reservoir and valves.
The oil to use in a PCP is silicone chamber oil. For single-strokes and multi-pumps, the answer is different. For either of these types of pneumatics I use Crosman Pellgunoil. Neither of these types of pneumatics are pressurized nearly as high as a PCP, and Pellgunoil always does the trick.
Can other oils be used instead of Pellgunoil? Certainly. I've used Gamo Air Gun Oil in my single-strokes and multi-pumps for many years. I use it exactly as I do Pellgunoil for single-strokes and multi-pumps, but I do not use it in any PCP guns.
The thing about multi-pumps and single strokes is to keep their pump cups sealed and working well. These are the flexible pump heads that force air into the guns, either one time or several. They tend to get hard over time and lose their ability to seal, but keeping them oiled and in use frequently will prolong their service lives. Not using a pneumatic airgun is what really hurts it.
Other lubrication
For normal lubrication of moving parts, both Pellgunoil and Gamo Air Gun oil work fine. So do most gun oils, like Remoil. What you do not want to use is silicone chamber oil for this purpose because it doesn't have enough surface tension to lubricate properly. Your parts will rub against each other and wear.
Wipe down
As always you can use the lubricating oils to wipe down your gun's metal and wooden parts, but Ballistol neutralizes acidic fingerprints and lasts on the surface of metal far longer than plain oil. So, it gets my recommendation for this job. It also gets the nod for the insides of all airgun barrels.
Summary
Airgun lubrication is important, for the reasons mentioned in this 5-part report. Sealing is the biggest role lubrication performs, in all cases. We've looked at some very specific examples of products that should be used for the reasons stated. If you decide to substitute, you do so at your own risk.
by Tom Gaylord, a.k.a. B.B. Pelletier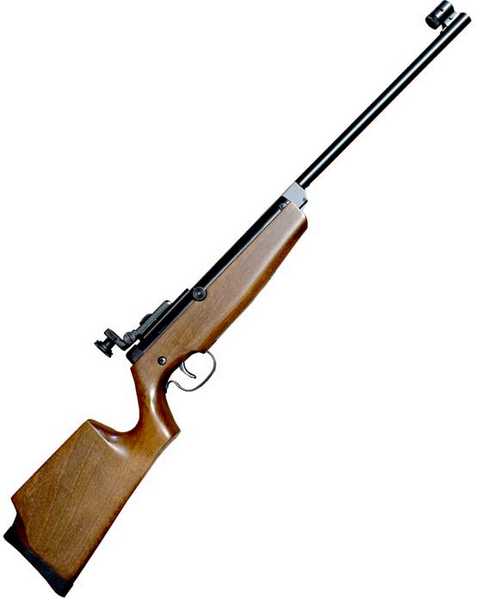 Diana 72 is a youth target rifle from the late 20th century.
This report addresses:
• More on the trigger.
• Accuracy with various pellets.
• Why 5 shots?
• Accuracy with deep-seated pellets.
• Summary.
Today is accuracy day for the Diana model 72 target rifle. We had one extra report in this series, and that was on adjusting the trigger. I want to tell you some more of what I have learned about this trigger.
More on the trigger
During the accuracy test, the trigger failed to work two times. The first time I made a small adjustment and got it running again in a matter of a minute. The second time, however, I worked on it for 15 minutes without success. I finally read Part 3 of this report, to see where the two adjustment screws had been positioned when the trigger was working. The camera angle of that photo isn't the best, so there was still some guesswork involved; but even then I couldn't get the rifle to fire.
Then, I thought of something. I know this rifle has a very protective anti-beartrap mechanism, and I wonderd if it was a little too over-protective. So, I cocked the gun, again (it was still cocked and loaded from when the trigger had failed). I've had other spring-piston air rifles — most notably Weihrauchs and a few Dianas — that would seem to cock but wouldn't quite go all the way. How many people have I talked through cocking their RWS Diana sidelevers because they had not pulled the lever all the way back, and the gun was stuck? Even my Whiscombe has done this often enough that I'm used to it.
When it happens to the 72, the rifle is cocked from the standpoint that the piston is back and the mainspring is compressed, but it also isn't fully cocked in that the trigger isn't in the right position to fire the gun. It's a sort of limbo state that some spring rifles can get into. Think of it as a disagreement between the trigger and the anti-beartrap device, and the designers have allowed the anti-beartrap device to trump the trigger for safety reasons.
All you need to do when this happens is cock the rifle a second time, making sure that the cocking linkage goes all the way back. When I did this, the 72′s trigger began working immediately. So, if you ever get one of these rifles, keep this in mind.
Accuracy
I began this test not knowing where the sights were set. After all, this rifle had been through a complete rebuild, so those sights presumably came off. And the action has been out of the stock several times over the past 2 years. So, the gun needed to be sighted-in.
As a side note, the manufacturing date on the left rear of the spring tube is November 1989. That puts it near the end of the production cycle (1979-1993, according to the Blue Book of Airguns).
Sighting-in with H&N Finale Match Pistol
I started sighting-in with H&N Finale Match Pistol pellets. The first shot was lined up with the center of the bull, but it was too low. It landed at 6 o'clock. Since the sights are target apertures front and rear, I was not using a 6 o'clock hold, but centering the bull in the front aperture.
The first sight-in shot was interesting, but the second was even more so, for it would tell me if this was an accurate rifle or not. It hit above the first shot, in the same line but the 2 holes didn't quite touch. That was good but not what I had hoped for. I had hoped to see a single hole that had barely enlarged with the second round.
Shot 3, however, went into the same hole as shot 2, and shot 4 joined them. So, the rifle was probably accurate, after all. I clicked the elevation up two clicks and proceeded to the first record target.
Shooting for the record
The first 5 shots went into a group that measures 0.221 inches between centers. It's a group you would love to see out of most sporting rifles but not impressive coming from a 10-meter rifle. Just to make sure it wasn't me, I shot a second group with this same Finale Match Pistol pellet. As I shot, I could hear the voices of the newer readers, asking why I only shot 5 shots. So, on just this one target, I put 10 into the next group, which measures 0.269 inches. That's encouragingly close to what just 5 shots did, so it renewed my enthusiasm.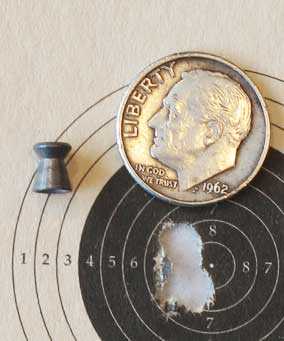 Five H&N Finale Match pellets went into 0.221 inches at 10 meters.

Ten H&N Match Targets made this 0.269-inch group. This is not that much larger than the 5-shot group.
RWS R10 Match Pistol pellet
Next up was the RWS R10 Match Pistol pellet. Five of those made a group that measures 0.244 inches. It's in the same range as the H&N Finale Match pellet, so no cigar.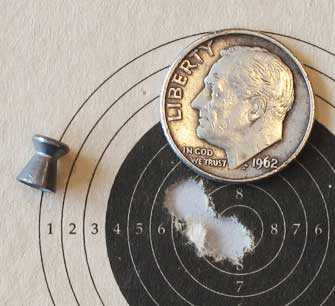 Five RWS R10 Match Pistol pellets went into 0.244 inches.
RWS Hobby
After that, I decided to give the RWS Hobby wadcutter pellet a try. Who knows what they might do? Well, that was a good decision this time, because 5 of them went into 0.194 inches between centers — the smallest group so far.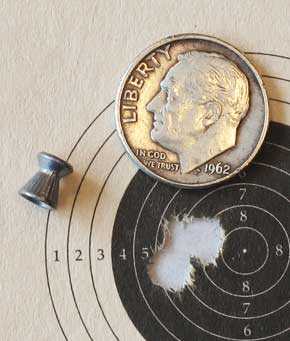 Five RWS Hobby pellets went into 0.194 inches at 10 meters. This is a good group.
At this point, I'd noticed that all the groups were landing off to the left. There's no scope involved, so I can hit the center of the target and not destroy the aim point. I dialed in 3 clicks of right adjustment into the rear sight and continued the test.
JSB Match
Next, I tried JSB Match pellets. Five went into 0.264 inches. That was the second-largest group in this test, so no joy there.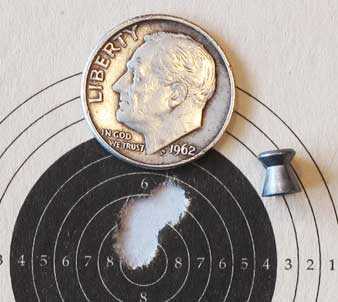 Five JSB Match pellets made this 0.264-inch group. Not that good.
Why 5 shots?
Before someone asks why I shot 5-shot groups, I'll tell you. Accuracy is the reason. Ten-meter guns are generally so accurate that there isn't that much difference between 5 and 10 shots. You only have to look at the first 2 targets to see the truth of that.
H&N Match Pistol
Next, I shot 5 H&N Match Pistol pellets. They're a lower-cost pellet than the Finale Match Pistol, and sometimes they produce good results. This was to be one of those times. Five pellets made a round group that measures 0.166 inches between centers. That's the smallest group of the test; and because it was noticeably smaller, I shot a second group to see if the first was a fluke.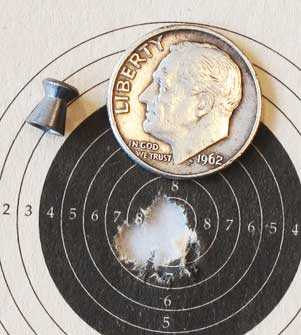 Now, this is a group! Five H&N Match Pistol pellets went into 0.166 inches.
It wasn't a fluke at all, as you can see. The second group was a little larger, at 0.196 inches, but still one of the smaller groups fired in this test.

This second group of H&N Match Pistol pellets was shot to confirm the first one. It measures 0.196 inches, which is larger but still one of the smaller groups of this session.
Seating the pellets deep
Now that I'd tested 4 different wadcutter pellets, three of them being designated as target pellets, I thought I would take the best 2 and test them by seating them deeply in the breech to see if there was any difference. For this, I used the Air Venturi Pellet Pen and Pellet Seater that was also used in the velocity test. We learned then that the 72 doesn't like pellets to be seated deeply where velocity is concerned. Let's see what it does for accuracy.
The first pellet I tested this way was the H&N Match Pistol that proved to be the most accurate in the entire test. When seated deeply, they gave a 5-shot group that measures 0.23 inches between centers. While that isn't bad, it's larger than either of the two groups that were seated flush. They measured 0.166 inches and 0.196 inches, respectively.

When they were seated deeply, 5 H&N Match Pistol pellets went into 0.23 inches. It's larger than either of the 2 groups made with the same pellet seated flush.
And the last pellet I tested was the RWS Hobby. When seated deeply, Hobbys group in 0.252 inches. Again, this was not as small as the one group of flush-seated Hobbys that went into 0.194 inches. That leads me to believe that this rifle likes its pellet seated flush much better.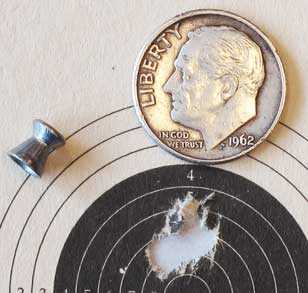 Five deep-seated RWS Hobby pellets went into 0.252 inches. This group appears smaller than it really is because some of the target paper has closed around the holes.
Summary
The RWS model 72 target rifle is a fine example of the quality and ingenuity that Diana can put out. They took a great informal target pistol — the model 6 — and turned it into a youth target rifle. They didn't pour a lot of money into this airgun, with the rear target sight being a conventional, adjustable sight fitted with an aperture, but they did everything right. This is a youth target rifle to covet!
If you want one of these, you'd better start looking right away. There aren't that many of them, and owners tend to hang on to them longer than they do most airguns.
This was a test of the recoilless model 72, but don't forget there's also a model 70 that's based on the model 5 pistol that recoils. There are more of them to be found, and their recoil doesn't amount to much since they were originally an air pistol. Either model is a great airgun that you should certainly look for if this sort of gun interests you.
by Tom Gaylord, a.k.a. B.B. Pelletier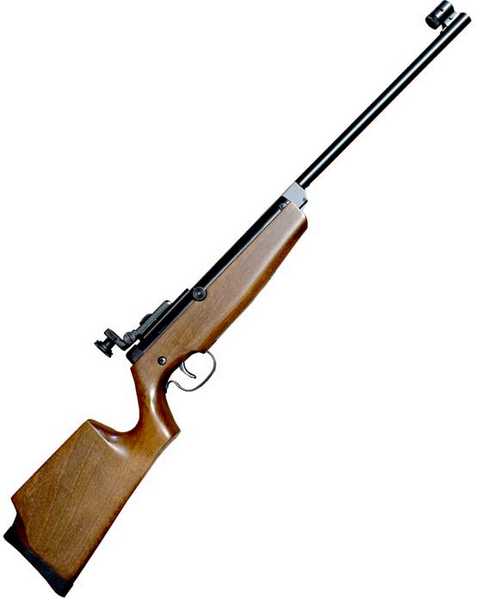 Diana 72 is a youth target rifle from the late 20th century.
This report addresses:
• Examining the Diana model 72 trigger.
• Two trigger adjustments.
• Caution — you may not want to do this!
• Trigger adjustment directions.
• Blog reader Mikeiniowa.
Today, we're going to look at how to adjust the Diana model 72 trigger. I know this report is needed; because when I searched for information on the Diana model 72 target rifle, this blog was at the top of the list! I wish I had an owner's manual for this little rifle, as I'm sure clear trigger adjustment instructions are in there. Lacking that, let's first look at the trigger.
The Diana 72 trigger
As you've learned, the Diana model 72 youth rifle is just a model 6 target pistol in a rifle stock. Most things remained the same, but the trigger is one feature that had to change. People will tell you this rifle trigger is identical to the pistol trigger, but the presence of the long linkage from the trigger blade to the sear adds complexity the pistol trigger doesn't have.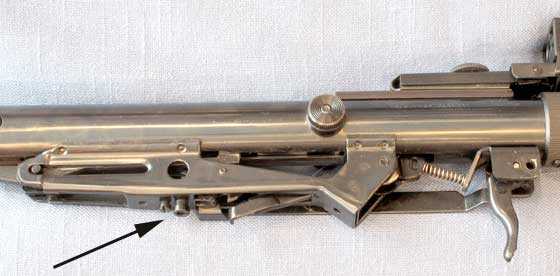 Kind of surprising, no? What looks like the trigger is nothing but an isolated lever. Under the large hole in the flat plate several inches to the left is where the actual trigger lies. The arrow points to the trigger adjustment screws.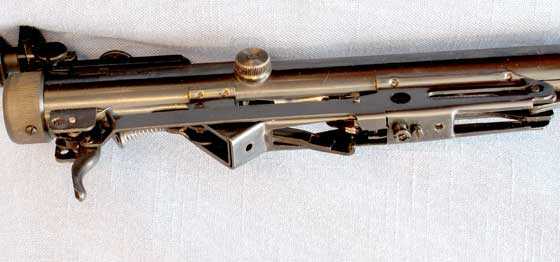 On the right side of the trigger mechanism, we see the trigger linkage (the flat bar above the trigger blade that connects it to the trigger mechanism on the right).
What you thought was the rifle's trigger turns out to be just a lever sitting out by itself and connected to a lot of machinery located several inches away. The linkage that connects the blade to the rest of the trigger mechanism is long and springy. It's why this trigger can never be set to operate as crisply as a true target trigger. But some small amount of adjustment is possible, and this trigger can be very nice.
You can see the trigger adjustment screws in both pictures, but it isn't necessary to take the stock off to access them. The rifle has an oval cut in the bottom of the forearm, and both screws are exposed. Actually, I should say all three screws are exposed, because the adjustment screw is actually two screws — one inside the other. The other screw isn't for adjustment — it's there to lock the larger adjustment screw in place.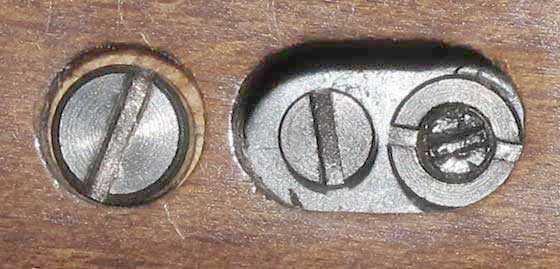 The trigger adjustment screws can be seen through an oval hole in the underside of the forearm when the rifle is assembled. There are three screws. The one on the right is actually 2 different screws. On the left is the locking screw that locks the large screw on the right. Notice the very large screw at the far left of this picture? That's the stock screw and has nothing to do with the trigger adjustment.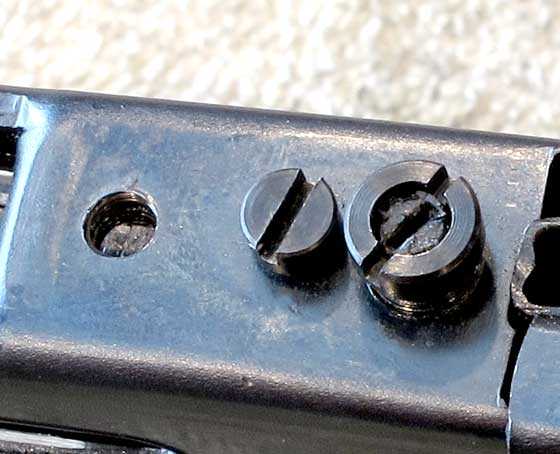 Here you can see the adjustment screws exposed. The screw on the right in this picture is actually two different screws — one inside the other. The small screw inside the large screw on the right will turn at all times. The single screw to the left of the two screws locks the larger screw in place. When you do that, the smaller screw inside can still be turned.
Two trigger adjustments
You can make 2 adjustments to the trigger. You can adjust the length of first-stage travel, and you can adjust the amount of second-stage letoff — which means the weight of the trigger-pull.
BUT — Please read this and believe it. These two screws — one inside the other — act in unison. As one is adjusted, it affects the other. It is extremely easy to adjust them OUTSIDE the safe range, in which case the trigger stops working altogether. When that happens the gun can be cocked, but cannot be fired!
To be safe, when that happened to me several times, I always broke open the action so the anti-beartrap would prevent the gun from firing. Then, I adjusted the 2 screws together until the gun worked once more. I did this several times to learn what each screw does. One time it took a full 10 minutes of working with both screws before I got the gun firing again!
Caution: This is very difficult
If you're afraid of how sensitive this adjustment is — good! Stay away from it! The large hollow screw has a very small range of adjustment and can get out of the range very easily. But if you want to try this, below are the instructions.
Adjustment directions
First adjust the length of first-stage travel (the small screw inside the large one). This can be done with the second-stage screw (the large hollow screw) locked in place. Turning the small screw out (counterclockwise) lengthens the first-stage travel. Turning it in (clockwise) shortens the first-stage travel. I tried to eliminate the first stage altogether because I know some people like it that way, but I was unable to get rid of the last little bit of travel. Formal target shooters use two-stage triggers almost exclusively, so perhaps Diana thought some travel was needed; but it also might be necessary to have some travel in this particular trigger for safe operation.
After you have the first stage where you want it, you can adjust the second stage. First, unlock it by loosening the locking screw to the left. I found the adjustment range of the large, hollow (second stage) screw extremely limited. It was possible to get out of the range with as little as one complete turn of the large, hollow screw.
I played and played with this adjustment mechanism and came to the conclusion that not only are the screw turns limited — the weight range of the trigger release is also very limited. That's because this trigger blade is connected by a springy linkage.
The best I was able to do was reduce the release from 2 lbs., 1 oz. (33 oz.) to 1 lb., 8.5 oz. (24.5 oz.). The first stage takes up about the first pound of that weight, so stage 2 is very light and difficult to feel until you get accustomed to it. There's also some travel in stage 2, but there's no creep (moving and pausing at random points).
Mikeiniowa
If you search the internet for directions on how to adjust the Diana model 72 trigger, you'll discover that a good many folks who are experts with vintage airguns avoid this job. Several of them recommend sending your rifle to our blog reader Mikeiniowa, who apparently knows this rifle quite well. I hope he reads this report and comments.
Status of the rifle
The model 72 is now ready for accuracy testing. Although the trigger isn't match grade, it's as good as it can get– and it isn't that bad.
by Tom Gaylord, a.k.a. B.B. Pelletier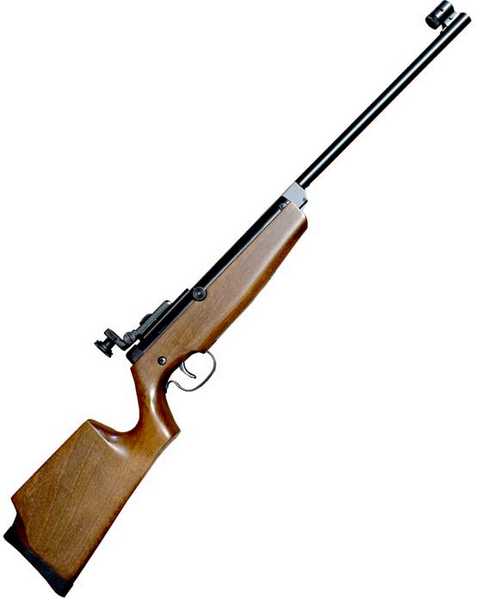 Diana 72 is a youth target rifle from the late 20th century.
This report addresses:
• Cocking effort
• Velocity
• Velocity and consistency comparisons, depending on how the pellet is loaded
• Firing behavior and cocking behavior after oiling
• Trigger-pull
• Impressions so far
Some topics resonate with more readers than others, and this is one of them. I heard from many Diana model 70 and 72 owners when Part 1 was published, and I hope to hear from more with this installment. New blog reader Harryholic from the UK had just received a new-old-stock model 72 when Part 1 was published. Searching for information on his new rifle, he stumbled across our blog.
His new rifle is one that hadn't ever been fired, apparently. It was still in the original Diana packaging based the pictures he published online. Unfortunately, that means it has the old Diana piston seals that dry rot with age. His new gun heeded a resealing before he could even fire the first shot. While he's arranging to have that done, I'll test our 72 that was resealed last year. It should have pretty close to new-gun performance.
Cocking effort
This rifle is a converted air pistol — we learned that in the last report. I recall my Diana model 10 target pistol needing about 35 lbs. of force to cock. The old Air Rifle Headquarters reported the velocity of a broken-in model 10 as close to 500 f,.p.s. with lighter lead pellets. I will presume they mean something like RWS Hobbys.
A model 10 has the same poweplant as the model 6 pistol that on which this rifle is based, so I'll use the cocking effort and velocity for the model 6, as well. I believe a model 6 in good shape should launch a Hobby pellet around 475 f.p.s. That would also be my guess for the model 72 rifle. We shall see.
As for the cocking effort, we learned last time that the 72 has a longer barrel shroud (13-3/4 inches, compared to the 7-inch barrel on the pistol) that extends the lever used to cock the rifle, so I expected the cocking effort to drop off to about 20 lbs. When I measured it on my bathroom scale, it was more like 16 lbs., though some stiffness in the cocking linkage did make the needle spike up to 20 at times. I think this will smooth out as the rifle wears in.
Velocity
I think I learn as much when I chronograph an airgun as I do when shooting it for accuracy. The things I learn aren't always what I expect, though, and today's test demonstrates that.
RWS Hobby
I started the test shooting the 7-grain RWS Hobby wadcutter pellet. I like using Hobbys because not only are they very light and give high velocity numbers, but they're also well-made and often quite accurate.
On the first string, I noticed something remarkable. I'm going to print the string here, so you can see what I saw:
Shot Vel
1     438
2    406
3    391
4    387
5    377
6    366
7    362
8    349
After shot 8, I stopped to evaluate the gun's performance. Each shot was going slower than the last. The 72 is a spring-piston rifle, and it honked a bit when cocked. So, I deduced the piston seal was dry. I oiled the seal with a few drops of RWS Chamber Lube and then returned to the string.
9    414
10    399
The average for this string is 389 f.p.s., but a lot of the reason for that is because of the velocity loss. This rifle was just rebuilt. It came back to my friend Mac just a few weeks before he passed away, so he never shot it. Therefore, I'm the first person to shoot it since it was rebuilt. I'm breaking it in.
After the first string, I oiled the chamber, again, with about twice as much oil as I used before. This time, I shot 10 Hobbys at an average 427 f.p.s. The spread was from 399 to 449, so 50 f.p.s. Obviously, the rifle needed to be oiled. And notice that my original estimate of the expected velocity was too high.
Next, I tried deep-seating the pellets with the Air Venturi Pellet Pen and Pellet Seater. This gave an average velocity of 424 f.p.s. The spread went from 401 to 461, so a total of 60 f.p.s. From this, I have to deduce that deep-seating Hobby pellets does not accomplish anything.
H&N Finale Match Pistol
Next, I tested the rifle with H&N Finale Match Pistol pellets. Seated deep, these averaged 393 f.p.s. The spread went from 376 to 405, so 29 f.p.s. That's a lot tighter than the Hobbys.
I tried these same pellets seated flush. This time they averaged 456 f.p.s. The spread went from 450 to 462, so just 12 f.p.s. They're both faster and more consistent when seated flush with the breech (not pushed into the barrel by a pellet seater).
RWS R10 Match Pistol
The last pellet I tried was the RWS R10 Match Pistol pellets. These weigh 7 grains, just like the Hobbys. Seated deep, they averaged 395 f.p.s., with a spread from 365 to 414. A max spread of 49 f.p.s. Seated flush, they averaged 429 f.p.s., and the spread went from 404 to 446. That's a total of 42 f.p.s. Again, the pellet went faster and the spread was tighter when it was seated flush with the breech.
Note the velocities
A couple days ago, someone asked me if I ever experienced a heavier pellet going faster and with more consistency than a lighter pellet in the same gun. This test demonstrates that phenomenon. The 7-grain Hobbys went an average 424-427 f.p.s., while the 7.56-grain H&N Finale Match Pistol pellets averaged 393-456 f.p.s. When seated flush, these were the fastest pellets in this test, as well as the heaviest pellets.
Firing behavior and cocking effort revisited
I told you the rifle squeaked when cocked. At the end of the test, it still squeaked — but less than before. Also, the cocking effort seems to have smoothed out a bit. I measured it, again, and this time the needle deflected from 16 lbs. up to between 18 and 19 lbs., but it was so close I can't tell if there has been a real reduction or not.
The rifle fires dead-calm regardless of which pellet is loaded or how it's loaded. But flush seating seems to be best, so that's what I'll do.
Trigger-pull
The 72 trigger is 2-stage, but not as crisp as I remember the trigger of my model 10 pistol. Stage 1 stops at stage 2, but then stage 2 has movement that can be felt. The net feeling is a trigger that has no second stage, though I know this one does and can feel it if I really try. The trigger breaks at 33 oz. consistently.
There's a good reason for this trigger to be mushy. The linkage is very long because this is a pistol in a rifle stock. I looked for trigger adjustment instructions on the internet and couldn't find any, so in the next report I'll show you the trigger and describe how to adjust it in detail.
Impressions so far
I like the little rifle — not quite as much as I thought I would, but perhaps I'm objecting to the stiffness of the rebuild that just needs to be broken in. Once I get the trigger where I want it — if that's possible, I may warm to it some more.
by Tom Gaylord, a.k.a. B.B. Pelletier
Today, I'm starting a long series on lubricating airguns. Blog reader Joe asked for this; but as I was researching the subject, I stumbled across another request that came in through the customer reviews on the Pyramyd Air website:
"I wish that RWS or Pyramydair would explain the process and frequency of oiling these RWS rifles in particular the RWS mod 48. Everyone I talk with says the RWS owners manual is outdated and that with the new seals they use does not need to be lubed maybe for years….I purchase the RWS chamber and cylinder oil at a cost of almost $30.00 and now am told I probably will never need it? This topic should be cleared up once and for all by the manufacturer."
Perhaps this customer is referring to RWS Chamber Lube and RWS Spring Cylinder Oil as the two products he purchased. And they do add up to $28 before shipping. Are they necessary? Should he have bought them? That's the question I'll start answering today.
This subject is so vast and complex that I cannot address it in a single report. In today's report, I'm only going to look at lubricating the piston seal. That constitutes about half of the lubrication requirements for many airguns, in my opinion. In the next installment, I'll address all other spring gun lubrication, including the mainspring and piston.
Leather piston seals
In a spring gun, the piston seal is what compresses the air when the gun fires. As the piston goes forward, the seal keeps the air in front of the piston, where it gets compressed because the only escape is blocked by the pellet sitting in the breech. If the gun's working properly, all other avenues for the compressed air to escape have been blocked.
In the past, pistons were sealed with a leather pad or cup. Leather is an ideal material for this job. It's rugged, lasts a long time and will conform to the shape of the compression chamber after a few shots — much like a leather shoe that eventually fits your foot perfectly.

This cup-shaped leather piston seal is for a Chinese spring rifle.
To do its job, a leather seal has to stay soft and pliable, and oil is the best thing for this. As the spring gun operates, a little of the oil is consumed with each shot, so a leather seal needs to be oiled frequently to stay soft. How frequently? In some older guns, I've found that oiling every few weeks is necessary if they're shot a lot. Certainly, all guns with leather seals need a couple drops of oil at least once each month if they're to be shot. You can leave a gun with leather seals unoiled for years if you don't shoot it; but before you start shooting it again, that seal needs to be oiled. When I start shooting an older gun that I know has leather seals (I use references for finding out things like this), I put about 10 drops of oil through the air transfer port and let it soak into the seal for at least an hour, although a half day is even better.
What oil to use?
The type of oil you use depends on the velocity of the gun. Guns that shoot less than 600 f.p.s. in both .177 and .22 caliber will be oiled with regular household oil. Any petroleum-based lubrication oil will do. Yes, gun oil will also work. For guns that shoot faster than 600 f.p.s., I use silicone chamber oil, like the product listed above. The spring cylinder oil is not for chambers and should not be used on the piston seals of these guns.
Synthetic seals
Starting in the 1950s, manufacturers began experimenting with piston seals made from synthetics. Some of them, like the ones used by Anschütz and Falke, worked well and lasted for many decades. But others, such as the seals used by Walther on all their airguns and the seals that Feinwerkbau used on the 121 and 124/127 sporting rifles, were made from a material that dry-rotted within about 20 years. If they were oiled by anything, they failed even faster. These seals started out as a light beige color, but as they absorbed oxygen and oil, it turned them dark yellow and brown until they began to break apart in waxy chunks.
Diana was one of the last companies to switch from leather to synthetic, and they had the benefit of watching the others. They were still using leather seals in their powerful model 45 rifle in the late 1970s, at a time when that airgun had broken the 800 f.p.s. "barrier." When they started making synthetic piston seals, they used a blue-colored material that was tough and long-lasting. It's interesting to note that the others adopted similar piston seal material when they finally realized their seals were perishing in use.

The blue Diana parachute seal is so rugged that hobbyists use it for many other airguns. It needs very little oil!

These 2 FWB 124 seals are made from modern synthetic material, yet they look like the original ones. The one on the right has been inside a rifle for a few thousand shots. It looks bad but is still in great shape and will last for many decades.
Don't fixate on the color blue for piston seals! These synthetics can be colored any way and still be fine. I have modern FWB 124 seals that look similar to the old seals in color, yet they'll last indefinitely. It's the material, not the color.
Which oil to use?
With synthetic seals, I always use silicone chamber oil. That's SILICONE CHAMBER OIL — not brake fluid, silicone spray lubricant or any other concoction. Chamber oil is for piston seals. It does not lubricate metal parts because the viscosity is too low. It'll ruin metal parts if you use it that way. On the other hand, nobody knows what will happen to a gun that's lubed with anything other than SILICONE CHAMBER OIL.
Diana recommends using two drops of chamber oil on the piston seal every 1,000 shots, and one drop on the breech seal at the same time. That's it. To answer the person who asked if he needs the chamber oil, the answer is yes. But one small bottle will last a long time. I've observed that most Diana airguns can get by with even less oiling than what's recommended. One diagnostic for when a gun need its seal oiled is when the seal honks like a goose as the gun is cocked.
Silicone chamber oil has a high flashpoint. Since the air in a spring-piston gun reaches about 2,000˚F with every shot, this is important. This heat is adiabatic — it doesn't heat the gun because the interval is too brief.
Overlubing vs. underlubing
It's almost impossible to overlube a leather piston seal. And it does not harm the seal if you do.
On the other hand, overlubing a synthetic seal can start the gun detonating. Not dieseling — most spring guns diesel. When you smell burning oil, your gun's dieseling. Dieseling is just a few oil droplets vaporizing with each shot. It's perfectly normal in a spring gun.
Detonation is when a lot of droplets vaporize and cause an explosion. That will damage your piston seal if it's allowed to continue for a long time. It can also break your mainspring.
So, dieseling is okay, but detonations are bad. And overoiling synthetic seals causes detonations.
Do you see why I had to cover just the piston seals today?
by Tom Gaylord, a.k.a. B.B. Pelletier
Today, we'll test the Umarex Fusion CO2 rifle at 25 yards. And today was also supposed to be the day I tested how long you have to wait to remove the CO2 cap after exhausting the gas. That's not going to happn, though; because when I took off the CO2 cap to install 2 fresh CO2 cartridges, I noticed the o-ring was damaged pretty bad. So bad, in fact, that it might not work any longer. I switched it for a common black Buna o-ring of the same size and then charged the gun. At the end of this report, I'll tell you how that works.

The original o-ring had these two damaged spots. I thought it might leak, so I replaced it.
JSB Exact RS
When I tested the rifle at 10 meters, the best pellet was the JSB Exact RS dome, so that was the first pellet I tested this time. As I predicted after shimming the rear scope ring, the rifle was hitting too high at 25 yards. I had to drop it about 2-1/2 inches and move it to the right about three-quarters of an inch.
The first 10-shot group I fired measures 0.523 inches between centers. It's nice and round, also. Remember, I'm using the 4x scope that came with the rifle, so the bullseyes looked pretty small at 25 yards. Also keep in mind that this shooting was done indoors, so wind is not a factor.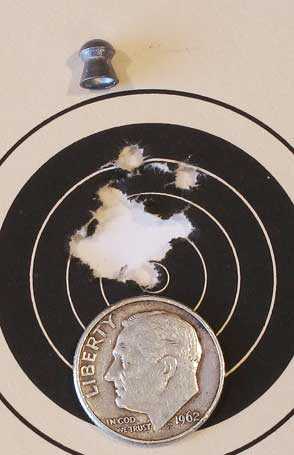 These 10 JSB Exact RS pellets made a 0.523-inch group at 25 yards.
The first group looked so good through my spotting scope that I shot a second one with the same RS pellets. This time, 9 of the pellets went into 0.455-inches, but one shot opened the group to 0.688 inches. That wild shot was not a called flier; it just went astray.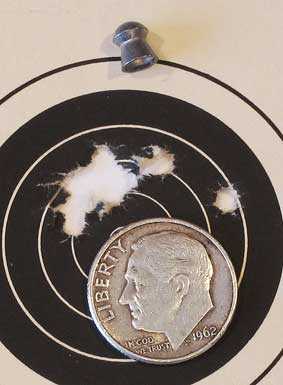 This second group of JSB Exact RS pellets measures 0.688 inches between centers.
H&N Baracuda Match
The second-best pellet at 10 meters was the H&N Baracuda Match, so that was the next pellet I tried. Ten landed in a 0.625-inch group that's open but fairly round at the same time. Looking through the scope, this group didn't look very promising; but I see upon inspection that it isn't much worse than the first 2 groups.

Ten H&N Baracuda Match pellets went into 0.625 inches at 25 yards.
Air Arms Falcon
The final pellet of the day was the Air Arms Falcon dome, which is made by JSB. Sometimes, this pellet surprises me with stellar accuracy. This time, 10 pellets made a group that measured 0.56 inches between centers. It's very close to the first group of JSB Exact RS pellets, which turned out to be the best group of the day.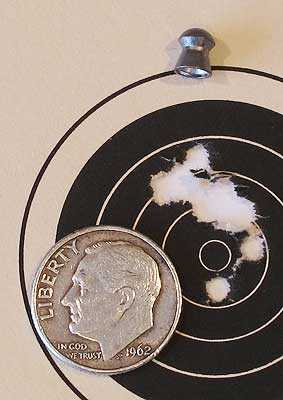 Ten Air Arms Falcon pellets went into 0.56 inches. It was the second-best group of the day.
The new o-ring
The new o-ring worked, but there was some leakage when I pierced the cartridges. The gas exhaust screw wasn't the culprit this time — it was the o-ring that leaked. I suspect I selected a ring that is too thin for the job. When I removed the cap, I saw that this ring had also absorbed the gas and swollen quite large. I took a picture of it 5 minutes after taking it out of the gun and again after 45 minutes, so you can see the dramatic difference as the o-ring outgasses and shrinks back to normal.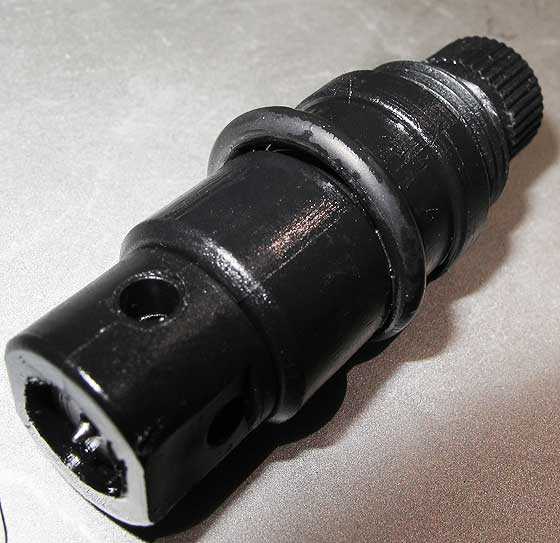 The o-ring after 5 minutes out of the gun. It's still swollen with absorbed CO2.

The o-ring after 45 minutes out of the gun.
Final evaluation
There's a lot to like about the Fusion air rifle. It certainly is accurate, and it fully delivers on the promise of quiet operation. There aren't many other air rifles in this price range that can compete. Even the scope that comes with the rifle seems to be up to the task.
While today's groups are not stunning, they're all good.  It's interesting to note they're all under three-quarters of an inch and some approach a half inch.
I do think the o-ring that comes with the rifle needs to be changed to something that doesn't swell. And it would be nice if the trigger was more adjustable. But those are small points. If you're looking for a fun plinker that's both quiet and accurate, put this one on your list!