by Tom Gaylord, a.k.a. B.B. Pelletier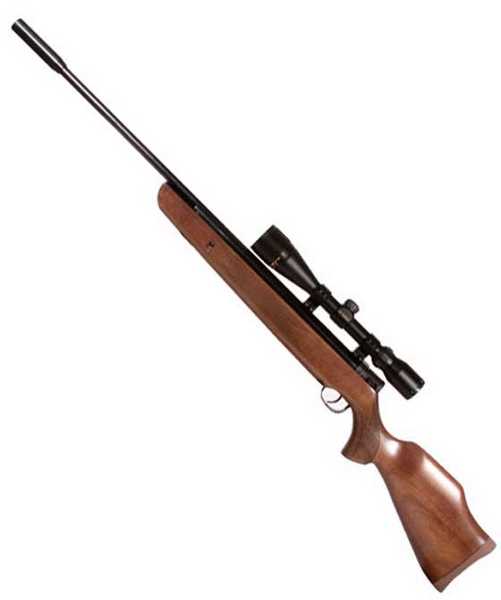 The new Tech Force M12 breakbarrel is a new midrange springer from Air Venturi.
I usually have a handle on the gun by the time Part 4 rolls around. But, today, I'm still stymied by the Tech Force M12 breakbarrel. I'll tell you all I've done to make sure this rifle is on the beam; but when I tell you my results, I think you'll see I'm not there yet.
Big droop!
I discovered in Part 3 that the M12 I'm testing is a big drooper. That means it shoots very low relative to where the scope is looking. For today's test, I installed a B-Square adjustable scope mount that has a huge downward angle to bring the point of impact back up to the aim point. It worked well enough for the test, so I proceeded to shoot several different types of pellets — trying all kinds of hand holds and even resting the rifle directly on the sandbag.
Here's a list of the pellets I tried: (10-shot groups with each)
Beeman Kodiaks
Beeman Kodiak Hollowpoints
RWS Superdomes
Crosman Premier 10.5-grain
Crosman Premier 7.9-grain
JSB Exact RS
JSB Exact 8.4-grain
JSB Exact 10.3-grain
RWS Hobby
Beeman Trophy (an obsolete domed pellet)
Eley Wasp (an obsolete domed pellet)
Best pellet
With most of these pellets, the rifle teased me with several pellets in the same hole — but a 10-shot group that was 1.5 inches and larger. A couple were all over the place and simply would not group at all. The Hobbys were probably the worst.
Only one pellet put 10 shots into 1.038 inches at 25 yards. Those were RWS Superdomes, and the hold was with my off hand back by the triggerguard, leaving the rifle very muzzle-heavy. The rifle was somewhat twitchy but not overly so.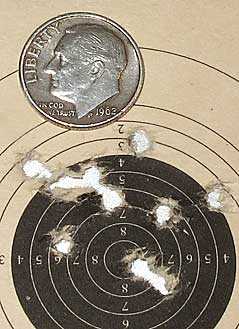 This is the best group I shot in the test from 25 yards. It's 10 RWS Superdomes, and the rifle is rested with my off hand touching the triggerguard.
Encouraging
The encouraging thing about this group is that I didn't have to use a lot of technique to shoot it. I know it isn't as tight as others I've shot at the same distance, and you'll compare it to them, but I compared it to the other groups I was getting with this rifle. In that comparison, this was the best one and it was also relatively easy to shoot.
What all did I do?
For the record, here's a list of all the things I tried to get the M12 to shoot.
Cleaned the barrel
Tightened the stock screws (they were tight)
Installed a drooper mount with a lot of down angle
Tightened the scope mount screws (and they were loose on the B-Square adjustable mount!)
Tried resting the forearm of the rifle:
On my open palm in front of the triggerguard
On my open palm under the cocking slot
Directly on the sandbag
Tried shaking the barrel to test the breech lockup (it is tight)
Tried extra relaxation with the artillery hold — which worked for a few shots, but never more than four
Tried attaching an extra weight to the barrel during each shot (with a large magnet)
So, where are we in this test?
I still think the M12 can shoot because there's evidence of it wanting to stack its pellets. It might be that this is a rifle that needs more than a thousand shots to break in. I've owned a few of those. The Beeman C1 from Webley that I used to own was such a rifle. At first it was a royal beast; but as the shot count passed 2,000, the rifle began smoothing out and transforming into something very delightful to shoot. By 4,000 shots, the trigger was very nice and the gun had no vibration to speak of. It was this very rifle that caused me to give the artillery hold its name, and I wrote the first article I ever wrote about airguns for Dr. Beeman. He didn't respond to my submission, so I saved it and eventually wrote it up in The Airgun Letter.
I wonder if this M12 needs that kind of break-in? That's something I haven't done in a good many years because it takes so much of my time. But it might be interesting to see if the rifle responds to a long-term break-in. I think I've certainly shoot 250-300 shots at this point, because I also tested the gun at 10 meters and one time at 25 yards (it wasn't reported). Maybe I'll rack up some more shots to see how that affects a longer-term break-in.
by Tom Gaylord, a.k.a. B.B. Pelletier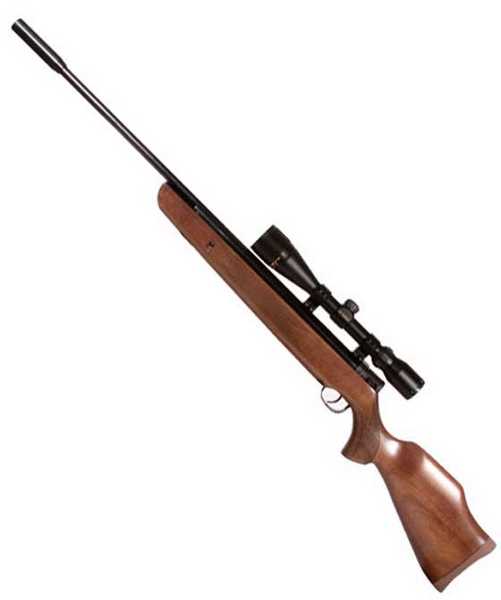 The new Tech Force M12 breakbarrel is a midrange springer from Air Venturi.
Today, we'll learn an important lesson in spring-gun management. This report was supposed to happen yesterday, but the rifle wasn't cooperating — and I had to spend an extra day testing it. I'll explain what haoppened and tell you what I did to fix it. It was simple, and the results are astounding. But, I'm getting ahead of myself.
As you know, I elected to test the .177-caliber Tech Force M12 4-12x40AO air rifle combo. I chose the package that came without the illuminated reticle but with the best scope.
I mounted the scope with no difficulties. The two-piece rings went on the rails easily and the rifle's end cap was used to block the rear ring from moving during shooting. I can tell you at this point that you have nothing to fear using the cap this way. The end cap holds the ring positively and doesn't seem to move.
Trouble in paradise!
But at 25 yards, I found I had difficulty shooting a group that was reasonable. The best I managed to do was 10 shots in an inch and a half, but I also had some that went two inches. It was discouraging, to say the least. I sat back and examined the groups to see what could be learned.
And one thing popped out. Each group of 10 was actually two very tight groups of pellets. There was enough dispersion that at first they just looked like a large group; but since I'd seen every shot go through the target and I remembered them going from one side to the other, I was able to see that there were actually two separate groups. And you know what that means, don't you?
Let's look at this from a different perspective. Let's say a new reader wrote a comment and complained about the lack of accuracy in his new rifle. We might have to go back and forth several times before he mentioned that there are really two smaller sub-groups in the one group he shoots. But that would be the key that triggers a response.
Many of you would advise this reader to remove the scope from his gun and shoot a group with open sights. That's what I would do. Only in the case of this rifle, there are no open sights. What do you do then?
There is a "secret." It really isn't a secret; but from experience, I've found that only a few people know about it.
The secret is this: When you get multiple groups like this, the problem is usually caused by a floating erector tube inside the scope, assuming that all the mounting screws are tight. And in this case, I checked them and all were tight. The stock screws were also tight. So the erector tube is the suspect. The thing that sets it up to move like that is when the scope is adjusted up too high or too far to the right, so the erector tube spring (the spring that pushes against both adjustment knobs) has relaxed to the point that the tube can move. It's a common fault when using a scope, and I've been seeing it more and more often with firearms, too.
What I would tell a new reader is to crank a LOT of down elevation (at least 60 clicks — more is better) into his scope and shoot a group. I don't care that the pellet is now striking the target low. What I care about is the size and shape of the group. That's exactly what I did. I cranked in 5 or 6 full rotations of down elevation into the scope.
10-meter testing
Because the rifle was now shooting very low, I decided to test the rifle at 10 meters just to keep the shots on the paper. I'm not going to tell you the pellets that were tried at 25 yards because what follows explains why they were not tested fairly.
The first pellet I tried in this experiment was the 10.3-grain JSB Exact dome. Inside of 3 shots, I knew I'd found the problem and was fixing it. The 10-shot group I got is not that small for just 10 meters, but it was relatively easy to shoot, meaning that I did not have to use more than the usual amount of artillery hold technique.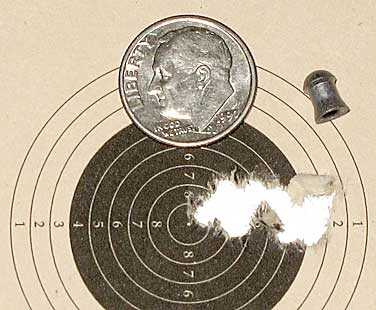 While this isn't exactly a splendid group, it was easy to shoot. Notice the fact that there are still two groups! This group of 10.3-grain JSB Exact dome measures 0.557 inches between centers.
Next, I tried Crosman Premier heavies, thinking that the rifle was going to lay them in no matter what it was fed. But not this time. When 4 shots gave me almost 1.5 inches, I stopped! Clearly, this 10.5-grain dome is not the pellet for the M12.
Then, I tried a pellet that has never worked in any test I've done. The Beeman Trophy pellets I have are so old that they come in the old-style Beeman tin. But, I thought, what the heck — this is just a test. Let's see what they can do. And, of course, they were stunning. Ten made a group that measures 0.458 inches, but 8 of those 10 shots made a 0.253-inch group that's very round and encouraging.

Ten shots are in 0.458 inches, but 8 are in 0.253 inches. This is a pellet to test at 25 yards.
Not only did the Trophy pellet make a nice round group, it also required very little special shooting technique. The gun felt like it was in the zone with this pellet.
The scope
I have to say this 4-12x40AO Tech Force scope that came with the rifle is a pretty nice optic for being included in a combo package. It focuses clearly and seems bright enough for general use. Once I found the problem, this scope performed as well as any scope would under similar circumstances. If you plan to purchase an M12, I would recommend getting it the way you see here.
Where are we with the Tech Force M12?
Obviously, I haven't finished the test of the M12. I still need to shoot the rifle at 25 yards to see how well it does. And I know the groups are going to be larger than what you see here. Before I do that, I need to mount this scope in a good drooper mount so I can get the gun shooting to the point of aim, again.
Today's report is a valuable lesson in what to do when you're having problems getting a scope to work. The diagnostic for this is when the rifle wants to shoot several groups that are each respectable; but when taken together, they're too large. In the situation I've shown here, we didn't know if the problem was the rifle, the scope or something else. By dialing in a lot of down elevation and sometimes some left elevation, we put tension on the erector tube springs, taking them out of the equation. If the gun then shoots well, as this M12 clearly did, then you know you have a droop problem that's easy to solve.
by Tom Gaylord, a.k.a. B.B. Pelletier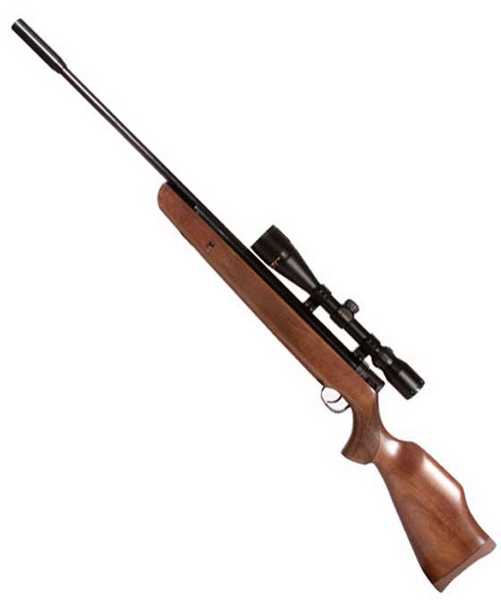 The new Tech Force M12 breakbarrel is a new midrange springer from Air Venturi.
Today, we'll look at the firing behavior and velocity of the Tech Force M12. You readers had mixed feelings about this rifle. Some of you liked the look of the gun and the fact that the trigger is nice, though it's only single-stage. Others were put off by the lack of open sights. Once again, for anyone who missed it, the Tech Force M12 is made for Air Venturi (who owns the Tech Force name) by Mendoza. It is not a model Mendoza makes under any other name, so if you want one, you have to get an M12.
I'm testing the combo with the 4-12x40AO Tech Force rifle scope. The scope comes into play in the next report, when I look at the rifle's accuracy. Now, we'll look at its performance over the chronograph. The first pellet I shot was the one I think may shoot best in the rifle — the venerable Crosman Premier 7.9-grain dome.
The first several shots from the rifle detonated, which means they were accompanied by a loud bang. Some people call that dieseling, but it's more than that. Dieseling means that the piston causes the oil in the compression chamber to ignite when the gun fires. All spring guns in this power class diesel with every shot — even the ones that have been tuned. You don't usually notice it because there's so little oil to act as fuel for each shot that the gun neither makes a bang nor does it smoke. Only when there's too much oil does the gun smoke with every shot, and only when there's even more oil does it detonate. Detonation usually goes away after one to several shots, so you just keep shooting until the gun becomes quieter.
The M12 only detonated on the first 4 shots with Premier lites. The first shot went 1012 f.p.s., which is well over the advertised velocity of 750 f.p.s. for lead pellets. It was the detonation that caused the higher velocity, because shot No. 2 went 932 f.p.s., even though the rifle was still detonating.
After 7 shots, the rifle had stabilized, and the velocity had dropped to the 800 f.p.s. mark, which is what we expect it to do with this pellet. The average velocity was 797 f.p.s., and the spread ranged from 792 to 800 f.p.s. That's a tight 8 foot-second range that tells me the Premier lite will probably be a good pellet for the accuracy test. At the average velocity, this pellet generates 11.15 foot-pounds of muzzle energy.
The next pellet I tested was the RWS Hobby — an all-lead pellet that weighs 7 grains. I use Hobbys or other RWS pellets of equivalent weight to test spring guns for power, so we can have a standard reference.
Hobbys averaged 848 f.p.s. in the M12, but their performance was not stable. They ranged from 829 to 877 f.p.s. While I did not hear any definite detonations while shooting Hobbys, there was a lot of smoke with each shot, so the rifle is still burning off oil. It's good to get that out of the way now before the accuracy test, where it would disturb the shots. At the average velocity, Hobbys produced 11.18 foot-pounds of energy at the muzzle.
The next pellet I tested was the 10.3-grain JSB Exact dome. I felt that a heavier pellet might help stabilize the rifle in the early stages of its break-in. This pellet averaged 716 f.p.s.; but like the Hobbys, it wasn't too stable. The spread went from 699 to 746 f.p.s. At the average velocity, this pellet generated 11.73 foot-pounds — the highest power noted in this test.
And the last pellet tested was the lead-free RWS HyperMAX pointed pellet that weighs 5.2 grains. These averaged 961 f.p.s. in the test rifle if I throw out the first shot that registered 919 f.p.s. The spread of the average string ranged from 948 to 970 f.p.s., so once more it wasn't too stable. At the average velocity, this pellet produced 10.67 foot-pounds of muzzle energy.
Results?
The M12 has surprised me thus far. Why? Because it's a Mendoza, a company that I know can make some wonderful air rifles. But they often add too much oil during assembly. The M12 is not like that. Yes, it does have a little too much oil, but the same can be said of a new Weihrauch these days. And Air Venturi had them eliminate the oil hole they put on all their rifles, so there's no encouragement to continue over-oiling the gun.
It seems well-behaved. The oil takes care of itself during the break-in period, so it's of no consequence. The trigger is still very nice, though I can now feel it moving through the single stage. But there's still no creep and it still releases crisply. The trigger breaks at 2 lbs., 15 oz. fairly consistently.
The firing behavior is accompanied by a slow shudder, not by high-speed vibration, so this rifle will probably be pleasant to shoot. The trigger is good enough to do good work on target, and I think the rest remains to be discovered.
by Tom Gaylord, a.k.a. B.B. Pelletier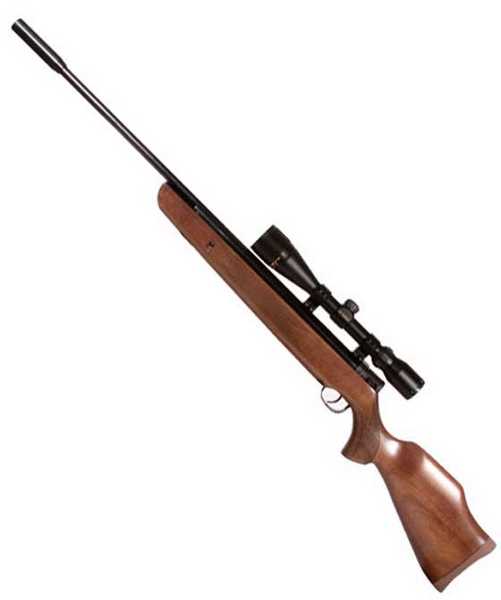 The new Tech Force M12 breakbarrel is a new mid-range springer from Air Venturi.
I promised to do this report soon, and today it begins. The Air Venturi Tech Force M12 4-12x combo: this will be a report on what it is. Is it a worthy air rifle for $269.99 (as of this publication)?
This rifle was made by Mendoza, but it's no model you will ever find in their catalog. So, you either buy it here or you don't buy it. There are too many differences from standard Mendoza rifles to call it by that name. I will point out all of those differences today.
Tech Force?
The first question I have to address is the model name. Tech Force is the name of a line of Chinese guns, made mostly by the Industry Brand factory. What is a Mendoza-made airgun doing in the Tech Force line? It was a marketing decision, pure and simple. Management felt that the Tech Force name is already well-known, so why not use the marketing inertia that's been established over two decades? They are, no doubt, right about that. The average buyer will not know the background story on these guns, and those that do will care more about the quality of the gun than they will the history or where it's made. So, Tech Force M12 it is.
This is a medium-sized breakbarrel spring-piston air rifle that advertises a velocity of 1,000 f.p.s. in the .177 caliber I'm testing. We'll get to that in Part 2. There's also a .22 option; and if the gun lives up to its power claims, I would prefer it in that caliber, only because it should have a little more power.
Unique features
Some things set the M12 apart from other airguns made by Mendoza. It has no oil hole in the spring tube, so it cannot be over-oiled unless you go crazy oiling the air transfer port. Air Venturi visited the Mendoza plant and specified this feature — which is the same as on the Bronco — to keep this gun from becoming a dieseling runaway. The Air Venturi technicians discussed the assembly of this rifle with the Mendoza production personnel and were assured that this rifle will not be over-oiled at assembly. I can confirm that the test rifle is not too oily and does not detonate, so we're already ahead of the curve on that account.
Cocking is 33 lbs., though the Pyramyd Air website says 26 lbs. Newer airgunners might think that's no big deal, but it places this rifle in the serious shooting and hunter class, because even a bodybuilder will not want to shoot 250 shots at one time when the rifle cocks this hard. This is something you must experience to appreciate, because it doesn't relate to how strong you are. It's a simple fact that when the cocking effort climbs above about 28 lbs., the gun stops being a casual plinker for almost everyone. I'll save the other observations about how it shoots for the next report, because all I've done thus far is fire just a couple familiarization shots. I cannot find a serial number anywhere on the gun or the box.
As some have noticed, the muzzlebrake is longer than the one Mendoza uses on their guns, and that's a plus. The M12 has no sights, so it must be scoped. Pyramyd Air sells it both ways — scoped and not — with several scope options. I chose the most powerful scope to test for you, though not the one with the illuminated reticle. It's a Tech Force-branded 4-12×40, and the combo also comes with one-inch rings to mount the scope. The rifle has an 11mm set of grooves cut directly into the spring tube, but no scope stop. With the Bronco I found that the plastic end cap served well as a scope stop, but the M12 recoils a lot more. It remains to be seen if this will work. I'll report on it.
Trigger
The trigger is another feature that's different on the M12. It's not the two-blade Mendoza trigger that's found on the Bronco. Instead, this is a single-bladed, single-stage trigger that seems to release fairly light and very crisp. It will take some getting used to, but I think it's at least as nice as a T06 trigger. There appears to be no provision for adjustment; but as nice as it is, I don't think the average shooter will mind.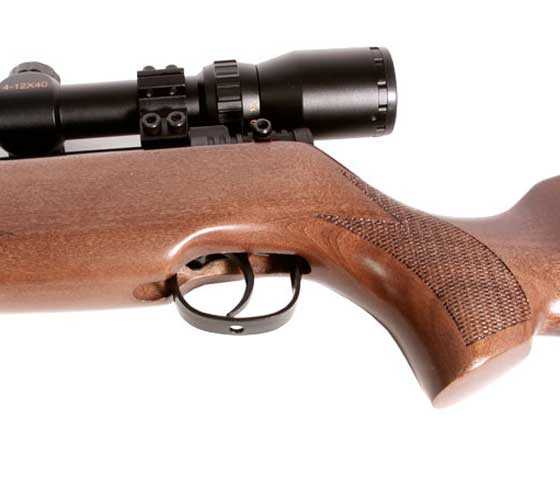 The trigger is a single bladed, single-stage unit that's not adjustable. It's both light and crisp from the box.
The safety is automatic and also ambidextrous. In fact, the entire rifle is 100 percent ambidextrous. Nothing favors one side over the other — there's even no cheek rest on either side of the Monte Carlo butt.
General description
Weighing almost 7 lbs., the M12 is a medium-sized air rifle. It feels larger because the forearm has a wide cross-section, but it'll be very comfortable for most adults. The overall length is 44.25 inche,s and the pull is 13.5 inches. The stock is a dark-stained hardwood with machine-cut checkering panels on both sides of the pistol grip and forearm. The diamonds are flat and don't provide any purchase. The butt has a red pad of soft solid rubber that holds your shoulder well. The pistol grip has a slight swell on either side for the palm of your hand. The woodwork is well-fitted and finished with an even satin finish. I don't think there will be many complaints.
The barrel is back-bored, so the rifled section is only 9.25 inches in length. The finish on the metal parts is variable. The spring tube and the muzzlebrake are both highly polished, while the barrel is finished with more of a satin sheen.
General observations
At $189.99, the base M12 is positioned up close to the RWS Diana 34, but with some room to spare. It, therefore, needs to have something close to the published velocity and decent accuracy. We already know the trigger is a keeper, and I'll cover the other attributes as I test the gun.
Is the M12 the gun I wanted the Mustang to be? No, it's not. This rifle is more powerful than the Mustang was supposed to be, and the Mustang had open sights. So, the M12 stands by itself. I know there are a number of interested parties, so I won't keep you waiting too long on this one.
by B.B. Pelletier
Regular blog reader Vince is regaling us with another great guest blog about a gun he's repaired…although this isn't about the repairs he made. He never fails to inform and entertain! So, sit back, relax and enjoy!
If you'd like to write a guest post for this blog, please email us.
Take it away, Vince!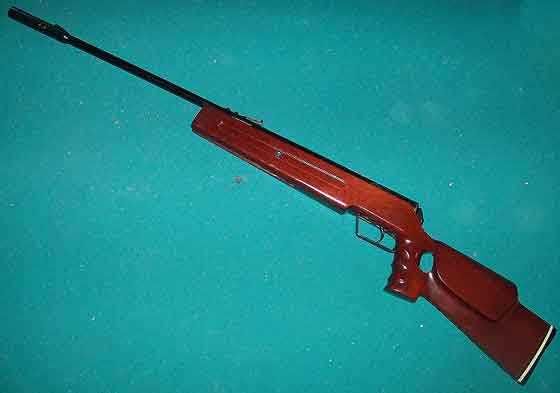 Cabanas air rifle
So, where to begin? I don't quite know how to write an introduction to the this gun simply because I know virtually nothing about it. In fact, everything I DO know will fill no more than a single paragraph on an airgun blog…and not a terribly long paragraph at that:
The Cabanas rifle was manufactured by Cabanas Industrias, S.A. in Aguilas, Mexico, and was imported and distributed through Mandall's Sporting Goods of Scottsdale, Arizona. The release of these models may have been announced at the 1989 SHOT show, and this particular rifle might belong to the RC-200 family of airguns from that manufacturer.
And that's it.
The Cabanas company IS relatively well known for making primer-powered guns in both .177 and .22 calibers. These were known for being as low-powered as an air rifle but less accurate, more prone to fouling than a regular .22 and yet classified as a full-fledged firearm in the eyes of the ATF.
In other words, the worst of all worlds. Little wonder they didn't last.
Where does that leave this thing? Was it a last-gasp effort by Cabanas to salvage some workable market share in the United States before completely getting swamped? Cabanas went under in 1999. If this rifle does, indeed, date from 10 years prior, it hardly qualifies as a "last gasp." But, no doubt, it was part of an effort to expand their US market. Given the dearth of information on these models, it wasn't a very successful effort at that.
That is, if you define success only in a commercial sense. Because this particular air rifle is a very likeable gun. Before I get ahead of myself, though, let me introduce this particular example.
I first heard of this gun when blog reader Wacky Wayne mentioned that he had a certain type of "Cabanas" he wanted me to do something with. I asked him what in the heck was he growing in those raised flower beds of his! But after we cleared up THAT little misunderstanding, I said "SURE! I'll work on anything!" A short time later, the Cabanas arrived at my doorstep. I worked it over, sent it back, he shoots it a couple of times and then sends it BACK to me to keep in exchange for some more work. Which means that this orphaned waif is now mine.
Wwhenever I see another air rifle, I'm always on the lookout for signs of cross-breeding or design commonality. Since this gun is from Mexico, my thoughts immediately turned to Mendoza. Those thoughts were reinforced the first time I broke open the barrel and compared it to its Mexican cousin.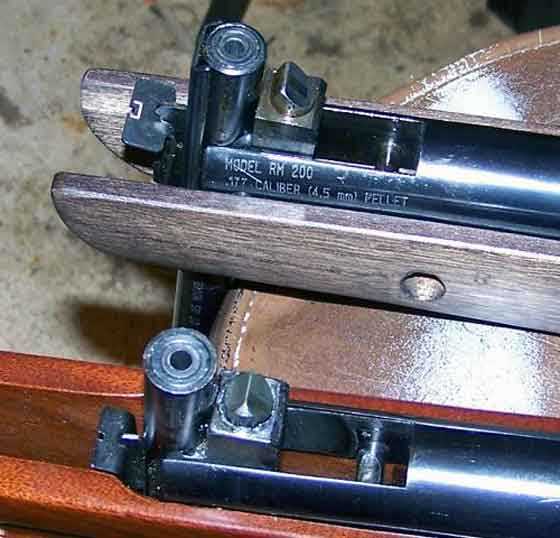 Mendoza at the top, Cabanas at the bottom…kissing cousins!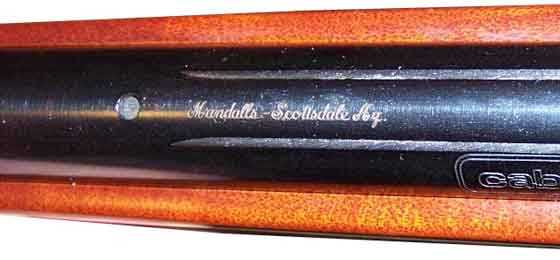 The scope grooves milled into the spring tube are typical enough, but the gun's potential Mendoza-ness was further reinforced by the presence of an oil hole.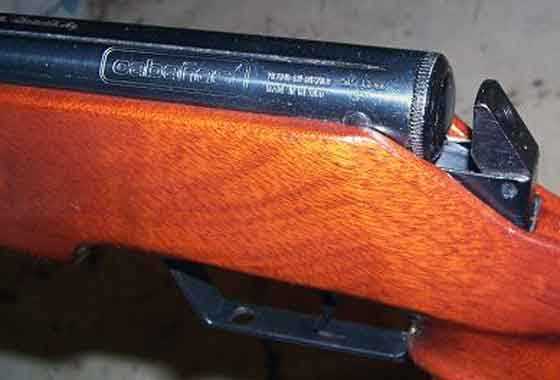 On the other hand – the automatic safety is definitely un-Mendoza like (safety engaged).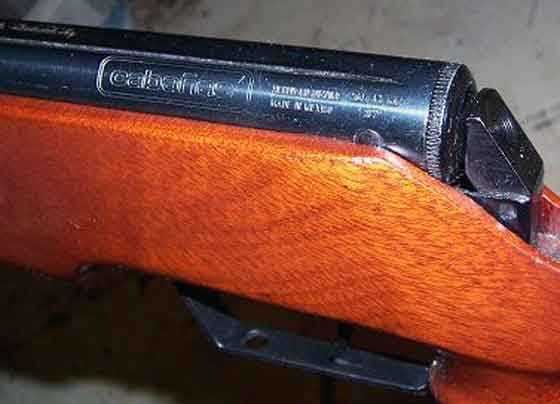 Safety off
It's kind of clunky, really. It seems a bit odd to have a large block of metal sliding back and forth like that, and it doesn't work all that smoothly. And that's AFTER messing around with it to improve the feel. Worst of all, it's not resettable which, frankly, is inexcusable on a gun with a simple, direct-sear trigger like this one. Small matter, though. B. B. has talked me out of relying on safeties, and the more I shoot the more I'm convinced that they really are superflous annoyances for the most part. This safety is not a terrible bother to pop off, so it's not a major gripe.
Otherwise, the gun seems well made, with steel for everything and no apparent chintzy compromises in the name of fads, mass-marketing, or penny-pinching. The Cabanas is a very solid gun.
The reddish stock, to my eye, is oddly evocative of something I can't quite put my finger on. It sorta reminds me of the wood furnishings that might be found in a classy 1960′s bar or smoking room frequented by older, well-dressed men. Or something like that. Shaping and finishing does show a decent level of workmanship (if a bit blocky in shape), but the thumbhole is a bit small, I think. It's marginal for me, I can easily see where larger shooters might find it genuinely undersized.
It's a handy rifle at 6.50 lbs. Cocking effort maxes out at only about 20 lbs. (peaking right when the sear is engaged). Trigger effort (direct sear) is on the high side at about 7 lbs., but that's really the only downside to shooting this gun.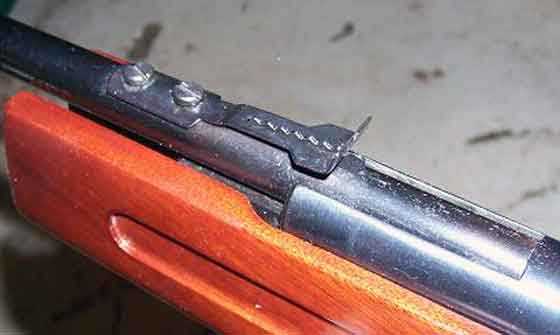 The sights are low & relatively close to the centerline of the barrel.
I especially like the styling of that front sight — very sleek, the way it's almost hidden by the muzzlebrake. But as for function? Middle-of-the-road, at best. The biggest problem was that at 10 yards, I ran out of height adjustment. It still tended to shoot low with the rear sight on the highest notch. The locking-screw type windage adjustment (a la Crosman 1077) is also a bit cheap but less of an issue. Sight picture is good, though, with the front blade sized well for the rear notch.
At this point, I'm ready to start shooting the gun, and y'all might be expecting what B.B. does…velocity tests followed by accuracy. I'm taking a slightly different approach and doing the accuracy test first, since there's no reason to chrono the gun with pellets that shoot like poo. So, accuracy testing is up first.
Being a naturally boring person, I decided to run this test with a set of very run-of-the-mill ammo. Budget-concious pellets are definitely on the menu, and I'll round it off with Premier 7.9 grains.
The pellets I used for the record.
Half the pellets are Crosman, beginning with the old Copperhead Competition wadcutters (shown upper left) that have been a staple of indoor shooting for 20 years or so. The pellets below that are Crosman Hunting Pellets, which are pointed – but not with the straight-sided cone common to pointed pellets. This one looks more like a Premier that's told a lie or two to the pellet packer at Crosman. And despite the fact that they're cheap — $14/1250 at Pyramydair. I find that in some guns they shoot about as well as doomed Premiers even at longer ranges. This performance starkly contrasts with the more expensive (and conventionally designed) pointed Premiers, which I've found to be absolutely horrible.
The next column shows the Premier Hollowpoints that I'll be testing and an old box of standard doomed 7.9-grain Premiers. Generally, I find that the HP's shoot just about as well, I'll be curious to see if the same holds true here.
Next over, we have the new Gamo Match, which is no longer the Gamo Match, if you catch my drift. They changed the design of the pellet a year or two ago — and in my experience, not for the better. Below that is ANOTHER pellet that's no longer the Gamo Match — the Daisy Precision-Max. I've generally found this to be also an inferior pellet, but a few guns do like them.
The last two are the RWS Diablo Basic (used to be the "Geco") and the not-really-Beeman-because-they're-made-in-China Beeman Wadcutters. The RWS pellets look to be very well made, and some guns just love them. I generally have a bit less success with the Beeman pellets — but it depends on the rifle.
Now, as to the testing procedure. I planned to put 5 shots of each pellet through the gun before shooting two 5-shot groups side by side. This will get the barrel "used to" the new alloy before shooting for the record, something that I've found to be significant. All shooting will be done over about 10 yards in my basement, so wind will be a non-issue.
I started rattling off groups using the open sights and immediately identify 2 problems. First, I'm tearing up the bullseye. While this sounds good, the fact is that I prefer to have the group OFF the bullseye, so I'm always sighting on a clean target. I don't want to mess with the windage because there's no easy way of setting back to exactly where it was, and I didn't want to lower the sight because my target paper put the lower dots near the bottom of the trap. Second, my eyes have managed to get even WORSE than the last time I did any serious testing.
And then I found the loose stock screws. So, I threw out all the targets I already shot, tightened the screws, mounted a 3-12x40AO Centerpoint scope and dialed it in.
First up are the Crosman Wadcutters:

Don't know what's up here: .87″ and .40″? Not very consistent, is it? Well, we'll see how the next pellets do:
The Crosman Hunting Pellets don't disappoint and punch out passable .40″ and .38″ groups. Which, on balance, is a bit better than the Premier Hollowpoints:

…which came in at .45″ and .40″. The boxed Premier Lights, however, were the best of the Crosmans at .33″ and .35″:

The Daisy Precision-Max pellets didn't live up to their name:

At .58″ and 1.06″ they did the worst average group out of this gun, although the new Gamo Match pellets were certainly vying for top dishonors:

At least they were more consistent at .80″ and .70″.
The real star in this gun was the RWS Basic (not an uncommon occurrence) which went into a pair of .33″ groups:

In my mind this just further confirms them as one of the best cheap pellets out there. Beeman's best of .31″ was slightly better:

…but it's worst of .53″ would seem to indicate that it's not as consistent.
With the accuracy test over, I'm now looking at putting some shots over the chrony.
I know that this review isn't really useful as a review for a potential purchase. Considering it's rarity, you're not very likely to find one in the used gun market. I've even wondered if this one was a sample for the importer, and that no others were even brought into this country. Next to this thing, the Sterling is as common as a Toyota Corolla.
Since all I'm doing is a curio writeup, I decide I'm only going to do one pellet to show the general velocity range of this gun. I decided to use the most accurate pellet of the test — the RWS.
Ten shots across the chrony yield the following results:
711
700
710
716
706
707
713
710
710
705
A 16 fps spread is pretty good, and the muzzle energy of 7.5 to 8 ft-lbs is sufficient for plinking out to 40 yards or so.
Overall, this Cabanas is an enjoyable, mid-range airgun that seems to be a bit easier to shoot and a little less pellet-fussy than my experience with that other Mexican brand. A better trigger (like, for example, the Mendoza unit) would make it positively delightful.
That wraps up the Cabanas. And, now, if I ever do a search on this rifle again I'll probably get twice as many hits on it as I did before… because half of them will point me back to my own review! Maybe some day I'll be able to dig up a bit more on this; and if ANYone has any more information on this pup, I'm all ears.
by B.B. Pelletier
Okay, Grasshopper, enough Wax on! Wax off! It's time to use your skills.
If you've been following the discussions over the past month about accuracy, you should now have the tools to be a pretty good judge of the potential accuracy of an air rifle and the relative ease with which that accuracy comes — even before taking the first shot. We'll confine today's discussion to just spring-piston guns, since they're the most difficult to shoot.
How a spring-piston airgun works
This is a review for many of you, but we have enough new readers that perhaps it's good to go over the points of how the spring-piston gun works. What I'm about to say holds true for guns with gas springs as well as guns with coiled steel mainsprings. They all work the same when it comes to their operation.
When the sear releases the piston, the piston starts moving forward rapidly at 50-60 miles per hour or 73-88 f.p.s. Unless there's something like an anti-recoil mechanism to prevent it, the gun starts moving in the opposite direction. Since the piston weighs but a fraction of the weight of the whole gun, the gun's movement is very slight.
Within a few hundredths of an inch of the end of its travel, the piston has compressed the air in front of it as high as it will ever go…given the piston diameter and length of the piston stroke. Due to this compression, the temperature of the air has also increased to a very high point. The piston wants to slam into the end of the compression chamber, but the thin cushion of highly compressed air actually slows it down and can even stop it. The pellet in the breech is sealing the air in front of the piston, and it hasn't started moving yet.
However, at some point — and that point changes with each pellet used, the pellet can no longer remain stationary. There's too much force pushing on its tail and it begins to move down the bore. The piston can now go all the way forward and rest against the end of the compression chamber, or it may have done so already and rebounded off the air cushion and now needs to go forward again. Each different type of pellet will determine exactly how this relationship of movement plays out, which is why some pellets feel good when you shoot them and other pellets seem to make the gun buzz and vibrate and even make noises that you may never have heard before.
When the piston reaches the end of its travel, it stops suddenly. When that happens, it imparts a hammer blow to the airgun, sending it in the same direction the piston was traveling. This is the second recoil, and it's much more noticeable. At this point in time, the pellet is probably between three and six inches down the barrel and the entire gun's moving.
The movement is in several forms. First, there's high-speed vibration running through all the parts of the gun. You can't see this vibration, even on a high-speed camera, but you can feel it. This is the buzz that you feel from some guns, and it can be so sharp that it actually hurts to hold the stock against your cheek.
Next, there's a lower-speed vibration that's both larger and much slower. If you had a high-speed camera, you could actually see the various parts of the rifle moving. The pellet is still inside the barrel when this happens.
Finally, there's the recoil in both directions. Both are visible on a high-speed camera; and the forward movement, assuming we're talking about a conventional spring-piston setup, is by far the largest. The gun starts moving forward before the pellet leaves the muzzle, but completes the movement after the pellet has gone.
Which spring-piston guns will be accurate?
Simply stated, breakbarrel spring guns are the most difficult to control. They may be just as accurate as underlevers and sidelevers, but they're almost always more sensitive to the movement of the gun when it fires. That's not to say that sidelevers and underlevers are not sensitive; but in comparison to breakbarrels, they're less sensitive.
Let's stay with breakbarrels for now. The ones with the longest piston stroke have the longest period of time for movement. That includes the high-speed vibration, the low-speed vibration and the recoil in both directions. As a rule, long-stroke spring-piston guns are the most sensitive to hold, and long-stroke breakbarrels are the most sensitive of all.
Then there's the weight of the piston to consider. A heavy piston causes more rearward recoil when it begins moving and more forward recoil when it comes to a stop. You tend to find heavier pistons in guns with more power.
Put this all together, and you know that a breakbarrel spring-piston rifle that has a long piston stroke and high power will probably be the most sensitive airgun, as far as hold goes. It may be potentially very accurate; yet also be so sensitive that unless the hold technique is perfect, it'll spray pellets everywhere.
Listen to this!
When I was doing the testing that lead to my R1 book, I tested my .22-caliber Beeman R1 with the factory tune and then with four different custom tunes. One of the tunes — from Venom — increased the power of the 18 foot-pound rifle to 23 foot-pounds, but it also removed nearly all vibration. It was by far the smoothest tune for that rifle. As a result, the rifle became easier to hold and shoot.
I then destroyed all of the mainsprings used in the testing by leaving the rifle cocked for a month with each of them, so the Venomac Mag-80 LazaGlide tune went away. While I had it and used it, I learned that it's the vibration and not the power of a gun that determines how difficult it is to hold.
That tells us that if the gun is powerful without vibrating, it can be easier to shoot. You might think that a gas spring would give you exactly that, but they don't always do so. The more powerful gas springs, while smoother than most steel springs of equal power, still vibrate a lot and require compensation with the hold.
What do we know?
If you believe what I've said to this point, then you know what it takes for a breakbarrel spring-piston air rifle to be the least sensitive to hold. It must have the following:
Low vibration
Short stroke
Low recoil
Put all of that together and you'll have a lower-powered, spring-piston rifle. Time for a short story.
Several years ago, I tested a Mendoza breakbarrel called the Bronco, oddly enough, that was very low powered. It had a strange-looking Euro-styled stock with a too-short pull (about 10 inches) and a hideous kidney-shaped cutout in the center of the butt. The stock was firewood, but the action was good. No, it was better than good. It was great!
The gun cocked easily, had a very short piston stroke, a wonderful crisp trigger and an accurate barrel. I proposed to Pyramyd Air that we have this rifle restocked with a western-style stock, like the old Beeman C1 carbine. They agreed, so I found the stockmaker and had the job done.
We then sent the newly-stocked rifle to Mendoza and asked them to create a model that had a similar stock, though with a pull suited to older youth as well as adults and a couple other important changes. Voila! The Air Venturi Bronco that you all know was born. You can call me an airgun designer if you like, but what I really am is someone who knows what it takes to make the right kind of airgun. Mendoza was already making most of it, but they needed prompting to change those few important details that turned their oddball Bronco, which wasn't selling, into our Bronco, which is now a best-buy. It's the same gun, with just a few important things changed. Think of it as the Jeep with the V6 engine that everybody loves, as opposed to the same Jeep with the underpowered 4-cylinder powerplant that someone buys because, on paper, it gets two miles per gallon better mileage. In real life, the details matter.
The Bronco is very insensitive to hold for a breakbarrel and as a result, deadly accurate in the hands of almost everybody. Contrast that with the guy who has to have the absolute last foot-second of velocity, so he buys the air rifle that's guaranteed to make his life miserable — hard to cock, violent when shot and requiring the skill of a concert airgunner to shoot well. He may have some bragging rights; but at the end of the day, the Bronco owner will shoot a lot more and have more fun doing it.
There are many more stories, but I think my point has been made. You now know how to select a spring-piston breakbarrel that will be the least hold sensitive when shot. Now you know why I went bonkers over the Crosman TitanGP (Lower Velocity) that's a really fine shooter.
On to other springers
Let's talk about the underlevers and sidelevers. Within these, there are the underlevers that use a sliding compression chamber, like the Beeman HW97K, and those that have a loading tap, such as the Hakim (made by Anschutz). There are sidelevers with loading taps, as well, but they're not common. Sidelevers usually have sliding compression chambers, like the RWS Diana 48.
For whatever reason, both underlevers and sidelevers are less sensitive to hold than breakbarrels. Of these, the taploaders seem to be the least sensitive of all, though the TX200 Mark III from Air Arms has a sliding compression cylinder and is also very insensitive to hold.
The hold sensitivity for both underlevers and sidelevers does increase as the stroke length and vibration increase. Notice that I didn't say anything about the power. The TX200 Mark III is very powerful, yet still very smooth and insensitive to hold. I would describe it as having a shorter piston stroke.
The RWS Diana 460 Magnum, in contrast, has a very long piston stroke and does need a lot of hold technique to shoot its best. The RWS Diana model 48 sidelever has a shorter stroke than the 460 Magnum and is also less sensitive to hold.
It seems that the same things that drive the hold sensitivity for breakbarrels also affect underlevers and sidelever guns. It's just that these types of airguns start out with an advantage over breakbarrels in the sensitivity to hold.
What does that leave?
I have not discussed any of the other types of spring guns, such as the overlevers (they act just like underlevers) or those that cock via a lever that works in a different way, like the Haenel 310 and the VZ 35. All of these airguns are low-powered enough that they have good characteristics to begin with; as a result, they don't cause any of the hold problems we've discussed.
Other issues
To this point, I've said nothing about the quality of the barrel, the breech lockup, or the overall fit and finish of the working parts of the powerplant. These items do affect the performance of an airgun and will break your heart if they're not taken into account. Some air rifle barrels, for instance, look like 40 miles of rough road and will never deliver pinpoint accuracy no matter what's done to the rest of the gun. Some barrels are crooked from the factory and can never be fully straightened. You can put lipstick on the pig, but that won't change its manners!
The bottom line
What all of this means is that no one has to go into the airgun selection process blind. If you can determine the three important characteristics I've discussed here — vibration, piston stroke and recoil — you can generally know how difficult it will be to shoot each airgun well.
If you want to hunt with your new rifle, then by all means pick one that has plenty of power. But choose it to use it! Now that you've been informed, don't buy a mega-magnum spring rifle, then whine that it's too difficult to cock or too hard to shoot accurately.
Many of the veteran readers on this blog seem to keep harping on the low-powered springers for a reason. Guys like Kevin and others keep going back to rifles like the Beeman R7 and the HW50S because they know what wonderful shooters they are. Don't kid yourself that these guys are not experienced with the powerful springers, too. Most of them have tried the big guns and found they didn't enjoy all that it took to make them do their jobs.
There's a place for the RWS Diana 350 Magnum and the Walther Talon Magnum, but some thought has to be given before purchasing either of them or any other spring-piston air rifle of equivalent power. Both rifles are built for a specific purpose, which is hunting. They're hard to cock and take a lot of technique to shoot to their potential. Neither rifle is the best choice for a first airgun for someone who is either new to airguns or new to shooting altogether.
I hope this report helps some of our newer readers narrow their selections of possible air rifles to purchase next. As always, there will be exceptions to what I have said, but they only serve to prove the general rule.