Posts Tagged 'zimmerstutzen'
by Tom Gaylord, a.k.a. B.B. Pelletier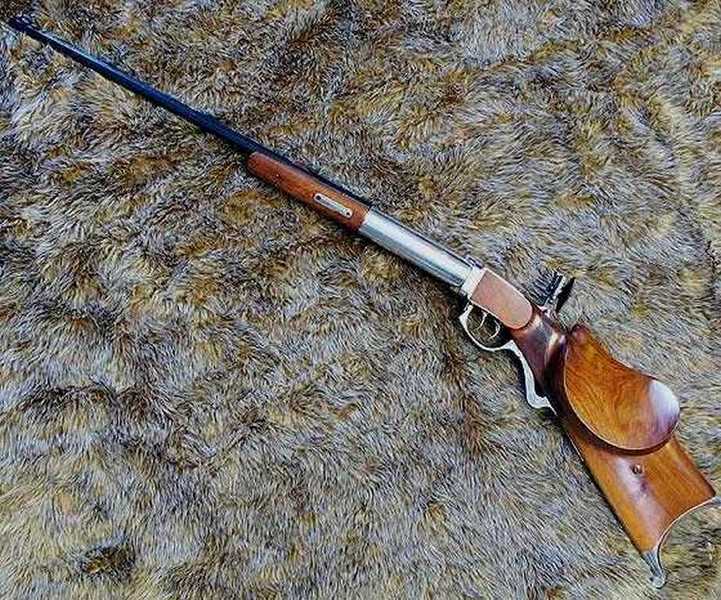 B.B.'s Bugelspanner.
It's been a while since I wrote about this gun, I know. Airgunner Larry Hannusch told me how to disassemble it, and I started…only to stop when I encountered a barrier. I've resolved that barrier, and today I'll show you the inside of my gun to the extent that I've disassembled it.
Larry told me to remove the screws on top and beneath the action that were obvious, then separate the two parts — action and stock. I removed 4 screws, and the action came loose from the stock a little bit. Then, it stopped cold. That was where I stopped working and set the gun aside. Yesterday, I picked it up and began from that point.
A bugelspanner (actually, correctly spelled buegelspanner or bügelspanner since the u has two dots — called an umlaut — over it) translates to a triggerguard-cocker. The triggerguard is pulled down to retract the piston and set the sear for firing.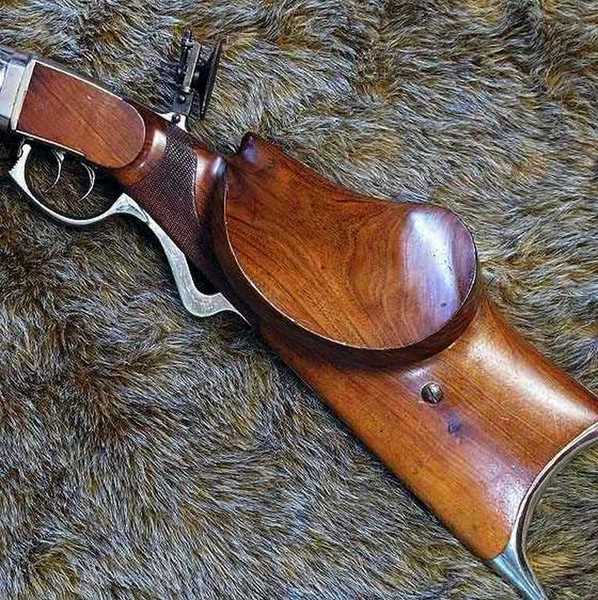 Triggerguard is up in the shooting position.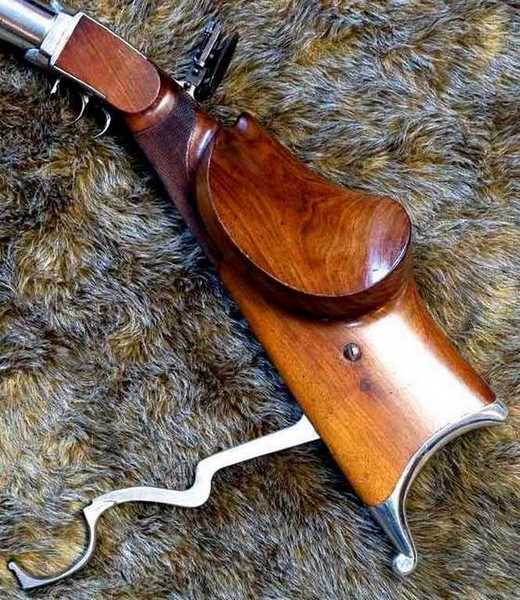 Triggerguard is pulled down to cock the springs.
The triggerguard lever is fastened to a pivoting axle bolt located in the back of the stock. The bolt shows in the photos above. Since this lever is connected to a linkage that's connected to the back of a piston held under tension by powerful mainsprings, it made sense to me that it had to be disconnected from the piston for the stock to separate.
I removed the bolt that screws into a very long bushing inset into the opposite side of the butt. Then that bushing was tapped out the other side of the stock. But the cocking lever wasn't quite free. At the top of the triggerguard lever, the cocking linkage passes through the lever and is prevented from coming free by a small screw that passes through one end of the linkage. I have arranged the two parts and their screw below for you to examine.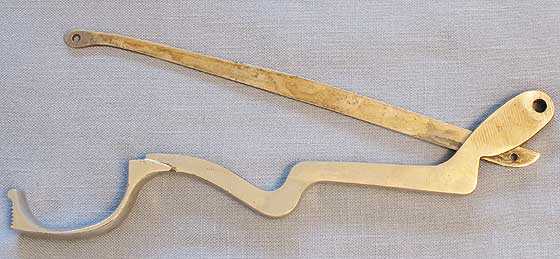 The triggerguard and cocking linkage, arranged as they are in the gun — I think! Until I assemble the gun, again, I won't be sure of the correct orientation of the cocking link.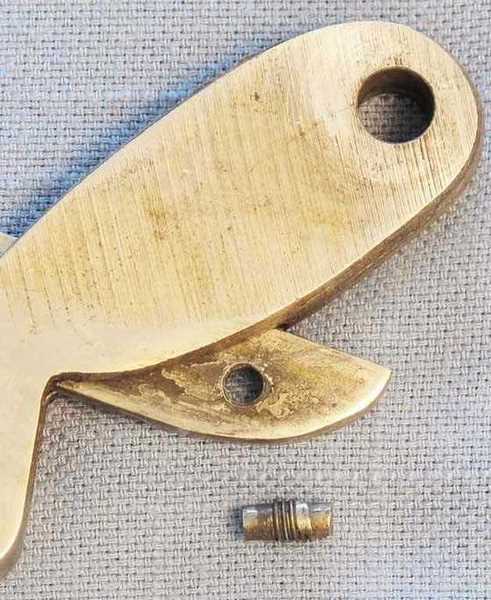 That tiny handmade screw goes through the hole in the cocking link and prevents it from slipping through the triggerguard when the gun is cocked. Notice that it has two smooth bearing surfaces — one on either side. As the gun is cocked, the cocking link moves up and down in the cocking slot that's in back of the triggerguard. It's a moving fulcrum.

This is the triggerguard lever pivot bushing and screw on which the lever pivots when during cocking. Note the smooth band around the base of the bushing. We may assume that's where the pivoting happens.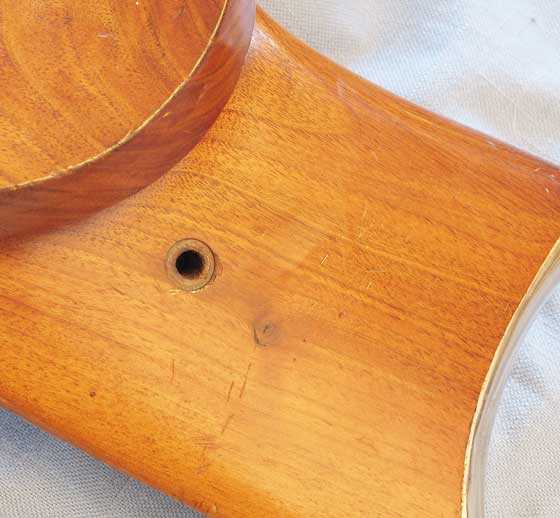 The screw and pivot bushing have been removed from the stock.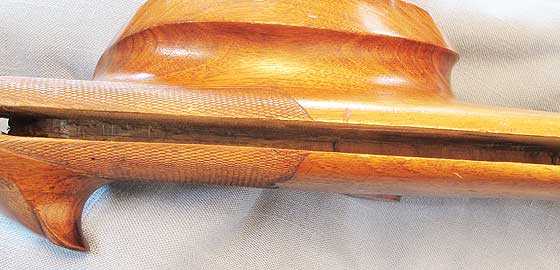 The entire underside of the stock is open, allowing room for the cocking linkage to move.
When I removed the cocking link from the back of the piston rod, I found the screw that attached the link to the piston rod was sheared in two, plus the rest of the screw was very mangled from pressure and work. Clearly, this part is too soft and also overworked.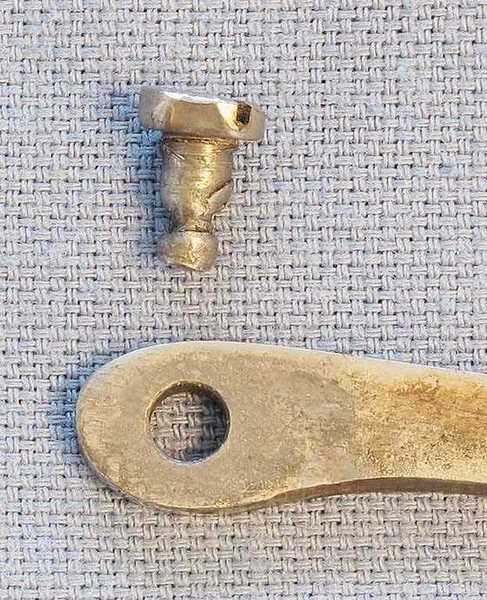 The screw that holds the cocking link to the rear of the piston rod is mangled and galled from too much strain. The threaded portion remains in the back of the piston rod and needs to be removed. This part may need to become a roller bearing.
The first part to come off the gun was actually the top action plate that also holds the rear sight. It is the anchor plate for 2 long screws and one short one that holds the action together. Once they were out, the plate didn't come off without a lot of wiggling and some prying.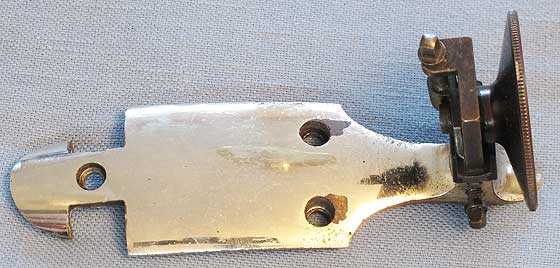 Three screws, and the top plate came off with the rear sight attached.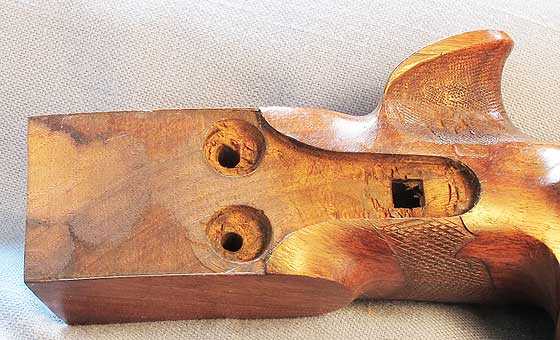 This is where the top plate came from.
The gun is now partially disassembled. The double-set trigger mechanism is exposed and can be disassembled and cleaned, but the piston is still under compression inside the compression chamber that hasn't yet been separated from the barrel. To see the piston and mainsprings, The backplate that the piston rod passes through has to be drifed down out of its dovetail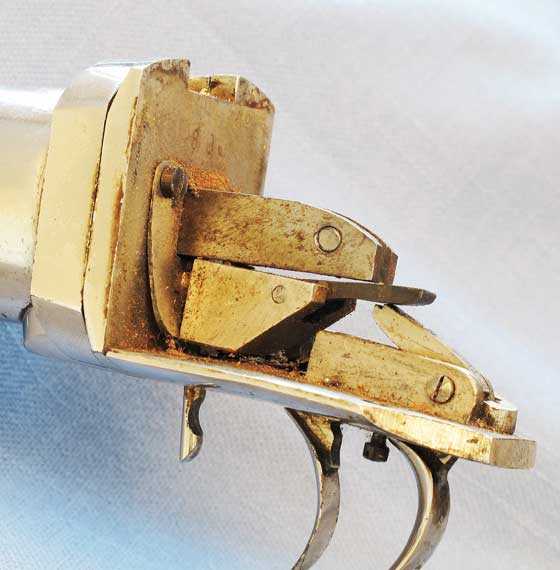 The double set trigger assembly is now exposed for cleaning and possible disassembly. To remove it from the gun, it's tapped down, freeing its front dovetail.


The double-set trigger assembly must now be removed downward from the cylinder dovetail, freeing the trigger plate and back plate from the cylinder and relieving tension on the mainsprings.
I found the number 80 on many of the larger, unique frame parts. I believe that's either a serial number or an assembly number to keep all the parts together because this gun shows a lot of handmade parts and hand-fitting.
When I open the barrel, I see some dark particles that I believe are small chunks of leather that have broken off the piston seal, so it may be deteriorating. And I need to look at the condition of the mainsprings, plus probably lubricate them just a little.
The bottom plate on which the double-set trigger sits is dovetailed into the frame (the rear of the compression/spring tube). It has to be pushed straight down to relieve tension on the mainsprings, and I do this with by tapping with a rubber hammer. The plate comes out of the dovetail easily enough; but the double volute mainsprings are under considerable tension even at rest, and the trigger plate and separate backplate fly off the gun along with the volute springs.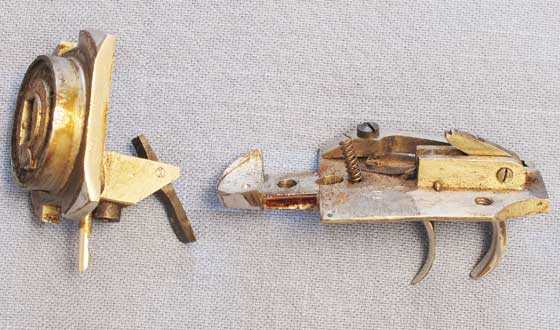 The trigger plate has a dovetail at its front that grabs the rear of the cylinder and holds the powerplant together. The cylinder back plate (left in the photo) is held between the 2 parts. The black part that's flopping down on the back plate is the sear.
The piston can now be withdrawn, and I can see that the leather seal has, indeed, deteriorated. The part that comes in contact with the air transfer port is damaged from repeated impacts. I think I've found the reason the gun fired so roughly.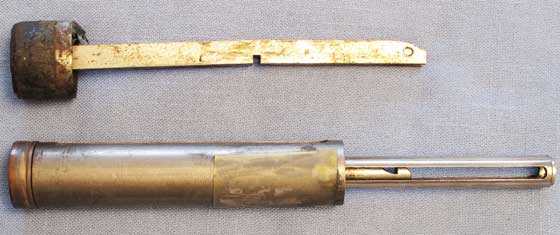 Bugelspanner piston at the top is much fatter than the Beeman R1 gas-spring piston unit below, but the stroke is also shorter. The notch in the bugelspanner piston rod is the cocking notch.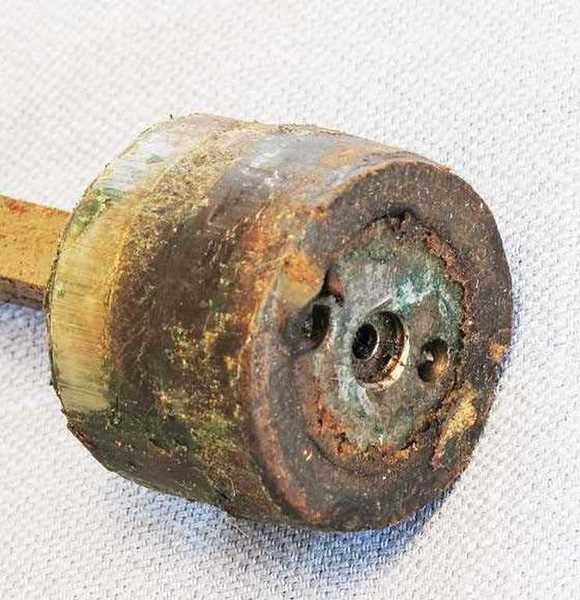 The leather piston seal has deteriorated. It looks okay, but it's crumbling and flaking off. This is why the gun fires so harshly.

Double volute springs attached to a central guide for the mainsprings of the bugelspanner. They're in good condition but very dirty and dry.
The double-set trigger has a weak front trigger leaf spring, which accounts for it not setting well and firing too easily. That will also have to be corrected.
The inside of the compression chamber is filthy, but it doesn't seem to be damaged. A good cleaning is all it needs.
For many of you, looking inside this airgun is probably like looking at the dark side of the moon. So many of the parts appear foreign to your eyes. All that has really changed over the years, though, is how the parts are designed. They work in the conventional way that modern spring-piston parts work, so they must be corrected in the same way that a modern spring-piston powerplant would need to be.
There are numerous major repair jobs that must be undertaken before this airgun will shoot again. There's certainly lots of cleaning, which is followed by careful lubrication of many of the parts.
Some new parts have to be fabricated, as well. That will not be an easy task, but it's worth the effort. I know you were hoping to see a test real soon, but that's not going to happen. I have to feel my way around this gun carefully; because if every job isn't done right, the gun won't work when it goes back together. I'll go about the work methodically and take some pictures as I go, but I probably won't report on the gun again until all the work is completed.
by Tom Gaylord, a.k.a. B.B. Pelletier
A number of our blog readers suggested this report in various different ways. GunFun1 asked about the darts that might have been used in the old Tyrolean bugelspanner I wrote about. What did they look like, and why were they so accurate? He also talked about making a bugelspanner room in his house, where he could shoot the bugelspanner to his heart's content.
Several others asked about the darts and wondered why I thought darts were more accurate than pellets. Today's report is not about the darts, although I must share some exciting news with you on that front. Larry Hannusch, who is without a doubt the leading writer of vintage and antique airguns, read about my bugelspanner and is sending me some original pre-war darts that I can show you. So, there will be a Part 2 to that report, thanks to Larry, who also helped me remember how to disassemble a bugelspanner. I hope to take it apart for you and show you the insides in the same report.
But let's go back to the notion of a bugelspanner room. That put me in mind of my past experience with guns — indeed, all of it. And that brings me to the story of how I became who I am.
Where it all started
I started out very young, as I'm sure you must have guessed. I was a very curious lad who was also quite naive — more prone to believe legend and myth than facts. I wanted Paladin to be faster on the draw than anyone else. I wanted Superman to be real (I mean the real Superman, George Reeves, who was killed June 16, 1959, by a 9mm bullet in the head under suspicious circumstances). And I sort of liked guns — sort of.
Then, I was given a subscription to Guns & Ammo magazine as a Christmas present. On the cover of the first issue was the picture of a zimmerstutzen rifle. Inside, I read the story of shooting these curious parlor rifles on cold winter evenings high in the alps. I guess that shooting was very similar to the circumstances under which our parents walked to school — uphill both ways for 10 miles and always in the snow! For some reason, when you talk about target shooting in Germany it's always associated with beer and it's perpetually winter.
Whatever the magic was, I was smitten. I wanted a zimmerstutzen in the very worst way! Maybe that's why I considered a career in the Army and embraced my first overseas posting to Erlangen, Germany, a suburb of Nürnberg. I knew I was going to northern Bavaria, so I pictured all the men wearing lederhosen and the women in dirndls. In my mind, Chevy Chase's European Vacation was about right.
Well, culture shock set in when I saw what Germany was really like. I felt like a refugee from Afganistan when walking amongst those upscale, sophisticated Deutchlanders, whose spoken English was better than mine! I spent nearly 4 years there and never saw a vintage zimmerstutzen, though I saw plenty of modern ones made on .22 rimfire bolt-action rifles. I lived in the hometown of the famous BSF airgun factory for 42 months without knowing it; and when I returned home, I was no further along in my quest than before I went.
But once back in California, I did buy a German Aydt falling-block rifle chambered in .22 long rifle. It was a Tyrolean-style rifle. too, just not in the traditional 4mm zimmerstutzen caliber. So, I set up a Sheridan target trap (Sheridan once made a .22 rimfire trap) in a schrank (a freestanding cabinet that serves as a closet in Germany) in the living room of my government quarters at Fort Knox. Then, I stood in my dining room and fired CB caps into the target from about 19 feet away. This was all offhand, of course.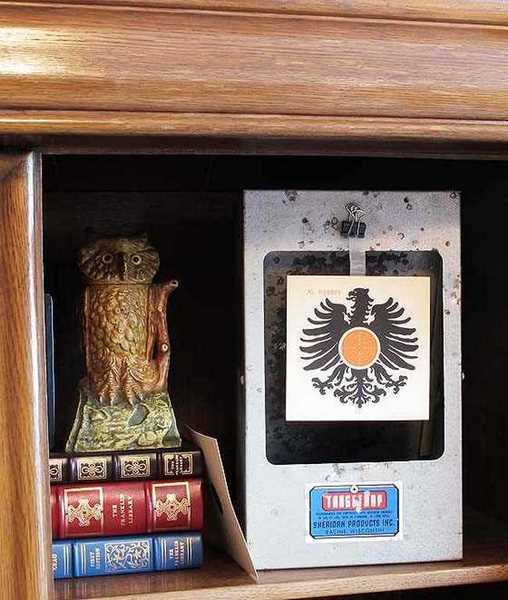 The very target trap and schrank at which I shot back in the 1970s. I kept the schrank and the trap but sold the rifle. Where are my priorities? Zimmerstutzen target came from collector Gary Staup.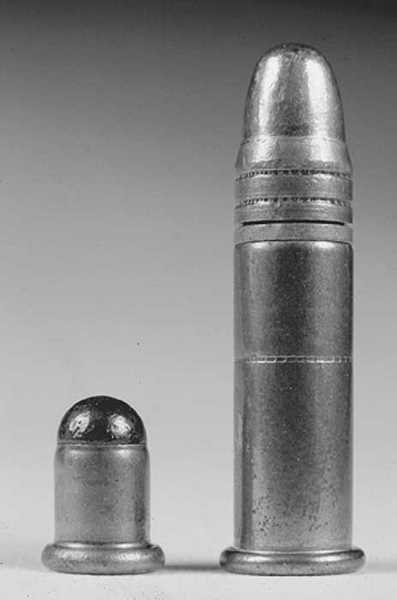 The 4mm zimmerstutzen cartridge (left) is dwarfed by the .22 long rifle cartridge.
The rifle had a 5-lever double-set trigger, which was especially fine. And its 28-inch barrel ate nearly all the discharge sound of the CB cap cartridges I shot, so it was quiet enough for indoors. I'm describing to you my "bugelspanner room." I didn't shoot when the family was home, for safety reasons; and, in truth, I didn't shoot this way very much. But in my mind, I'd finally gotten my zimmerstutzen. All I needed was a keg of beer in the dining room!
In those days, I didn't take very many pictures, so there's no picture of that gun. But it looked very much like my new Bugelspanner, so I'm sure you can fill in the blanks.
Then I got divorced, left the Army and had to sell all my guns to pay bills. Then I met Edith and got married again. Then she suggested I write about airguns and I did. Then I happened to stumble across an airgun owner who was puzzled as to what gun he had. It turned out he had a real zimmerstutzen — which I bought, tested and wrote about. While researching the topic, I met John Gary Staup, America's foremost schuetzen and zimmerstutzen collector, and he helped me research the article that I eventually published in Airgun Revue No. 2. It was the longest article about zimmerstutzen rifles ever printed in the English language, as far as Gary or I were able to determine. And that article is posted for you on this website in its entirety.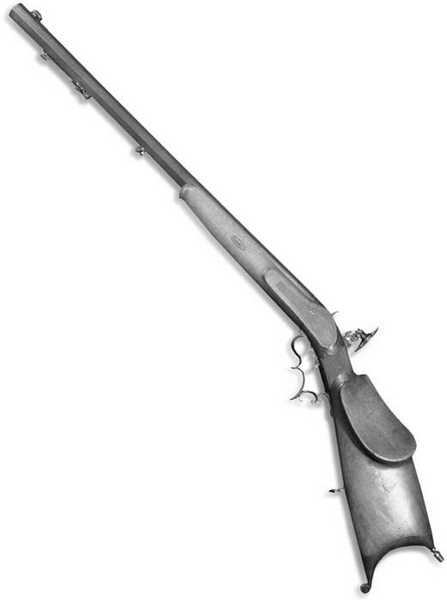 My first zimmerstutzen, and the one that I wrote about the most. It was 4.3mm caliber and used separate ammunition.
How accurate?
Of course I tested the zimmerstutzen for accuracy. After searching for one for so many years, I'd high hopes for stunning accuracy. Zimmerstutzens shoot at 15 meters instead of the 10 meters we're used to; but when I tried mine, it was on my standard 10-meter range. The accuracy wasn't as good as I'd hoped. First, of course, those round lead balls tear ragged holes in the target paper, unlike the wadcutters that target air rifles use. The targets look worse and are much harder to score. Five shots went into about a half-inch or so.
The gun was very loud, and the velocity of the 7-grain lead balls was highly variable — from 800 to over 1,000 f.p.s. It wasn't as pleasant as the myth I'd created in my mind over the years, which was a real let-down. Vintage target air rifles were more accurate than this thing I had been pursuing for over 3 decades. It kind of took the wind out of my sails. I did have a second zimmer for a short while; but I bought it as an investment, only, and I never fired it.
When I saw the Tyrolean bugelspanner  of airgun collector Don Raitzer on display at an airgun show, my interest piqued, again. Bugelspanners are not known for their accuracy, so why was this one outfitted for extreme competition? I also saw Larry Hannusch's Tyrolean bugelspanner at the same show and got to wondering. What were these strange things all about? Who uses a paddleboat to go water-skiing? Photos of both those guns are in the linked zimmerstutzen article, if you're interested.
When I say things like my interest piqued, I don't mean that the subject occupied my every waking moment. More like every couple of months I would give it a casual thought. So, things moved very slowly while these thoughts percolated on the back burner of my mind. A few weeks ago, when the opportunity to own a Tyrolean bugelspanner arose, I was spring-loaded for it.
Which brings us to the present time. I now know that zimmerstutzens were accurate for their time, but they weren't better than the 10-meter target air rifles we have today. They weren't infallible. And it's my guess that the dart guns of the 18th and 19th centuries were also not as accurate as the reports make them out to be.
So, I'm still wondering why anyone would go to the effort and expense of making a dart gun with all the features of a super-accurate offhand competition gun. And I guess that's what keeps this hobby fresh and exciting for me.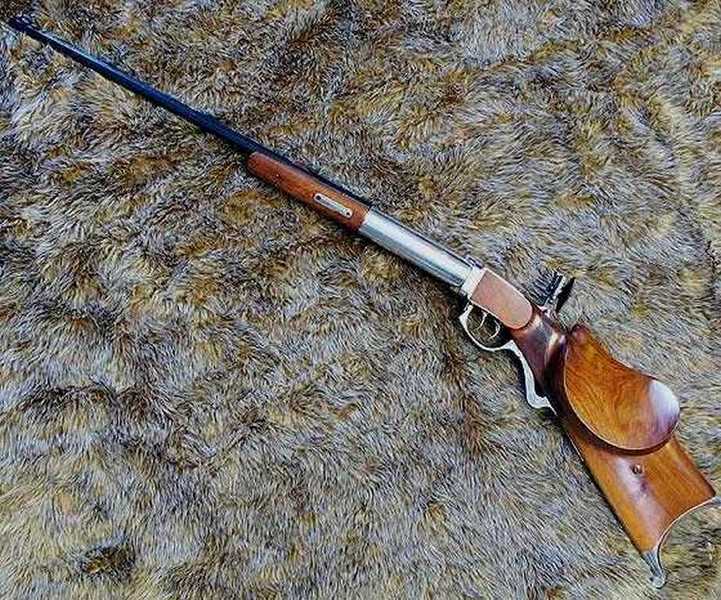 Why did the makers put so much accuracy potential into a smoothbore dart gun?
This is just one of the things that defines me. My time working as a ride operator and deputy marshall at Frontier Village amusement park in San Jose, California, is another part. That was when I read Elmer Keith from cover to cover and shot guns for a living as part of the hourly gunfights in the park. But what made me a lover of quirky single-shot rifles was my 30-year saga in search of the German zimmerstutzen.
by Tom Gaylord, a.k.a. B.B. Pelletier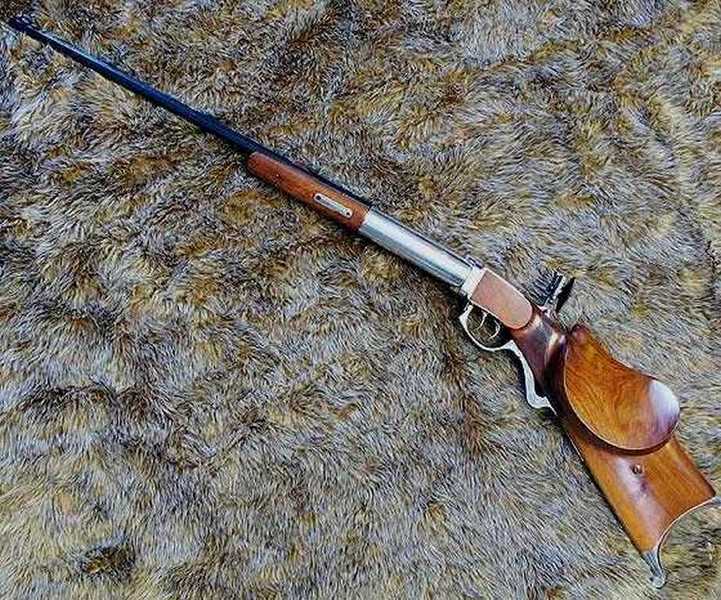 B.B.'s bügelspanner.
Today, I have a story for you. A couple weeks ago, one of our blog readers — a man named Eric — emailed me a link to a local craigslist.com posting. Eric met me at a gun show last year, and I sold him a Winchester model 427 (Diana 27) air rifle. He already knew about fine vintage airguns, and the 27 had been on his wish list for a while, but I don't think he was a blog reader. Well, we fixed that right away! Since then, he's been reading the blog and becoming more familiar with his new rifle and airguns in general
The listing he sent me showed a Tyrolean air rifle with the traditional high-cupped cheekpiece and hooked buttplate. What was even more fascinating were the double-set triggers and the large aperture sight located at the rear of the receiver, as well as the sporting sight mounted on the barrel.
The gun was a bügelspanner, or loosely translated, a triggerguard (lever) cocker. I've owned 2 bügelspanners in the past, but neither was as nice as this one. And the funny thing is that this was posted on craigslist! That's funny because guns are sold on gun websites — not on a general website like craigslist.
But this posting had lasted for a minimum of 2 weeks before I saw it. So, I contacted the seller and, glory be, he still had it! We met last Sunday, did the transaction and this was one of those rare times when the gun was exactly as represented.
The gun is a smoothbore .25-caliber gun. The seller, named Joe, told me he had owned it for the past 34 years and had gotten it at the age of 8 as a gift from his father. The gun is much older — probably dating back to around the 1920s or '30s.
It's a spring-piston gun that has 2 opposed volute springs that compress against each other. They push a leather-covered piston in the same way that a coiled steel mainspring does in a conventional spring-piston gun, so this is just an odd form of spring-piston airgun.

Two volute springs push against each other when compressed.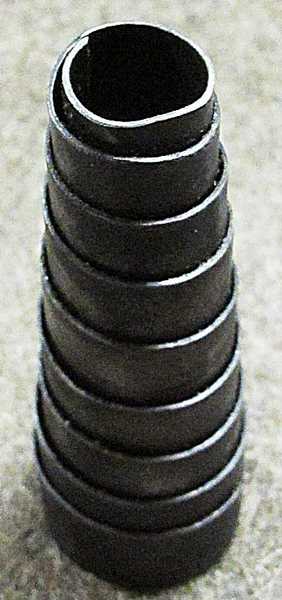 The volute spring is a flat spring that's been coiled and stretched into this shape.
Zimmerstutzen style
I was attracted to this airgun because of a long, abiding interest in zummerstutzens — indoor gallery or parlor guns used for target shooting. I've been fascinated with them since I was a teenager and first read about them in Guns & Ammo back in the early 1960s.
The zimmerstutzen rifle is usually found in the Tyrolean style, but not always. It's nominally 4mm, but there are more than 20 specific calibers for which the guns were bored. They fire either fixed ammunition (a cartridge) or separate ammo with a percussion cap and round lead ball loaded separately. Rather than get into the full description here, I invite you to read my full article about them. I normally don't like giving homework assignments; but if you read that article and look at all the pictures, you'll have a much better understanding of the gun we're examining today.
The subject gun
I was inclined to believe the subject gun is a dart gun, but what little historical documentation there is mentions using pellets as well. I thought it was a dart gun because it's set up for extreme accuracy, and I didn't think that pellets could be that accurate in a smoothbore barrel. But we did do a test of the Diana 25 smoothbore at 10 meters and established that it is, in fact, very accurate at that distance. So, I really don't know if I'm supposed to shoot darts or pellets in this gun. For the present, I only have pellets because .25-caliber darts are not that common. But I could certainly make some.
This type of gun either fits or doesn't fit — there's no in-between. I'm lucky that it fits me pretty well. But that sporting rear sight does get in the way of seeing the front sight. I would have to remove it to use the rear sight.
Why a sporting rear sight? Shooters in the US are not familiar with how European airgunners view target shooting. They use their guns for both precision target shooting and also for sporting use. I guess the best comparison would be to the Hunter Class of field target. Therefore, European target guns often have both a precision rear peep site and a second sporting rear sight located somewhere on the barrel. The subject gun has both.
The front sight is a fine post and bead, which is typical of all zimmerstutzens and, indeed, of many target guns from the 19th century. This sight is very fragile, so it's protected by steel "ears" on both sides.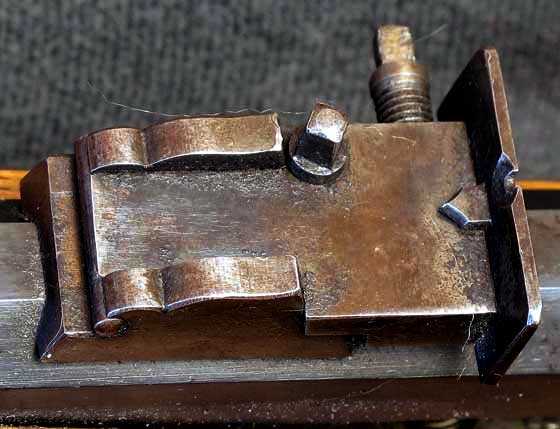 The sporting rear sight is adjusted in both directions by a clock key.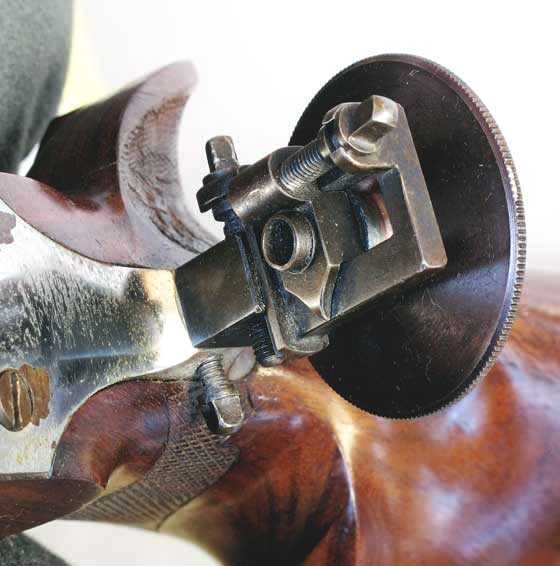 Rear peep sight is also adjust by a clock key and can be removed to use the sporting sight, only.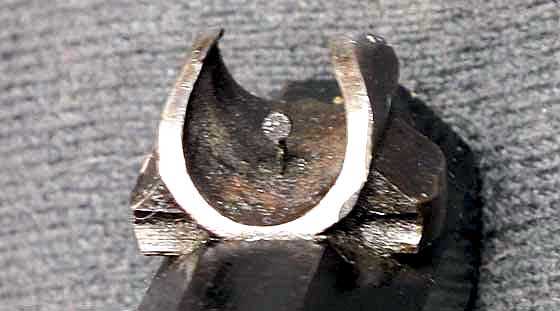 Front post-and-bead sight is delicate, so two steel ears protect it.
The gun has an octagonal barrel, which dates its manufacture to before World War II. It's impossible to get a more precise date than that because these guns were made from the beginning of the 20th century until the early 1950s. The octagonal barrel also suggests a time before 1940. Most likely this gun was made in the 1920s or 30s, but I have no way of proving that.
The name Original is engraved on the barrel. Several sources say that this is a name used by Oskar Will in Zella Mehlis, Germany; but one source says that name, by itself, was used only by his competitors, and all of his guns also have the word Will on them, as in Original Will.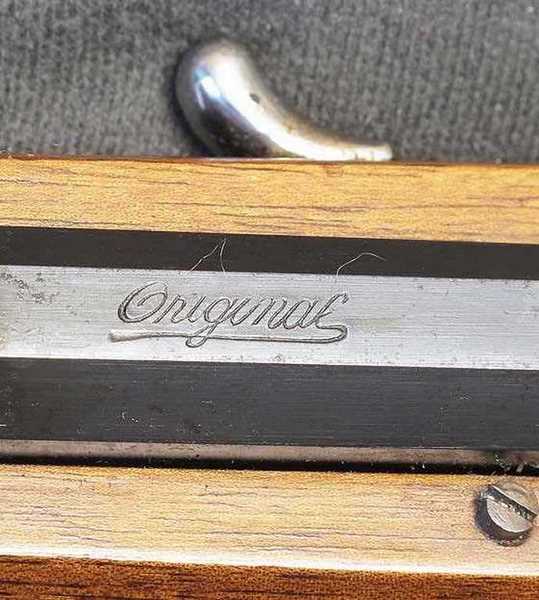 The name Original may mean this gun was made by Oskar Will of Zella Mehlis.
The gun is cocked by pressing down on the triggerguard, which is actually a long lever pivoted near the bottom rear of the butt. You can see the pivot pin sticking through the rear of the buttstock. A linkage pulls the piston back, compressing the two springs. To load the gun, you press a catch forward on the right side of the forearm, and the rear of the barrel can then be tipped up. You could call this a breakbarrel, but the barrel doesn't have anything to do with cocking the springs. In that respect, the gun is like the breakbarrel Whiscombe rifles.
The cocking effort is pretty demanding. It's on the order of 40 lbs., at least. I can't see how a boy of 8 was able to cock this gun, but maybe his father cocked it for him until he grew into it.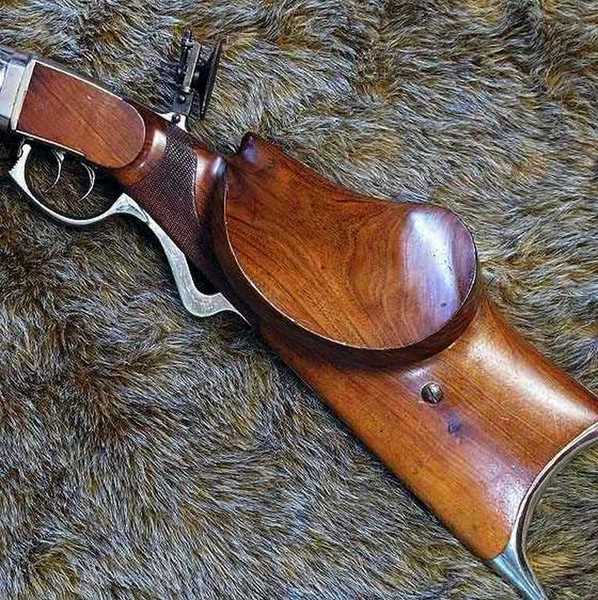 Triggerguard is shown up…in the firing position.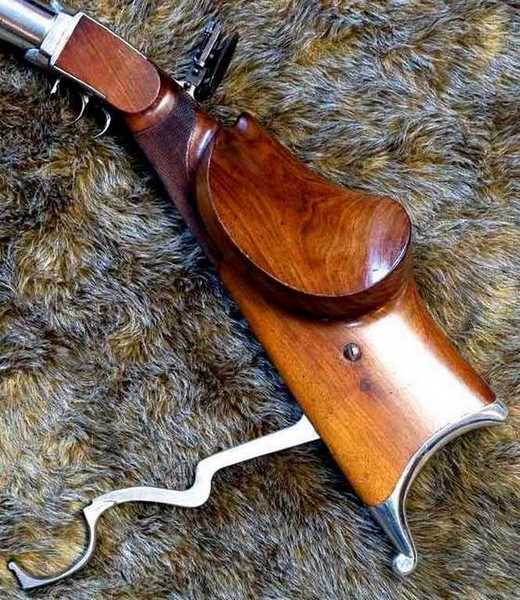 Triggerguard is pulled down to cock the springs.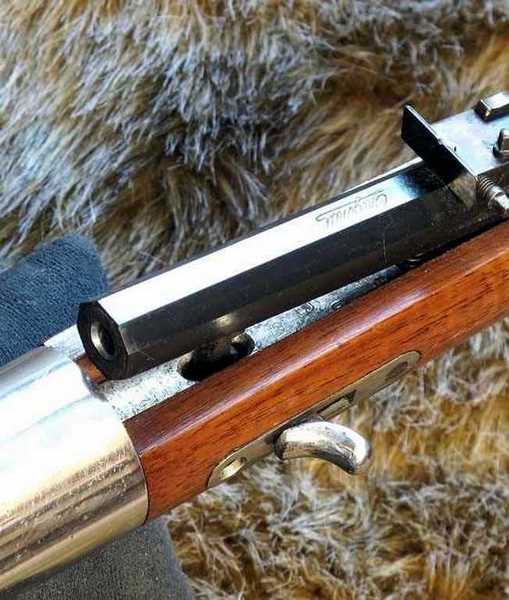 Push the catch forward, and the barrel can be tipped up for loading.
The double-set triggers on this gun are interesting. They work in the normal way — the rear trigger is pulled to set the front trigger and the front trigger fires the gun. However, there's one difference. Many guns with double-set triggers will also fire when the front trigger is pulled without being set. This gun will not. If the trigger is not set, the gun cannot be fired.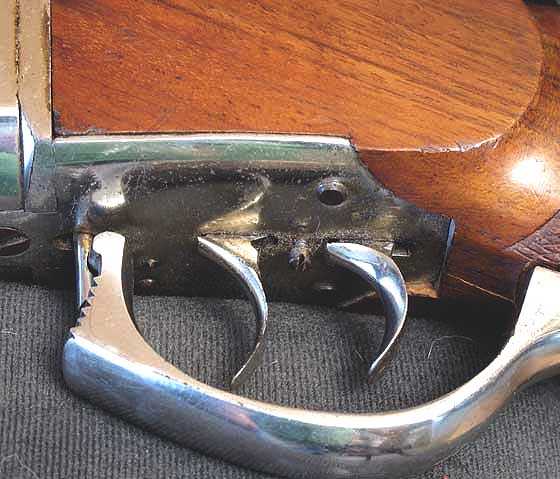 Double-set triggers function normally, except the gun won't fire unless the trigger is set. Many double-set triggers will fire when the front trigger hasn't been set, but not this one.
Joe told me he shot the gun, so I figured it would be okay for me to do, too. First I dumped about 20 drops of 3-In-One oil down the air transfer port and gave it an hour to soak into the leather piston seal. The, I loaded an obsolete 20-grain Diana Magnum pellet and shot it into the trap from just a few feet away. The firing cycle was very harsh, so I won't be doing that, again, until I can examine the condition of the powerplant. I could hear how slow the pellet moved, which leads me to suspect I'm right about this being a dart gun.
The gun is stocked with a light-colored walnut that's checkered on the straight pistol grip. Also typical of the Tyrolean stock is the thumbrest that protrudes from the right side of the grip. That makes this a definite right-hand rifle!

This top view shows how thick the buttstock blank had to be to begin with!
The gun's metal is finished with a combination of heavy nickel plate and hot-tank bluing. I would put the finish at 80-85 percent, which is to say…a lot! There are pepper tracks of rust scattered around the blued barrel, but an application of Ballistol and steel wool has begun to remove them. I'll keep this up for as long as it takes to get down to smooth metal.
The future
This report will not follow the traditional pattern of velocity testing followed by accuracy testing. For starters, I think the gun is too fragile to shoot that much, plus it does fire harshly. I need to find out what's going on inside before I do much of anything.
I made this Part 1 so I could come back to it with a second report, though I have no plans for that right now. But as I learn more about it, there will be enough information to make an interesting Part 2.
by B.B. Pelletier
I have to write this report while it's still fresh in my mind! I had a table at the Dallas Arms Collector's Show this past weekend and had another chance to study human nature and salesmanship firsthand. Some of the things I learned were priceless if you want to either buy or sell airguns, firearms and related things.
Know what you have
This seems obvious. Why would anyone put something up for sale if they didn't have a clue what it was? And, to compound the error, they then demand top dollar for it! Oh, they could find out what the value was — they just didn't bother learning anything else! Here are two examples.
I saw a zimmerstutzen on a table at this show. A zimmersutzen is a small-caliber target rifle used for indoor competition at 15 meters in Germany, Austria and Switzerland. Until 10-meter air rifles came out in the 1950s, zimmerstutzens were the most accurate close-range rifles. I wrote a large article about them if you want to know more about the type.
So, here's a zimmerstutzen. It's a low- to medium-quality example, but it has the rear sight that's often missing and the price is $1,200. If I really bargained, I think I could have bought it for $1,000, which it's certainly worth. But, when I asked the dealer what caliber it was, he said it was a 4mm! All zimmerstutzens are 4mm, but that's just a generic caliber. There are more that 20 different actual calibers of these guns, and it really matters that you get it right! It's the same as asking the caliber of a Beeman R1 and being told that it's a pellet rifle.
So, here's a guy selling something for $1,200, and he hasn't got a clue what caliber it is! Why isn't this a $500 gun? What makes it worth $1,200? If I asked him that question, he might have responded that he found that was what people were asking for them when he looked them up online. Why didn't he go the extra mile and find out what caliber it was? Oh, and he had two tins of ammunition for the rifle — both of which were in the wrong caliber, because we finally figured out that this was a No. 5 new-number gun, which is 4.2mm.
Well, he wasn't really interested in that gun — he simply wanted to sell it. If you think that way, too, it's time to adjust your attitude. When you have something valuable to sell, it's your responsibility to know as much about it as you can. I know there are people who disagree with me about that, but they should expect super low-ball offers from me if they have anything I want.
Second example was a vintage Winchester model '73 on a table behind us at the show. It was in .32/20 caliber — a caliber my gun buddy loves. The rifle had a $1,200 price tag on it, which is low but in line with the outer condition of this particular gun. My buddy asked what the bore looked like, and the seller said he had no idea! I believe him, because his bore light was buried in a box and took a long time to locate.
When he finally did look down the bore, the rifling was completely gone. Now, this always raises suspicion in the mind of the buyer. Why didn't the guy just tell him the condition, and they could go from there? Well, believe it or not, this guy doesn't care about the condition his guns are in! He cares about what he pays for them and what he sells them for, and nothing beyond that. What he didn't know was that my buddy was loaded with cash and was ready to make a lot more deals if this one hadn't gone sour!
Leave me alone!
I hate it when I'm looking at something on someone's table and they jump on me like they have a quota and I'm just the one to fill it! If I want to see something closer, I'll ask to see it. I don't need to be dragged into a conversation about the weather, local politics, sport or how cute your grandkid/dog is. I avoid those tables that operate like a fraternity pledge rush.
Don't get me wrong on this. I'll carry on a short conversation with just about anybody on any topic. What I'm referring to goes way beyond that. At a show about a year ago, there was a knife dealer with beautiful Damascus knives for sale at unbelievable prices. But the guy had a motor-mouth on him that drove the customers away like a cattle prod. Every time he went to the men's room and asked Edith and I to watch his table, we lined up five or six sales for when he returned. But after they were done, his mouth got started and the force-field around his table formed again. At the end of the show, he confided that this had been the worst show he'd ever attended. But I think they're all the worst shows, because I have seen him in action.
Use a crowd-pleaser
At this show, I put a small educational display on my table. It was two Remington replica revolvers that had been "aged" to look vintage. I put a small sign with them titled "Made to Deceive." That display stopped hundreds of people at my table! I can't say that it brought me one more sale, but it certainly stopped people from rushing past my table altogether.
I told my gun buddy who had two tables next to mine what I was going to do, and he brought a kid's ping-pong shooter from the 1950s for the top of his gun rack. It did the same thing as my display, and he did get a lot more sales as a result. I guess he's better with people than I am.
The point is to have something unusual on your table to get the conversation started. I had about 20 offers to buy my display; but when I told them what I'd invested in the two guns, they knew the display wasn't really for sale. Nobody got mad, and a couple guys even asked me how to age replica guns like mine had been aged. I wonder what was on their minds?
If you need it — bring it
The guys who know what I'm about to address don't have to be told; and those who don't, never seem to get it. Let's say you're going to an airgun show. What do you suppose you'll find there? Airguns, perhaps? And what do airguns shoot? Pellets and BBs? So, why would anyone having a table at an airgun show, where it's customary to be able to step outside and shoot guns safely, not know to carry ammunition for the airguns he intends selling?
Know what I've heard them say? "I thought there would be dealers here with pellets to sell." Well, there are, but does the person who might be interested in your Diana model 25 for $100 really want to spend $8 to buy a fresh tin of pellets just to pop off three shots on the test range? Are you willing to pony up the $8 so he can try your gun? Duh!
You know what these people do? They go mooch pellets off the dealers who do have them. I've seen Scott Pilkington open a bulk pack of 5,000 Vogel target pellets, because Johnny Cheapskate couldn't be bothered to bring 10 pellets for that $40 Crosman 130 pistol on his table.
Or, what about the guy who's trying to sell a .50-caliber Dragon Claw and didn't bring any means of charging it? You'll see him floating around the room, trying to befriend everyone who has a scuba tank under their table.
Avoid the dogs
I saw something really sad at this gun show. A guy came up with a Winchester model 1894 rifle that had been made in 1896 in .25-35 caliber. The bore was perfect (it had been rebarreled by Winchester), and the outside of the octagonal barrel had 30 percent of the original blue remaining! But the gun had a broken tang that had been brazed back in place, and the saddle ring stud had been cut off flush with the receiver. The stock was also loose. So, now a $1,500 rifle wasn't worth $500 to me. The guy said he really needed the money and had turned down $1,000 for it only two weeks before. I knew he needed the money, but just because he did, that did not mean I had to pay what I considered to be way too much for a wreck I could never turn around.
The lesson is that once a dog, always a dog. No amount of rarity or other features can overcome major detractors like this gun had. That guy will hear the same thing from person after person as he tries to sell that gun. And he wasn't the only guy with something that was ruined. Another guy had a Colt Bisley revolver with what he said was the original factory nickel. Well, not only was it not original — it also wasn't nickel. It was chrome! And no Colt Bisley was ever plated with chrome. In fact, only a very few firearms have ever been chrome-plated, but a lot of new collectors don't know that. They hear about chrome-plated guns all the time, and they assume that it's correct. What's really happening is that people are calling nickel-plated guns the wrong thing. Does it matter? You betcha! A Bisley with factory nickel could bring $2,500, if it's a good one. A chromed Bisley is worth about $400 as a shooter or a wall-hanger.
I'll never forget the guy who brought to my table a Winchester model 92 in .25-20 caliber. It had maybe 30-40 percent finish and looked to be worth $800-1,200 — until the guy told me he had it rebored to .357 Magnum, because .25-20 ammo was just too hard to find. I told him no thanks right away. He had just turned his collectible rifle into a Uberti replica!
In other words, just because an FWB 300 is usually money in the bank, the one whose barrel has been cut off and whose stock has been shortened for kids is a dog that's worth very little. Most buyers will cruise right on past it, looking for a better gun. There's a reason you're able to buy it for $250, and that's about all it will ever be worth.
by B.B. Pelletier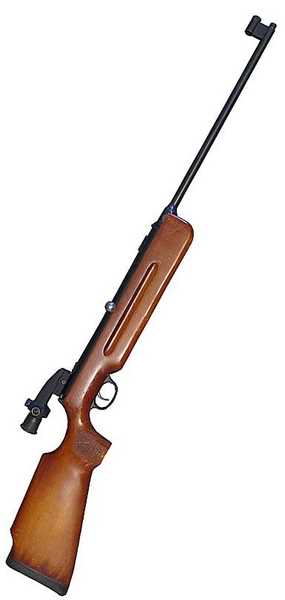 The Haenel 311 is the world's only bolt-action spring-piston 10-meter target rifle.
Today is accuracy day for the Haenel 311, and the day holds a couple surprises and should be a fun read. Because of the crude design of this rifle, I don't shoot it that often and I forget just how well it shoots.
The 311 is a recoiling spring-piston air rifle and, as such, has to be held with the artillery hold for best results. I needed to be reminded of that.
Also, I tend to shoot smaller groups with the Ballard .38-55 rifle at 100 yards when I wear my glasses. But when shooting a 10-meter rifle I tend to do best without them. Since I haven't shot at 10-meter targets in a while, that was another point that needed to be remembered.
Finally, the 311 rear sight adjusts for lighting conditions. But it only works if you remember to adjust it.
So the first few groups I shot were horrible because I held the rifle too tight, wore my prescription glasses and didn't adjust the peep size. Then, I figured out all three things at about the same time and the rifle caught fire — at least with one pellet. And that was the other thing that surprised me in this test. The cheap eastern-European target rifle scorns high-priced target ammo from the best pellet makers. Instead, it loves the cheapest wadcutters on the market. I know that will disappoint many of you, but that's how it is.
RWS Hobbys
I sighted-in with RWS Hobby pellets. Why a 10-meter rifle ever needs to be sighted-in is beyond me, because what other things would you do with them besides shoot them at 10-meter targets? Well, maybe not you. I guess I'm talking about me. Nevertheless, the rifle was hitting the edge of the bull when I started and required about 30 clicks of left adjustment to get the pellet close to the center. As I'm not really keeping score, I stopped when the first pellet was close enough.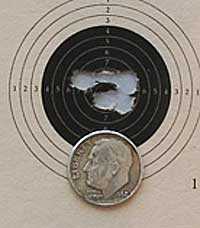 Five RWS Hobby pellets at 10 meters. Not very impressive for a target rifle. This was shot when I was doing everything wrong.

And this is the very next group of Hobbys after I took off my prescription glasses and made the rear sight aperture smaller for greater depth of vision. This is still not a good group, but it does look better than the first one. Hobbys are probably not a good pellet for the 311.
H&N Finale Match Pistol
The next pellet I tried was the H&N Finale Match Pistol pellet. This pellet has always been good in my 10-meter rifles. Maybe it's not the best in every rifle, but it's among the top three almost every time. Well, I used perfect technique to shoot the group you are about to see.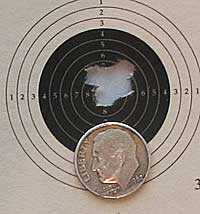 H&N Finale Match Pistol pellets did this at 10 meters. It looks like a group fired by an Avanti 853 to me. It would be acceptable for a junior target rifle, but not for a precision-class rifle. The technique was perfect, so this is not a good pellet in my 311.
Gamo Match
I said I would try the new Gamo Match wadcutter in the 311, even though I didn't hold out a lot of hope for it. As I shot the first group, I was holding the rifle in a good soft artillery hold and pulled the fourth shot. It was so obvious that I exclaimed, "Oh no!" aloud and Edith heard me in her office. You can see the results of pulling that shot on the target.

And that's what it looks like when you pull a shot and are able to call it. The four are in a very nice group, however, so I decided to shoot another group using (hopefully) perfect technique.
Since the four shots were in such a tight group, I decided to shoot another group, and this time watch both my technique and the sight picture very carefully. Before I show you the group, I want to answer the question that some readers are asking right now. Isn't this what I'm supposed to do every time I shoot? Yes, it is; and if I were a world-class shooter, I would be able to do it. However, that takes a state of concentration that I've never achieved. Shooters who compete will understand.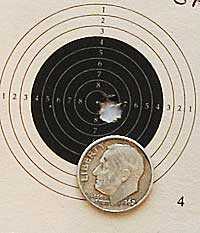 And there it is. This is the best 10-meter group I've ever shot with any target rifle. It's so close to zero that I won't even attempt to measure it. Five Gamo Match pellets went through that little hole.
I told you there were some surprises in today's report. Will I ever be able to repeat that group? Probably not. Is the group representative of what the 311 can do? No, I don't think that it is. Everything had to be perfect for a group like that to be shot — even from a rest at just 10 meters! But I was curious about the possibility of repeating it, so I shot another group of Gamo Match, just to see.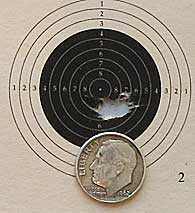 Here's the very next group. I held just as steady and sighted just as well. This is probably representative of what the 311 can do with these Gamo Match pellets. This 5-shot group measures 0.163 inches between centers.
Wrap-up
So what can I say about the Haenel 311 target rifle? Well, it's more accurate than its styling would seem to indicate, but it's a crude rifle from the standpoint of ergonomics and powerplant operation. Yes, it can shoot alongside the FWB 300S, but it takes a huge amount of technique to do so. The 300S is easy to shoot, in comparison.
The Haenel has a heavier trigger than I like in a target rifle. It's very positive, but I would like it to be a few ounces less and have a positive stop after the release.
All things considered, the Haenel 311 is a swell target rifle for just $59. That was all it cost when they were first available to American buyers. You'll now pay $250 and up for the same gun, and I think that's still a bargain.
For shooting while standing, this is a great and inexpensive way to go.
by B.B. Pelletier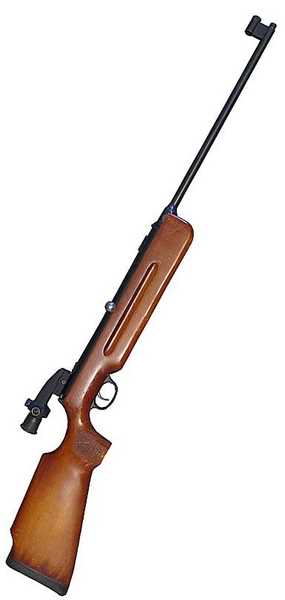 The Haenel 311 is the world's only bolt-action, spring-piston 10-meter target rifle.
Let's look at the velocity of my Haenel 311 target rifle. Because of the way it cocks, this rifle is low-powered. It isn't possible to put a long-stroke piston or a stout mainspring in the mechanism when the rifle is cocked by pulling back on a three-inch bolt handle. You don't pull it straight back, either. The base of the handle pivots like a fulcrum, and the handle rocks back to pull the piston into the cocked position. As I mentioned in Part 1, it's so difficult to cock that the gun is destined for adults, only.
However, a short piston stroke and a weak mainspring combine to give very low velocity. Since this is a target rifle, velocity doesn't matter. But this wouldn't be the gun to choose as an all-day plinker. Get a Diana 27 for that, or any one of the Haenel breakbarrels. Save the 311 for its intended purpose.
If it sounds like I'm making excuses for the gun, that's not what I want to do. I just want the reader to understand it in the right context.
Since this rifle has a leather piston seal, I dropped several drops of oil into the loading tap, then closed it and stood the rifle on its butt for several days before this test. For those who are new to airgunning, leather seals need lots of oil to do their jobs. Synthetic seals need a lot less oil, and it needs to be silicone chamber oil so it won't detonate with the high heat it can generate.
In a rifle of the 311′s power, you can use plain old household oil for the seals, because the rifle doesn't generate that much heat. But using silicone chamber oil won't hurt anything, so that's what I used. And there's one additional reason for oiling the gun before shooting. The loading tap has to have some clearance to be able to move and do its job. When you oil the gun at the tap, some oil gets on the tap itself and helps to seal it when the rifle fires.
Velocity test
A note to the new reader. I test rifles with a range of pellets appropriate to that rifle. There will be a weight spread among the pellets I use, so you can gauge the power of the gun from what I use. But bear in mind that some pellets will work better in certain guns and the lighter pellet won't always be the fastest. I also won't test a gun with a pellet that I deem inappropriate for the gun, such as Beeman Kodiak heavyweight domed pellets for this target rifle. For a 10-meter target rifle, I'll test with wadcutters since they're the only pellets that are legal to use in a 10-meter match.
Let's get right to it. The first pellet I tested was the Gamo Match wadcutter. This pellet used to be a viable and inexpensive pellet for target guns, but the design was changed a few years ago. While it's still inexpensive, it doesn't perform as well as it used to in many guns. Still, I thought it was worth a try.
This pellet averaged 462 f.p.s., but the spread was quite high — going from 439 to 479 f.p.s. At the average velocity, the rifle puts out 3.66 foot-pounds with this pellet. The wide velocity spread makes me think this one won't be that accurate, but we'll see.
Next I tried RWS Hobby pellets. At just seven grains weight, they should be among the fastest lead pellets in this rifle. Hobbys averaged 490 f.p.s. in the 311, and the spread went from 478 to 497 f.p.s. That's tighter than the Gamo Match. At the average velocity, the energy developed at the muzzle was 3.73 foot-pounds. Sometimes, Hobbys are very accurate in certain guns and are worth trying in this one.
The last pellet I tried was the H&N Finale Match Pistol pellet. At 7.56 grains, you'd think they'd be slower than the Hobbys that weigh a half grain less, but these pellets averaged 492 f.p.s. in the 311, and the spread went from 480 to 501 f.p.s. They're clearly faster and more efficient. At the average velocity, they produce 4.06 foot-pounds of energy at the muzzle.
Seeing the efficiency of this pellet gave me an idea. What if I used a pellet seater to iron out the skirts of this pellet? What would happen to the velocity then? I say that because a taploader tends to allow some air to blow past the pellets before they're blown into the bore. Enlarging the skirts is a possible way to minimize this.
I tried enlarging the pellet skirts with the ball end of a pellet seater. However, the results surprised me. Instead of boosting velocity, this knocked it back to an average 474 f.p.s. for the H&N Finale Match Pistol pellets. However, the extreme spread ran only from 472 to 478 f.p.s., so the overall velocity was a lot tighter from shot to shot.
The bottom line is that the Haenel 311 is a target rifle and nothing more. Because of the design, there's no way to soup it up for greater performance; and as I noted in Part 1, this is a rifle you want to stay out of.
Next time we'll look at the accuracy of this Cold Warrior.
by B.B. Pelletier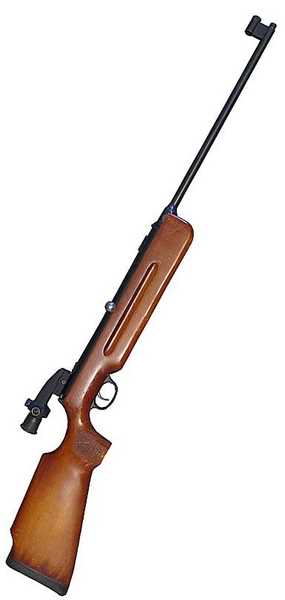 The Haenel 311 is the world's only bolt-action spring-piston 10-meter target rifle.
At the Roanoke Airgun Expo several weeks ago, I saw a Haenel 311 target rifle on one of the tables, which it reminded me that I'd promised myself long ago to give you a full report on this curious air rifle. Today, I'll begin to fulfill that promise.
Back in the days when Edith and I published The Airgun Letter, we were contacted by a pawn shop that was importing target airguns from the former East Germany. We told our readers about them, and thousands of model 310s and 311s and a few 312 sidelevers were sold over the course of a few years. The prices were quite low. As I recall, the 310s went for $49, and the 311s brought $59. I bought several guns to test and as gifts, and the 311 you'll see here is one of those purchased.
The 311 is unlike any other air rifle in the world. It's a .177-caliber pellet rifle that uses an articulated bolt action to cock a spring that powers the piston. It appears similar to the Haenel 310 action except the 310 shoots only round lead balls fed from a magazine, while the 311 shoots standard diabolo pellets fed one at a time though a loading tap. The two guns are very different, except for their cocking levers.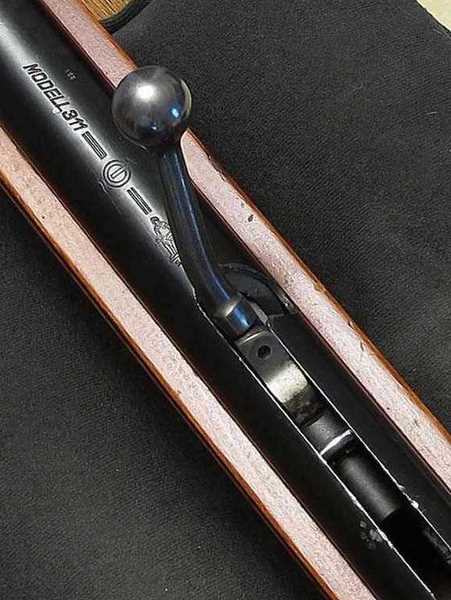 Here the cocking bolt/lever has been lifted out of its stored position and is ready to be pulled back to cock the gun.
The rifle is sized for an adult, with an overall length of 43-7/8 inches and a weight of 7 lbs., 14 ozs. These numbers come from my rifle and do not agree with the information in the Blue Book of Airguns.
The stock is blocky and looks like it was fashioned from a two-by-six piece of lumber. The wood is tightly grained and may be beech, though I'm not certain. It's stained with a thin orange color that does not penetrate the wood to any depth. The finish is a thin shellac that's very prone to chipping and wear.
The pistol grip is hand-checkered with large diamonds in a very crude pattern. The work looks like it was done by a prisoner wielding a not-too-sharp jackknife. There's no checkering on the forearm, but both sides have a long European-style finger groove.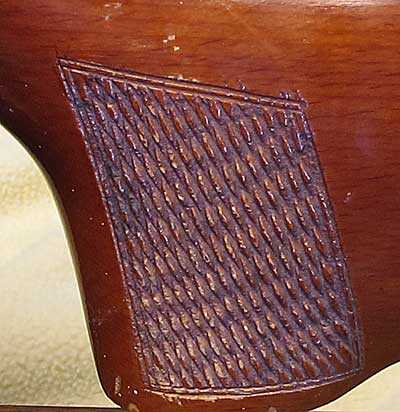 The checkering is clearly hand-cut, and a rough job at that. Overruns and missed diamonds abound.
The metal is very well polished and finished with an even hot blue. You must appreciate that Haenel has a reputation as a fine arms maker, and this rifle is so out of line with most of what they made that it looks like a government job for sure. The rifle began production in 1964, which was at the height of the Cold War, so that assessment is probably right on the money. Production ended in the early 1990s.
The 311 is a 10-meter target rifle, but it is so different from any other 10-meter rifle that it's very difficult to categorize. The cocking effort is very difficult — owing to the short cocking lever — so this is not a three-position rifle in anyone's book. It's meant for offhand shooting, alone. Even then, the shooter must take care where he points the muzzle while he struggles with the cocking lever. It takes 33 lbs. of force to cock my 311, and applying it through the 3-inch bolt handle isn't easy. In the offhand position, I would shoulder the rifle and simply pull the handle back, using my shoulder to hold the rifle in place. It sounds easy, but after a couple shots you start feeling the strain.
Sights
The 311′s sights are very interesting. The rear adjustable aperture sight looks very similar to a Walther target sight of the same era. Though it's designed for inexpensive production, you can see that the designers managed to make it quite precise. It has the swept-back look of the 1930s.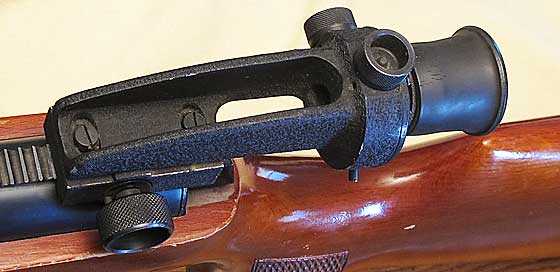 The adjustable rear aperture sight looks like something from a 1930s sci-fi movie. The design is simple but very similar to what Walther was making at the time.
As austere as this sight is, it still contains diopters (peep holes) of different sizes to accommodate different lighting conditions. That's an advanced feature that you don't expect to find on such a crudely finished rifle. And it doesn't end there.
The 311 also has the provision for mounting an intermediate adjustable sporting sight on a base located at the end of the compression tube, just behind the loading tap. Most 311 owners have never seen this sight, but I was able to obtain one with my rifle, so I can show it to you now. This sight must relate to some sporting event the East Germans had for this rifle. The Falke rifle also had provisions for two different types of rear sights, so there must have been a good reason for them. I do know that many zimmerstutzens come with this same provision, and there's a separate sporting match for the zimmerstutzen. It's not too difficult to imagine that there was the same kind of match for air rifles that are equipped this way.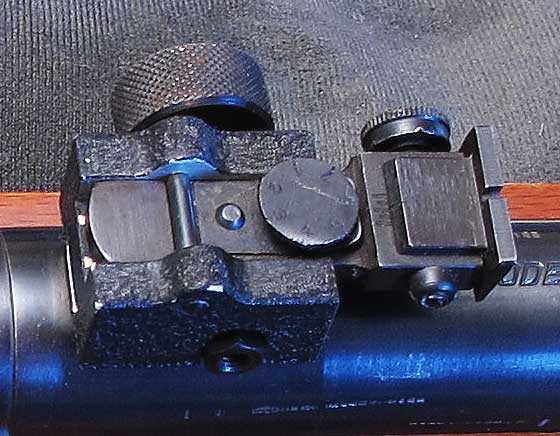 This adjustable sporter rear sight is an accessory few 311 owners have ever seen. It mounts behind the loading tap and is undoubtedly used in different matches than the target sight.
The front sight is a globe mounted on a tall stalk. It accepts different sight inserts, which would be necessary if the sporting rear sight were to be used. My rifle came with an aperture in the front sight.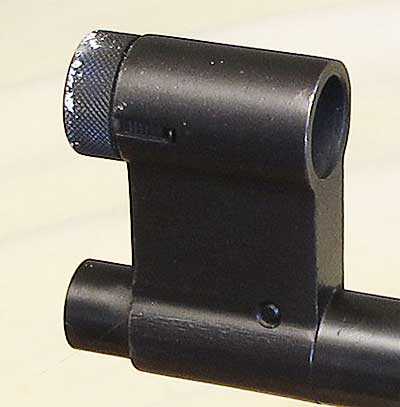 The front sight is a globe with replaceable inserts that sits on a tall stalk.
Loading tap
The 311 loads through a rotating loading tap. That is a strange feature on a target rifle, because the shooter cannot insert the pellet directly into the rifling. The tap is entirely manual and separate from the cocking function, so it can be operated at any time.

The loading tap is manual and not connected to cocking the gun in any way.
One thing about a loading tap is that it requires a different procedure for oiling the piston seal. I put 5-10 drops of silicone chamber oil into the tap, then close it and stand the rifle on its butt for at least an hour. The reason I used 5-10 drops is in case the piston seal is made of leather. I use silicone chamber oil in case it's synthetic. Talk about covering all the bases!
Trigger
The trigger is one place where the Haenel pedigree shines through. It's a multi-lever unit that breaks cleanly if not crisply. It's every bit as nice as the trigger on the Bronco.
Here's a warning to all you would-be tuners. Years ago, I wanted to quiet the vibration of my 311 action, so I started what I thought would be a simple disassembly. When I got inside the trigger, however, the job proved to be anything but simple. I assembled the gun with the automatic safety out of whack and have lived with it ever since. The 311 is not the rifle to take apart unless you have a lot of patience and perhaps a spare rifle to look at when it's time to put it back together.
As for power and accuracy — well, this is only Part 1. I'll test this rifle completely in the established pattern, so you'll get answers to both questions.